Fight the cold days with this steamy Nabeyaki Udon served in donabe. Topped with chicken, tempura & heaps of vegetables in an umami dashi soup, this hot noodle soup would be your favorite kind of winter comfort food.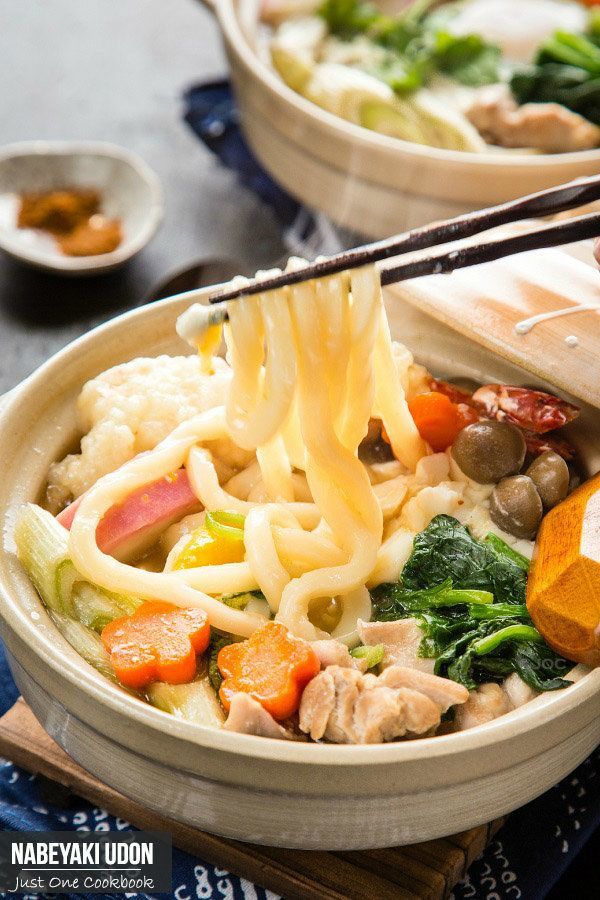 Nabeyaki Udon (鍋焼きうどん) is a hot udon noodle soup traditionally served in individual donabe (earthernware pot) or iron pots.
Besides udon noodles, the soup usually includes chicken, kamaboko (fish cake), mushrooms, and vegetables such as spinach, Tokyo or naga negi, and carrot. In addition, an egg and a large shrimp tempura is served on top.
Watch How to Make Nabeyaki Udon 鍋焼きうどんの作り方
Tender udon noodle served in savory dashi soup, topped with chicken, carrots, shrimp tempura, kamaboko, and mushrooms.
The literal translation for nabeyaki udon is, you've guess it, "cook in hotpot udon". This nabeyaki udon recipe (especially with step-by-step pictures) might seem long, and to be honest, it took quite a while for us to shoot the video. BUT! The recipe is easy and doesn't take that much effort to make (if you don't have to video each step). Simply make dashi (soup stock), add udon and ingredients you like in a pot, and cook!
The most time consuming part for me was making shrimp tempura from scratch. I know quite a lot of reader do not have access to frozen shrimp tempura in nearby grocery stores, but if you do I'd recommend using packaged shrimp tempura to save time (or you can skip on shrimp tempura. No? I know, that's the best part right?).
All the ingredients I have included for nabeyaki udon are ingredients that are commonly used in Japan. If you cannot find the same ingredients like kamaboko (fish cake), it's okay to skip and use ingredients that are available to you.
On a cold and rainy day like today, a steaming pot of nabeyaki udon served right at the table is definitely comforting.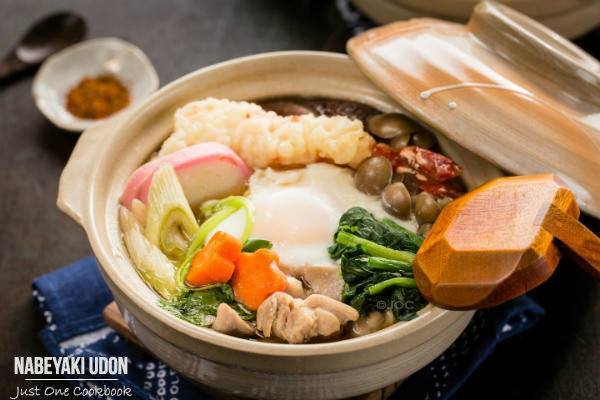 Get Your Donabe (Earthenware Pot) Ready!
How To Season Donabe (Earthenware Pot)
I hope you enjoy making my Nabeyaki Udon recipe! If you make one of these recipes, snap a picture and hashtag it #JustOneCookbook. I love to see your creations on Instagram, Facebook, & Twitter! Thank you so much for reading and till next time!
Similar Recipes:
Don't want to miss a recipe? Sign up for the FREE Just One Cookbook newsletter delivered to your inbox! And stay in touch with me on Facebook, Google+, Pinterest, and Instagram for all the latest updates.
Nabeyaki Udon
Fight the cold days with this steamy Nabeyaki Udon served in donabe. Topped with chicken, tempura & heaps of vegetables in an umami dashi soup, this hot noodle soup would be your favorite kind of winter comfort food.
Keyword:
hot pot, noodle soup, udon noodle
Ingredients
For Udon Soup:
3

cups

dashi

(720 ml) (I used Awase Dashi)

⅓

cup

shiitake dashi

(reserved from rehydrating dried shiitake, see instructions)

2

Tbsp

mirin

1½

Tbsp

soy sauce

1

tsp

salt (kosher or sea salt; use half if using table salt)
Instructions
Gather all the ingredients.

Soak dried shiitake mushrooms in water to rehydrate for 15 minutes. You need just enough water to cover the mushrooms, and place a smaller bowl on top to keep the mushrooms submerged under water.


Squeeze the excess water out of mushrooms. Cut off the stems if there are any and score a cross on top. Keep the leftover soaking liquid (dashi) for udon soup. Strain the dashi through a mesh strainer to remove any grit or impurities before using.


In lightly salted boiling water, blanch the spinach starting from the stem side for 1 minute.


Soak the spinach in iced water to prevent overcooking. Squeeze water out and cut into 1 ½" (4 cm) pieces.


Cut kamaboko into thinly slices and break shimeji mushrooms into small pieces.


Slice naga negi diagonally and cut the chicken into 1" (2.5 cm) pieces.


To make udon soup, combine dashi soup and dashi from dried shiitake mushrooms in a small saucepan. Bring it to a boil over medium high heat.


Once boiling, add mirin, soy sauce, and salt. When boiling again, turn off the heat and set aside.


To make shrimp tempura, first we prepare shrimp. Follow

this instruction

to clean the shrimp and make them straight.

To make shrimp tempura,

click here

for the complete instructions, from how to make tempura batter and to deep fry. For today's recipe, I used tempura batter mix. Simply combine tempura batter mix and cold water.

Cook udon in a boiling water. Once the noodles are separated, take them out and soak in ice water to prevent from cooking further. Drain and set aside.


Divide ingredients (except for egg, spinach, and mitsuba) into two individual earthen donabe clay pots (or use any big pot).


Add udon soup and cover with the lid. Bring the soup to a boil over medium high heat. When it comes to a boil, leave the lid slightly open to let some steam out, or it will overflow. Lower the heat and simmer to cook until the chicken is cooked through.


Add an egg, spinach and mitsuba and cover to cook until the egg is done to your liking.


Add shrimp tempura on top and serve. Sprinkle shichimi togarashi (Japanese seven spice) if you like the soup spicy.

Recipe Notes
Prep/Cook time: This may vary depends on the ingredients you use and whether you use precooked shrimp tempura or make from scratch.
Recipe by Namiko Chen of Just One Cookbook. All images and content on this site are copyright protected. Please do not use my images without my permission. If you'd like to share this recipe on your site, please re-write the recipe and link to this post as the original source. Thank you.