This simple Udon Noodle Soup with Toasted Mochi hits the spot any time of the day! The chewy mochi is unbeatable, but you can easily customize the rest of the toppings. To make it a vegan version, simply use kombu and shiitake dashi for your soup broth.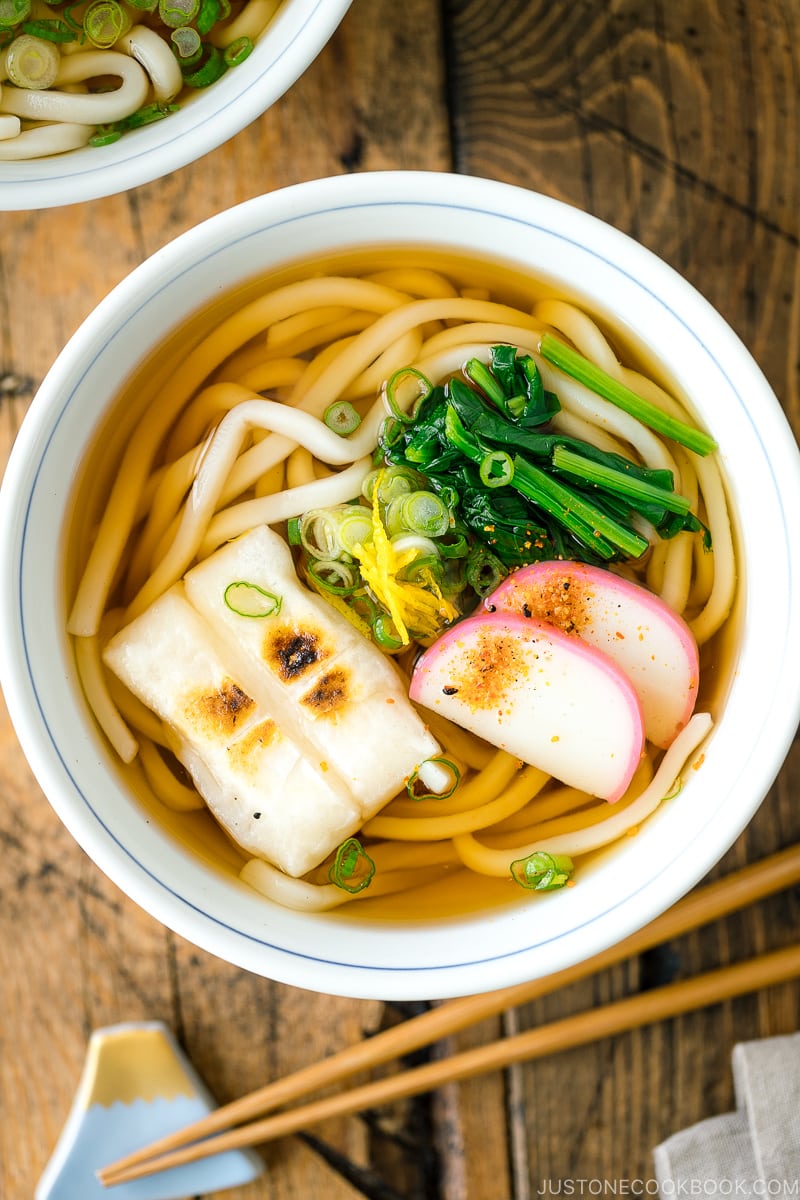 Growing up in Japan, I would devour anything that comes with mochi. When I say mochi, it usually means the plain rice cake and not the dessert "mochi" known outside of Japan (we call the sweet version "daifuku" or "daifuku mochi").
One of the dishes that I always got excited about was Chikara Udon (力うどん), simply Udon Noodle Soup with Mochi on top. I know, it's really simple… but the addition of mochi to me is equivalent to the fluffy whipped cream that's on top of your favorite pie or cake.
What is Chikara Udon
As I explained earlier, chikara udon is a hot udon noodle soup topped with mochi (餅). Chikara (力) means power or strength in Japanese. In the old days, rice cake was a celebratory food and was considered the source of power and strength.
Also, the Japanese word for being powerful is "chikara mochi (力持ち)" with different kanji characters for "mochi (持ち)" but it's a fun wordplay for chikara (Mochi) udon.
Do you need extra power to boost your energy? Let's make Chikara Udon!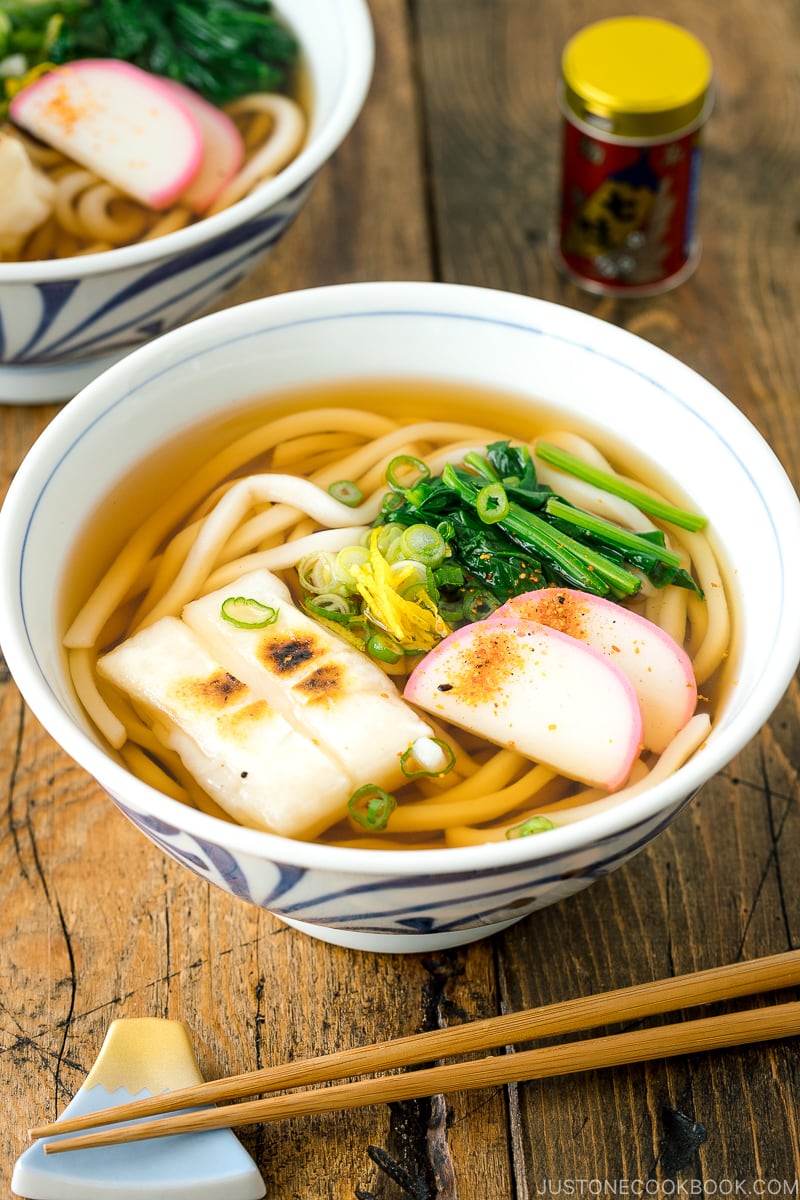 How to Make Chikara Udon
Ingredients You'll Need
Udon noodles (see different types below)
Broth: dashi stock (vegan or regular), soy sauce, mirin, sugar, and salt
Toppings: kiri mochi (rice cake), wakame seaweed, spinach
Overview: Cooking Steps
Make the udon broth.
Blanch spinach.
Cook udon noodles according to the package instructions.
Toast the kiri mochi while cooking noodles.
Assemble udon noodles, soup, and toppings. Enjoy!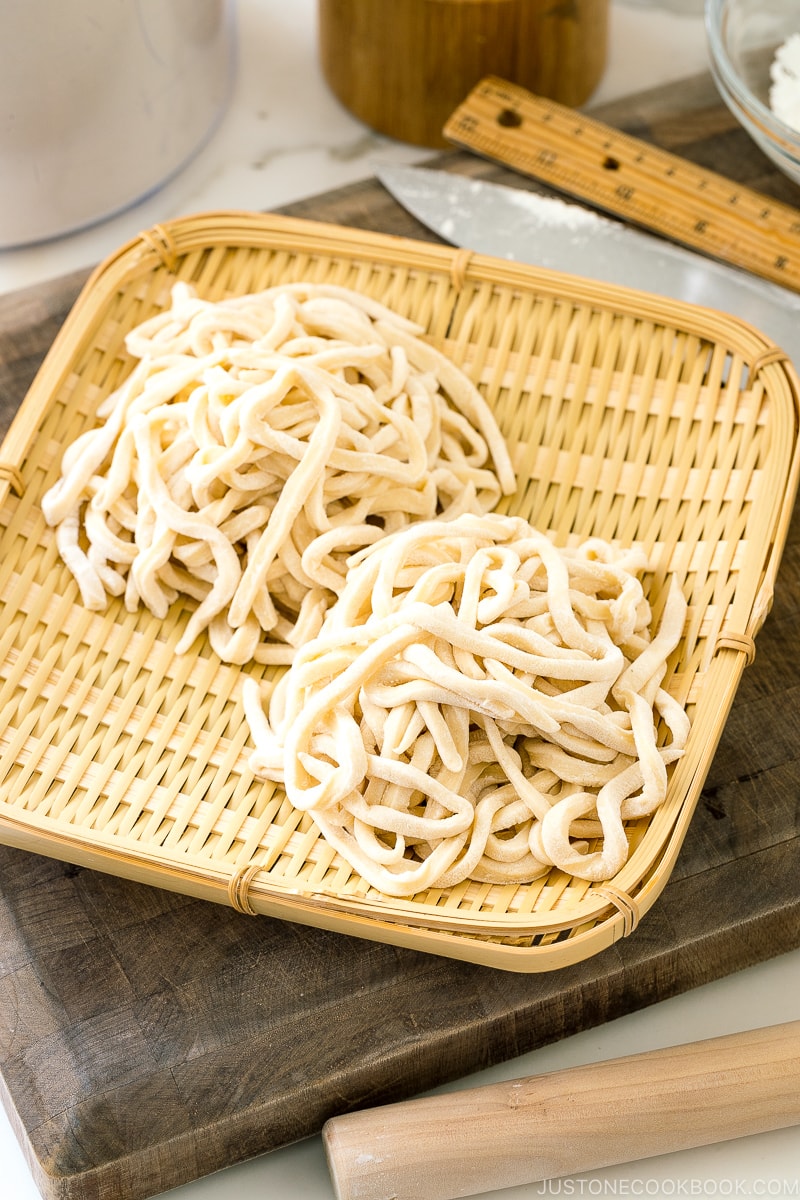 Different Types of Udon Noodles
If you're ambitious, you can always make fresh udon noodles from scratch. It's easy to make but it does take time as we have to rest the dough between the kneading process. Fresh udon noodles are amazing, and you definitely want to give them a try when you can!
For a quick meal, use frozen or dried udon noodles that are available at Japanese/Asian grocery stores.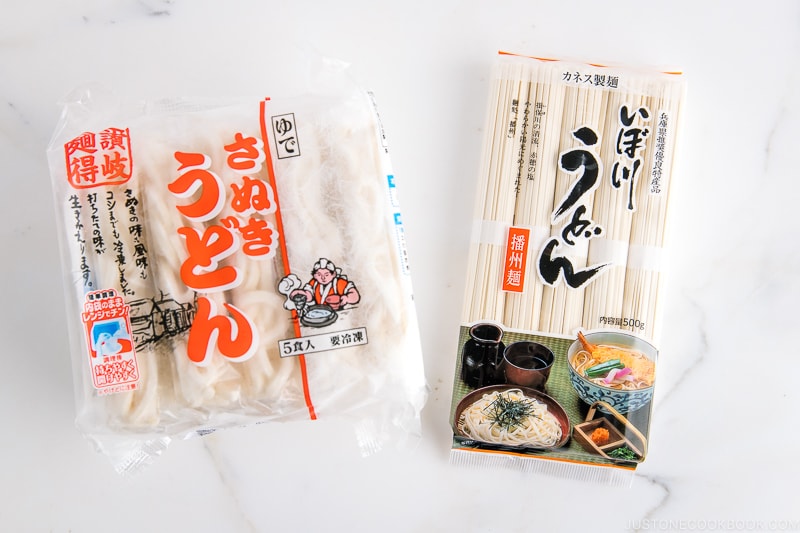 I personally like the frozen udon noodles as they are thick and chewy. They are cooked already, so you just need to cook for one minute in boiling water.
Dried udon noodles are very convenient as the packages are smaller and you can store them in your pantry for a long time. I do keep both types in my kitchen. Dried noodles have various thicknesses, so the cooking time varies.
You must cook udon noodles in separate boiling water and not directly in the soup because the starch will cloud your delicious soup.
Udon Broth with Vegan Dashi or Regular Dashi
To make udon broth, you need to combine the following five ingredients:
Dashi (Japanese soup stock)
Soy sauce
Sugar
Salt
For those who want to make a vegan broth for your udon noodles, you need to make Vegan Dashi made of dried kelp and dried shiitake mushrooms.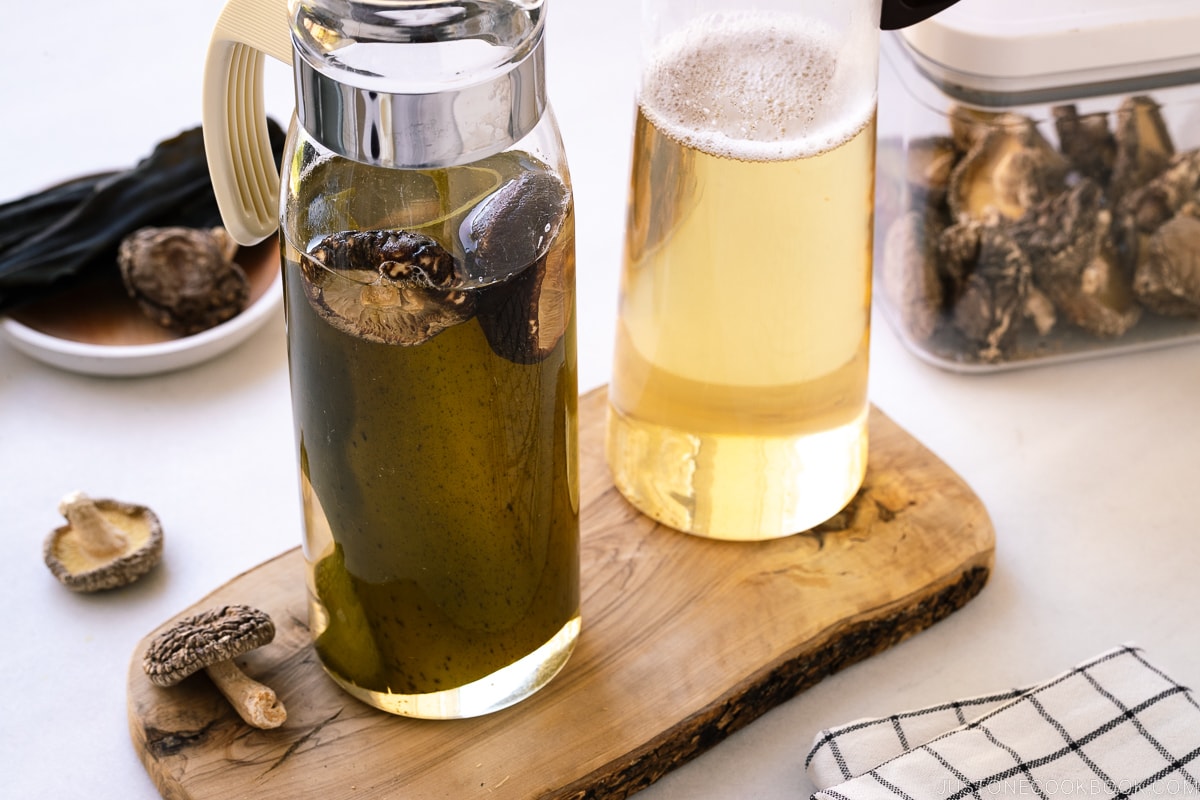 For the rest of us, I recommend making Awase Dashi—the combination of kombu and katsuobushi (dried bonito flakes). It's really simple!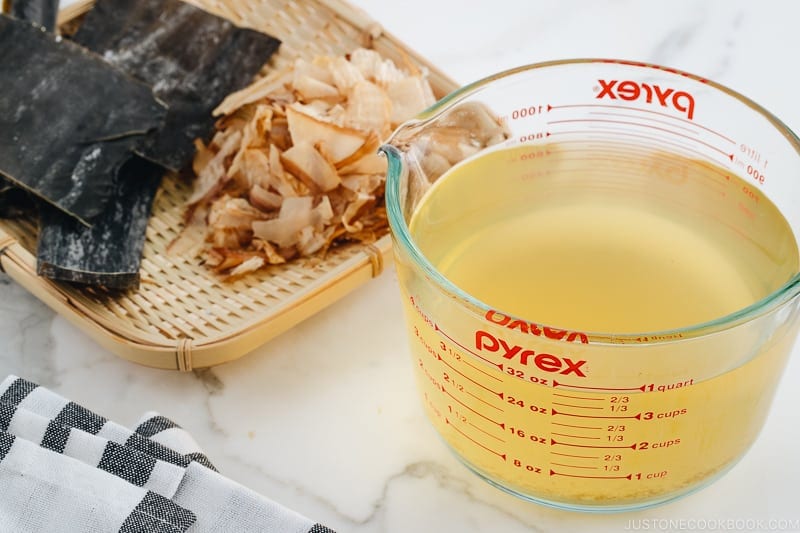 If you're not sure, watch my 1-minute video to see how to prepare awase dashi. It only takes 20 minutes or less!
Not in the mood of buying obscure ingredients (kombu and katsuobushi)? You can always make dashi with a dashi packet or dashi powder. I prefer using a dashi packet over dashi powder for its superior flavor. Dashi is fundamental to Japanese cooking and you want a good stock to make Japanese food!
Shortcut for Making Udon Broth (Not for Vegans)
If you're like me who makes udon noodle soup for lunch regularly (like two to three times a week), another convenient option is to use bottled mentsuyu (tsuyu)—a soup base for noodles.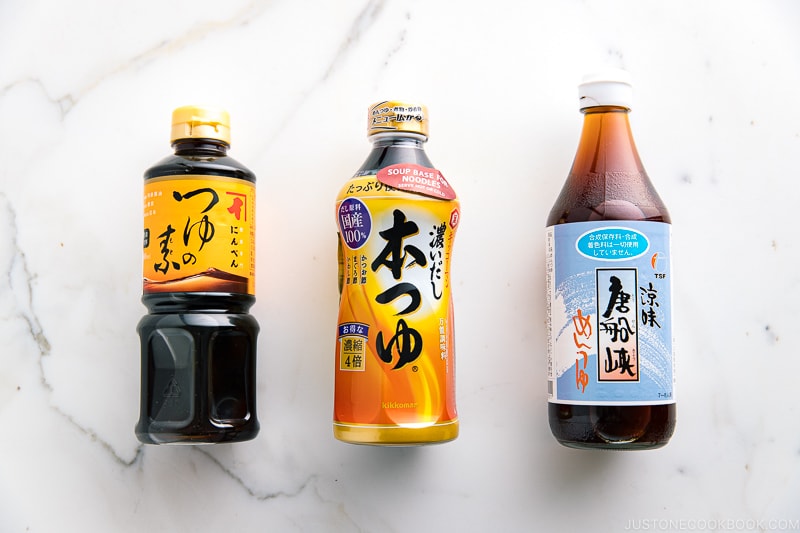 Each brand has specific instructions for the mentsuyu-to-water ratio to dilute before using it.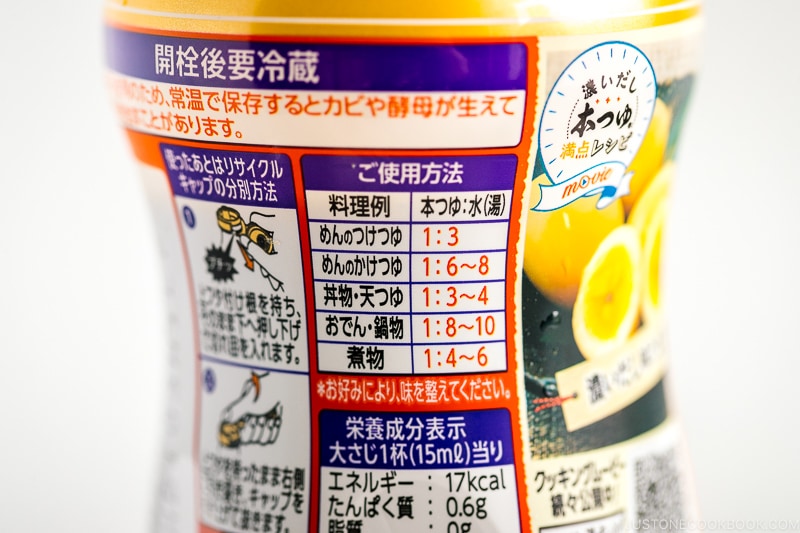 All you need is to dilute mentsuyu with water (and I usually add a splash of mirin). You can skip making dashi if you go with this route!
And as always, you can make mentsuyu from scratch!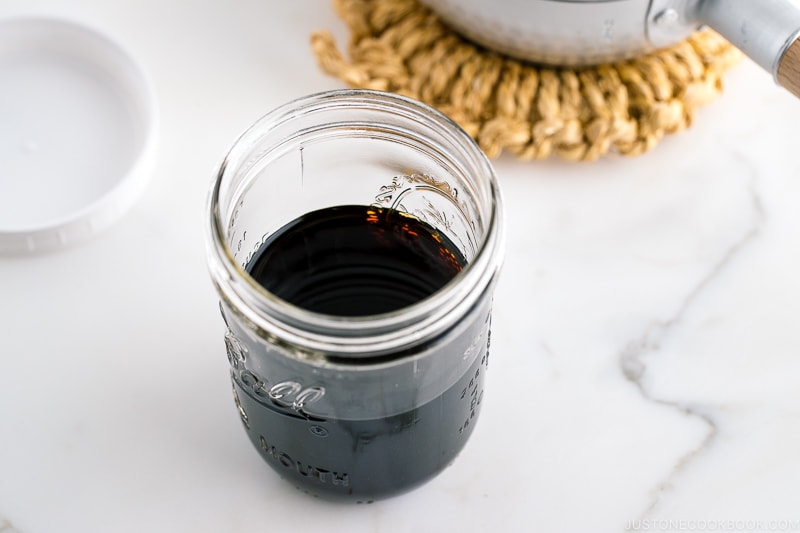 How to Cook Mochi
Let's talk about the type of mochi you need to get for this recipe. You need kiri mochi (切り餅), which are the precut, dried mochi white rice cakes that come in individually wrapped packaging.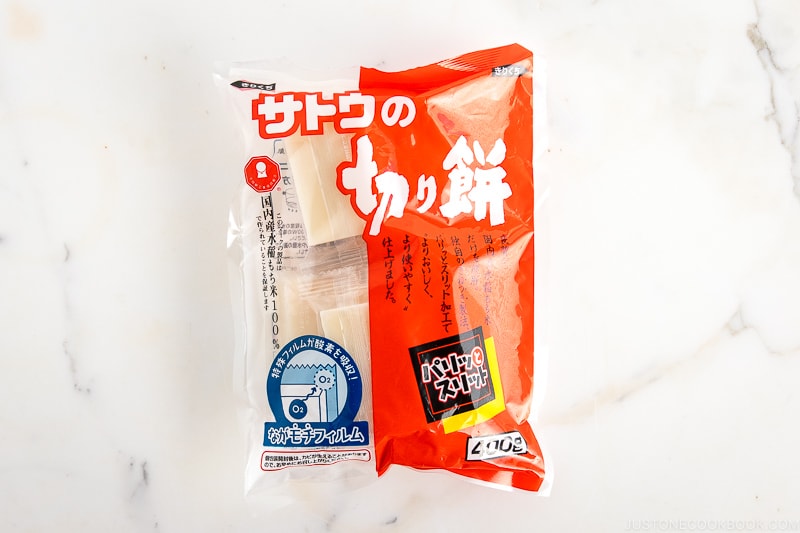 You will find it at Japanese grocery stores all year round. However, it's possible you may have a hard time finding this at Asian grocery stores as it's very specific to Japanese cooking.
Can't find kiri mochi locally? Try Amazon.
To toast kiri mochi, use a toaster oven (it heats up faster), an oven, or a frying pan over the stove until mochi is golden and puffed up. I recommend toasting until at least one side of the kiri mochi is nicely browned.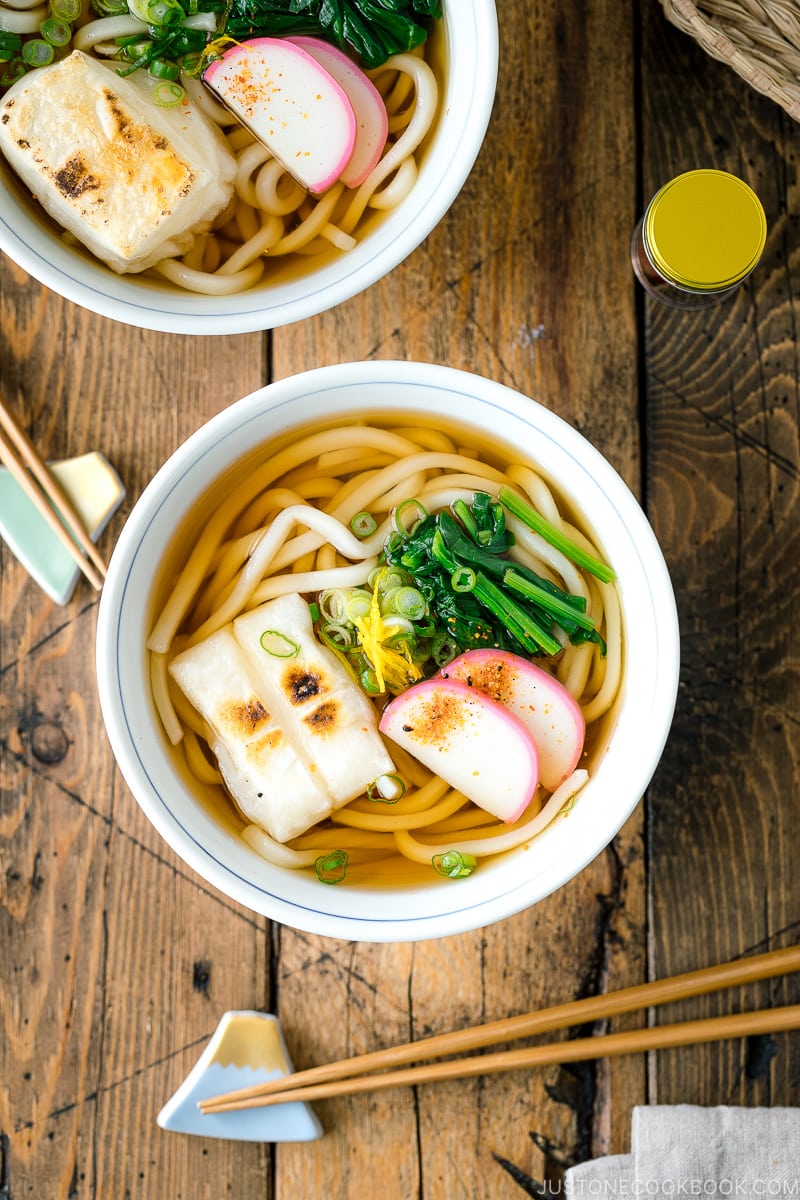 Topping Options Besides Mochi
Now that you have udon noodles, soup, and mochi, the rest of the toppings are up to you.
When udon noodles are served in a bowl and poured with hot soup, it is called Kake Udon (Kake Soba if you're serving soba noodles instead of udon). "Kake" (pronounced [kah keh]) means "pour something over" in Japanese. Basically, it's a plain udon noodle soup with simple garnishes like scallions, wakame seaweed, and a few slices of fish cake (if fancy).
You'll find a variation of udon noodle soups under different names when it stars a specific topping. Examples:
Chikara Udon (this recipe) features toasted mochi
Ebi Tempura Udon features shrimp tempura
Kitsune Udon features seasoned inari age (tofu pouch)
Niku Udon features stir-fried beef
You can add a small portion of other toppings. I usually think about the color of the dish when I decide on toppings.
Here are some of the popular toppings and garnishes. (v) is for vegan options.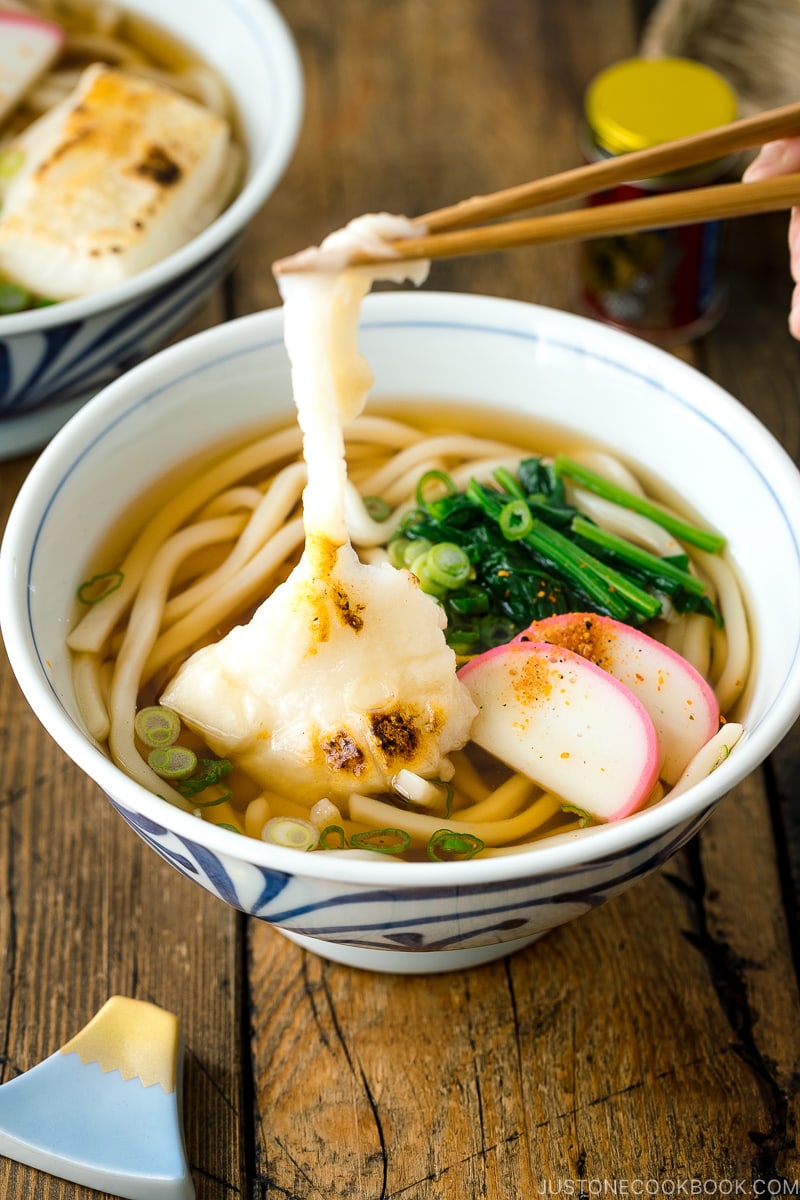 3 Important Cooking Tips
Cook the noodles when everyone is seated or almost ready to eat. Soggy noodles in lukewarm udon broth is the worst experience. Make sure you can serve the dish when everyone's ready to eat!
Don't overcook the udon noodles. Cook them right before you serve. All the toppings should be ready to go!
Make the broth really hot before serving. The majority of toppings are room temperature; so you'll need super hot broth to warm them up immediately!
Frequent Asked Questions
Is this vegan?
Yes, it can be vegan if you use kombu dashi to make the broth. Please read the blog post as I explained in detail.
Can I make this ahead?
You can make the broth and prepare the toppings of your choice ahead of time. However, I highly recommend cooking udon noodles and toasting mochi right before you serve.
How do I keep the leftovers?
Udon noodles absorb soup easily and turn soggy if left uneaten once they start to cool. I recommend cooking only the exact amount of noodles you need and do not cook extra.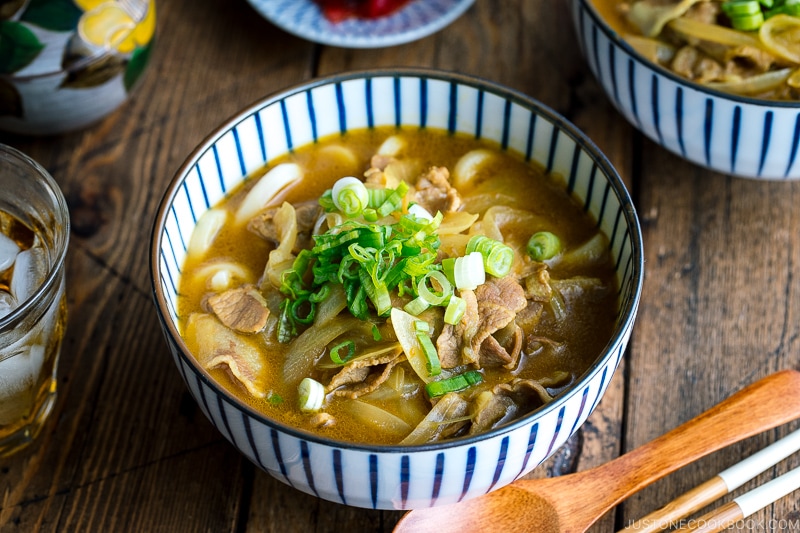 Other Delicious Udon Noodle Recipes
Tableware from Musubi Kiln
I've partnered with a great ceramic online shop from Japan called Musubi Kiln. You will get 10% off with a coupon code JUSTONECOOKBOOK for your purchase. In this post, I've used: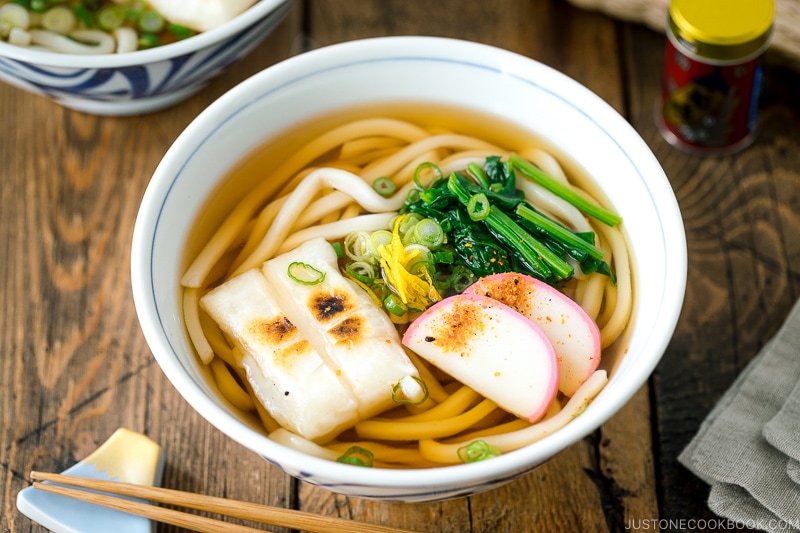 Wish to learn more about Japanese cooking? Sign up for our free newsletter to receive cooking tips & recipe updates! And stay in touch with me on Facebook, Pinterest, YouTube, and Instagram.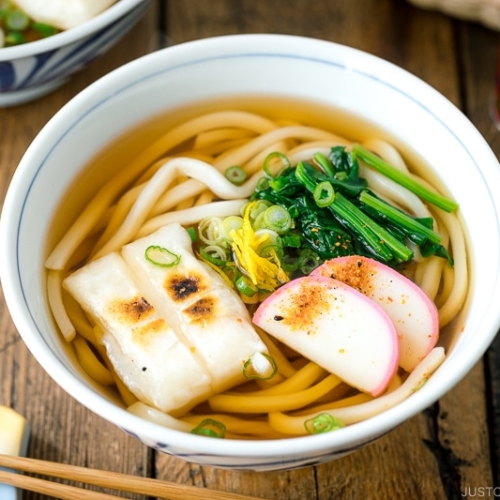 Udon Noodle Soup with Toasted Mochi (Chikara Udon)
This simple Udon Noodle Soup with Toasted Mochi hits the spot any time of the day! The chewy mochi is unbeatable, but you can easily customize the rest of the toppings. To make it a vegan version, use kombu and shiitake dashi for your soup broth.
Video
Ingredients
For the Udon Broth (with concentrated mentsuyu)
For the Udon Broth from Scratch (without mentsuyu; optional)
Japanese Ingredient Substitution:
If you want substitutes for Japanese condiments and ingredients, click
here
.
Instructions
Gather all the ingredients. Start bringing a big pot of water to a boil over medium-high heat.
To Prepare the Udon Broth (with concentrated mentsuyu)
In a medium saucepan, combine

2⅓ cups water

,

⅓ cup mentsuyu (concentrated noodle soup base)

, and

1 Tbsp mirin

and mix well. Bring the mixture to a gentle simmer over medium heat. Cover with a lid and turn off the heat. If you do not have mentsuyu, see the instructions below for how to cook udon broth from scratch.
To Prepare the Toppings
Using a toaster oven, standard oven, frying pan, or stovetop Japanese fish grill (I purchased this from a Japanese market), toast both sides of

2 pieces Japanese rice cake (mochi)

until they are browned and puffed up. Set them aside.

Meanwhile, prepare the toppings. Cut

4 slices kamaboko (fish cake)

.

When the water is boiling, blanch

2 oz spinach

with the stem side down into the water first, for 30–45 seconds.

Remove the spinach from the pot (and shock it in iced water to stop the cooking and bring out the bright color—but this step is optional). Squeeze the water out and cut the spinach into 2-inch (5-cm) pieces. Set aside.
To Cook the Udon Noodles
In the same pot of boiling water, cook

2 servings udon noodles

according to the package instructions. For frozen udon noodles, cook for 1 minute. Drain the udon noodles completely.
To Serve
Transfer the udon noodles to individual bowls and pour udon broth to completely cover the noodles.

Top the noodles with the toasted mochi, blanched spinach, chopped green onions, and

yuzu zest

(optional). Sprinkle with optional

shichimi togarashi (Japanese seven spice)

for a spicy kick.
To Store
You can keep the toppings and udon broth in separate airtight containers and store them in the refrigerator for 3 days. However, I highly recommend cooking the udon noodles and toasting the mochi right before you serve.
To Make the Udon Broth from Scratch (without Mentsuyu)
In a medium saucepan, add

2½

cups water and

1

dashi packet. Bring it to a boil over medium heat. If you want to make dashi from scratch, follow my very easy tutorial How to Make Dashi. If you're vegan/vegetarian, make my Kombu Dashi or a combination of kombu dashi and Shiitake Dashi.

Simmer for 2–3 minutes. Then squeeze the liquid from the dashi packet and discard the packet.

Add

1½ Tbsp soy sauce

,

1 Tbsp mirin

,

1 tsp sugar

, and

⅛ tsp Diamond Crystal kosher salt

and mix it all together. Cover with a lid (don't let the soup evaporate) and remove it from the heat. Set aside. The udon broth is ready to use.
Nutrition
Nutrition Facts
Udon Noodle Soup with Toasted Mochi (Chikara Udon)
Amount per Serving
% Daily Value*
* Percent Daily Values are based on a 2000 calorie diet.
©JustOneCookbook.com Content and photographs are copyright protected. Sharing of this recipe is both encouraged and appreciated. Copying and/or pasting full recipes to any website or social media is strictly prohibited. Please view my photo use policy
here
.