Cool down in hot weather with cold brew hojicha! It's low in caffeine and astringency, making it a fabulous drink option for both day and night. The natural caramel flavor and sweetness makes you want to refill the cup again and again.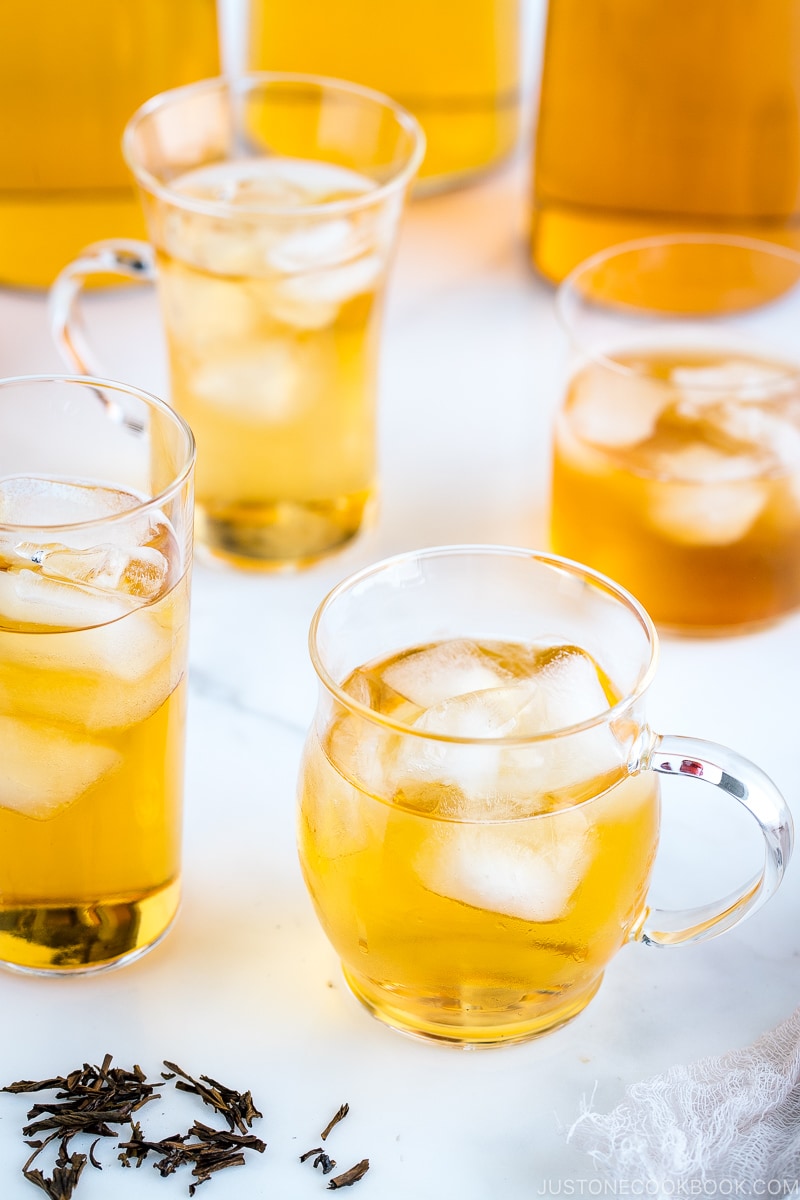 Our family drinks a lot of tea and especially during the hot summer days. We try to avoid sugary drinks as they are loaded with calories and seem to just make us even more thirsty after drinking. Our drinks of choice during the hot days are cold brew hojicha (焙じ茶, ほうじ茶) or mugicha (barley tea 麦茶). Both teas contain very little to no caffeine and remarkably flavorful.
Japanese Green Tea Basics
You've probably heard of matcha for Japanese green tea but may not be as familiar with the rest. Let's have a quick glance at some of the basics today.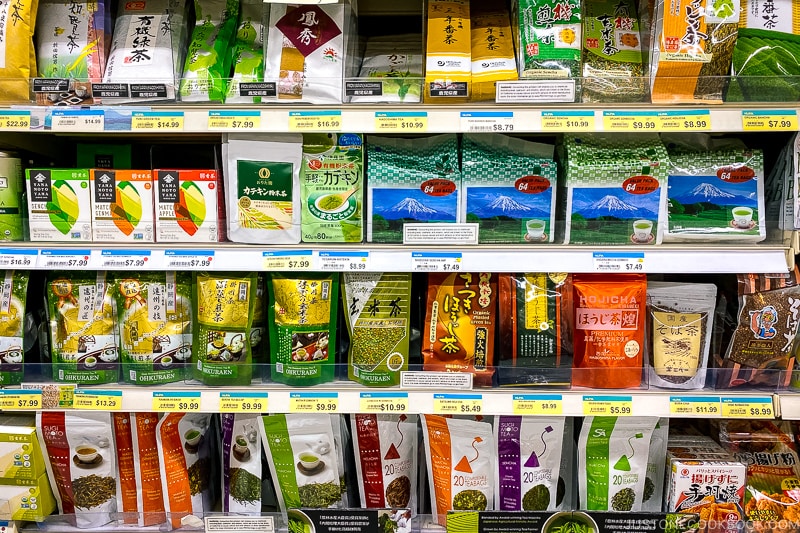 Types of Japanese Green Tea
Matcha (抹茶) – After the young shoots first appear in April, the leaves are then grown in the shade for about 3 weeks to achieve full body and flavor. They are then dried without rolling and grounded into a powder form. Matcha is used in Japanese tea ceremonies as well as popular drinks like matcha lattes and matcha boba. It is not for making tea by steeping in hot water.
Gyokuro (玉露) – Same as matcha, gyokuro leaves are grown in the shade and the first harvest of young leaves. The leaves are rolled and dried into the needle shape. Considered the best in quality and flavor for making green tea.
Sencha (煎茶) – The "standard" green tea. Grown in the sun and has a characteristic sharp profile. The thinner, delicate leaves in the upper shoots of the tea plant are harvested for sencha. The leaves are steamed, rolled, and dried into the needle shape. Considered lower quality compared to gyokuro.
Bancha (番茶) – Bancha is the same as sencha except the leaves are closer to the stalk and larger in size. During the drying process, the larger leaves do not roll into the fine needle shape. Considered the lowest quality of tea leaves. This type of tea is used to make:

Yanagi (柳, やなぎ) – Similar to sencha but less refined.
Hojicha (焙じ茶- Yanagi roasted at a high temp.
Genmaicha (玄米茶 ) – Yanagi with brown rice.
Sencha vs. Hojicha
Take a look below and you can see the difference between hojicha (brown stems and leaves) and sencha (green leaves) on the right. The sencha leaves are much more refined and consistent with their shapes.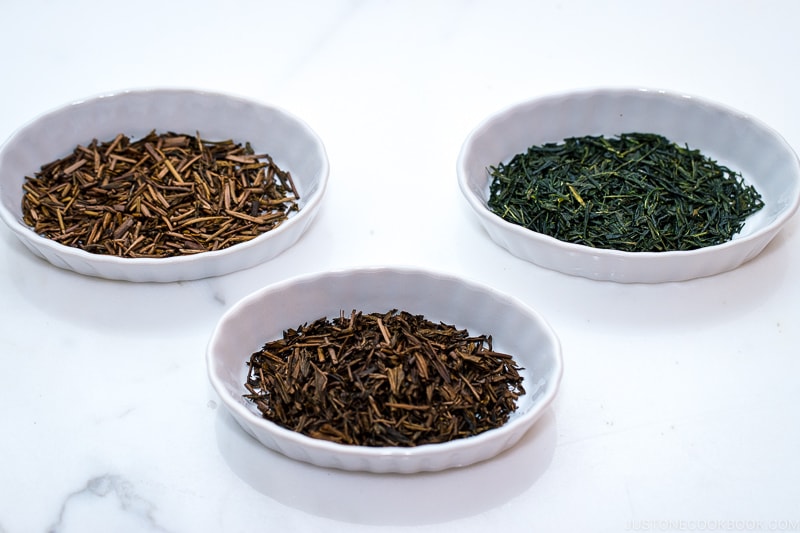 There are many variations of each green tea type, depending on where and how they are grown. The quality of the leaves and most importantly when they are harvested (or flushed) are some of the factors that will influence the taste and ultimately the price of the tea leaves.
Wish to learn more about the health benefits of green tea? Read our article 'Green Tea: A Century-Old Japanese Drink for Better Health'.
Types of Hojicha
Hojicha is essentially the same as green tea but roasted. It is a relatively new tea invented in Kyoto in the 1920s.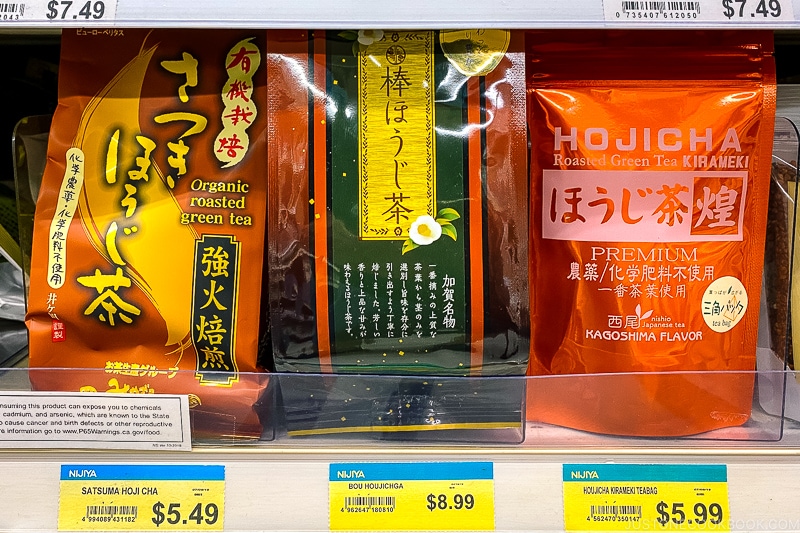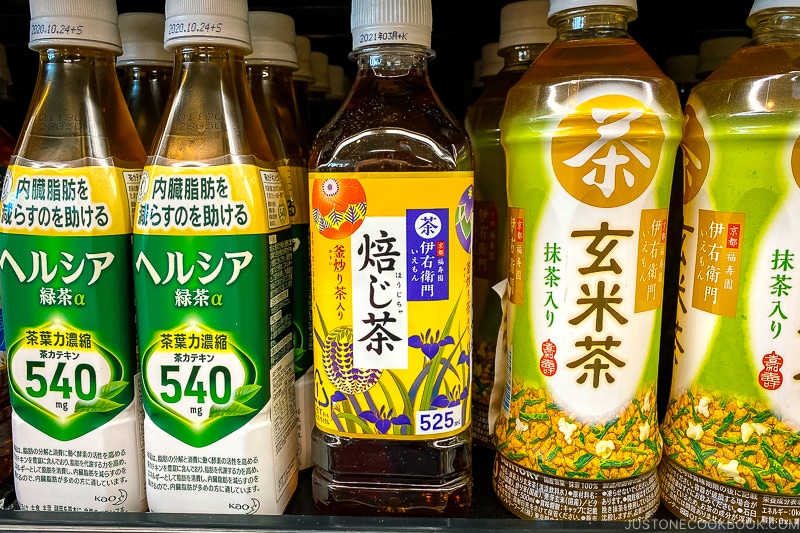 For roasting hojicha at high heat, it can be processed with an earthenware pot or a metal drum. While roasting, the unmistakable tea aroma is so tantalizing and easily fills the air. There's a tea shop near Asakusa Station in Tokyo that roasts hojicha and you can smell it from blocks away.
The roasting process turns the tea leaves from its signature green to an amber-brown color.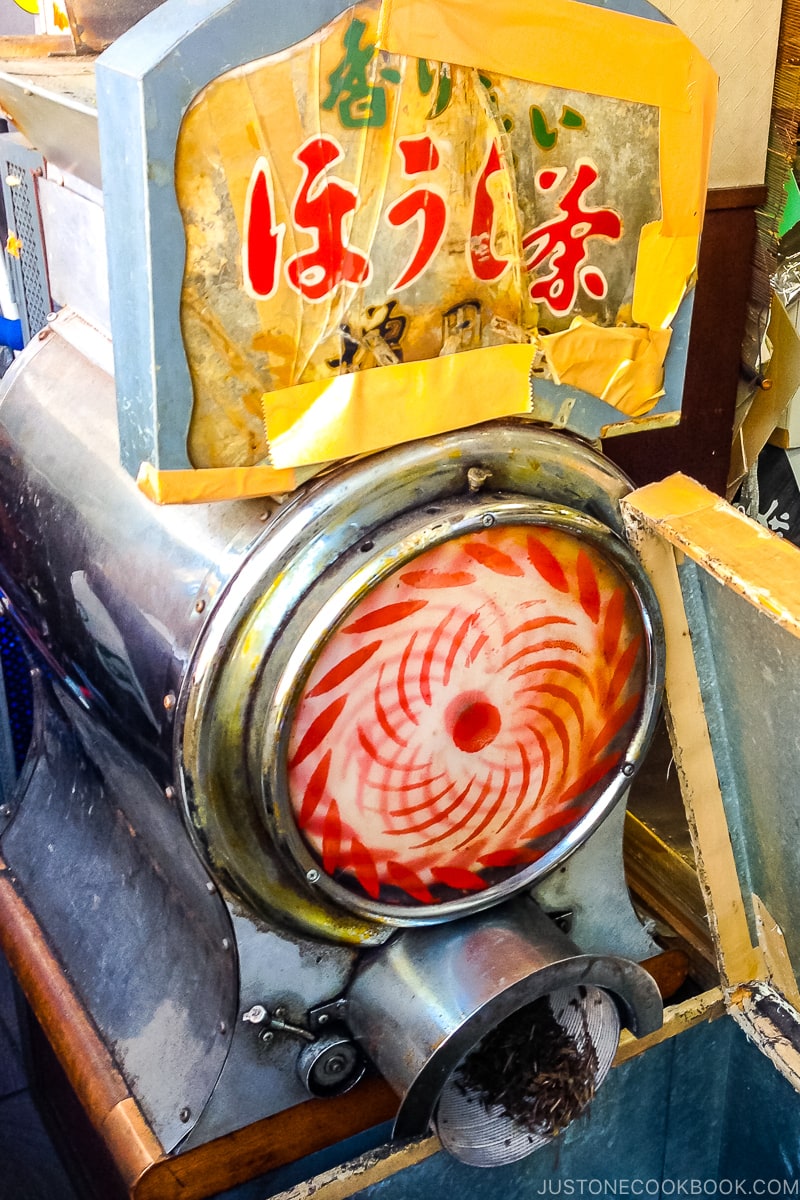 Hojicha is one of our family's favorites as it's low in caffeine and tannin. How? The roasting process reduces the caffeine in the tea and rids of the astringency from the tannin.
Similar to other green teas, there are various grades and types of hojicha. The main categories being regular hojicha and kuki-hojicha (茎ほうじ茶), which is the stems only.
Best Hojicha for Cold Brew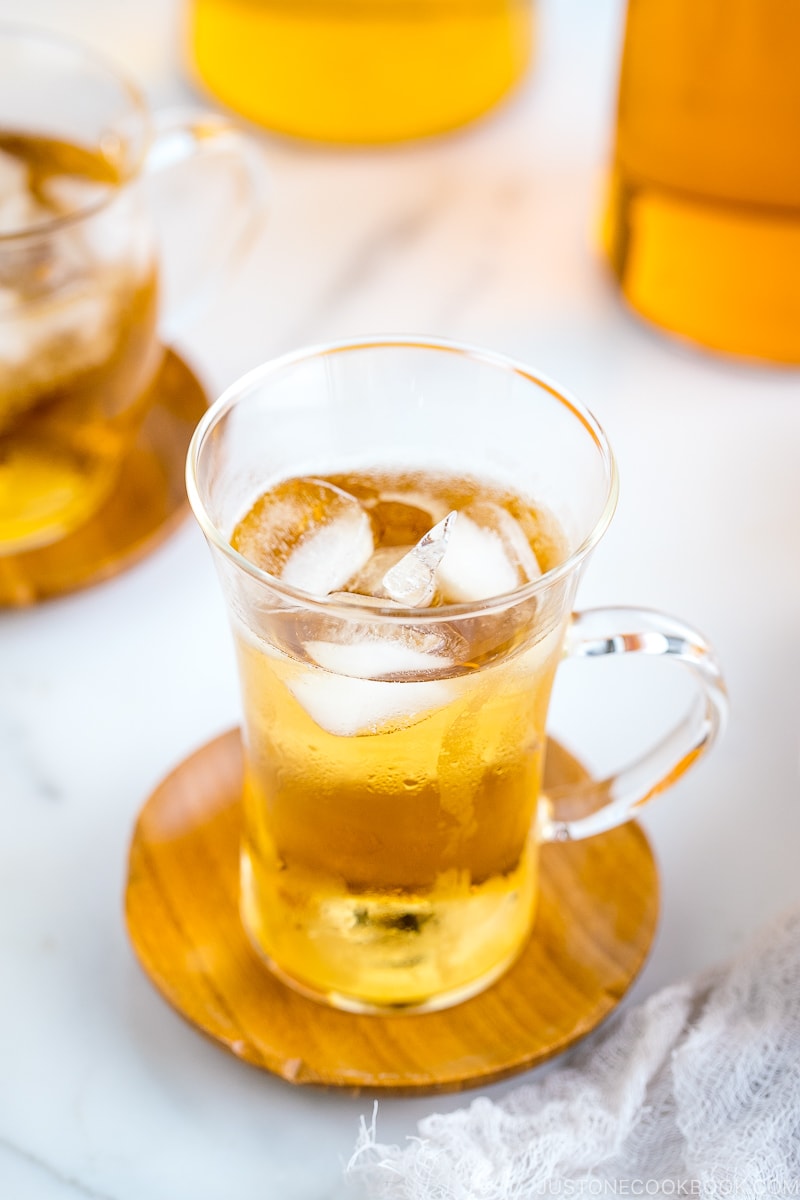 We wanted to test the best variety to make cold brew hojicha, so we tested four different types (some teas are courtesy of hojicha.co). To make the test more equal, we left kuki-hojicha (stems only) out of the comparison.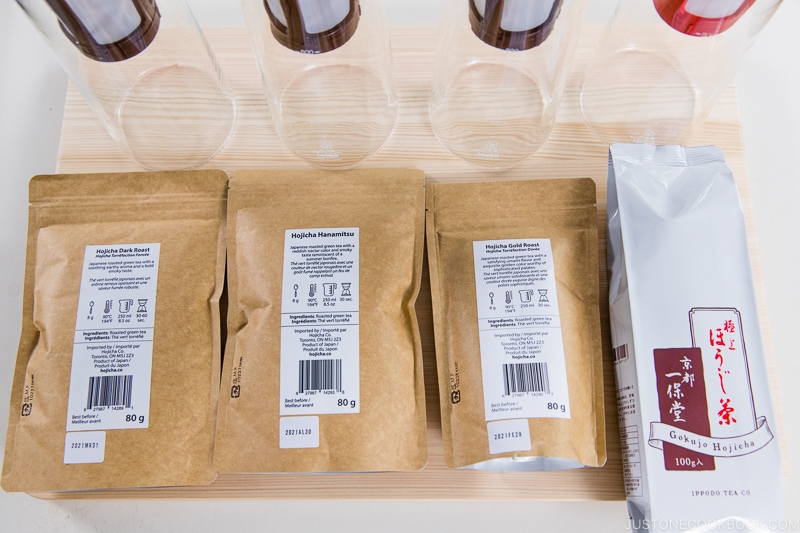 Hojicha Taste Test
For this taste test, the biggest difference with the tea leaves is when they were harvested. The types below aren't official classification, just the various hojicha we've tried.
Late harvest (Dark Roast) – leaves harvested in late June with stems.
Late harvest (Hanamitsu) – leaves harvested in June and no stems.
Early harvest (Gold Roast) – leaves harvested in spring and no stems.
Hachijuhachiya (八十八夜) – leaves harvested in early May with stems (88 days after spring starts in early February; Setsubun).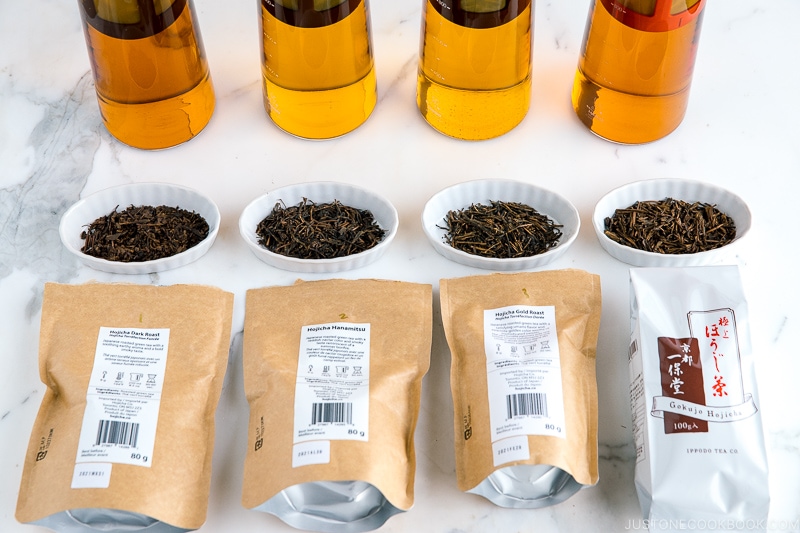 Equipment for Cold Brew
My recommendation for the cold-brewing method is to use a pot or disposable tea bags below.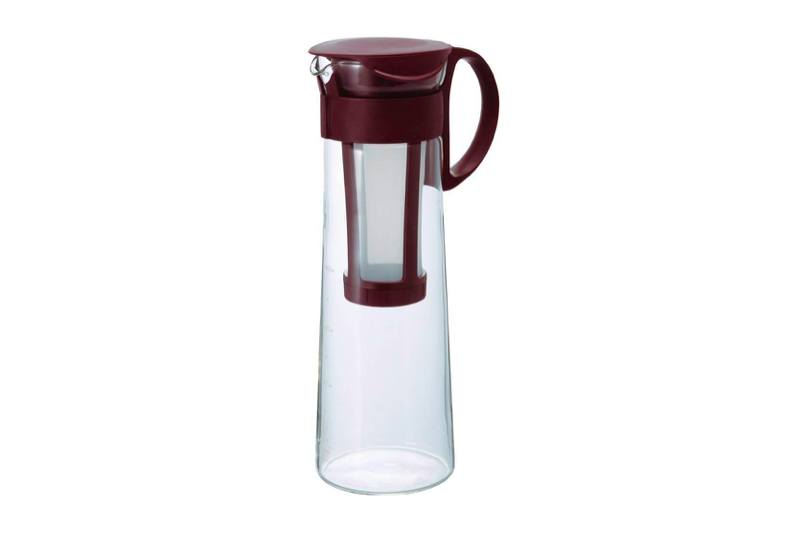 Hario Mizudashi Cold Brew Coffee Pot (1000 ml)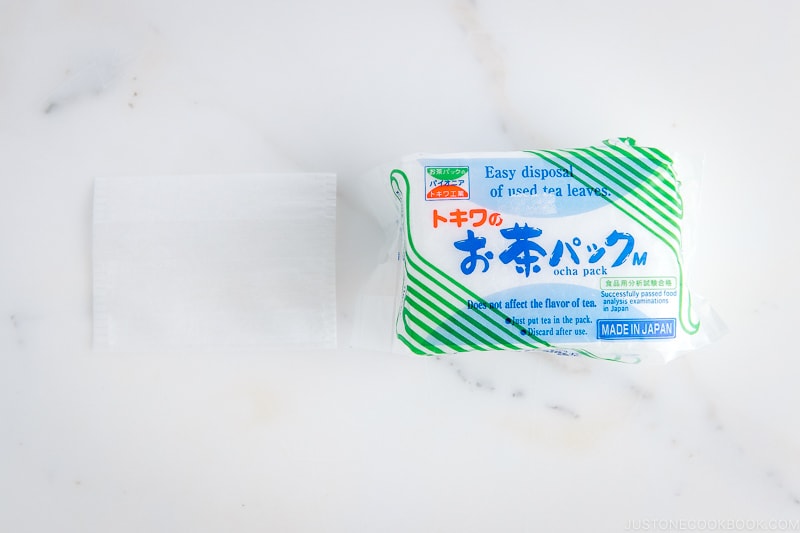 Hojicha Tasting Notes
Each of the tea had its own characteristics since they were harvested at different times, and whether they contained stems. Here are our tasting notes.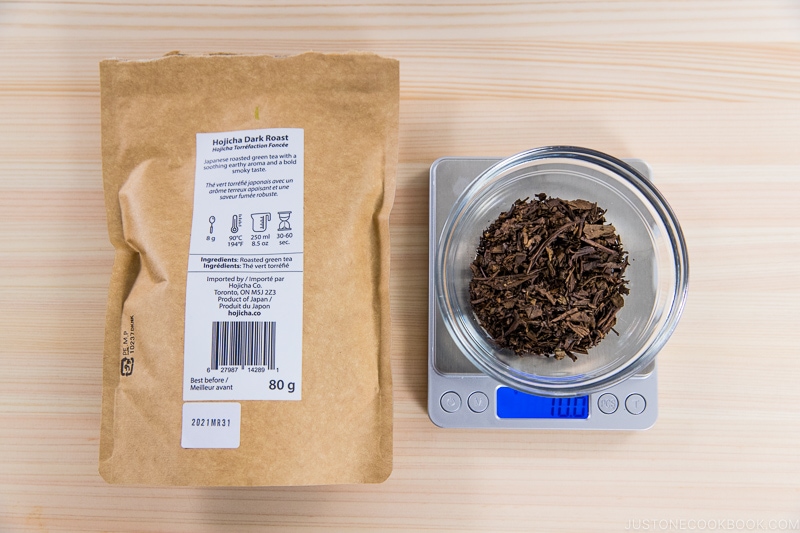 The dark roasted leaves have a classic hojicha smell, like burnt candy. After brewing, the tea had a very faint aroma with a hint of honey. The taste was unexpectedly mellow and light tasting.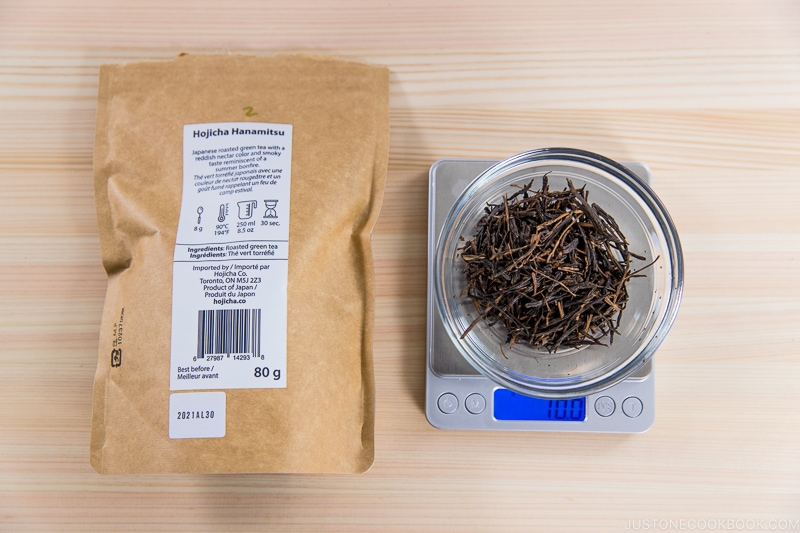 The late harvest leaves didn't smell like classic hojicha and retained green tea's vegetative tones. The tea had a very strong smell but not pleasant. The flavor was light and floral, rather than the caramel taste of hojicha.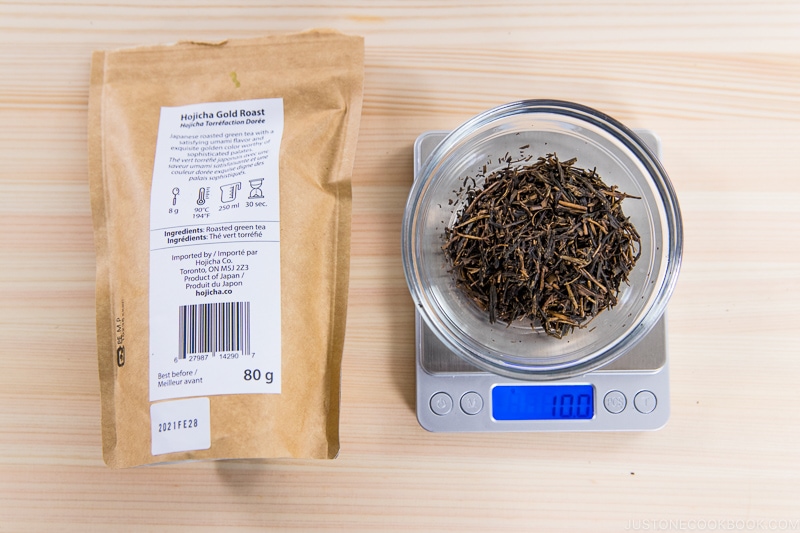 The gold roast smells like you're walking past freshly roasted hojicha. Delicate, light, with just a hint of tea leaves. The brewed tea was light and refined. The tea lacked the sweetness of hojicha.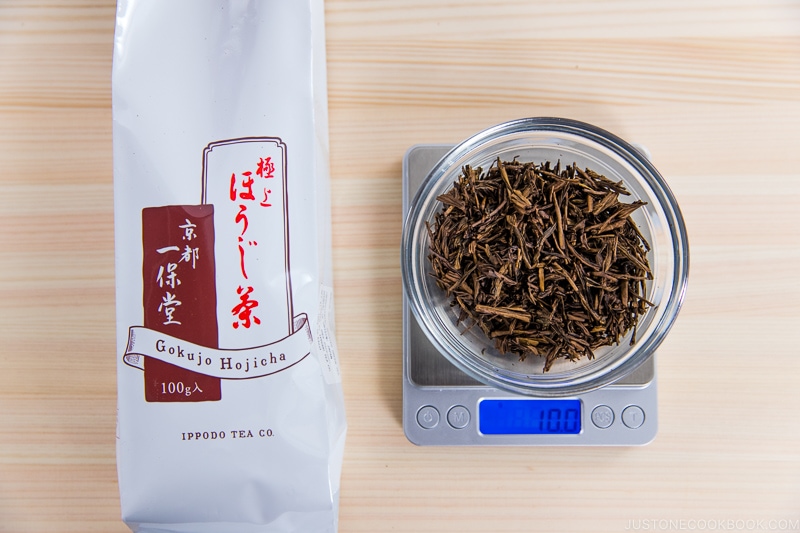 The Hachijuhachiya cold brew hojicha had the most intense and mesmerizing aroma, candy-like sweetness, and smells of freshly roasted tea. The brewed tea had a strong and pleasing caramel fragrance and tasted a bit sweet. Just the perfect balance of the hojicha characteristics. You can get this tea from Ippodo Tea Co or Amazon.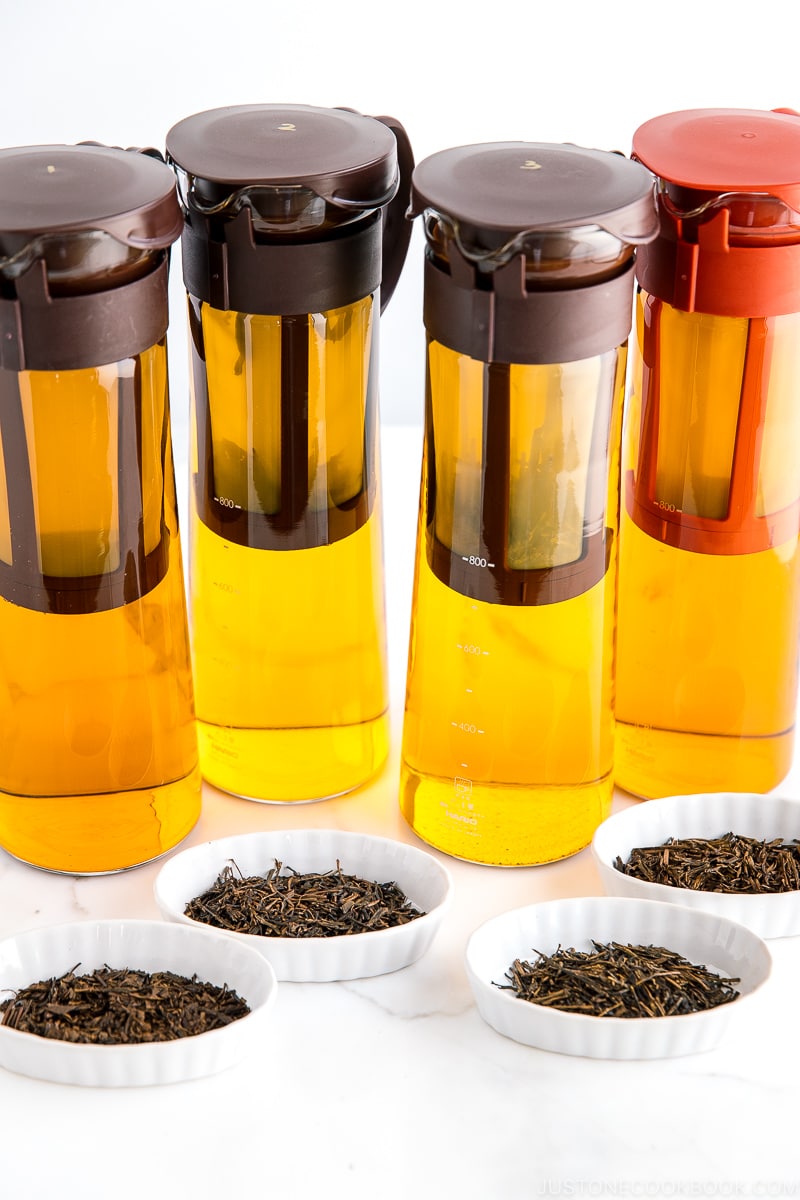 Cold Brew Hojicha – Leaves and Stem
What we've discovered for hojicha is that the tea leaves provided the aroma and the stems provided the sweet taste. The quality of the tea leaves will affect its smell and the presence of stems determines the taste. It was interesting for us to discover that when the leaves were harvested had such a strong impact on the aroma of tea.
In case you're curious about what kuki-hojicha (stem only) tastes like, it has the unique sweetness of hojicha but almost no aroma at all.
The next time you're in an Asian or Japanese supermarket and see hojicha, you know what to grab to make a cool drink for the family to enjoy.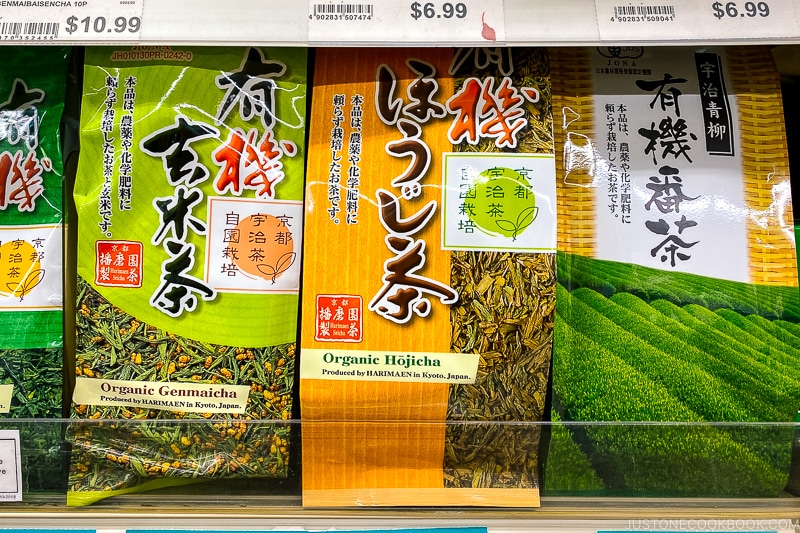 Equipment We Use for Cold Brew Hojicha
We usually have two or three pitchers of cold brew hojicha at home to quench our thirst. We use the same cold brew coffee maker for hojicha as Cold Brew Coffee.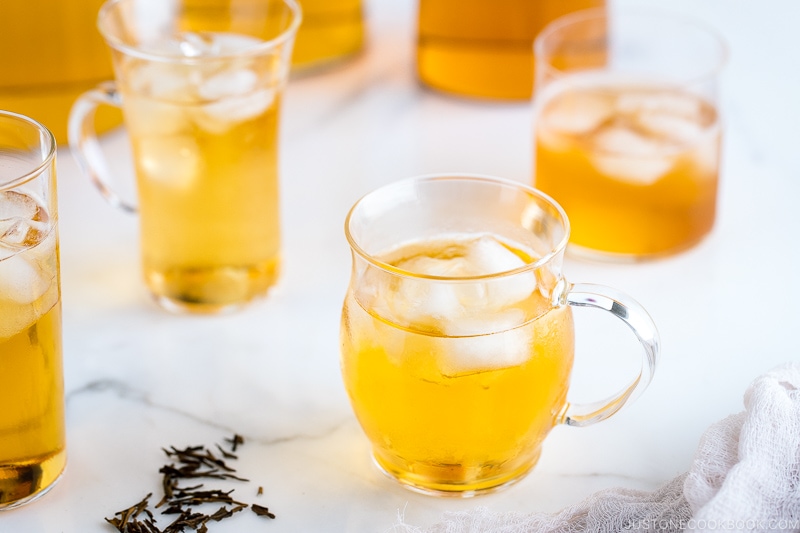 Japanese Ingredient Substitution: If you want to look for substitutes for Japanese condiments and ingredients, click here.
Wish to learn more about Japanese cooking? Sign up for our free newsletter to receive cooking tips & recipe updates! And stay in touch with me on Facebook, Pinterest, YouTube, and Instagram.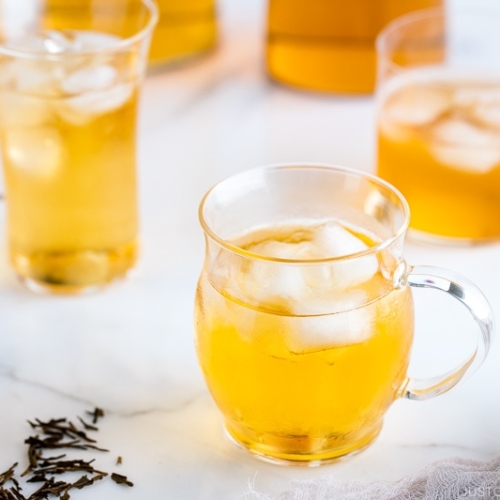 Cold Brew Hojicha
Cool down in hot weather with cold brew hojicha! It's low in caffeine and astringency, making it a fabulous drink option for both day and night. The natural caramel flavor and sweetness makes you want to refill the cup again and again.
Ingredients
0.4

oz

hojicha

(Depending on hojicha, 0.4 oz (10 g) varies from 3 Tbsp to 5.5 Tbsp; see Notes)

4 ¼

cups

water
Japanese Ingredient Substitution:
If you want substitutes for Japanese condiments and ingredients, click
here
.
Instructions
Put the tea leaves in the cold brew maker.

Add filtered water and let it steep in the refrigerator for 6-8 hours. Discard the tea leaves from the pitcher. Serve with or without ice. Store in the refrigerator for up to 2-3 days.
Notes
10 grams of Hojicha:
Dark Roast from Hojicha Co. - 3 Tbsp
Hanamitsu from Hojicha Co. - 4 Tbsp
Gold Roast from Hojicha Co. - 3.5 Tbsp
Gokujo Hojicha from Ippodo Tea Co. - 5.5 Tbsp
Recipe by Namiko Chen of Just One Cookbook. All images and content on this site are copyright protected. Please do not use my images without my permission. If you'd like to share this recipe on your site, please re-write the recipe in your own words and link to this post as the original source. Thank you.
Equipment
Cold Brew Coffee/Tea Maker
Nutrition
Calories:
1
kcal
·
Carbohydrates:
1
g
·
Sodium:
10
mg
·
Potassium:
4
mg
·
Calcium:
141
mg
©JustOneCookbook.com Content and photographs are copyright protected. Sharing of this recipe is both encouraged and appreciated. Copying and/or pasting full recipes to any website or social media is strictly prohibited. Please view my photo use policy
here
.