Try this delicious cold brew coffee made with ground coffee, filtered water, and a bit of time and patience, resulting in a less acidic and more aromatic cold coffee.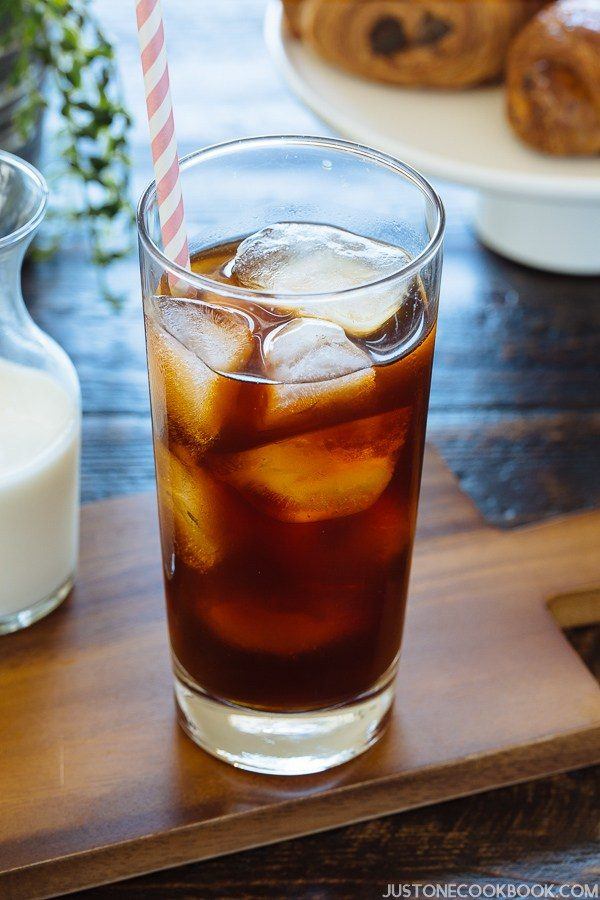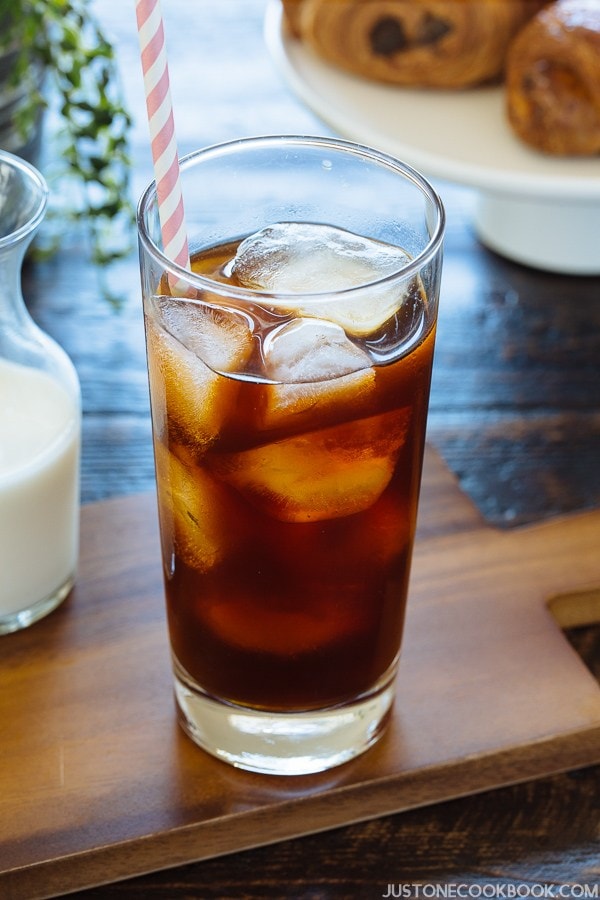 Mr. JOC and I love good coffee. In the past, we spent a lot of time trying coffee beans from different boutique roasters and ways to make good coffee at home.
Since this past summer, we have been making almost exclusively Cold Brew Coffee (水出し珈琲) at home and we're completely in love with it. Once you try cold-brewing your coffee, you may never go back to your coffee maker!
Watch How To Make Cold Brew Coffee 水出し珈琲の作り方
What is

Cold Brew Coffee

?
First of all, it is very different from the traditional "iced coffee". Most iced coffee are hot coffee chilled or poured over ice until cold and taste diluted. Cold Brew Coffee is coffee made with room temperature water, seeping in coffee ground for 8-12 hours.
It might sound technical and tricky but it's not at all. In a tall pitcher, Mason jar, or French press, mix coffee grounds are mixed with filtered water, and then left to sit at room temperature or the refrigerator before the grounds are filtered out. What's left is black coffee concentrate. We like our coffee strong so we drink straight black coffee with ice, or sometimes add just a bit of milk to it. Depending on the flavors of the bean, we enjoy the coffee in different ways.
What if you prefer hot coffee? You can easily heat up your cold brew coffee in a saucepan or in your microwave. Just don't let it boiled as it adds acidity and lose flavors.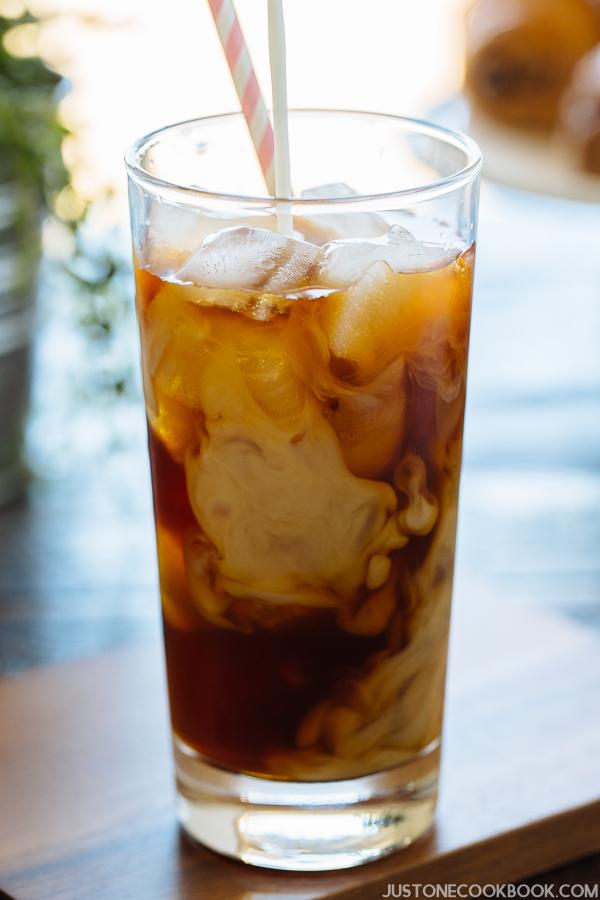 Why Cold Brew Coffee?
Why do we drink cold brew coffee? The cold brew process creates a perfectly balanced, less acidic, more aromatic, really smooth, and delicious cup of coffee.
The ground coffee slowly infuses into the water. And this cold-brewing process creates a strong, concentrated brew, leaving behind bitter acids and fatty oils from roasted coffee beans which are soluble only at a high temperature. Therefore, hot-brewed coffee has that particular acidic taste and effect on your stomach while cold-brewed coffee has less acidic taste.
And the best part ? Cold brew coffee is incredibly easy and simple to make, and you can brew it while you're sleeping!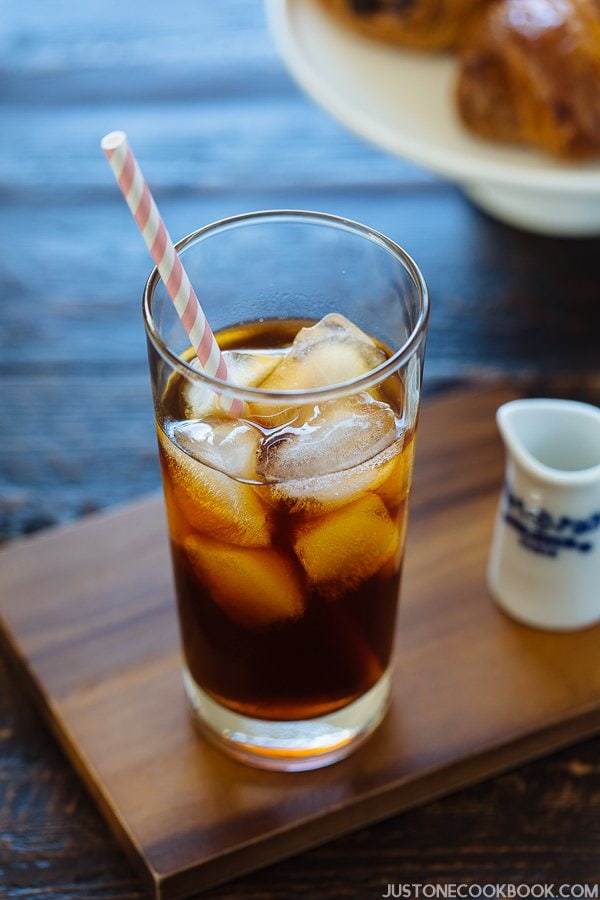 Coffee Type and Grounds
Everyone's preference for coffee is different so try different beans and roasts to find your favorite. We prefer the dark roast coffee beans because they are more flavorful, but it's entirely up to you. For my coffee, I like to grind whole beans right before I make coffee and the grind setting I use is medium coarse.
As each grinder is different, your medium coarse result could be different from mine, test a few times to see what settings works best for you. If the coffee is too coarse, water will flow through too quickly and the coffee won't be as flavorful. Recently I started to use this new coffee grinder which grinds more consistently than my previous coffee grinder.
Coffee to Water Ratio
Many cold brew recipes call for a high coffee-to-water ratio compared to hot brews to make a concentrate. Here's a general comparison:
Hot Brew
1 oz. (28 g) coffee bean to 8 oz. (237 ml) hot water
= 2 Tbsp coffee per 1 cup of water *
Cold Brew
2 oz. (57 g) coffee bean to 8 oz. (237 ml) room temperature/cold water
= 4 Tbsp coffee per 1 cup of water *
= 1 cup coffee per 4 cups of water *
* REMEBER: I don't recommend using "cup" and "tablespoon" measurements because your coffee-brewing results will vary. When you measure coffee beans by weight, coffee grounds weigh the same amount as beans. However, cup/tablespoon measurements of beans and coffee grounds will vary. For example, 1 tablespoon of beans does not always yield the same weight. Always good to have a kitchen scale in your kitchen. 🙂
I follow Hario Japanese Water Brew Coffee Pot instruction (coffee to water ratio) and I really love how our coffee turns out. I don't consider my cold brew coffee recipe as a strong concentrate because we can drink it straight without thinning it out.
If you don't like the results, experiment with the different coffee grinds and coffee to water ratios.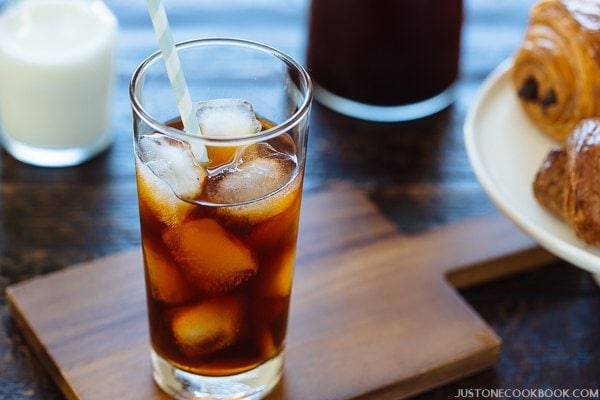 Equipment I Use for Cold Brew Coffee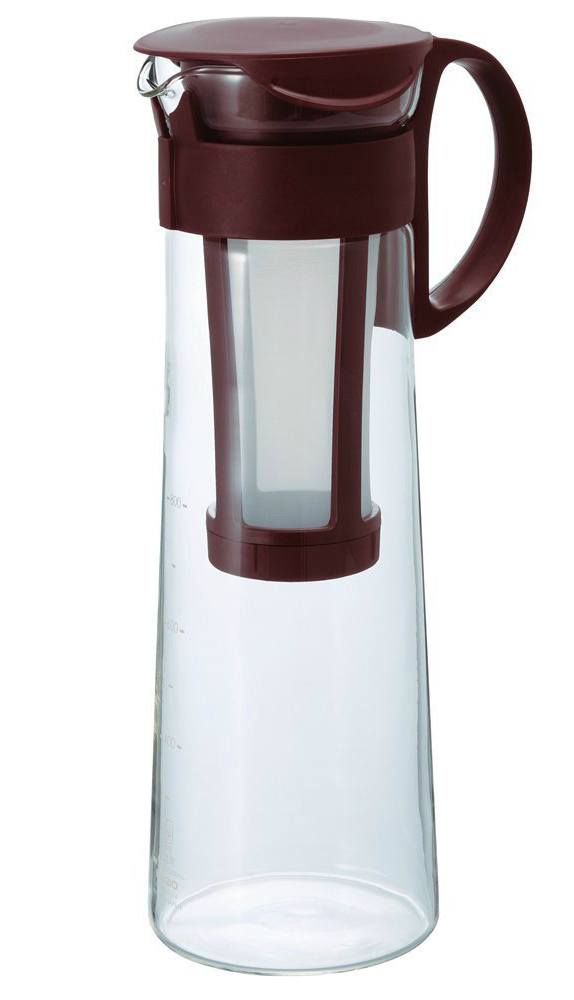 We have 2 of these Hario cold brew coffee makers at home, so there is an endless supply of cold brew coffee always in our refrigerator. Please note that you don't need this Hario Japanese Water Brew Coffee Pot to make my cold brew coffee recipe. However, I will explain why it's convenient and worth getting one of these (and I'm not sponsored by this company).
It's simple to make cold brew coffee at home, but you will need a large jar/container to infuse coffee, a fine mesh strainer, a cheesecloth, and another large container to catch filtered coffee and to store.
Or you just get one of these that comes with everything above.
We tried making cold brew coffee first with Bodum French Press Coffeemaker. However we have to filter the coffee through filter paper when it's done brewing as small grounds slips through the fine metal mesh. The Hario much easier to clean (dishwasher safe), and the reusable filter is much finer than the French Press so no additional filtering is necessary.
1000 ml (4 cups) is a nice size for daily coffee drinkers! It's a bit taller than typical drink bottles, which might be one drawback if your fridge doesn't have a tall space.
Serve Cold Brew Coffee With…
Delicious Coffee Beans – Helio Roast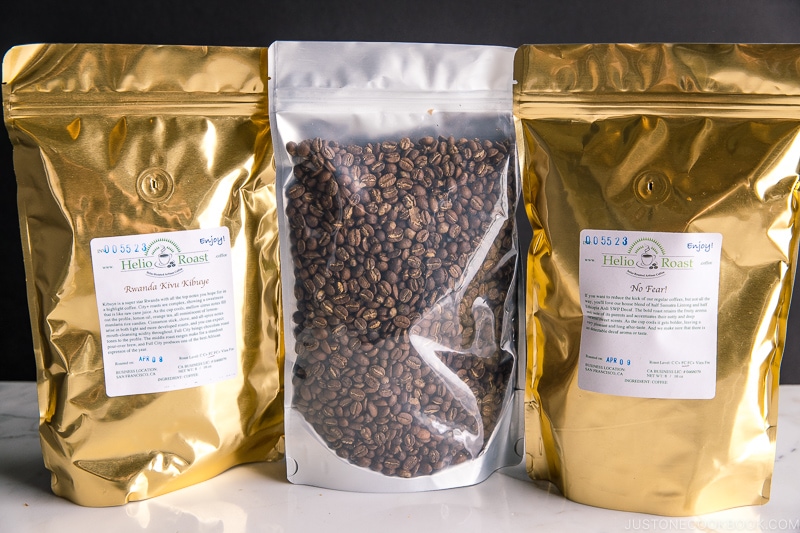 Lastly, we want to introduce you to a bay area coffee roaster we simply love – Helio Roast. They offer truly extraordinary coffee beans and it's run by a former university professor named Kern Trembath. There are a few unique characteristics about Helio Roast:
They use electric roasters powered by solar energy.
They only roast the beans after you order them. You decide on the type of beans you want and roast level, and your coffee bean is handcrafted just for you.
We discovered their beans at a local supermarket and so far they're our favorite among all the San Francisco coffee roasters.
Kern has generously offered all JOC readers 10% discount if you use the code "JUSTONECOOKBOOK" during checkout (we do not make any money from your order, we like to support small local businesses).
We've tried Sumatra Toba Batak, No Fear, and Sumatra Lintong Pak beans roasted at Full City+ level and they were amazing.
Sign up for the free Just One Cookbook newsletter delivered to your inbox! And stay in touch with me on Facebook, Pinterest, YouTube, and Instagram for all the latest updates.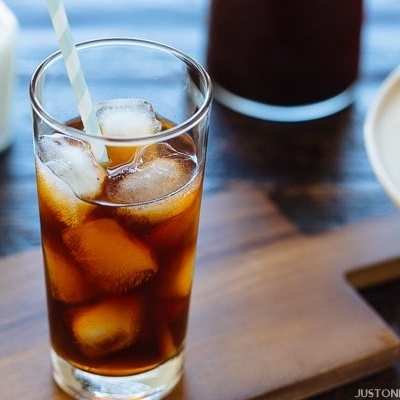 Cold Brew Coffee
Try this delicious cold brew coffee made with ground coffee, filtered water, and a bit of time and patience, resulting in a less acidic and more aromatic cold coffee.
Video
Servings:
1000
ml (about 4 cups)
Ingredients
2.8

oz

whole coffee beans or ground coffee

(Remember 80 grams (2.8 oz) of whole coffee beans will be still 80 g coffee grounds. If you only use measuring spoons, the weight will be different depending on the beans you use. Feel free to increase or decrease coffee by 10 grams based on the results.)

4 ¾

cups

room temperature or cold filtered water
Japanese Ingredient Substitution:
If you want substitutes for Japanese condiments and ingredients, click
here
.
Instructions
Grind the coffee beans on the medium-coarse setting on your grinder (I used this brand in this recipe but now use this brand. It grinds coffee beans more consistently and I love it.). You will need 80 grams of ground coffee beans. For the coffee beans we currently use, 80 grams are roughly 1 ⅓ cup of coffee ground. With different coffee beans, the volume could be very different. Some recipes say 1 cup whole coffee beans as an ingredient, but keep in mind that will yield different amounts of ground coffee. If you don't have a coffee grinder, you can usually grind whole beans where you buy the beans or ask the coffee shop to grind for you.

Based on my experience, the best coffee beans for cold brew are dark roasted and ground to medium coarse. Light or medium roasts are not as flavorful.

Slowly pour a little bit of water at a time into the filter.


With a wooden spoon (use gentle corner utensil), blend the water and coffee beans a few times, let the coffee beans soak up water.

Refrigerate the coffee pot for hours – anywhere from 8 (Hario's instruction) to 12 (our preference) hours. Anything less could lead to a watered-down cold brew and anything more than that could lead to bitter cold brew. You can also try brewing at room temperature vs. using the refrigerator.

Remove the strainer and discard the coffee beans. If you don't have a cold brew coffee maker, line a small strainer with cheesecloth and place over a large measuring cup or bowl. Pour the coffee through the strainer.

I recommend you try the cold brew straight first before adding anything to it. Dilute the coffee with as much ice or milk as you prefer. Alternatively you can also warm up the coffee in the microwave or on the stovetop.
To Store
Keep cold brew coffee in the refrigerator and enjoy it within 2-3 days before acidity kicks in.
Nutrition
Nutrition Facts
Cold Brew Coffee
Amount per Serving
% Daily Value*
* Percent Daily Values are based on a 2000 calorie diet.
©JustOneCookbook.com Content and photographs are copyright protected. Sharing of this recipe is both encouraged and appreciated. Copying and/or pasting full recipes to any website or social media is strictly prohibited. Please view my photo use policy
here
.
Not A Coffee Fan?