Treat yourself to a bright and smooth cup of Japanese Iced Coffee at home. This method releases an array of complex flavors into the coffee that's flash-chilled to lock in the aroma and taste. Enjoy it right away or refrigerate it overnight for a delicious beverage on the go.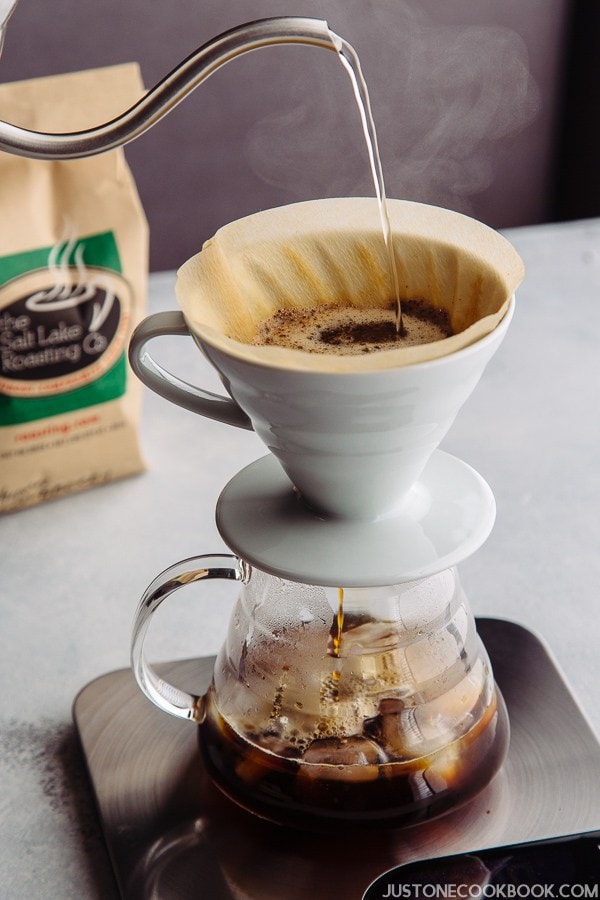 Every morning, the one thing I truly look forward to the most is the first sip of coffee. As Mr. JOC and I both enjoy coffee, we purchase and try different beans from local and independent coffee roasters, as well as coffee shops we visited when we travel.
As Cold Brew coffee got more popular in recent years, many coffee lovers seem to be more interested in how we make iced coffee in Japan, known as Japanese Iced Coffee. Today I'm sharing how the Japanese make iced coffee, which to us is "the best" way to enjoy coffee (until we find a better way).
What is Japanese Iced Coffee?
Japanese iced coffee is simply coffee brewed with hot water, directly onto ice. One-third of the liquid is in the form of ice and the other two-thirds in the form of pour-over.
What makes Japanese iced coffee different from just adding ice to hot coffee? As you pour the hot water over the coffee grounds, it extracts a wide range of tasty flavors and aromatics from the ground coffee. As it drops onto the ice cubes, the ice cubes instantly lock those flavors by flash-chilling at the same time diluting the concentrate.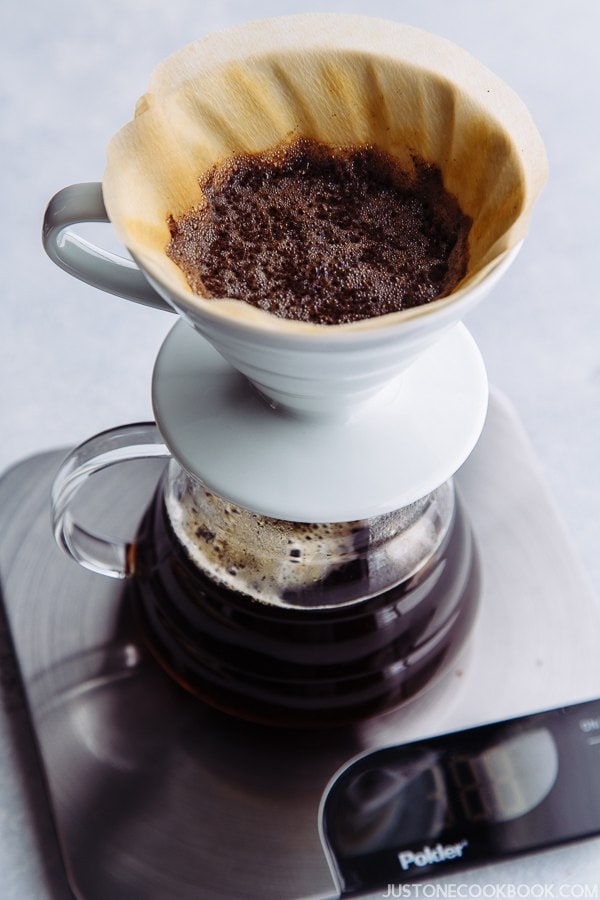 Taste of Japanese Ice Coffee
To really test out this method, we tested both cold brew and Japanese iced coffee with multiple coffee beans. For each side-by-side comparison, the first thing we noticed was that Japanese iced coffee has much more flavors and aromatics. The subtle hints of caramel, chocolate, berries, and other delicious flavors hidden in the coffee beans are more pronounced with the Japanese iced coffee method for the same exact beans.
When done well, the Japanese iced coffee will result in a more flavorful, brighter, and complex iced coffee. You can also produce different results with the same coffee by adjusting the pour rate and grind size.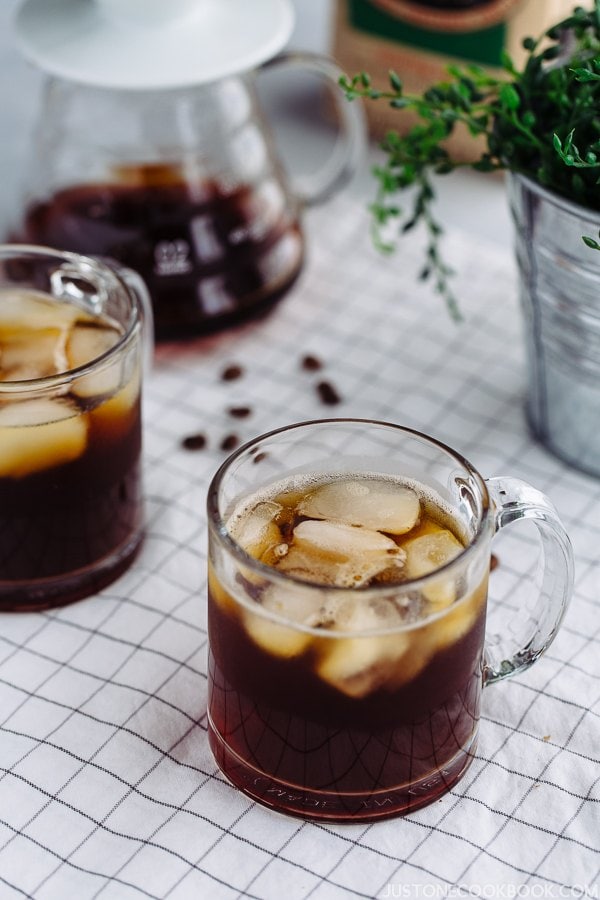 Pros and Cons of Japanese Iced Coffee
P‍‍ros:
It makes cold coffee faster: it takes about 10 minutes including the time to boil water.
The flavors are more robust than a cold brew.
Cons:
It makes just one to two servings at a time.
A little more labor-intensive than a cold brew and more work to make a big batch the night before.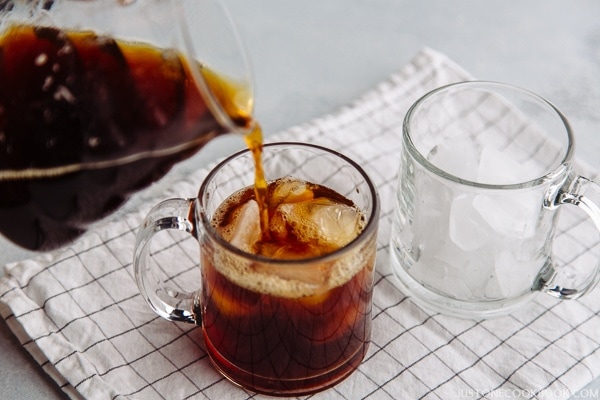 Equipment You Will Need for Japanese Iced Coffee
If you are already making hot coffee with a dripper, you will not need to buy special gear.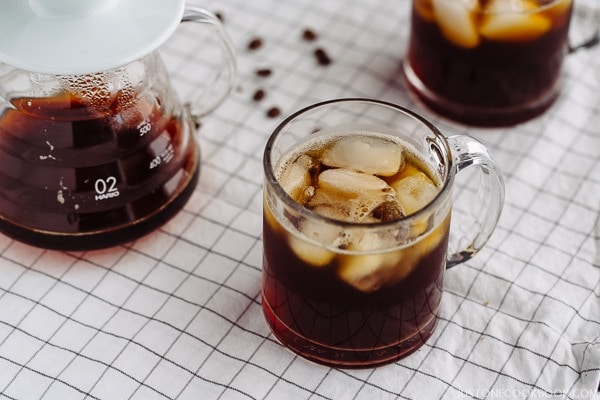 Coffee Beans that We Love
In conclusion, if you are a coffee lover and especially iced coffee, please give Japanese iced coffee a try. We recommend using delicate beans that are full of flavors. If you live in the bay area try the beans from Sightglass, Ritual, Four Barrel, or Blue Bottle.
Another bay area coffee roaster we highly recommend and offer truly extraordinary coffee beans is Helio Roast. It's run by a former university professor named Kern Trembath. There are a few unique characteristics about Helio Roast:
They use electric roaster powered by solar energy.
They only roast the beans after you order them. You decide on the type of beans you want and roast level, and your coffee bean is handcrafted just for you.
There is nothing like freshly roasted coffee beans, the resulting coffee is simply excellent. Kern has generously offered all JOC readers 10% discount if you use the code "JUSTONECOOKBOOK" during checkout (we do not make any money from your order, we like to support small local businesses).
We've tried Sumatra Toba Batak, No Fear, and Sumatra Lintong Pak beans roasted at Full City+ level and they were amazing.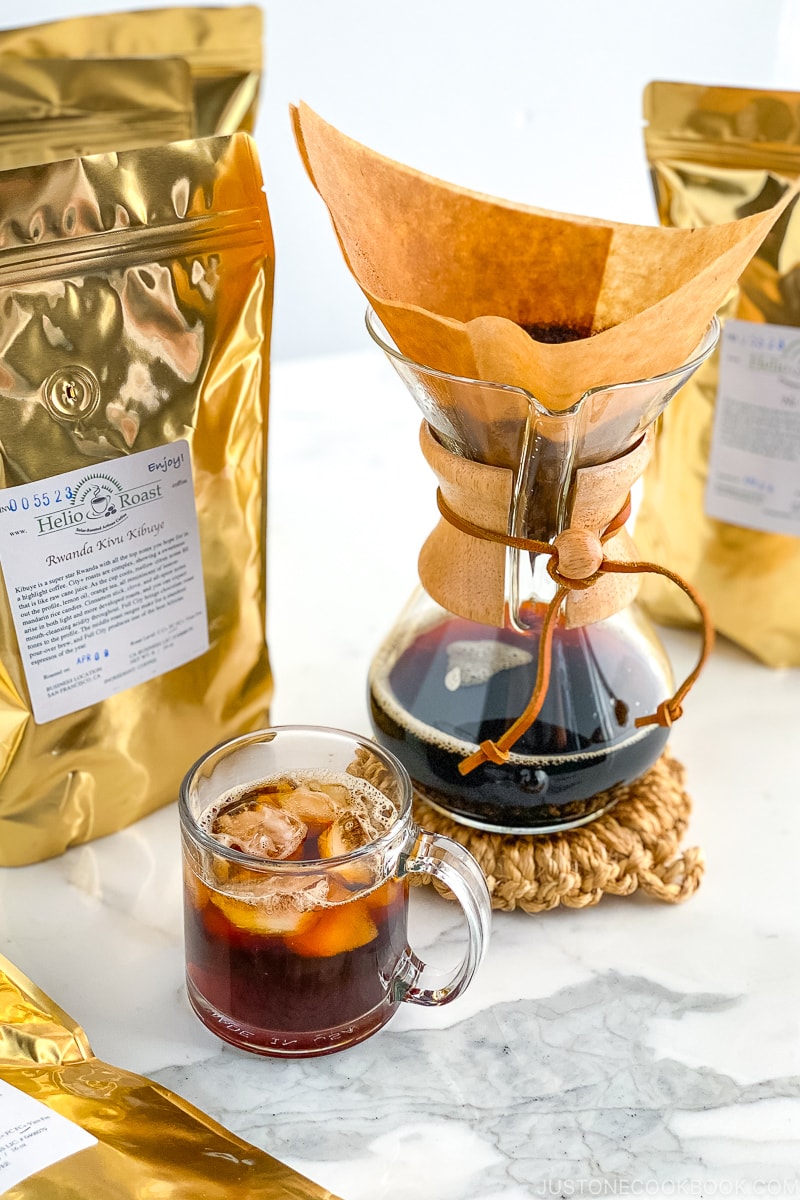 Lastly, if you travel to Salt Lake City, stop by and purchase some beans from John at the Salt Lake Roasting Co. John has an amazing selection of coffee beans from all over the world and we always stop by for some coffee and pastries when we go skiing in Utah. He also ships his delicious beans so you can purchase them online.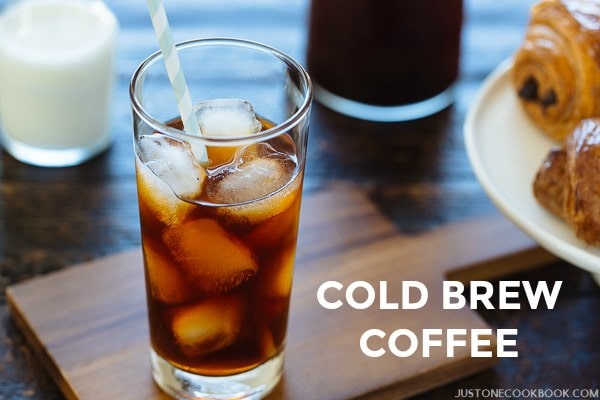 If you missed my Cold Brew recipe, please read here.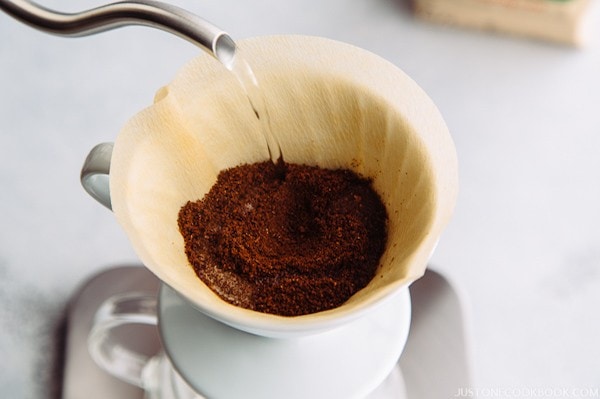 Wish to learn more about Japanese cooking? Sign up for our free newsletter to receive cooking tips & recipe updates! And stay in touch with me on Facebook, Pinterest, YouTube, and Instagram.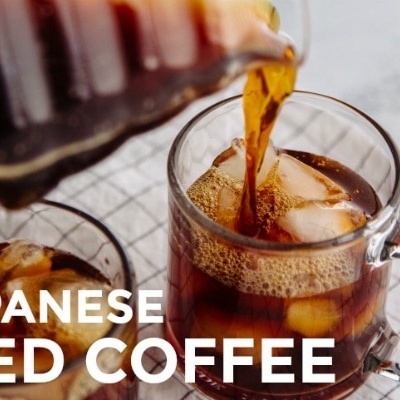 Japanese Iced Coffee
Treat yourself to a bright and smooth cup of Japanese Iced Coffee at home. This method releases an array of complex flavors into the coffee that's flash-chilled to lock in the aroma and taste. Enjoy it right away or refrigerate it overnight for a delicious beverage on the go.
Video
Ingredients
30

g

coffee beans

(1 oz; weigh your beans, as 1 Tbsp is roughly 5 grams but it can vary depending on the beans; choose a light to medium roast for a bright flavor)

150

g

ice

(5.3 oz)

375

g

hot water

(12.7 oz; divided for the first and second pours; at 205ºF/96ºC; plus more to rinse the filter)
Japanese Ingredient Substitution:
If you want substitutes for Japanese condiments and ingredients, click
here
.
Instructions
Start boiling plenty of water in a drip kettle. Once boiling, remove the kettle from the heat and allow the water to cool slightly to 205ºF/96ºC. In the meantime, prepare the rest of the steps below. Tip: Do not use boiling water (212ºF/100ºC) for your pour-over coffee; it will over-extract the flavor from the grounds and result in a bitter brew.

Meanwhile, place a paper coffee filter in a coffee dripper set on top of a mug or cup. Pre-wet and rinse the filter with some hot water from the kettle. Let it drain, then dump out the water from the cup.

In a coffee grinder, grind

30 g coffee beans

(1 oz) to a medium or medium-fine grind size. I selected the Drip setting on my grinder.

Set the dripper on top of the server. Add all the ground coffee to the rinsed filter in the dripper. Level the grounds. Press the Tare button to reset the scale to zero.

When the water in the drip kettle registers 205ºF/96ºC, slowly pour 125 g (4.2 oz) of hot water in a circular pattern around the cone of the dripper, fully wetting the grounds. Allow the coffee to steep and drip for 30 seconds. Then, slowly pour another 250 g (8.5 oz) of hot water onto the grounds in a circular pattern. Allow the coffee to steep and drip into the server. When finished, you should have about 500 ml (17 oz) of iced coffee.
To Serve
Serve the Japanese Iced Coffee over additional ice in a glass and enjoy!
To Store
Place the coffee in an airtight container and store it in the refrigerator for no longer than 1 day to preserve freshness and aroma.
Nutrition
Nutrition Facts
Japanese Iced Coffee
Amount per Serving
% Daily Value*
* Percent Daily Values are based on a 2000 calorie diet.
©JustOneCookbook.com Content and photographs are copyright protected. Sharing of this recipe is both encouraged and appreciated. Copying and/or pasting full recipes to any website or social media is strictly prohibited. Please view my photo use policy
here
.