Chewy udon noodles, tender fall-off-the-bone meat, and fried garlic slices in a hearty oxtail broth. This Oxtail Udon is the ultimate comfort food this winter, or all year around!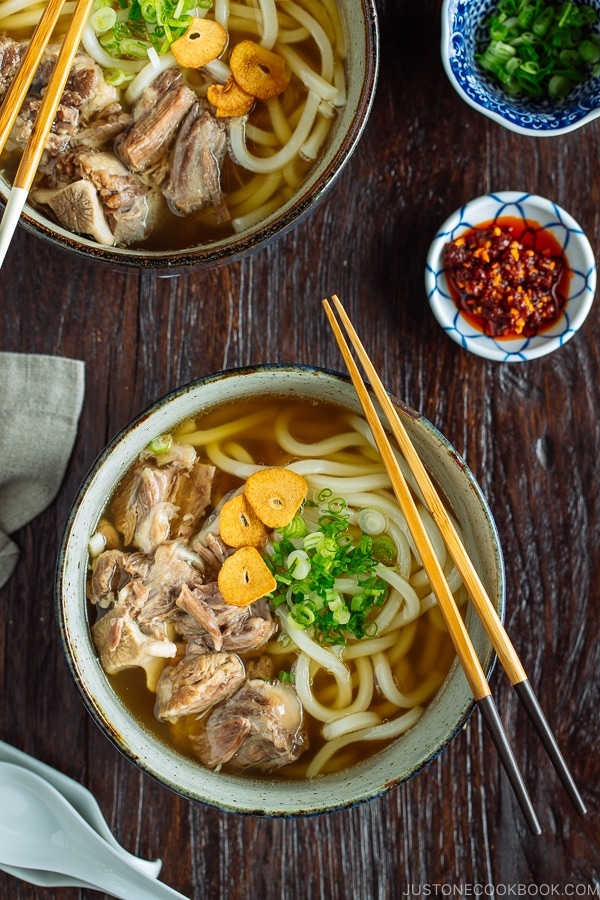 Oxtail Udon (テールスープうどん) is not a common Japanese dish, but a few years ago, my JOC teammate, Naomi, told me about this super delicious udon noodle soup she loved at Kemuri Japanese Baru in Redwood City, CA. As a big fan of oxtail, Mr. JOC wanted to try this new (then) restaurant.
We were sold on the first taste of the oxtail broth, so we have been back many times to order their "Ox-tail Udon". We absolutely love the rich flavor! So you know that meant I just had to make my own version at home! Now we could enjoy the dish anytime, especially on cold winter days. This oxtail udon recipe was created after being inspired by the restaurant's version.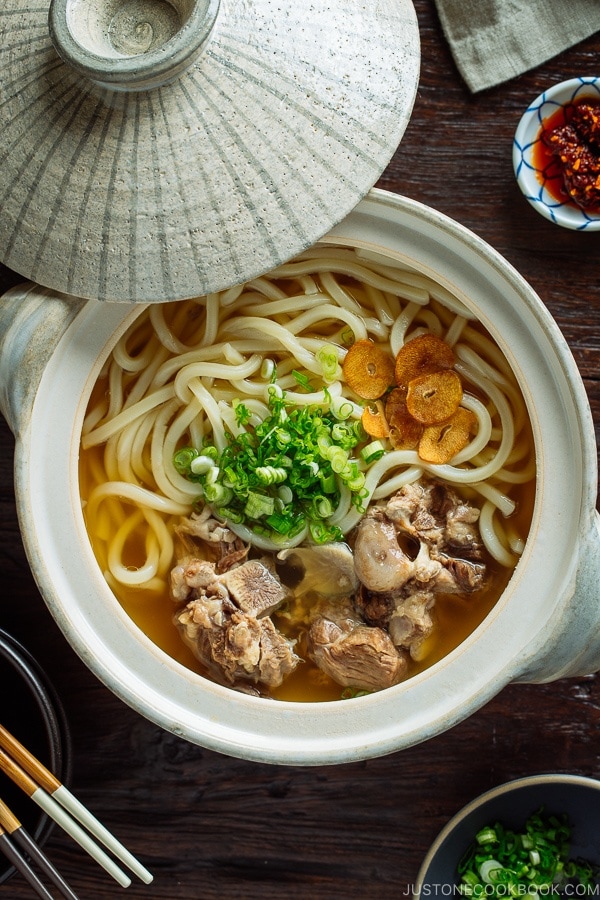 Making "Oxtail Dashi"
When you hear Oxtail Udon, you might think that just means putting udon noodles in oxtail broth. That would work, but it wouldn't make it "Japanese".
To make Japanese-style udon stock, you will need to combine my oxtail broth recipe with dashi to achieve that umami packed flavor that makes Japanese soup so delicious. There are many types of dashi in Japan, but for this recipe, it's best to use the simple Katsuo Dashi made with katsuobushi (dried bonito flakes).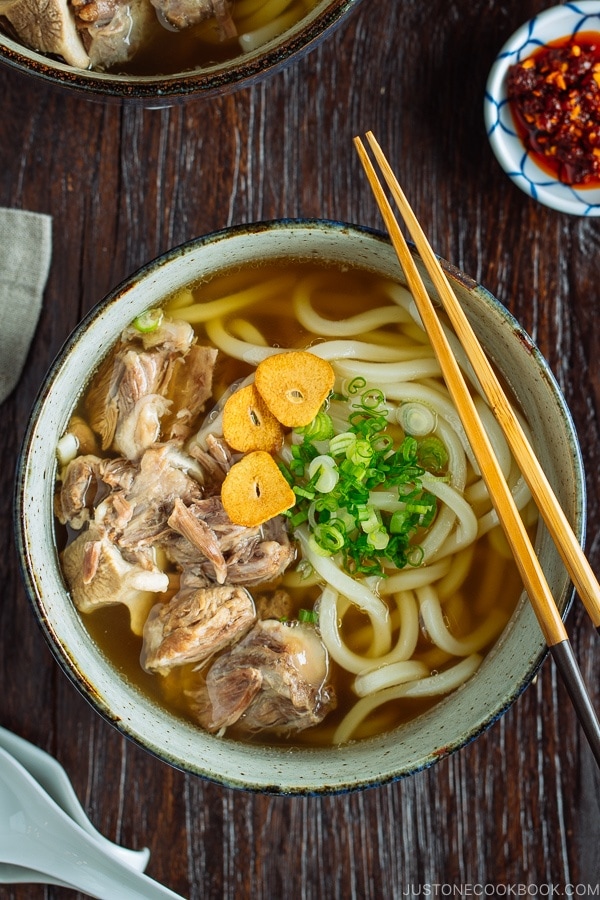 What to Do with Oxtail Meat & Bones?
To me, the star of this dish is oxtail – sorry udon, it's not you this time. Hence, I put the big chunk of oxtail in my serving bowl or the donabe (Japanese clay pot).
However, not everyone is a huge fan of big chunks of bones in your bowl. If that's the case, you can debone first and serve those tender oxtail meat chunks on top of the udon noodles.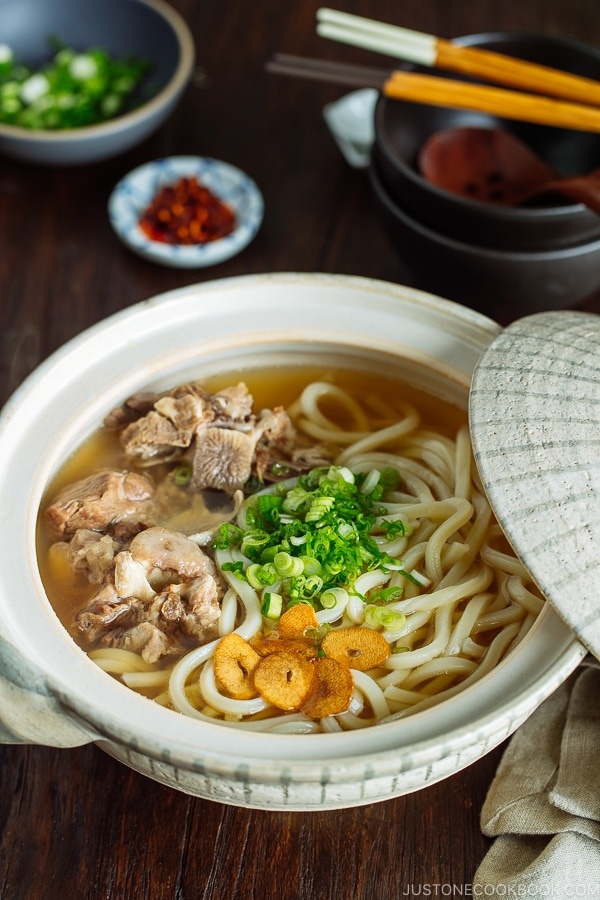 How to Serve Oxtail Udon
Toppings
Greens: At the Kemuri Japanese Baru restaurant, their "Ox-tail Udon" is topped with a large serving of the Japanese greens, Mizuna. Mizuna is the best, but you can put any greens in this udon noodle soup, like bok choy or spinach. I opted for simple chopped green onions to keep it simple and showcase the oxtail for the blog images.
Fried Garlic Chips: I do recommend adding fried garlic chips to the oxtail udon. Whenever I go back to Japan, my aunt usually gives Mr. JOC his favorite fried garlic chips that are homemade at this teppanyaki restaurant that used to be owned by my late grandfather. These garlic chips are made from these huge heads of garlic grown in Aomori Prefecture. They're perfect for frying!
Oxtail Udon Serving Dish
Use your biggest serving bowl that can fit udon noodles AND the big chunks of meat. If you have a single serving donabe or any-size donabe (How to use donabe?), it's also fun to scoop out individual portions at the table as shown in the pictures here.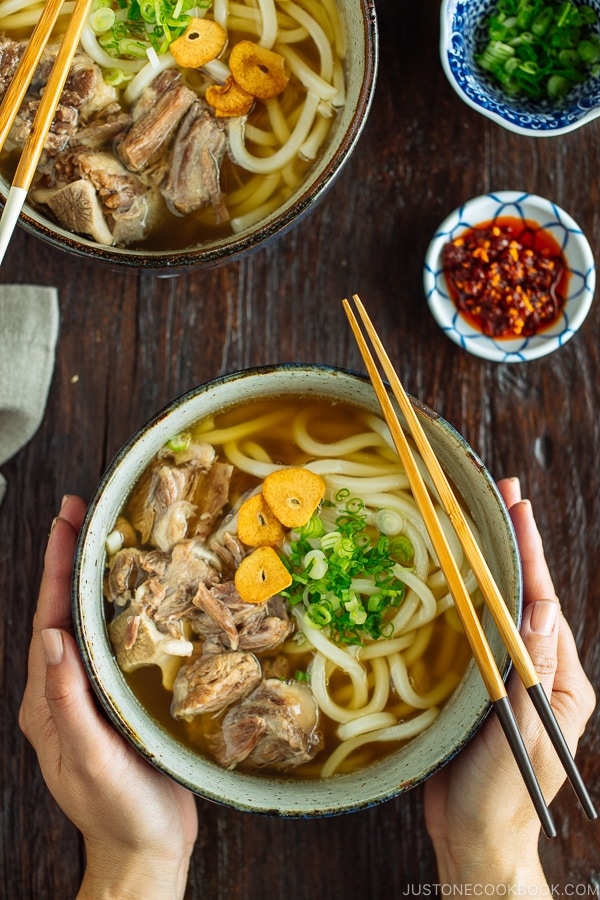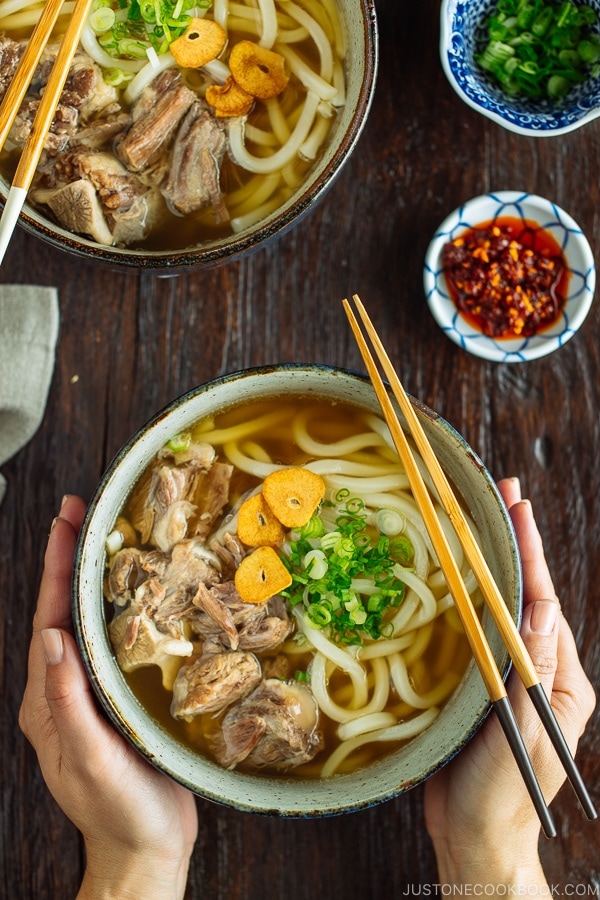 Doesn't that just warm you up looking at that bowl of hearty oxtail udon? It's a great weekend recipe to spend quality time in the kitchen, and enjoy for lunch and dinner!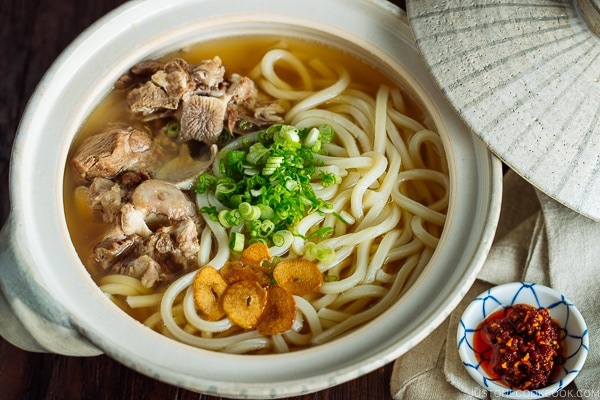 Don't want to miss a recipe? Sign up for the FREE Just One Cookbook newsletter delivered to your inbox! And stay in touch with me on Facebook, Google+, Pinterest, and Instagram for all the latest updates.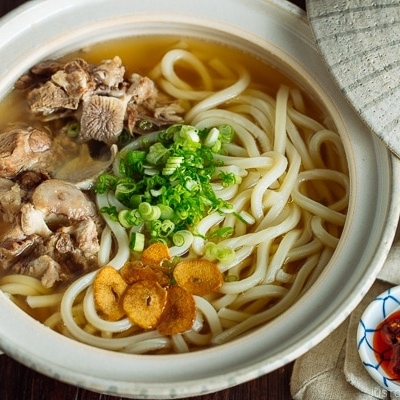 Oxtail Udon
Chewy udon noodles, tender fall-off-the-bone meat, and fried garlic slices in a hearty oxtail broth. This Oxtail Udon is the ultimate comfort food this winter, or all year around!
Japanese Ingredient Substitution:
If you want substitutes for Japanese condiments and ingredients, click
here
.
Instructions
Fried Garlic Chips: Take out the large cloves from the head of garlic. Thinly slice them widthwise and remove the green core. You can omit this step; however, the core will come out easily while frying and burn quickly, which will result in darkening the oil color. Therefore, if you have time, I recommend removing it. Add the oil in the frying pan over medium-low heat. While oil is still cold, slowly fry the garlic slices until golden brown, then dry on paper towel. Once cool, store them in an airtight container. Transfer the garlic infused oil into a small jar to use in other recipes.

Gather all the ingredients. Please note that you will need to cook my Oxtail Broth and Meat first. Put the oxtail broth in a large stockpot (transfer from your Instant Pot if making on the same day). Reheat the broth and keep it on low simmer. Skim if necessary.

Add water in a medium saucepan and bring it to a boil. Once boiling, add katsuobushi.

Lower the heat and keep on low simmer for 10-15 seconds and turn off the heat. Set aside to steep for 10-15 minutes.

Strain the katsuo dashi over a fine mesh sieve into a bowl/measuring cup.

Add the katsuo dashi into the oxtail broth. Now you have oxtail katsuo dashi.

Add kosher salt, soy sauce, and white pepper. Taste the soup and see if you need to adjust. Keep it on low simmer until you're ready to serve.

Chop green onions. Bring a large pot of water to boil for udon noodles. My favorite udon is the frozen Sanuki Udon. Cook the frozen udon noodles in boiling water for 1 minute (no need to defrost). If you use dry noodles, follow the package instructions.

Pick up the udon noodles and transfer to the serving bowl or donabe. Add the oxtail meat and the soup. Top the udon with green onions and fried garlic chips. If you like it spicy, add your favorite chili oil or hot sauce.
To Store
You can keep the leftover soup in an airtight container and store in the refrigerator for up to 3 days and in the freezer for a month. Cook noodles before serving.
Nutrition
Nutrition Facts
Oxtail Udon
Amount per Serving
% Daily Value*
* Percent Daily Values are based on a 2000 calorie diet.
©JustOneCookbook.com Content and photographs are copyright protected. Sharing of this recipe is both encouraged and appreciated. Copying and/or pasting full recipes to any website or social media is strictly prohibited. Please view my photo use policy
here
.