Crunchy burdock root and sweet carrot coated with creamy Japanese mayonnaise dressing, this Gobo Salad (Japanese Burdock Salad) is a popular side dish in Japan. Think of it like a coleslaw, this salad goes well with any Japanese dish and bento.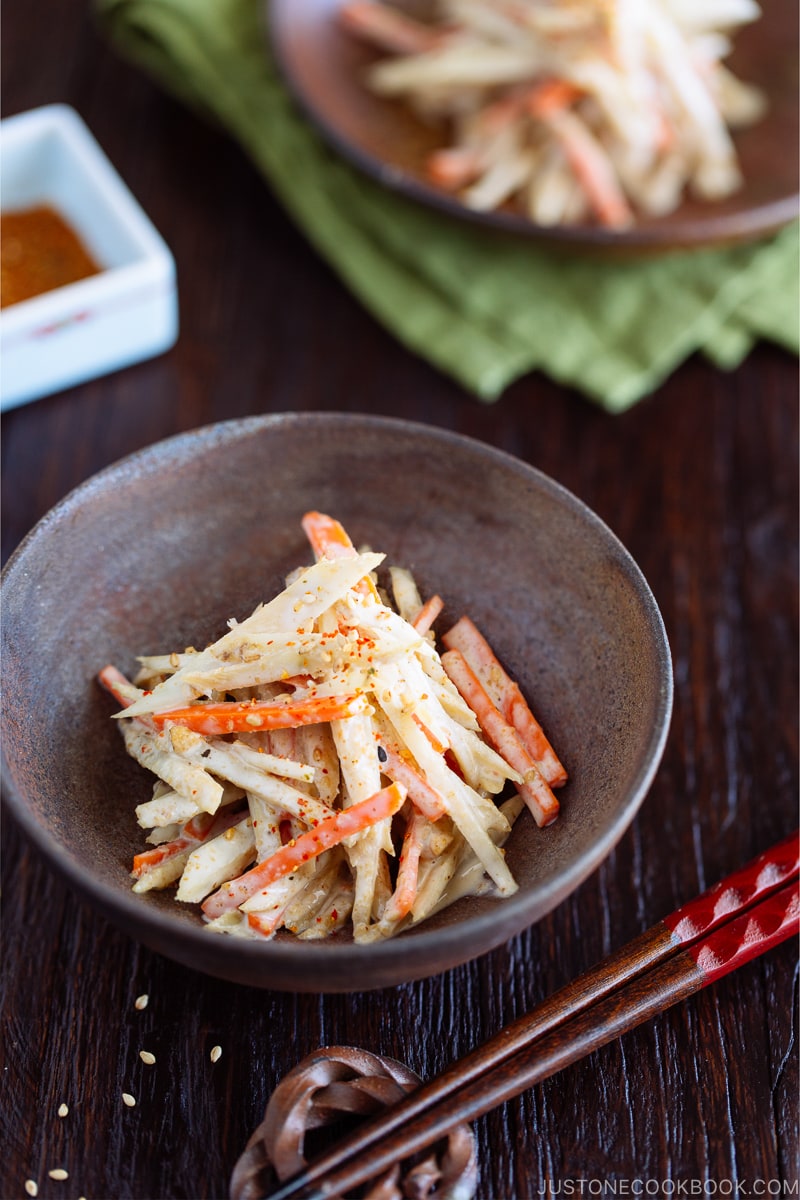 Gobo Salad (ごぼうサラダ) is Japanese burdock salad that's made with julienned burdock root and carrot blanched until crisp-tender and coated with Japanese mayonnaise-based dressing. It's crunchy, creamy, and crisp. You'll find all kinds of sensations in one delicious bite!
If you are adventurous with vegetables, this is a good time to hunt for burdock root at your nearest Asian grocery store in the produce aisle and make this Japanese Gobo Salad. It's a fantastic everyday salad that pairs brilliantly with just about anything.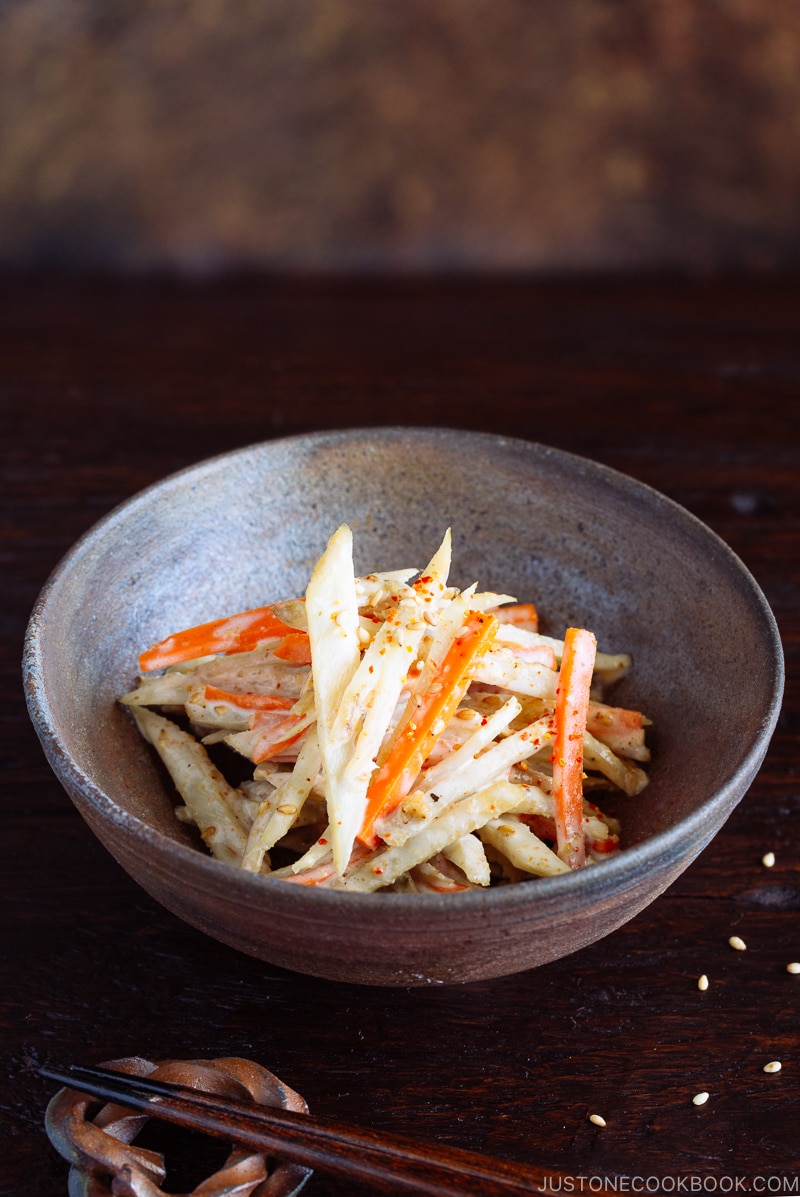 What is Gobo (Burdock Root)?
Gobo is the Japanese name for burdock root, and it is a very popular root vegetable in Japan. It is also known as niúbàng 牛蒡 in Chinese and ueong (우엉) in Korean. If you spotted burdock roots in your Asian markets before, you've probably wondered what the heck are these bizarre-looking things for.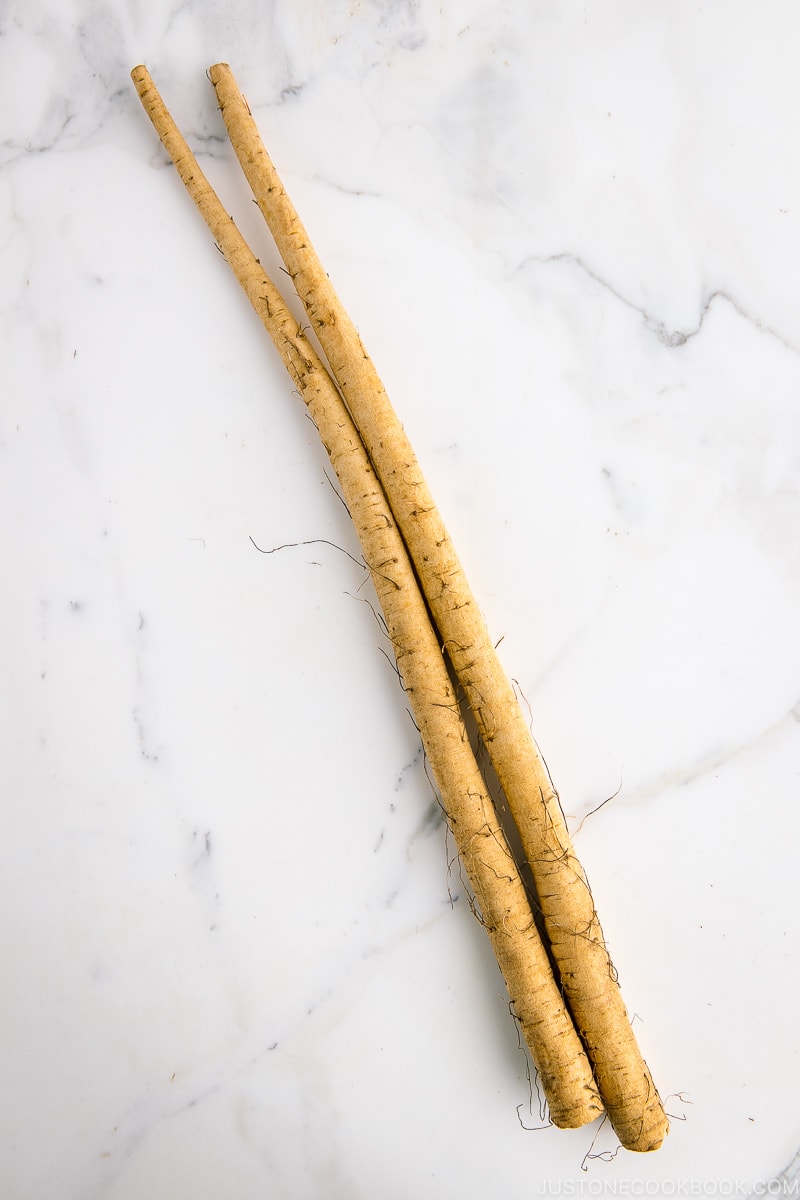 As you can see from the picture above, the gobo looks like a long slender tree root. The texture is hard before cooking, but it gets tender after cooking for a long time. It has a mild, sweet, and distinct earthy taste. Some may describe the flavor of gobo resembles parsnips or artichokes.
Popular Japanese Gobo Recipes
Gobo is one of the common root vegetables used in everyday Japanese home cooking like lotus root, daikon, and carrot. It is often braised, stir-fried, boiled, deep-fried, and stewed. Here are some of the common gobo recipes that I shared on Just One Cookbook.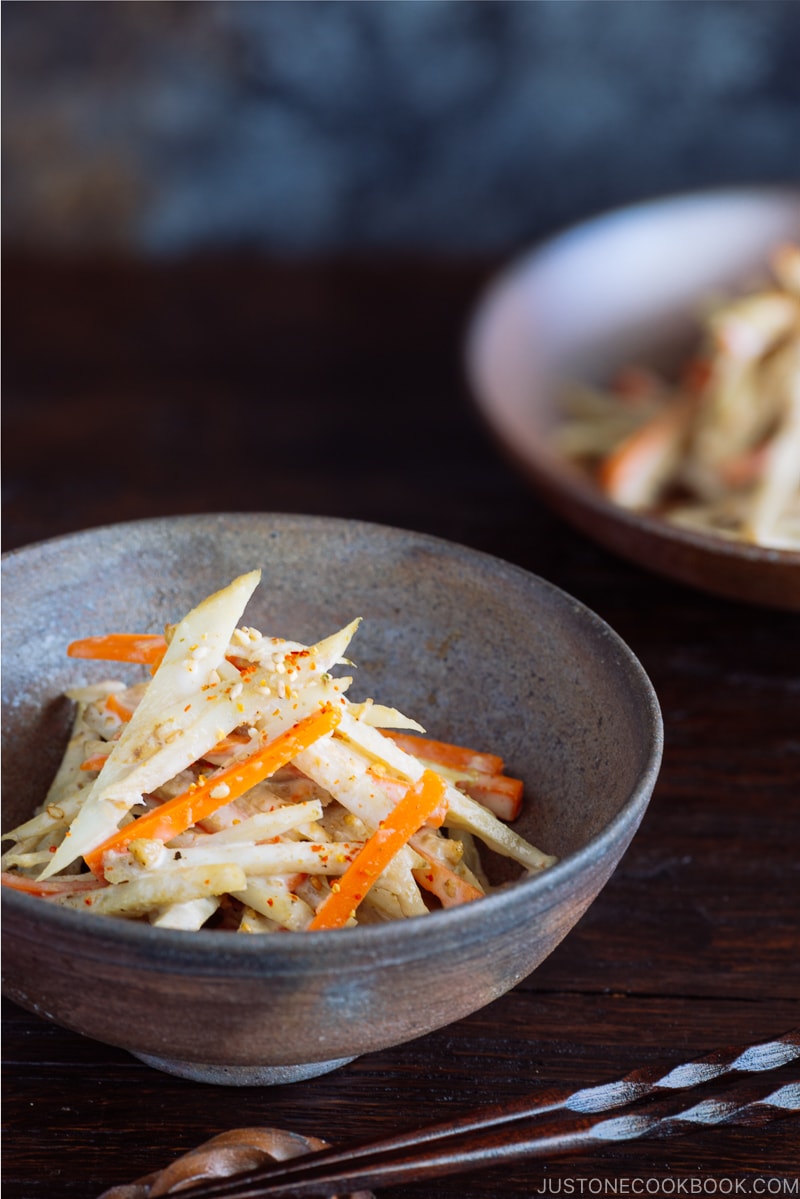 Health Benefits of the Gobo
High in antioxidants and a good source of dietary fiber, gobo or burdock root is eaten for its many health-promoting properties and disease-fighting effects. In East Asia and Europe, gobo has been considered an important herbal ingredient for thousands of years as it contains small quantities of many vital vitamins and some valuable minerals.
Roasted burdock root tea (焙煎ごぼう茶) is a popular way to enjoy its health benefit as the tea is known to detox the body, boost the immune system, soothe stomach disorders, and so on.
Season/Availability of the Gobo
Gobo is available all year round. The new gobo (新ごぼう) is whiter in color and smaller, and it's in season in early summer around June or July.
How to Preserve the Gobo
If your gobo comes with some dirt, you can wrap it (with dirt) in newspaper and store in a dark cool place for up to 1-2 weeks. Once gobo is washed and clean, it's best to keep in the refrigerator and use it within a week.
How to Prepare the Gobo
Gobo's skin is known to have the most nutrients; therefore, it is preferred to scrub off with a brush or scrape off the thin skin by using the back of a knife instead of peeling it off with a peeler.
Traditionally, the common practice is to soak the scraped (peeled) gobo in water to avoid oxidation and to remove the bitterness. However, my mother told me that recent studies show that in order to keep the nutrients, it's better to wash gobo with a brush and skip the scraping/peeling, and not to soak it in water. However, you will have to use it right away after you cut gobo as it will be quickly oxidized.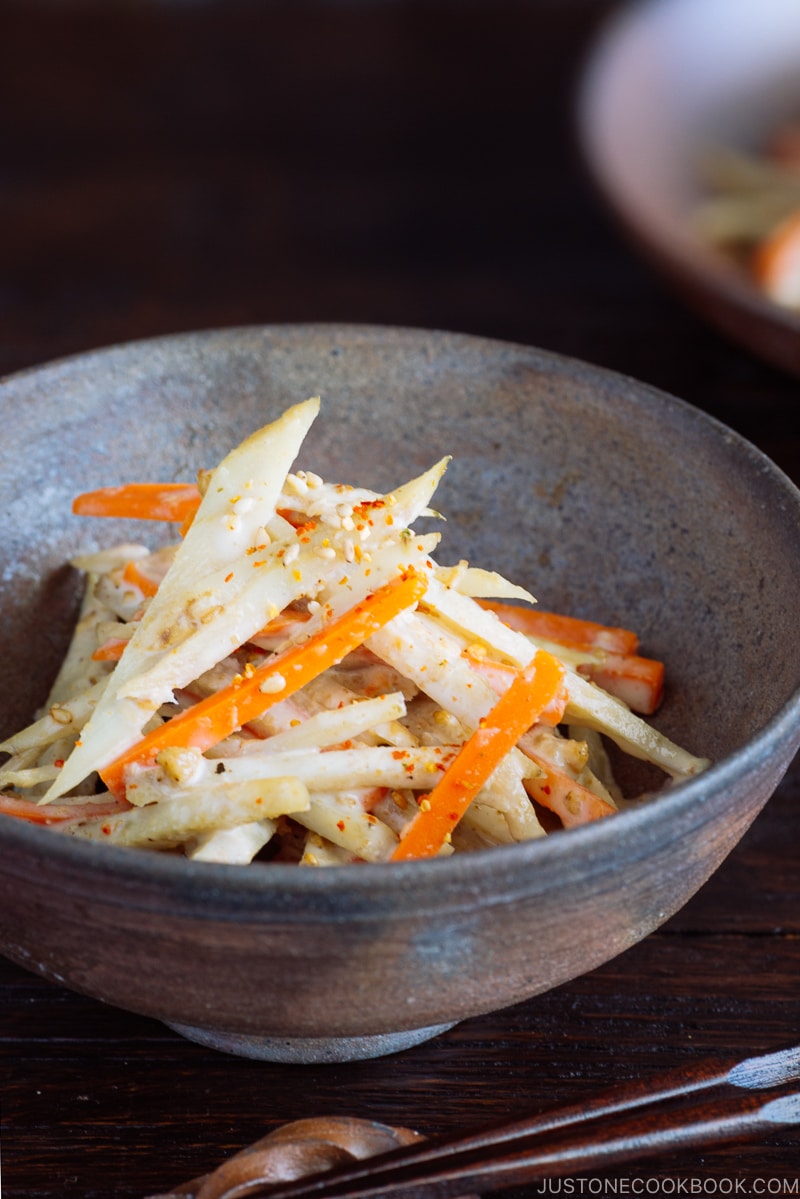 5 Tips to Make Delicious Gobo Salad
1. Scrape the gobo skin and slice diagonally.
The flavors and aroma of gobo are right under the skin, so scrape the thin layer of the skin with the back of a knife instead of using a peeler. Slice diagonally against the grain then cut into julienne pieces.
2. Cook carrot and gobo separately.
In order to retain the textures of gobo and carrots, I recommend cooking them separately as gobo takes a bit longer to cook. Start by cooking the carrot first as gobo has stronger flavor and color. Don't overcook them as the crunchy root vegetables taste better in a refreshing salad like this.
3. Drain well before seasoning.
Make sure to drain gobo and carrot so that the dressing won't be diluted by excess water.
4. Season gobo while it is still hot (except for mayonnaise).
Goto takes a longer time to absorb the flavor, so season while it's hot/warm. However, don't add the mayonnaise yet. You can add mayo after gobo and carrots are completely cool.
5. Adjust the amount of mayonnaise
Some people like their gobo salads on a creamier side. I personally prefer a lighter dressing, so I cut down on the use of mayonnaise. If you prefer a creamy dressing, you can adjust the amount of mayo after giving it a taste.
For those of you who can't find Japanese mayonnaise, use the substitute mentioned here.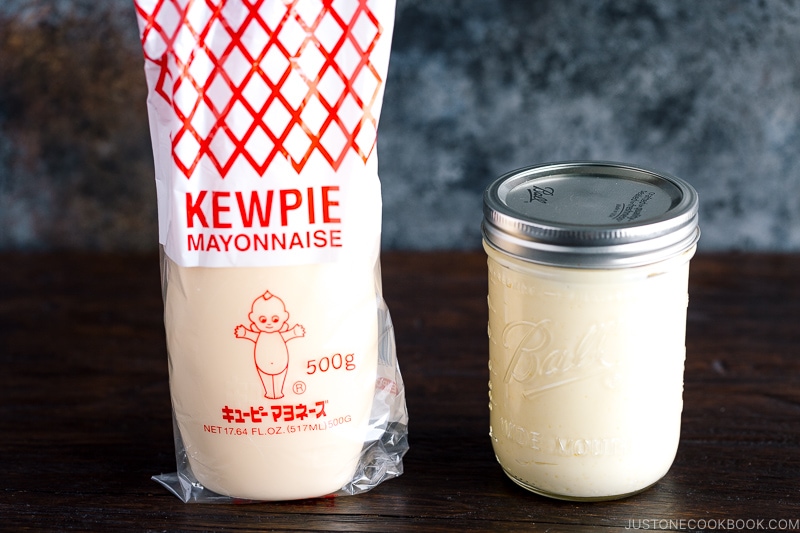 If you like to make Japanese mayonnaise from scratch, you can check my homemade mayonnaise recipe.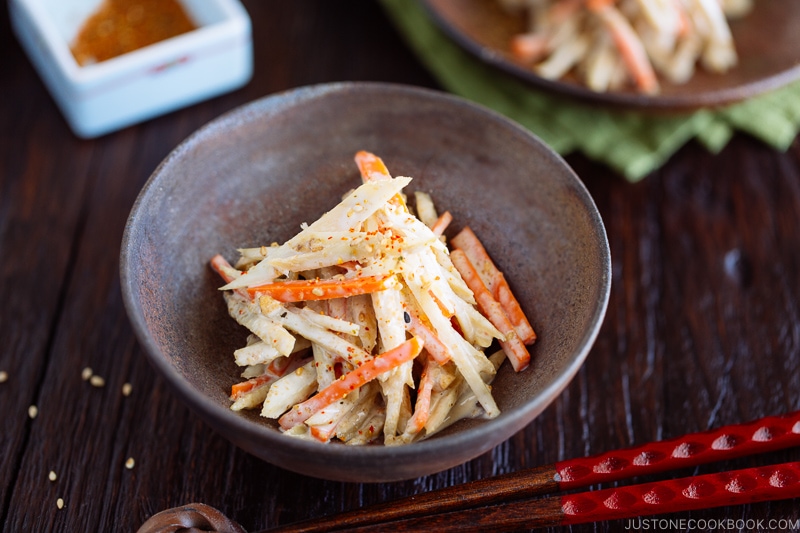 Wish to learn more about Japanese cooking? Sign up for our free newsletter to receive cooking tips & recipe updates! And stay in touch with me on Facebook, Pinterest, YouTube, and Instagram.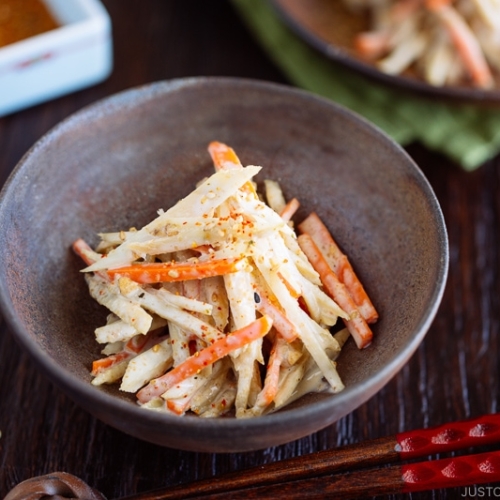 Gobo Salad (Japanese Burdock Salad)
Crunchy burdock root and sweet carrot coated with creamy Japanese mayonnaise dressing, this Gobo Salad (Japanese Burdock Salad) is a popular side dish in Japan. Think of it like a coleslaw, this salad goes well with any Japanese dish and bento.
Servings:
3
(as side dish)
Japanese Ingredient Substitution:
If you want substitutes for Japanese condiments and ingredients, click
here
.
Instructions
Gather all the ingredients.

Wash gobo to get rid of dirt. Use the back of your knife to remove the skin. Cut into thin slices diagonally (⅛" thickness).

Cut into thin sticks (⅛" thickness) and soak gobo in water to minimize oxidation and to remove the bitterness.

Cut the carrot into the sticks about the same size as gobo.

Bring 2 cups of water to boil and cook the carrot for 1 minute. Scoop up the carrot using a sieve or slotted spoon.

Then add the drained gobo into the pot and cook for 2 minutes.

Drain completely (I use a salad spinner) and transfer to a large bowl.

While gobo is hot, add 1 Tbsp rice vinegar, ½ tsp soy sauce, and 1 tsp sesame oil.

Add 1 ½ tsp sugar, and mix all together. This helps gobo absorb flavors from seasonings. Let them cool before adding mayonnaise.

Grind 3 Tbsp sesame seeds with mortar and pestle.

Add the carrot, 3-4 Tbsp Japanese mayonnaise and ground sesame seeds. If you like it spicy, sprinkle Shichimi Togarashi on top.
To Store
Keep the leftovers in an airtight container and store in the refrigerator for up to 3-4 days.
Notes
Japanese Mayonnaise: Homemade Japanese mayonnaise, click here.
Recipe by Namiko Chen of Just One Cookbook. All images and content on this site are copyright protected. Please do not use my images without my permission. If you'd like to share this recipe on your site, please re-write the recipe and link to this post as the original source. Thank you.
Nutrition
Nutrition Facts
Gobo Salad (Japanese Burdock Salad)
Amount per Serving
% Daily Value*
* Percent Daily Values are based on a 2000 calorie diet.
©JustOneCookbook.com Content and photographs are copyright protected. Sharing of this recipe is both encouraged and appreciated. Copying and/or pasting full recipes to any website or social media is strictly prohibited. Please view my photo use policy
here
.