Chikuzenni is a dish with chicken and vegetables simmered in flavorful dashi, mirin, and soy sauce. It's one of the Osechi Ryori (Japanese traditional food) served on New Year's Day.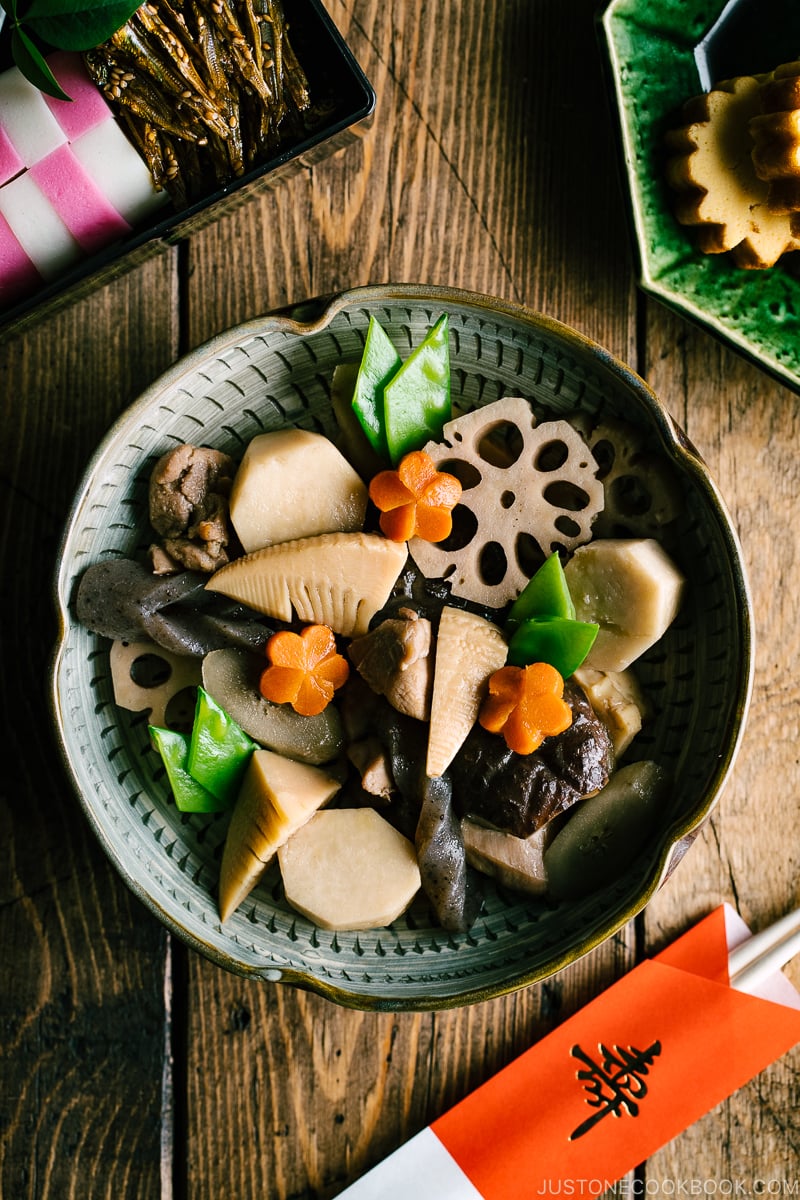 Chikuzenni (筑前煮) or Nishime (煮しめ) is a classic Japanese dish often served on New Year's Day. This dish is made of root vegetables and chicken that are simmered in dashi, soy sauce, and mirin.
My mom used to make it quite regularly because it was my family's favorite type of simmered dishes. This is also a popular side dish for bento because it can be made in advance and still tastes great at room temperature.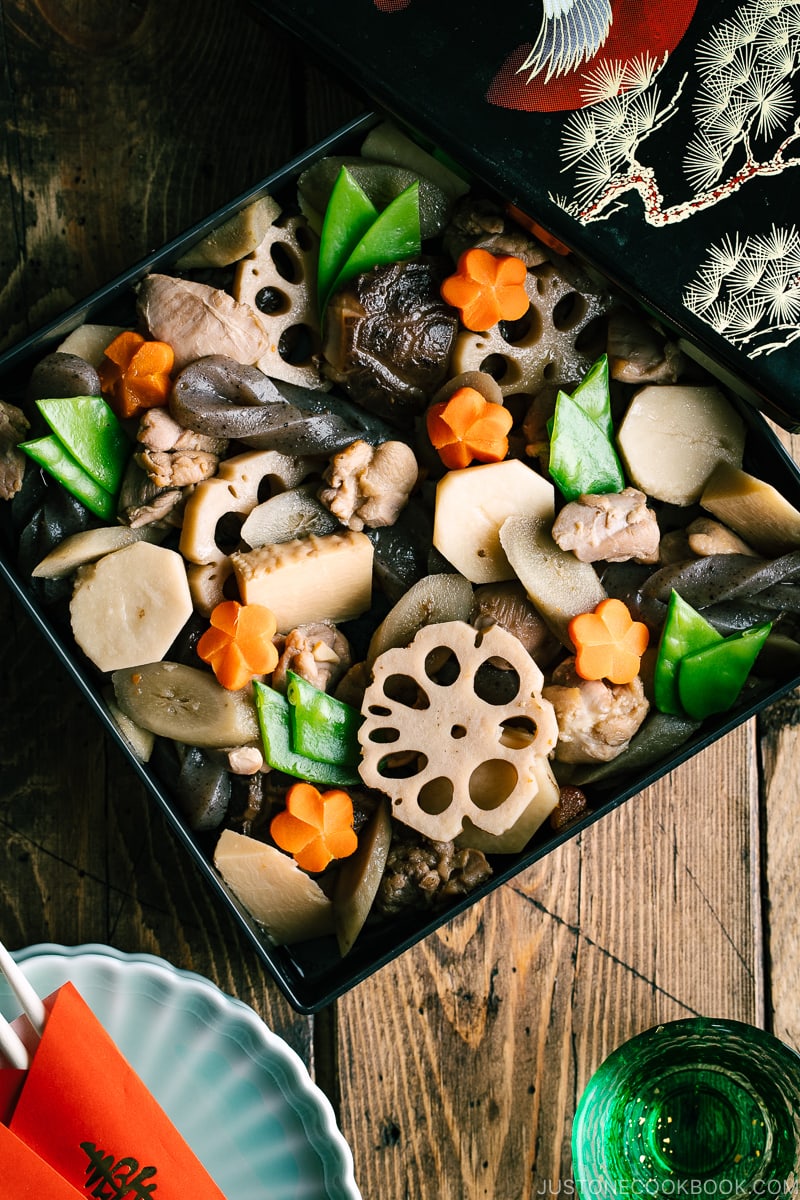 What's Chikuzenni?
Chikuzenni was named after the old Chikuzen Province in Northern Kyushu (it's part of today's Fukuoka Prefecture) and this dish was originated there; however, it's now enjoyed throughout Japan.
Typically chicken and root vegetables are sautéd in oil first, then they are simmered in umami-rich dashi broth and seasonings until ingredients are tender and all the flavors are absorbed.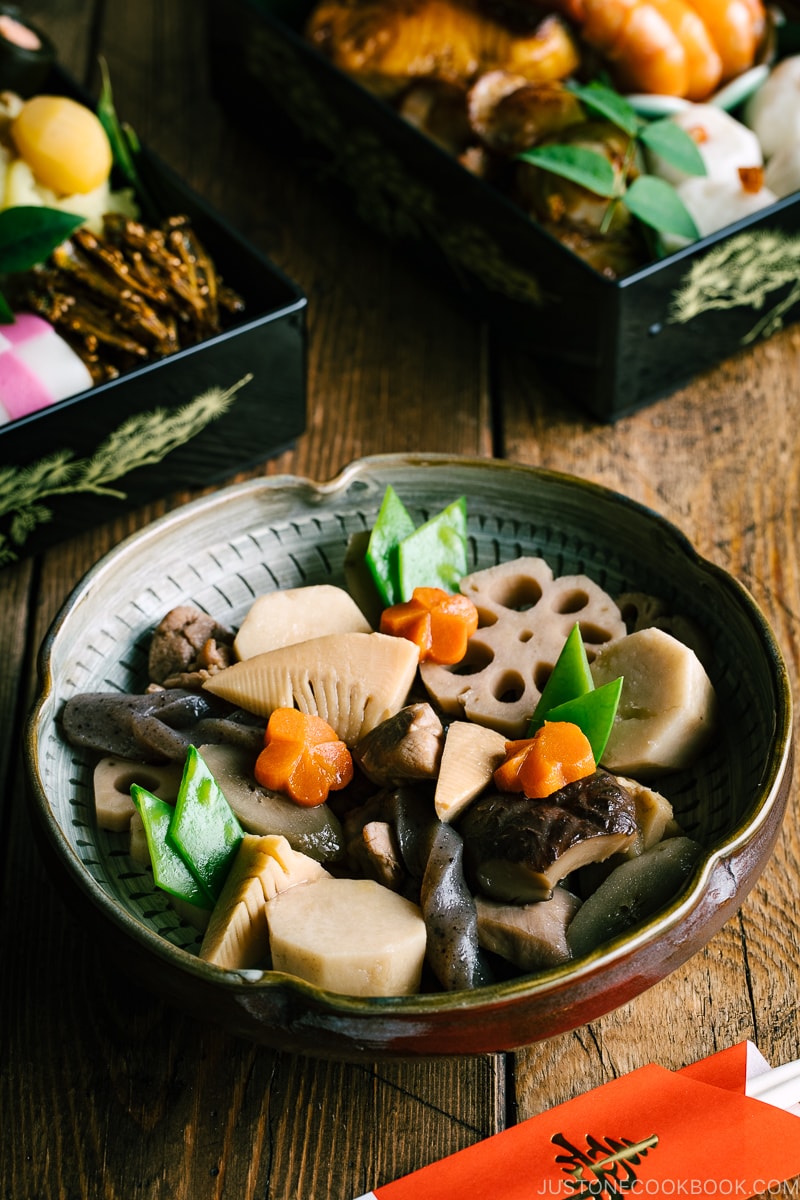 Decorative Shapes on Ingredients
For New Year's dish, the vegetables and konnyaku are cut into fancy shapes to celebrate the occasion but for daily use or bento, you can simply cut them into small pieces using a Japanese cutting technique called "Rangiri".
Rangiri style cutting is to roll the vegetable a quarter (¼) turn, cut on an angle, and then roll again another quarter (¼) turn, cut on an angle and continue. This cutting technique is useful for Japanese Nimono dishes.
Cook Faster: Pressure Cooker (Instant Pot) Nishime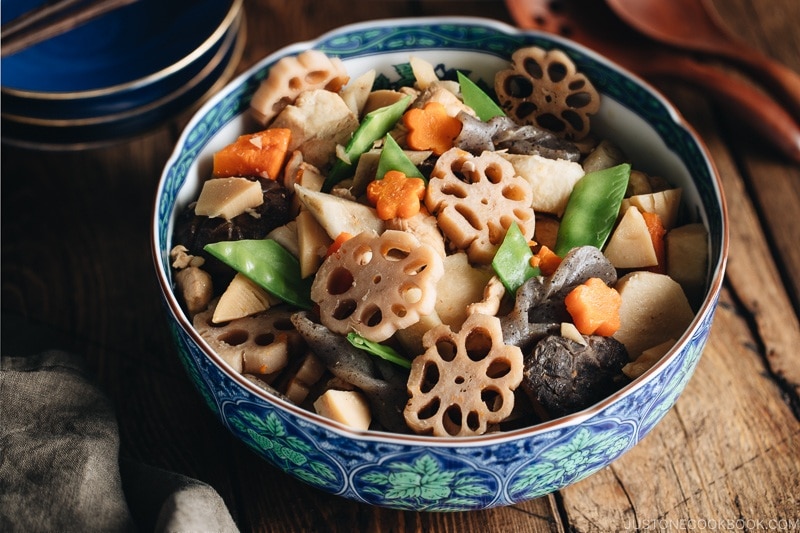 If you want to speed up the process, you can use a pressure cooker (I used my Instant Pot) to make Chikuzenni or Nishime. You can click here for the recipe.
Hope you enjoy this dish with your family!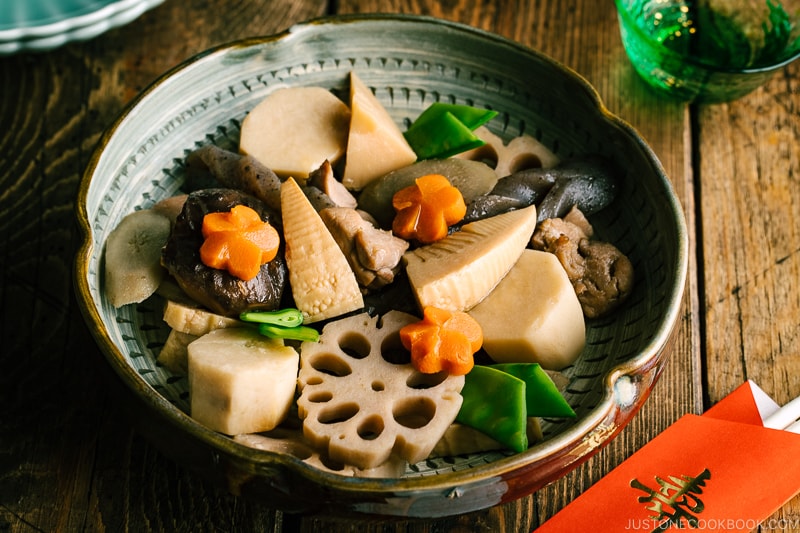 Sign up for the free Just One Cookbook newsletter delivered to your inbox! And stay in touch with me on Facebook, Pinterest, YouTube, and Instagram for all the latest updates.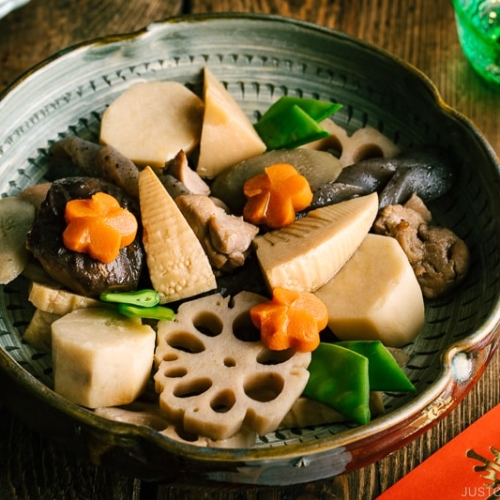 Chikuzenni / Nishime (Simmered Chicken and Vegetables)
Chikuzenni is a dish with chicken and vegetables simmered in flavorful dashi, mirin, and soy sauce. It's one of the Osechi Ryori (Japanese traditional food) served on New Year's Day.
Japanese Ingredient Substitution:
If you want substitutes for Japanese condiments and ingredients, click
here
.
Instructions
Gather all the ingredients.
★ Dried Shiitake Mushrooms
In a small bowl, put dried shiitake mushrooms and water and soak for 20-30 minutes, or until tender.

After 30 minutes or so, squeeze the liquid out from the shiitake mushrooms.

Cut the shiitake mushrooms into a hexagon, which represents turtle shape for longevity.


Strain the liquid through a fine-mesh sieve. This is called shiitake dashi. It yields roughly ¾ cup.
★ Chicken
Remove extra fat of the chicken and cut into 1 ½ inch (3.8 cm) pieces.

Transfer the chicken in a medium bowl and add sake and soy sauce. Coat the chicken with the marinade and set aside.
★ Japanese Taro Roots (Satoimo)
Cut off the ends of taro. Then peel from one end to the other.

Ideally, taro should be a hexagon (6 sides) from the side view.

Cut the taro in half and soak in water. You can rub them with salt to get rid of the sliminess if that bothers you.
★ Bamboo Shoot
Cut the bamboo shoot into quarters lengthwise.

Cut the bamboo shoot in half widthwise. If each piece is still bigger than bite-size, you can cut in half.
★ Burdock Root (Gobo)
Scrape the skin off the burdock root with the back of the knife. After rinsing, cut it into thin slices.

Prepare a bowl of 2 cups water and ½ Tbsp vinegar. Soak the burdock root in the water for 15 minutes.
★ Lotus Roots (Renkon)
The lotus root should resemble flowers after cutting the edges off.

Cut them into ⅛ inch (3 mm) slices. Prepare a bowl of 2 cups water and ½ Tbsp vinegar. Soak the lotus root in the water for 15 minutes.
★ Carrot (Nejiri Ume)
Peel the carrot and cut into ½ inch (1.3 cm) pieces.

Use a flower-shaped vegetable cutter and cut out each piece into a flower shape. Then make a shallow (roughly ¼ inch or 6 mm deep) incision from the center of the flower to in-between the two petals.

Hold a knife parallel to one petal and make a diagonal cut from right to left in-between petals.
★ Konnyaku
Cut konnyaku into ¼ inch (6 mm) slices and then make a 1 ½ inch (3.8 cm) incision in the middle.

Put one end of konnyaku into the hole in the middle and pull it out. This is called Tazuna Konnyaku.
★ Snow Peas
Pull the strings at the seams of the snow peas and discard them. These are tough and not edible.
To Blanch Vegetables and Konnyaku
Boil water in a saucepan and blanch half of the flower carrot for 2 minutes and set aside.

Add a pinch of salt and blanch the snow pea pods for 30-60 seconds, until crisp but tender enough to eat.


Remove the snow peas from the water and transfer to the ice water to stop cooking and set aside.

In the same boiling water, add konnyaku. After boiling again, cook for 2-3 minutes to remove the smell.

Diagonally cut the blanched snow peas in half and set aside.

To Make Chikuzenni
In the large pot, heat 1 Tbsp of sesame oil over medium heat. When it's hot, add the chicken.

Cook the chicken until it turns white. Transfer the chicken to a plate.

Add ½ Tbsp sesame oil and cook all the ingredients except the blanched snow peas and carrots reserved for decoration.

Stir and coat the ingredients with sesame oil.

Add dashi and shiitake dashi.

Add sake, mirin, sugar, soy sauce, and salt.

Add the chicken back into the pot. Bring it to a simmer. As you see, the stock should cover about 80% of the ingredients.

Remove the otoshibuta and cook for another 10 minutes.

Insert a bamboo skewer into tough vegetables (taro root and lotus root) and see if they are tender. Taste and adjust seasonings if needed.
To Serve
Add the snow peas and remove from the heat. Cover, and let cool. Serve Chikuzenni in a serving dish or Osechi box. Top with the snow peas and blanched flower shaped carrots.

To Store
Keep the leftovers in an airtight container and store it in the refrigerator for up to 5 days. The flavor will intensify as time passes, so if you plan to serve it later, you may consider reducing the amount of seasoning. Nishime also freezes well, but konnyaku texture will change, so I recommend removing them before storing. Defrost overnight and reheat in a pot.
Nutrition
Calories:
240
kcal
·
Carbohydrates:
29
g
·
Protein:
14
g
·
Fat:
6
g
·
Saturated Fat:
1
g
·
Trans Fat:
1
g
·
Cholesterol:
54
mg
·
Sodium:
546
mg
·
Potassium:
794
mg
·
Fiber:
6
g
·
Sugar:
6
g
·
Vitamin A:
4835
IU
·
Vitamin C:
20
mg
·
Calcium:
63
mg
·
Iron:
1
mg
©JustOneCookbook.com Content and photographs are copyright protected. Sharing of this recipe is both encouraged and appreciated. Copying and/or pasting full recipes to any website or social media is strictly prohibited. Please view my photo use policy
here
.
Editor's Note: This post was originally published on December 26, 2012. The post has been updated with new images in 2019 and republished in December 2020.