Chikuzenni is a dish with chicken and vegetables simmered in flavorful dashi, mirin, and soy sauce. It's one of the Osechi Ryori (Japanese traditional food) served on New Year's Day.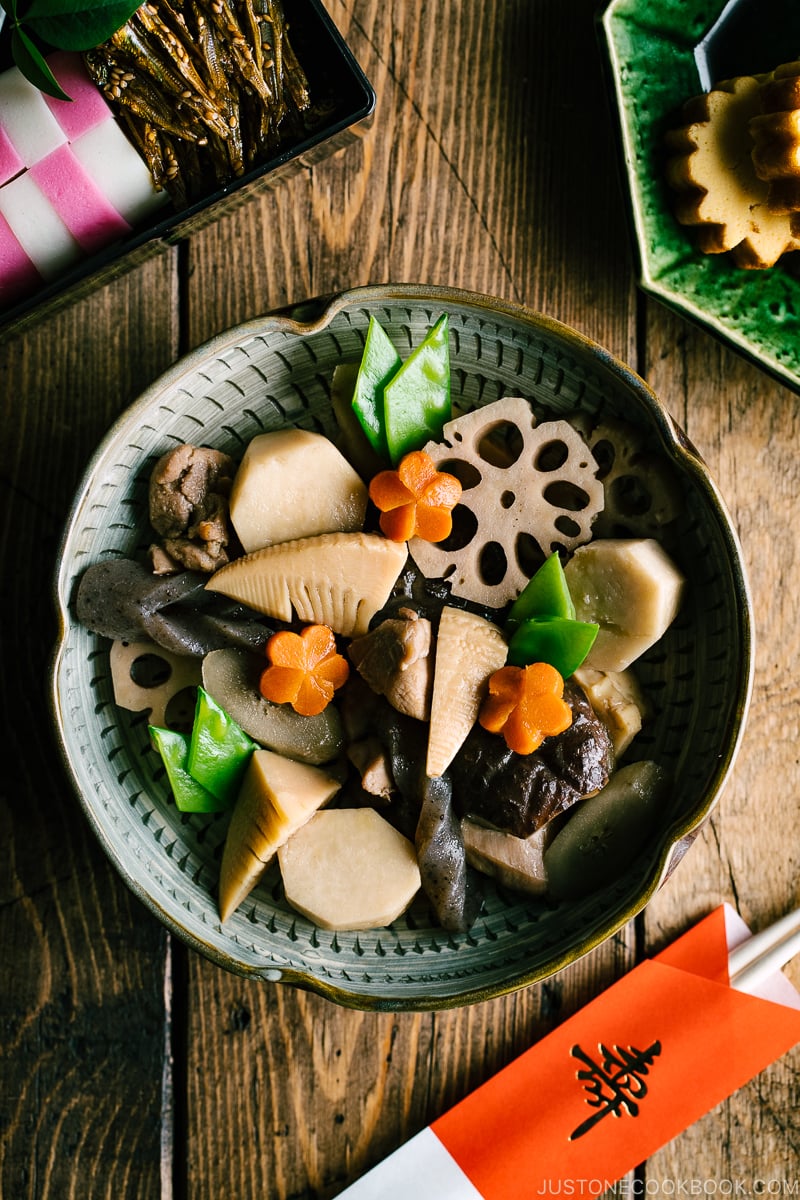 Chikuzenni (筑前煮) or Nishime (煮しめ) is a classic Japanese dish often served on New Year's Day. This dish is made of root vegetables and chicken that are simmered in dashi, soy sauce, and mirin.
My mom used to make it quite regularly because it was my family's favorite type of simmered dishes. This is also a popular side dish for bento because it can be made in advance and still tastes great at room temperature.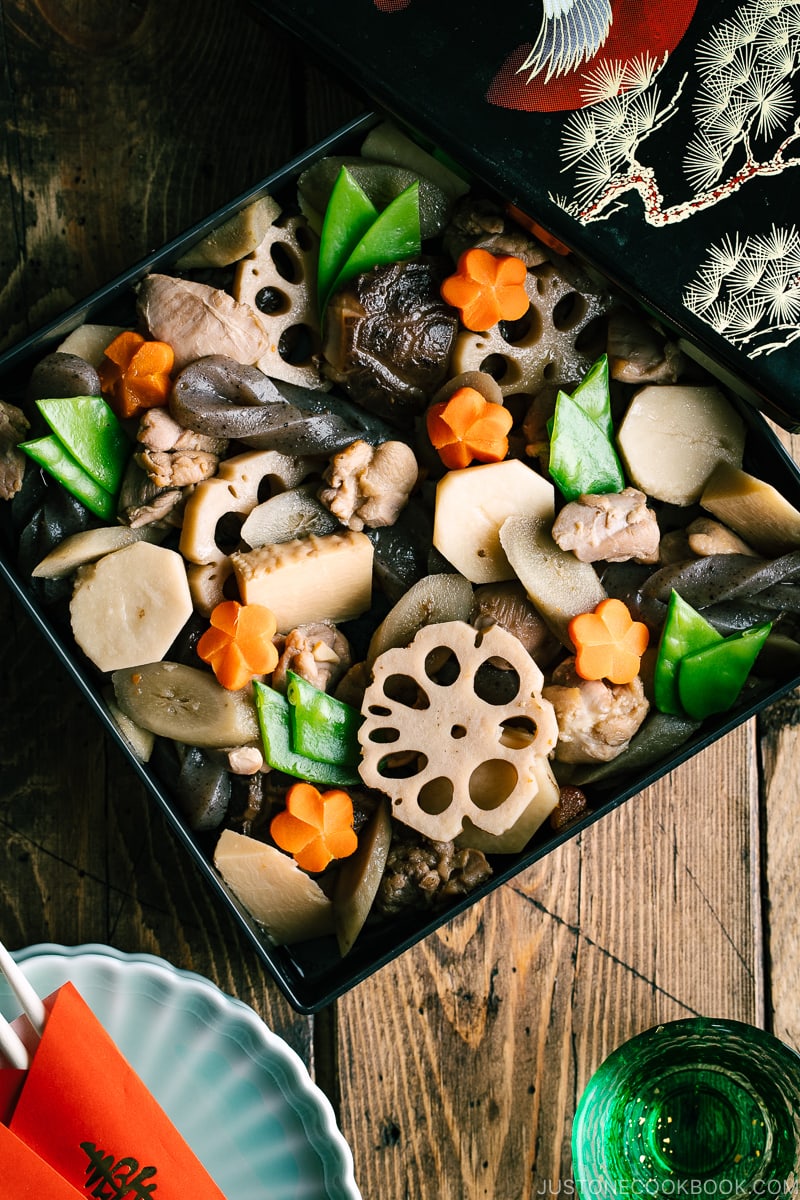 What's Chikuzenni?
Chikuzenni was named after the old Chikuzen Province in Northern Kyushu (it's part of today's Fukuoka Prefecture) and this dish was originated there; however, it's now enjoyed throughout Japan.
Typically chicken and root vegetables are sautéd in oil first, then they are simmered in umami-rich dashi broth and seasonings until ingredients are tender and all the flavors are absorbed.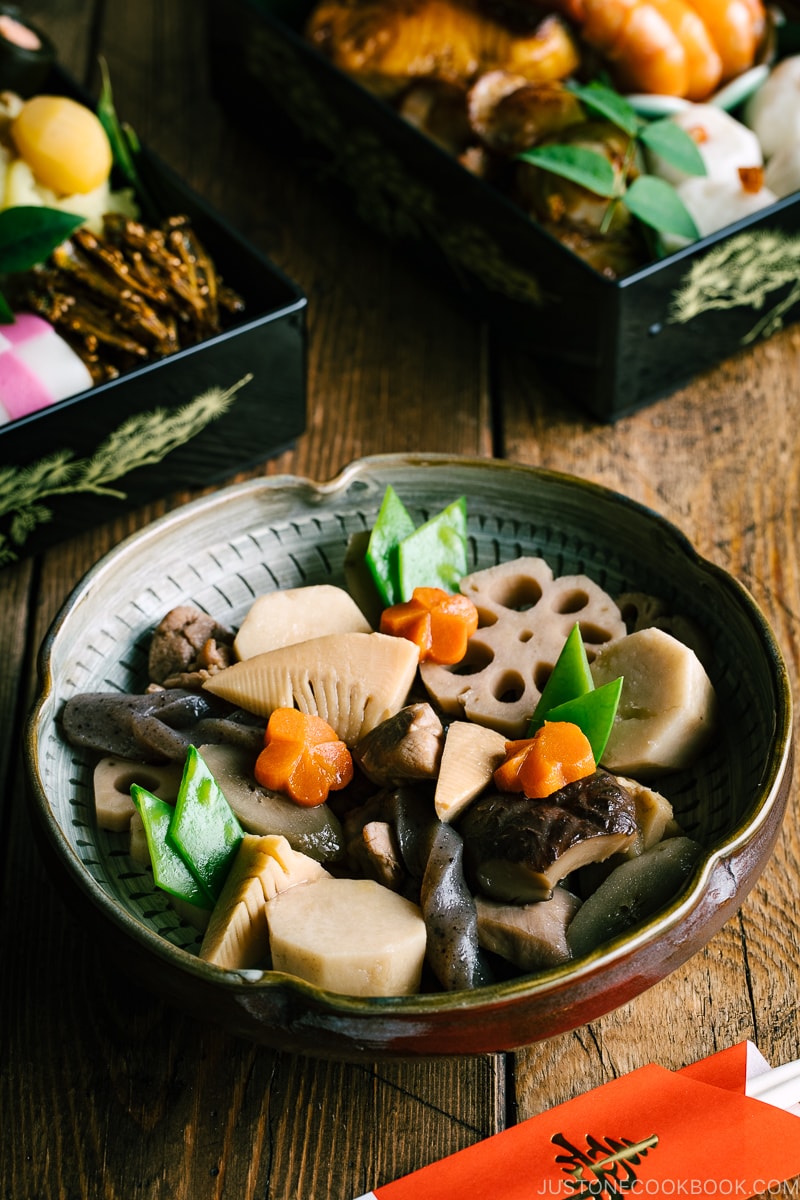 Decorative Shapes on Ingredients
For New Year's dish, the vegetables and konnyaku are cut into fancy shapes to celebrate the occasion but for daily use or bento, you can simply cut them into small pieces using a Japanese cutting technique called "Rangiri".
Rangiri style cutting is to roll the vegetable a quarter (¼) turn, cut on an angle, and then roll again another quarter (¼) turn, cut on an angle and continue. This cutting technique is useful for Japanese Nimono dishes.
Cook Faster: Pressure Cooker (Instant Pot) Nishime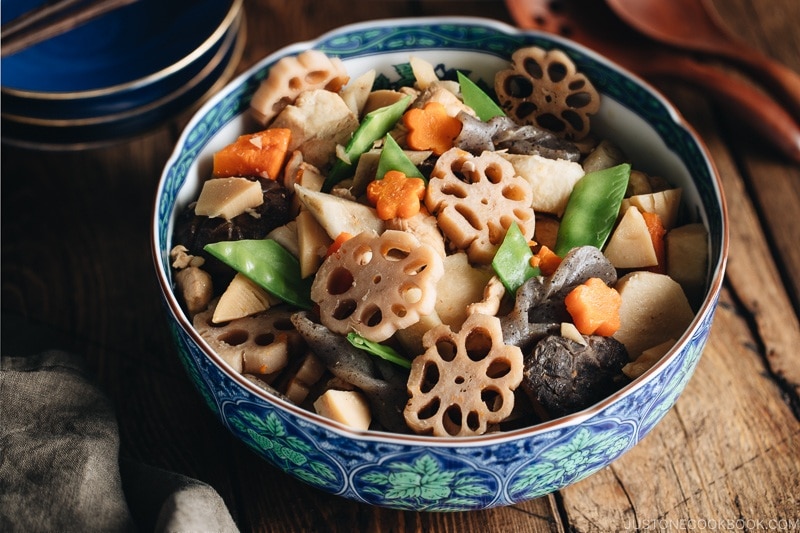 If you want to speed up the process, you can use a pressure cooker (I used my Instant Pot) to make Chikuzenni or Nishime. You can click here for the recipe.
Hope you enjoy this dish with your family!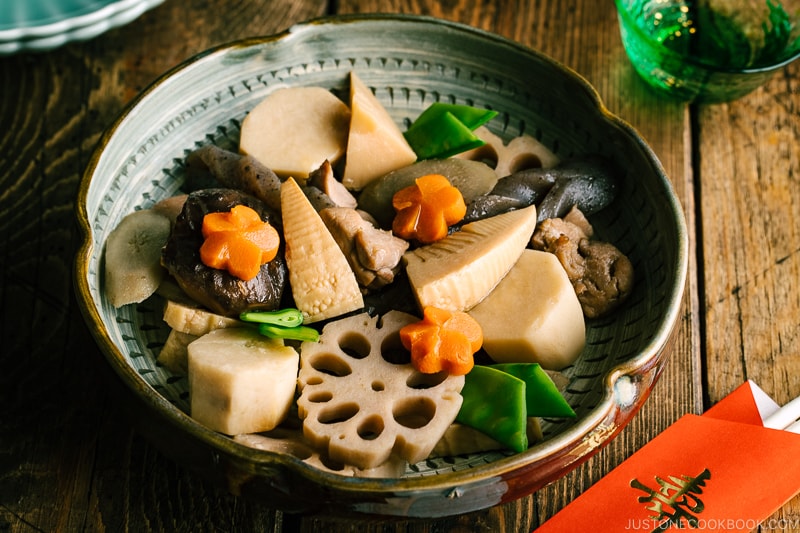 Wish to learn more about Japanese cooking? Sign up for our free newsletter to receive cooking tips & recipe updates! And stay in touch with me on Facebook, Pinterest, YouTube, and Instagram.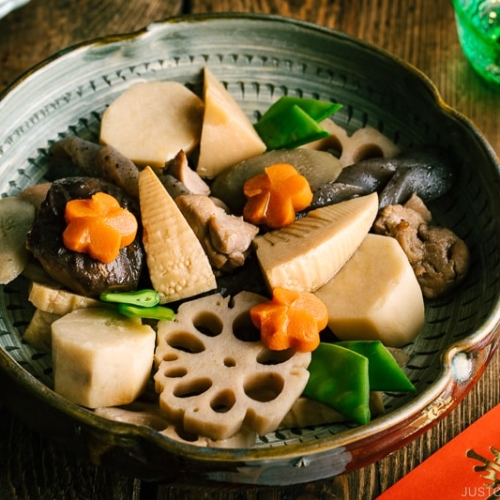 Chikuzenni / Nishime (Simmered Chicken and Vegetables)
Chikuzenni or Nishime is a classic one-pot stew with root vegetables and chicken simmered in a flavorful broth of dashi, mirin, and soy sauce. This Japanese home cooking classic is also an important dish for the Osechi Ryori (traditional Japanese New Year foods) meal served on New Year's Day.
Japanese Ingredient Substitution:
If you want substitutes for Japanese condiments and ingredients, click
here
.
Instructions
Before You Start…
If you will include this dish in your Osechi meal, I recommend cooking it 2 days before you plan to serve. For more helpful tips on planning your Japanese New Year feast, please read my A 5-Day Osechi Cooking Timeline blog post.

Gather all the ingredients.
To Prepare the Ingredients
★ Dried Shiitake Mushrooms
Add the dried shiitake mushrooms and water to a small bowl and soak for 20-30 minutes, or until tender and rehydrated.

After 30 minutes or so, squeeze out the liquid from the shiitake mushrooms.

Cut off and discard the stems. Cut the shiitake mushroom caps into a hexagon, which resembles a turtle shape and symbolizes longevity.

Strain the shiitake soaking liquid through a fine-mesh sieve. This is called shiitake dashi. It yields roughly ¾ cup.
★ Chicken
Remove the extra fat and cut the chicken into slanted pieces using the Sogigiri Japanese cutting technique: Angle your knife back and diagonally (nearly parallel to the cutting board), and then slice the chicken into 1½-inch (3.8-cm) pieces. Tip: This method creates pieces of equal thickness and increased surface area, which allows the chicken to cook faster and absorb more flavors.

Transfer the chicken to a medium bowl and add the sake and soy sauce. Coat the chicken with the marinade and set aside.
★ Japanese Taro Root (Satoimo)
Cut off the ends of the taro. Then, peel the tough skin from one end to the other using a sharp knife. Tip: For taro, it's recommended to peel the skin thick. It's not considered wasteful to remove skin with more flesh attached.

Ideally, taro should resemble a hexagon (with six sides) from the top view.

Cut the taro in half and soak in water. You can rub them with salt to get rid of the sliminess if that bothers you.
★ Bamboo Shoot
Cut the bamboo shoot into quarters lengthwise.

Cut the bamboo shoot in half widthwise. If each piece is still bigger than bite-size, you can cut lengthwise in half again.
★ Burdock Root (Gobo)
Scrape the skin off the burdock root with the back of the knife. After rinsing, cut it into thin slices.

Prepare a bowl of 2 cups water and ½ Tbsp vinegar. Soak the burdock root in the vinegared water for 15 minutes.
★ Lotus Roots (Renkon)
Peel off the skin of the lotus root with a vegetable peeler or knife. Then, cut the root in half crosswise. (Optional) If you wish to make Hana Renkon (Flower Lotus Root), you can use my tutorial.

The lotus root should resemble flowers after cutting the edges off.

Otherwise, to make simple slices, cut the lotus root crosswise about ¼ inch (6 mm) thick. Prepare a bowl of 2 cups water and ½ Tbsp vinegar. Soak the lotus root in the water for 15 minutes.
★ Carrot (Nejiri Ume)
Here, I'll show you how to cut the carrot into plum flowers using the Japanese cutting technique Nejiri Ume. First, peel the carrot and cut into ½-inch (1.3-cm) rounds.

Use a flower-shaped vegetable cutter and punch out a plum flower shape from the carrot rounds. Then, make a shallow incision (roughly ¼ inch or 6 mm deep) from the center of the flower to in-between the two petals.

Hold a knife parallel to one petal and make a diagonal cut from right to left in-between petals.
★ Konnyaku
Next, make the Tazuna Konnyaku: Cut the konnyaku crosswise into slices about ¼-inch (6 mm) thick. At the center of each slice, cut a lengthwise slit 1½ inches (3.8 cm) long.

Tuck one end of the slice through the slit. Push it in; then, pull out the end from the other side. The konnyaku will now be twisted on either side of the slit. Pull gently on both ends so the slice lays flat. Repeat with the remaining slices.
★ Snow Peas
Remove the stem ends and tough strings of the snow peas and discard them.
To Blanch the Vegetables and Konnyaku
Boil water in a saucepan over medium-high heat. Blanch half of the carrot flowers for 2 minutes and remove. Set aside.

In the same boiling water, add a pinch of salt and blanch the snow pea pods for 30-60 seconds, until crisp but tender enough to eat.

Remove the snow peas from the water and transfer to a bowl of ice water to stop the cooking and set aside.

In the same boiling water, add the konnyaku. Bring it to a boil again and cook for 2-3 minutes to remove the odor.

Diagonally cut the blanched snow peas in half and set aside.

To Make the Chikuzenni
Heat a large pot over medium heat. When it's hot, add 1 Tbsp of the sesame oil. Then, add the chicken.

Cook the chicken until it turns white. Transfer the chicken to a plate.

Add the remaining sesame oil and cook all the ingredients (except for the snow peas and the blanched carrots that you will reserve for garnish).

Stir and coat the ingredients with the sesame oil.

Next, add the dashi and shiitake dashi.

Add the sake, mirin, sugar, soy sauce, and salt.

Add the chicken back into the pot. Bring it to a simmer. As you see, the stock should cover about 80 percent of the ingredients.

Put an otoshibuta (drop lid) on the ingredients and cook for 10 minutes. If you don't have one, you can make an otoshibuta with aluminum foil.

After about 10 minutes, remove the otoshibuta and cook for another 10 minutes.

Insert a bamboo skewer into the tough vegetables (taro root and lotus root) to see if they are tender. Taste and adjust the seasonings if needed.
To Serve
Add the snow peas on top and remove from the heat. Cover, and let cool. Serve the Chikuzenni in a serving dish or Osechi box. Top with the snow peas and blanched carrot flowers.
To Store
Keep the leftovers in an airtight container and store it in the refrigerator for up to 5 days. The flavor will intensify as time passes, so if you plan to serve it later, you may consider reducing the amount of seasoning. Nishime also freezes well, but the konnyaku texture will change, so I recommend removing them before freezing. Defrost overnight and reheat in a pot.
Nutrition
Nutrition Facts
Chikuzenni / Nishime (Simmered Chicken and Vegetables)
Amount per Serving
% Daily Value*
* Percent Daily Values are based on a 2000 calorie diet.
©JustOneCookbook.com Content and photographs are copyright protected. Sharing of this recipe is both encouraged and appreciated. Copying and/or pasting full recipes to any website or social media is strictly prohibited. Please view my photo use policy
here
.
Editor's Note: This post was originally published on December 26, 2012. The post has been updated with new images in 2019 and republished in December 2020.