Satoimo or taro roots are a starchy crop with a mild and slightly nutty flavor. It has a firm and creamy white flesh and a somewhat slimy texture.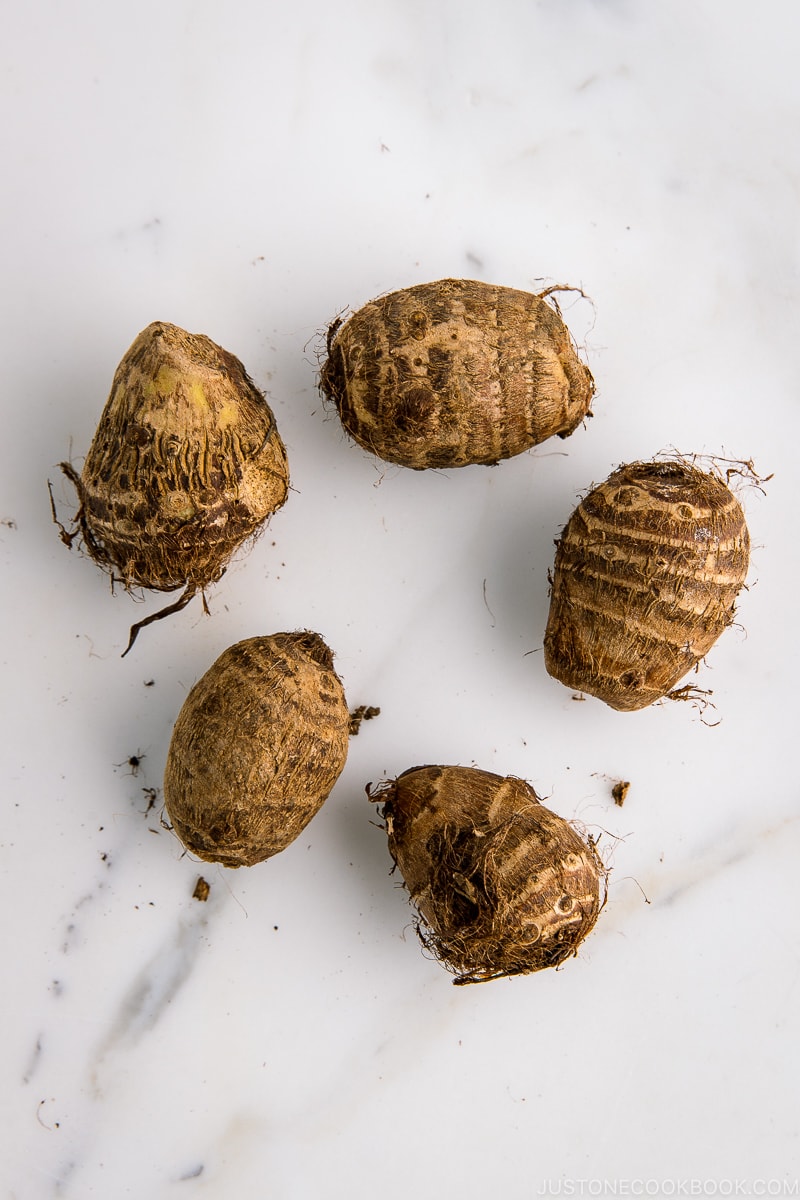 Satoimo (里芋), taro roots, or Japanese sweet taro, is a starchy root crop widely enjoyed in Japanese cuisine. It is high in fiber and has fewer calories than regular potatoes, making it a healthy alternative to starch. They are often prepared by simmering in dashi and soy sauce in home-cooked and traditional Japanese dishes.
What Is Satoimo (Taro)
Satoimo is a mild-flavored starchy root vegetable widely enjoyed in Japanese cuisine. Compared to other varieties of taro, satoimo is smaller in size with a round body, hairy brown skin, and tapered ends. It has firm and creamy white flesh and a somewhat slimy texture like okra that can irritate the skin. Satoimo grows throughout the year and is available year-round.
It's high in fiber and potassium and low in calories than potatoes, making it a healthier alternative without compromising the starchy texture. The Japanese people use satoimo in miso soup, kenchinjiru, and nimono.
The sliminess is similar to nagaimo (長芋) and yamaimo (山芋), a type of mountain yam, but its culinary uses differ.
What Does It Taste Like
It has a mild creaminess with a hint of nuttiness.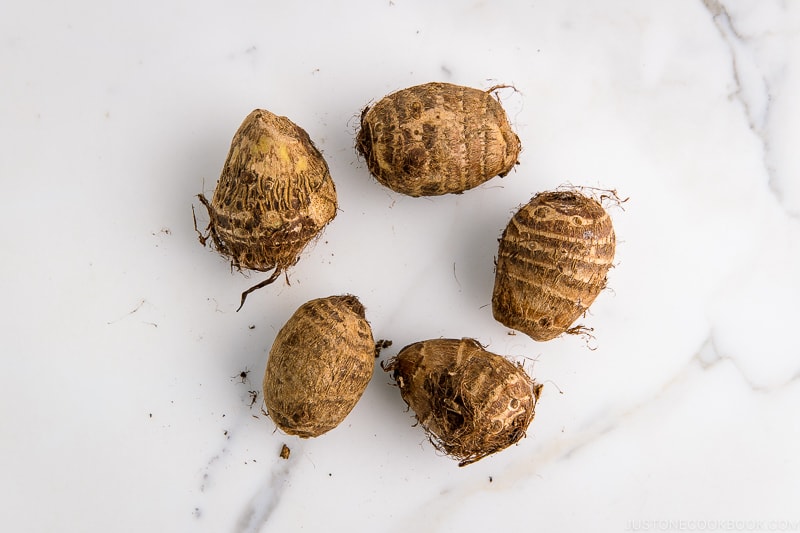 How To Use
The thick hairy skin can be hard to peel. Before peeling, rinse it well underwater and remove the dirt and hairs as much as possible. You can use a vegetable scrub or Japanese tawashi (束子, bristled scrub). If you have sensitive skin, you may want to wear kitchen gloves as protection from calcium oxalate that can irritate the skin. Once cooked, the irritating substance will go away.
Using a kitchen knife, cut off both ends first and peel from one end to the other with a knife or peeler. It gets slimy when peeling, so take caution when handling it.
To eliminate the sliminess, use salt to rub the surface and rinse under cold water. Drain and cut into half or bite-size pieces and add it to cooking.
Recipes Using Satoimo
How To Store
To store, keep it in dark, cool places. It can usually last for a couple of weeks. You can also wrap it in plastic and keep it in the refrigerator to extend its shelf life.
Where To Buy
Taro root is enjoyed in many Asian cuisines, such as Vietnam, Cambodia, and the Philippines. You can find them in Chinese, Korean, Japanese, and Asian grocery stores.
Health Benefits
The Japanese taro has been known for its nutritional content and essential minerals. It is high in dietary fiber, promoting digestion and removing toxins and free radicals in the intestinal walls. It is also high in potassium, which can lower blood pressure and the risk of hypertension. It is also rich in hyaluronic acid, essential in producing collagen, cell regeneration, and promoting strong joints.
---
Wish to learn more about Japanese cooking? Sign up for our free newsletter to receive cooking tips & recipe updates! And stay in touch with me on Facebook, Pinterest, YouTube, and Instagram.