Nagaimo is a mountain yam that can be eaten raw or cooked. When grated raw, it has a unique sliminess that's easy to digest and is great with rice and soba noodles.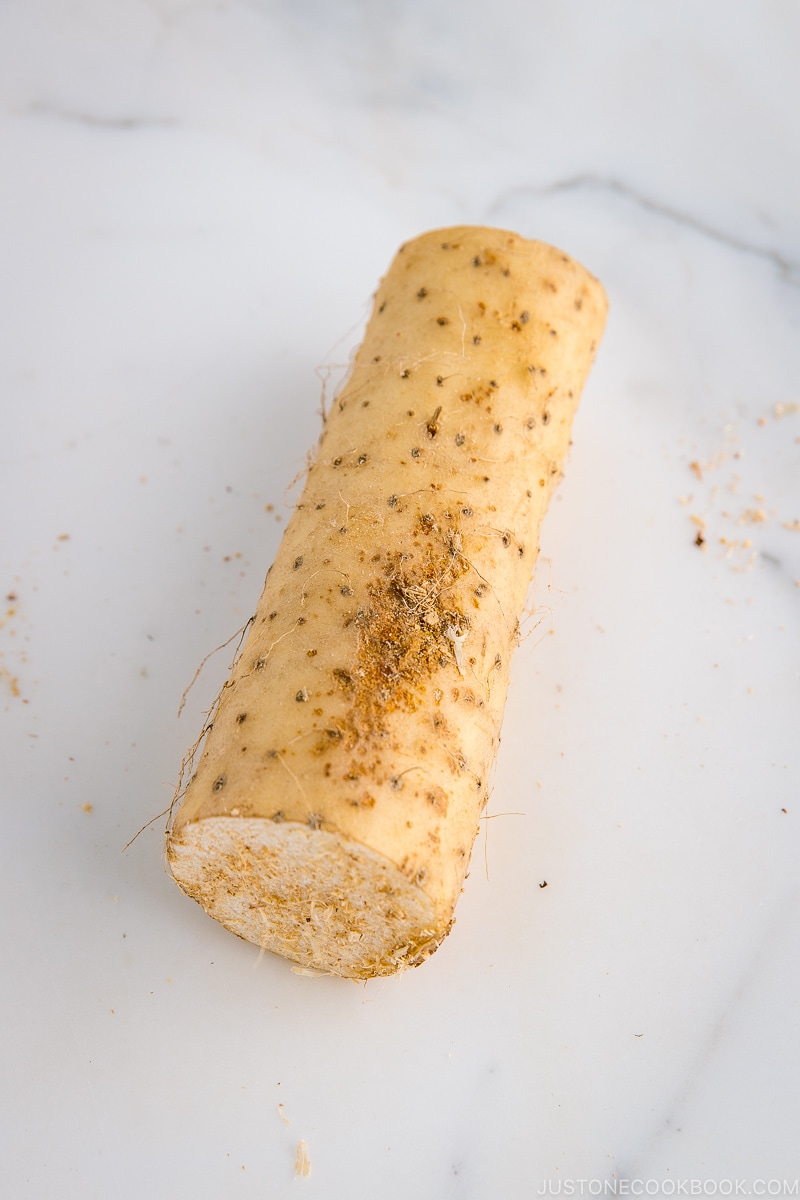 Nagaimo (長芋) is a mountain yam native to China and grown across East and Southeast Asia. It has a long and slender body with light yellow skin, white hairy roots, and white flesh. Unlike other Japanese yams and potatoes, it can be eaten raw and is excellent cooked, steamed, or stir-fried. It's best known for its gooey and slimy texture when grated.
What is Nagaimo
Nagaimo (Dioscorea japonica) is an elongated tuber known as Chinese yam, Korean yam, and Japanese mountain yam. It's most known for its slimy and gooey texture, popular with the Japanese. It's in a season twice a year, where the fall harvest is fresh and mild in flavor, and the spring ones are sweeter with more umami flavor.
Nagaimo is a type of yamaimo (山芋 "mountain yam"), a generic name for yams in the Dioscoreaceae family. You may hear the terms nagaimo and yamaimo used interchangeably. Nagaimo has a more liquid, loose texture, whereas yamaimo is stickier and paste-like.
What Does It Taste Like
It has a mild and earthy flavor and is known for its slimy and viscous texture, like okra and natto. It's crisp, crunchy, and less starchy than other tubers such as yams and taro.
How To Use
It is very slimy and slippery, so be careful when handling it. If you touch it with bare hands, you may experience a mild allergic reaction, so you may want to wear gloves. Rinse any parts that become itchy with vinegar.
Due to the oxidized polyphenols, the pieces will discolor when exposed to air. To avoid this, soak the pieces in water with a few drops of vinegar and immediately wrap the cut ends with plastic wrap. You could cut it into matchsticks, slices, or half-moons or grate it for tororo (とろろ).
You can add cut pieces to stir-fries or add them to miso soup. It's best to flash cook it so the surface browns and crisps and the insides are creamy and soft.
Tororo is the best of gooey and slimy textured foods. The Japanese pour tororo over rice with raw egg and a dash of soy sauce for tororo gohan (とろろごはん). You could also pour it over soba noodles for tororo soba (とろろ蕎麦).
It's also a thickener for Okonomiyaki batter, making it fluffy and airy.
Recipes Using Nagaimo
Where To Buy
You can find it in the produce section of Asian, Chinese, and Japanese grocery stores.
How To Choose The Best
Pick tubers with smooth and shiny surfaces with even skin color. Avoid those with black spots, blemishes, and a reddish color on the cut ends.
How To Store
Nagaimo is often shipped in sawdust, so you may see specks on the surface. Gently brush off or wash the surface and pat dry well.
Store the whole yam by wrapping it in newspaper and storing it in a cool, dark place at room temperature. If storing it in the refrigerator, wrap it in plastic to avoid drying it out.
You can also freeze it. Cut it into small pieces, wrap them with plastic wrap, put them in a freezer bag, and store them in the freezer for up to a month. You can also grate it first before freezing.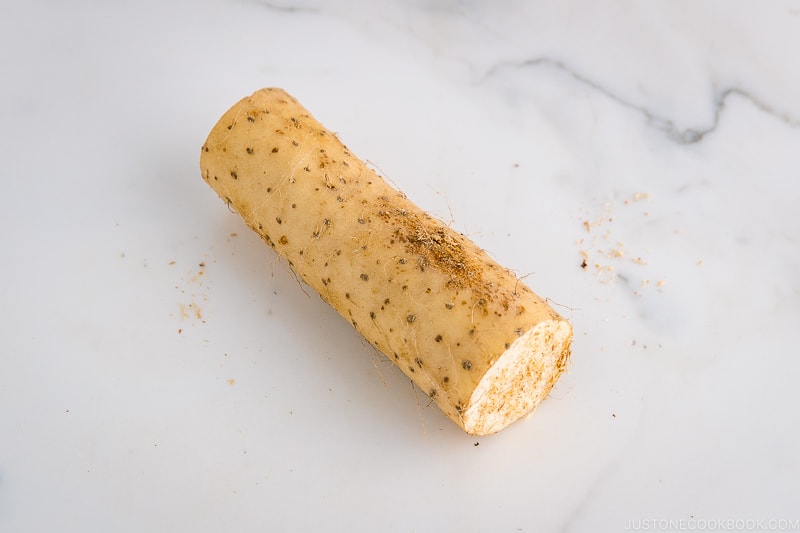 Health Benefits
Nagaimo is a highly nutritious food and is also used in traditional medicine. It's high in potassium, which regulates fluid levels in the body, the digestive enzyme amylase, a protein that helps break down carbohydrates, and soluble fiber to regulate the digestive tract. It also contains vitamins B and C, manganese, and iron.
In addition, it contains mucin, a protein that gives its slimy texture. Mucin is believed to assist digestion and protect the immune system against bacterial and fungal infections.
---
Wish to learn more about Japanese cooking? Sign up for our free newsletter to receive cooking tips & recipe updates! And stay in touch with me on Facebook, Pinterest, YouTube, and Instagram.