Whether you call it Japanese Mayonnaise or Kewpie Mayo, once you try it, you'll never go back. Japanese Mayonnaise has a rich egg flavor, a tangy and sweet taste, and is creamier in both color and texture than standard mayonnaise. And just like any other Japanese creation, it scores high on the umami factor.
Takoyaki, Okonomiyaki, Karaage, Japanese Potato Salad, or Creamy Sesame Dressing…there is one thing common in these dishes and that is Japanese mayonnaise (マヨネーズ)! The Japanese love mayonnaise as a dipping sauce, topping, or seasoning, and you would be surprised how much we use this condiment in Japan.
What is Japanese Mayonnaise?
Whether you call it Japanese mayonnaise or Kewpie mayo, it is definitely a delicious mayonnaise you ever taste. Many JOC readers told me they were not a fan of American mayo before, but now a big fan of Japanese mayo.
Kewpie is just one brand of Japanese mayonnaise that became popular worldwide, but all the Japanese mayonnaise is also sold in a plastic squeeze bottle and with a fine tip for you to make the perfect zigzag pattern on your Okonomiyaki. Kewpie mayonnaise has a signature Kewpie doll logo on the bottle.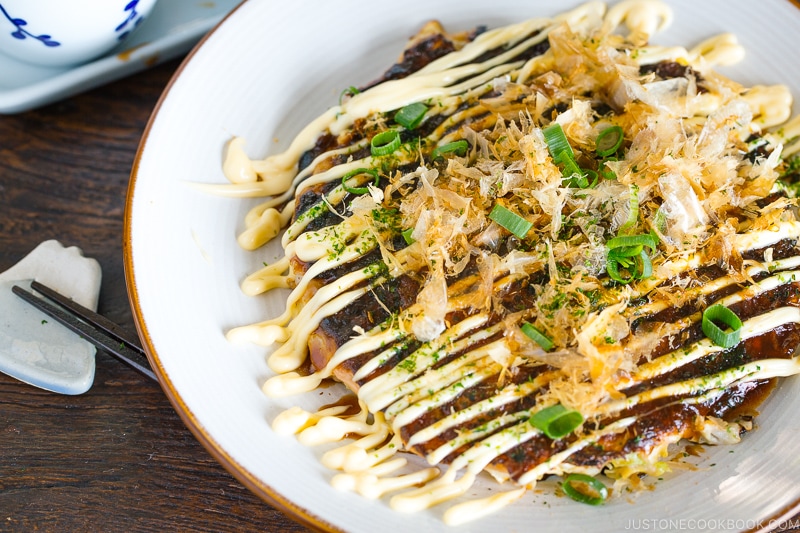 Just like soy sauce, sake, mirin, and miso, Kewpie mayo has been one of the predominant condiments in Japan since it was first introduced to Japan in 1925. In fact, when I was growing up, there were not too many varieties of dressings and we used to eat a salad with a dollop of mayo (oh the good old days!).
What Does It Taste Like?
So what is Japanese mayo all about? What differentiates it?
Well, you would first notice it is tangier and sweeter than the American mayo. The texture is thicker and creamier in both color and texture.
Japanese mayonnaise has a rich egg flavor because only egg yolks are used compared to the American mayo that contains the entire egg. Also, Japanese mayo is typically made with rice vinegar or apple cider vinegar, instead of distilled vinegar.
And just like any other Japanese creation, it scores on the umami factor as it includes a small amount of MSG.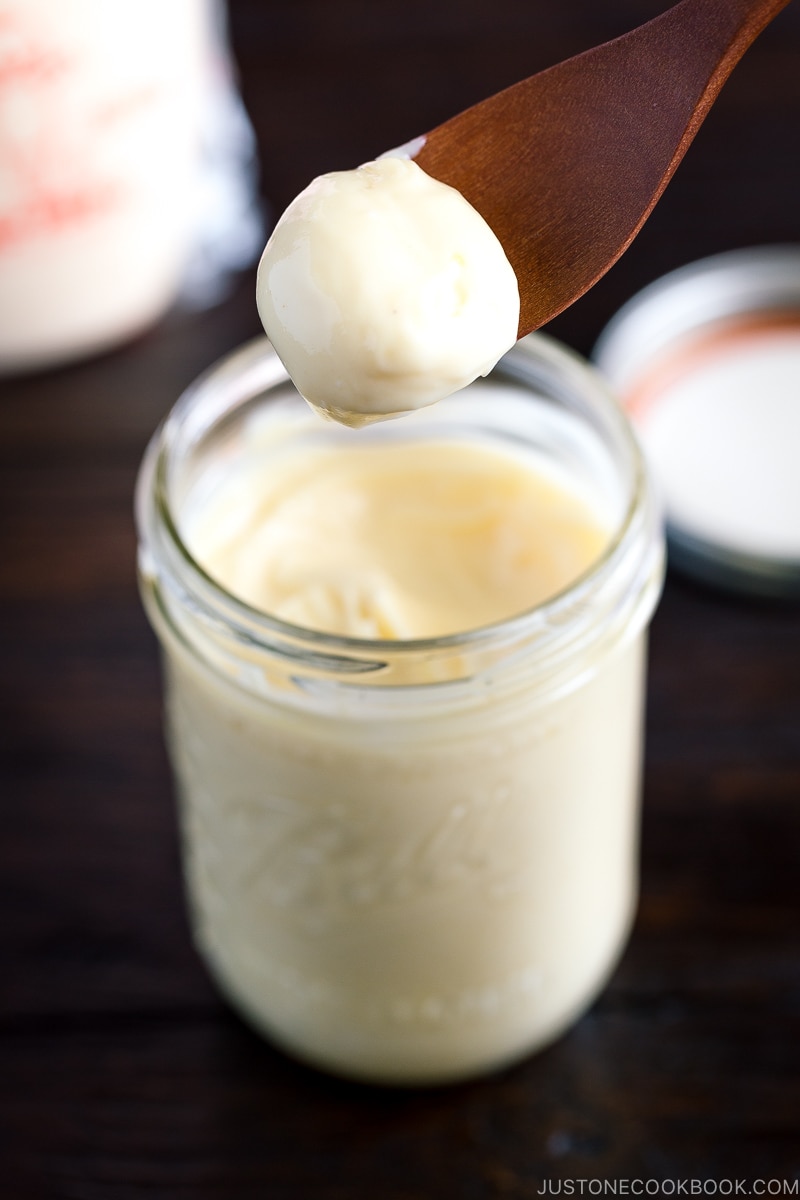 7 Important Tips Before Making Japanese Mayonnaise
Mayonnaise is an emulsion of oil, egg yolk, and vinegar. Oil and water in the yolk are a mixture of two liquids that normally can't be combined.
Emulsifying is done by slowly adding one ingredient to another while simultaneously mixing rapidly. This disperses and suspends tiny droplets of one liquid through another. Proteins and lecithin in the egg yolk serve as emulsifiers.
Here are a few tips you need to know before making Japanese mayo:
1. Use vegetable, safflower, grapeseed oil, or canola oil
Never use old oil and do not use extra virgin olive oil as it won't emulsify well.
2. Make sure egg yolk is at room temperature
Molecules in cold egg yolks get separated easily, which makes them less ideal for mixing.
3. Use mustard
Not sure about adding mustard? It's not included just for the taste, but also to further stabilize the emulsion as it contains small amounts of lecithin.
4. Use dashi powder to replace MSG
Kewpie mayo includes MSG (monosodium glutamate), which gives the umami flavor. To substitute, I added dashi to give similar umami flavors as dashi contains umami from kombu and katsuobushi (smoked and dried bonito flakes). Since I didn't want to add any liquid in emulsifying process, I used MSG-free dashi powder.
5. Remember to pour a thin, steady stream of oil
Adding oil too quickly will keep the two liquids from combining (emulsifying); hence, you want to pour in the oil in a thin and steady stream when combining with the rest of the mixture.
6. Use a blender, mixer, or food processor
The key to making delicious mayonnaise is how small you make the oil molecules. Store-bought mayonnaise may seem to taste better and lighter and that's because household blender/mixer/food processor is not as powerful as commercial ones.
Still, it's better to use equipment if you already have one in your kitchen. Using a tool helps to churn out your homemade mayonnaise a lot faster and in a more consistent manner (less arm work too).
7. Use pasteurized egg yolk or very fresh egg yolk
Using pasteurized eggs can reduce or eliminate the risk of being infected by the salmonella bacteria when preparing recipes that call for raw or uncooked eggs (Roughly 1 egg out of every 20,000 eggs will contain the salmonella). You can purchase pasteurized eggs or make your own pasteurized eggs if you have an immersion circulator.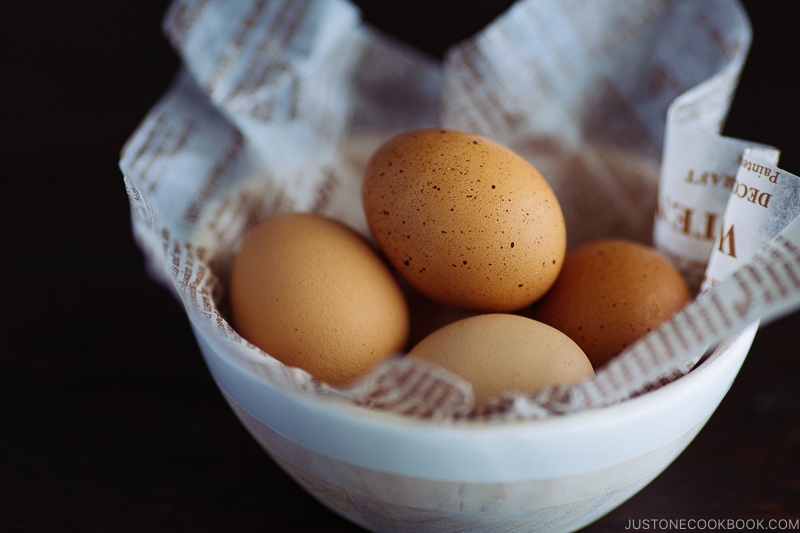 Easier Version? Make This Quick Japanese Mayo
This is the shortcut version of Japanese mayonnaise using American mayonnaise (Best Foods/Hellmann's Mayonnaise). It's not going to be exactly the same, but this shortcut is something you can quickly put together to replicate the taste of Japanese mayo.
For 1 cup of American mayonnaise, whisk together 2 Tbsp rice vinegar and 1 Tbsp sugar.
For 1 Tbsp of American mayonnaise, whisk together ½ tsp rice vinegar and ⅛ tsp sugar.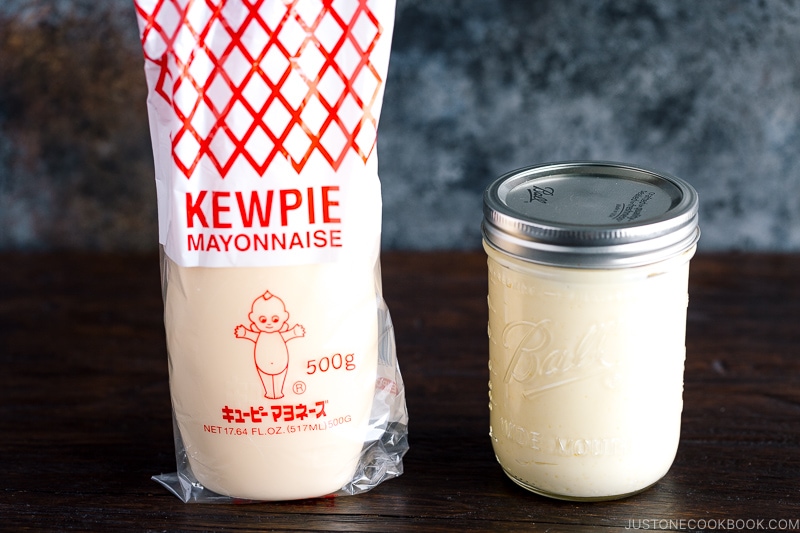 Wish to learn more about Japanese cooking? Sign up for our free newsletter to receive cooking tips & recipe updates! And stay in touch with me on Facebook, Pinterest, YouTube, and Instagram.
Japanese Mayonnaise (Kewpie Mayo)
Whether you call it Japanese Mayonnaise or Kewpie Mayo, once you try it, you'll never go back. Japanese Mayonnaise has a rich egg flavor, a tangy and sweet taste, and is creamier in both color and texture than standard mayonnaise. And just like any other Japanese creation, it scores high on the umami factor.
Servings:
2
(240-ml) cups
Ingredients
2

pasteurized egg yolks

(at room temperature; if you cannot find a pasteurized egg, use the best, freshest eggs you can find for this recipe. You can pasteurize your eggs if you have an immersion circulator. Here's my tutorial)

2

tsp

Dijon mustard

(mustard adds flavor and helps to emulsify the mixture, reducing the risk of the mayonnaise breaking)

1½

cups

neutral-flavored oil (vegetable, rice bran, canola, etc.)

1

tsp

kosher salt (Diamond Crystal; use half for table salt)

2

tsp

sugar

(I added 2 more tsp at the end, but it depends on your preference)

½

tsp

dashi powder

2

Tbsp

rice vinegar (unseasoned)

4

tsp

fresh lemon juice
Japanese Ingredient Substitution:
If you want substitutes for Japanese condiments and ingredients, click
here
.
Instructions
Gather all the ingredients. Tip: If you reduce the recipe ingredients, there won't be enough volume for the food processor or blender to do its work, so you may need to hand whisk the ingredients (or use a hand mixer or immersion blender). Make sure the egg yolks are at room temperature.

Put the egg yolks and mustard into the bowl of a food processor or a blender (my food processor has a 3-cup bowl) and process for 20 seconds.

With the food processor running, SLOWLY drizzle the canola oil in a thin, steady stream until you've added about ½ cup of the oil. The mixture will begin to thicken and emulsify. If you add the oil too fast, it won't emulsify.

Add the kosher salt, granulated sugar, and dashi powder and give everything a whirl again.

Continue to add the oil in a thin, steady stream until you've added another ½ cup of oil. I use the Stir setting while adding the oil.

Finally, add the rice vinegar, lemon juice, and remaining oil and process for an extra 10 seconds, just until the ingredients are combined and emulsified. Don't blend the mayonnaise too long, as homemade mayonnaise comes together pretty quickly in the food processor or blender. When blended too long, the emulsion that brought the spread together is more likely to break, either from overprocessing or overheating.

Taste the mayonnaise and adjust with salt, sugar, or lemon juice to your liking. I personally added 2 more teaspoons of sugar for a total of 4 teaspoons.
To Store
You can keep the mayonnaise in an airtight container and store it in the refrigerator for about 4 days.
Nutrition
Serving:
1
cup
·
Calories:
1495
kcal
·
Carbohydrates:
6
g
·
Protein:
3
g
·
Fat:
169
g
·
Saturated Fat:
135
g
·
Polyunsaturated Fat:
3
g
·
Monounsaturated Fat:
21
g
·
Cholesterol:
195
mg
·
Sodium:
695
mg
·
Potassium:
37
mg
·
Fiber:
1
g
·
Sugar:
5
g
·
Vitamin A:
264
IU
·
Vitamin C:
4
mg
·
Calcium:
28
mg
·
Iron:
1
mg
©JustOneCookbook.com Content and photographs are copyright protected. Sharing of this recipe is both encouraged and appreciated. Copying and/or pasting full recipes to any website or social media is strictly prohibited. Please view my photo use policy
here
.