Filled with creamy avocado, sweet crab meat, and crunchy cucumber, California roll is by far the most popular sushi roll in the US. Learn how to make this delicious sushi roll at home! I also included a step-by-step guide with pictures and a video on how to perfect your sushi rolling technique.
What was the first sushi roll that you tried at a Japanese restaurant? For many of you, it might be California Roll (カリフォルニアロール) as it is probably by far the most popular style of sushi in the U.S. Today I'll show you how easy you can make California roll at home.
What is a California Roll?
California roll is a type of sushi roll (makizushi 巻き寿司 or rolled sushi in Japanese) made of seasoned sushi rice, crab meat (real or imitation), avocado, and cucumber.
It is an "inside-out" roll (we call it uramaki), where the fillings and nori (dried roasted seaweed sheet) are rolled inside the sushi rice.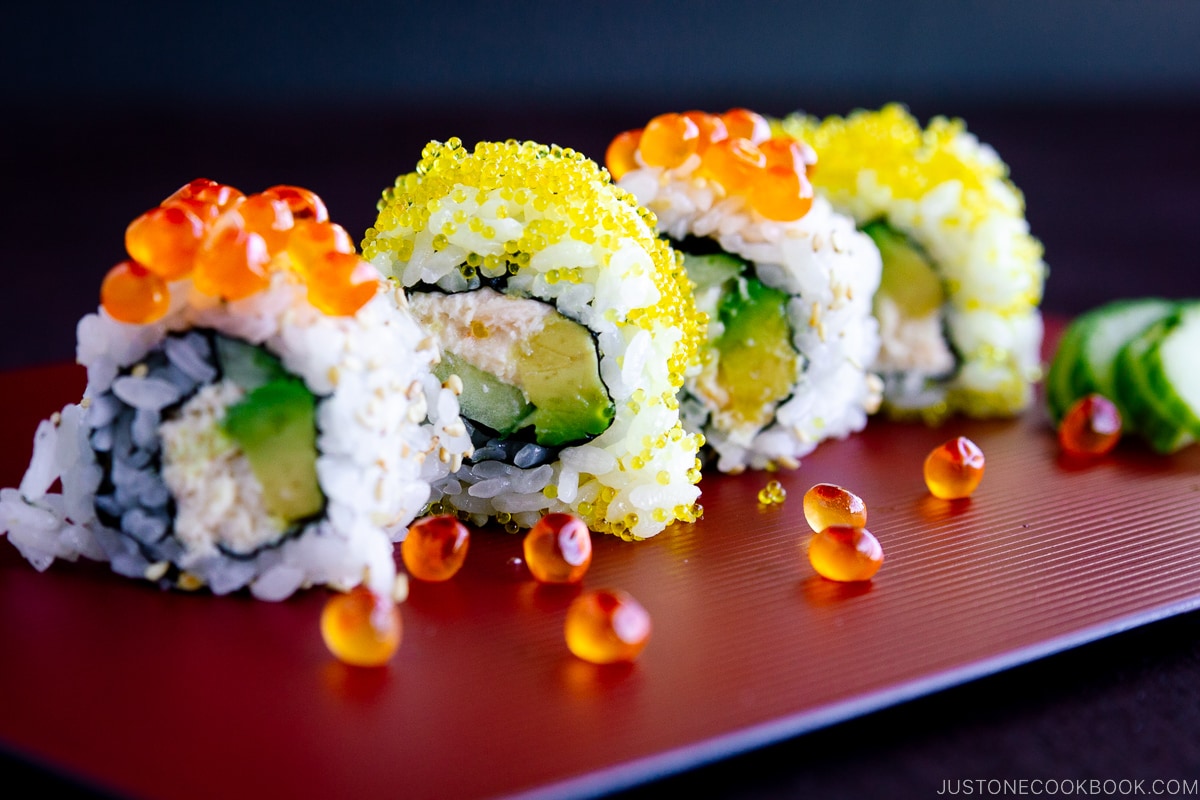 Background of California Roll
Who invented California Roll?
Did you know that many creative-name sushi rolls like California roll and Dragon roll do not originate from Japan?
Apparently, there were a few chefs that have been cited as the creator of the California roll, but the fact remains unclear. Every account of the original California roll is slightly different and the description of the sushi is also very different from the one we see today.
The more recent and known story came from a Japanese-born sushi chef Hidekazu Tojo, a resident of Vancouver, who claimed he created the California roll at his restaurant in the late 1970s. He learned that most Western people didn't eat raw fish and were not a fan of nori seaweed as well. So he substituted avocado for toro (fatty tuna) as it has a similar creamy texture, and hid the nori seaweed by using the uramaki technique so the nori is not visible from the outside.
Why do they call it a California Roll?
The sushi is called the "California Roll" because it consists of crab and avocado. The acronyms for both ingredients stand for C.A., which happens to be the same acronym for California. Thanks to this utterly random and uncanny coincidence, chef Tojo decided to go with the name California Roll.
That's how California roll turned into a popular menu item!
In recent years, fast food-style sushi restaurants even started serving California roll on their menu. That tells the story of a successful adaptation and re-imagination of food.
What's the difference between a Japanese sushi roll and a California roll?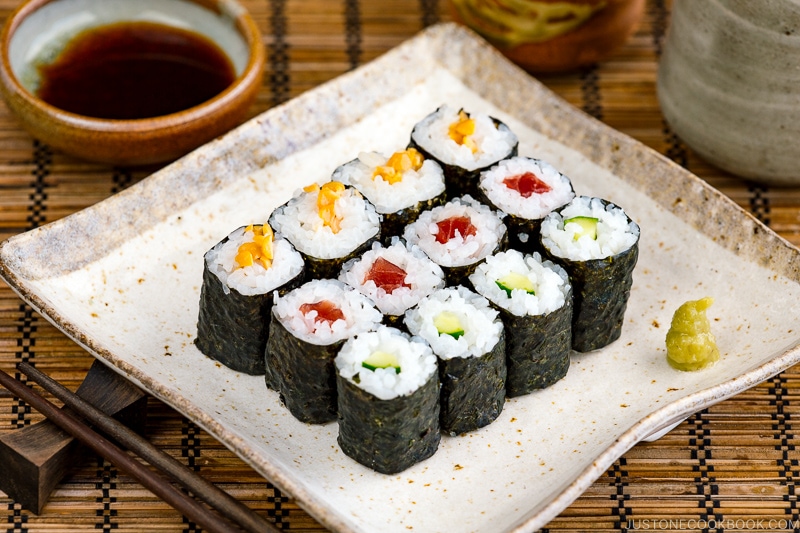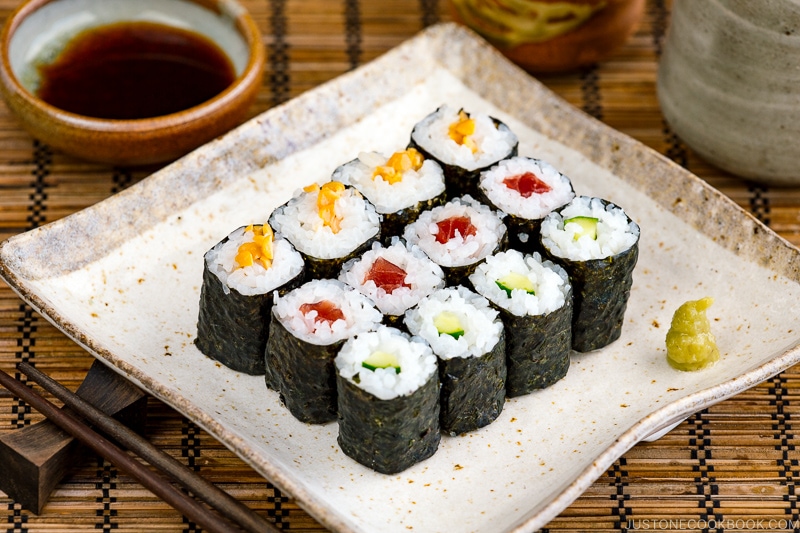 You'll find two main differences between a traditional Japanese sushi roll and a California roll:
Presentation: The fillings for traditional Japanese-style sushi rolls are wrapped in the center surrounded by seasoned sushi rice and the nori sheet as the outer layer of the roll. On the contrary, California roll wraps the fillings and the nori on the inside, and the rice is presented as the outer layer.
Ingredient: While avocado is a popular filling for western-style sushi like California rolls, it is not typically used in traditional Japanese sushi rolls.
The most common styles of sushi rolls (makizushi) in Japan are Futomaki and Hosomaki (sushi rolls), which feature locally available seafood and ingredients. As you can see, it's quite different from the sushi roll menus in the United States!
What's in a California Roll
Unlike nigiri sushi or other kinds of sushi rolls, California rolls do not include any raw fish. That means you can easily make this sushi roll at home! Here are the key ingredients you need:
Seasoned sushi rice: Quality Japanese short-grain sushi rice is what you need to make the best sushi rice. I recommend Tamaki Gold and Tamanishiki Super Premium Short Grain Rice, but you can go with the more affordable options such as Kokuho Rose and Nishiki.
Nori (toasted seaweed)
Avocado: Use only a ripe, ready-to-eat avocado, so your sushi roll tastes fresh, smooth & creamy.
Crab meat: You can use fresh, canned, or imitation. I'm unfortunately allergic to fresh crab meat, so I use imitation crab.
Japanese cucumbers: For sushi making, we use thin and long Japanese cucumbers. They have fewer seeds compared to regular cucumbers. If you can't find Japanese cucumbers, you can use Persian cucumbers or English cucumbers (but remove the seeds in the middle).
Japanese mayonnaise: Japanese mayonnaise (commonly known as Kewpie mayo) is creamier and tangier than regular American mayo. It is a key flavor, so try your best to find it (you can purchase it on Amazon). You can also make your own by following my homemade Japanese mayo recipe.
Sesame seeds (optional): If you have a few extra minutes, toast the sesame seeds in a non-greased frying pan until one or two sesame seeds pop. It adds a wonderful nutty flavor and aroma. Since I use fish eggs (tobiko/masago) for decorating the sushi rice, I like to add toasted white sesame seeds to the crab meat mixture.
Serve your California roll with Japanese soy sauce, wasabi, and pickled sushi ginger on the side.
Tools for Making California Roll
Bamboo sushi mat (makisu 巻き簾)
Plastic food wraps
Vinegar water (tezu) – for dipping your fingers to prevent the rice from stickers
Mixing bowl
Damp towel
Optional: Hangiri sushi rice bowl and paddle
Enjoy making sushi at home? You can buy a set of sushi oke/hangiri, bamboo mat, and rice paddles.
Watch How To Assemble A Sushi Roll
How To Roll Sushi Roll
Many people are intimidated by the sushi rolling part. Relax and take it one step at a time by following my recipe and tips. The key is not to overstuff the sushi and tug the roll compact enough for assembling. It's not difficult and you should be able to make decent sushi rolls with some practice.
My Recipe Card below shows you the step-by-step guide. You can also watch my video below which demonstrates the technique on how to assemble a sushi roll.
I hope you enjoy making California rolls. They make a great appetizer or finger food at parties and potlucks!
More Popular Sushi Recipes on Just One Cookbook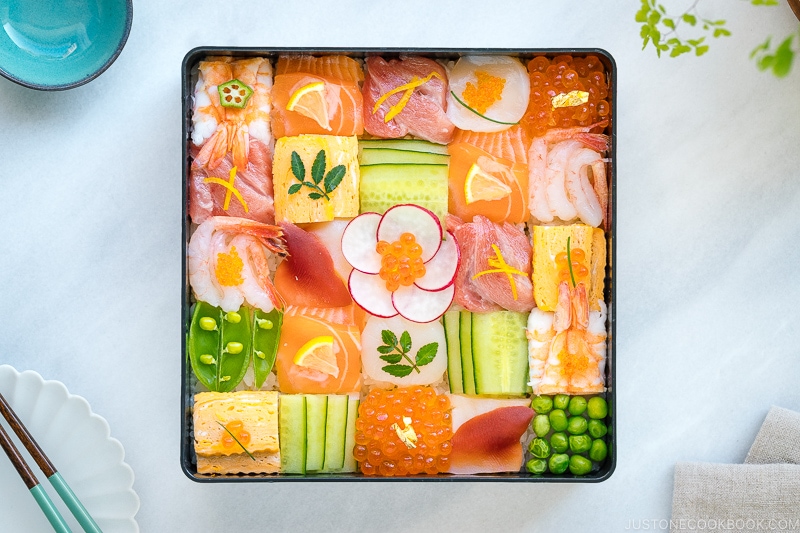 Wish to learn more about Japanese cooking? Sign up for our free newsletter to receive cooking tips & recipe updates! And stay in touch with me on Facebook, Pinterest, YouTube, and Instagram.
California Roll
Filled with creamy avocado, sweet crab meat and crunchy cucumber, California roll is by far the most popular sushi roll in the US. In this recipe, you'll learn how to make the delicious sushi roll at home. I also include a video that demonstrates how you can perfect the sushi rolling technique below.
Ingredients
Japanese Ingredient Substitution:
If you want substitutes for Japanese condiments and ingredients, click
here
.
Instructions
Gather all the ingredients. The

6 cups sushi rice (cooked and seasoned)

should be at room temperature. Please follow my Sushi Rice recipe for step-by-step instructions on how to cook the rice and add the sushi seasonings. Each California Roll requires ¾ cup (110 g) of sushi rice, so you'll need

6

cups (

1080

g) of sushi rice to make

8

rolls.

Cover the bamboo sushi mat with plastic wrap. Mix

¼ cup water

with

2 tsp rice vinegar (unseasoned)

to prepare the vinegar water (tezu) to dip your fingers to prevent them from sticking. Set aside.
To Prepare the Fillings
Crab meat: Combine

9 oz cooked crab meat

with

6 Tbsp Japanese Kewpie mayonnaise

and mix together.

Cucumber: Peel and remove the seeds of

½ English cucumber

with a spoon. Cut into thin long strips, the same length as the nori sheet.

Avocado: Peel, pit, and cut

2 avocados

into slices ¼ inch (0.5 cm) thick (see How To Cut Avocado). Squeeze the juice of

½ lemon

over the avocado to prevent browning.

Nori: With the

8 sheets nori (dried laver seaweed)

, cut off one-third of each nori sheet (set aside) and use the remaining two-thirds sheets of nori. Tip: Save the strips of nori you cut off to make Ikura Sushi (optional; see below).
To Roll the Sushi
Lay a nori sheet, shiny side down, on the bamboo sushi mat. Wet your fingers in tezu and spread ¾ cup (110 g) of the rice evenly onto the nori sheet.

Sprinkle the rice with about ½ Tbsp of the

4 Tbsp toasted white sesame seeds

or

yuzu-flavored tobiko (flying fish roe)

.

Turn the nori sheet over so that the rice is facing down. Line the edge of the nori sheet at the bottom of the bamboo mat. Place the cucumber, crab meat, and avocado at the bottom of the nori sheet.

Grab the bottom edge of the mat while keeping the fillings in place with your fingers, roll it into a tight cylinder, tucking the fillings in firmly.

Lift the edge of the bamboo mat slightly and roll it forward while keeping gentle pressure on the mat. Cover the completed rolls with a damp cloth at all times to prevent them from drying. Continue making the rolls until the ingredients are finished.

You can use the leftover one-third strips of nori sheet to make Ikura Sushi. Cut the nori sheet into half lengthwise. Make small balls with sushi rice and wrap it with nori sheet. Place

ikura (salmon roe)

on top.
To Serve
With a very sharp knife, cut each roll in half and then cut each half into 3 pieces. Remember to clean the knife with a damp cloth after every few cuts.
To Store
It's best to enjoy sushi rolls on the same day. Rice gets hard and dry in the refrigerator. Therefore, if you really want to keep sushi rolls in the refrigerator, my recommendation is to cover them with plastic and then with a thick kitchen towel, so the rice will stay cool and safe, but not become cold.
Nutrition
Nutrition Facts
California Roll
Amount per Serving
% Daily Value*
* Percent Daily Values are based on a 2000 calorie diet.
©JustOneCookbook.com Content and photographs are copyright protected. Sharing of this recipe is both encouraged and appreciated. Copying and/or pasting full recipes to any website or social media is strictly prohibited. Please view my photo use policy
here
.
Editor's Note: This post was originally published on Aug 19, 2011. The content has been updated in May 2017.
Our Recommendations for Buying Sashimi Online


When we have a sudden craving for sashimi we usually buy from our local Japanese supermarkets. If you don't have a reliable shop to purchase quality sashimi nearby, we would recommend buying from Catalina Offshore online.
They've been in business for over forty years and all the sashimi products we've tried from them are outstanding. Use J1COOK20 for 10% discount. Disclosure: We earn a small percentage commission from your purchase of products linked to Catalina Offshore.