This colorful Mosaic Sushi features sashimi, tamagoyaki rolled omelette, and vegetables arranged in a checkerboard pattern over sushi rice. It's a feast for the senses! Despite its exquisite presentation, anyone can make it at home. In my recipe, I'll teach you an easy method to prepare this modern take on sushi that's sure to impress. (Vegetarian/vegan-friendly toppings are included.)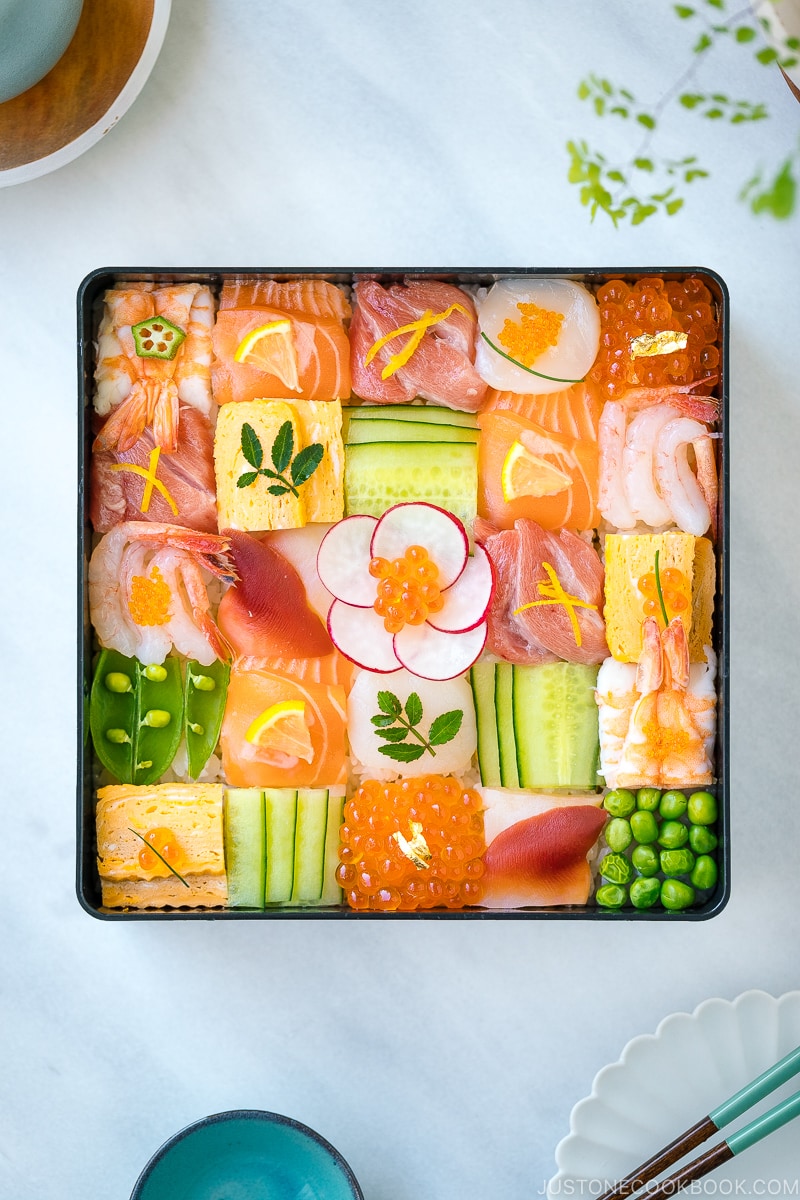 I've shared a collection of traditional sushi recipes that the Japanese make at home, such as Inari Sushi, Futomaki, Temaki (Hand Roll Sushi), and Chirashi Sushi. Today, I'm excited to share a modern take on sushi called Mosaic Sushi (モザイク寿司).
Look at the colorful toppings and the aesthetic display! Isn't it a beautiful piece of edible art?
What is Mosaic Sushi (Mozaiku Sushi)
Mosaic Sushi, or what we call Mozaiku Sushi (モザイク寿司), earned its Instagram fame in Japan back in 2016. I don't know who or what company started this craze, but it was a huge sensation!
As the name suggests, Mosaic Sushi is made of sushi rice topped with a striking array of ingredients like sashimi, tamagoyaki (sweet rolled omelette), vegetables, and fish roe in a checkerboard pattern. The method of making this modern-style sushi is similar to Oshizushi (Pressed Sushi) and Chirashi Sushi.
Judging by the delicate presentation, Mosaic Sushi might look like a lot of work, but it's really not, especially the way I make it. After a few runs of recipe testing, I figured out a couple of easy tricks that work like a charm. So, you don't need any special skill other than a keen eye for color and patterns.
Ready to try your hand at making this decorated tray of sushi?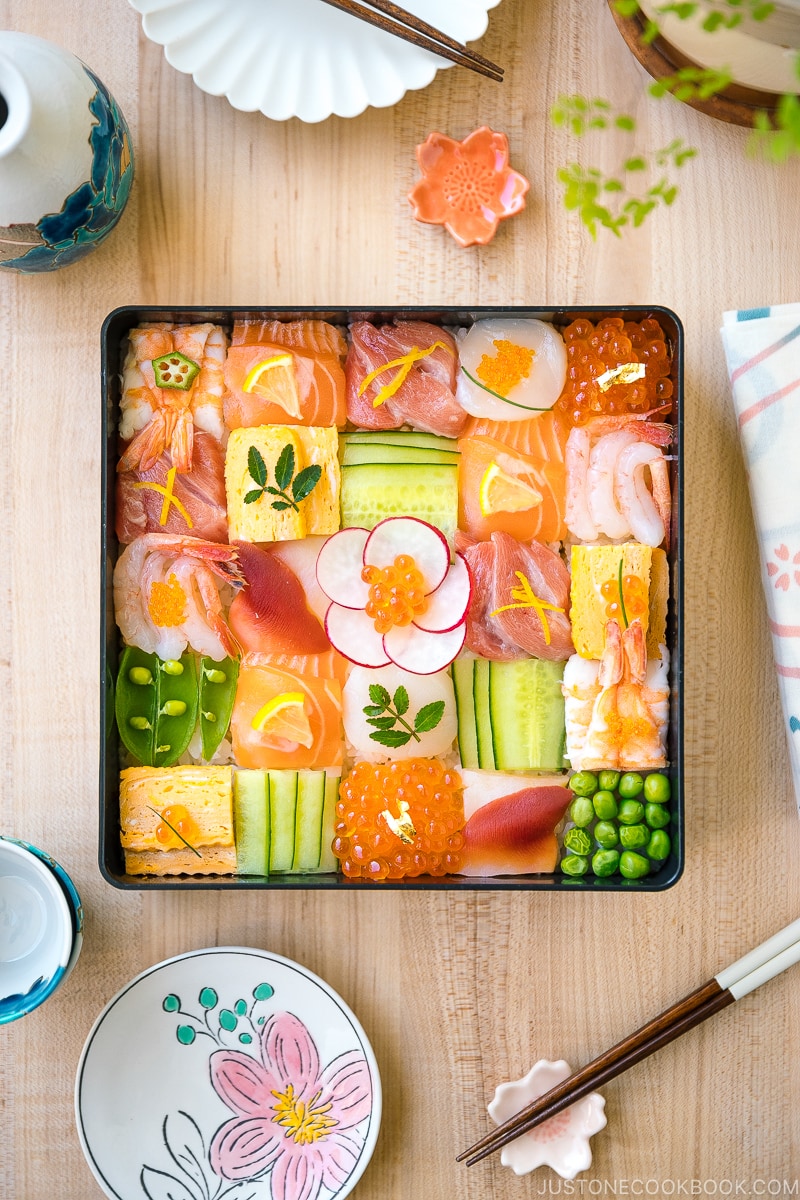 Get Creative and Have Fun!
The beauty of this recipe is in its flexibility. The options for toppings are endless. You can customize this sushi to suit your aesthetic senses of color, shape, texture, and flavor. It's highly adaptable to what's in season and available in your local markets. You can also change up the toppings based on your dietary preferences.
Above all, have fun with it. Get creative with different combinations of ingredients that appeal to you. You're only limited by your imagination!
Ingredients You'll Need to Make Mosaic Sushi
For the Sushi Rice
Japanese short-grain rice (cooked) — When you make sushi, you really have to get Japanese short-grain rice. No exceptions. You can use Korean short-grain rice as it is the closest to Japanese variety. Do not use jasmine rice, etc.
Sushi vinegar — It's a mixture of rice vinegar, sugar, and salt.
White sesame seeds
For the Toppings
* Choose your own combination of toppings based on visual appeal, seasonality, and your dietary preferences. The ingredients that I used for this recipe are in bold.
Sashimi-grade fish — salmon, tuna (otoro), scallop, squid, shrimp (amaebi and cooked), kanpachi, tai, surf clam (hokkigai), ikura, tobiko
Cooked fish — smoked salmon (top with capers), unagi (grilled eel), Salmon Flakes
Cooked meat — seasoned thinly sliced meat or ground meat (check out Soboro)
Eggs — Tamagoyaki (Japanese sweet rolled omelette), usuyaki tamago (thin omelette), Kinshi Tamago (shredded omelette)
Cucumber slices
Red radish slices
Green peas
Opened snap peas
Blanched asparagus
Sakura denbu (pink colored cod flakes)
Garnish — parsley leaf, kinome leaf, sliced blanched okra, chives, yuzu zest, lemon slice, edible flower, gold leaf flakes
Want to Make a Vegan Mosaic Sushi?
If you're vegetarian or vegan, you can still enjoy Mosaic Sushi with colorful plant-based ingredients!
Three Important Tips for Vegan Mosaic Sushi
The three most important things about vegan Mosaic Sushi are the color, texture, and flavor.
Color: Pay attention to the interplay of colors by working with bright and colorful ingredients.
Texture: Look for ingredients with contrasting textures. They create dimension and artistic form which help enhance the visual component and enjoyment of the sushi.
Flavor: Because the rice is lightly seasoned with sushi vinegar (rice vinegar, sugar, and salt), you will need toppings that will bring more assertive and vibrant flavor to the sushi.
Be careful with your seasoning or when marinating with any condiments as we want to preserve the fresh bright color of the vegetables. My recommendations are lightly seasoned vegetables and pickled vegetables.
For the Vegan-Friendly Toppings
* The ingredients that I used for this recipe are in bold.
Cucumber slices
Opened snap peas
Blanched asparagus
Blanched green peas
Opened okra
Avocado (sliced)
Julienned shiso leaves
Red radish slices
Watermelon radish slices
Daikon (sliced)
Carrot namul (I used this recipe)
Various Japanese pickles from Japanese grocery stores, including Umeboshi (Japanese pickled plums)
Garnish options
Kinome leaves
Chives
Lemon slices
Blanched okra slices
Watermelon radish cutouts
Edible gold leaf flakes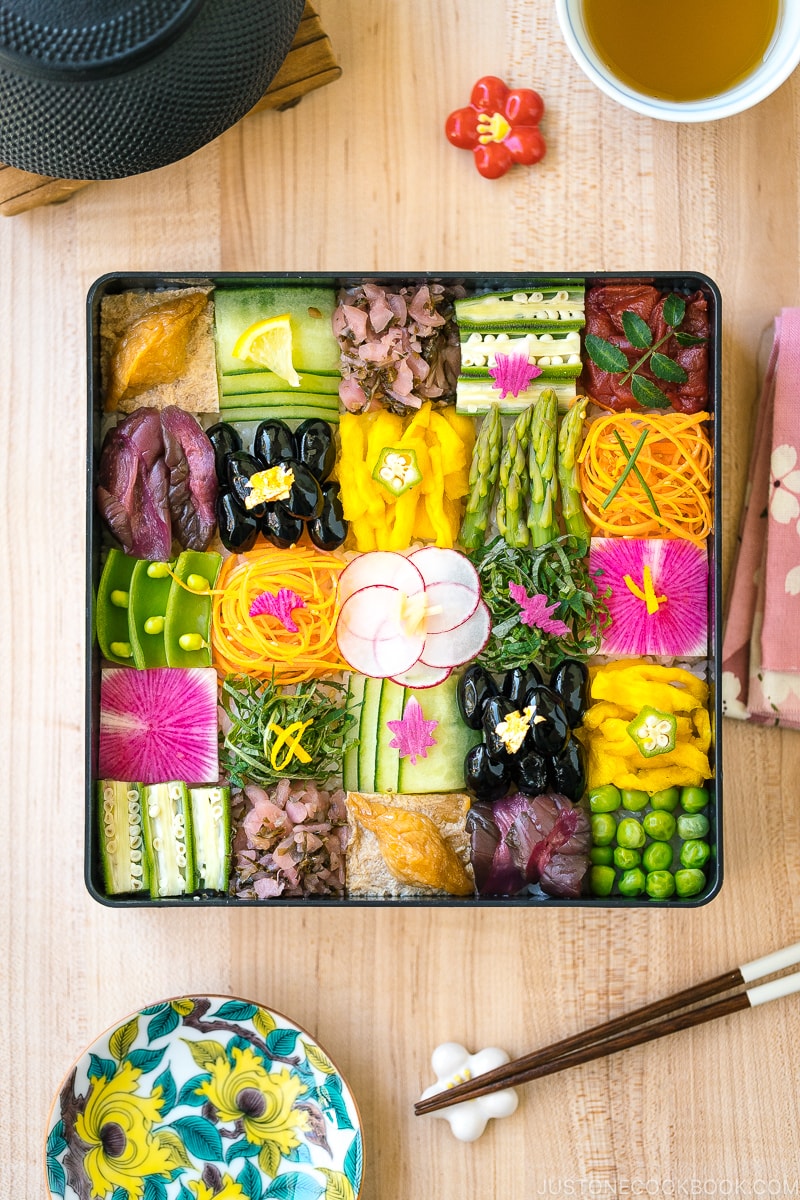 Overview: Cooking Steps
Make the sushi rice. If you want to learn how to make sushi rice properly, from measuring the rice and rinsing the rice, read my Sushi Rice recipe.
Pack the sushi rice into a container.
Cut the bed of sushi rice into cubes inside the container.
Prepare the topping ingredients. Cut or arrange them into a square shape.
Place the topping ingredients on top of the sushi rice cubes and garnish with herbs and tiny toppings.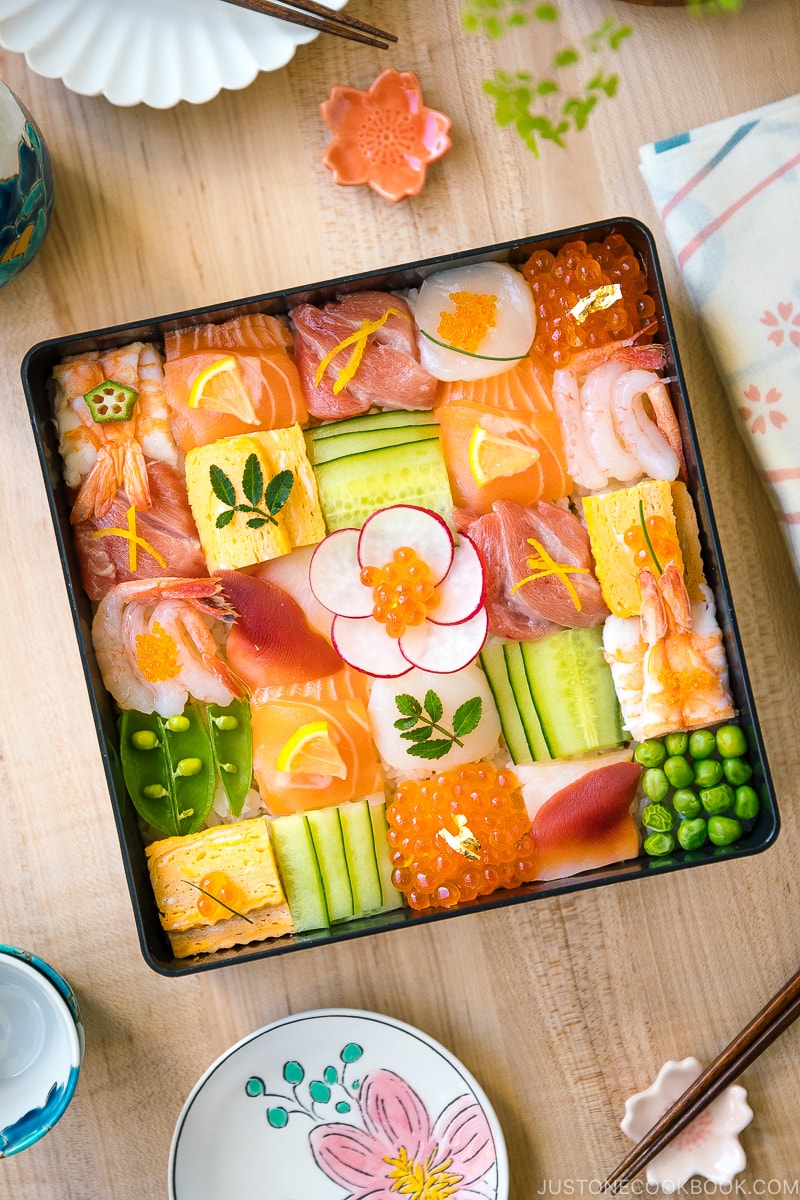 My Super Easy Method to Make Mosaic Sushi
Typical methods for making Mosaic Sushi call for a very sharp knife to succeed. The first (more advanced) method requires layering the toppings and rice in reverse order in an oshibako (wooden sushi compressor), then cutting the whole composed sushi in a checkerboard pattern with a knife.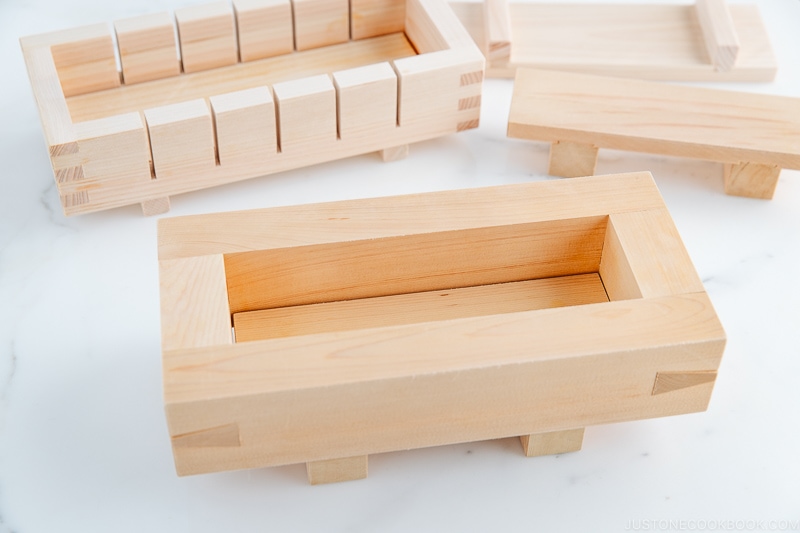 The second (more common) method requires compressing the sushi rice in a container lined with plastic and then cutting it. While this method is easier than the advanced method, you still need a very sharp knife to cut the
sushi cubes cleanly.
I have pretty sharp knives, but still, I struggled a little when cutting the sushi rice block into nice, sharp-cornered cubes. Luckily, persistence and keen observation pay off. I'm happy to say that I've figured out two cool tricks!
Trick 1: Parchment Paper
This was in fact the final trick that solved the puzzle: Line the bottom of the container with parchment paper.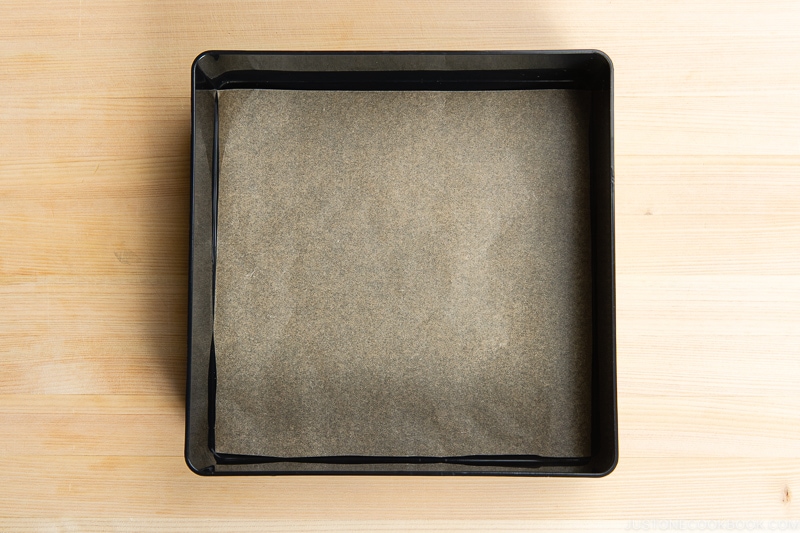 When the sushi rice is compressed in the container, the rice sticks to the bottom and it is extremely hard to pick up a cube of sushi with chopsticks. You could end up with the toppings but only a partial cube of sushi rice. With the parchment paper lining the bottom, you can pick up the entire cubed sushi with the topping on top! Problem solved!
Trick 2: A Dough Scraper
When you pack the sushi rice into the container, it should be tightly packed, but the grains should not be mashed. I used a dough scraper for this and it works perfectly. You just have to wet the scraper with water every time you use it.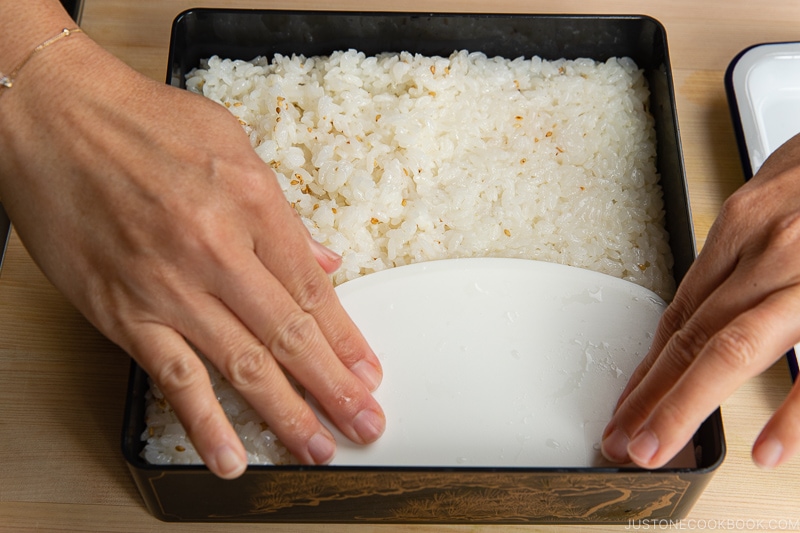 Then, use a dough scraper to cut the compressed sushi rice INSIDE the container. The width of the cube size should be somewhere between 1¼ inches (3 cm) to 1½ inches (4 cm). I used the 3.5 cm square for my container, yielding 25 cubes.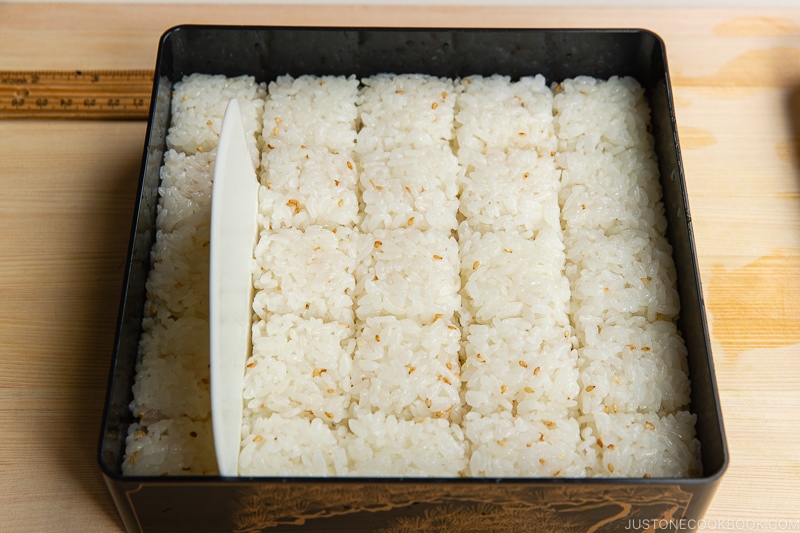 This method makes so much more sense. Why would we take out the sushi rice from the container to cut with a knife and put it back inside the container so you can put the toppings on top? No need!
Again, the parchment paper underneath this compressed sushi rice was the final key for this successful trick. Thanks to the parchment paper on the bottom, you can pick up the sushi cubes completely and easily with chopsticks!
Now all you need to do is cut the topping ingredients (sashimi, vegetables, etc.) to cover the squares. Place each topping on the bed of sushi rice. Very easy!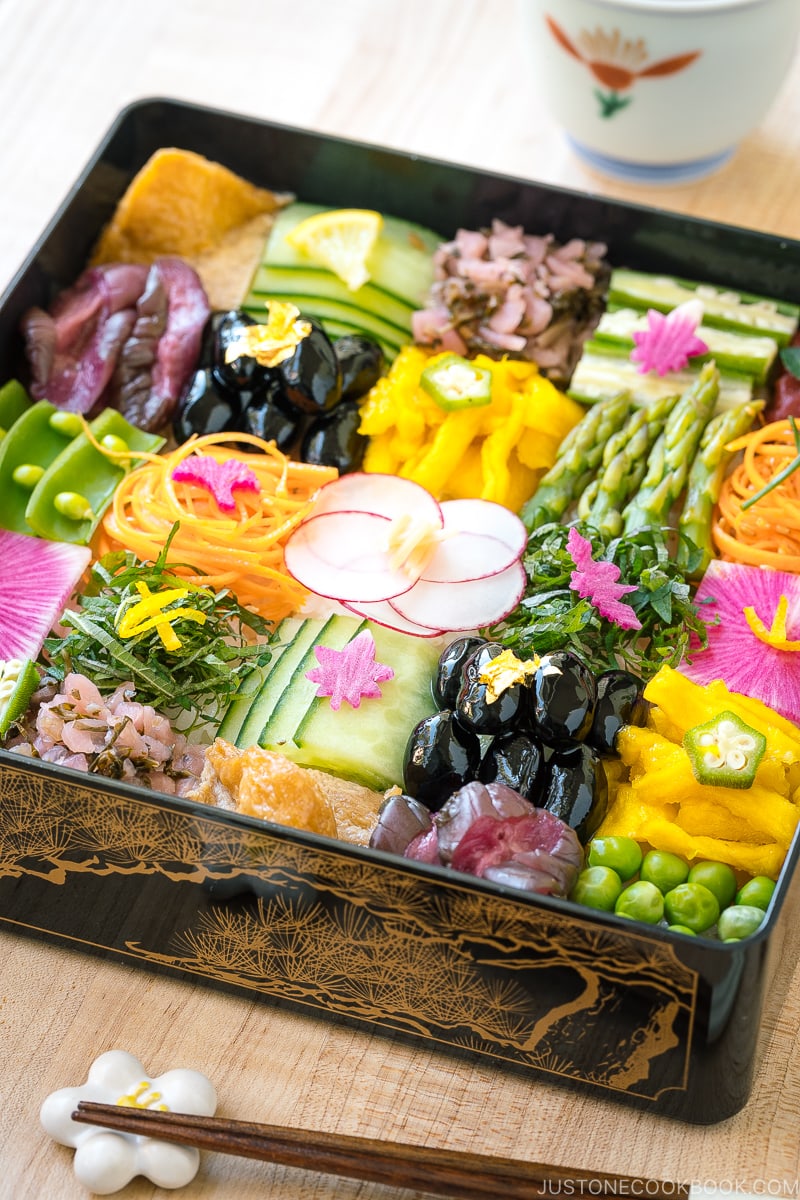 5 Helpful Tips When You Are Making Mosaic Sushi
Besides the 2 tricks for this recipe that I mentioned above, here are a few things to keep in mind when you make mosaic sushi:
Visualize your final look. It may even help to map out on a piece of paper what toppings to place and where. For a total of 25 squares, you'll need 3 squares each of 4 ingredients (salmon, tuna, cucumber, and tamagoyaki), 2 squares each of 5 ingredients (ikura, scallop, amaebi, cooked shrimp, and surf clams), and 1 square each of 3 ingredients (red radish, snap pea, and green peas).
Moisten the dough scraper when pressing down the sushi rice and when "cutting" the sushi rice block.
Cut the topping ingredients slightly bigger than the sushi rice squares and make sure the lines are straight. The checkerboard will look perfect.
When arranging the toppings, think about the color, texture, and orientation.
It's very important to layer and make the toppings three dimensional. You can place additional garnishes such as ikura, zest, okra slices, lemon slices, and chives on the main toppings to give the entire presentation more dimension.
Mosaic Sushi is indeed one of my newest sushi obsessions. Feel free to experiment with different toppings that you can think of! It is about the most fun you can have in the kitchen, so I hope you give this sushi a try.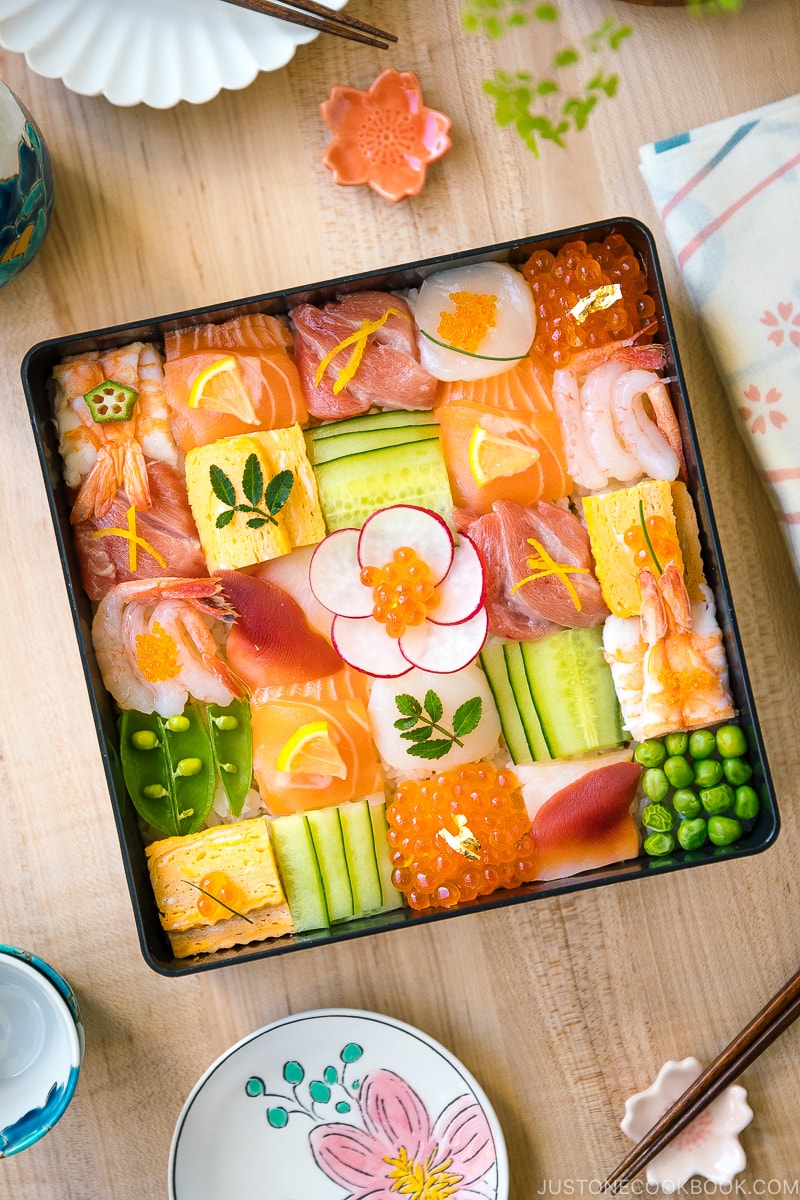 Readers' Mosaic Sushi
Mosaic Sushi was the challenging recipe for JOC Cooking Challenge March 2022. Check out the beautiful mosaic sushi created by JOC readers!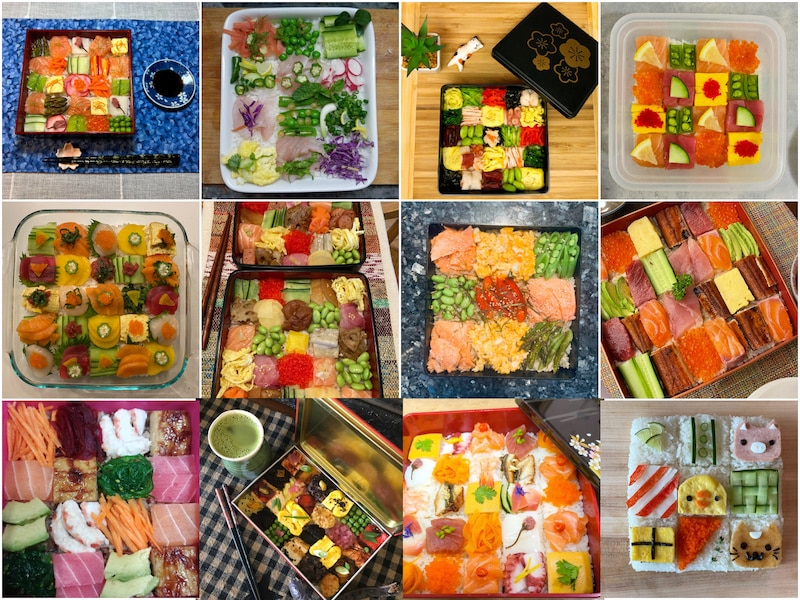 Other Sushi Recipes on JOC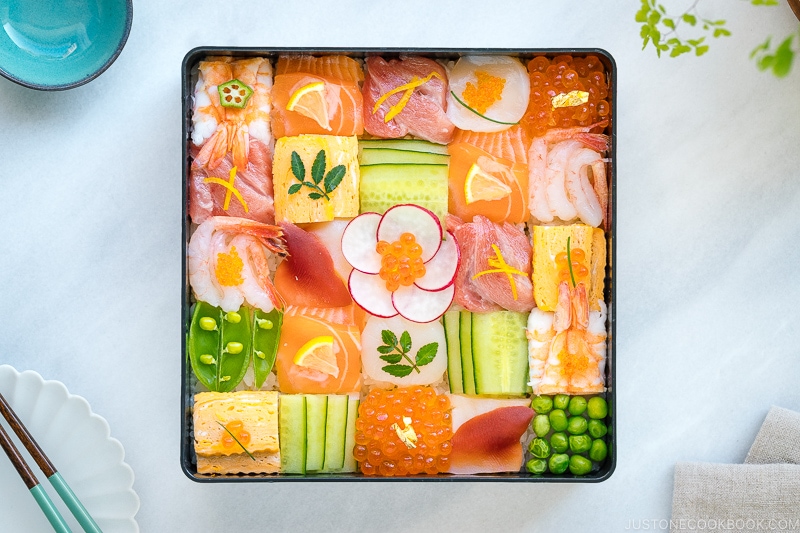 Wish to learn more about Japanese cooking? Sign up for our free newsletter to receive cooking tips & recipe updates! And stay in touch with me on Facebook, Pinterest, YouTube, and Instagram.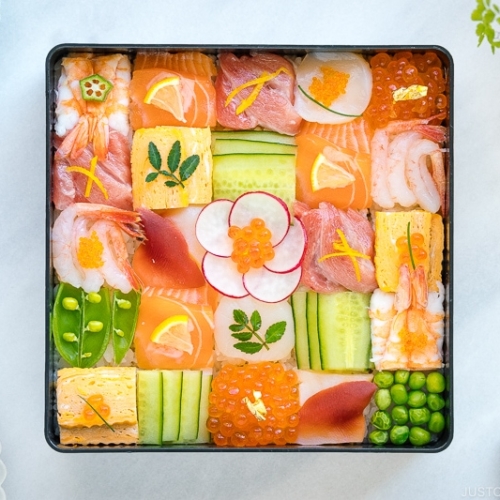 Mosaic Sushi
This colorful Mosaic Sushi features sashimi, tamagoyaki rolled omelette, and vegetables arranged in a checkerboard pattern over sushi rice. It's a feast for the senses! Despite its exquisite presentation, anyone can make it at home. In my recipe, I'll teach you an easy method to prepare this modern take on sushi that's sure to impress.
Video
Ingredients
For the Sushi Rice
3½

cups

cooked Japanese short-grain rice

(2 rice cooker cups (180 ml x 2 = 360 ml or 300 g) of uncooked Japanese short-grain rice yield 3½ US cups (660 g) of cooked rice)

4

Tbsp

rice vinegar (unseasoned)

2

Tbsp

sugar

1

tsp

kosher salt (Diamond Crystal; use half for table salt)
For the Toppings (use this as an example; feel free to choose your own)
3

slices

sashimi-grade salmon

3

slices

sashimi-grade tuna

(I used otoro)

6

pieces

sashimi-grade shrimp (amaebi)

2

pieces

cooked shrimp

1

piece

sashimi-grade scallop

2

pieces

cooked surf clam (hokkigai)

4

Tbsp

Ikura

(save some for the garnish)

1

Tamagoyaki (Sweet Rolled Omelette)

(only need a few thin slices)

1

Japanese or Persian cucumber

(only need a few slices)

2

snap peas

1

red radish

(thinly sliced)

2

Tbsp

green peas

(blanched)
For the Garnishes (optional)
1

okra

(blanched; only need a slice or two)

1

slice

lemon

yuzu zest

(you can use lemon zest)

kinome leaves

(you can use a tiny parsley leaf)

chives

tobiko (flying fish roe)
Japanese Ingredient Substitution:
If you want substitutes for Japanese condiments and ingredients, click
here
.
Instructions
Before You Start…
Gather all the ingredients. It's helpful to use a ruler to measure a precise checkerboard pattern for the Mosaic Sushi. Please use my topping ideas as just an example. I asked the fishmonger at the Japanese grocery store (Suruki Market in San Mateo) to slice the sashimi for me. If you buy a block of sashimi, slice it ⅛-¼ inch (3-6 mm) thick.
To Make the Sushi Rice
To make the sushi vinegar (sushizu), combine the rice vinegar, sugar, and salt in a small saucepan and bring it to a boil over medium heat. Whisk until the sugar is completely dissolved. Alternatively, you can put the ingredients in a microwave-safe bowl and microwave for 1 minute or until the sugar is dissolved. Set aside to let it cool.

If using a wooden sushi oke (also called hangiri), moisten it with running water and drain well. You can also use a baking sheet. Transfer the cooked rice into the sushi oke. Spread out the rice evenly so it will cool faster.

Drizzle the sushi vinegar over the rice. With a rice paddle, gently "slice" the rice at a 45-degree angle to incorporate the sushi vinegar mixture and separate the chunks of rice. Do not stir or mix the rice because the grains may break and the rice will become mushy. If your rice is freshly cooked, vigorously fan the rice with a paddle fan or another type of fan while using this slicing motion. This cools the rice and takes away the excess moisture. Fanning makes the rice shine and keeps it from becoming mushy. Gently flip the rice between slices. Repeat this process until the rice is cooled to the temperature of human skin.

Sprinkle the sesame seeds on top and gently distribute them throughout the sushi rice using a "slicing" motion. Set aside.
To Pack the Sushi Rice
Place a sheet of parchment paper on the bottom of the container you're using. Here, I'm using a 7½-inch x 7½-inch (19 cm x 19 cm) Japanese lacquered box called jubako (this traditional box is used for Osechi Ryori or as a lunch box). If you do not place parchment paper inside the container, the rice will stick to the bottom and it will be very hard to pick up the individual sushi pieces.

Transfer the prepared sushi rice into the container. The measured rice (the whole 2 rice cooker cups you've cooked) is just the perfect amount for this standard jubako size. With the rice paddle, evenly distribute the sushi rice to the corners and edges of the container, making sure the bed of sushi rice is level.

Moisten a plastic dough scraper in water and use it to firmly press down the sushi rice. We don't want to overpress the rice and mash the grains, but the rice should be tightly packed so the sushi cubes hold their shape when you pick them up.

Continue to press down the sushi rice with the dough scraper. Don't forget to moisten it so the rice doesn't stick to it. This type of sushi is called oshizushi or pressed sushi, so it is considered normal to press the rice grains.

Now, cut the sushi rice into squares or cubes. Moisten the dough scraper with water and use it to makes a series of lengthwise slices through the bed of sushi rice across the width of the sushi box. The slices should be the same distance apart so you will have neat squares for the checkerboard pattern. Measure your sushi box so that your slices are equally distanced, about 1¼ inches (3 cm) to 1½ inches (4 cm) apart. For my 7½-inch x 7½-inch (19 cm x 19 cm) container, I cut the sushi rice about 1⅓ inches (3.5 cm) wide. Moisten the scraper after each slice to prevent sticking.

Then, rotate the container 90 degrees, and again make lengthwise slices across the width of the box that are the same distance apart (1⅓ inches or 3.5 cm in my case) as the previous slices you made. You now have cubes about 1⅓ inches (3.5 cm) square. Set aside.

Go over your slices a second time to separate and compress the sushi squares further; this will make it easier to remove the individual cubes when serving. Start by inserting the clean dough scraper that you've moistened with water into the first slice you made earlier. Move the scraper back and forth in a sawing motion along the entire length of the slice, ensuring a clear separation between the two sides. Next, press the scraper along the right side, firmly packing in the rice. Repeat along the left side. There will now be a gap of about 1 mm between the two sides. Move onto the next slice and repeat this "separate and compress" process. Moisten the scraper with water between slices and keep it clean of any rice grains or residue. Continue until you've finished all the lengthwise slices in that direction. Then, rotate the container 90 degrees and repeat with the remaining slices.
To Prepare the Toppings
Start cutting your topping ingredients into square pieces slightly larger than your sushi cubes; I cut mine about 3.6 cm wide for my 3.5-cm sushi cubes. Tip: For the best look, cut the topping ingredients slightly larger than the cube size so that the toppings cover the sushi rice completely and there are no visible gaps. For the cucumber, I use a vegetable peeler to slice it into paper-thin ribbons. Stack 3-4 ribbons and cut them into squares 3.6 cm x 3.6 cm wide.

For the snap peas, insert the knife to open the pea pods. Cut them into squares 3.6 cm x 3.6 cm wide.

For the blanched okra, cut it into rounds ⅛ inch (3 mm) thick. For the Tamagoyaki, cut it into ⅛-inch (3 mm) slices and further cut them into square pieces 3.6 cm wide.

For the sashimi, try your best to create a square shape. Here, I cut one slice of the salmon sashimi in half and layered it so it will look square.

For the scallop, slice it in half crosswise so each piece is thinner. For the cooked surf clams (hokkigai), slice them in half and cut to shape the slices into squares.
To Decorate the Mosaic Sushi
Decorate the Mosaic Sushi by placing a single type of topping onto each square. Make sure to maintain the straight lines of the checkerboard pattern and completely cover the sushi rice with the toppings. Consider the color, texture, and orientation of each ingredient as you place the toppings. For example, avoid putting similar-colored ingredients next to each other. Use a tiny garnish like ikura, tobiko, citrus zest, or an herb to create dimension.

Use my Mosaic Sushi as an inspiration to create yours! Challenge your creativity. Snap a picture of your Mosaic Sushi and send it to [email protected] You may be one of 3 lucky winners chosen at random to win a $100 Amazon gift card! Read more about the JOC Cooking Challenge. This March 2022 recipe is JOC's first-ever cooking challenge!
To Make a Vegan Version of Mosaic Sushi
If you would like to make a vegan version of this recipe, please read the blog post for the ingredients I used for my vegan Mosaic Sushi and other topping ideas.

Here is my finished vegan Mosaic Sushi.
To Store
You can cover the leftovers with plastic and store in the refrigerator for 24 hours. For sashimi-grade fish, consume within 24-36 hours after purchasing.
Nutrition
Calories:
465
kcal
·
Carbohydrates:
75
g
·
Protein:
24
g
·
Fat:
6
g
·
Saturated Fat:
2
g
·
Polyunsaturated Fat:
1
g
·
Monounsaturated Fat:
1
g
·
Trans Fat:
1
g
·
Cholesterol:
160
mg
·
Sodium:
560
mg
·
Potassium:
396
mg
·
Fiber:
1
g
·
Sugar:
10
g
·
Vitamin A:
757
IU
·
Vitamin C:
13
mg
·
Calcium:
42
mg
·
Iron:
4
mg
©JustOneCookbook.com Content and photographs are copyright protected. Sharing of this recipe is both encouraged and appreciated. Copying and/or pasting full recipes to any website or social media is strictly prohibited. Please view my photo use policy
here
.
Our Recommendations for Buying Sashimi Online


When we have a sudden craving for sashimi we usually buy from our local Japanese supermarkets. If you don't have a reliable shop to purchase quality sashimi nearby, we would recommend buying from Catalina Offshore online.
They've been in business for over forty years and all the sashimi products we've tried from them are outstanding. Use J1COOK20 for 10% discount. Disclosure: We earn a small percentage commission from your purchase of products linked to Catalina Offshore.