With sweet-savory ground chicken, scrambled eggs, and green vegetables on top of fluffy steamed rice, Soboro Don (Ground Chicken Bowl) is a Japanese comfort meal for kids and adults and is effortlessly easy to pull together!
Soboro Don (そぼろ丼) is an easy and delicious Japanese rice bowl with seasoned ground chicken and scrambled eggs. It's easily one of my favorite bento lunch menus growing up!
The sweet-savory flavor of tender chicken and eggs that get mixed in with steamed rice score big on the comfort level. And what's not to love when you can put a meal together in just 30 minutes? That's the virtue of rice bowls! Simple, fast, and well-thought-out, you can never go wrong with it.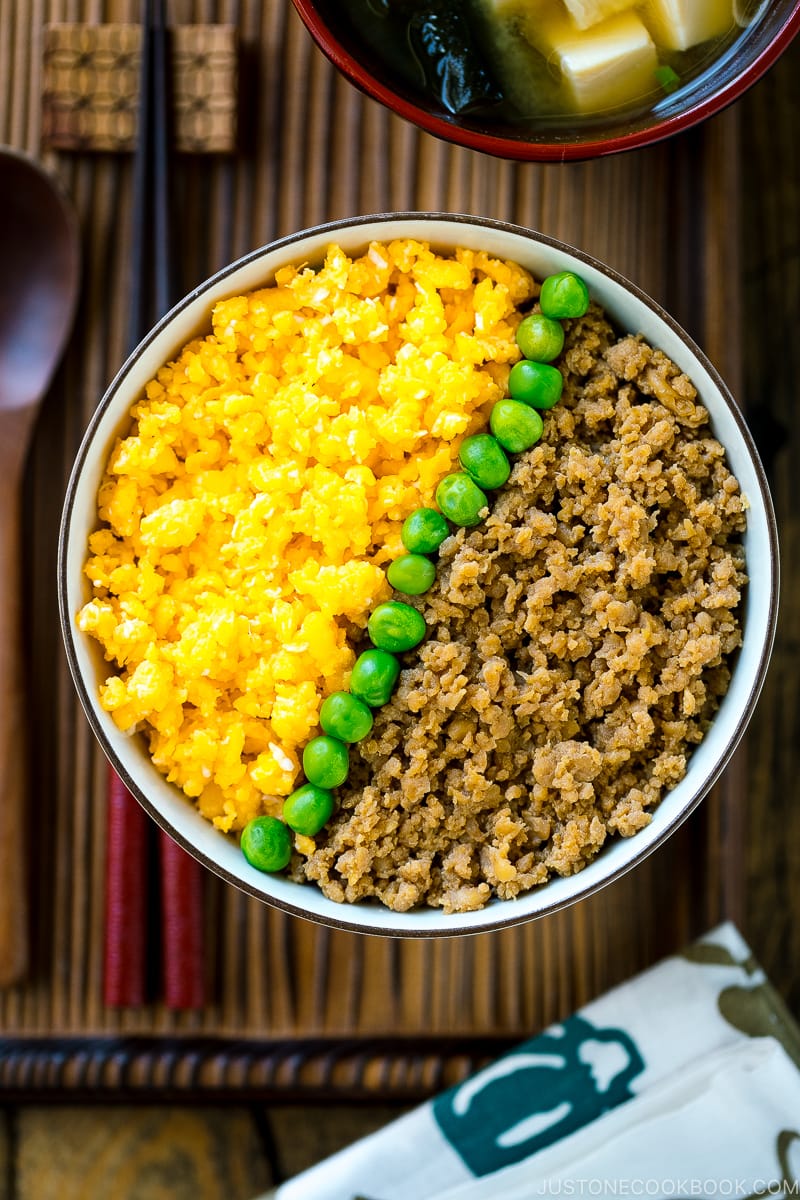 What Does Soboro Mean?
The Japanese word Soboro (そぼろ) refers to ground meat, fish, or eggs that are cooked into fine, crumbled pieces.
Often served over steamed rice and eaten together, you'll find soboro donburi (そぼろ丼ぶり, or don for short, meaning rice bowl dish) and soboro bento (そぼろ弁当) on the menu in Japan.
Ground chicken is the most commonly used protein for this dish, so we call it tori soboro (鶏そぼろ), literally "chicken ground."
If you happen to dine at a yakitori restaurant where they serve grilled skewers of different parts of the chicken, try their soboro don. It always tastes the best as yakitori restaurants usually have the freshest and high-quality chicken.
How to Make Soboro Don
Ingredients You'll Need
Ground chicken
Eggs
Seasonings: sugar, salt, mirin, sake, and soy sauce
Steamed rice
Blanched green vegetables – I used green peas, but you can also use spinach, green beans, okra, or snow peas.
Overview: Quick Steps
Cook ground chicken and all the seasonings in a saucepan or frying pan.
Cook scrambled eggs in a saucepan or frying pan.
Serve the steamed rice in the bowl, then put seasoned ground chicken, eggs, and green vegetable over the rice.
4 Important Cooking Tips to Remember
1. Use a Saucepan Instead of a Frying Pan
I used to use a non-stick frying pan to make this dish (Some of you may remember from my original recipe). A while ago, I accidentally used a saucepan and I was shocked at how effective it was to cook in smaller cookware! You can stir the chopsticks a bit more vigorously, which allows the eggs or ground chicken to break into even smaller bits.
2. Use Multiple Chopsticks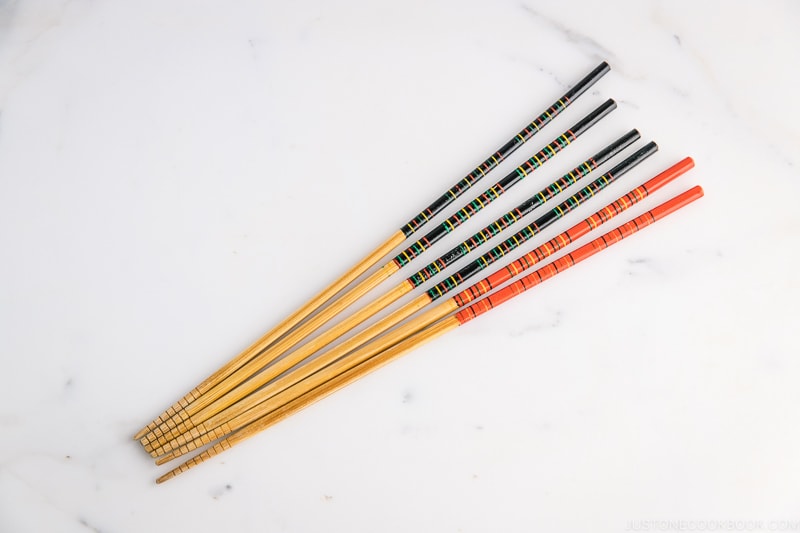 Have you tried scrambling your eggs using chopsticks? That's how we make soboro in Japan! Hold at least 3 pairs of long chopsticks and move them vigorously to jostle the eggs into fine scrambles.
Do the same for the ground chicken!
3. No Cooking Oils Needed
To make soboro, we do not use cooking oil for both eggs and ground meat. Just place the ingredients directly into the saucepan and start cooking!
Yukihira nabe (above) is a bit difficult to wash the residual egg attached to the saucepan. If you have another kind of saucepan, it should be easier to clean. But do soak it with water right after cooking!
4. Cook on Medium-Low Heat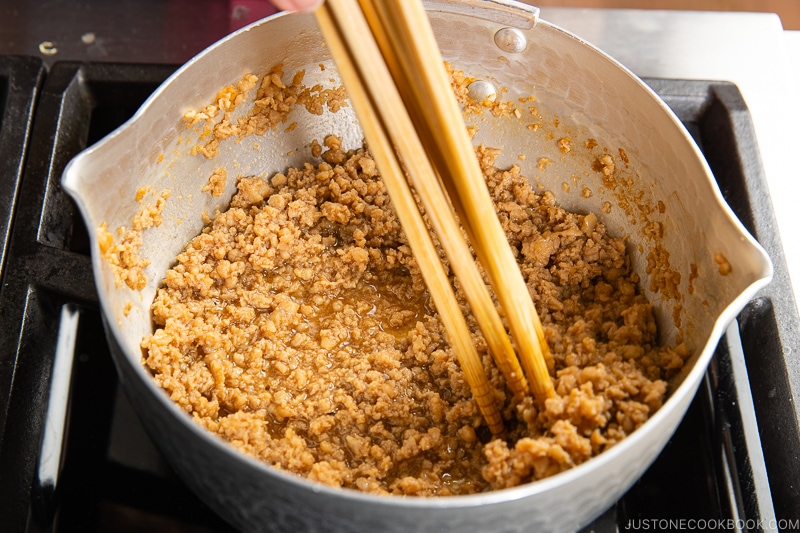 We always cook the eggs or ground chicken over medium-low heat. Slowly and gently cook while you stir vigorously with chopsticks. This is how you make fine scrambled eggs and ground chicken.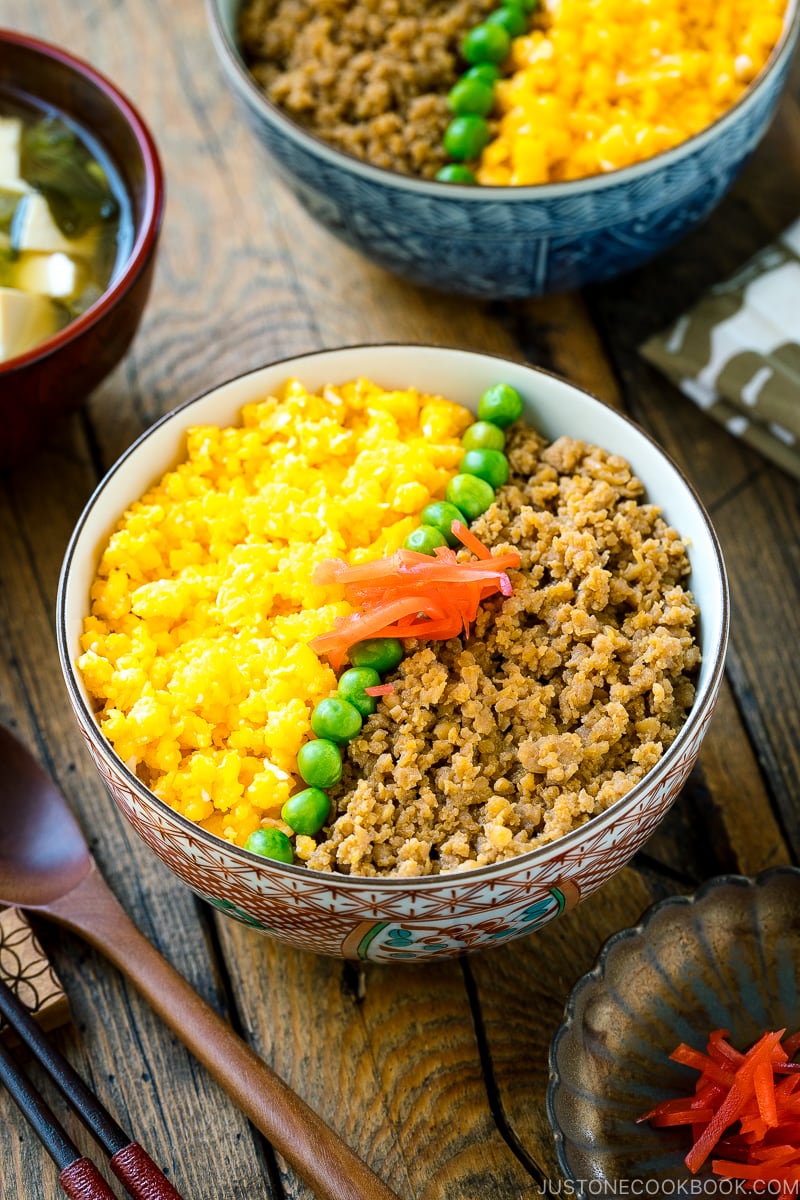 FAQs
Why do you sweeten eggs and chicken?
In Japanese cooking, you'll find that it's a common practice to season the eggs and meat with some sugar. The reason we do that is to bring out the flavors of the ingredients, especially when we prepare food that we enjoy at room temperature. The use of sugar also helps to balance the savory seasoning, so you'd achieve full umami for the meal.
Since soboro is served with bland steamed rice, the flavor of the dish would come from the well-seasoned eggs and meat.
You can choose to leave out the sugar or reduce the amount to suit your taste. But if you plan on packing soboro don into a lunch box, don't skimp on the seasonings. Foods served at room temperature require stronger seasonings to attain the flavors.
How about other protein choices besides chicken?
You can definitely use ground pork or beef (or ground turkey). For creative variations, you can finely chop shrimp or crumble firm tofu, too!
If you're stumped on what to make for dinner tonight, you can count on soboro don for a quicker-than-take-out option. It packs beautifully for your bento lunch box too!
Hungry for More Easy Rice Bowl Recipes?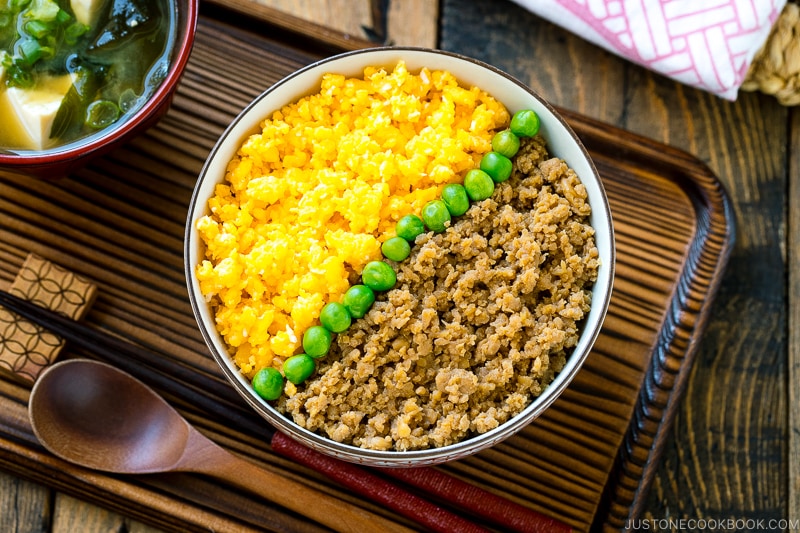 Wish to learn more about Japanese cooking? Sign up for our free newsletter to receive cooking tips & recipe updates! And stay in touch with me on Facebook, Pinterest, YouTube, and Instagram.
Soboro Don (Ground Chicken Bowl)
With sweet-savory ground chicken and scrambled eggs on top of steamed rice, Soboro Don (Ground Chicken Bowl) is a Japanese comfort meal for both kids and adults!
Video
Ingredients
For the Seasoned Ground Chicken
1

tsp

ginger

(grated; from

1

-inch,

2.5

-cm knob)

½

lb

ground chicken

(or mince thigh meat with a knife or food processor; you can use a mix of breast and thigh meat, too)

1

Tbsp

sake

1

Tbsp

mirin

1½

Tbsp

sugar

(chicken soboro is normally sweet, but you can reduce the sugar by one-third if you prefer a less sweet taste)

2½

Tbsp

soy sauce
For the Scrambled Eggs
3

large eggs (50 g each w/o shell)

1

Tbsp

sugar

(typically, the eggs are sweetened even more; reduce the sugar or skip if you prefer)
For Serving
2

servings

cooked Japanese short-grain rice

(typically 1⅔ cups (250 g) per donburi serving)

2

Tbsp

green peas

(cooked)
Japanese Ingredient Substitution:
If you want substitutes for Japanese condiments and ingredients, click
here
.
Instructions
Before You Start: Gather all the ingredients. Prepare 3 pairs of long cooking chopsticks. For the steamed rice, please note that 1½ cups (300 g, 2 rice cooker cups) of uncooked Japanese short-grain rice yield 4⅓ cups (660 g) of cooked rice, enough for 2 donburi servings (3⅓ cups, 500 g). See how to cook short-grain rice with a rice cooker, pot over the stove, Instant Pot, or donabe.
To Cook the Ground Chicken
Grate the ginger (I use a ceramic grater). Measure

1 tsp ginger

(grated).

In a medium saucepan, combine all the ingredients for the seasoned ground chicken: The grated ginger,

½ lb ground chicken

,

1 Tbsp sake

,

1 Tbsp mirin

,

1½ Tbsp sugar

, and

2½ Tbsp soy sauce

.

Using 3 pairs of long cooking chopsticks, break up the ground meat into smaller bits and mix with the seasoning ingredients.

Now, bring the saucepan to the stove and set it on medium-low heat. Cook the ground chicken mixture, stirring constantly, until it's no longer pink.

Soon, the chicken will start to release its juices. Continue to cook until the liquid is almost gone. Turn off the heat and set it aside.
To Cook the Scrambled Eggs
Add

3 large eggs (50 g each w/o shell)

,

1 Tbsp sugar

, and

¼ tsp Diamond Crystal kosher salt

to a medium saucepan. Using 3 clean pairs of long cooking chopsticks (either a different set or the previous set that you washed clean), beat the egg mixture until the sugar is completely dissolved.

Set the saucepan over medium-low heat and cook the egg mixture. Stir often to release the cooked egg from the bottom or edges of the saucepan and to keep the bright yellow color of the eggs.

Stir to break up the bigger pieces into smaller bits. Cook the eggs until they are no longer runny and are soft and fluffy. Once the eggs are done (don't overcook them!), set them aside.
To Assemble
Serve

2 servings cooked Japanese short-grain rice

in individual bowls. Put the ground chicken over half of the steamed rice and the scrambled eggs on the other half. I put

2 Tbsp green peas

in the middle. Garnish with

pickled red ginger (beni shoga or kizami beni shoga)

on top, if you desire.
To Store
You can keep the leftovers in an airtight container and store it in the refrigerator for up to 3–4 days and in the freezer for a month.
Nutrition
Nutrition Facts
Soboro Don (Ground Chicken Bowl)
Amount per Serving
% Daily Value*
* Percent Daily Values are based on a 2000 calorie diet.
©JustOneCookbook.com Content and photographs are copyright protected. Sharing of this recipe is both encouraged and appreciated. Copying and/or pasting full recipes to any website or social media is strictly prohibited. Please view my photo use policy
here
.
Editor's Note: The post was originally published on April 11, 2011. The pictures and content have been updated and the recipe has been slightly revised on June 21, 2022.