A popular soup from Hokkaido, Sanpeijiru features salted salmon and a variety of root vegetables and cooked in kombu dashi broth. You'd enjoy this delicate and tasty soup on a cold day!
If' you had a chance to visit the northernmost island of Japan, Hokkaido (北海道), did you try the popular regional salmon soup called Sanpeijiru (三平汁)? I've had it several times during my visit and it is fabulous!
As many of you know, winter in Hokkaido is very cold and a bowl of piping hot soup with salmon is a great way to keep yourself warm.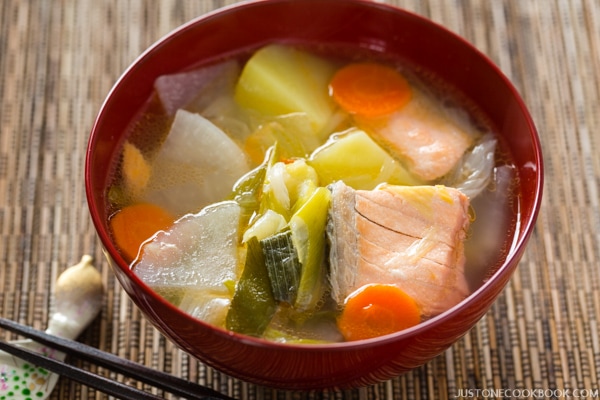 What is Sanpeijiru?
Sanpeijiru is a salt-flavor based soup popular in Hokkaido, and it is enjoyed at both home and restaurants. I love ordering this soup at sushi restaurants whenever I visit Hokkaido.
Hokkaido is known for its delicious salmon and potatoes. For this recipe, salmon, potatoes, daikon radish, carrot, and Negi (leeks/scallion) are cooked in kombu dashi broth. Some people put Konnyaku (konjac) and other root vegetables in the recipe as well.
Also, herring, cod, or Hokke (Okhotsk atka mackerel) are sometimes used instead of salmon, but I haven't had a chance to try the soup with other fish besides salmon.
Origin of the Name – Sanpeijiru
For a regional recipe like this, I try to share a little bit of background story with the recipe. If you're wondering about the origin of this recipe name, there are 3 theories where it came from.
First of all, jiru (汁) in Japanese means "soup". Sanpei (三平) is a pretty common name for male back in samurai days.
The first theory is a Nanbu feudal warrior named Sanpei Saito was cast ashore in Okushiri Island, he served this soup to his workers and the soup which later on received his name.
The second theory is a fisherman named Sanpei made this soup for feudal lord of Matsumae and it was named after the fisherman.
The last theory is that soup was served in Sanpei-zara dish (plate, 三平皿, image courtesy).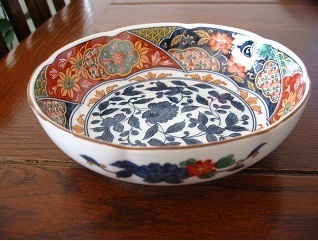 No one knows which theory is true, but the interesting fact is that all these theories came from late Edo period, which means Sanpeijiru has been around for over 200 years.
Difference between Sanpeijiru and Ishikari Nabe
If you're familiar with Hokkaido's regional foods, you might realize that Sanpeijiru is very similar to another Hokkaido's popular dish, Ishikari Nabe (石狩鍋). Here the quick glance of the differences:
Sanpeijiru
It's a soup.
Main ingredients are salmon scraps (bones, belly, head, etc).
You can add Salted Salmon (塩鮭), but it is optional.
Besides salmon, herring, cod, or hokke are used.
The soup is usually salt flavor, and seasoned with sake and salt only.
Serve as main dish or as a replacement of miso soup (which means to accompany with rice and main dish).
Ishikari Nabe
It's a hot pot (nabe).
Use raw salmon (生鮭).
The hot pot broth is miso flavor.
The hot pot ingredients include salmon scraps, tofu, onion, cabbage, potatoes, daikon radish, shiitake mushrooms, carrot, long negi (tokyo negi).
Some adds sake lees, butter and milk (dairy is Hokkaido's top produce).
Sprinkle sansho powder to enjoy.
Cooking with Salmon Scraps
For many fish in Japan, the Japanese eat all part of the fish from the head, the skin, and off course the meat. Salmon is one of these fish where we can use the entire fish for cooking. If you purchase or catch a whole salmon, this recipe is a wonderful way to enjoy salmon scraps (as I said earlier, those are the main ingredients for this soup!).
For those of you who don't fish or deal with fish, go to a reputable fish monger and ask for salmon scraps or sometimes called "fish chowder" as they usually keep them in the back. Japanese grocery stores also sell salmon scraps, so look for a package that says "Ara" (あら) or "Kiriotoshi" (切り落とし).
If you can't find salmon scraps, use salmon fillet; but remember, you need to use Salted Salmon instead of raw salmon. You can make it yourself (My recipe here) or buy one from Japanese grocery stores. The package should say "salted" salmon.
Back to salmon scraps. Salmon is very delicious, but remember that oil from salmon is quite smelly and you definitely don't want that in your soup.
My mom (who taught me this recipe) pour boiling water over salmon to remove the fishy smell and some of saltiness. However, when I did the same method with the salmon I got in the US , the final soup still had strong fishy taste. Instead I decided to blanch the salmon for 30 seconds and it worked perfectly. There is no strong fishy smell in the soup!
I hope this tip is helpful when you make your soup. 🙂
I hope you will enjoy making this Sanpeijiru recipe! If you try it, don't forget to share your picture on Instagram, Facebook, or Twitter with #JustOneCookbook. Thank you so much for reading, and till next time!
Don't want to miss a recipe? Sign up for the FREE Just One Cookbook newsletter delivered to your inbox! And stay in touch onFacebook,Google+, Pinterest, and Instagram for all the latest updates. Thank you so much for reading, and till next time!
Similar Dish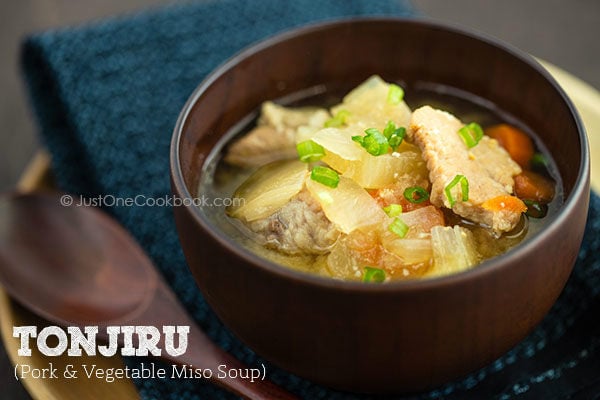 Sanpeijiru (Japanese Salmon Soup)
A popular soup from Hokkaido, Sanpeijiru features salted salmon and a variety of root vegetables and cooked in kombu dashi broth. You'd enjoy this delicate and tasty soup on a cold day!
Ingredients
1

lb

salmon scraps

(Salmon scraps don't have to be exactly 1 lb but just a rough amount. Please read more about salmon scraps ("ara" or "kiriotoshi" in Japanese) in the blog post.)

1

piece

kombu (dried kelp)

(2" x 3", 5 x 8 cm)

4

cups

water

8

inches

daikon radish

1

carrot

2

Tokyo negi (naga negi; long green onion)

(or 4 scallions/green onions)

2

potatoes

(I use Yukon gold potatoes as they don't break easily compared to Russet potatoes.)

4

Tbsp

sake

1

tsp

kosher or sea salt (I use Diamond Crystal; use half for table salt)
Japanese Ingredient Substitution:
If you want substitutes for Japanese condiments and ingredients, click
here
.
Instructions
Gather all the ingredients.

Bring a large pot of water to boil. Cut salmon scraps into 2-3" (5-8 cm) pieces.

Cut the salted salmon filets in half.

When water is boiling, blanch all the salmon scraps and salted salmon fillets for 30 seconds. This will help get rid of fishy smell and remove some of saltiness. Read my blog post about the reason why this step is essential.


Drain and rinse each salmon piece with water and get rid of the fat, protein (white stuff), and sometimes scales. It's important to get rid of the smelly oil. Read more about it in the post.


Put all the salmon in a large pot and add 4 cups (960 ml) water.


Add Kombu and cover with the lid. Slowly bring it to boil so that kombu has enough time to release its umami.


Meanwhile peel and cut daikon radish in quarters lengthwise. Then slice thinly.


Peel and slice carrot into thin rounds (or halves or quarters, depends on the size).


Cut the negi (or green onion/scallions) into ½ inch (1.3 cm) pieces diagonally. All the veggies except for the potatoes are ready to go.

When the soup is almost boiling, discard the kombu. Kombu gets slimy and release bitter taste in boiling water, so for Japanese cooking we discard Kombu right before boiling. Using a fine mesh sieve, scoop foam, fat, and any scum you see floating on the surface of the soup. This is very important process to achieve a nice clean flavor. Some people cook vegetables first and then add salmon, but I prefer cooking salmon first so it's easier to clean the soup before adding vegetables.


Once the soup is clean, add the vegetables. Place the lid and continue to cook until vegetables are almost tender (80% done).

Meanwhile, peel the potato and remove the potato eyes (sprouts) if there are any.


Cut the potato into bite size cubes (I cut each potato into 8 pieces) and soak in water to remove starch.


When daikon is semi translucent and tender (no more raw hard part), add the potatoes, which take about 15 minutes to become tender (depends on the size).


With the fine mesh sieve, scoop more fat and foam if there are any.


Add sake and salt. Add more salt if necessary. Saltiness depends on the salmon, so you should taste the soup before seasoning. Serve hot and enjoy!

To Store
You can keep the leftovers in an airtight container or in a pot and store in the refrigerator for up to 3 days.
Nutrition
Calories:
418
kcal
·
Carbohydrates:
23
g
·
Protein:
45
g
·
Fat:
14
g
·
Saturated Fat:
2
g
·
Polyunsaturated Fat:
5
g
·
Monounsaturated Fat:
4
g
·
Cholesterol:
117
mg
·
Sodium:
408
mg
·
Potassium:
1633
mg
·
Fiber:
3
g
·
Sugar:
2
g
·
Vitamin A:
2695
IU
·
Vitamin C:
29
mg
·
Calcium:
89
mg
·
Iron:
3
mg
©JustOneCookbook.com Content and photographs are copyright protected. Sharing of this recipe is both encouraged and appreciated. Copying and/or pasting full recipes to any website or social media is strictly prohibited. Please view my photo use policy
here
.