Simple and delicious homemade Japanese Salad Dressing (known as wafu dressing)! Made with soy sauce, rice vinegar, roasted sesame seeds, and grated onion, this versatile salad dressing goes well with any salad combo you can think of. 
Today I'm sharing another recipe requested by a reader and it is Wafu Dressing.  Wafu (和風) means Japanese-style.  You might have a similar Japanese food term that starts with "Wa" and that is Wagyu (和牛), which means Japanese beef.  In Japanese, Wa (和) means Japanese style.  Washoku means Japanese meal, and in Japanese hotels you can request for Washitsu which is Japanese style rooms with tatami and traditional futon setup instead of mattress.  Okay enough about Japanese lesson… 😉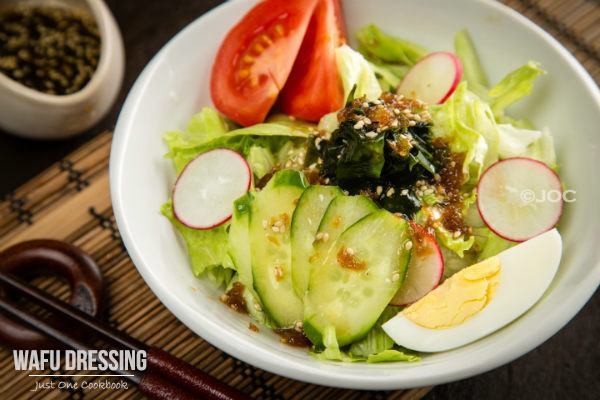 Wafu Dressing refers to a salad dressing that consists of soy sauce, rice vinegar, and vegetable oil.  Every household has slightly different recipe and this is my version with grated onion to make it extra flavorful.  On a side note, if you replace half of the vegetable oil with sesame oil, we call it Chuka (中華) Dressing, meaning Chinese-style dressing in the Japanese culinary world.  It's kind of funny to me that the Japanese has a "Chinese" dressing since I know from my Taiwanese husband that salad exists in the Chinese food culture but it's not common.
There are so many kinds of Wafu Dressing choices available in Japanese supermarkets, but homemade dressing has no MSG and preservatives and the best part is you can adjust the flavor as you wish.  The ingredients are very typical for Japanese cooking so I hope you will give this a try.
Before you check the recipe, I'd like to share My Three Favorites.  Erin of Dinners, Dishes, and Desserts tagged me in a game called "My Three Favorites".  If you are not familiar with her blog, I hope you visit her blog to see what she's been cooking and baking!  I don't make dessert often and you might be craving for it so check out her delicious sweet desserts and savory food!  The rule of this game is to pick 3 of your favorite dishes and share them again.  Then you tag 5 other bloggers to play along!  So let's begin.
Favorite #1: Korokke (Japanese Croquette)
This is my most favorite food (among my mom's recipes)!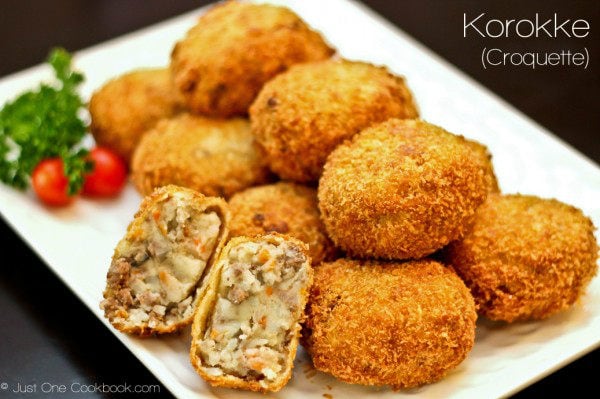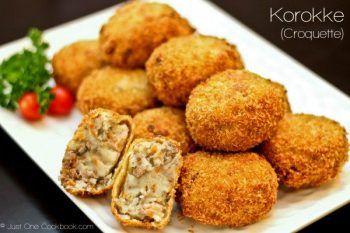 Favorite #2: Okonomiyaki
My favorite of all time!  Japanese pancake/pizza.
Favorite #3: Sweet Potato Pie
One of my favorite desserts I enjoy making.
And here are the bloggers that I tag!  This time I picked food bloggers who actually took their time to give me some photography tips and taught me some valuable skills along the way since I started blogging.  I would like to thank you for your generosity and kindness.  Without you, my food photography wouldn't be the same.  Thank you very much.  There are 4 bloggers who helped me and they are listed in alphabetical order.
Now Wafu Dressing recipe!
Don't want to miss a recipe? Sign up for the FREE Just One Cookbook newsletter delivered to your inbox! And stay in touch on Facebook, Google+, Pinterest, and Instagram for all the latest updates. Thank you so much for reading, and till next time!
Wafu Dressing (Japanese Salad Dressing)
Simple and delicious home made wafu dressing, soy sauce base with rice vinegar, roasted sesame seeds, and grated onion to make it extra flavorful.
Course:
Condiments, Salad
Keyword:
japanese vinaigrette, wafu dressing
Ingredients
1

Tbsp

onion

(grated, with juice)

3

Tbsp

neutral flavor oil (vegetable, canola, etc)

3

Tbsp

soy sauce

3

Tbsp

rice vinegar

1

Tbsp

sugar

Freshly ground black pepper
Instructions
Combine all the ingredients in a bowl and whisk everything together. Drizzle on top of a simple salad of iceberg lettuce topped with tomatoes, boiled egg, wakame, cucumber and red radish.
To Store
The dressing can be kept in the refrigerator for 1-2 weeks.
Recipe Notes
The dressing can be kept in the refrigerator for 1-2 weeks.
Recipe by Namiko Chen of Just One Cookbook. All images and content on this site are copyright protected. Please do not use my images without my permission. If you'd like to share this recipe on your site, please re-write the recipe in your own words and link to this post as the original source. Thank you.
Update: Photos are updated in November 2013.