A classic Japanese side dish, Hijiki Seaweed Salad features a type of wild seaweed that is highly nutritious. It is simmered together with a myriad of vegetables in a savory dashi broth. The result is so full of flavor and perfect for meal prep.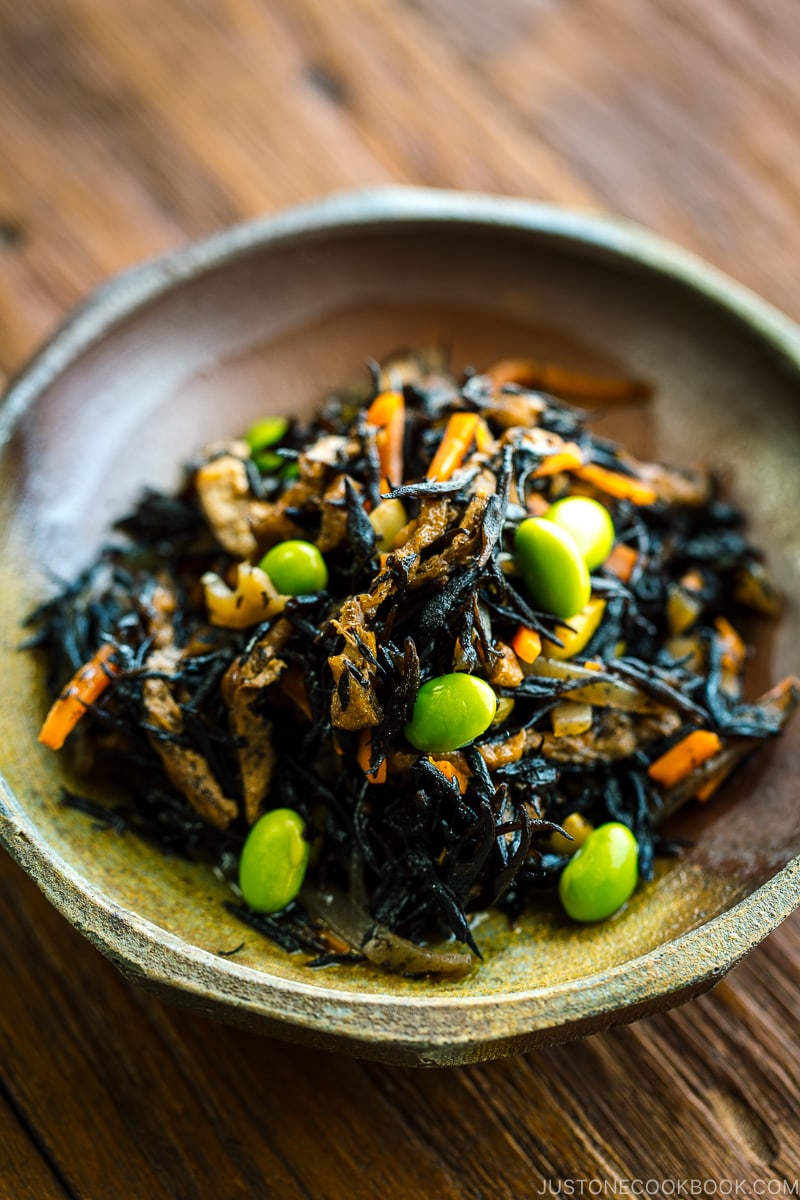 If you're looking to include more sea vegetables into your diet, you'd want to give hijiki a try. Resembling dried tea leaves but lengthier, hijiki is a type of wild seaweed that grows on rocky coastlines around Japan, Korea, and China. It has a sweet, clean taste and mushroom-like quality. In Japan, we often enjoy it as Hijiki No Nimono (ひじきの煮物) which translates to 'simmered hijiki'.
It is technically a cooked dish, but you'd find it being called Hijiki Seaweed Salad at Japanese restaurants in the US.
What is Hijiki Seaweed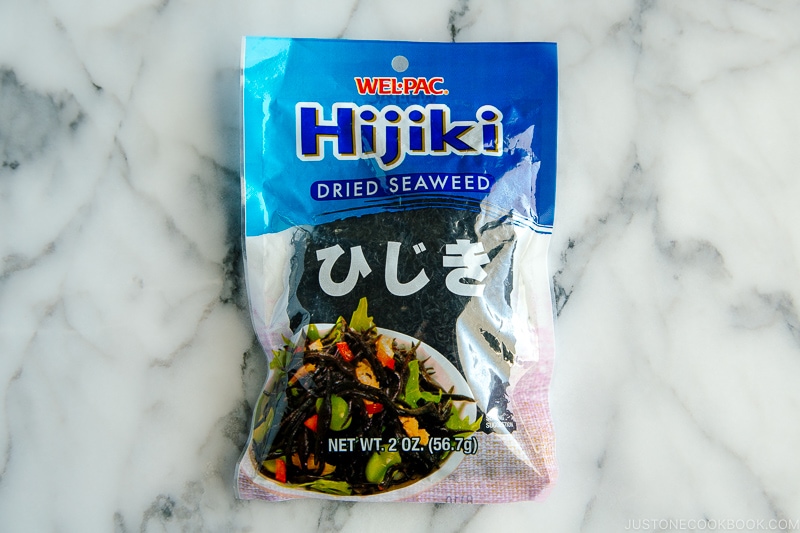 Hijiki seaweed is naturally green or brown in color when it's hand-harvested by fishermen and divers in the wild. Before being packaged, it is boiled and then dried, and this process turns hijiki black. You will need to rehydrate it by soaking it in the water prior to cooking.
Like other edible sea vegetables, hijiki is known for its dietary fiber and essential minerals like iron, calcium, and magnesium. What's special about hijiki is it has a pleasant crunch and chewy bite after cooking. The taste is more earthy rather than oceany. The Japanese have been enjoying this traditional food as a part of a balanced diet for centuries.
Ingredients You'll Need
Dried hijiki seaweed – You can look for it at Japanese supermarkets, Asian grocery stores, natural food stores, OR online.
Aburaage (fried tofu pouch) – You get a lot of flavors from Aburaage.
Carrots – It adds color and nutrition.
Edamame – The soybeans provide plant-based protein and a satisfying bite to the simmered salad.
Lotus root (renkon) – Optional, but it adds a nice texture.
Konnyaku (konjac) – Optional. A jelly-like plant food that is unique to Japanese cuisine. It's very low in calories and high in fiber.
Dashi – You can choose to use homemade dashi or a dashi packet. For vegetarians/vegans, use Vegan Dashi.
Seasonings – soy sauce, mirin, and sugar
You can leave out the optional ingredients, but Hikiji Salad always includes aburaage and edamame.
How to Make Hijiki Seaweed Salad
There are various ways to prepare Hijiki No Nimono, but I really love my mom's version, so this is very close to how she cooks the dish.
First, we'll soak the hijiki seaweed in plenty of water for 30 minutes. While it soaks, we prepare the rest of the ingredients. Once ready, start by sauteeing julienned carrots and lotus roots, followed by the rehydrated hijiki, aburaage (fried tofu pouch), and konnyaku (konjac). Cook the vegetables in dashi broth and season with soy sauce, sugar, and mirin. Let everything simmers together for about 30 minutes. At this point, add in edamame and continue to simmer until the sauce is cooked down.
Once it has soaked up the seasonings, let it cool to room temperature so the flavors have a chance to mingle and settle in. The salad is savory, sweet, and pleasantly crunchy. We would serve the Hijiki No Nimono at room temperature and enjoy it as a side dish to a larger part of a Japanese meal. It is often included in a set meal (like Lunch Menu Set) and a bento box.
Cooking Tips
Be generous on seasoning – When a dish is eaten at room temperature, you want to be generous with the seasonings so the flavors can come through. Do not cut down on the sugar as we use it to balance the salt and enhance the overall taste.
Don't skip aburaage (Fried Tofu Pouch) – The sponge-like texture of the aburaage gives great depth, mouthfeel, and flavor to the dish, so don't skip it.
Make a big batch – The simmered hijiki is exactly the kind of dish that Japanese home cooks include in their meal prep. It keeps well and can easily enjoy throughout the week. You can mix it with white steamed rice to make Maze Gohan (Mixed Rice), or top it over soba noodles, or use it to make rice balls.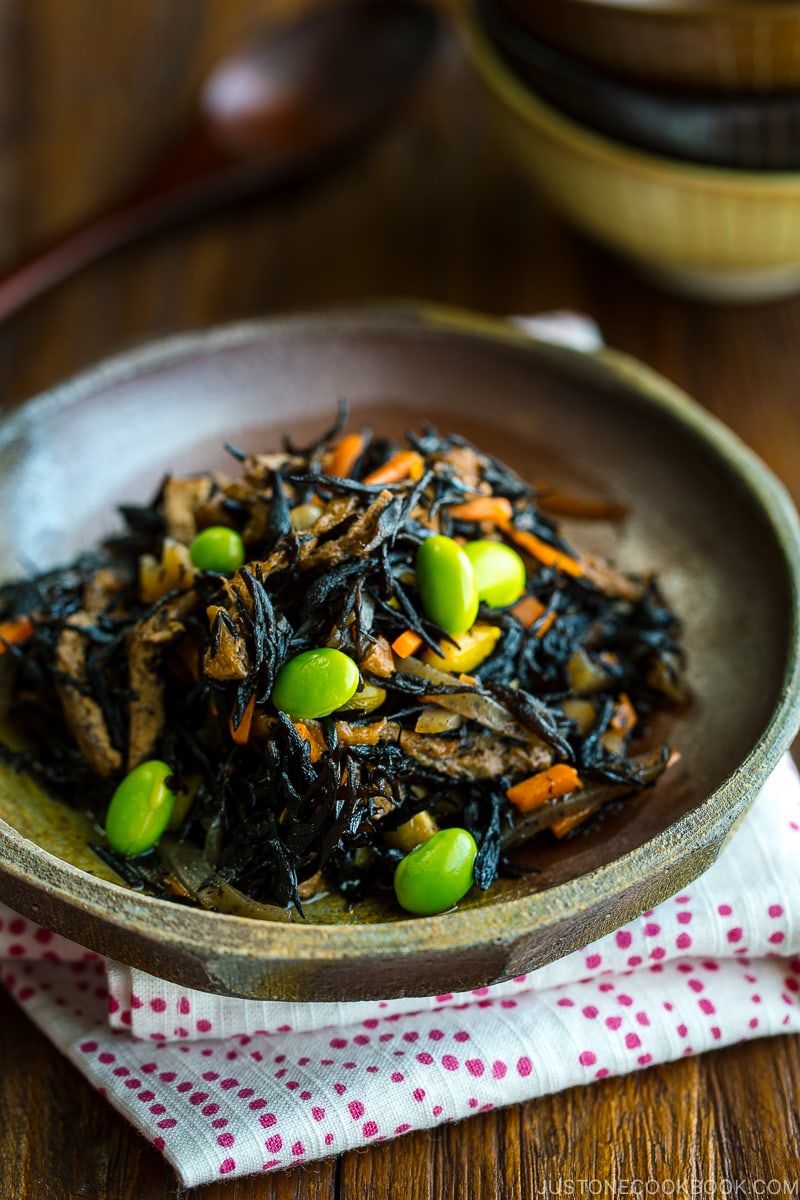 Itadakimasu!
With contrasting texture and a concentrated sweet-savory flavor, Hijiki Seaweed Salad makes a truly unique Japanese dish that highlights the beauty of sea vegetables. I hope you enjoy it.
Try serving Hijiki Seaweed Salad with Grilled Mackerel, Japanese Spinach Salad with Sesame Dressing, White Steamed Rice (Takikomi Gohan), and Miso Soup for a Japanese-style ichiju sansai meal.
Popular Similar Dishes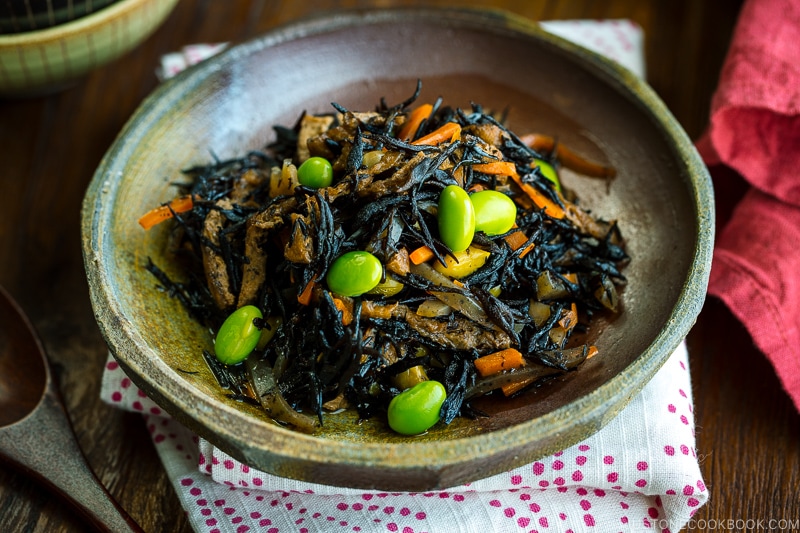 Wish to learn more about Japanese cooking? Sign up for our free newsletter to receive cooking tips & recipe updates! And stay in touch with me on Facebook, Pinterest, YouTube, and Instagram.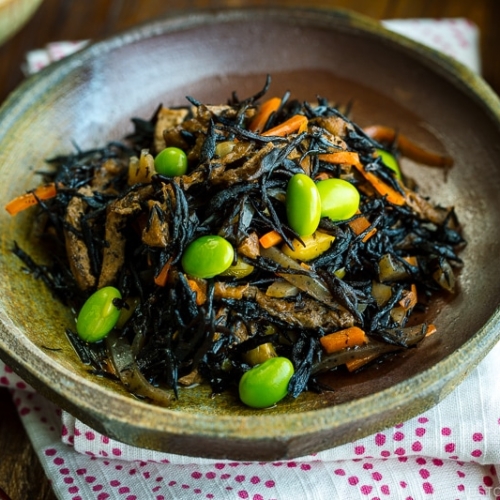 Hijiki Seaweed Salad
A classic Japanese side dish, Hijiki Seaweed Salad features a type of wild seaweed that is highly nutritious. It is simmered together with a myriad of vegetables in a savory dashi broth. The result is so full of flavor and perfect for meal prep. 
Video
Japanese Ingredient Substitution:
If you want substitutes for Japanese condiments and ingredients, click
here
.
Instructions
Gather all the ingredients.

Soak

½ cup dried hijiki seaweed

in

4 cups water

for 30 minutes.

Drain to a large fine sieve and wash under running water.

Boil water in a small saucepan and pour it over

2 aburaage (deep-fried tofu pouch)

. This will remove the excess oil on the aburaage. Cut in half lengthwise and slice thinly.

Add some water and

3 oz konnyaku (konjac)

to a small pot and boil for 3 minutes to remove the smell. It also makes the konnyaku absorb flavors more and improves the texture.

Cut

3 oz carrot

into julienne pieces.

Cut

¼ lotus root (renkon)

into thin pieces.

Heat

1 Tbsp neutral oil

in a medium pot over medium heat. Add the carrot and lotus root and cook until they are coated with oil.

Add the hijiki, then the konnyaku and aburaage. Mix it all together.

Add

2 cups dashi (Japanese soup stock)

and let it boil.

Add all the seasonings:

¼ cup mirin

,

2 Tbsp sugar

, and

¼ cup soy sauce

. Mix well. Cook covered on medium-low heat for 20–30 minutes.

Add

⅓ cup shelled edamame

.

Continue to cook uncovered to reduce the sauce until you see the bottom of the pan.
To Store
Store in an airtight container and keep in the refrigerator for up to 3–4 days. You can also freeze it for up to a month.
Nutrition
Nutrition Facts
Hijiki Seaweed Salad
Amount per Serving
% Daily Value*
* Percent Daily Values are based on a 2000 calorie diet.
©JustOneCookbook.com Content and photographs are copyright protected. Sharing of this recipe is both encouraged and appreciated. Copying and/or pasting full recipes to any website or social media is strictly prohibited. Please view my photo use policy
here
.