Curious what the Japanese eat everyday or want to plan a full out Washoku meal? The mystery is all in One Soup Three Dishes called "Ichiju Sansai" (一汁三菜)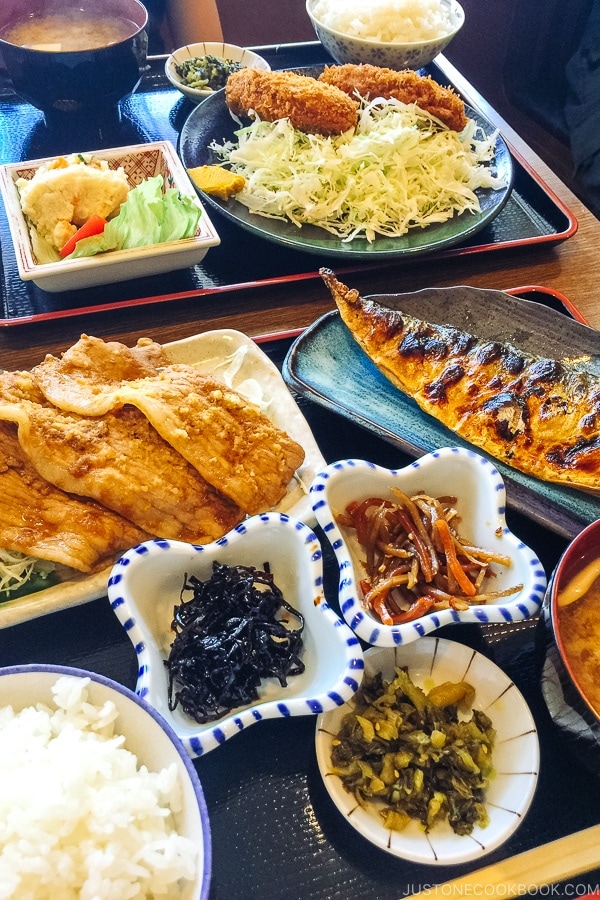 Thanks to Japanese food porn shows such as Midnight Diner: Tokyo Stories (Shinya Shokudo 深夜食堂) and The Solitary Gourmet (Kodoku no Gourmet 孤独のグルメ), we receive many questions from curious readers about the dishes featured on the shows (Nami has an entire section of recipes on Midnight Diner Recipe Series). But most interesting were the questions like "What do the Japanese eat every day?" and "How can I plan and cook Japanese food at home?"
Contrary to popular belief, the Japanese do not live off a steady diet of ramen, sushi, and tempura (although I wish!). Japanese cuisine/Washoku is actually quite simple and a nutritious balance of protein and vegetables served each in its own plates and bowls.
Called Ichiju Sansai (一汁三菜), literally "one soup three dishes," this is the foundation of a Japanese meal.
What is Ichiju Sansai?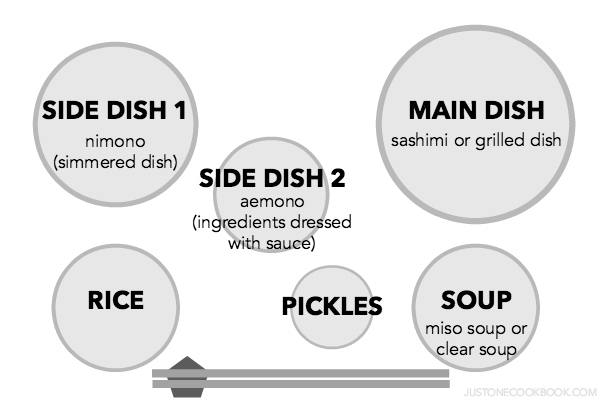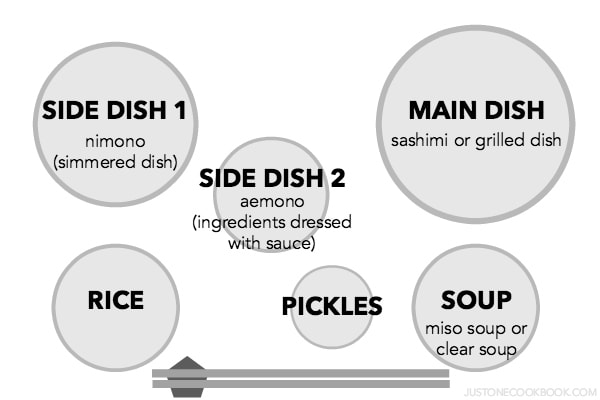 A typical Japanese meal is composed of four elements: rice, soup, side dishes and pickled vegetables.
This meal format can be served for breakfast, lunch or dinner. If you've been fortunate to spend a night at a ryokan (Japanese inn), you may have witnessed the elaborate spread of dishes for breakfast. Or perhaps you may have encountered something similar in the form of a teishoku (set meal on a tray) at Ootoya Restaurant (the Japanese chain restaurant) or other places.
Ichiju Sansai – Where Did It All Begin?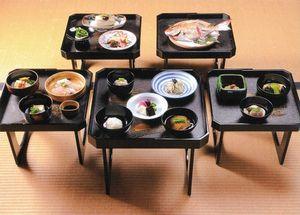 The style of "one soup three dishes" originates from Honzen Ryori (本膳料理), a highly refined system of meal-serving that was established as a banquet style of the upper nobility and the samurai class during the Muromachi period (1336–1573).
The elaborate dishes were arranged and brought to the guests on small four-legged tray tables called "zen" (膳). The tables would be presented to the guests in sets of three, five, or seven, starting with the main "zen" (Hon-zen 本膳), second "zen" (Nino-zen 二の膳), third "zen" (Sanno-zen 三の膳) and so forth.
The style of honzen ryori simplified over time from the extravagance to the everyday meal, and what remains to this day are the dishes on the main "zen" (Hon-zen), featuring rice, soup, pickles and three okazu dishes. This is the foundation of "one soup three dishes."
Rice in the Heart of Japanese Cuisine
Wondering why there's no mention of rice or pickles in the Ichiju Sansai (One Soup Three Dishes) setup? This is because rice and pickled vegetables are always included in a Japanese meal. Rice is not only a dish in itself, but it is also an essential component in the national cuisine.
It also has a symbolic place in the Japanese language: the term Gohan (ご飯) means both "cooked rice" and "meal." The sticky short-grain Japonica rice is the heart of a Japanese meal, and also the staff of life.
It's also a necessary ingredient in Japanese cuisine. Koji (麹) mold culture injected into steamed rice is an essential ingredient in making Sake, Mirin and Miso.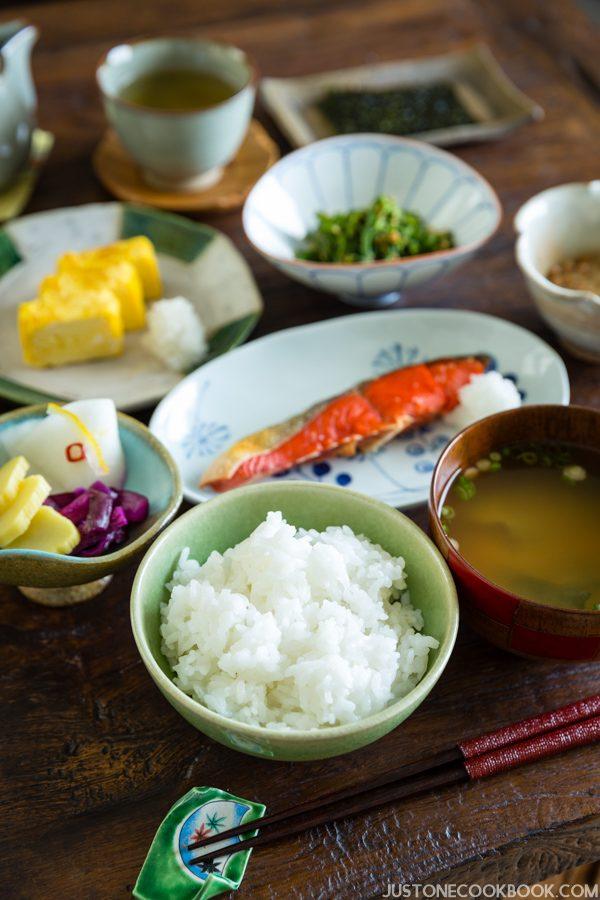 Plan an 'Ichiju Sansai' Meal
So let's get started! Ichiju Sansai is just a structure, so even if you're vegetarian, pescatarian, vegan or have dietary restrictions, you can easily swap and adjust recipes to suit your dietary needs for a filling meal.
Browse through the recipes below to pick out what you want to cook!
Rice (Gohan)
Traditionally, rice would be served plain. But if you're seeking for flavor and color in your rice, try Takikomi Gohan (炊き込みご飯), rice cooked with vegetables and seasonings.
Here's a list of ideas to get you started:
Pickled vegetables (Tsukemono)
Cleansing your palate between a meal may sound a little strange at first, but with all the different textures and flavors going on, it's actually refreshing to reset your mouth from time to time.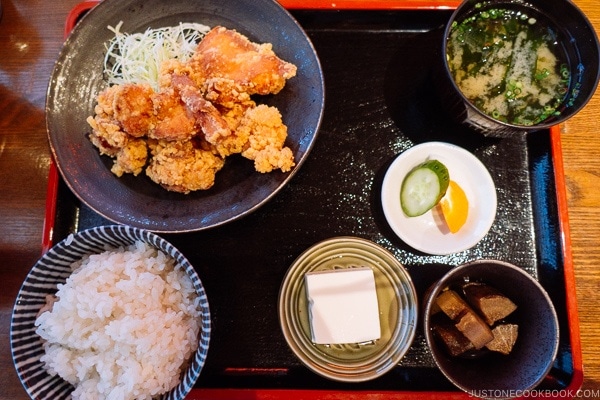 Soup (Shiru)
A soup is not just a side dish, but it holds its own place in a Japanese meal. Miso soup is most commonly served, but feel free to serve whatever you wish!
Main + 2 Side Dishes (Okazu)
As eating meat became popularized only during the last 150 years, traditionally the main protein would be fish, either grilled or simmered. But nowadays, you'll see fried foods such as Tonkatsu or Karaage, or even Gyoza as the main protein.
Meat & Fish dish
Vegetable dish
Vegetables are served in cooked form and not served raw.
Ichiju Sansai is just a format, so don't worry if your meal doesn't look perfect with all the correct number of dishes. The point is to have a well-balanced meal of protein, vegetables and carbohydrates.
Lastly, please let us see of your Ichiju Sansai meals by posting your photos on Instagram with the hashtag #justonecookbook!