Crisp yet tender with bursts of sweet and savory flavors, Kinpira Renkon, or Japanese Lotus Root Stir-Fry, is a classic home-cooked side dish.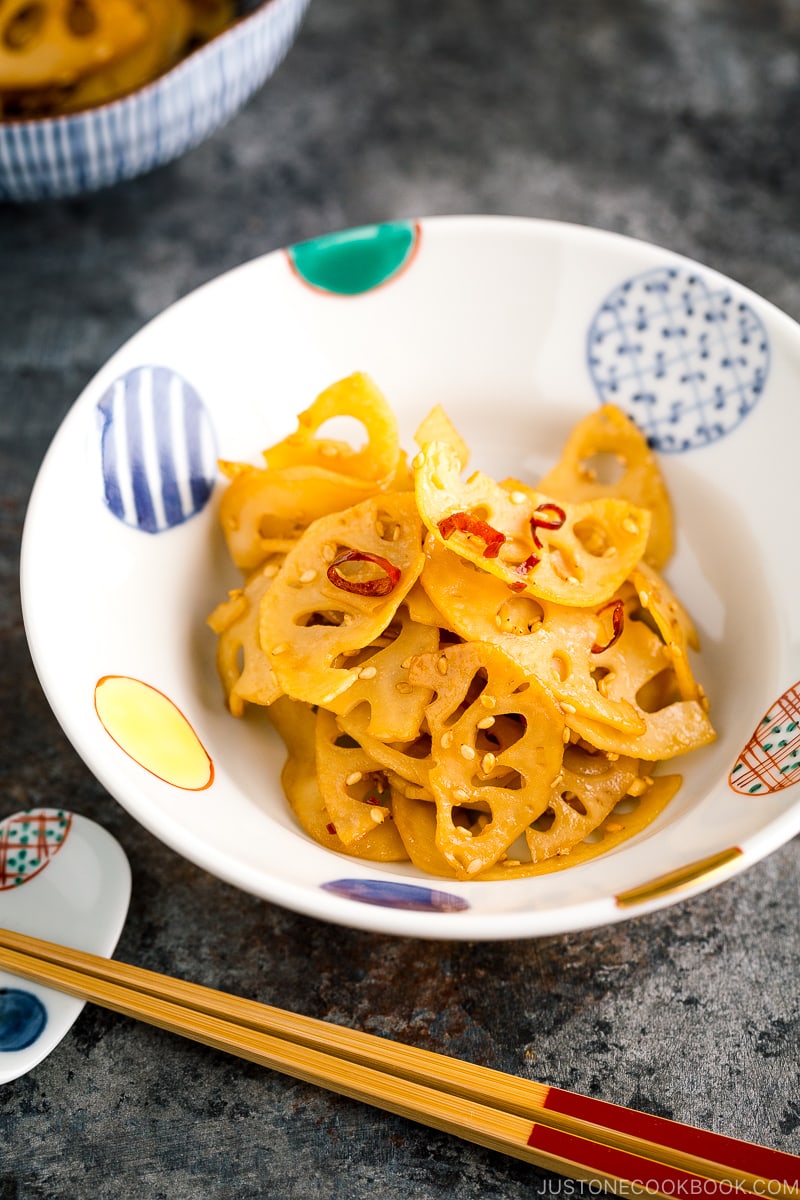 One of the reasons I love Japanese home-cooked meals is that root vegetables are used in a whole range of dishes. From gobo (burdock root), renkon (lotus root), satoimo (taro root), daikon radish, sweet potatoes to yam, each one of them has its unique flavor profiles and nutrient qualities. When it comes to a simple weeknight side dish, my favorite is this Kinpira Renkon or Japanese Lotus Root Stir Fry.
I absolutely love the texture of crunchy root vegetables. They can be prepared in every way you can imagine – roasted, stir-fried, pan-fried, deep-fried, or even steamed. To me, they are humble vegetables with lots of potential and I love to find the best ways to enjoy them.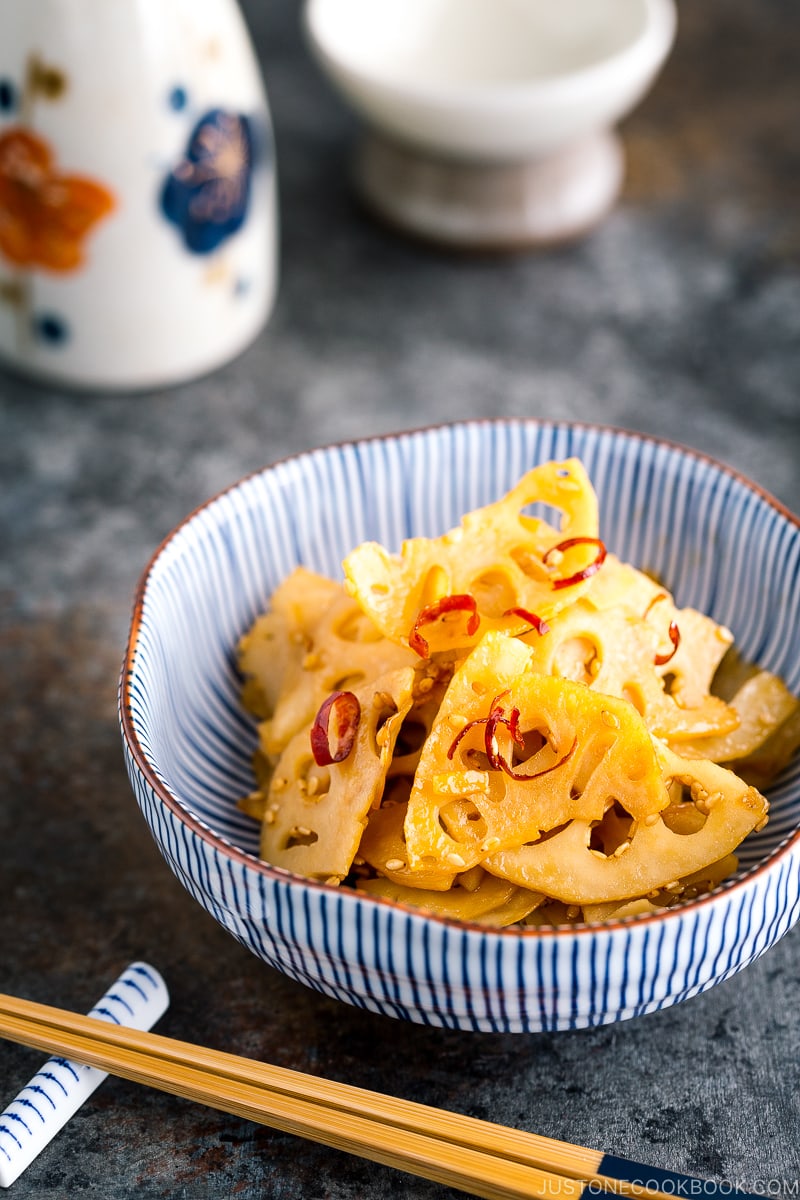 What is Kinpira Renkon?
I gave Kinpira Renkon an English name "Japanese Lotus Root Stir Fry". It is not a direct translation of what Kinpira Renkon is, but I assume people may search for the recipe using similar terms in English.
The actual name, Kinpira Renkon (金平蓮根 or きんぴら蓮根), comes from the cooking technique "Kinpira," which is a Japanese cooking style of "saute and simmer."
This technique is commonly used to cook root vegetables. You might have seen or tried my Kinpira Gobo recipe where julienned gobo (burdock root) and carrots are sautéed and simmered down in a seasoned sauce.
Other ingredients that are commonly used for Kinpira cooking technique include root vegetables, seaweed-like hijiki, tofu or wheat gluten (fu 麩), and meat (chicken, pork, beef). They are first stir-fried and then simmered in soy sauce and mirin seasonings, and often given a little spice treatment with thinly sliced chili peppers.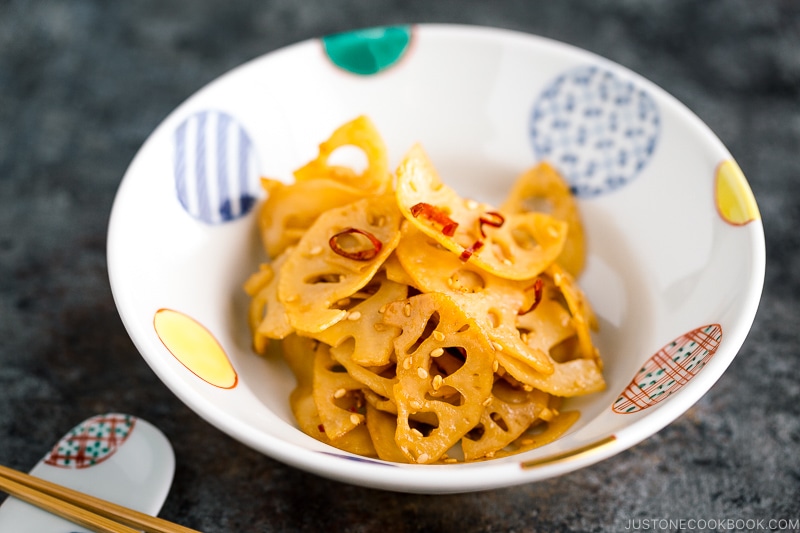 Slight Variations You Can Make with Kinpira Renkon
This Kinpira Renkon recipe is pretty standard throughout the different regions in Japan. There may be some slight variations, but the cooking method and ingredients stay pretty much the same. You can, however, switch things up a little with some of my suggestions below:
Add in other root vegetables like carrot or gobo (burdock root) to give the dish a dimension of textures and flavors
Add konnyaku to add a chewy texture
If you are a spice fiend, feel free to go a little heavy with the red chili peppers
Change the thickness or shapes (rounds, semi-circles, quarters) of the lotus root for contrasting textures
Skip sesame seeds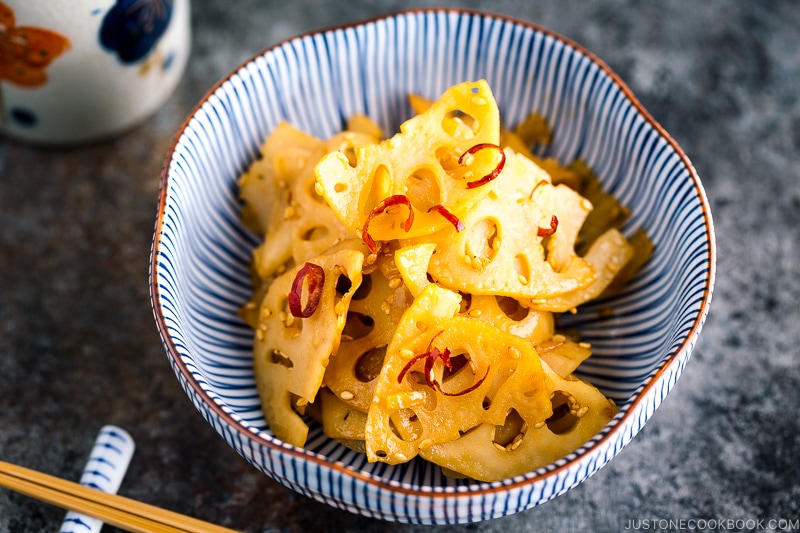 Benefits of Eating Lotus Root
Lotus root, as the name implies, is the root of the lotus flower. This amazing plant is a much-revered vegetable in Southern and Eastern Asia, especially in the Chinese, Korean and Japanese cuisines. It is used as an ingredient in soups, or deep-fried, stir-fried, braised, or cooked in many other interesting ways.
Not only it is crunchy with a creamy and mild sweet starchy texture, but lotus root also has such a fun and interesting appearance that it adds to the presentation of a dish. Lotus root is believed to have many great health benefits, including its ability to improve digestion, reduce cholesterol, lower blood pressure, and boost the immune system. Any of my Chinese readers would tell you that lotus root has a "cooling effect" on the blood, which is useful to help restore the balance of the body. There is no reason not to appreciate what this vegetable has to offer.
Where to Buy Lotus Roots
You can find lotus roots at your local Asian or Japanese grocery stores. They may be sold fresh in the fall when they are in season. Otherwise, they often come in a vacuum pack year-round. Look for the ones that have a light tan color and a nice clean smell. They should be heavy and firm to touch, with no bruise spots around.
Healthy Vegetable Dish for the Family
If trying out more new vegetables is one of your New Year's resolutions, I hope you give lotus root a try and kinpira renkon is a great recipe to start with. Easy to prepare, delicious and healthy, you will have fun introducing this lovely vegetable to your family.
More Similar Recipes You Might Enjoy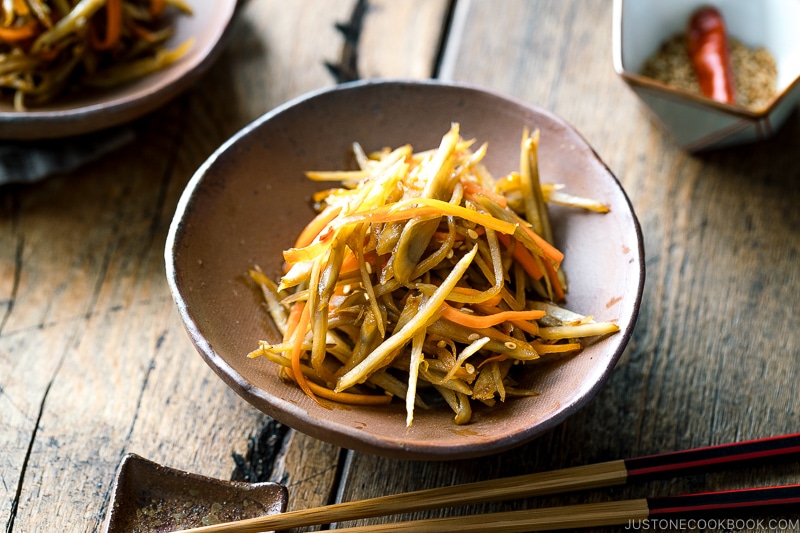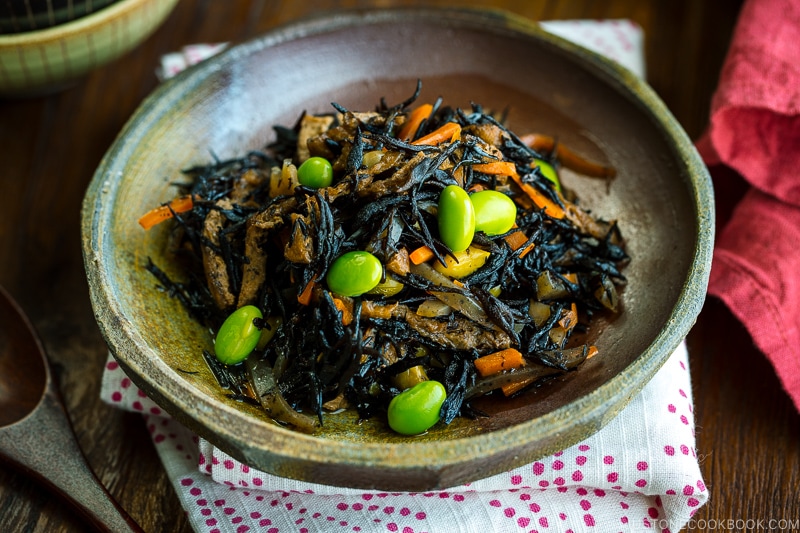 Wish to learn more about Japanese cooking? Sign up for our free newsletter to receive cooking tips & recipe updates! And stay in touch with me on Facebook, Pinterest, YouTube, and Instagram.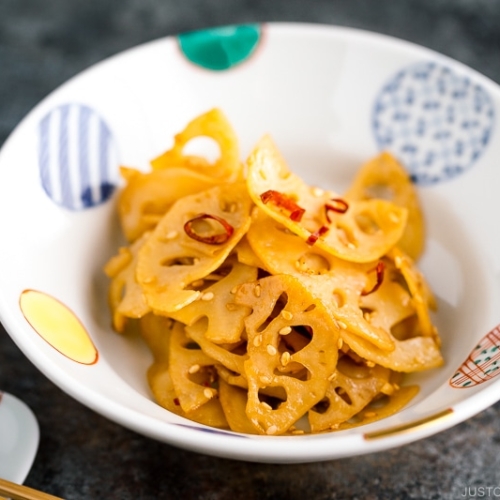 Kinpira Renkon (Lotus Root)
Crisp yet tender with bursts of sweet and savory flavors, Kinpira Renkon, or Japanese Lotus Root Stir Fry, is a classic home-cooked side dish.
Servings:
4
(as side dish)
Japanese Ingredient Substitution:
If you want substitutes for Japanese condiments and ingredients, click
here
.
Instructions
Gather all the ingredients.

Peel

8 oz lotus root (renkon)

and cut in half lengthwise.

Thinly slice the lotus root. In a bowl, add

1 tsp rice vinegar (unseasoned)

and

1 cup water

.

Soak the sliced lotus root in the vinegared water for 3–5 minutes to prevent discoloration. Then, drain the water well.

Cut the end of

1 dried red chili pepper

to remove the seeds, then thinly slice into rounds. If you want this dish to be spicy, keep the seeds.

In a large frying pan, heat

1 Tbsp roasted sesame oil

on medium heat and add the lotus root to stir-fry.

Once the lotus root is almost translucent (80% cooked), add

1 Tbsp sake

,

1 Tbsp mirin

, and

½ Tbsp sugar

. Let the alcohol evaporate (until there's no more alcohol smell).

Add in the red chili pepper and

1 Tbsp soy sauce

and stir to combine. We add the soy sauce last, as it can burn easily.

When the liquid is almost gone, add

½ Tbsp toasted white sesame seeds

and toss all together. Serve hot, lukewarm, or chilled. You can store in an airtight container and keep in the refrigerator for up to 3–4 days.
Nutrition
Nutrition Facts
Kinpira Renkon (Lotus Root)
Amount per Serving
% Daily Value*
* Percent Daily Values are based on a 2000 calorie diet.
©JustOneCookbook.com Content and photographs are copyright protected. Sharing of this recipe is both encouraged and appreciated. Copying and/or pasting full recipes to any website or social media is strictly prohibited. Please view my photo use policy
here
.