Chestnut rice or Kuri Gohan is a traditional Japanese fall rice recipe. This aromatic chestnut rice with black sesame and a pinch of salt is perfect for fall evenings.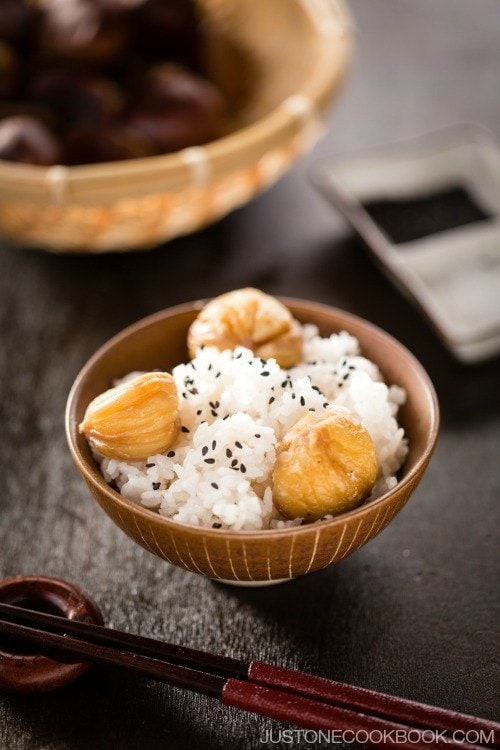 Every fall I am thankful for all the new crops that the farmers cultivate and harvest. From rice, sweet potatoes, pumpkins, mushroom, to chestnut, fall season provides abundant foods for us to enjoy. This Japanese Chestnut Rice (Kuri Gohan 栗ご飯) is a perfect dish to appreciate the season.
Watch How To Make Chestnut Rice
A traditional Japanese fall rice recipe, this aromatic chestnut rice with black sesame and a pinch of salt is perfect for fall evenings.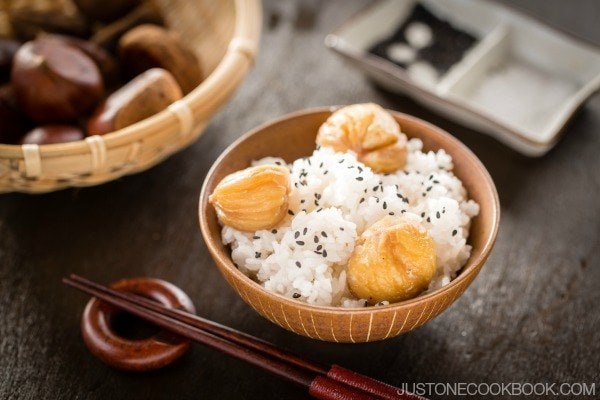 My father's side of the family was from Niigata prefecture (新潟県) before they moved to Tokyo. Nigata is known throughout Japan as the home of Koshihikari rice, sworn by many to be the best in Japan. Every fall my family would receive new crop of rice from our family and friends in Niigata and I still remember how delicious the freshly milled rice was.
Earlier this year our friends at Far West Rice invited us to visit their rice field so that we can see how they transplant rice from green house to the field. This project was a very special experiment for Far West Rice too because for the very first time, they tried to grow rice the Japanese way. Typically in the US, the seeding is done by airplane dropping seeds into flooded fields. For the experiment,
Far West Rice sprouted the rice seed in the greenhouse until they became seedlings.
Once the seedlings reached a certain maturity in the greenhouse, they were then ready to be transplanted to the field.
The seedling plants had to reach a point of maturity so they would be able to flourish and tolerate the conditions in the field.
Here are some photos and videos we captured on our trip.
When fall came, their special koshi rice was ready for harvest.
Here's our friend Ted harvesting the stalks using the Japanese harvester (look how small this is compared to American harvester!).
Use Japanese Short Grain Rice for Chestnut Rice
Good Japanese rice has this beautiful pearly white shape. It is shiny, aromatic, and resilient when it's cooked, and each grain of rice is perfectly fluffy and distinct. When you chew the grain, it has a slight sweetness and a wonderful bouncy texture.
Far West Rice will only polish and pack the rice when an order is placed so that the rice stays fresh and keeps the rice in optimal condition. Their rice is simply incomparable. A perfect bowl of heavenly good rice. And it goes so well with freshly harvested chestnuts.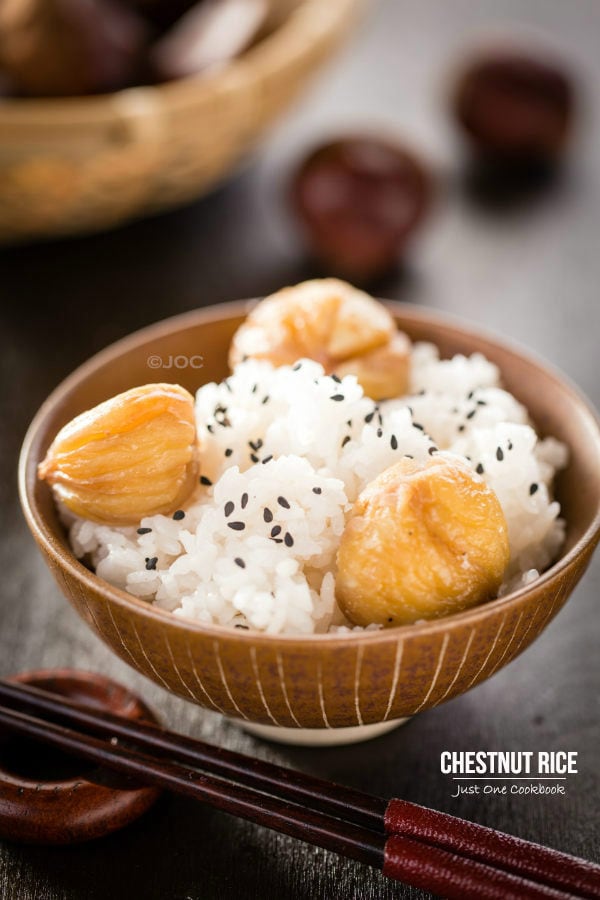 Wish to learn more about Japanese cooking? Sign up for our free newsletter to receive cooking tips & recipe updates! And stay in touch with me on Facebook, Pinterest, YouTube, and Instagram.
Chestnut Rice (Kuri Gohan)
Chestnut rice or Kuri Gohan is a traditional Japanese fall rice recipe. This aromatic chestnut rice with black sesame and a pinch of salt is perfect for fall evenings.
Video
Japanese Ingredient Substitution:
If you want substitutes for Japanese condiments and ingredients, click
here
.
Instructions
Gather all the ingredients.

Put rice in a large bowl. Gently wash the rice with cold water and discard water. Repeat this process about 3-4 times until water becomes almost translucent. Let the rice soak in water for 30 minutes. Transfer the rice into a sieve and drain for 15 minutes.

Bring a medium pot of water to a boil. Put chestnuts in boiling water, cover with the lid, and turn off the heat. Set aside for 30 minutes and drain (It's easier to peel when they are still warm).

Using a knife, make an incision around the edge where the flat surface and bottom of a chestnut meets. Then start peeling the shell.


Then peel the inner skin completely and soak in a bowl of water for 10 minutes. Peel the rest of chestnuts and change the water a few times.


Put the rice, water, sake, and salt in a heavy bottom pot and lightly mix all together. Then place chestnuts on top.


Bring the rice to a boil over medium heat. Take a quick peek to see if water is boiling (otherwise do not open the lid). Once water is boiling, turn the heat to low and cook covered for 12 to 13 minutes, or until the water is completely absorbed (take a quick peek!). If you see there is still water left, close the lid and continue cooking for a little longer.


Remove the pot with the lid on from the heat source and let the rice steam for 10 minutes before opening the lid.


Fluff up and mix the rice; wet a rice paddle and slice through the rice with the scooper, then fold over the rice. Sprinkle salt and black sesame seeds.

To Store
You can keep the leftovers in an airtight container and store in the freezer for a month. See the tutorial here.
Nutrition
Nutrition Facts
Chestnut Rice (Kuri Gohan)
Amount per Serving
% Daily Value*
* Percent Daily Values are based on a 2000 calorie diet.
©JustOneCookbook.com Content and photographs are copyright protected. Sharing of this recipe is both encouraged and appreciated. Copying and/or pasting full recipes to any website or social media is strictly prohibited. Please view my photo use policy
here
.