Japanese Sticky Rice with Chicken and Vegetables, known as Okowa, is a popular savory dish. Here, glutinous rice is cooked with chicken, root vegetables, fried tofu, and mushrooms in a delicious dashi broth. There is so much flavor in this lively mixed rice that you'll enjoy every single bite!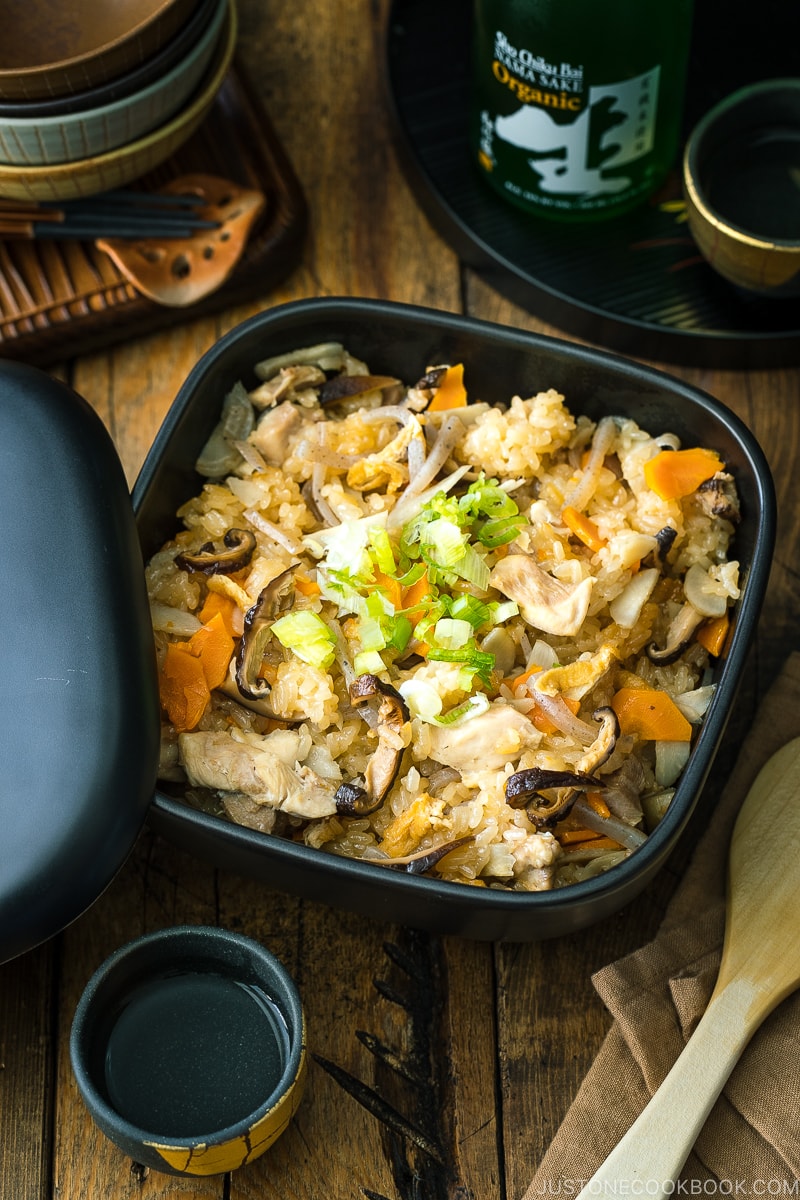 My son is a big fan of Chinese sticky rice with chicken (Lo Mai Gai) and he always orders it at dim sum. I realized I haven't introduced him to the Japanese version of sticky rice, so here we are, this is my Japanese Sticky Rice with Chicken and Vegetables (also known as Gomoku Okowa (五目おこわ) or simply Okowa).
Not only the recipe has a great texture, it is also full-flavored and super comforting. You'll be surprised how easy it is to make this at home.
What is Okowa
Okowa (おこわ, 強飯) is a Japanese steamed rice dish made with glutinous rice, meat, and/or vegetables. There are a few varieties and the popular ones include:
The unique feature about Okowa is that we enjoy it at room temperature, so you may find Okowa onigiri (rice ball) sold at rice ball shops or convenience stores in Japan.
The Japanese word 'Okowa' stems from a shortened form of Kowameshi (強飯, meaning "hard rice"). In the old days, white rice was hard to come by and expensive, so Japanese people could not eat pure white rice.
They commonly ate a porridge-like mixture made with wheat, Japanese millet, and foxtail millet. Because the texture was soft, it was called "weak rice" or Himeii (弱飯).
On special celebratory occasions and festivals, the glutinous rice was prepared instead of the porridge. It was called "strong rice" or Kowameshi (強飯) because of the firm texture.
How to Make Japanese Sticky Rice
Ingredients You'll Need
You'll need basic and common Japanese ingredients for this recipe.
The Important Condiments – Sake & Mirin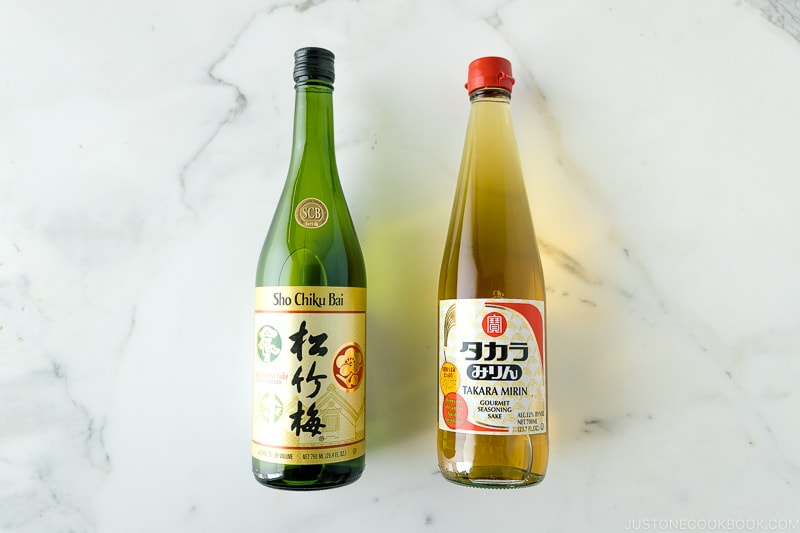 I recommend using Sho Chiku Bai Junmai Sake and Takara Mirin. I've been partnering with them for a long time because I use them in my daily cooking and love them.
Some of you ask if it's okay to substitute or skip sake and/or mirin, but if you plan to make Japanese food in the near future, invest in these condiments. They are as equally important in Japanese cooking as soy sauce and miso, and they are one of 6 must-have Japanese condiments.
You can find Sho Chiku Bai Junmai Sake and Takara Mirin in Japanese and Asian grocery stores.
Overview: Quick Steps
Cut and prepare all the ingredients.
Rinse rice and drain for 10 minutes.
Add rice, dashi, and condiments in the rice cooker/pot, and mix all together.
Add chicken, root vegetables, and the rest of ingredients on top of the rice (and DO NOT MIX).
Cook in rice cooker or pot over the stove (see next section).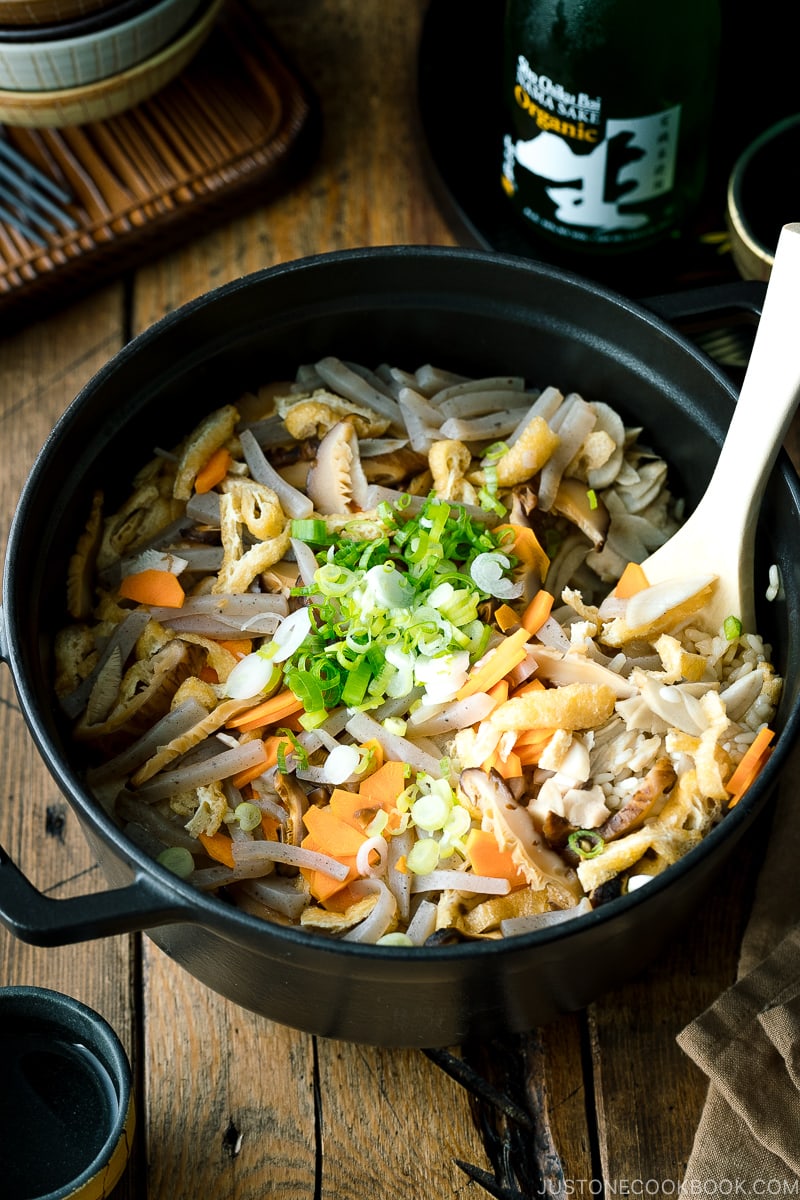 Chooese Your Method: Rice Cooker vs. Stovetop
1. Rice Cooker Method
If your rice cooker does not have a sweet rice mode, you can simply use a regular cooking mode to cook your Okowa. The glutinous rice absorbs water quickly so sweet rice mode cooks for a slightly shorter time.
2. Stovetop Method
If you don't have a rice cooker, you can use a donabe (Japanese earthenware pot) or a heavy-bottomed Dutch oven. Don't use a lightweight pot because the heat distribution is not very good and it may burn the rice. It's important that the lid is tightly closed to seal in all the moisture and steam.
It's really easy to cook Okawa and here are the 3 steps:
Bring the broth to a boil over medium to medium-high heat. You can close the lid so it will boil quickly (it takes 10-15 minutes).
Once boiling, cover the lid and turn the flame to low to medium-low heat and cook for 20 minutes (please adjust based on your stove).
Turn off the heat, remove the pot from the stovetop, and let it steam for 15-20 minutes.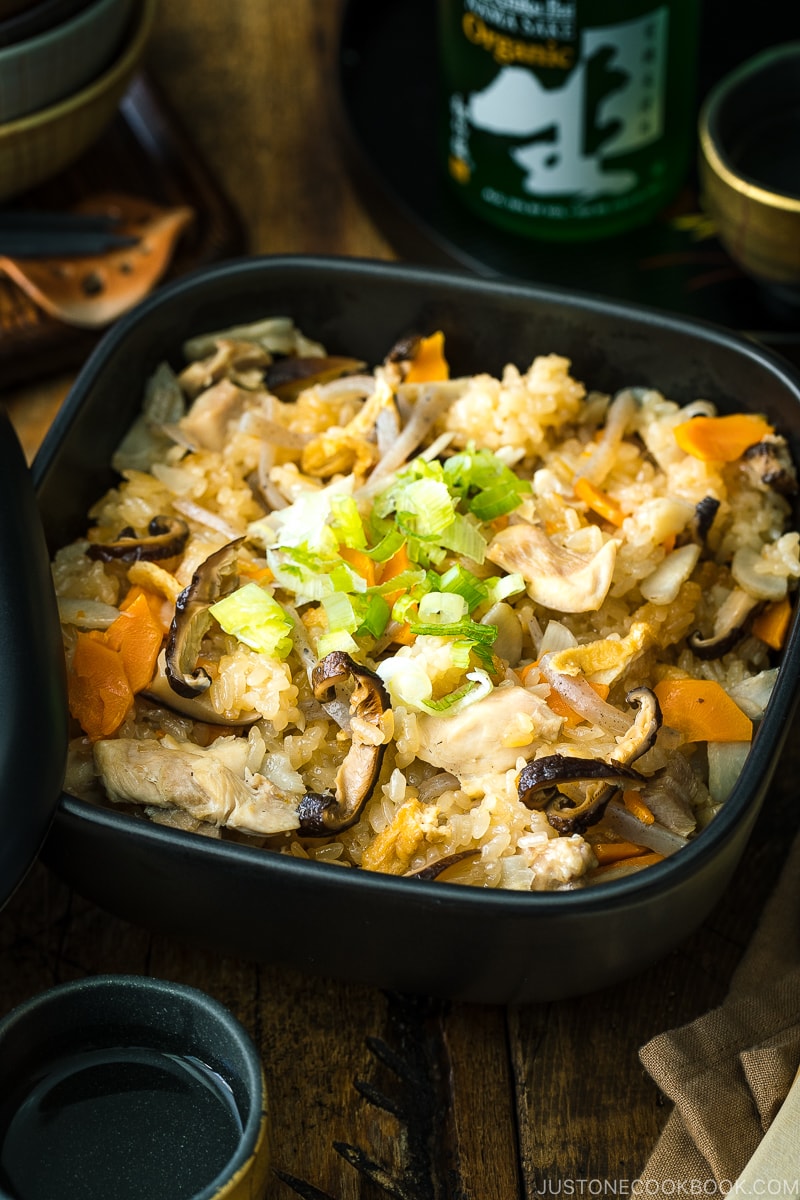 5 Cooking Tips To Remember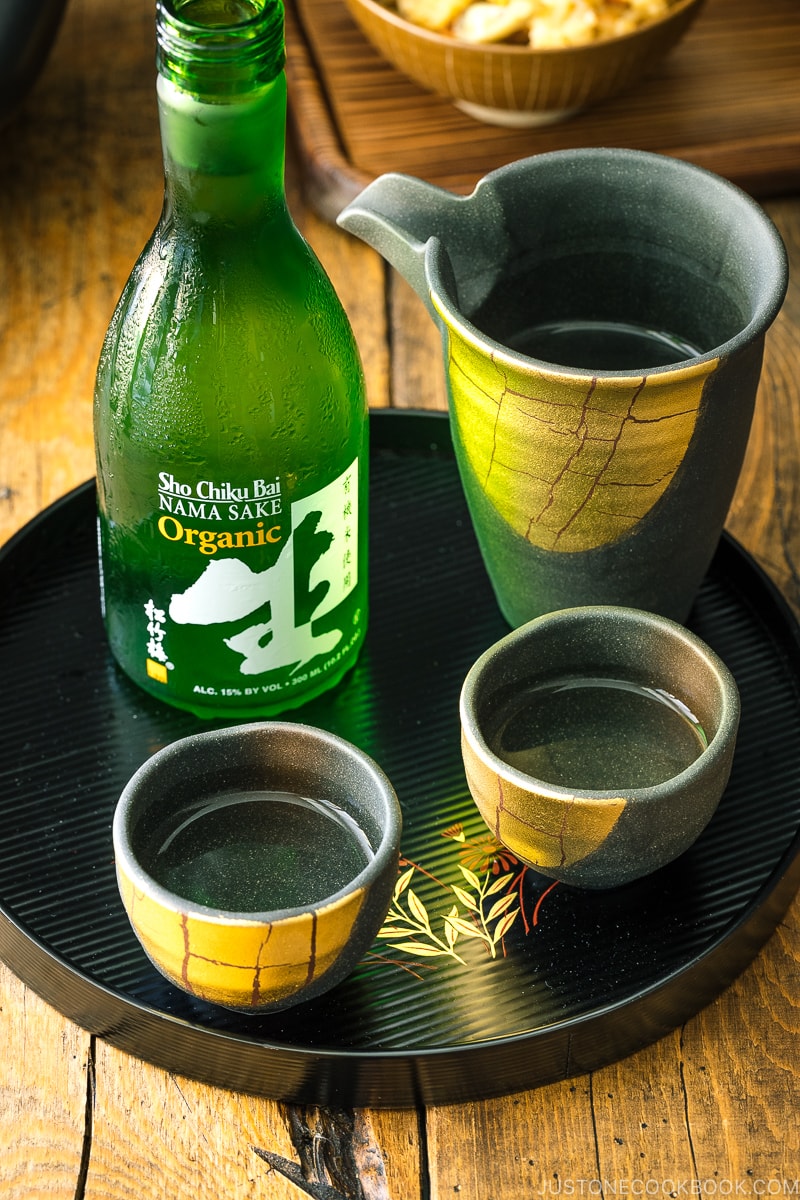 Pairing with Sho Chiku Bai Organic Nama Sake
We paired this savory Okawa dish with Sho Chiku Bai Organic Nama Sake. Since the dish is thick, chewy, and nutty from all the root vegetables and other ingredients, the Nama sake contrasts very well with its young and vibrant characteristics. This dry sake has a clean and crisp aroma, but don't let it trick you. The taste profile is full-bodied and stands up to Okowa on its own.
Why is this sake called Nama? In Japan, "Nama" mean raw and is used to describe beer that is not pasteurized, giving it better flavor and fresher taste. So when you're in a restaurant or bar in Japan and you want beer, you order "nama-biru".
Similar to "nama-biru", this unique sake was not pasteurized by heat but micro-filtered, keeping subtle sake flavors that are sometimes lost through the pasteurization process. We really enjoyed the pairing and other recommended food to pair with Sho Chiku Bai Organic Nama Sake include soba noodles, smoked duck, and sushi.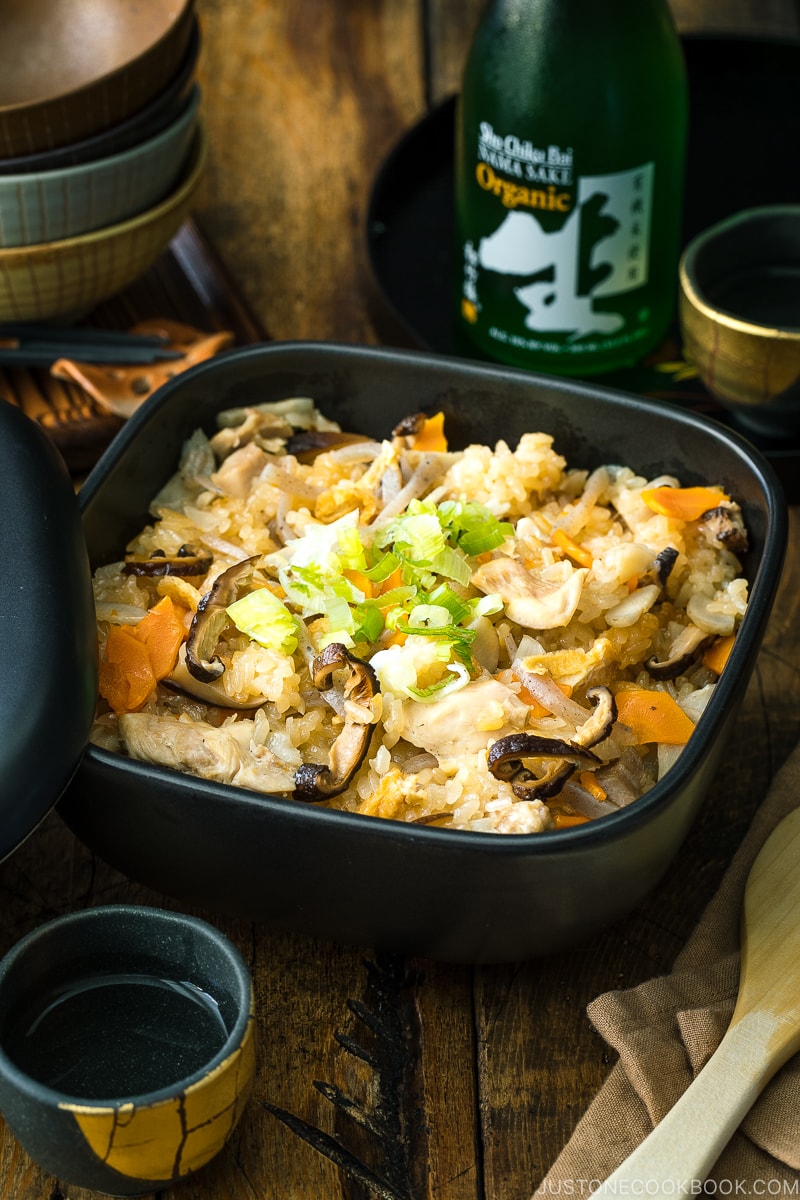 What to Serve with Okowa
You can enjoy this Japanese sticky rice as a standalone dish or serve it like you would with steamed rice. A miso soup and a side of vegetables such as Green Bean Gomaae and Hijiki Salad make good company for a light dinner.
Ceramics from Musubi Kiln
I've partnered with a great ceramic online shop from Japan called Musubi Kiln. You will get 10% off with a coupon code JUSTONECOOKBOOK for your purchase. In this post, I've used: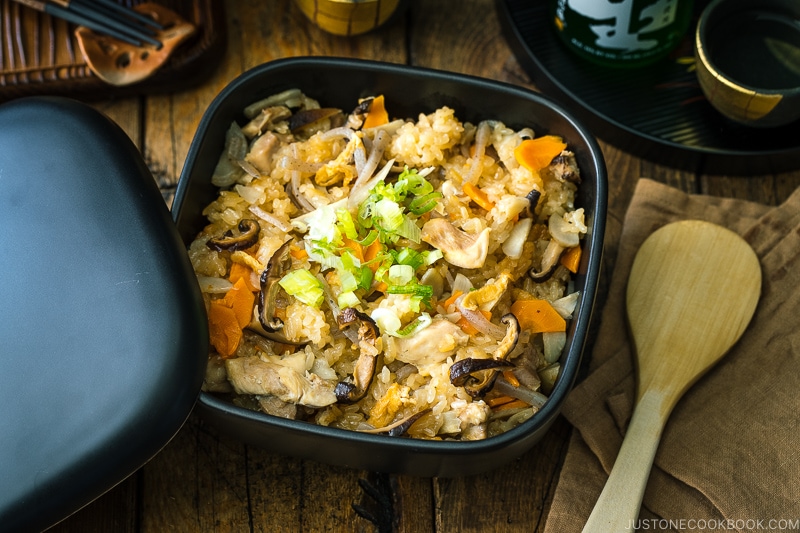 Sign up for the free Just One Cookbook newsletter delivered to your inbox! And stay in touch with me on Facebook, Pinterest, YouTube, and Instagram for all the latest updates.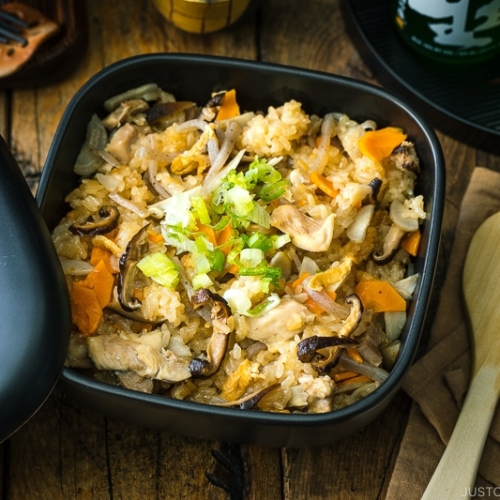 Japanese Sticky Rice with Chicken and Vegetables (Okowa)
Japanese Sticky Rice with Chicken and Vegetables, known as Okowa, is a popular savory dish. Here, glutinous rice is cooked with chicken, root vegetables, fried tofu, and mushrooms in a delicious dashi broth. You'll enjoy every bite!
Ingredients
Rice Cooking Broth (Requires 540 ml)
2

Tbsp

mirin

2

Tbsp

soy sauce

(use gluten-free soy sauce for GF)

1

tsp

kosher salt (Diamond Crystal; use half for table salt)
Japanese Ingredient Substitution:
If you want substitutes for Japanese condiments and ingredients, click
here
.
Instructions
Gather all the ingredients.
To Prepare Ingredients
Soak the dried shiitake mushrooms in dashi for 20 minutes. Meanwhile, work on other ingredients.

Once the shiitake mushrooms are fully hydrated and tender, squeeze to drain the liquid back to the dashi. If the liquid is less than 2 cups (480 ml), add water. Discard the tough stem with a knife.

Thinly slice the shiitake mushrooms and set them aside.

While waiting for rehydrating mushrooms, bring a small pot of water to a boil and blanch the aburaage for 15 seconds on each side to get rid of the factory oil from the tofu. Drain the water. Keep the boiling water for the konnyaku.

Cut the aburaage in half and thinly slice into short strips.

Cut the konnyaku into thin short strips, similar to aburaage size.

In the same boiling water, cook konnyaku for 2-3 minutes to get rid of the unwanted smell. Drain the water and set it aside.

Cut the carrot in half lengthwise and thinly slice into a half-moon shape.

Scrape off the gobo skin with the back of the knife. We do not use a vegetable peeler for gobo because the its earthy flavor is right underneath the skin and we do not want to discard it. Cut the gobo in half lengthwise.

Diagonally cut the gobo into thin slices. Soak them in water to remove astringency and prevent the change of color.

Cut the chicken into small flat pieces. I recommend using a sogigiri cutting technique. This creates more surfaces and is faster to cook. Put the chicken in a small bowl and add sake to remove the unwanted smell. Set it aside on the counter.
To Rinse Rice
Add water just enough until it submerges all the rice. Then discard the water immediately since the glutinous rice absorbs water quickly.

Use your fingers to gently wash the rice in a circular motion for 15-20 seconds. Add water and rinse the rice.

Drain and repeat this washing process one more time.

Add water and drain, and repeat this process until the water is almost clear.

Drain the rice into a sieve, shake off excess water, and set it aside.
To Cook Rice
Transfer the well-drained rice to the pot and add dashi.

Add mirin, soy sauce, and salt.

Mix all together with chopsticks (or wooden spoon). Place the drained chicken on top (Do not add the sake that was used to marinate). DO NOT MIX. In order to cook rice evenly, the rice and other ingredients cannot be mixed together prior to cooking.

Add root vegetables (tough/dense ingredients) first.

Then softer ingredients, and start cooking. Use "regular" or "sweet rice" setting. Sweet rice setting is shorter in cooking time as glutinous rice cooks faster. If you want to cook over the stovetop, my instruction is in the blog post.
To Serve
Once the rice is cooked, fluff the rice. Don't mix; insert the rice paddle vertically, then scoop up the rice, and break up the scooped pieces. Repeat until all the rice is scooped up and fluffed.

Serve the rice into individual rice bowls or Ohitsu (rice container). I also love making Onigiri (rice balls) with Okowa.
To Store
You can keep the leftovers in an airtight container and store them in the freezer for up to a month. I recommend not refrigerating the cooked rice even you are eating it the next day as the rice gets hard.
Nutrition
Calories:
526
kcal
·
Carbohydrates:
106
g
·
Protein:
12
g
·
Fat:
3
g
·
Saturated Fat:
1
g
·
Polyunsaturated Fat:
1
g
·
Monounsaturated Fat:
1
g
·
Trans Fat:
1
g
·
Cholesterol:
11
mg
·
Sodium:
791
mg
·
Potassium:
293
mg
·
Fiber:
5
g
·
Sugar:
4
g
·
Vitamin A:
2127
IU
·
Vitamin C:
3
mg
·
Calcium:
37
mg
·
Iron:
2
mg
©JustOneCookbook.com Content and photographs are copyright protected. Sharing of this recipe is both encouraged and appreciated. Copying and/or pasting full recipes to any website or social media is strictly prohibited. Please view my photo use policy
here
.