Green Bean Gomaae is a classic Japanese salad in which fresh green beans are blanched and tossed with a sweet, sesame-soy dressing. You'll need only 4 ingredients and 20 minutes to make this delicious vegetable side.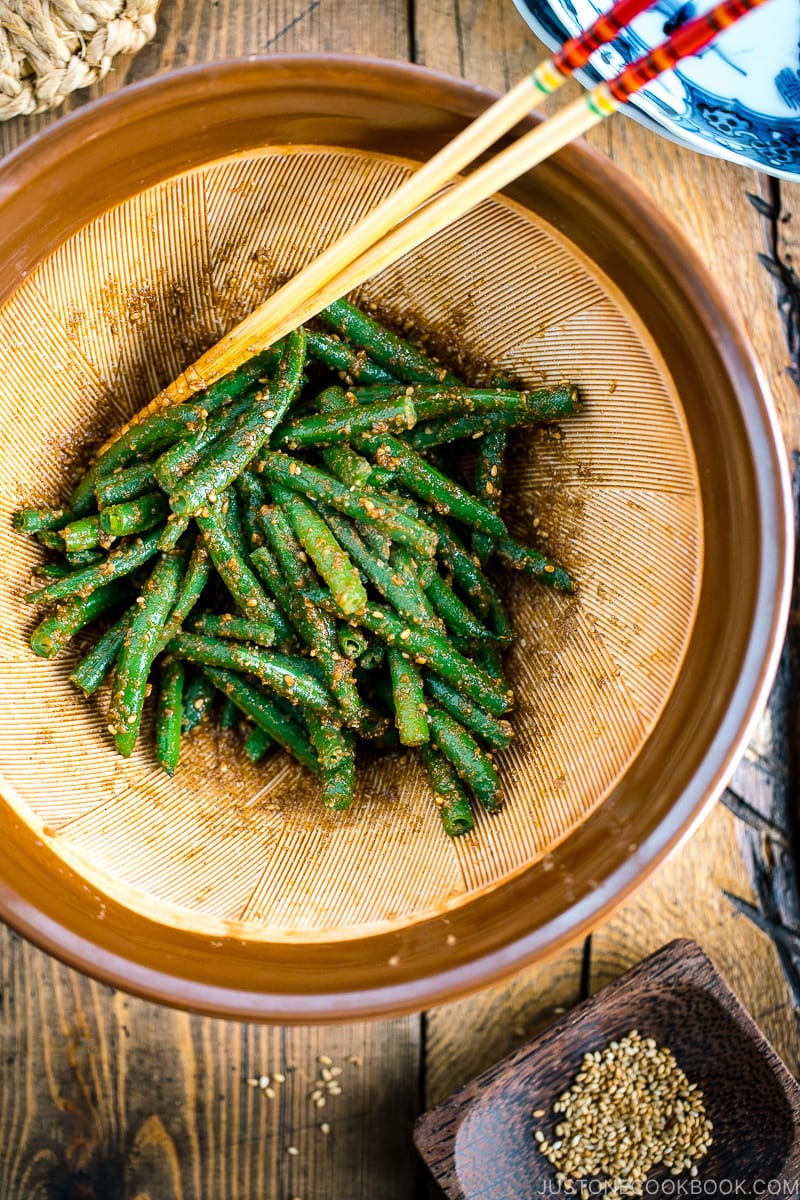 Green Bean Gomaae (胡麻和え) is one of the vegetable side dishes that my mom taught me to make from scratch since I was little. The aromatic and nutty sesame sauce adds just the right touch to the vegetables. As it pairs well with almost every Japanese meal, we would serve the green beans regularly at the family dinner. It's fresh-tasting, delicious, and super simple.
Whenever you need a quick veggie, the salad will always be a perfect match. It's the one you'll make again and again, so memorize the recipe!
What is Gomaae?
Gomaae (sometimes written as Goma-ae or Goma Ae) is a Japanese side dish in which vegetables are dressed in sesame sauce. Goma (胡麻) means 'sesame seeds' and -Ae (和え) means 'being dressed with sauce/dressing' in Japanese.
Toasted sesame seeds are crushed then seasoned with soy sauce and sugar. You will wonder why it's so simple yet incredibly delicious. The sesame sauce is versatile and you can dress it with all kinds of vegetables! The top 2 popular choices are green beans and spinach.
Why You'll Love This Dish
Just 4 ingredients: Green beans, sesame seeds, soy sauce, and sugar. That's it!
Easy to make, under 15-20 minutes at max.
It's versatile – use other veggies if you don't have green beans.
Delicious and addicting; everyone loves it and wants more! A sure-win way to eat more vegetables.
Perfect for make-ahead! It stores well in the refrigerator for up to 3 days.
4 Ingredients You Need for Gomaae
1. Green Beans
I use both regular green beans and skinny French green beans (Haricots Verts) for Gomaae. Depending on the type of green beans you use, be careful not to overcook the beans. You will need to blanch until beans are just tender, 3 minutes for French green beans; 4 to 5 minutes for the regular green beans. I like the beans when they still have the slightest crunch of texture.
2. Sesame Seeds
Typically we use white sesame seeds for Gomaae, but you can use black sesame seeds or a combination. Black sesame seeds have a stronger aroma and taste. They are a good source of vitamins, minerals, fiber, healthy fats, and protein. That is why we love using sesame seeds in our cooking!
3. Soy Sauce
I recommend using Japanese soy sauce (instead of other Asian varieties) for the right flavor as they taste quite different. If you're gluten-free, you can use gluten-free soy sauce.
4. Sugar
Many of you would ask if you can skip or substitute sugar with a healthier alternative, such as honey and maple syrup. I don't recommend skipping the sugar because soy sauce is salty and requires balance sweetness to balance out the flavor. As for alternatives, I've never used other sweeteners to make Gomaae, so I can't really share my experience. You can give either honey or maple syrup a try, but go easy as they do have a more pronounced flavor.
Please know that the Sesame Sauce/Dressing is not supposed to be "sauce-y" and you shouldn't overwhelm the green beans with it. For a half-pound of green beans, you will need only one tablespoon of sugar to balance out the one tablespoon of soy sauce. If you really wish, you can halve the amount for both sugar and soy sauce.
Japanese Pestle and Mortar
For Gomaae, we use a Japanese ceramic mortar and wooden pestle called Suribachi (すり鉢) and Surikogi (すりこぎ). These mortars and pestles are helpful to grind sesame seeds and nuts, mash vegetables and tofu, or mix ingredients in Japanese cooking.
Most Japanese household has one of these which explains why Gomaae is quite a popular dish in Japan. I always recommend getting a bigger bowl if you can; that way, you can put the ingredients in there for tossing together. Mine is roughly 10 inches (25 cm) in diameter.
5 Tips for Making Good Gomaae
Toast the sesame seeds – Even if your sesame seeds are already toasted, don't skip this step. It makes a difference!
Grind partially – It's a preference, but you don't have to grind all the sesame seeds to paste form. It's nice to leave some sesame seeds uncrushed for texture.
Don't skip the sugar – I know you may be tempted to skip but don't omit the sugar completely. You need to counterbalance the saltiness of soy sauce with sugar.
Don't overcook the veggies – As you cook, checking the doneness at intervals. The cooking time varies based on the amount of boiling water, the number and thickness of beans you're cooking, and the texture of beans you prefer. Don't rely on what the recipe says, trust your own judgment.
Shock the green vegetables – Whether you use green beans or spinach, in order to keep the bright green color of the vegetables, you have to shock them with ice water after blanching.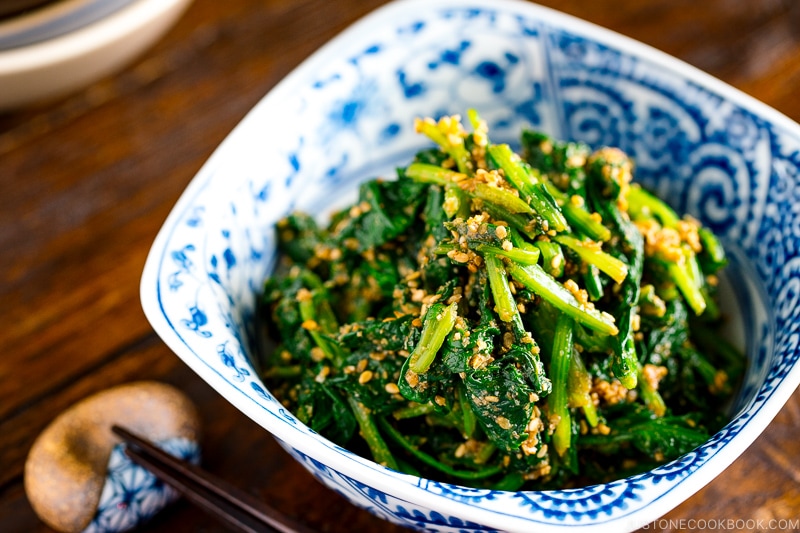 What Other Vegetables is Good for Gomaae?
Asparagus
Avocado
Bean sprouts
Broccoli & Broccolini – Kids' favorite for Gomaae.
Burdock root (Gobo)
Carrot
Cauliflower
Cucumber
Kabocha
Komatsuna – Mr. JOC's favorite for Gomaae.
Mitsuba
Okra
Shungiku (Chrysanthemum leaves/greens) – My mom's favorite for Gomaae.
Spinach – Here's my recipe.
By adding tofu to Gomaae, you can make Green Bean Shiraae!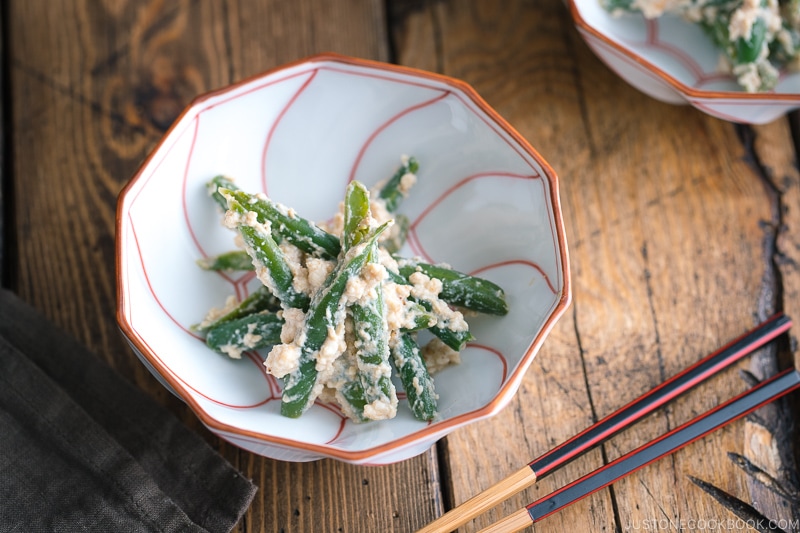 What other vegetables have you tried making gomaae with? Let us know in the comment below!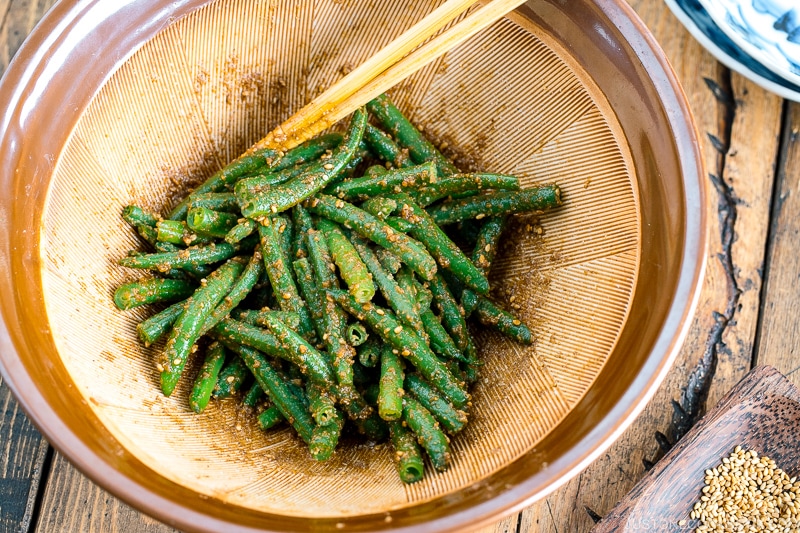 Japanese Ingredient Substitution: If you want to look for substitutes for Japanese condiments and ingredients, click here.
Wish to learn more about Japanese cooking? Sign up for our free newsletter to receive cooking tips & recipe updates! And stay in touch with me on Facebook, Pinterest, YouTube, and Instagram.
Green Bean Gomaae (Sesame Sauce)
Green Bean Gomaae is a classic Japanese salad in which fresh green beans are blanched and tossed with a sweet, sesame-soy dressing. You'll need only 4 ingredients and 20 minutes to make this delicious side.
Ingredients
½

lb

green beans

(8 oz)

1

tsp

Diamond Crystal kosher salt
Japanese Ingredient Substitution:
If you want substitutes for Japanese condiments and ingredients, click
here
.
Instructions
Gather all the ingredients.

Bring a pot of water to a boil. Even if your sesame seeds are toasted/roasted, it's good to toast them again in a non-greased frying pan for a couple of minutes, gently jiggling the pan. Be careful not to burn them.

With a pestle and a mortar (or spice grinder), grind the sesame seeds, leaving some seeds uncrushed to add texture to the sauce.

Add soy sauce and sugar and mix it all together. The dressing looks more like a paste than dressing. Set aside.

To prepare the green beans. If your green beans are not trimmed, snap the tip of one end of the bean with your fingers and draw it down the length of one side of the bean to remove any possible string. Do the same thing with the other end, pulling it down the other side of the bean.

Add a pinch of salt and the green beans to the boiling water.

Cook the green beans for 4-5 minutes (3 minutes for French green beans/Haricots Verts) until they are bright green and tender but still crunchy.

Remove from the heat, place in a strainer, and quickly rinse them in cold water to stop them from cooking further (or you can transfer them to an ice-water bath). Shocking the green beans with cold water will help the beans stay green. You don't need to chill them; the beans should still be warm. Drain or dry well with a clean towel and cut them into 2-inch long pieces.

Transfer the warm beans to the bowl and toss them in the sesame dressing. Serve at room temperature or chilled.
To Store
Keep the leftover in an airtight container and store in the refrigerator for up to 3 days.
Notes
Recipe by Namiko Chen of 
Just One Cookbook
. All images and content on this site are copyright protected. Please do not use my images without my permission. If you'd like to share this recipe on your site, please re-write the recipe in your own words and link to this post as the original source. Thank you.
Nutrition
Nutrition Facts
Green Bean Gomaae (Sesame Sauce)
Amount per Serving
% Daily Value*
* Percent Daily Values are based on a 2000 calorie diet.
©JustOneCookbook.com Content and photographs are copyright protected. Sharing of this recipe is both encouraged and appreciated. Copying and/or pasting full recipes to any website or social media is strictly prohibited. Please view my photo use policy
here
.