Shiraae or Mashed Tofu Salad is a classic Japanese dish made of tender green beans, creamy tofu, nutty sesame seeds, and savory miso. This vegan-friendly salad is super easy to make and can be on your dinner table in no time!
From pickled vegetables, and Western-style fresh salad to steamed vegetables, you can always find a colorful variety of vegetable side dishes in Japanese home cooking. They provide freshness and nutrients to a complete meal. Today I'll show you how to make Shiraae (白和え) – a blanched vegetable dressed with flavorful mashed tofu. Refreshing and full of flavor, it's a vegetable side that I personally make a lot year-round.
What is Shiraae?
Shiraae (白和え), pronounced [shi-ra-ah-eh], is a vegetable side dish with a mixture of mashed tofu, toasted sesame seeds, miso, and a touch of sugar. Green vegetables such as green beans and spinach are blanched and seasoned with soy sauce before being combined with the tofu mixture.
It is one of the signature dishes from Shojin Ryori (精進料理), Japanese Zen Buddhist vegetarian/vegan cuisine. The tofu provides all the protein you'd need while the greens add freshness, color, and texture. Therefore, this dish is a vegan-friendly dish that everyone can enjoy.
Besides green beans and spinach, you can use thin strips of asparagus or any seasonal vegetables you have. To keep things fresh, colorful, and fun, I sometimes make Shiraae in a combination of spinach, julienned carrot, konnyaku, and hijiki seaweed. For a more complex flavor, you can also flavor the dish with dashi and mirin.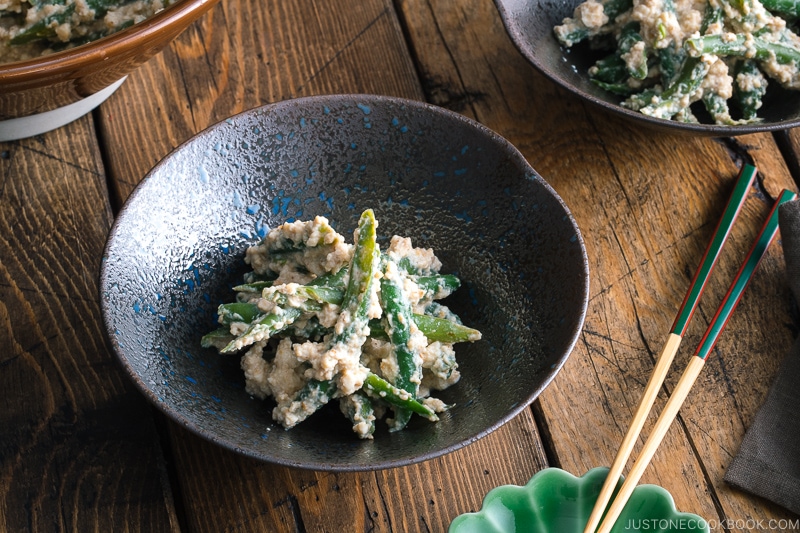 5 Tips to Make That Creamy Tofu Dressing for Shiraae
The tofu dressing is made of 5 ingredients: tofu, sesame seeds, miso, soy sauce, and sugar. And a bit of salt to taste.
1. Drain tofu
It's tricky how much you should drain your tofu, but you can always make the adjustment each time.
You do not want to dilute your dressing with excess water from the tofu. At the same time, you do not want to remove the water completely as moist tofu adds a tender texture to the dish.
To find the balance, I usually drain for 15-30 minutes. If I want to shorten it to 15 minutes, I would put something heavy on top of the tofu to facilitate the draining process. If I have 30 minutes, I would not put any weight and let it drain naturally.
2. Toast the sesame seeds
Yes, most of the sesame seeds sold in packages are already toasted. However, you can toast it again in the frying pan to bring out more fragrance.
3. Use white miso
For the creamy tofu dressing, I like to use White Miso (Shiro Miso 白味噌) because the color and sweet flavor complement the mixture. Here's one from Hikari Miso® Organic White Miso that I used in this recipe.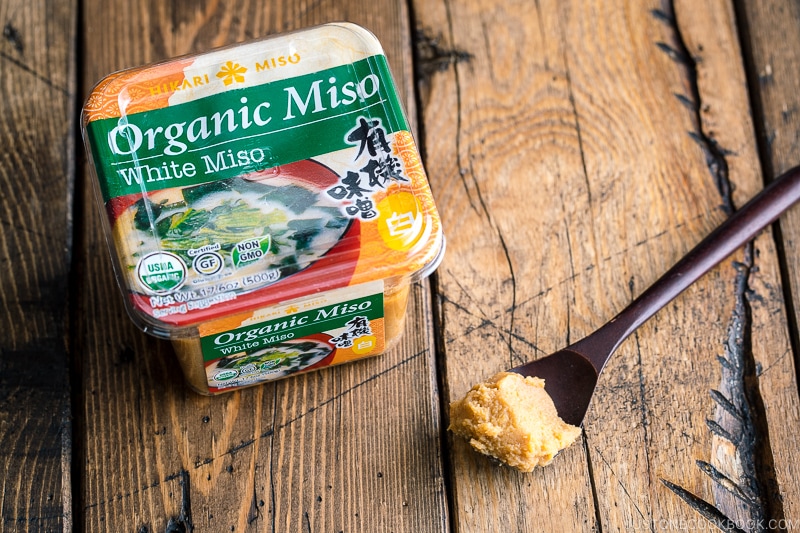 Hikari Miso has been my go-to miso for over a decade. You can find Hikari Miso® products in your local Japanese grocery stores and Asian markets.
4. Mash the tofu till smooth and creamy
Unless you prefer a chunky tofu texture, I recommend smoothing out the mixture until silky. When chilled, the mashed tofu gives a nice refreshing taste and it's delicious!
5. Season the vegetables with soy sauce before mixing
Be sure to season the blanched vegetables with soy sauce first. This way, you can shake off any excess liquid before adding them to the tofu mixture.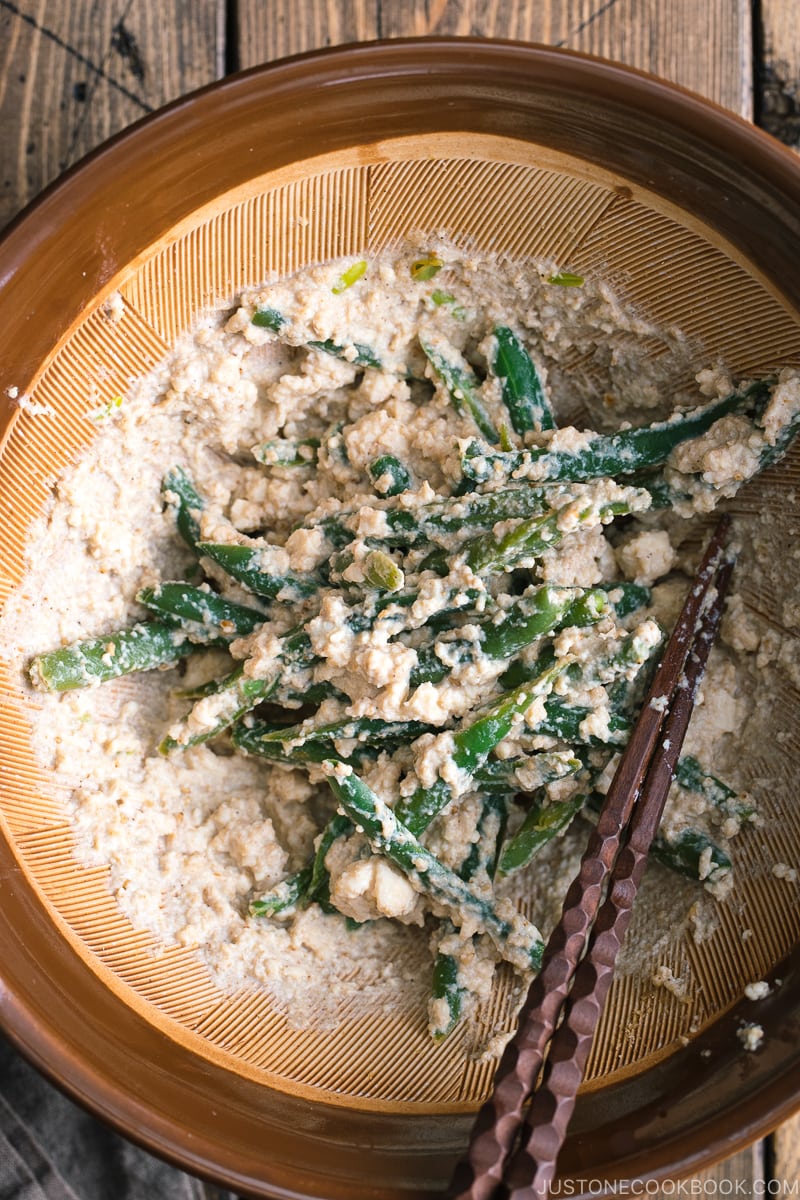 Great Kitchen Tools for Mashed Tofu Salad
If you like to make this mashed tofu salad regularly, it's worth getting a set of Japanese-style mortar and pestle, called the Suribachi (すり鉢) and Surikogi (すりこぎ). The inside of the ceramic suribachi is combed to create spirals of fine, jagged grooves that efficiently mix, grind, and mash ingredients with a wooden surikogi.
Since the ceramic bowl has a beautiful rustic look, you could serve it directly at the table. Planning to get one yourself? My recommendation is to go with a bigger Suribachi. Not only it can be used as a serving dish, but it also makes grinding a lot easier. With a bigger bowl, you don't have to worry about spilling ingredients from the side.
You can find suribachi and surikogi online on Amazon or MTC Kitchen.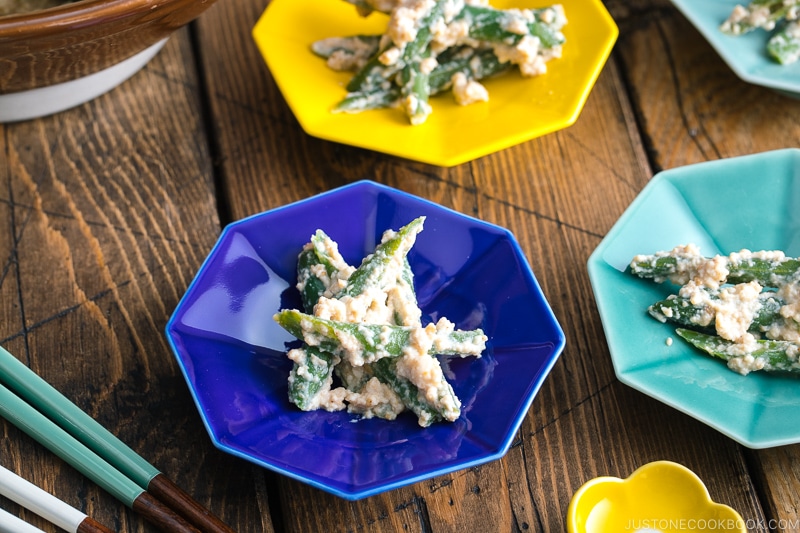 More Side Dishes Similar to Shiraae
Looking for more vegan-friendly side dishes? Here are some of our favorites!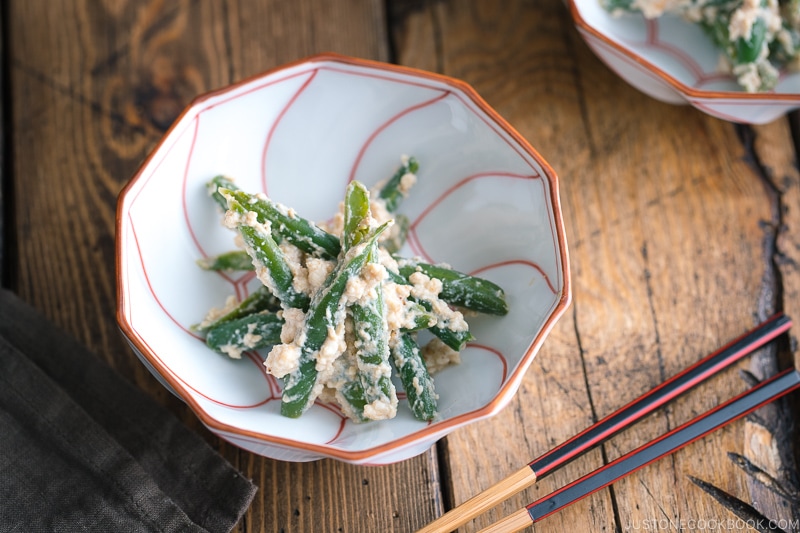 Wish to learn more about Japanese cooking? Sign up for our free newsletter to receive cooking tips & recipe updates! And stay in touch with me on Facebook, Pinterest, YouTube, and Instagram.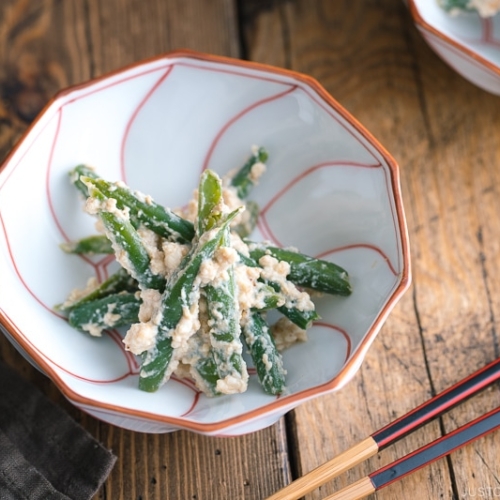 Green Bean Shiraae (Mashed Tofu Salad)
Shiraae or Mashed Tofu Salad is a classic Japanese dish made of tender green beans, creamy tofu, sesame seeds, and savory miso. This vegan-friendly salad is super easy to make and can be on your dinner table in no time!
Japanese Ingredient Substitution:
If you want substitutes for Japanese condiments and ingredients, click
here
.
Instructions
Gather all the ingredients. To store the leftover tofu, keep it in an airtight container and pour water until it covers the tofu. Keep in the refrigerator (change the water every day) and use it within a few days.
To Prepare the Tofu
Wrap

7 oz medium-firm tofu (momen dofu)

with paper towels to drain some of the water. Do not skip this step. You don't want to drain the water from tofu completely, but it's important to remove some moisture so the dressing doesn't get too wet.

Put the wrapped tofu on a tray or plate. Add another tray or plate on top of the tofu and put a heavy object on top to facilitate draining. Set aside for 30 minutes.
To Prepare the Green Beans
Bring a big pot of water to a boil. Tear off the ends of

9 oz green beans

.

Boil green beans until crisp-tender (please don't overcook it).

Drain well and set aside.

Cut the green beans diagonally into 2-inch (5-cm) pieces.

Place the green beans in a bowl. Pour

1 tsp soy sauce

and toss together. Set aside for later.
To Prepare the Sesame Seeds
Toast

4 Tbsp toasted white sesame seeds

in a frying pan, shaking the pan frequently, until they are fragrant and started to pop. Transfer to a Japanese mortar (suribachi).

Grind the sesame seeds with a pestle (surikogi).
To Make the Tofu Dressing
Add

1 Tbsp sugar

and

2 tsp miso

to the ground sesame seeds.

Mix well until the sugar and miso are incorporated into the ground sesame seeds.

Remove the tofu from the paper towel. Break it into pieces with your hands and add to the sesame seed mixture.

Using a pestle, mash and grind the tofu until smooth or to your liking.

It's important to taste the tofu and season with

⅛ tsp Diamond Crystal kosher salt

to taste. It should not be bland. Green beans will be added, so the tofu dressing should have good flavor at this stage.

Mix all together until smooth.
To Assemble
Be sure to shake off any excess soy sauce from the green beans first. Any liquid from the soy sauce will only dilute the dressing. Then, add the seasoned green beans to the tofu dressing. Combine well.

Once combined, you can chill in the refrigerator for 30 minutes before serving, or serve immediately.
To Store
You can keep it for 24 hours in the refrigerator; however, I recommend consuming it soon.
Nutrition
Nutrition Facts
Green Bean Shiraae (Mashed Tofu Salad)
Amount per Serving
% Daily Value*
* Percent Daily Values are based on a 2000 calorie diet.
©JustOneCookbook.com Content and photographs are copyright protected. Sharing of this recipe is both encouraged and appreciated. Copying and/or pasting full recipes to any website or social media is strictly prohibited. Please view my photo use policy
here
.
Editor's Note: This post was originally published on May 11, 2011. It's been updated with new images and content in December 2019.