This Japanese Spinach Salad applies a simple method called the Ohitashi to infuse vegetables with umami and subtle flavor. It's one of the common techniques Japanese use to prepare vegetable dishes.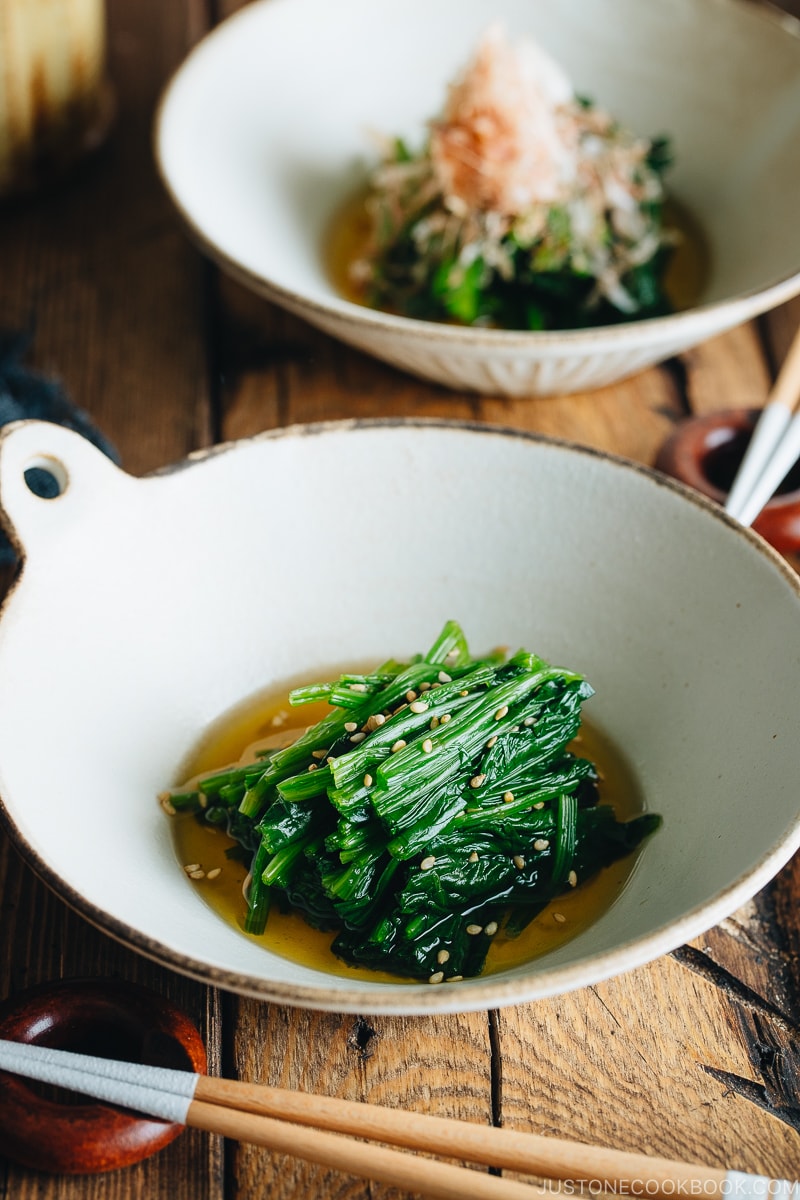 Do you know what type of recipes Just One Cookbook readers request most? They are side dishes and vegan recipes! I've been sharing popular Japanese recipes and main dishes for many years, however, it's time to add more sides!
Today's recipe, Spinach Ohitashi (ほうれん草のお浸し) is a Japanese Spinach Salad with Savory Broth, and I included a vegan-friendly version!
What is Ohitashi?
Ohitashi (お浸し) refers to a dish in which vegetables are steeped in a dashi-based sauce. It's a common Japanese cooking technique we use for preparing vegetable dishes. This method infuses the ingredients with dashi's umami and subtle flavor but still retains its natural taste.
To make ohitashi, you first blanch the vegetable, then halt the cooking in the ice bath. Afterward, allow the vegetable to absorb the dashi-based sauce.
We typically serve Ohitashi with a sprinkle of Katsuobushi (dried bonito flakes) on top. For today's recipe, I included a vegan-friendly version in mind.
Vegan-friendly version: Use vegan-friendly Kombu Dashi for steeping and garnish with toasted sesame seeds instead of katsuobushi.
Regular version: If you prefer a more prominent dashi flavor, use Awase Dashi, a combination of both kombu and katsuobushi.
Serve Spinach Ohitashi with Your Japanese Meal
A typical Japanese meal consists of steamed rice, miso soup, main dish, and side dishes. This set meal is called Ichiju Sansai (一汁三菜) and we have a detailed post on this topic here.
Japanese set meal encourages you to eat a balanced diet. You'll find each dish presented in individual serving wares, and side dishes are usually in a kobachi (小鉢, literally meaning "small bowl"). As a result of this attentive arrangement, we can easily control the portion of the food.
Here are a few suggestions that I would serve with Spinach Ohitashi (Japanese Spinach Salad):
Rice
Miso Soup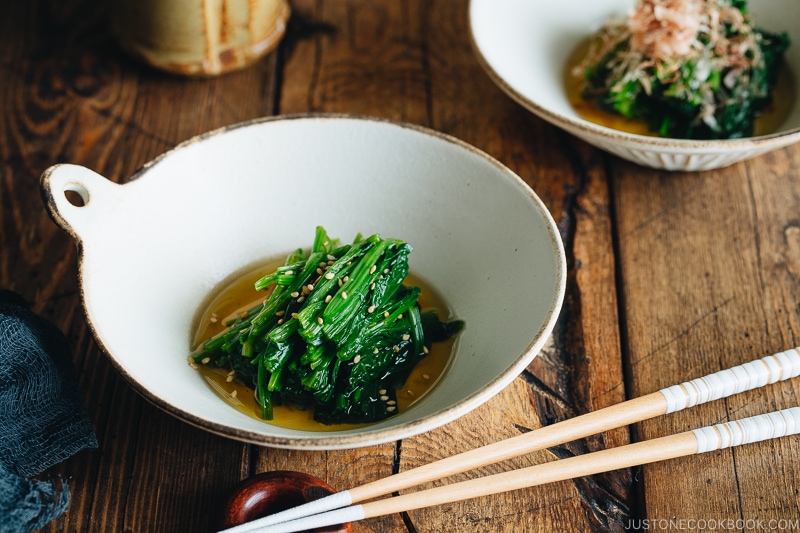 Main Dish
Side Dishes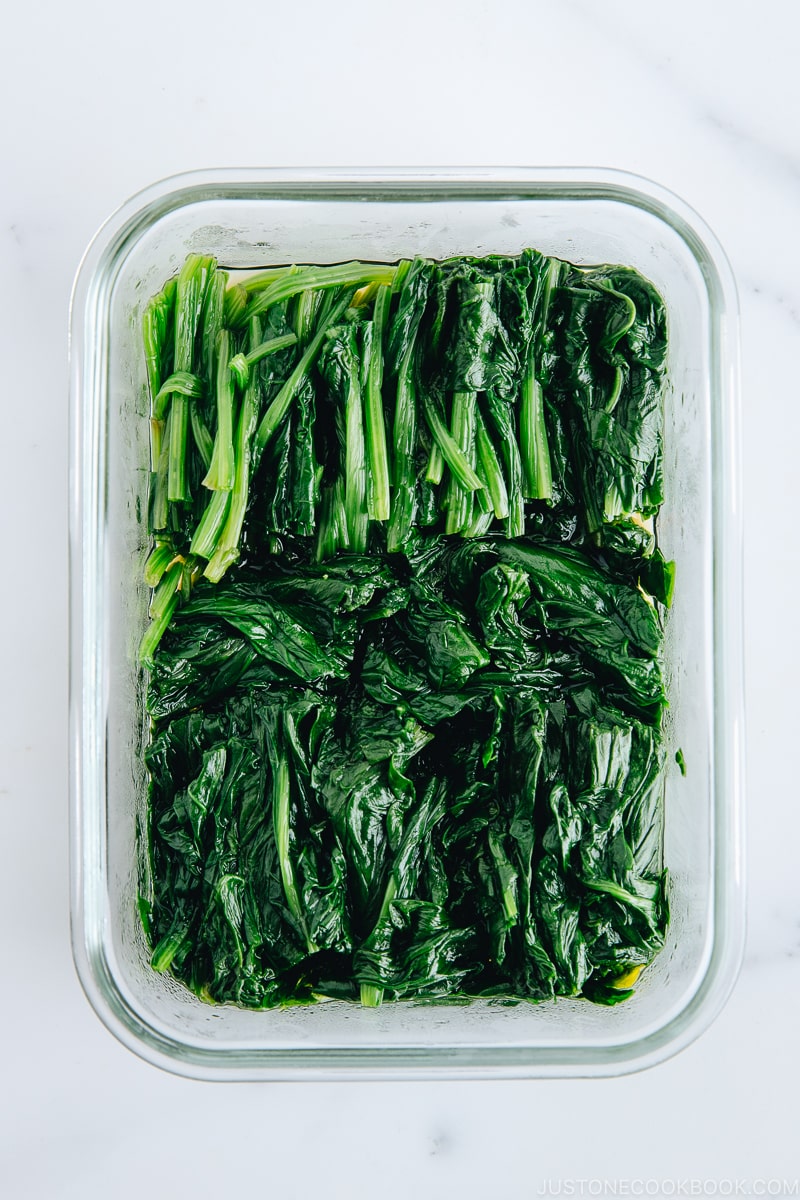 Ohitashi is Great for Meal Prep!
Since ohitashi requires making ahead of time, it makes a perfect side dish for meal prepping.
In general, you can steep the vegetables in the dashi soy broth for 3 days. If you have 20-30 minutes to spare, prepare your vegetables and let them absorb all the flavor as you store in the refrigerator. Use a clean utensil and container and put it in the refrigerator as soon as the food is cool. This allows the food to last longer.
If you're interested in meal prep recipes, click here for more inspiration!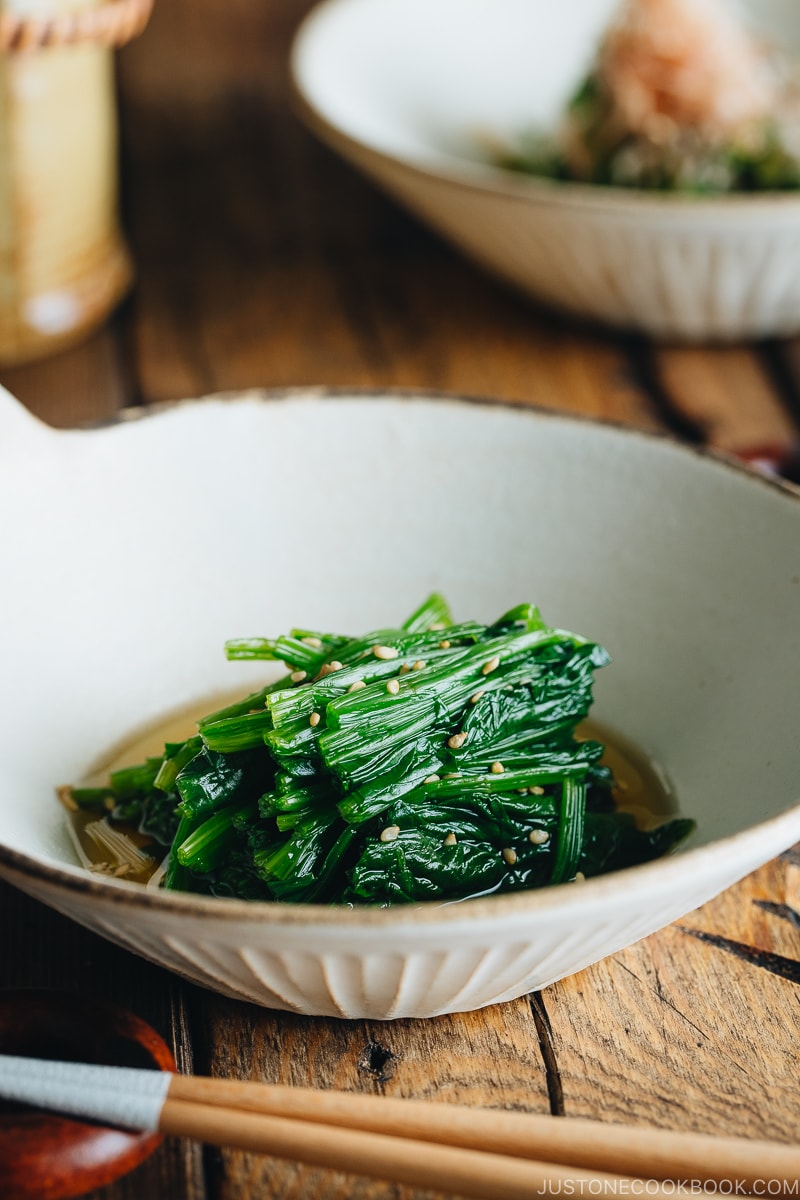 Don't like Spinach?
You can apply the Ohitashi method to almost any kind of vegetable! If you are not a fan of spinach, try other vegetables like okra, eggplant, boy choy, and other leafy greens.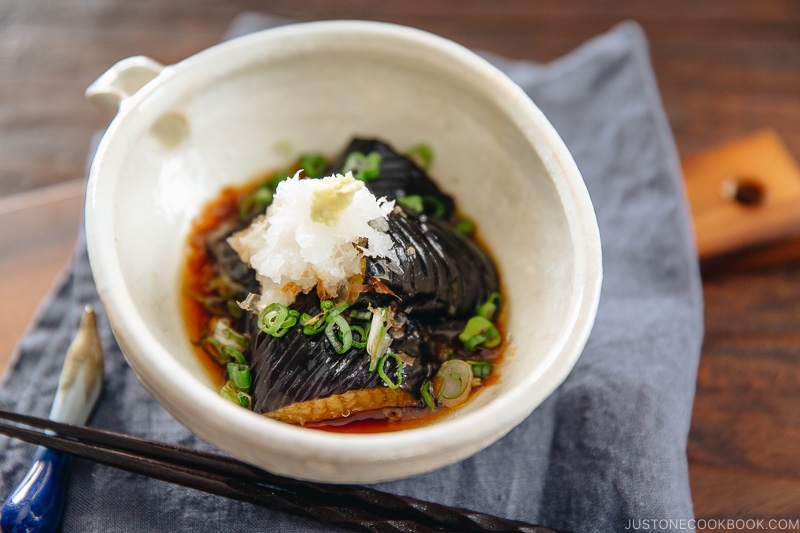 Eggplant Agebitashi (variation of Ohitashi)
Wish to learn more about Japanese cooking? Sign up for our free newsletter to receive cooking tips & recipe updates! And stay in touch with me on Facebook, Pinterest, YouTube, and Instagram.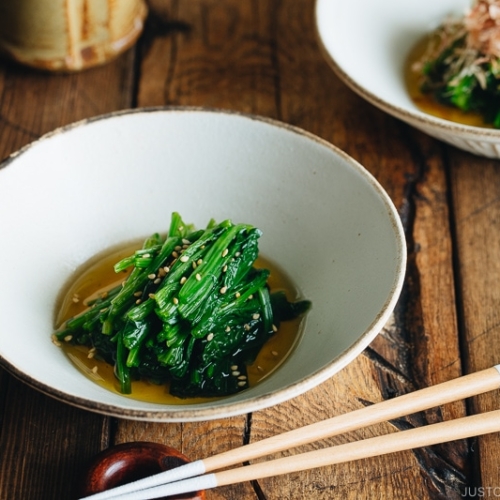 Spinach Ohitashi (Japanese Spinach Salad with Savory Broth)
This method infuses ingredients with umami and subtle flavor but retains the food's natural taste. It's one of common methods we use to prepare vegetable dishes. 
Ingredients
Japanese Ingredient Substitution:
If you want substitutes for Japanese condiments and ingredients, click
here
.
Instructions
Gather all the ingredients.
To Make the Kombu Dashi
In a saucepan, put

½ cup water

and

1 piece kombu (dried kelp)

.

Slowly bring it to a boil. Once boiling, remove the kombu from the liquid (you can make Kombu Tsukudani with the used kombu). If you are not vegan/vegetarian, you can add a small amount of katsuobushi to make Awase Dashi for more flavor. Please see the instruction here. If you're using dashi powder, please read here.
To Make the Savory Broth
To the kombu dashi, add

1 Tbsp mirin

and

1 Tbsp usukuchi (light-colored) soy sauce

.

Mix together and once it boils, turn off the heat.
To Prepare the Spinach
Rinse

1 bunch spinach

and boil a large pot of water.

When the water is boiling, add

Pinch Diamond Crystal kosher salt

and put the spinach in the pot from the stem side first because it takes longer to cook. After 15 seconds, you can push down the leafy part into the water and cook for 1 minute. (US spinach is tender than Japanese spinach, so it'll cook faster).

Once the spinach is cooked through, pick it up quickly, roughly less than 1 minute.

Transfer to iced water and let it cool (but don't leave the spinach too long as you will lose the nutrients).

As soon as it's cooled, collect spinach and squeeze water out. If you like to serve as I do, collect the stem and put together. I like to serve both stem and leafy parts separately instead of mixing it up together.

Cut the spinach into 1½-inch lengths and squeeze the water out one more time.

Put the spinach in the airtight container and pour the sauce over.

Make sure the spinach is evenly distributed in the container and soak in the sauce. Put the lid on and let it soak in the refrigerator for at least 1 hour (3–4 hours ideally).
To Serve
Serve the spinach in a bowl and pour the sauce over. I like to make sure each bowl gets both spinach stem and leafy part. Love the dark and light color contrast to each other.

Sprinkle

toasted white sesame seeds

for a vegan/vegetarian version, and add

katsuobushi (dried bonito flakes)

for a non-vegan/vegetarian version.
To Store
You can keep in the refrigerator for up to 3 days.
Nutrition
Nutrition Facts
Spinach Ohitashi (Japanese Spinach Salad with Savory Broth)
Amount per Serving
% Daily Value*
* Percent Daily Values are based on a 2000 calorie diet.
©JustOneCookbook.com Content and photographs are copyright protected. Sharing of this recipe is both encouraged and appreciated. Copying and/or pasting full recipes to any website or social media is strictly prohibited. Please view my photo use policy
here
.
Editor's Note: This post was originally published on January 26, 2012. It's been updated with a new video on September 2019.