The majority of recipe requests that I receive from readers are vegetable dish.  Was that surprising to you?  To me it was…since I'm used to seeing my 5 and 3 year olds refusing to eat green vegetables such as spinach.  In general, traditional Japanese cuisine is known for being healthy and low in fat.  Typical Japanese meal consists of steamed rice, miso soup (every day different ingredients), main dish, and side dishes.  These side dishes are usually served individually in kobachi (literally meaning "small bowl"), just like this dish in above picture.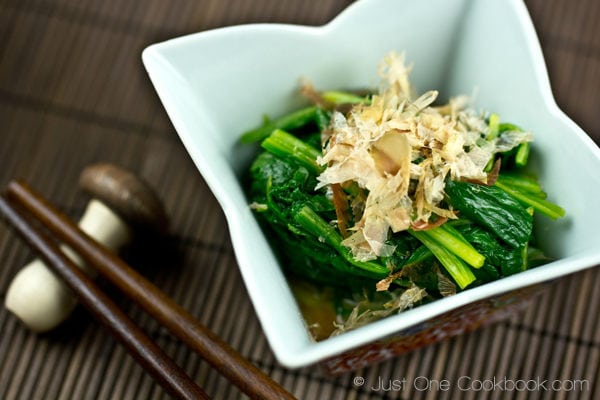 We have many kinds of vegetable side dishes that are not well known, unless you are very familiar with Japanese home cooked meals.  I look forward to introducing them one by one and I am planning to share the more popular ones that you might have enjoyed or heard before.  If you are my new reader, I've already shared some side dishes in the past including Green Bean Shiraae, Kinpira Gobo, Octopus Salad, and Spinach Gomaae.
Ohitashi literally means "to steep vegetables in a dashi base sauce" and it's one of common methods we use to prepare vegetable dishes.  This method infuses ingredients with umami and subtle flavor but retains the food's natural taste.  First you quickly blanch the vegetable, then halt the cooking by soaking it into cold water.  Then you take time to allow them to absorb the dashi sauce.  If you are not a spinach fan, please remember that we can use this ohitashi method for almost any kind of vegetable.
Other Ohitashi Recipes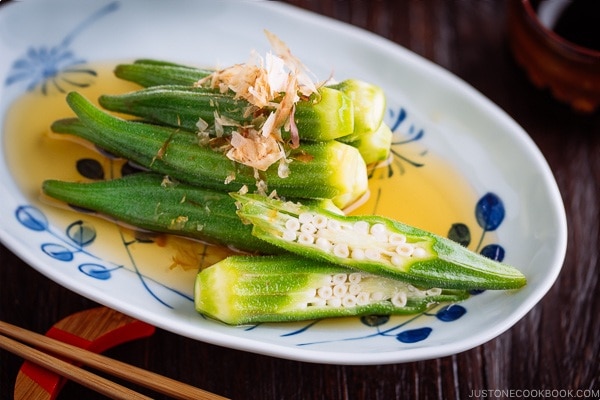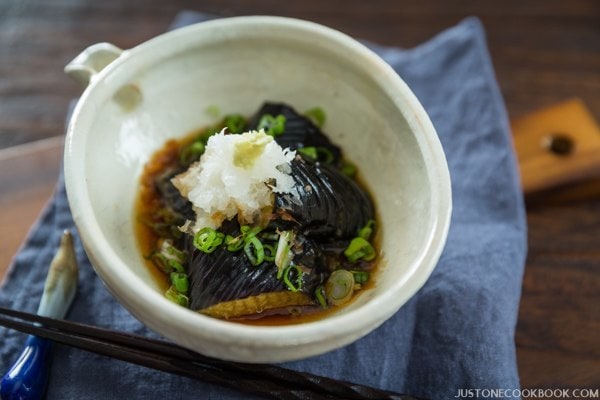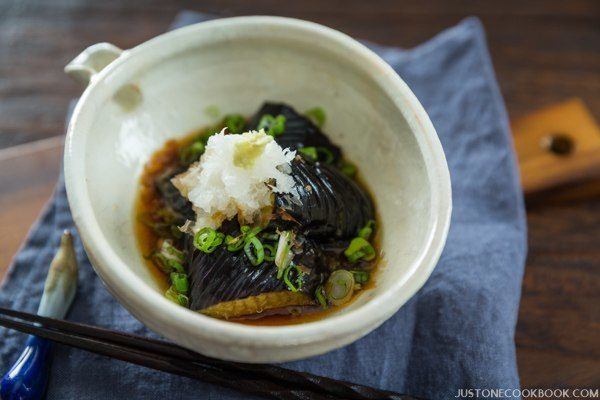 Don't want to miss a recipe? Sign up for the FREE Just One Cookbook newsletter delivered to your inbox! And stay in touch on Facebook, Google+, Pinterest, and Instagram for all the latest updates. Thank you so much for reading, and till next time!
Spinach Ohitashi (Japanese Spinach Salad with Bonito Flakes)
This method infuses ingredients with umami and subtle flavor but retains the food's natural taste. It's one of common methods we use to prepare vegetable dishes.
Course:
Appetizer, Salad, Side Dish
Keyword:
ohitashi, spinach salad
Ingredients
1

bunch

spinach

Pinch

salt (kosher or sea salt; use half if using table salt)
Instructions
In a saucepan, heat mirin on medium-high and evaporate alcohol for a few minutes.


Add usukuchi soy sauce and dashi stock and mix all together. Set aside to let cool.


Wash the spinach and boil lots of water in a large pot. When water is boiling, add a pinch of salt into boiling water. Put spinach in the pot starting from the stem first because they take longer to cook. Push all of the spinach into the water. Cook for 1 minute. Note: American spinach is very soft and we can eat it raw unlike Japanese spinach; therefore, 1 minute is enough for the US spinach.


Drain and soak the spinach in iced water until cool.


Collect spinach from the bowl and squeeze water out of the spinach.


Cut the spinach into 1 1/2 inch lengths and put it in air tight container.


Pour the sauce over spinach and let it soak for 3-4 hours (minimum 1 hour) in the refrigerator. Serve with sauce and sprinkle dried bonito flakes over the spinach.  You can keep in the refrigerator for up to 2-3 days.

Recipe Notes
Recipe by Namiko Chen of Just One Cookbook. All images and content on this site are copyright protected. Please do not use my images without my permission. If you'd like to share this recipe on your site, please re-write the recipe and link to this post as the original source. Thank you.