Print Recipe
Jump To Recipe
Aside from kombu dashi, shiitake dashi is another great option for vegetarians to make Japanese stock. To make flavorful and intense shiitake dashi, it is as simple as soaking dried shiitake mushroom in water. 
Shiitake Dashi is the liquid created from re-hydrating dried shiitake mushrooms in water.  I will show you how to re-hydrate dried shiitake mushrooms and make shiitake dashi for preparing food..
Shiitake dashi and Kombu dashi are the only vegetarian dashi in Japanese cooking.
Watch How to Make Shiitake Dashi 干し椎茸の戻し汁の作り方
Make flavorful and intense shiitake dashi by simply soaking dried shiitake mushroom in water.
In Japanese cooking, we use fresh shiitake mushrooms for grilled dishes and soups while we use dried ones for simmered, steamed, and stir fried dishes.
How to get the best flavor from dried shiitake mushrooms:
Buy thick mushrooms with deep white fissures on the cap (more flavor)
Rehydrate with cold water
Rehydrate at least overnight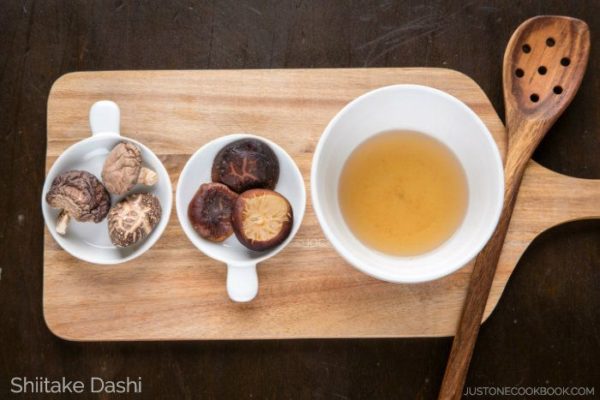 To make shiitake dashi, please note that we can only use dried shiitake mushrooms because fresh shiitake mushrooms do not have the same depth of flavors as the dried ones.
Shiitake dashi is more of a by-product after preparing dried shiitake mushrooms for cooking, but this soaking liquid has good nutrients and flavors so we never throw away and try to find good use for it in cooking.   Shiitake dashi is rarely used as its own and usually combined with other kinds of dashi to enhance the flavor (add umami).
If you are looking for different kinds of dashi, please check my main Dashi page.
Don't want to miss a recipe? Sign up for the FREE Just One Cookbook newsletter delivered to your inbox! And stay in touch on Facebook, Google+, Pinterest, and Instagram for all the latest updates. Thank you so much for reading, and till next time!
Shiitake Dashi
Instructions
Gather all the ingredients.

Remove any particles of sand or dirt trapped under the gills (with pastry brush, if you have one) but do not use water to clean.


Ideally you want to make shiitake dashi ahead of time. Place the mushrooms in an airtight container with a lid and pour water to cover the mushrooms. Tumble the mushrooms around to wet them. Put it in the refrigerator and let them soak for a few hours or (preferably) overnight.


However, if you are in hurry, place the mushrooms in a bowl and soak them in warm water for 15 minutes or until softened. Put something heavy on top of the mushrooms so that they will be submerged under warm water and become fully re-hydrated.


Give a gentle squeeze to drain, reserving the water.


Remove and discard the stem of mushrooms with a knife (they are usually too tough to eat).


Run the soaking liquid through a fine sieve and keep it for cooking (this is the shiitake dashi).


Both shiitake dashi and mushrooms are ready to use for cooking. If you plan to save for later, you can store in the refrigerator for 2-3 days and 1 month in the freezer.

Recipe Notes
Dried shiitake mushrooms: This can be found in Japanese/Asian/Chinese grocery stores.
It's recommended to use cold water to soak dried shiitake mushrooms to slowly bring out the flavor from mushrooms.
Recipe by Namiko Chen of Just One Cookbook. All images and content on this site are copyright protected. Please do not use my images without my permission. If you'd like to share this recipe on your site, please re-write the recipe and link to this post as the original source. Thank you.