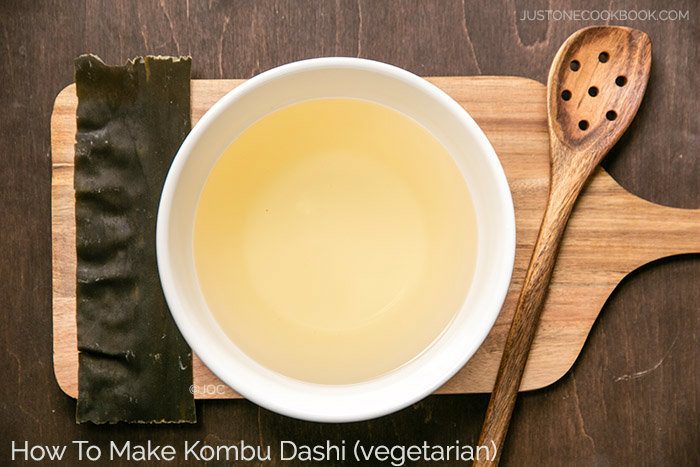 Last time when I shared the recipe for Japanese dashi stock, it was a combination of kombu and bonito flakes called Awase Dashi.  Today I'm sharing Kombu Dashi recipe, which is the vegetarian version.
Dashi is Japanese stock and is used in many Japanese dishes as the basic flavoring.  Dashi is typically made from kombu (kelp), bonito flakes (dried and smoked skipjack tuna that is shaved into thin flakes), sardine (iriko or niboshi), or a combination of all or two of them.  With good dashi, the umani creates an amazing taste so very little flavoring is required when you season the food.
So how do we decide which type of dashi to use for a particular dish?  Well, each household may have preference, but I wrote some examples here about how I generally decide.
The great thing about kombu dashi is that it is vegetarian stock. You can use kombu dashi or shiitake dashi instead of awase dashi if you are vegetarian.  Kombu dashi is probably the easiest dashi you can make.  Enjoy!
Don't want to miss a recipe? Sign up for the FREE Just One Cookbook newsletter delivered to your inbox! And stay in touch on Facebook, Google+, Pinterest, and Instagram for all the latest updates. Thank you so much for reading, and till next time!
Kombu Dashi (Vegetarian Dashi)
Learn how to make Kombu dashi at home and create the umani flavor for your Japanese dishes!
Keyword:
broth, soup stock, umami
Servings
:
800
ml (800 ml = 3⅓ cups)
Ingredients
⅓

oz

kombu (dried kelp)

(10 g, 4" x 4" OR 10 cm x 10 cm) (You can add more for stronger flavor)

4

cups

water

(roughly 1000 ml)
Instructions
Gather all the ingredients.

Gently clean the dashi kombu with a damp cloth but leave the white powdery substance (Mannitol) which contribute to the umami flavor in dashi. Do not wash the kombu! I usually look at the kombu carefully to make sure it's clean, then I use it right away.


Make a couple of slits on the kombu.

Make Kombu Dashi with Water (mizudashi)
Put water and kombu in a large bottle and let it steep on the counter for 2-3 hours in the summertime and 4-5 hours in the winter time. If you don't plan to use it right away, you can start steeping in the fridge from the beginning.


Discard the kombu and it's ready to use. You can keep kombu dashi the refrigerator for 3-4 days or in the freezer for 2 weeks. I recommend using it sooner for the best flavor.
Make Kombu Dashi with Boiling Water (Nidashi)
In a medium pot, put the kombu and water. If you have time, soak for 3 hours or up to half day ahead of time. Kombu's flavor comes out naturally from soaking in water.


Heat up the pot slowly on medium low heat. It will take 20-25 minutes to a boil. Meanwhile, clean the dashi by skimming the surface.


Just before the dashi starts boiling, remove kombu. If you leave the kombu inside, the dashi will become slimy and bitter.


Over a large bowl, set a very fine-mesh sieve or line paper towel/cheese cloth/linen cloth on top of a not-so-fine-mesh sieve. Strain the dashi.


If you are not using the dashi right away, save it in a bottle and keep in the refrigerator for 3-5 days or in the freezer for 2 weeks.

Recipe Notes
Equipment you will need: 
Recipe by Namiko Chen of Just One Cookbook. All images and content on this site are copyright protected. Please do not use my images without my permission. If you'd like to share this recipe on your site, please re-write the recipe and link to this post as the original source. Thank you.