With napa cabbage, fried tofu, mushrooms, and mochi simmered in kombu dashi, Mizore Nabe is a Japanese hot pot cooked with grated daikon. The white radish resembles the winter sleet (mizore in Japanese), of which the hot pot gets its name. A perfect meal to warm up in the winter!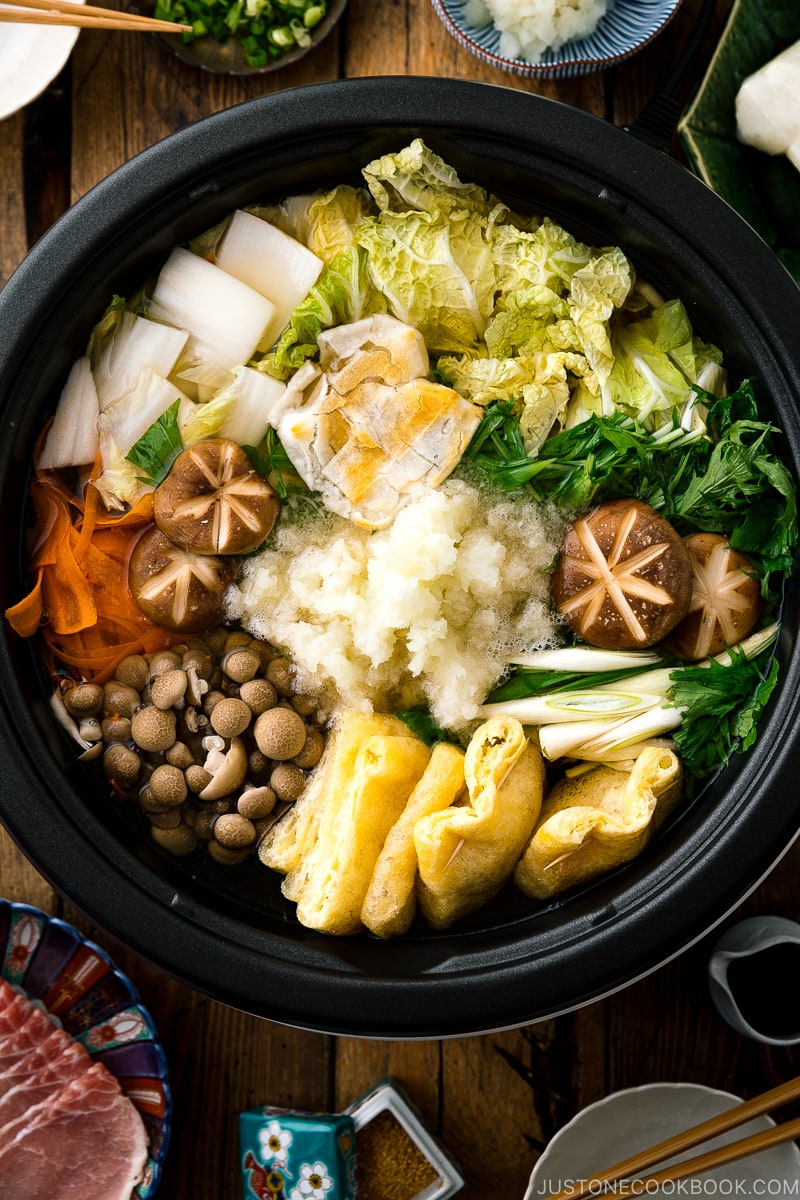 How many styles of Japanese hot pots have you tried? Are you ready to add another new favorite to your lineup? Let me introduce Mizore Nabe (みぞれ鍋)—a flavorful hot pot that features grated daikon radish. It is nutritious and will keep you nice and warm through the winter.
What is Mizore Nabe?
Mizore nabe (みぞれ鍋) is a Japanese hot pot with a delightful addition of grated daikon radish. A generous pile of grated daikon is added to the top of veggies and mushrooms (I usually place the radish right in the center).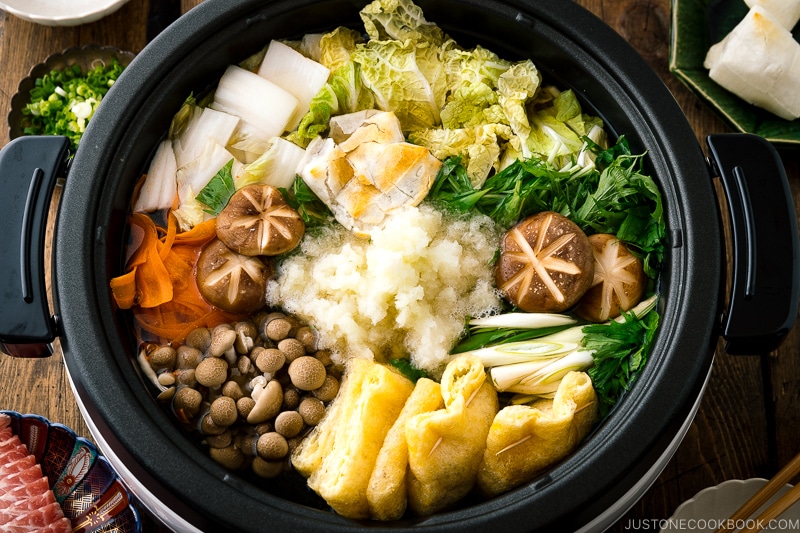 Once simmering, the daikon melts quickly and becomes translucent like sleet or fallen snow! This is why the hot pot is also called yukinabe (雪鍋)—literally "snowy hot pot."
As a popular winter vegetable, daikon not only brings a unique seasonal character to the nabe, it also lends a mild peppery sweetness to the broth.
Speaking of a winter meal, some people even decorate and shape the grated daikon into a snowman or a polar bear to accent the hot pot!
How to Cook Mizore Nabe
To cook mizore nabe, you can use the typical hot pot vegetables like napa cabbage, carrots, leafy greens, and your choice of protein like tofu, sliced meat, or meatballs. Another special addition I love to throw into the mix is kiri mochi, Japanese rice cakes, for added texture. I typically stock up kiri mochi for Japanese New Year and the hot pot is a lovely way to use up all the mochi.
Ingredients You'll Need
Veggies: daikon radish, napa cabbage, carrot, mizuna, negi (long green onion)
Meat: a typical choice would be thinly sliced pork belly or pork loin (used for pork shabu shabu). In this recipe, I used pork shabu shabu meat.
Mushrooms: shimeji, shiitake
Tofu: aburaage (deep-fried tofu pouch)
Mochi: kiri mochi (rice cake)
Hot pot broth: kombu dashi, sake, mirin, soy sauce, salt
Dipping sauce: ponzu and chopped green onion
Overview: Cooking Process
Make hot pot broth. Add all the seasonings to kombu dashi.
Cut vegetables, mushrooms, and tofu. Grate daikon radish.
Add all the ingredients to the pot and place the grated daikon on top.
Cook for 10 minutes, or until the ingredients are tender.
Cook the thinly sliced meat in the pot for 15-30 seconds. Enjoy the hot pot with ponzu sauce.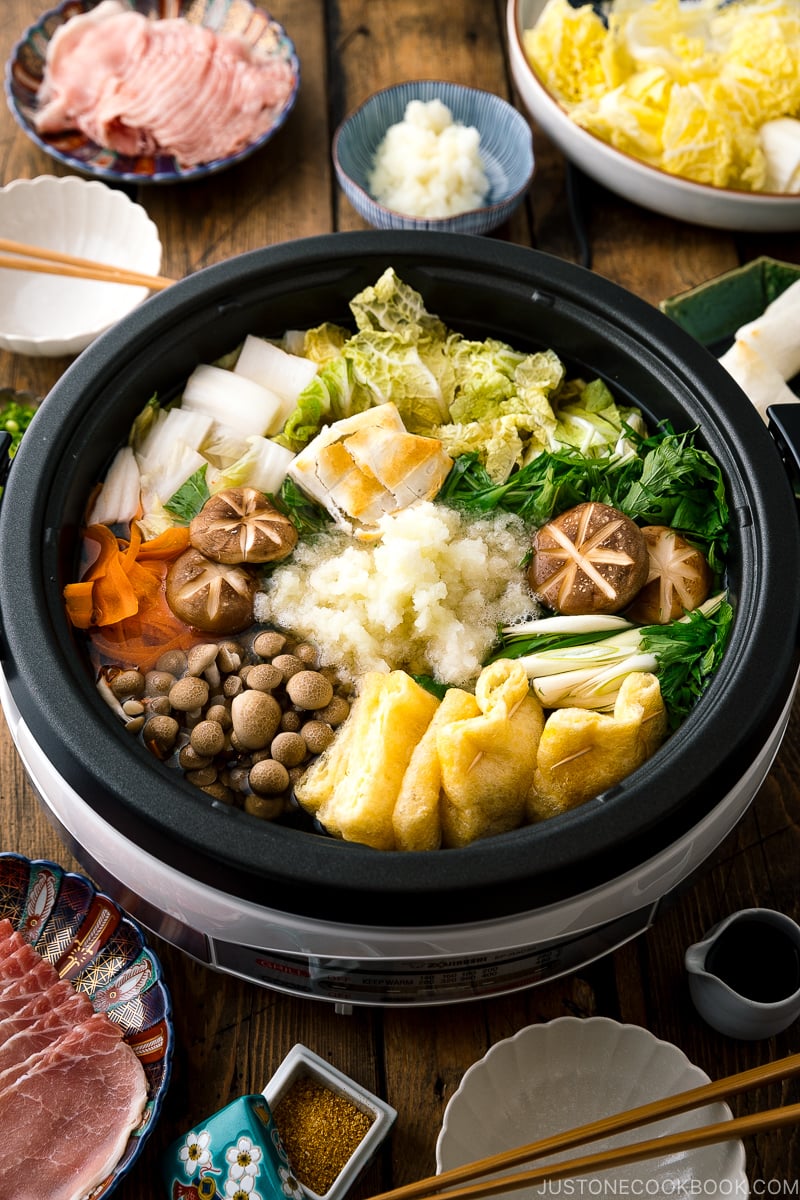 3 Tips for Grating Daikon
Tip #1: Get thick and big daikon radish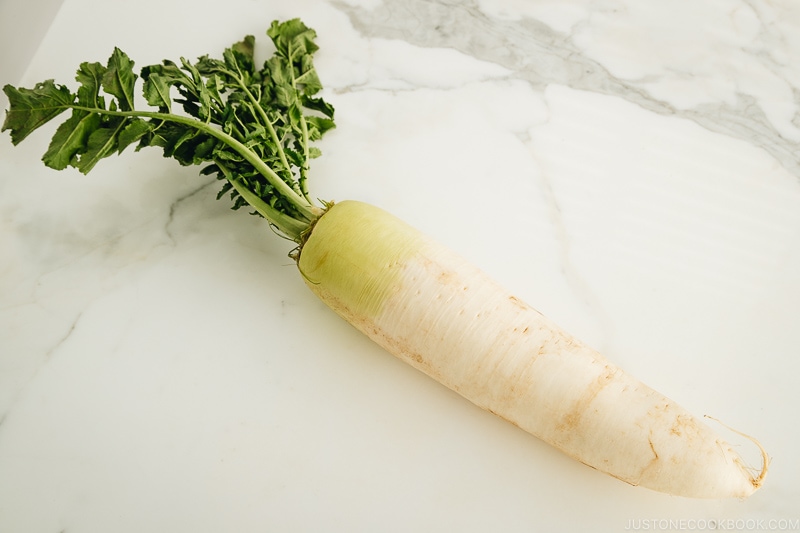 Daikon radish is in season during wintertime, and you can easily find thick, fat, big daikon at the markets. The greenish top of the daikon right under the leafy parts is the sweetest part of the daikon. When you are at a grocery store, make sure to pick a good one!
The amount of enzyme contained in daikon radish is said to be one of the highest among vegetables. Why enzyme is good? You can read more here.
Tip #2: Use "Oni Oroshi" (Demon Grater)
There is a special grater for grating daikon in Japan and it's called oni oroshi (鬼おろし), or a demon grater. The blade is coarser and more jagged than a normal grater, and it got its name because it looks like a demon's tooth. The grater is typically made of bamboo and comes in a triangular fan or rectangular shape.
With coarser blades, the oni oroshi does a better job in grating daikon, yielding a fluffy airy texture. Usually, grated daikon contains a lot of moisture (juice), but with the oni oroshi, you'll have less moisture escaped from the daikon. The grated daikon is known to have less spiciness when you use the oni oroshi for the task.
Unfortunately, the oni oroshi is not available on Amazon and I don't have one…so I've been using my favorite ceramic grater instead. If you like grated daikon and find this grater in Japan or an online shop, you may want to get one!
Tip #3: Drain the daikon liquid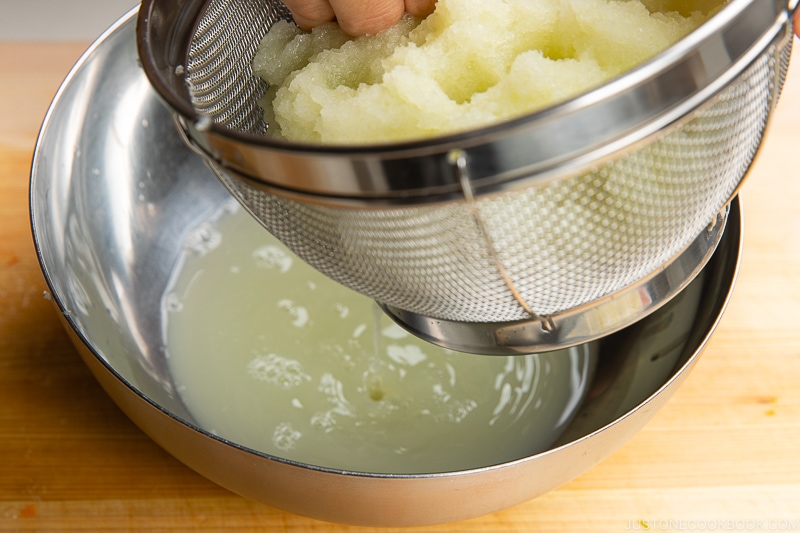 Because I don't use the oni oroshi, the daikon releases a lot of water when I grate it. (It's truly unfortunate, hence, it's definitely worth getting an oni oroshi!)
The excess moisture will dilute the broth, so you will need to gently squeeze out the water. You don't have to hard press it.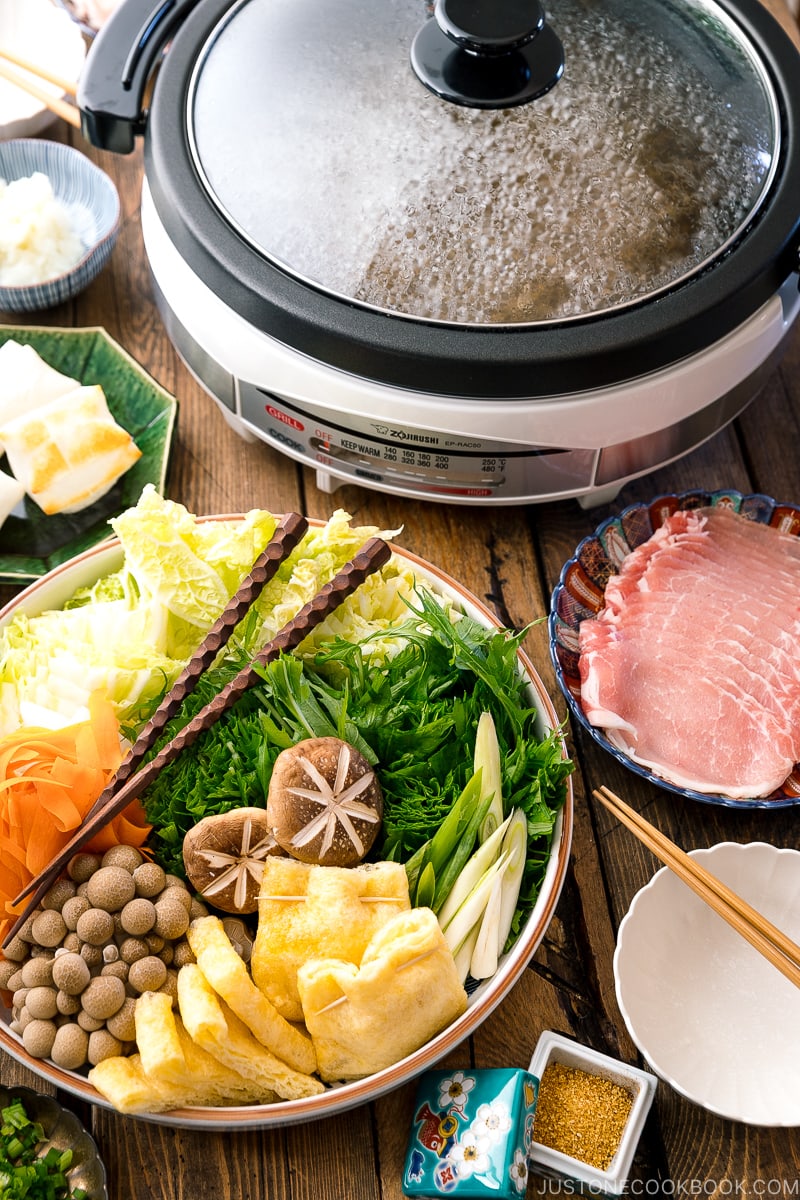 How to Prepare Mizore Nabe at Dining Table
Set up the table by placing a pot in the middle of the table and make sure it's reachable from every seat. Here, I set up my favorite Gourmet d'Expert® Electric Skillet by Zojirushi on the table.
This is a multi-purpose electric skillet with two cooking pans; a deep pan for soup-type foods like sukiyaki and fondue, and a flat plate for grilling meats and vegetables (see below). It also includes a steaming plate for steaming foods.
All the prepared ingredients should be on a large platter or smaller plates and placed around the hot pot. A bottle of ponzu sauce and small bowls for the dipping sauce should be prepared. You also need to bring out communal cooking utensils (ladle, fine-mesh skimmer, long cooking chopsticks, etc.) and individual bowls.
When everyone is at the table, add the ingredients to the simmering broth in the pot and cook for 10 minutes, or until each ingredient is cooked through. While waiting, people can enjoy small side dishes along with drinks.
Typically, there are more ingredients than you can fit in the pot, so add them to the pot in stages as you eat. There are no official "hot pot rules," but it is courteous to take out and divide all the cooked food before adding raw or uncooked ingredients to the same pot. It is also considered a kind gesture to pick up some food from the pot and serve it to the person sitting near you.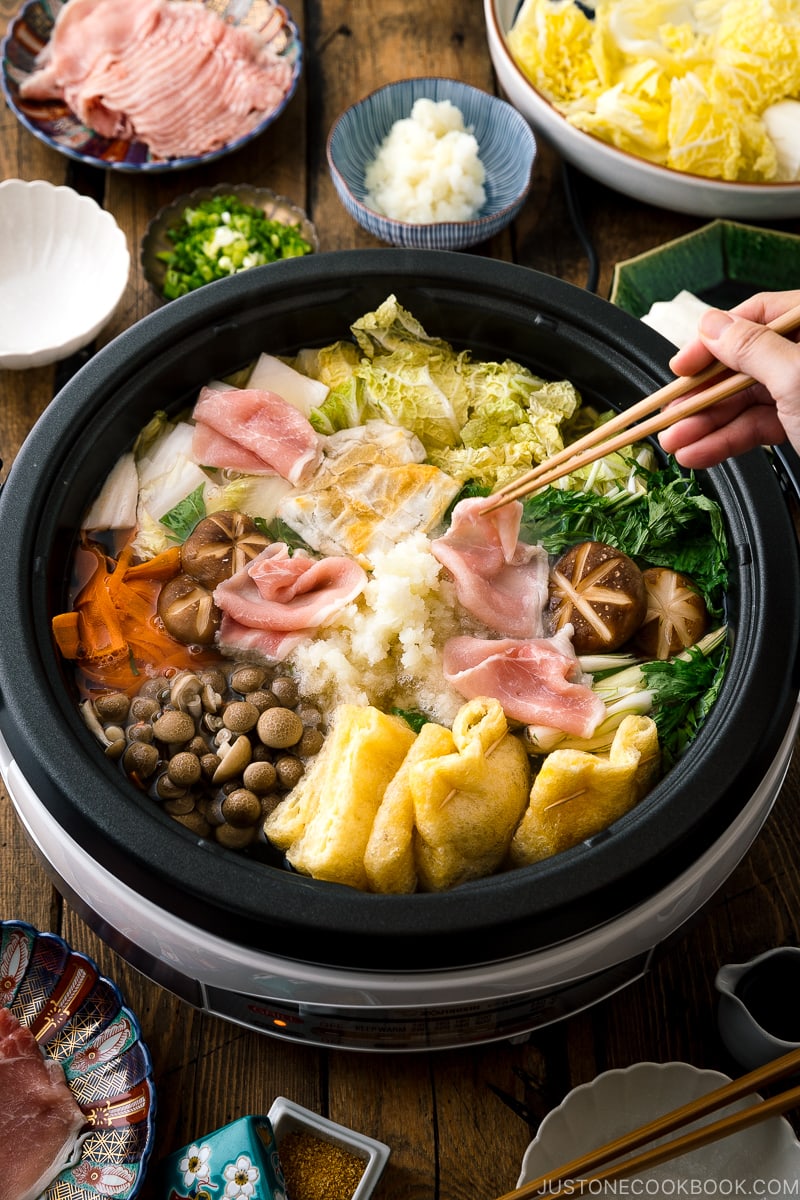 Cooking Thinly Sliced Meat In The Hot Pot
The great thing about cooking meat for a hot pot is we normally use thinly sliced beef or pork that can be cooked in a flash. For a typical mizore nabe, thinly sliced pork belly or shabu shabu pork (paper-thin pork loin) is used. Here are a few things you need to know before cooking:
If your meat is frozen, make sure they are thawed completely overnight in the refrigerator.
Add the sliced meat only when the broth is simmering.
Don't cook too many slices at the same time. In my household, one person adds several slices of the meat to the pot—one to two slices per person—and everyone is responsible for cooking their own meat.
Cook the meat for 30 seconds or so until no longer pink.
Skip The Meat For Vegan/Vegetarian Hot Pot
For my Mizore Nabe recipe, I used kombu dashi to make a vegan/vegetarian-friendly broth. Kombu is dried kelp, a type of seaweed, that contains a ton of umami so you won't be missing the flavors!
Simply leave out the sliced pork for a vegan or vegetarian hot pot.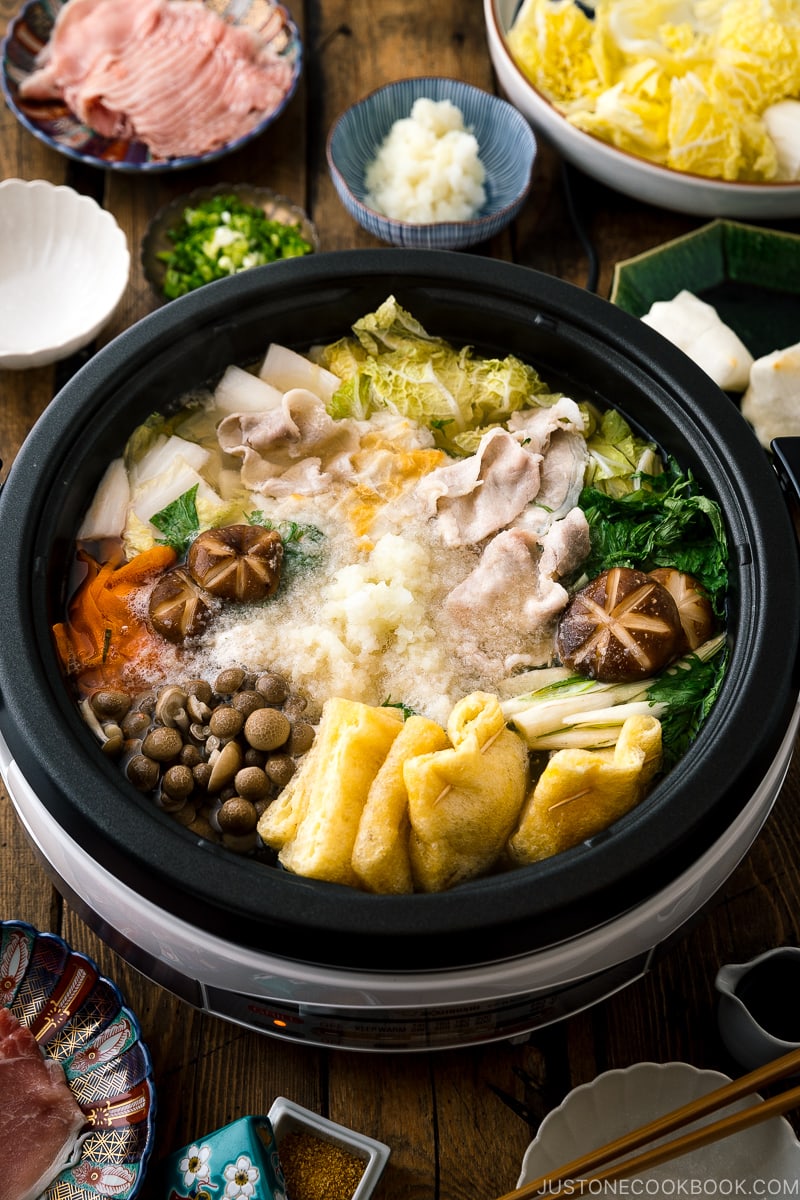 Dip in Ponzu Sauce to Enjoy!
We enjoy the cooked food by dipping in the ponzu sauce. Ponzu (ポン酢) is a citrus-based sauce with a tart-tangy flavor similar to a vinaigrette. It contains a mix of ponzu (citrus juice of sudachi, yuzu, and kabosu and vinegar), soy sauce, sugar or mirin, and dashi.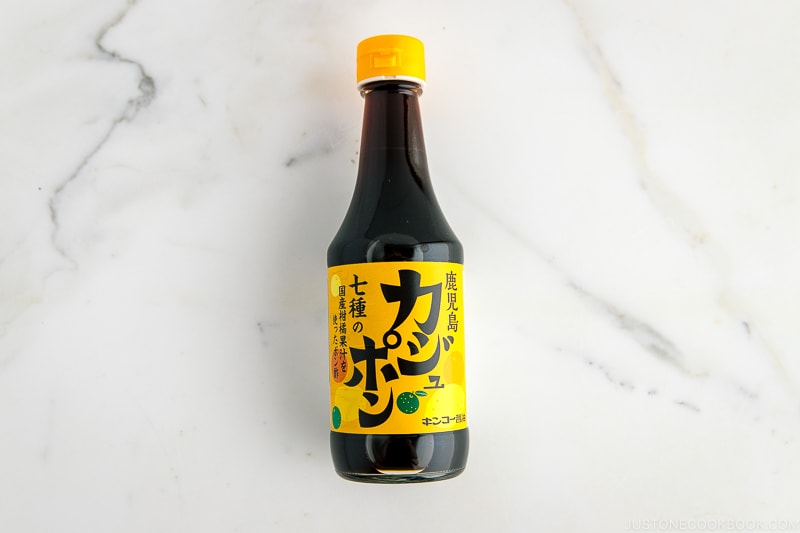 You can buy a bottle of ponzu sauce or make your own.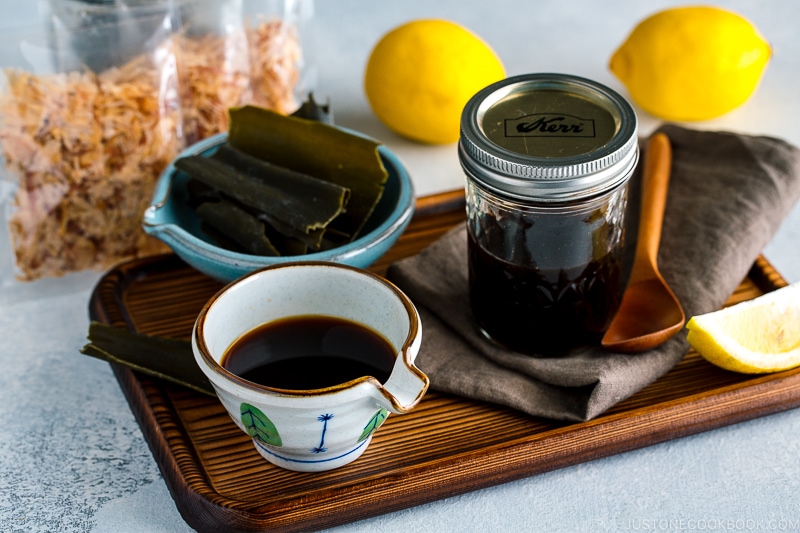 Tableware from Musubi Kiln
I've partnered with a great ceramic online shop from Japan called Musubi Kiln. You will get 10% off with a coupon code JUSTONECOOKBOOK for your purchase. In this post, I've used: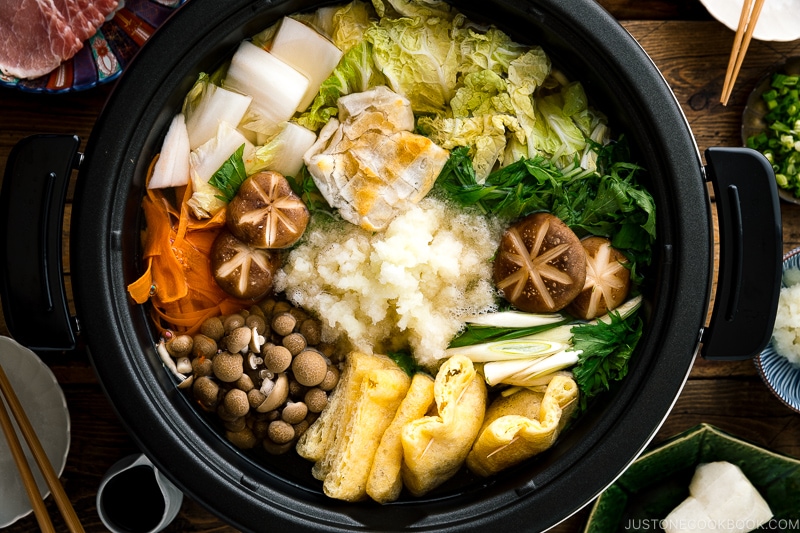 Wish to learn more about Japanese cooking? Sign up for our free newsletter to receive cooking tips & recipe updates! And stay in touch with me on Facebook, Pinterest, YouTube, and Instagram.
Mizore Nabe (Hot Pot with Grated Daikon)
With napa cabbage, fried tofu, and mushrooms simmered in kombu dashi, Mizore Nabe is a Japanese hot pot cooked with grated daikon.
Japanese Ingredient Substitution:
If you want substitutes for Japanese condiments and ingredients, click
here
.
Instructions
Gather all the ingredients.
To Make Hot Pot Broth
In a large pot (heavy-bottomed pot, donabe, or electric hot pot like this one), add water and kombu.

Add sake, mirin, soy sauce, and salt to the pot. Mix them all together and set aside.
To Prepare Hot Pot Ingredients
Napa cabbage: Remove the core, separate the leaves, and rinse them carefully. Then cut them into 2-inch (5 cm) pieces.

Cut the tough bottom part of the leaves into smaller strips/pieces.

Mizuna: Cut mizuna into 2-inch (5 cm) pieces.

Carrots: Using a vegetable peeler, peel the carrot into thin ribbons.

Negi and green onion: Cut the negi diagonally into ½-inch (1.3 cm) pieces. Thinly slice the green onion.

Shimeji and shiitake mushrooms: Discard the bottom of shimeji mushrooms and separate them. Remove shiitake stems.

If you like, you can curve the cap of shiitake mushrooms to make them look like a flower by following this instruction.

Aburaage and kiri mochi (option 1; mochi bag): Cut the aburaage and kiri mochi in half.

Stuff the kiri mochi into the aburaage pocket. Using a toothpick, seal the opening.

Aburaage (option 2): If you don't want to make mochi bags, you can simply cut the aburaage into bite-size pieces.

Kiri mochi (option 2): Simply toast the mochi in the toaster oven until it becomes puffy.

Drain the grated daikon to remove excess moisture (liquid) by gently pressing it down. Transfer to a bowl and set aside.

Put all the ingredients on a large platter (or several platters). Prepare small individual bowls filled with 2 Tbsp of ponzu and some chopped green onion.
To Make Hot Pot
Bring the broth to a boil over medium heat. If you're adding root vegetable chunks (carrot, gobo, etc.), start cooking them while you are heating up the broth. They take a longer time to cook. Right before boiling, discard the kombu (or use it later to make furikake rice seasoning or simmered kombu).

Once boiling, add various kinds of ingredients to the pot and arrange them by sections. For example, group the napa cabbage in one area while mushrooms stay in one area. This way, you can choose what you want to eat. Close the lid and cook for 8-10 minutes. Keep an eye on leafy greens. Dish them out early if they turn soft and ready to eat. Dip the cooked food in ponzu sauce to enjoy. To cook the meat, add a few slices of the pork to the simmering broth and cook for 30 seconds. Do not overcook. Once all the cooked ingredients are served and cleared from the hot pot, add a new batch of ingredients. Cover the lid and start cooking for 10 minutes. Add water if the broth is low in the pot. Repeat 1-2 more rounds until you finish all the ingredients.
To Store
You can keep the leftovers in an airtight container and store them in the refrigerator for up to 2 days.
Nutrition
Calories:
365
kcal
·
Carbohydrates:
46
g
·
Protein:
33
g
·
Fat:
5
g
·
Saturated Fat:
2
g
·
Polyunsaturated Fat:
1
g
·
Monounsaturated Fat:
2
g
·
Trans Fat:
1
g
·
Cholesterol:
75
mg
·
Sodium:
669
mg
·
Potassium:
1519
mg
·
Fiber:
7
g
·
Sugar:
36
g
·
Vitamin A:
5166
IU
·
Vitamin C:
105
mg
·
Calcium:
255
mg
·
Iron:
3
mg
©JustOneCookbook.com Content and photographs are copyright protected. Sharing of this recipe is both encouraged and appreciated. Copying and/or pasting full recipes to any website or social media is strictly prohibited. Please view my photo use policy
here
.