Kimchi Gyoza Nabe is a Japanese hot pot filled with succulent Japanese dumplings, spicy kimchi, tender vegetables, and hearty mushrooms. It's a simmering bowl of savory deliciousness!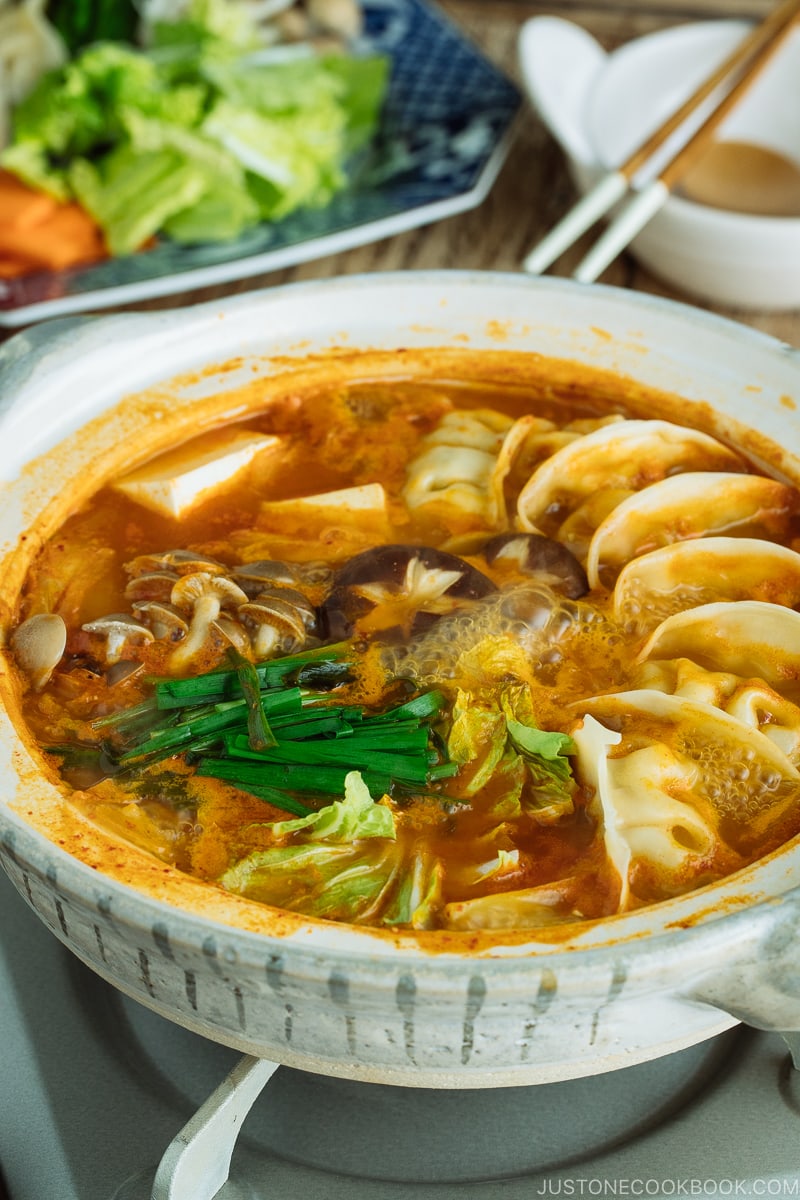 Kimchi Gyoza Nabe (キムチ餃子鍋) is a comfort dish filled with Japanese ingredients cooked in a Korean-inspired, spicy kimchi base. I love it since you can quickly throw in gyoza (Japanese dumplings), tofu, vegetables, and mushrooms to make this hot and sour soup.
This hot pot is packed with flavorful ingredients and it's a perfect dish all year round when you need that satisfying kick of spice to warm you up.
Watch How to Make Kimchi Gyoza Nabe (Hot Pot)
Kimchi Gyoza Nabe is a Japanese hot pot filled with succulent Japanese dumplings, spicy kimchi, tender vegetables, and hearty mushrooms. It's a simmering bowl of savory deliciousness!
What is Gyoza Nabe?
In a nutshell, Gyoza Nabe (餃子鍋) is like a dumpling (wonton) soup, except the dumpling here is Japanese gyoza. If you search Gyoza Nabe in Japanese, there are many variations – with different types of soup broth and different hot pot ingredients. Since this dish is not considered "traditional" Japanese food, make it with your favorite Japanese ingredients!
This Gyoza Nabe is totally my version that I came up with on a whim (but don't worry, I have tested it a few times to make sure this recipe will absolutely hit the spot). Instead of a simple clear broth commonly used in Japanese hot pot, my recipe features a delicious spicy broth that richly infuses its flavor into the savory ingredients. You can also make this Gyoza Nabe with a kimchi soup base, or try one of these variations that might be fun for you to discover.
Variations & Ideas for Soup Base 
Soup base:
Additional flavors that you can mix with soup base:
Kimchi
Miso
Soy sauce
Soy milk
Tomato and more!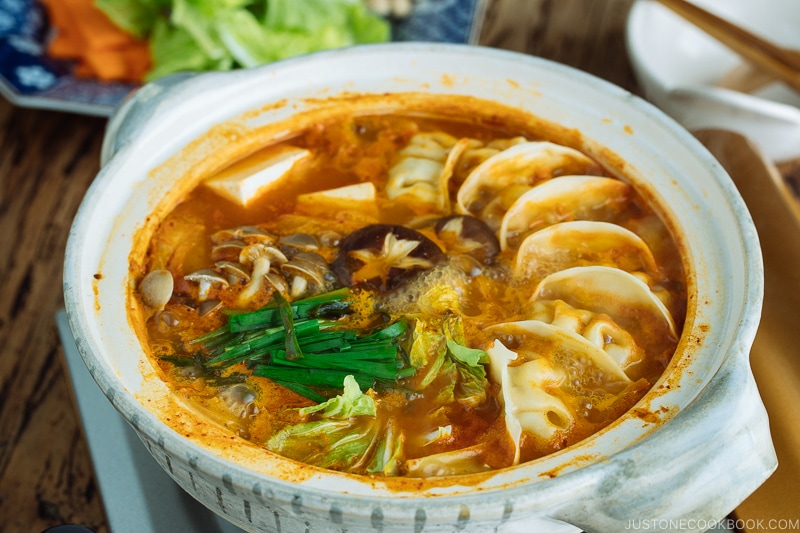 Variations & Ideas for Hot Pot Ingredients
Gyoza (pork, chicken, vegetables) (homemade gyoza recipe and gyoza wrapper)
Meat – pork belly, thinly sliced beef/pork loin, meatballs, and chicken wings
Tofu
Fish cakes – chikuwa and kamaboko
Napa cabbage
Chinese chives (garlic chives)
Shungiku (tong hao or garland chrysanthemum)
Carrot
Negi (long green onion) or green onions
Leeks
Bok choy
Bean sprouts
Mushrooms – shiitake, enoki, and shimeji
Ramen noodles or steamed rice for enjoying the flavorful leftover soup!
3 Tips to Make Perfect Kimchi Gyoza Nabe
1. Always let the miso dissolve completely in a ladle rather than in the pot.
When you work with miso in a soup dish, make sure to completely dissolve miso in a ladle first before releasing miso into the soup. If you drop miso paste in the big pot of soup, you won't know if the miso has been completely dissolved. You may end up adding more miso thinking that the soup doesn't have much taste. Also, each brand of miso has a different level of saltiness, so please always taste the soup and adjust the flavor according to your liking.
2. Cook the dense ingredients first, then leafy and soft ingredients.
If you want to enjoy the hot pot with all the ingredients being cooked at the right texture, you have to cook in 2 separate stages. Throw in root vegetables first, and then add in leafy vegetables when dense ingredients are almost tender. This way both the leafy vegetable and root vegetables will retain their proper texture. Another tip is to cut the ingredients into similar thicknesses and sizes so they'll take roughly the same amount of time to cook.
3. Cook Gyoza just the right amount of time.
Whenever I make this, it's a "fast food" recipe that I can make very quickly to feed my family. For me, I almost always use frozen gyoza – either homemade gyoza which I keep in the freezer or pre-made frozen gyoza from the grocery stores (Trader Joe's has frozen pork or chicken gyoza which we like).
You don't need to defrost, just add the frozen gyoza in the hot soup. Remember to add gyoza when all the ingredients are almost cooked through. Don't cook the gyoza too long as the gyoza skin gets soggy when it's soaked in the soup for too long. The overcooked gyoza skin could break easily and its filling may slip out.
End Your Kimchi Gyoza Nabe with Rice or Noodles!
We enjoy the hot pot placed on the portable gas stove set at the dining table. It's fun to eat and cook at the table as you can have a conversation with your family or friends while enjoying delicious food. For this recipe, there will be plenty of soup available for you to make it into a noodle soup by adding ramen noodles to the broth. You can also add steamed rice to go with the spicy soup.
If you don't have a donabe, Japanese earthenware pot, you can make this dish in a regular pot. So what are you waiting for? Simply chop the veggies and throw in gyoza and you'll have a mouth-watering meal ready in 30-40 min from start to finish. You'll be surprised by how easy it is to put together this scrumptious meal. Enjoy!
Japanese Ingredient Substitution: If you want to look for substitutes for Japanese condiments and ingredients, click here.
Wish to learn more about Japanese cooking? Sign up for our free newsletter to receive cooking tips & recipe updates! And stay in touch with me on Facebook, Pinterest, YouTube, and Instagram.
Kimchi Gyoza Nabe
Kimchi Gyoza Nabe is a Japanese hot pot filled with succulent Japanese dumplings, spicy kimchi, tender vegetables, and hearty mushrooms. It's a simmering bowl of savory deliciousness!
Video
Japanese Ingredient Substitution:
If you want substitutes for Japanese condiments and ingredients, click
here
.
Instructions
Gather all the ingredients.

Cut ¼ onion into wedges and then cut them half.

Cut the white part of negi (leek/green onion) diagonally.

Cut the napa cabbage into small pieces.

Cut the daikon into quarters lengthwise then thinly slice them.

Cut the carrot into thin slabs and cut them in half.

Cut the garlic chives into 2 inch (5 cm) pieces.

Discard the bottom of the shimeji mushrooms and shiitake mushrooms. You can make a decorative shiitake mushroom following this method.

Cut the tofu into roughly 1.5 inch (4 cm) cubes (it's harder to fish out from the hot pot if you cut too small).

Heat the sesame oil in a hot pot over medium heat. Add the onion and cook until it's coated with the oil.

Add the kimchi and stir fry with the onion and Tokyo negi.

Add sake and gochujang.

Add gochugaru and granulated sugar. Mix all together well.

Add 4 cups chicken stock, and cover the lid to bring to simmer.

Once simmering, lower the heat to medium-low heat. Add soy sauce and miso. It's best to put miso and small amount of soup in a ladle and let it dissolved first instead of dropping miso in a pot and not sure if it has been dissolved completely. Taste the soup and adjust the taste by adding salt (I added ¼ to ½ tsp), if necessary.

Add the hard vegetables to the soup first, such daikon, carrot, tough part of napa cabbages, etc. Cook covered for 10 minutes on low heat.

Skim off the foam and fat. Add the soft ingredients such as leafy part of napa cabbages, mushrooms, and tofu.

Add the gyoza (if frozen, no need to defrost) and garlic chives on top.

Cook covered over medium low heat for 5 minutes. Serve the extra ingredients on a plate and add them once you finish the ingredients in the pot.
Nutrition
Calories:
391
kcal
·
Carbohydrates:
40
g
·
Protein:
22
g
·
Fat:
19
g
·
Saturated Fat:
7
g
·
Polyunsaturated Fat:
4
g
·
Monounsaturated Fat:
2
g
·
Cholesterol:
25
mg
·
Sodium:
1065
mg
·
Potassium:
942
mg
·
Fiber:
11
g
·
Sugar:
16
g
·
Vitamin A:
4744
IU
·
Vitamin C:
39
mg
·
Calcium:
257
mg
·
Iron:
8
mg
©JustOneCookbook.com Content and photographs are copyright protected. Sharing of this recipe is both encouraged and appreciated. Copying and/or pasting full recipes to any website or social media is strictly prohibited. Please view my photo use policy
here
.