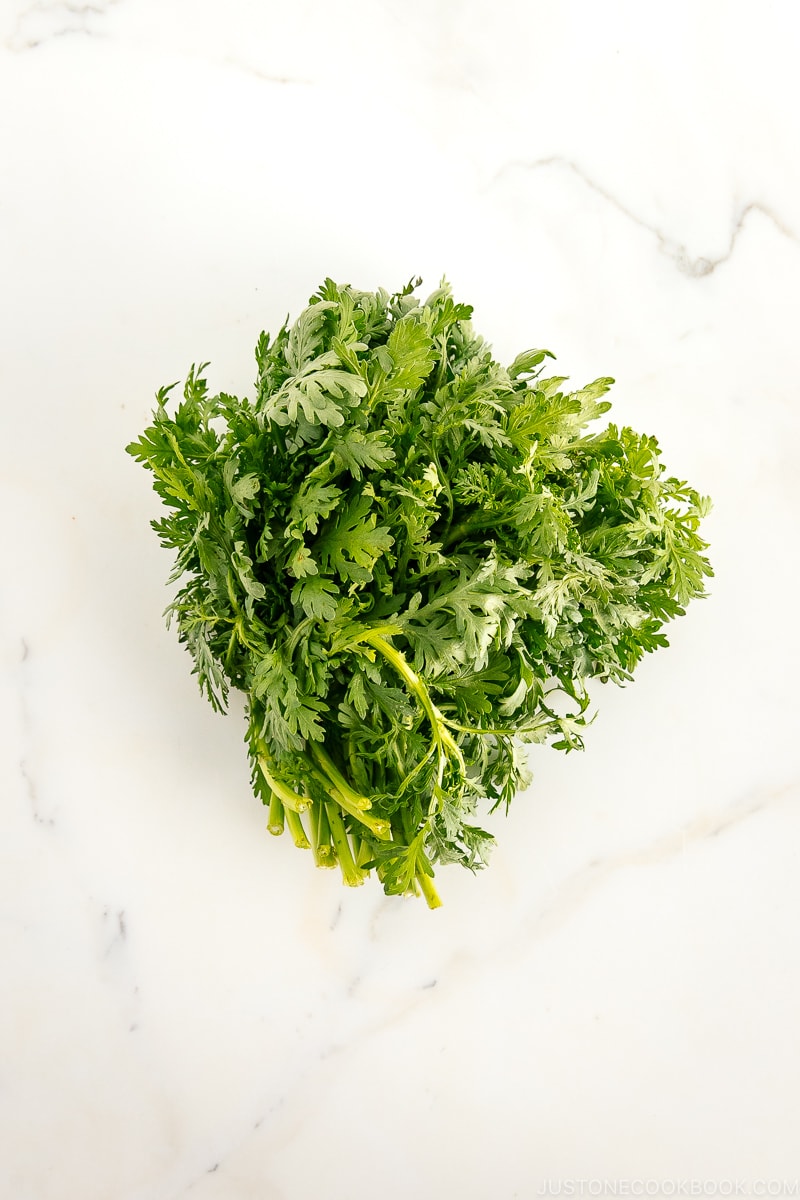 What is Shungiku (Garland Chrysanthemum)
Originally from Europe, shungiku (garland chrysanthemum) is said to have arrived in Japan during the Muromachi period, and is a historic vegetable that began to be cultivated during the Edo period.
It is said that it was named shungiku (春菊) because it blooms in spring. "Spring (春)" is attached to the name, but the season is from November to March.
This leafy green is called Shungiku (春菊) in eastern Japan and Kikuna (菊菜) in western Japan. In Chinese, it's called tong ho and in English, garland chrysanthemum and chrysanthemum leaves/greens.
Garland chrysanthemum has a mildly grassy and herbaceous taste with a slight bitterness. Stalks are sweet and slightly crunchy.
Shungiku Substitution:
How to Choose Delicious Shungiku
Choose garland chrysanthemums that are dark green, bright, and shiny and make sure that the tips of the leaves are fresh and pinned. Avoid yellowing and darkening as they are evidence of declining freshness.
If it has stems, the thinner one is softer and easier to eat. If the shape of the leaves is deep and sharp, the taste is stronger. Rounded leaves are milder.
How to Store Shungiku
Wrap the chrysanthemum in a damp paper towel to prevent it from drying. Then put it in a plastic bag and store it in the vegetable compartment of the refrigerator.
How to Cook Shungiku
Boil in plenty of water for about 30 seconds, immediately shock in cold/iced water, and then drain well.
You can cut into smaller pieces, wrap them in plastic, and put it in a freezer bag to freeze.
You can thaw naturally when seasoning them or use frozen shungiku directly in hot pot, soups, or stir fry without defrosting.
Recipes Using Shungiku
Shungiku is a common ingredient used for Japanese hot pot (nabemono) and salad (aemono).