Brighten your Japanese meal with this lovely Chrysanthemum Greens and Tofu Salad (Shungiku Shiraae)! It is my absolute favorite side dish to enjoy with in-season vegetables. The nutty, savory, and creamy sesame tofu sauce brings it all together.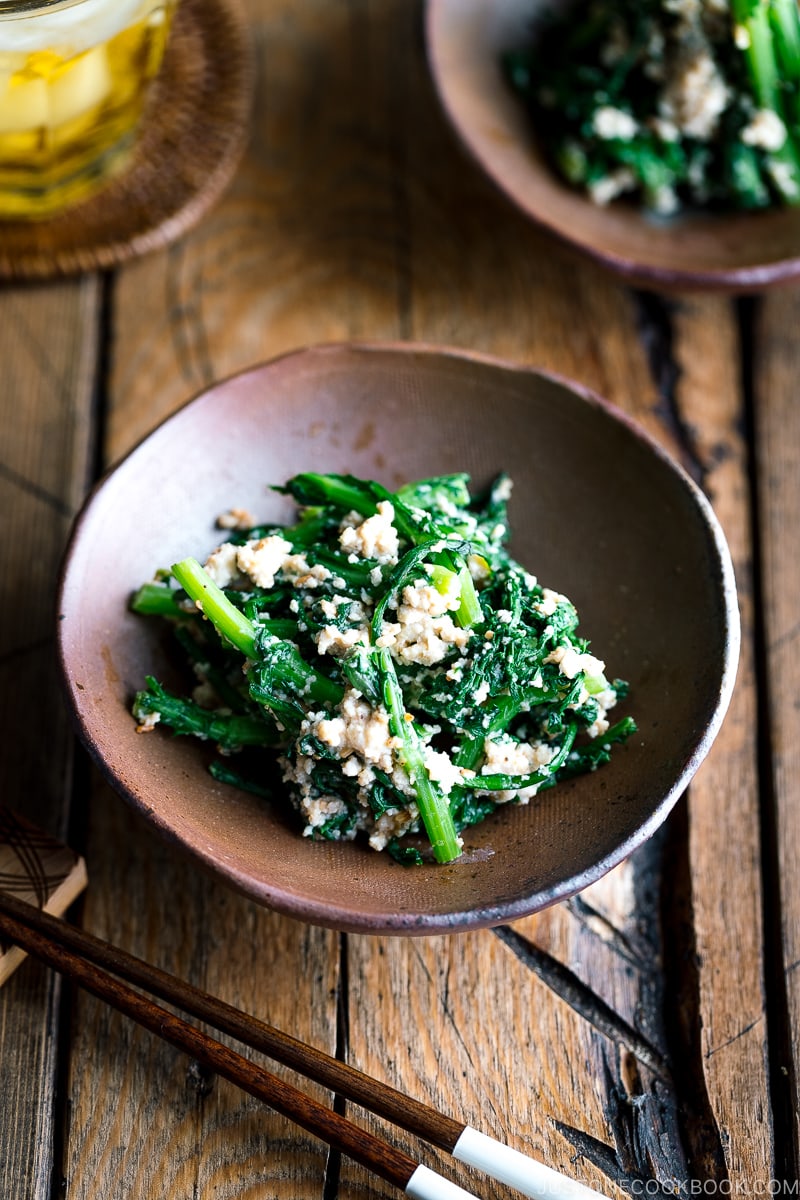 Figuring out main dishes for dinner is relatively easy, but I often struggle with what to serve alongside it. Ideally, I'd like to serve 2 small side dishes for my Ichiju Sansai style Japanese meal.
For this reason, I always keep a few standbys that I can alternate on weeknights. One of my best go-to sides is Shiraae or Mashed Tofu Salad.
This classic salad pairs well with a variety of Japanese or Asian mains. Best of all, it is packed with nutrients, making it an all-star side dish. There is plenty of variations to enjoy this recipe too!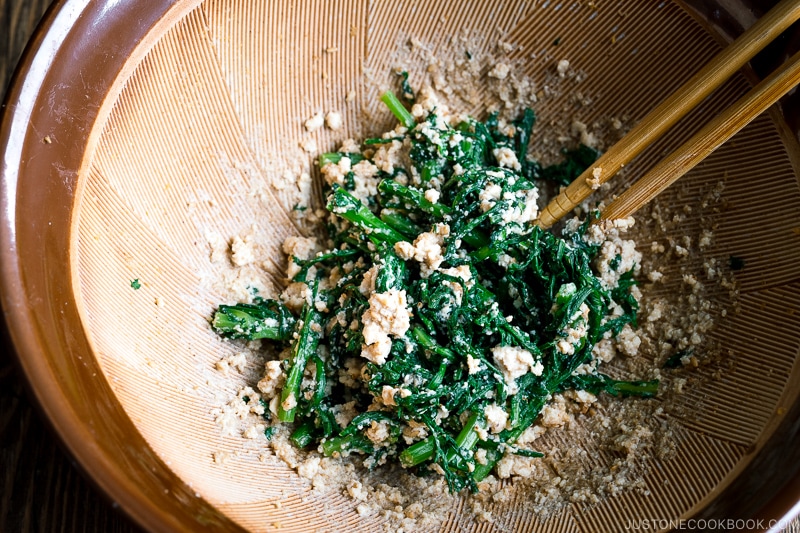 Shiraae (Mashed Tofu Salad)
At its most basic, shiraae (白和え), pronounced [shi-ra-ah-eh], is made with a mixture of mashed tofu, toasted sesame seeds, soy sauce, and a touch of sugar. The mixture serves as a rich and creamy base flavor for the vegetables you have in season.
There are so many paths to making the recipe, so you can always keep things fresh and exciting.
I've introduced Green Bean Shiraae and Bitter Melon Shiraae before, but this time I'm going to make it with chrysanthemum greens.
The Basic Ingredients You'll Need
White sesame seeds
Medium tofu (momen dofu)
Miso
Sugar
Mirin
Soy Sauce
Salt
3 Easy Steps for Making Shiraae
Grind the sesame seeds and add the rest of the ingredients to make a crumbled tofu mash.
You can add any cooked green vegetables (or a combination of ingredients such as – carrot, mushrooms, etc) to the tofu mash and mix them all together.
It's such a simple dish but has lots of savory and sweet flavors. The soft and crumbly tofu adds a unique texture.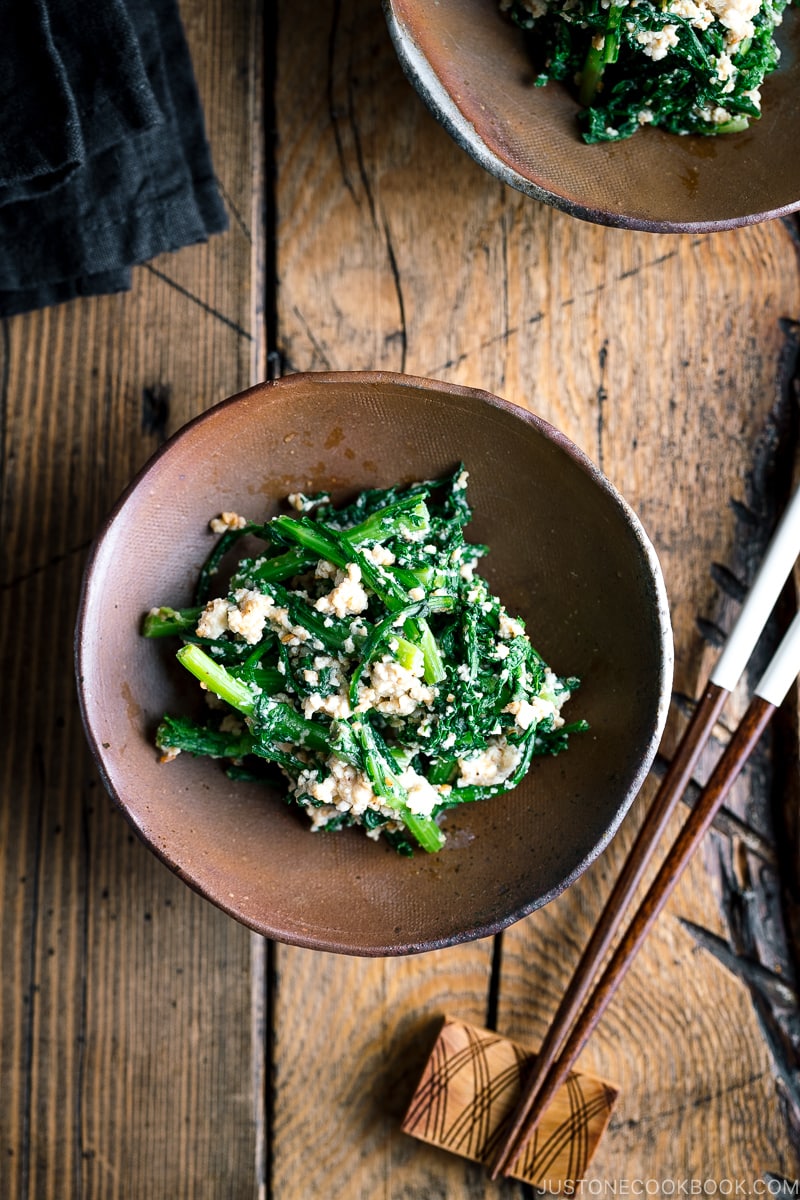 What Are Chrysanthemum Greens?
It is a common Asian green that is available during the spring to autumn seasons. You might have seen chrysanthemum greens being served as common additions to hot pot dishes such as shabu shabu or sukiyaki.
We usually keep plenty of chrysanthemum leaves at home (it often comes in a big bag). When I don't need them for a hot pot, I'll make 2 easy variations of chrysanthemum salad/side dish – Shiraae or Gomaae.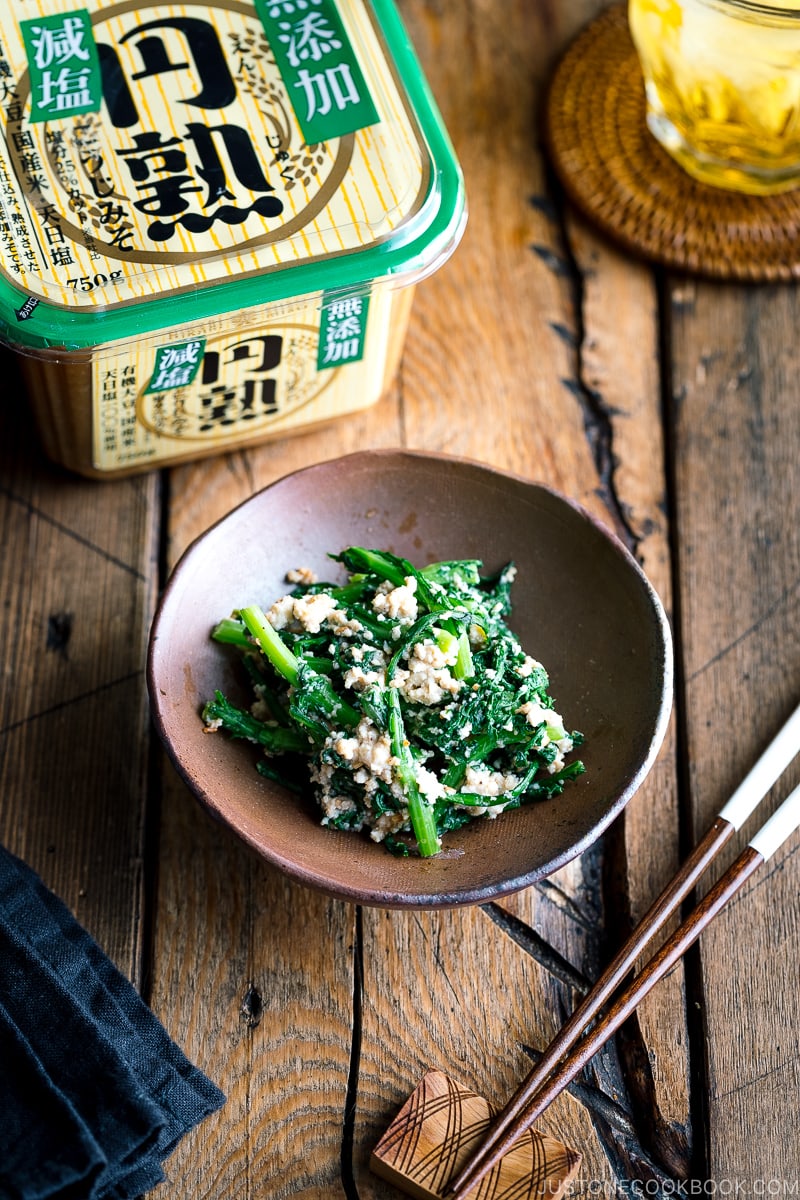 Flavor Your Shiraae with Miso
I like to season the shiraae with a small amount of miso to give it a dynamic boost. The tofu absorbs and holds all the flavors well, resulting in a punchy mixture that pairs beautifully with the greens.
In today's recipe, I used Enjuku Koji Miso Reduced Sodium from Hikari Miso.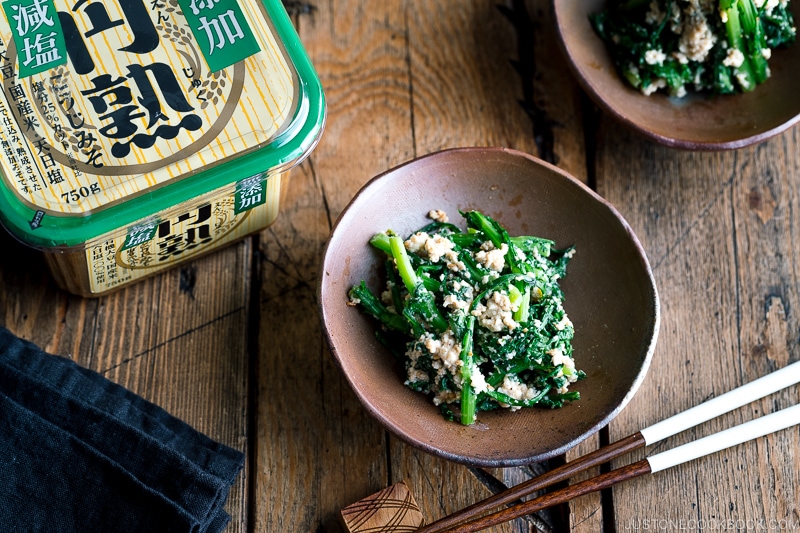 Enjuku Koji Miso has been Hikari Miso's long-selling product for over 20 years since its introduction in 1993. The preservative-free miso features a mild flavor and rich fragrance incorporated with natural sweetness and robust umami of koji.
I chose the Reduced Sodium as it contains 25% less sodium than regular Enjuku Koji Miso. You can use white miso or awase miso too.
Where to Get Enjuku Koji Miso Reduced Sodium
You can find this product in Japanese/Asian grocery stores.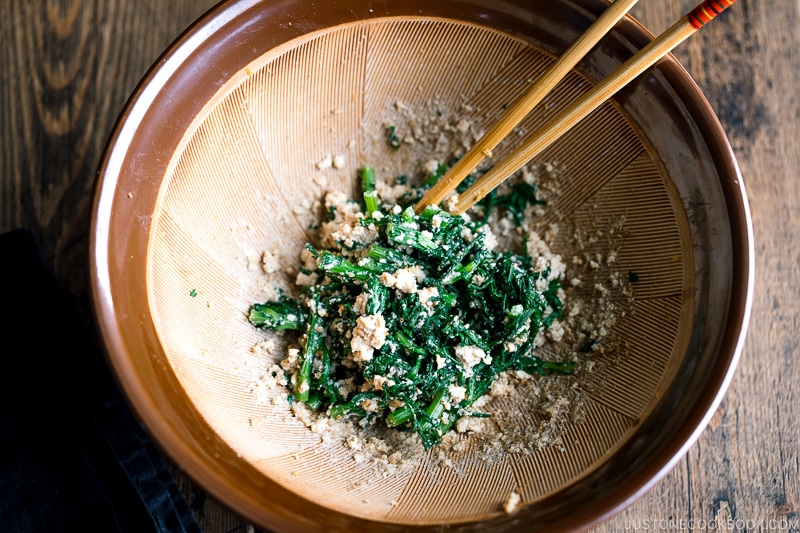 5 Tips to Make Delicious Chrysanthemum Greens and Tofu Salad
Drain tofu really well – The tofu contains moisture and it's best to drain the moisture as much as possible. I do not use extra firm tofu because that's too dry. You want a tender and fluffy texture.
Don't overcook the chrysanthemum leaves – There are a few varieties and some have tougher stems, but the leaves are all light and cook in flash. Always cook the stems first, then add leafy parts later.
Toast sesame seeds – If you believe small steps can make a difference, then follow my lead. I recommend lightly toasting the roasted/toasted sesame seeds. It is an extra step but this will bring out the aroma and flavors from the pantry-lived sesame seeds.
Grind the sesame seeds but leave 20% unground – It's my personal taste, but I like to keep some crunchy bits of unground sesame seeds in the mix. If you enjoy shiraee and gomaae, I recommend investing in a Japanese ceramic mortar and a wooden pestle.
Grind tofu into a smooth and fluffy paste – Traditionally, some recipes recommend passing tofu through a fine-mesh sieve, but for a home dish, I think it's okay to have some chunky bits.
Don't make it ahead of time – Because tofu might still have some remaining moisture, the residual liquid will dilute the flavor if you make it ahead of time.
This salad is really delicious with fish, but you can definitely serve it as a main for vegan/ vegetarian meal too. Try it with fragrant mixed rice like Sweet Onion Takikomi Gohan and a vegan miso soup.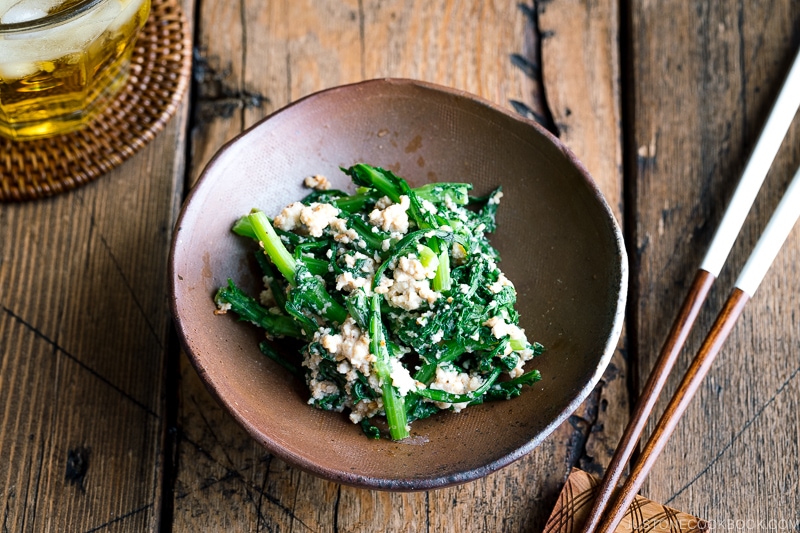 Wish to learn more about Japanese cooking? Sign up for our free newsletter to receive cooking tips & recipe updates! And stay in touch with me on Facebook, Pinterest, YouTube, and Instagram.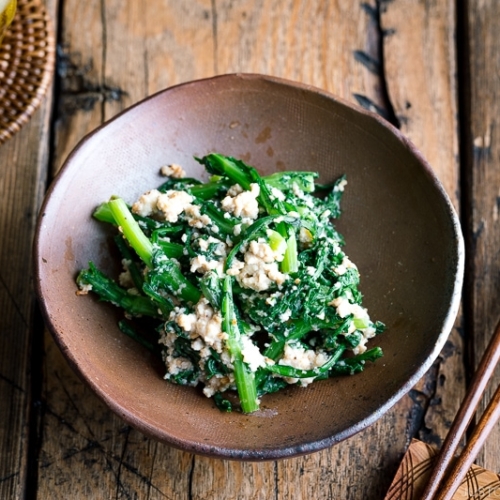 Chrysanthemum Greens and Tofu Salad (Shungiku Shiraae)
Named Shungiku Shiraae in Japanese, this Chrysanthemum Greens and Tofu Salad is a classic Japanese side dish that pairs well with any meal. In this recipe, chrysanthemum leaves are blanched and coated with a nutty and creamy sesame tofu sauce.
Servings:
6
(as a side dish)
Japanese Ingredient Substitution:
If you want substitutes for Japanese condiments and ingredients, click
here
.
Instructions
Gather all the ingredients. To store the leftover tofu, keep it in an airtight container and pour water until it covers the tofu. Keep in the refrigerator (change the water every day) and use it within a few days.
To Prepare Tofu
Do not skip this step. You don't want to drain the water from tofu completely, but it's important to remove some moisture so the dressing doesn't get too wet. Wrap the tofu with paper towels. Put the wrapped tofu on a tray or plate. Add another tray or plate on top of the tofu and put a heavy object on top to facilitate draining. Set aside for 20-30 minutes. Alternatively, you can microwave paper-wrapped tofu for 1 minute (1200W).
To Prepare Sesame Seeds
Toast the sesame seeds in a frying pan, shaking the pan frequently, until they are fragrant and start to pop.

Transfer to a Japanese mortar (suribachi) and grind the sesame seeds with a pestle (surikogi).
To Prepare Chrysanthemum Greens
Cut off and discard the ends of chrysanthemum leaves. Then cut them into 2-inch (5 cm) pieces. Keep the stems and leafy parts separated.

Bring a big pot of water to a boil. Boil the stems for 10-15 seconds to head start the cooking.

Then add the stem/leafy middle parts and continue to cook for 5 seconds.

Then add the leafy greens and submerge to cook for 5 seconds.

Drain or pick up the leaves quickly and shock the greens in ice water. This will bring out the bright green color and stop the leaves from cooking further.

Once cooled, squeeze the water out and set it aside.
To Make Tofu Dressing
Remove the weight from the tofu and unwrapped the paper towel.

Add the tofu to the sesame seeds in the mortar. Using the pestle, mash and grind the tofu until smooth.

Add miso, sugar, mirin, soy sauce, and salt and mix all together until incorporated into the tofu. Taste the tofu mixture now and add salt. Make sure it's a bit more on the saltier side as the greens will be added and dilute the flavor slightly.
To Assemble
Add the greens to the tofu mixture and combine well. Once combined, you can chill in the refrigerator for 30 minutes before serving, or serve immediately.
To Store
You can keep it for 24 hours in the refrigerator; however, I recommend consuming it soon.
Nutrition
Nutrition Facts
Chrysanthemum Greens and Tofu Salad (Shungiku Shiraae)
Amount per Serving
% Daily Value*
* Percent Daily Values are based on a 2000 calorie diet.
©JustOneCookbook.com Content and photographs are copyright protected. Sharing of this recipe is both encouraged and appreciated. Copying and/or pasting full recipes to any website or social media is strictly prohibited. Please view my photo use policy
here
.