Shirataki noodles are transparent, gelatinous, and bouncy noodles made from konjac yam. Low in carbohydrates and fat and high in dietary fiber, it's excellent for absorbing hot pot and sukiyaki broths.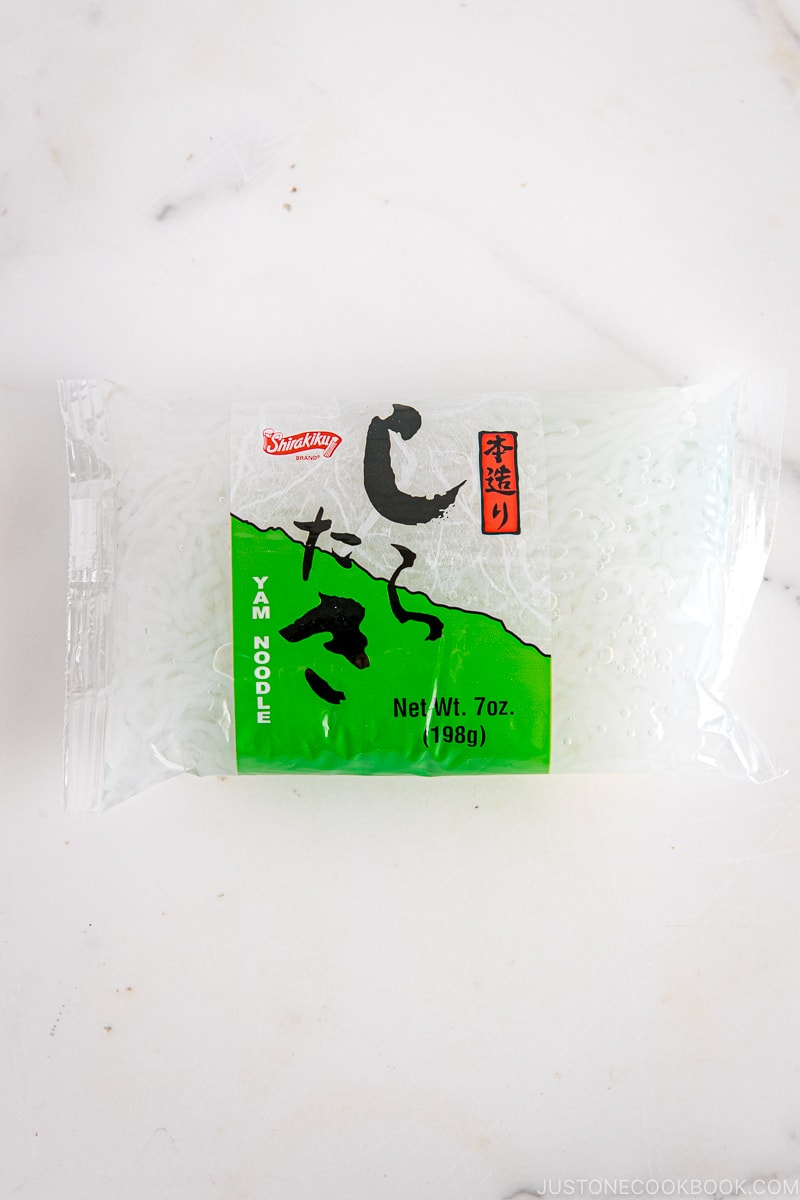 Shirataki Noodles, or simply Shirataki (白滝・しらたき, "white waterfall"), are thin, translucent, gelatinous noodles made from the root of the konnyaku (konjac yam plant, AKA elephant yam). Also known as yam noodles, konjac noodles, devil's tongue noodles, and miracle noodles, these noodles are a must in braises, hot pots, and sukiyaki. It's also a low-carb and calorie noodle replacement for some pasta dishes.
What Is Shirataki
Shirataki refers to noodles made of konjac yams. It's used in various hot pot dishes in Japan but has also gained attention outside Japanese cuisine for its low-calorie and high-fiber content. It's an excellent substitute for regular wheat noodles.
It consists of water, limewater, and glucomannan, a type of soluble fiber derived from the root of the konjac plant. 97% of the product is water, and 3% is glucomannan fiber. Glucomannan is a soluble fiber that can absorb water to form a gel.
Nowadays, it has been largely embraced by the keto diet community. You may find more varieties beyond traditional shirataki noodles, such as macaroni, fettuccine, and other pasta shapes.
Regional Differences: Shirataki & Ito Konnyaku
It have two names based on how it's made. In eastern Japan (Tokyo area), it goes by Shirataki, and Ito Konnyaku (糸こんにゃく) in western Japan (Osaka area).
In short, shirataki is prepared by pushing konnyaku through tiny holes to make the threads. Ito konnyaku is prepared by cutting konnyaku jelly into threads.
Nowadays, both methods use the shirataki method, but the regional names are kept intact. Ito konnyaku is generally thicker than shirataki, with a square cross-section and a darker color.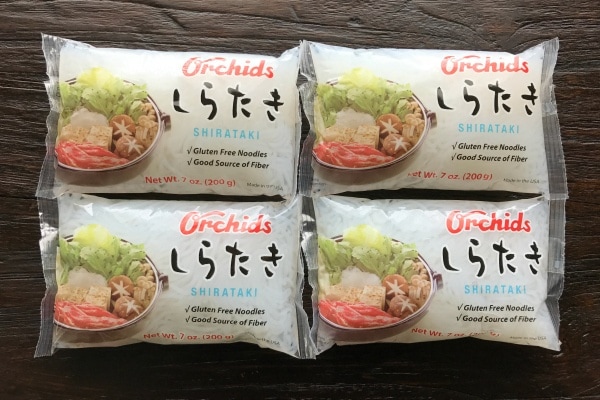 What Does It Taste Like
It is tasteless but absorbs flavors and sauces well, hence its use in nabe dishes. The texture is chewy and bouncy, which some may find difficult the first time. It's slightly thicker than angel hair pasta.
How To Use
Shirataki can be purchased wet or dry. The wet variety is water-packed, which can be used once you drain the liquid. Some prefer boil, dry roast in a frying pan, or rinse the noodles before use to remove the smell, but this is a personal preference. Dry shirataki can be added directly to the pot without reconstituting.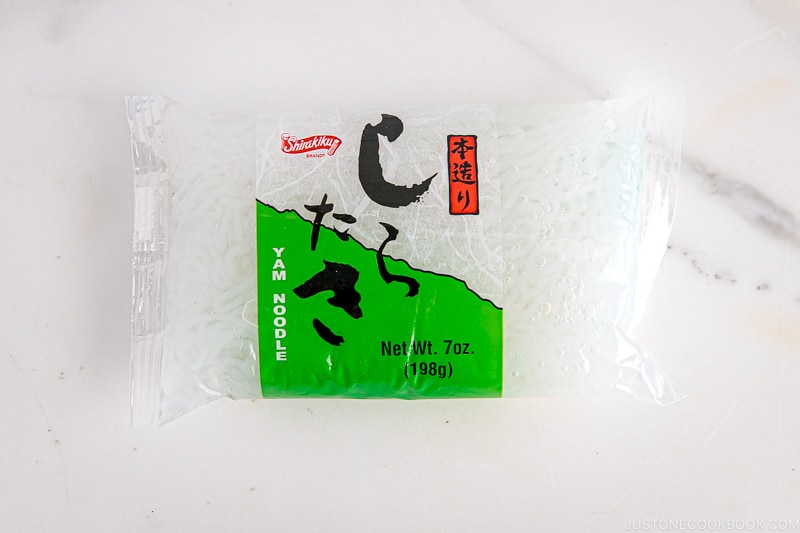 Recipes Using Shirataki

Where To Buy
You can find the noodles near the tofu in the refrigerator section of Japanese or Asian grocery stores. You can also shop online at Asian Food Grocer.
Due to its massive popularity among the keto and health food community, you may find it at your local supermarket chain, like Walmart and Whole Foods or on Amazon.
You may find tofu shirataki noodles, which have a slightly higher calorie count but less rubbery texture. It may be an easier introduction for beginners.
How To Store
It is shelf-stable, so keep it in a cool and dark place. It usually lasts for up to a year.
Dried shirataki has a much longer shelf life if kept away from humidity.
Substitution
No similar food product offers the same nutritional benefits as shirataki. You could try spaghetti squash or zucchini cut into noodles (zoodles) as a vegetable alternative.
Health Benefits
Shirataki is a gluten-free, carb-free, fat-free, cholesterol-free, sugar-free, soy-free, low-calorie food product.
The noodles are high in soluble fiber and water content, so they help you feel full for longer and reduce food intake. Some studies have shown that consuming shirataki can aid weight loss and relieve constipation. It also promotes the growth of healthy bacteria in the colon as the soluble fiber acts as a prebiotic.
There are also benefits to controlling blood sugar levels. As the soluble fiber slows down the rate at which the body absorbs carbohydrates, this can help people with diabetes and high insulin levels avoid blood sugar spikes.
Besides fiber, it contains minimal vitamins and minerals.
FAQs
Q: Can you freeze shirataki?
Do not freeze shirataki! It'll become inedible, so use what you can once you open the package. Store unused portions in a container with water.
Q: Is shirataki keto/paleo-friendly?
Yes, it is keto and paleo-friendly.
---
Wish to learn more about Japanese cooking? Sign up for our free newsletter to receive cooking tips & recipe updates! And stay in touch with me on Facebook, Pinterest, YouTube, and Instagram.