Cold and refreshing Shirataki Noodles with Honey Sesame Dressing. Top the noodles with shredded egg crepe, chicken, and cucumber. It's a perfect guilt-free summer noodle that is low in calories. It's gluten-free too!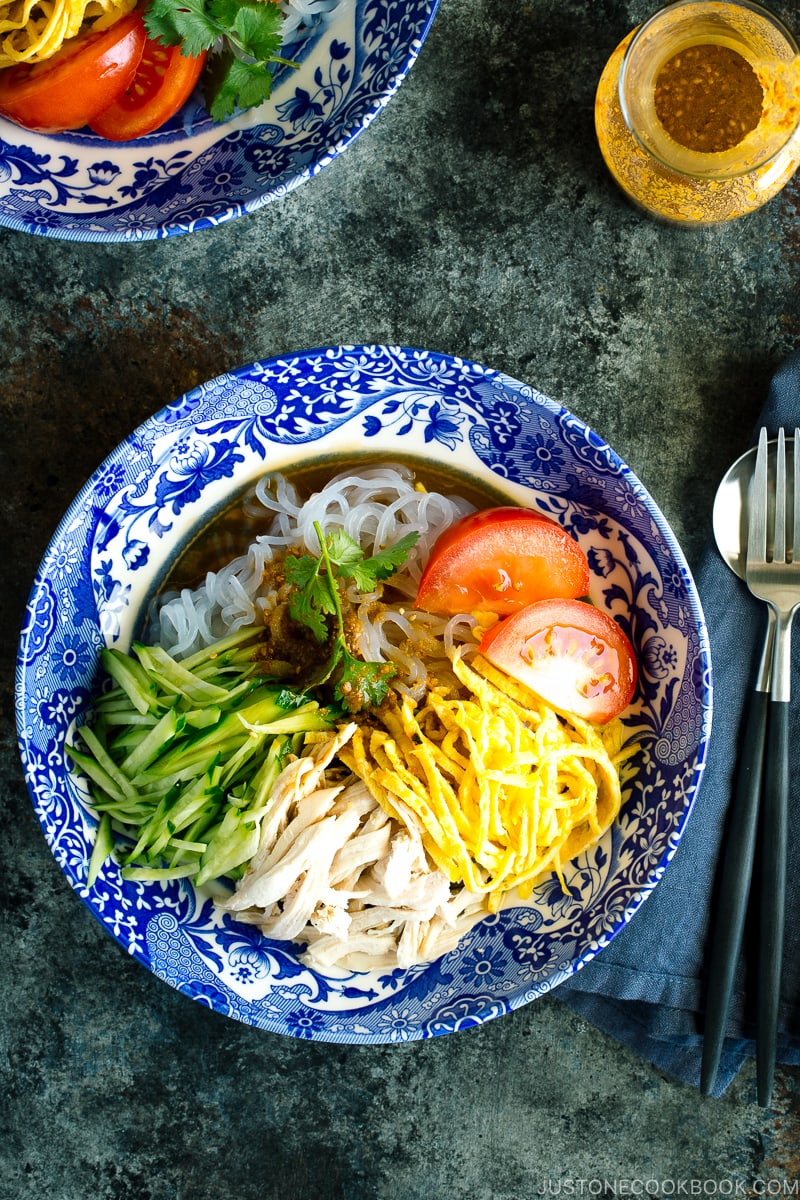 We spend our summer in Japan with my family. In case you weren't aware, the heat during Japanese summers are so brutal; it's super hot and humid. We lose appetite and become reluctant to cook in the hot kitchen. If you experience similar summer weather, or if you want to eat something light to maintain your figure in the summertime…. this chilled Honey Sesame Shirataki Noodles is a perfect idea for your summer meal!
Watch How To Make Honey Sesame Shirataki Noodles
Click here to watch on YouTube
What is Shirataki Noodles?
Shirataki Noodles, or we simply call Shirataki (しらたき) in Japan, are thin, translucent, gelatinous noodles made from a type of fiber that comes from the root of the konnyaku (konjac yam plant).

This Japanese ingredient has been around for years and is used in traditional Japanese dishes such as Sukiyaki, Nikujaga, and all kinds of hot pot dishes.
You can find shirataki noodles near tofu in the refrigerator section of Japanese grocery stores or Asian grocery stores. You can shop and purchase them online at Asian Food Grocer.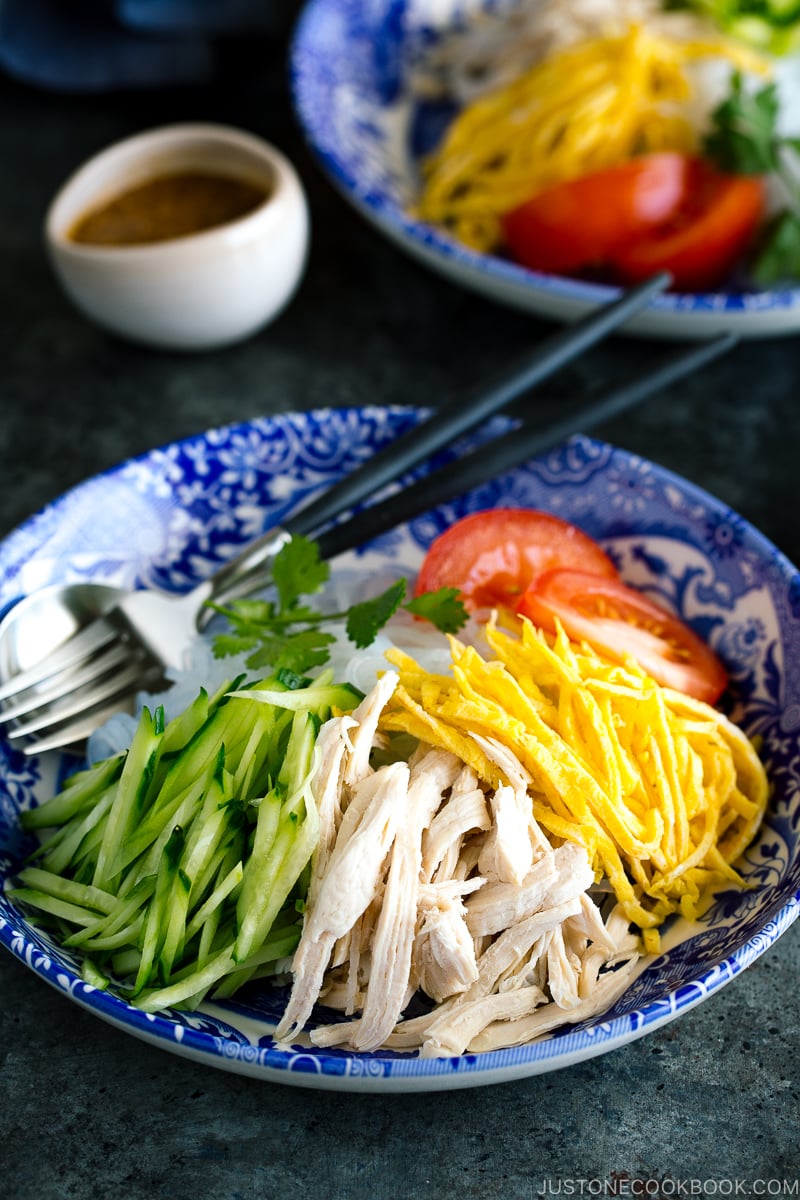 Shirataki Noodles as A New Healthy Ingredient
Shirataki has been eaten since Edo period (1600) in Japan; however, it was never viewed as "noodle substitute" or "diet food" until recently. As shirataki noodles are made of yam noodles, they have only a few calories per serving. Here are some facts:
Contain about 97% water and 3% glucomannan fiber (from konjac plant)
Very low in calories
Contain no digestible carbs
Very filling ("expands" in the stomach as they absorb moisture)
Flavor-wise, shirataki noodles almost have no taste so it's great for absorbing flavors from the sauce or soup they are soaked and cooked in. And texture-wise, they are quite slippery, slightly more difficult to pick up than noodles.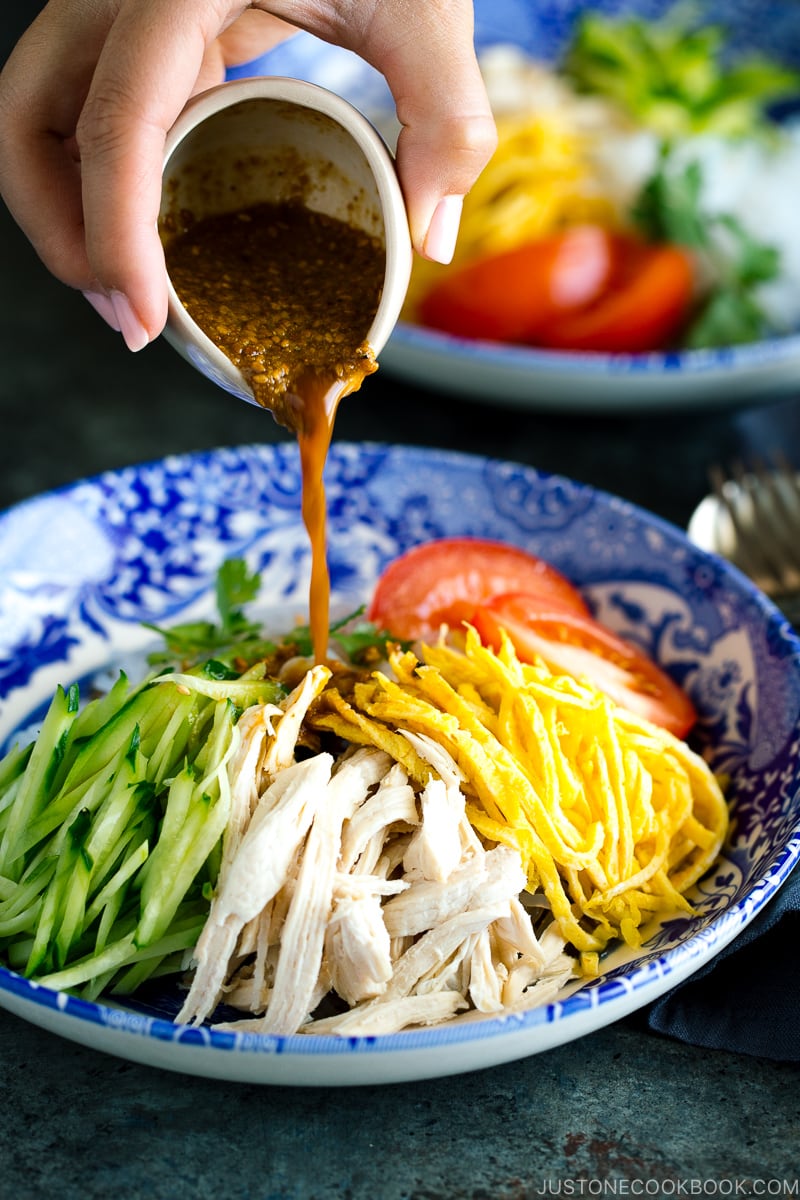 Tackle Shirataki Noodles' Funky Smell
Let's face the fact. Shirataki noodles are packaged in an awful-smelling liquid. Even though I am not bothered by this at all, but I know some of you might. It is actually just water, but it has absorbed the odor from the konjac root. It didn't go bad, so don't throw away.
It's important to rinse them very well under cold running water and then cook in boiling water for about 2 minutes. This should remove most of the unpleasant odor.
On a side note, unlike pasta or Asian style noodles, shirataki noodles have no starch. Therefore, after boiling they do not stick together. You can prepare them ahead of time without worrying about noodles becoming one big mess.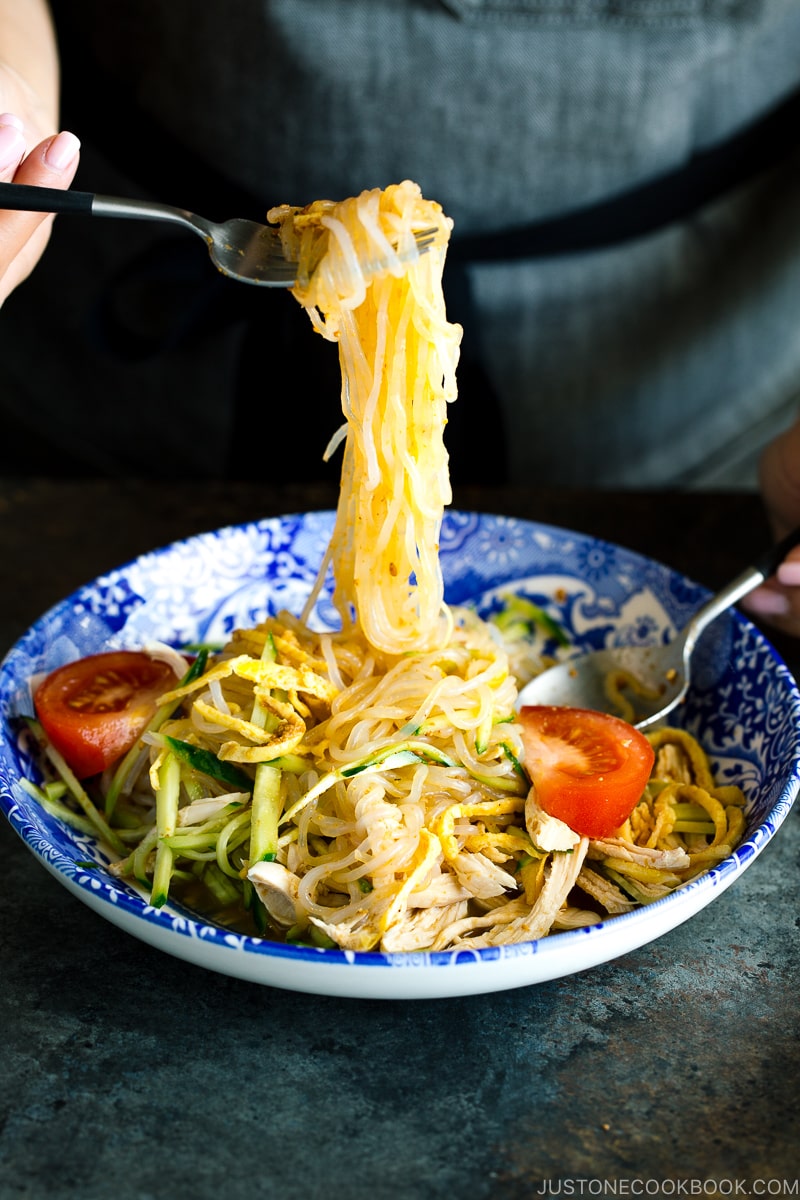 Delicious Honey Sesame Sauce
I mentioned earlier that shirataki noodles are flavorless but absorb many flavors from the sauce. So for this recipe, I made my Honey Sesame Sauce as it goes well with noodles and toppings that I chose. If you have tried Japanese cold ramen called Hiyashi Chuka, this recipe is a variation of that dish. Hiyashi chuka is a popular summer meal in Japan, and this recipe is a lighter version of it.
Fun Fact: Shirataki Noodles vs. Ito Konnyaku
Shirataki noodles are called Shirataki in eastern Japan (Tokyo area), and Ito Konnyaku (糸こんにゃく) in western Japan (Osaka area). The name difference is a result of different manufacturing methods.
In the past, ito konnyaku was prepared by cutting konnyaku jelly into threads, while shirataki is made by forcing konnyaku through small holes to get the shape.
Nowadays, both are prepared using the shirataki method and but the packages kept the different names in each region. Ito konnyaku is generally thicker than shirataki, with a square cross-section and a darker color.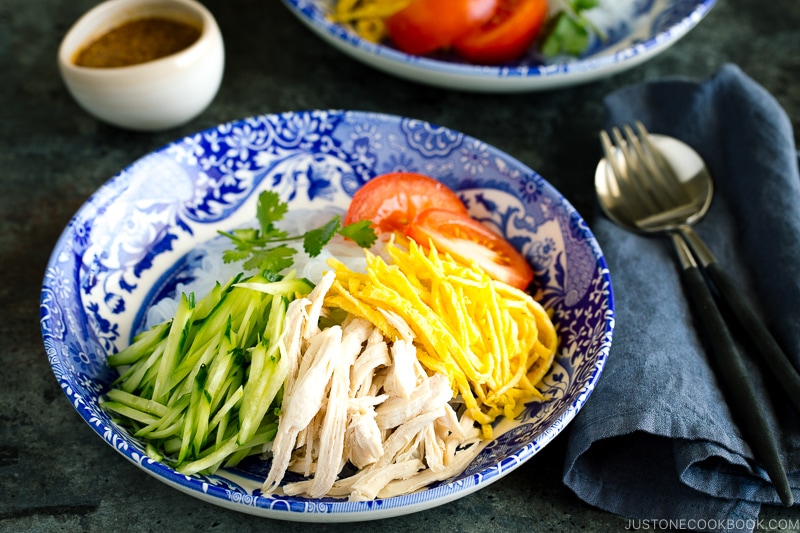 Japanese Ingredient Substitution: If you want to look for substitutes for Japanese condiments and ingredients, click here.
Wish to learn more about Japanese cooking? Sign up for our free newsletter to receive cooking tips & recipe updates! And stay in touch with me on Facebook, Pinterest, YouTube, and Instagram.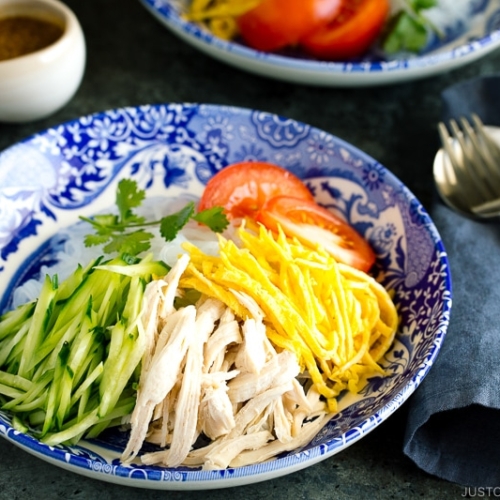 Honey Sesame Shirataki Noodles
Cold and refreshing Shirataki Noodles with Honey Sesame Dressing.  Top the noodles with shredded egg crepe, chicken, and cucumber.  It's a perfect guilt-free summer noodle that is low in calories. It's gluten-free too!
Video
Ingredients
Japanese Ingredient Substitution:
If you want substitutes for Japanese condiments and ingredients, click
here
.
Instructions
Gather all the ingredients.
Prepare the chicken
In a large pot, add 4 cups water, ½ tsp salt, and 2 Tbsp sake and bring it to boil.

Cut the green onions to thirds and cut the ginger into thin slices (you can keep the peel on). Add them to the pot.

Butterfly the chicken breast, by cutting the length of the side of the chicken breast with the edge of your knife parallel to the cutting board. Carefully slice the breast in half widthwise until the other edge. Now you have two pieces of chicken breast.

Once water is boiling, put the chicken in the pot. Cover the lid and reduce the heat to the lowest setting. Cook the chicken for 15 minutes, or until cooked through.

After cooking the chicken for 15 minutes, transfer it from the pot to a plate. Cover with plastic wrap to keep the moisture and let cool.
Prepare Honey Sesame Sauce
Toast 4 Tbsp sesame seeds in a frying pan (without oil) until fragrant, it will take from 3-5 minutes, depending on the heat. Swirl the pan once in a while to rotate the seeds.

Transfer the toasted sesame seeds into your Japanese mortar and pestle. You don't have to completely grind the sesame seeds. To add texture to the dressing, it's nice to keep both powdered sesame seeds and whole sesame seeds. If you don't have a Japanese mortar and pestle, you can use a food processor.

Transfer the ground sesame seeds into a 2-cup measuring cup. Add honey, rice vinegar, soy sauce, and sesame oil. Whisk all together and set aside.
Prepare the toppings
Crack the egg in a medium bowl and whisk well. Add ¼ tsp kosher salt and combine well.

Heat the oil in the non-stick frying pan over medium-high heat. Once the frying pan is hot, add the egg mixture. Turn down the heat to low and swirl the pan to evenly distribute the egg in the pan. Once the egg mixture is set, you can flip to cook the other side (optional) or continue to cook longer until the egg is cooked through. Turn off the heat and transfer the egg crepe to the working surface.

Cut the egg crepe in half and thinly slice it. Set aside.

Peel the cucumber but leave some strips not peeled (it looks better that way). Cut the cucumber diagonally into ⅛ inch (3 mm) slices. Then cut into thin long sticks. Set aside.

Cut the tomato in half and cut each half into 3-4 wedges. Set aside.

Shred the chicken into thin long strips. When ingredients are in the same shape, it's easier to combine with noodles and you can eat all the ingredients together.
Prepare the shirataki noodles
Boil 4 cups water in a saucepan for the shirataki noodle. Boiling shirataki noodles remove the unwanted smell from the shirataki noodles, so don't skip.

Open the package of shirataki noodles and drain. Rinse quickly under cold running water.

Once the water is boiling, add the shirataki noodles and cook for 2 minutes. Drain immediately and soak in an ice bath.
Assemble the noodles
When the shirataki noodles are cold, drain well. On a plate, serve the shirataki noodles and toppings of your choice. Garnish with cilantro and drizzle the dressing.
Nutrition
Nutrition Facts
Honey Sesame Shirataki Noodles
Amount per Serving
% Daily Value*
* Percent Daily Values are based on a 2000 calorie diet.
©JustOneCookbook.com Content and photographs are copyright protected. Sharing of this recipe is both encouraged and appreciated. Copying and/or pasting full recipes to any website or social media is strictly prohibited. Please view my photo use policy
here
.