Looking for a well-balanced pressure cooker recipe? Try Nikujaga, a comforting Japanese home cooked dish, featuring sliced meat, vegetables & potatoes simmered in dashi broth.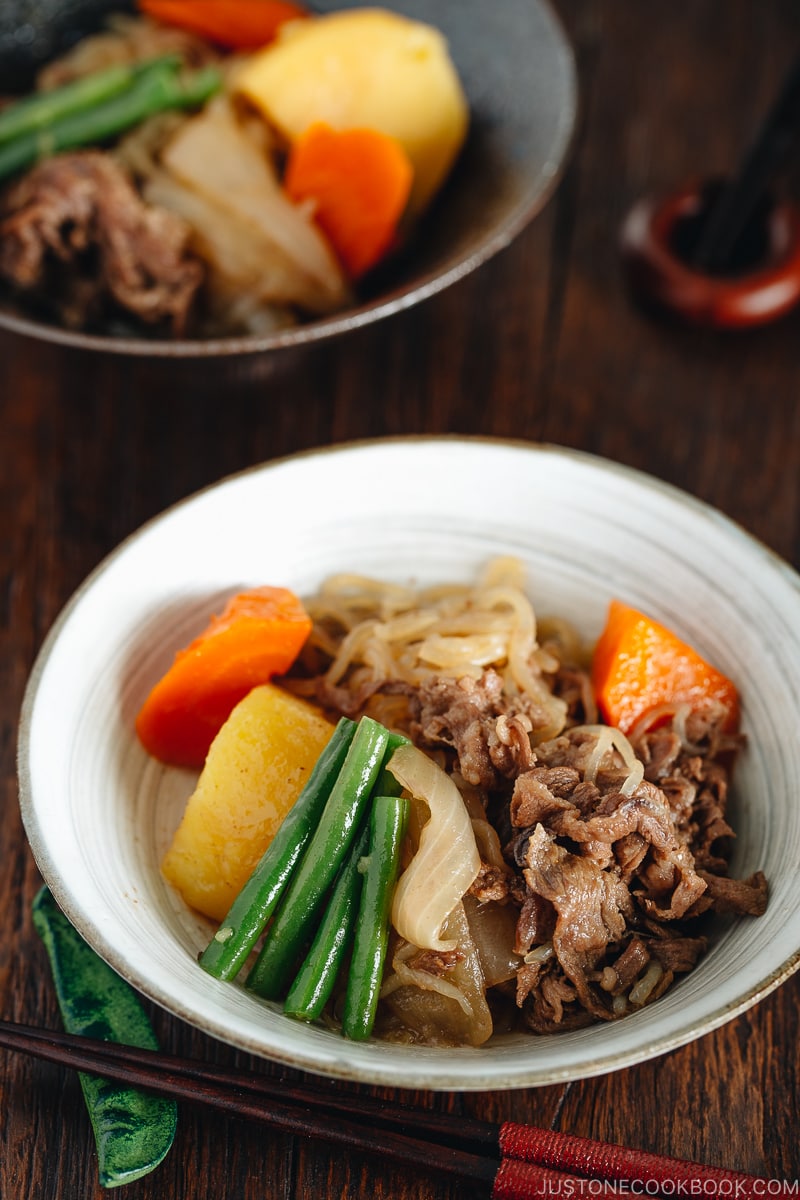 Ever since I fell in love with pressure-cooking foods using my Instant Pot, I've been trying to convert some of my favorite stovetop recipes to pressure cooker recipes. Today I'm sharing a classic Japanese home cook dish, Pressure Cooker Nikujaga (圧力鍋で作る肉じゃが).
What is Nikujaga?
Nikujaga, or Meat and Potato Stew (I'm not fond of the translation much), is one of the classic Japanese "mother's recipes". I have a regular non-pressure cooker Nikujaga recipe here. Do you have dishes like that in your cuisine? We call this type of dish "ofukuro no aji (おふくろの味)". It means the flavors/tastes that you are used to and feel nostalgic about, after eating mother's cooking for years.
Nikujaga is a staple dish to many Japanese. My dad likes potato dishes, so my mom made Korokke and Nikujaga often in her meal rotation when we were growing up. Nikujaga for me is definitely true comfort food.
Simple 4 Ingredients
Niku (肉, にく) in Japanese means meat. Jaga is a shortened word from Jagaimo (ジャガイモ), which means potatoes in Japanese. So Nikujaga always includes meat and potatoes.
Usually, potatoes and thinly sliced beef or pork are simmered in dashi-based soup, seasoned with the standard Japanese condiments – soy sauce, sake, mirin (and sometimes sugar).
Besides meat and potatoes, there are onions and carrots. These four ingredients are almost always in any variety of Nikujaga.
To add some color to this mostly-brown-dish, one type of green vegetable is tossed in at the end, typically green beans or snow peas. Some recipes include shirataki noodles, but they are optional.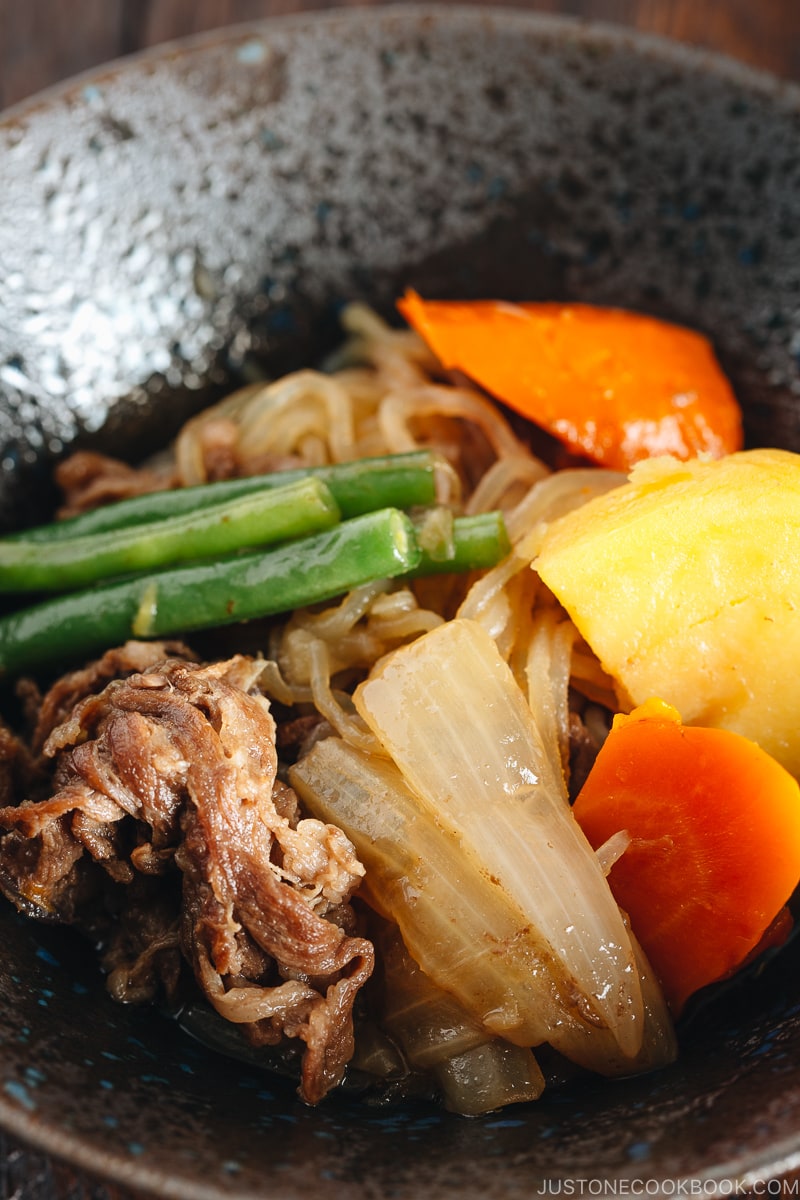 Cooking Tips
I want to share some helpful tips that you can consider implementing when you make this recipe.
Sauté for more flavors – Sautéing foods first just like you would usually cook on the stovetop adds extra taste. So spend several minutes to brown the meat and vegetables, before adding other liquids and cooking under pressure.
Cut ingredients into different sizes – Cut the meat into smaller chunks, but luckily many Japanese recipes require thinly sliced meat so you don't have to worry. If you are cooking a bigger cut of meat, then cut the vegetables slightly bigger than you would usually cut for conventional cooking. That way, the required time to cook each ingredient will be similar. Different ingredients require their own cooking time for the ideal texture and flavor in a pressure cooker. Ideally, for pressure cooking, you want to add and cook ingredients at different time intervals. This is especially true when mixing different types of foods (meat, potatoes, vegetables, etc.). You should start with ingredients that take a long time to cook, such as meat. Since I don't want to open the pressure cooker halfway through to add the vegetables, I cut my vegetables slightly bigger so they don't get mushy.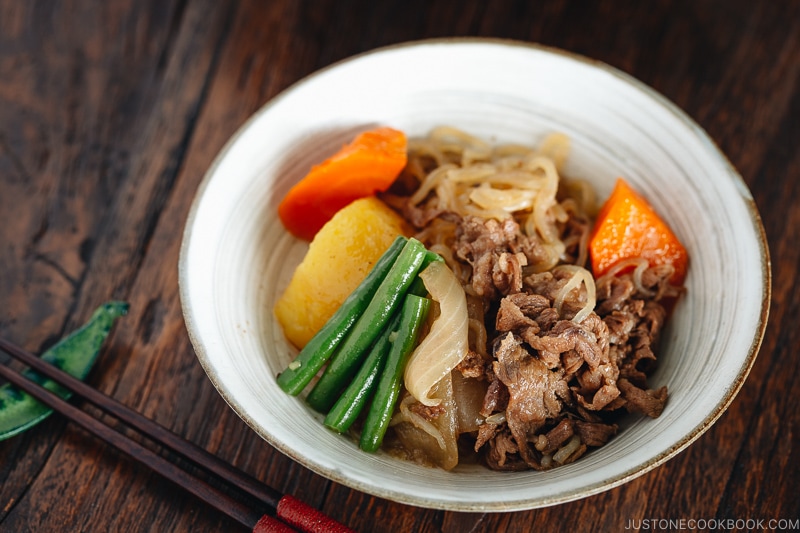 Why I Love Cooking Nikujaga in the Pressure Cooker?
My family and I love Nikujaga. I enjoy the smell of cooking while it's on the stove. However, I got busier with my work (blogging) and kids' after-school activities, and I couldn't find the time to cook Nikujaga anymore. We all missed eating our favorite Nikujaga.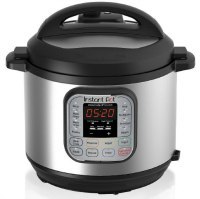 Thanks to the Instant Pot, Nikujaga started to appear on our dinner table once again. Although I would rather stay around in the kitchen watching my Nikujaga being cooked, the best part about Instant Pot is that I can actually leave the house while food is being pressure-cooked. I am not worried about the house being on fire or not having dinner when we go home.
P.S. Just so you know, my Instant Pot recipes are not sponsored by the company. Although they did send me this Instant Pot to try, I'm sharing my recipes because I am very passionate about this cool gadget that could help you make fantastic meals on weeknights.
To quickly explain, this Instant Pot is a 7-in-1 Multi-Functional Cooker. It can be a rice maker/porridge maker, steamer, sauté/browning, yogurt maker, and warmer, but I mostly use the pressure cooker and occasionally slow cooker function.
Try Our Popular Instant Pot Recipes
Check out more Instant Pot recipes on Just One Cookbook!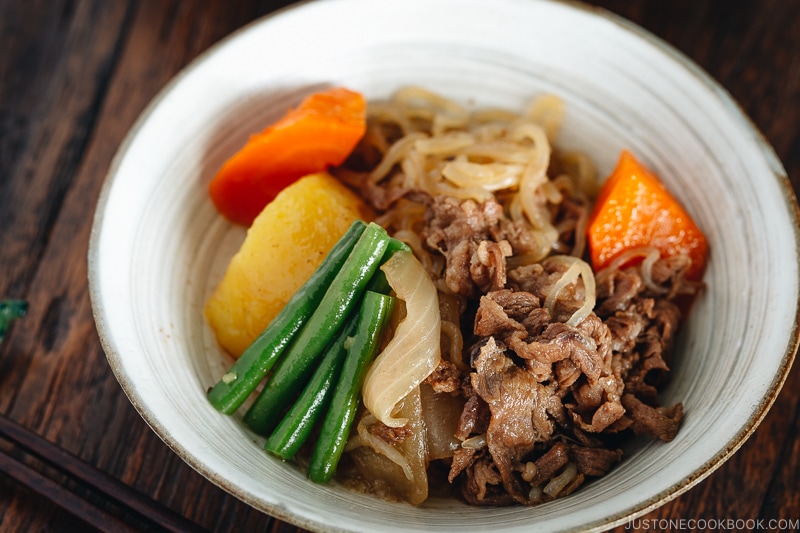 Wish to learn more about Japanese cooking? Sign up for our free newsletter to receive cooking tips & recipe updates! And stay in touch with me on Facebook, Pinterest, YouTube, and Instagram.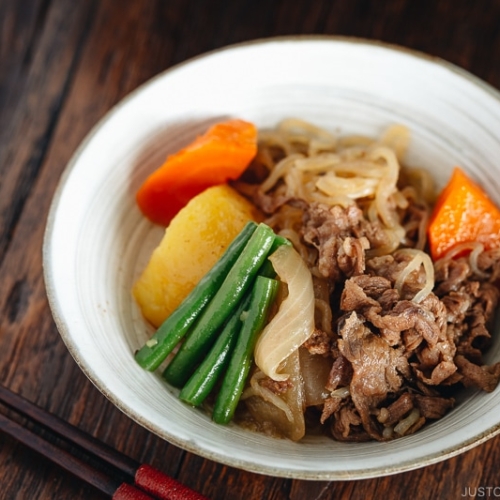 Pressure Cooker Nikujaga
Looking for a well-balanced pressure cooker recipe? Try Nikujaga, a comforting Japanese home cooked dish, featuring sliced meat, vegetables and potatoes simmered in dashi broth.
Video
Ingredients
10

green beans

1

onion

1

carrot

2

potatoes

(I use Yukon gold potatoes as they don't break easily compared to russet potatoes)

1

package

shirataki noodles (

7

oz,

198

g)

1

Tbsp

neutral oil
Japanese Ingredient Substitution:
If you want substitutes for Japanese condiments and ingredients, click
here
.
Instructions
Gather all the ingredients.

Cut

10 green beans

in half or thirds. Bring water to a boil in a small saucepan.

Blanch the green beans for a few minutes until tender. Drain and set aside.

Cut

1 onion

into wedges, then cut them in half.

Peel and cut

1 carrot

into rolling wedges (we call this cutting technique rangiri).

Peel and cut

2 potatoes

into quarters and soak them in water for 10 minutes to remove the starch.

Open

1 package shirataki noodles

and drain the liquid. Cut the shirataki noodles into thirds (or shorter length).

Cut

½ lb thinly sliced beef (chuck or ribeye)

into smaller pieces.

Press the Sauté button on your Instant Pot (I use 6 QT Instant Pot) and heat

1 Tbsp neutral oil

.

When the pot is hot, sauté the onion. When the onion is coated with oil, add the meat and stir all together.

Add the potatoes and carrots. Then, add the shirataki noodles.

Add

1 Tbsp sugar

,

1 cup dashi (Japanese soup stock)

,

3 Tbsp mirin

,

2 Tbsp sake

, and

3 Tbsp soy sauce

.

Cover and lock the lid. Make sure the steam release handle points at Sealing and not Venting. Press the Keep Warm/Cancel button on the Instant Pot to stop sautéing. Press the Meat/Stew button to switch to the pressure cooking mode. Press the – (minus) button to change the cooking time to 15 minutes.

If you're using a stove-top pressure cooker, you won't have the buttons to press. Just cook on high heat until high pressure is reached. Then, reduce the heat to low but maintain high pressure for about 15 minutes.

When it is finished cooking, the Instant Pot will switch automatically to the Keep Warm mode. Slide the steam release handle to the Venting position to let out steam until the float valve drops down, OR let the pressure release naturally (takes about 15 mins).

Unlock the lid and taste the Nikujaga. If necessary, season with

⅛ tsp Diamond Crystal kosher salt

. Toss in the blanched green beans to heat up a little, and transfer to a serving dish.
To Store
You can keep the leftovers in an airtight container and store in the refrigerator for up to 3 days and in the freezer for a month. Potatoes will change their texture, so I recommend removing them first before freezing.
Nutrition
Nutrition Facts
Pressure Cooker Nikujaga
Amount per Serving
% Daily Value*
* Percent Daily Values are based on a 2000 calorie diet.
©JustOneCookbook.com Content and photographs are copyright protected. Sharing of this recipe is both encouraged and appreciated. Copying and/or pasting full recipes to any website or social media is strictly prohibited. Please view my photo use policy
here
.