Japanese Simmered Beef and Tofu, or Niku Dofu, is a comforting, home-style dish for everyday meal. Known as a quick and easy version of sukiyaki, this hearty dish can be made with simple ingredients in under 20 minutes!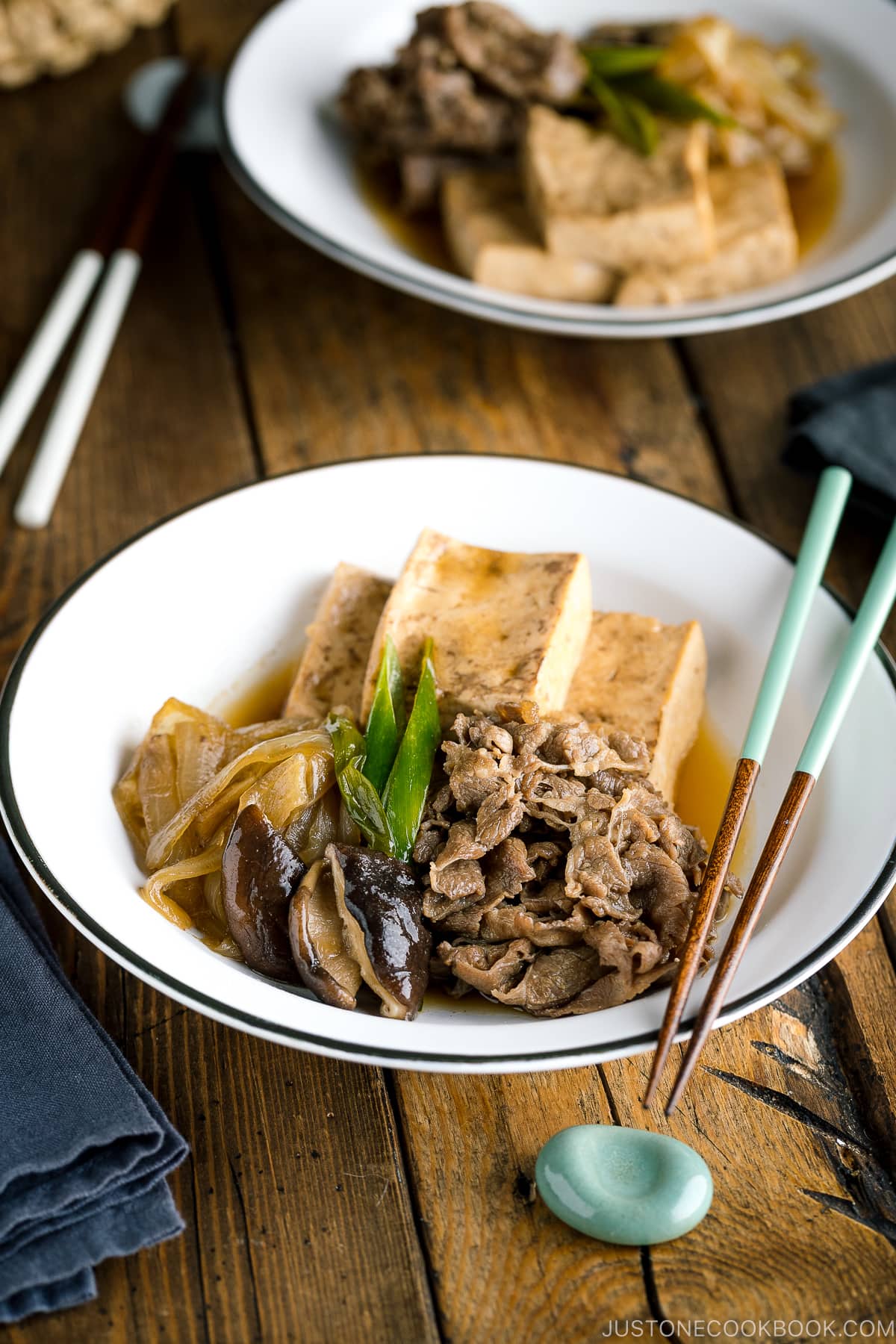 Simmered foods—known as nimono (煮物)—is the backbone of Japanese home cooking. Fresh seasonal ingredients are cooked gently in a savory and sweet liquid until mostly evaporated and all the delicious flavors have been soaked up. They are easy to prepare, nutritious, and bring a lot of comfort to everyday dinners. Today's recipe, Simmered Beef and Tofu or Niku Dofu (肉豆腐), is one of the classics you need to try.
What is Niku Dofu
Niku dofu (肉豆腐) (or nikudofu, which means 'meat and tofu') is a beloved Japanese simmered dish featuring tofu, thinly sliced beef, shiitake mushrooms, and onion in a soy sauce and dashi-based broth. The gentle cooking approach softens the foods quickly while retaining their shapes.
Some people make this dish very similar to the popular Japanese hot pot, sukiyaki, with various ingredients. Because it can be prepared quickly with simple and easy-to-access ingredients, many home cooks make niku tofu at home, and it's not something you order at a restaurant.
What's the Difference between Niku Dofu and Sukiyaki?
Even Japanese people are sometimes confused with the definition of these two dishes as they look and taste so similar. In essence, the differences come down to the cooking technique and serving style:
Niku dofu is considered a simmered dish (nimono 煮物) and is served in a bowl as a main or a side to go along with rice and other dishes. Sukiyaki, on the other hand, is a communal-style hot pot dish, in which everyone at the table cooks and eats the ingredients straight from a big cast-iron pot. It is a meal on its own, and we usually enjoy it with shirataki noodles and udon noodles.
Niku Dofu
Ingredients: Tofu (main ingredient), thinly sliced beef or pork, onion, green onion, and occasionally some type of Japanese mushrooms
Cookware: A frying pan
Serveware: A large serving bowl or individual bowl
Sukiyaki
Ingredients: Thinly sliced beef, onion, napa cabbage, long green onion, chrysanthemum greens (shungiku), shiitake mushrooms, shirataki noodles, grilled tofu (small portion)
Cookware: A cast-iron sukiyaki pot
Serveware: A small individual bowl
Both dishes are cooked in the same/similar condiments (dashi, sake, mirin, soy sauce, and sugar) with a slightly different ratio.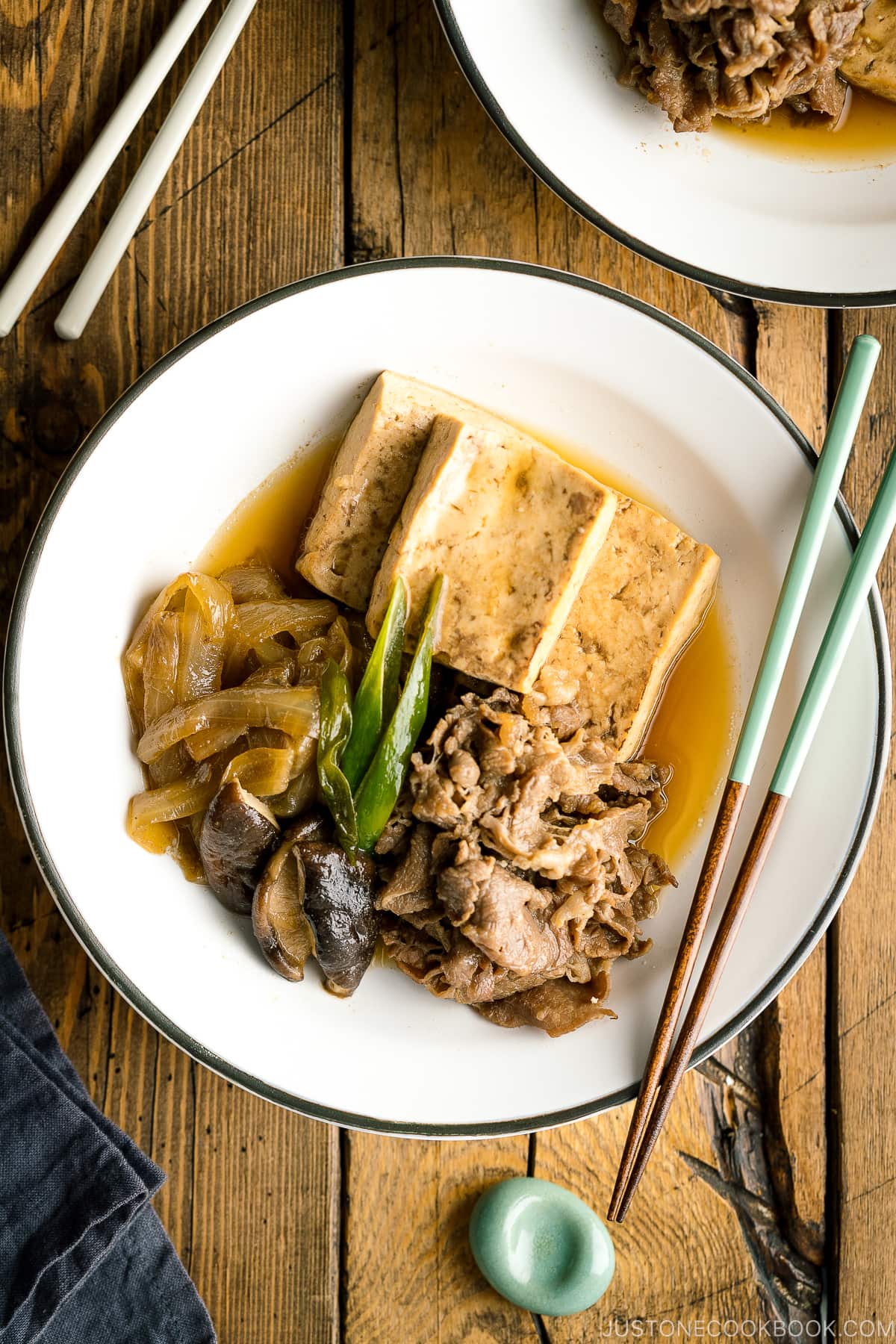 How to Make Simmered Beef and Tofu
Ingredients You'll Need
Thinly sliced beef (chuck or rib eye)
Medium-firm tofu (momen dofu) – more about it below
Onion
Shiitake mushrooms (or a combination of mushrooms such as shimeji mushrooms)
Green onion
Optional: I keep my recipe simple, but you can toss in leafy greens such as bok choy, komatsuna (Japanese spinach), mizuna, etc.
Broth and seasonings: dashi (Japanese soup stock), regular soy sauce or tamari, sake, mirin, sugar
Overview: Cooking Steps
Cut all the ingredients. In a large frying pan, bring the seasoned broth to a simmer over medium-high heat.
Add the beef to the broth and cook until no longer pink, about 3-4 minutes. Then, remove the beef and transfer to a plate.
Add the onion and tofu to the pan and cook for 5-6 minutes, or until the onion is tender.
Put the beef back into the pan and add shiitake mushrooms and green onion. Cook for 2-3 minutes.
Serve onto a plate with the cooking liquid.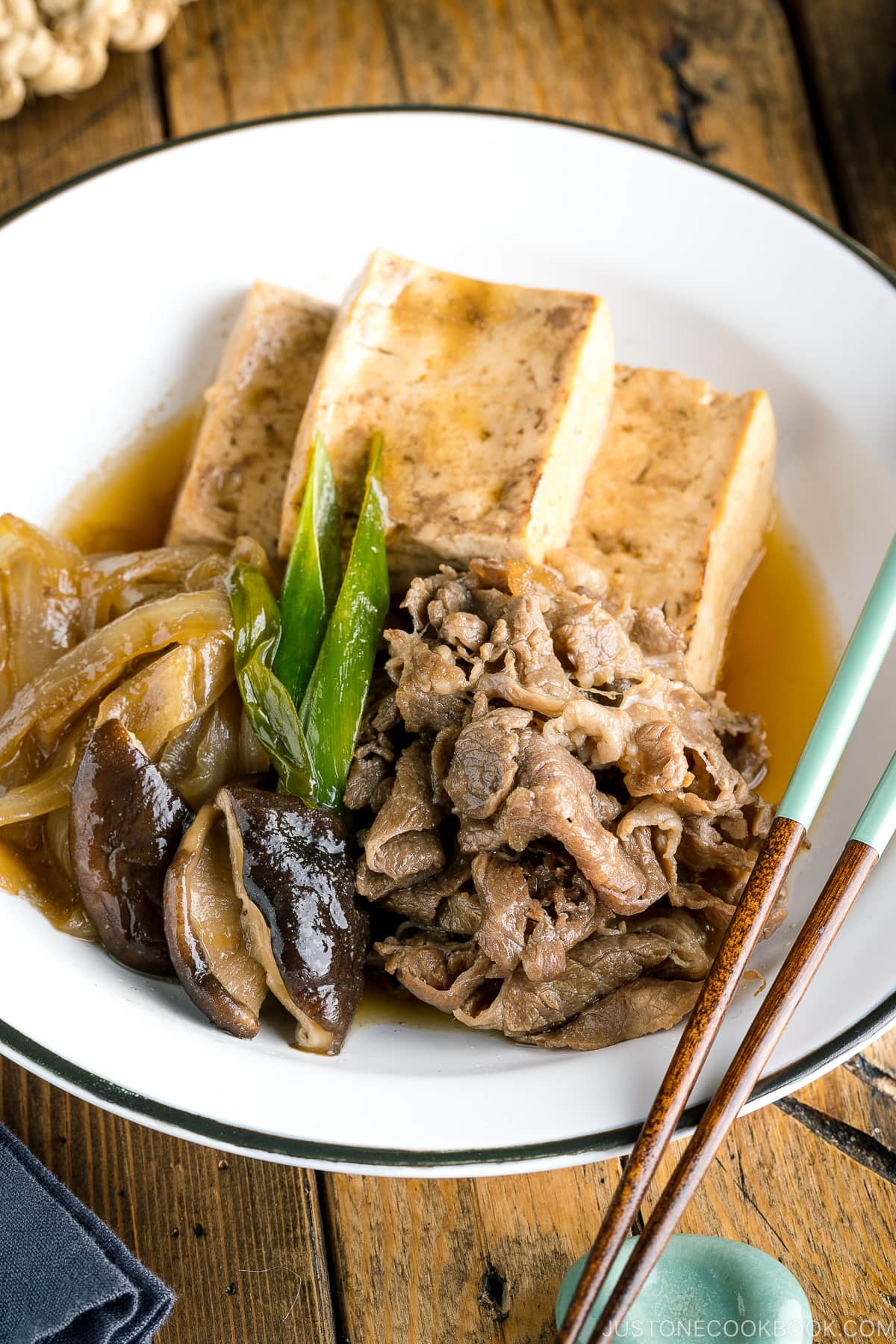 What Kind of Tofu Is Best for Niku Dofu
There is no rule for which type of tofu to use, so you can choose based on personal preference.
If you like your tofu to have a concentrated flavor, use medium-firm tofu (momen dofu 木綿豆腐). Personally, I recommend this type of tofu because it contains less water than silken tofu and has the ability to soak up the flavor of the broth.
If you prefer smooth texture, silken tofu (kinugoshi tofu 絹ごし豆腐) is great but take note that it can break easily.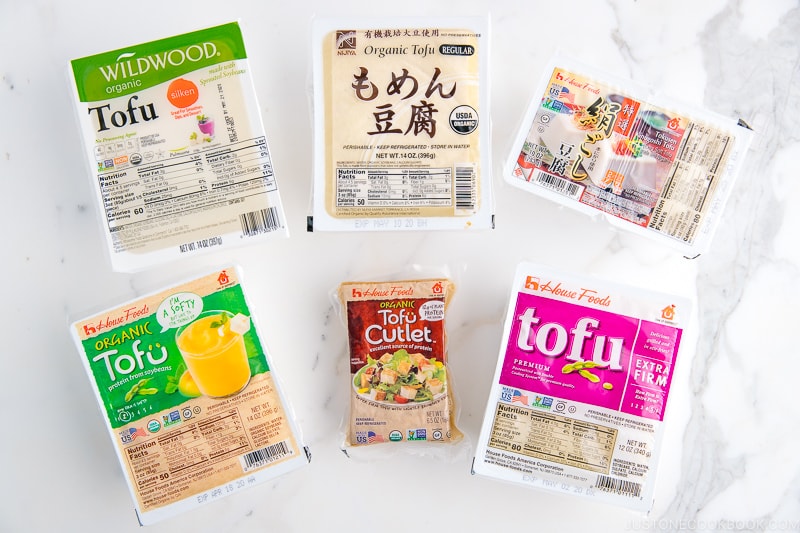 Do you love tofu? We have a tofu pantry post where we talk more about this amazing ingredient.
Tips on Making Simmered Beef and Tofu
Use thinly sliced beef. Japanese, Korean, and Chinese grocery stores sell thinly sliced beef. The quality of beef is important. Alternatively, you can get a rib eye and slice the meat thinly with a knife. Fattier cut is better and suitable for a simmering dish. You don't want chewy or dry meat.
Quickly simmer the beef first. Some recipes may add beef after cooking tofu and onion because the beef cooks fast. However, I like to cook the tofu and onion in a broth that contains beef flavor. Therefore, my approach is to simmer the beef quickly and set it aside. This helps transfer only the umami to the broth without the beef becoming tough and dry. You put the beef back into the broth to reheat right before serving.
Simmer the ingredients with just enough seasoned broth. Some of you probably wonder why we don't cover the ingredients with more broth. Typically, for Japanese simmered dishes, we don't cook ingredients with plenty of cooking liquid. Since we don't "drink" the flavored broth, we would use just enough liquid to cook the ingredients.
Don't overcook the tofu. If the tofu is simmered for too long, it will become tough and create holes on the surface and the inside. This is because the water in the tofu (about 90%) boils and forms fine bubbles. The holes are caused by the coagulation of protein, which causes the holes to remain open and hardens. To prevent this, cutting the tofu thinly allows the heat to pass through evenly in a short period of time. Also, remember to maintain simmering (under 90ºC), not boiling (100ºC).
Let the dish "steep" at room temperature (optional). Ideally, Japanese simmered dishes should have a "steeping" period in which the ingredients absorb all the flavors as they cool naturally. Then, reheat it to serve. However, this requires planning, and not always possible.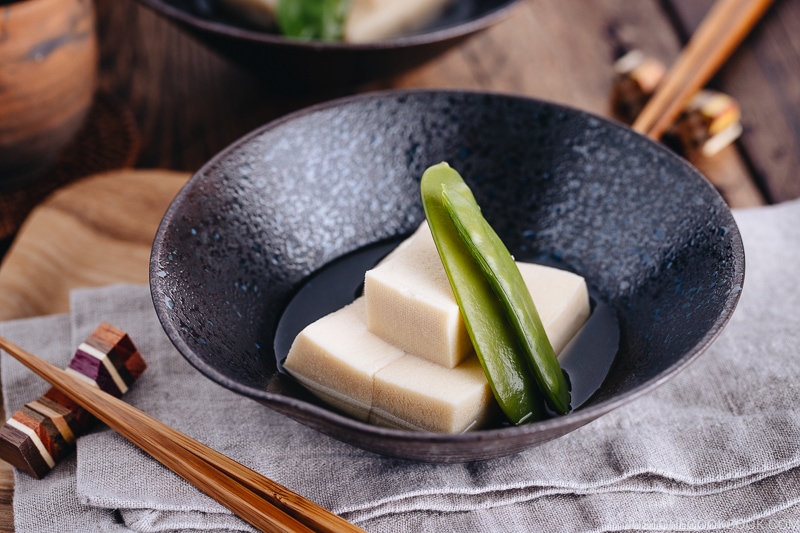 What to Serve with Niku Dofu
As a main dish to serve with rice, niku dofu is high in protein. You can toss in vegetables to make it a nutritiously balanced one-pot dish, or simply serve it with one or two more side dishes:
More Japanese Simmered Recipes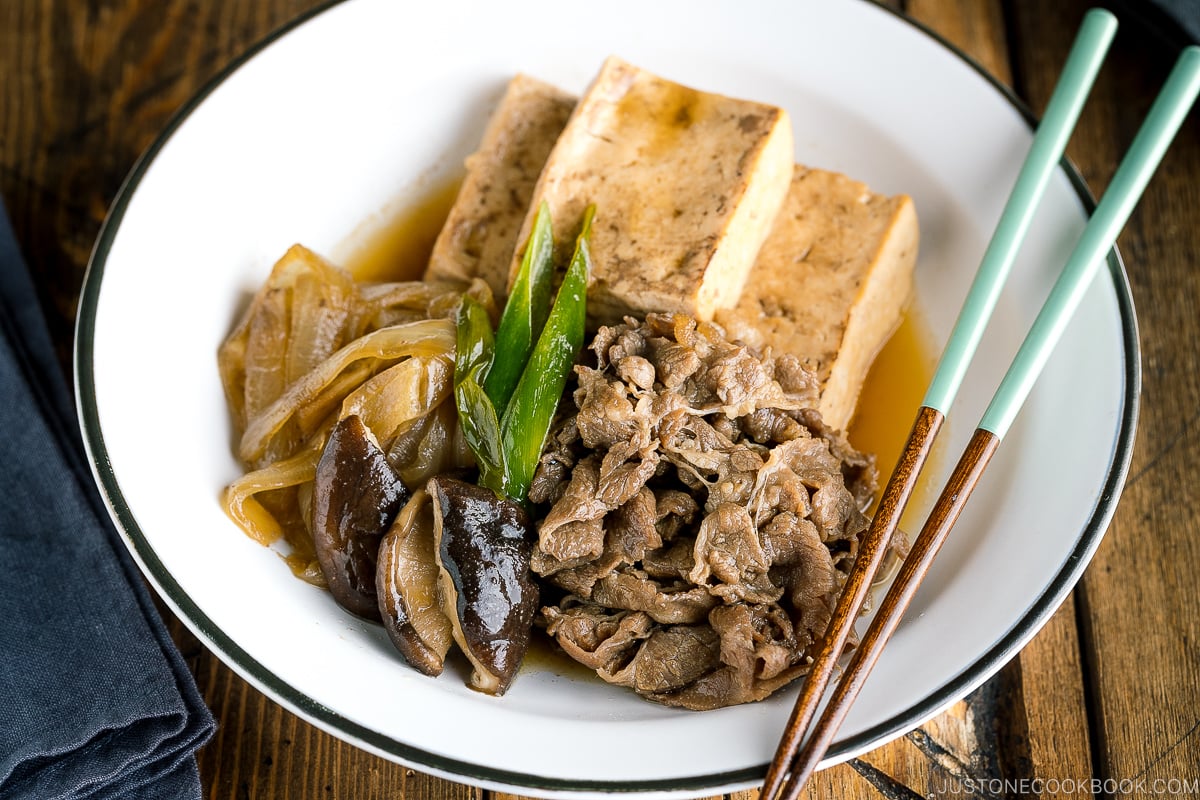 Wish to learn more about Japanese cooking? Sign up for our free newsletter to receive cooking tips & recipe updates! And stay in touch with me on Facebook, Pinterest, YouTube, and Instagram.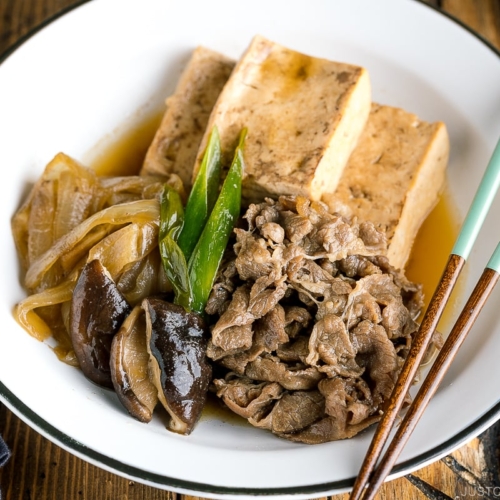 Simmered Beef and Tofu (Niku Dofu)
Japanese Simmered Beef and Tofu, or Niku Dofu, is a comforting, home-style dish for everyday meals. Thinly sliced beef, tofu, shiitake mushrooms, and onion are cooked in a savory and sweet dashi broth. Known as a quick and easy version of sukiyaki, this hearty dish can be made with simple ingredients in under 20 minutes!
Ingredients
1

onion

(7 oz, 200 g)

1

green onion/scallion

(1 oz, 35 g)

½

lb

thinly sliced beef (chuck or ribeye)

(for vegan/vegetarian, you can use king oyster mushrooms or other Japanese mushrooms)
Japanese Ingredient Substitution:
If you want substitutes for Japanese condiments and ingredients, click
here
.
Instructions
To Prepare the Ingredients
Gather all the ingredients.

Cut the onion into ½-inch (1.3 cm) wedges.

Cut the green onion into thin diagonal slices.

Discard the stems of the shiitake mushrooms and slice the caps in half.

Cut the block of tofu in half, then cut each half into 4 slices roughly ¾ inch (2 cm) thick.

Cut the sliced beef into 3- to 4-inch (7.6-10 cm) pieces.
To Cook
In a large frying pan, combine the dashi, sake, mirin, sugar, and soy sauce. Mix them all together and bring it to a simmer over medium heat. Why do we use so little cooking liquid? Please read under the Tips section in the blog post.

Once the liquid is simmering, add the beef and cook until it's no longer pink. Keep it simmering, NOT boiling, and lower the heat if needed.

When the beef is no longer pink, transfer it to a plate. Using a fine-mesh skimmer, skim off the scum from the cooking liquid, if you see any.

Add the tofu and onion to the pan. Cover the pan with a tight-fitting lid and let it simmer for 5-6 minutes.

Once in a while, shake the covered pan to coat the ingredients with the cooking liquid. Tip: If you open the lid, the moisture/cooking liquid will evaporate, so it's best to gently shake the pan with the lid on.

Move the cooked onion to the side of the pan, creating a space for the additional ingredients. Add the reserved beef back to the pan along with the shiitake mushrooms and green onion.

Cook for 2-3 minutes until all the ingredients are heated thoroughly. You can either serve it immediately or keep the pan covered and let it cool naturally, then reheat before serving. This extra step allows the ingredients to better absorb the flavor of the savory and sweet broth.
To Store
You can keep the leftovers in an airtight container and store in the refrigerator for 3 days. You can also freeze it without the tofu for up to a month. The texture of the tofu will change once frozen, so it's best to remove it.
Nutrition
Nutrition Facts
Simmered Beef and Tofu (Niku Dofu)
Amount per Serving
% Daily Value*
* Percent Daily Values are based on a 2000 calorie diet.
©JustOneCookbook.com Content and photographs are copyright protected. Sharing of this recipe is both encouraged and appreciated. Copying and/or pasting full recipes to any website or social media is strictly prohibited. Please view my photo use policy
here
.