Chikuwa Isobeage – fried fish cake coated with tempura batter – are a classic beer food in Japan. With a crispy exterior and toothsome mouthfeel, they make the best snack or side to go with anything! Only 5 ingredients needed.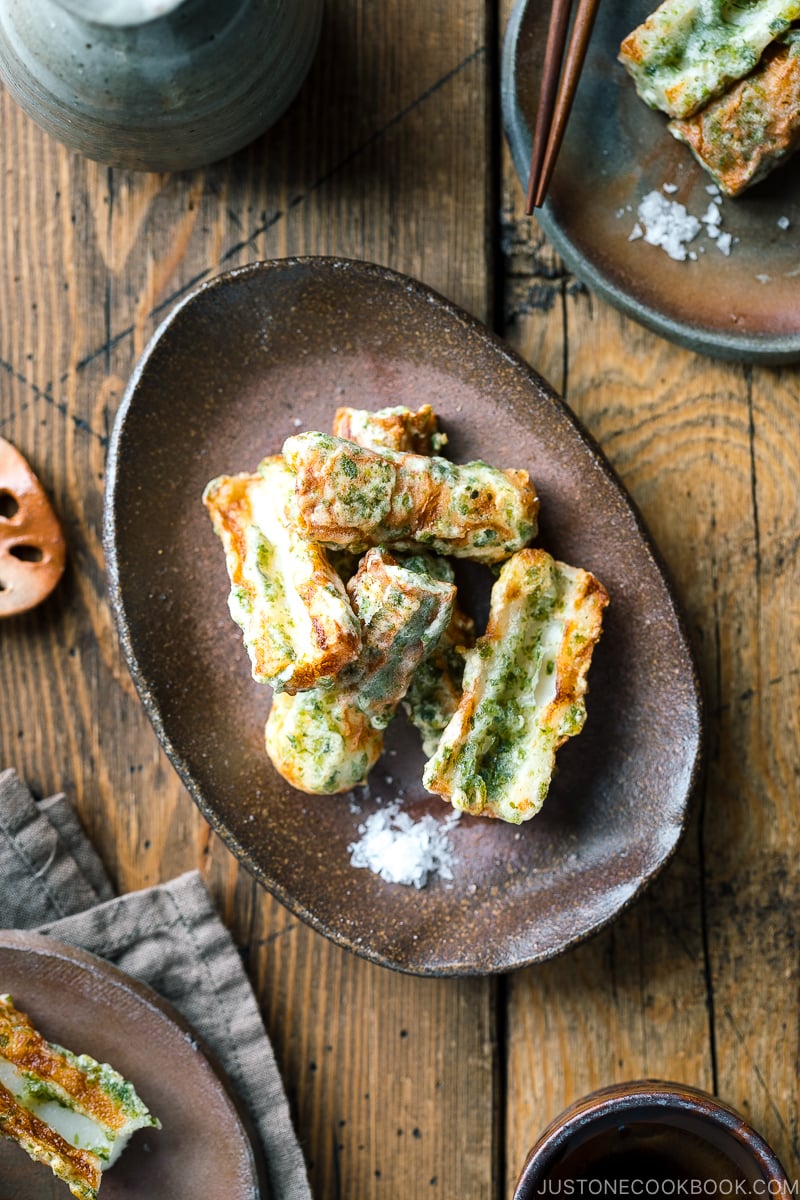 I love a well-stocked pantry, especially with ingredients that allow me to dish out a quick meal or when the cravings hit. One of the items on my freezer list is Chikuwa, a Japanese tube-shape fish cake. They are sold frozen at the Japanese grocery stores and I always grab a few bags to stock up.
Today I'll share a simple recipe – Chikuwa Isobeage (ちくわ磯辺揚げ). It's basically a crispy fried dish coated with a tempura-style batter flavored with seaweed. You'll love it as a fun side, beer food, or a great snack for movie night!
What is Chikuwa Isobeage
Chikuwa (竹輪, ちくわ) is a type of fish cake that comes in tube shape. The surimi (pureed fish) paste is wrapped around the bamboo stick, and then steamed and broiled.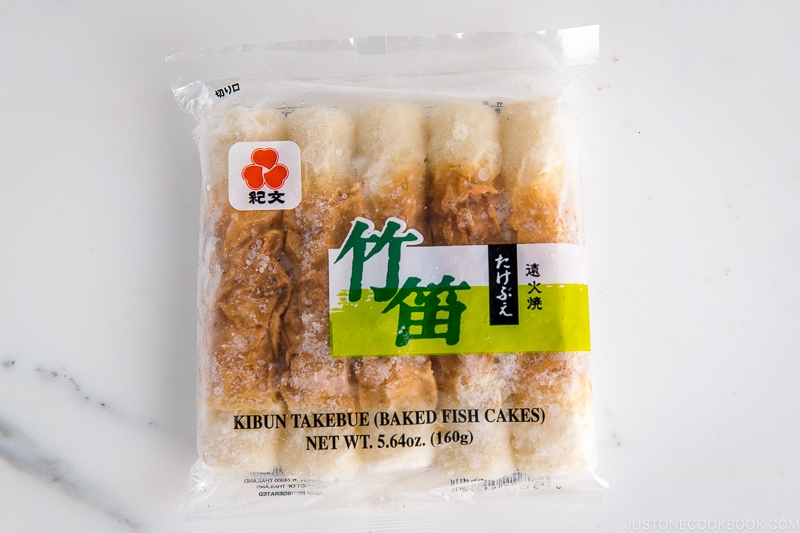 It's one of the popular fishcakes along with kamaboko. A relatively inexpensive ingredient, chikuwa is used in otsumami (a dish served with alcohol), bento, oden, and more!
Introducing Isobeage
Pronounced [iso-beh-a-geh], isobeage (磯辺揚げ) is a tempura dish of which the batter contains aonori (青のり) or aosa (あおさ), dried green seaweed flakes.
Aonori/oasa has a distinct and strong aroma. You may have seen green seaweed flakes on Takoyaki, Okonomiyaki, and other dishes.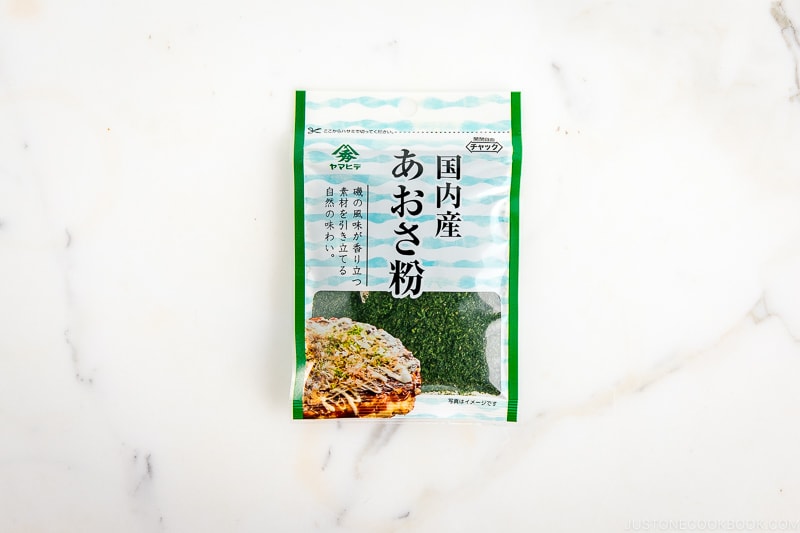 For those who wonder about the Japanese word, 'isobe' refers to rocky coastline/beachside where you find seaweed. And as you may already know, 'age' means deep-fried dish, like karaage or satsuma age.
Isobe Ae (磯部和え), Iseobe Mochi (磯辺餅), Isobe Yaki (磯辺焼き) are some of the dishes that include seaweed flakes.
Where to Get Aonori/Aosa
Japanese and Asian grocery stores
How to Make Chikuwa Isobeage
Ingredients You'll Need
Chikuwa (fish cake)
Aonori or Aosa (dried green seaweed flakes)
Flour
Water
Salt
Oil for shallow-frying
Yes, that's it!
Overview: Cooking Step
Cut the chikuwa in half and bite-size pieces.
Make the batter with flour, aonori, water.
Coat chikuwa with batter and shallow-fry for a minute.
Cooking Tips
Do not over-mix the batter.
You will need just ¼ inch (6 mm) oil in the pan.
Add salt in the batter, but sprinkle (flaked) salt right before eating.
Substitute Ideas
In addition to chikuwa, this seaweed-flavored tempura batter can also be used with other ingredients. Something with a bland or neutral taste would work best so that the aromatic aonori or aosa stands out. Here are my suggestions:
Fish balls (cut in half or whole)
Lotus root (thinly sliced)
Yamaimo/nagaimo (sticks)
Tofu (cubed)
Mushrooms (king oyster, shimeji, etc) (sliced or whole)
Squid (small pieces)
Chicken (bite-size pieces)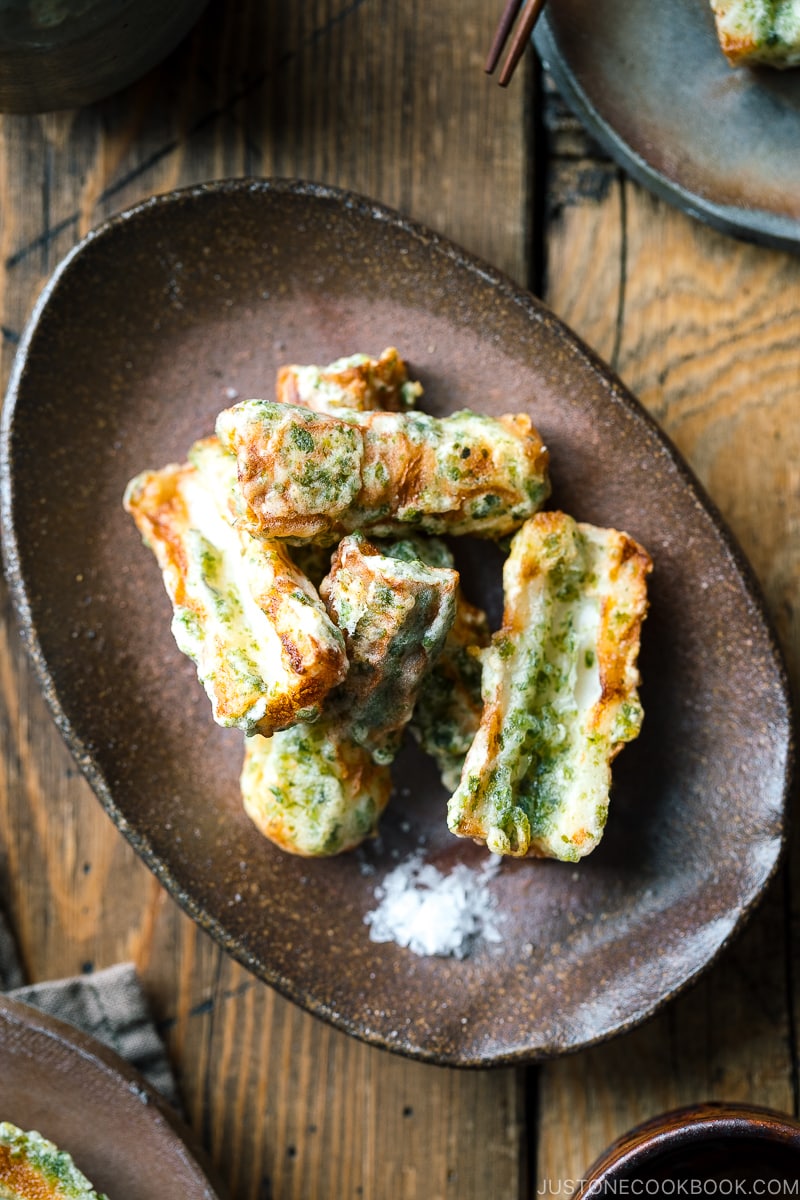 How to Serve Chikuwa Isobeage
With light crispy edges that is bursting with umami seaweed flavor, these fried fish cakes are so fun to eat! Once you take a bite, it's hard to stop. No wonder they are such a favorite beer food in Japan.
At home, you can enjoy Chikuwa Isobeage in different ways:
Serve it with chilled beer
Place on top of udon/soba noodle soup
Afternoon snack for kids
Savory snack for movie nights
A fun add-on to your main meal or bento box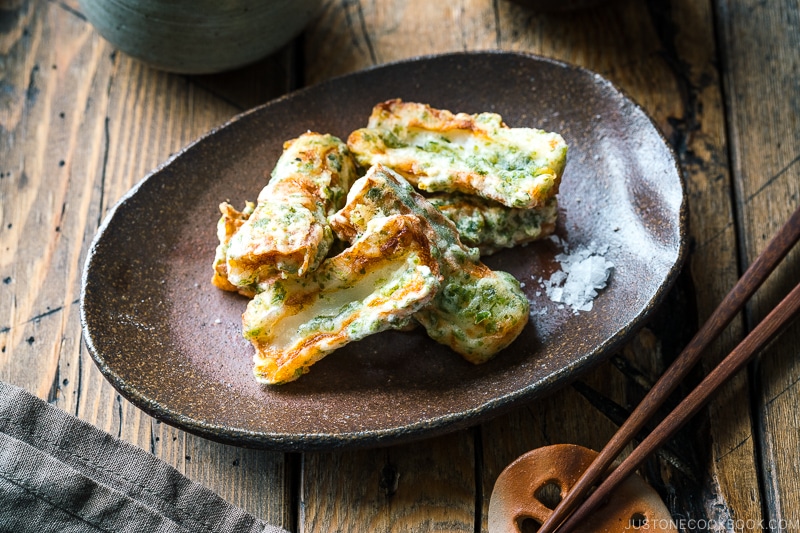 Sign up for the free Just One Cookbook newsletter delivered to your inbox! And stay in touch with me on Facebook, Pinterest, YouTube, and Instagram for all the latest updates.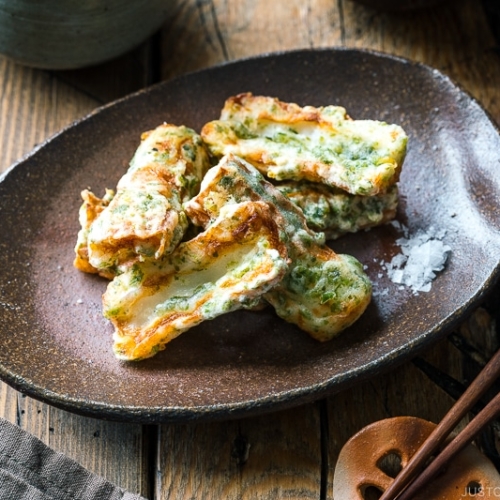 Chikuwa Isobeage
Chikuwa Isobeage – fried fish cake coated with tempura batter – are a classic beer food in Japan. With a crispy exterior and toothsome mouthfeel, they make the best snack or side to go with anything!
Japanese Ingredient Substitution:
If you want substitutes for Japanese condiments and ingredients, click
here
.
Instructions
Gather all the ingredients.
To Prepare Tempura Batter
In a medium bowl, combine tempura ingredients except for water. Mix well with chopsticks.

Gradually add water and roughly mix with chopsticks. We do not want to activate the gluten in the batter, so do not over-mix. It's okay to have lumps in the batter.

Cut the chikuwa in half lengthwise. If you like, cut each halves in half or thirds.

Add the chikuwa in the batter and coat well.
To Shallow Fry
In a large frying pan, heat the oil on medium heat. When it's hot, place chikuwa in the pan. Do not crowd.

Shallow-fry until the bottom side is nice golden brown, then flip to cook the other side. Roughly 1 minute on each side as chikuwa is already cooked. Drain excess oil on a paper towel or wire rack and serve immediately. I like to sprinkle flake salt to intensify the flavor.
To Store
You can store the leftovers in an airtight container and store them in the refrigerator for up to 3 days and in the freezer for 2 weeks. I recommend reheating them in the oven or toaster oven for a crispy texture.
Nutrition
Nutrition Facts
Chikuwa Isobeage
Amount per Serving
% Daily Value*
* Percent Daily Values are based on a 2000 calorie diet.
©JustOneCookbook.com Content and photographs are copyright protected. Sharing of this recipe is both encouraged and appreciated. Copying and/or pasting full recipes to any website or social media is strictly prohibited. Please view my photo use policy
here
.