Baked and broiled in the oven, this Miso-Glazed Eggplant is easily the dream dish of any eggplant lover! The eggplant pieces are nicely caramelized on the edges yet so creamy in the middle. It's a satisfying vegan dish that you can make in 30 minutes.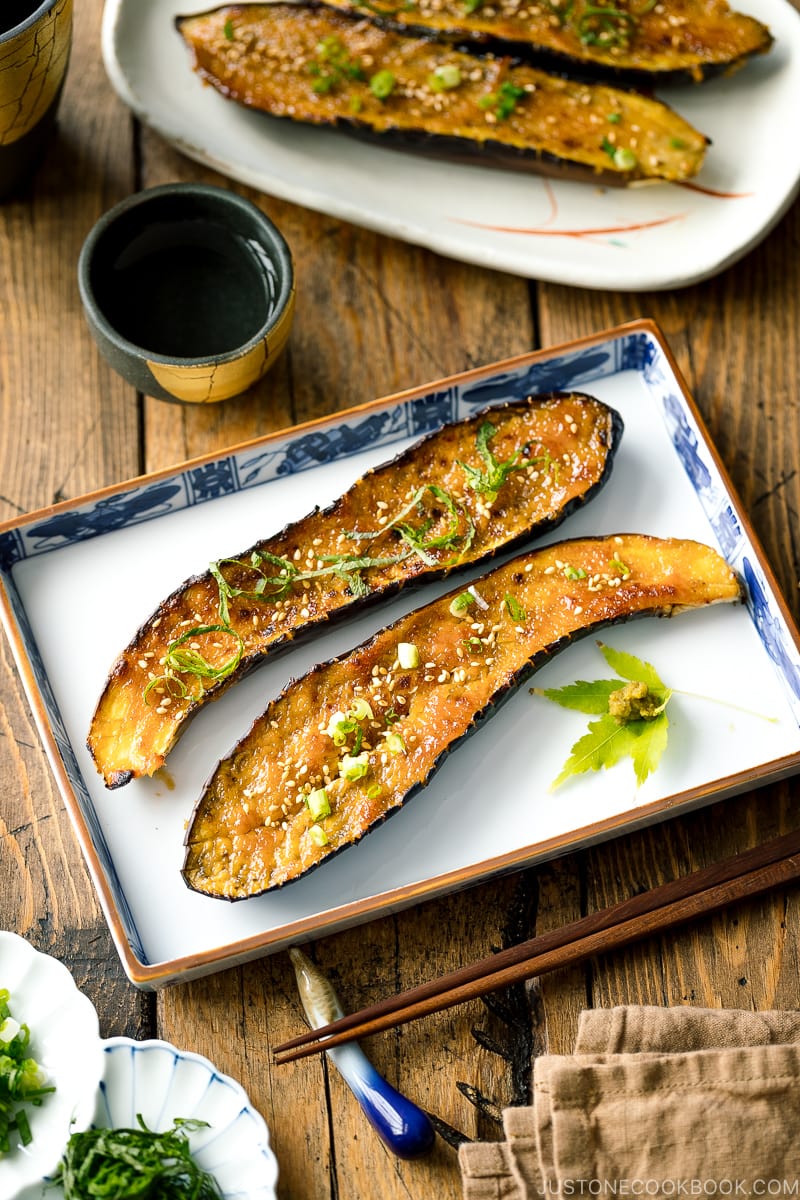 Eggplant is easily one of those under-appreciated and misapprehend vegetables. Mainly because it can be tricky to cook. However, when it's done right, this spongy vegetable has the ability to soak up flavors and offers the best silky, sumptuous texture.
To get anyone excited about eggplant, I have a wonderfully simple recipe – Miso Glazed Eggplant (茄子の味噌焼き). You don't have to worry about oil and potential sogginess. Plus, it has a crispy exterior, super-creamy interior and an impressive flavor. Give it a try!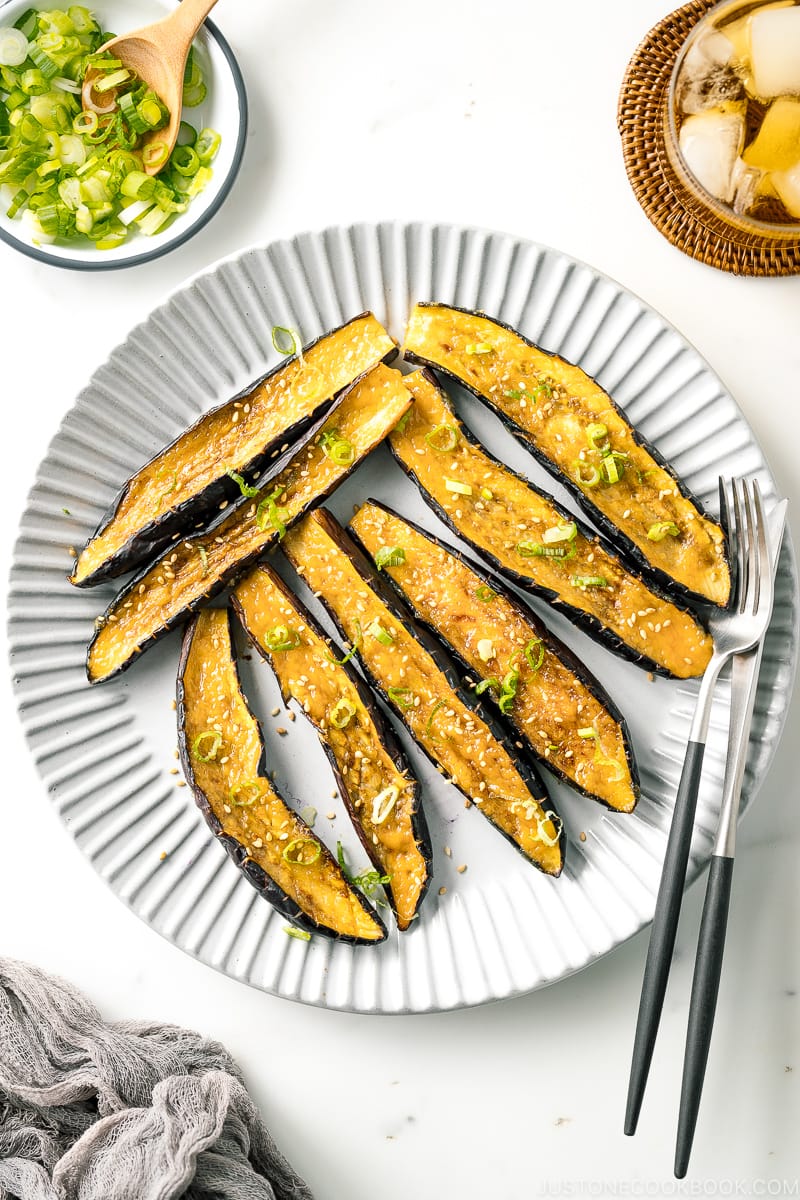 A Quick Note on Miso Glazed Eggplant
Today's recipe is an adaption of the classic Nasu no Miso Dengaku (茄子の味噌田楽) where eggplant is grilled and coated with a sweet miso glaze. The eggplant is commonly served together with other grilled items such as tofu, eggplant, daikon, taro root, and konnyaku as part of a dish known as Miso Dengaku (味噌田楽). You can read more about the history and recipe of Miso Dengaku in this post.
While grill and pan-fry are common treatments for eggplant in Japan, here we'll use the oven (and broiler) instead. Baking softens and sweetens the eggplant into the best texture, and it allows you to cook a big batch at once with minimal effort.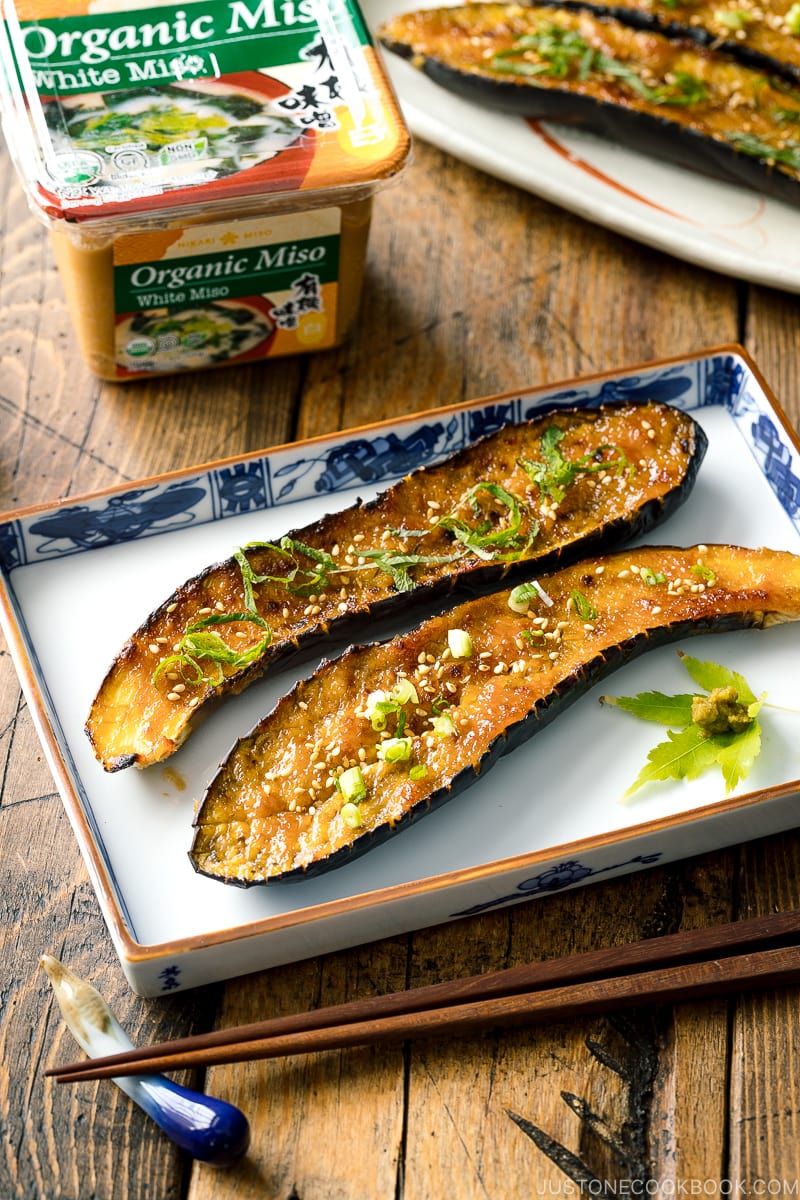 How to Make Miso Glazed Eggplant
Ingredients You'll Need
Eggplant (I recommend using Japanese, Chinese, or Italian variety. The slender ones cook a lot faster)
Condiments: Miso, mirin, sake, sugar, and sesame oil
Garnish: Sesame seeds and green onion
Overview: Quick Steps
Slice the eggplants in boat-like halves and then give them criss-cross scores so they cook faster and take on more flavor.
Bake the eggplants until tender.
Brush the eggplants with miso glaze and broil until they achieve a bubbly and caramelized exterior.
What Miso to Use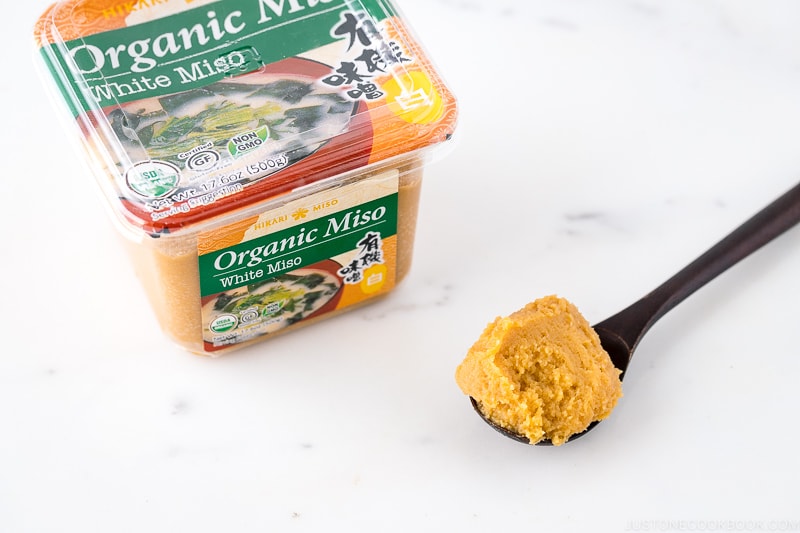 A classic Miso Dengaku uses red miso or hatcho miso (see my recipe). In this recipe, however, I used Organic White Miso from Hikari Miso. This versatile miso is mild, flavorful, and smooth, and it goes well with the majority of dishes, including miso soup, and miso cod.
You can find this miso at Japanese/Asian grocery stores and also on Amazon.
What if I have a different kind of miso?
If you already have a tub of miso in your refrigerator, go ahead and use it. Each variety of miso (whether brand or miso type) has a different salt level, so you do have to adjust the miso glaze by adding more mirin or sugar.
White miso is on the sweeter side and tends to be less salty, so if you have red miso (aka miso), you probably need to balance out the flavor by adding more mirin or sugar.
What to Serve with Miso Glazed Eggplant
This Miso Glazed Eggplant can be enjoyed as a tasty appetizer, side or as a main dish. I love serving it with:
Tableware from Musubi Kiln
I've partnered with a great ceramic online shop from Japan called Musubi Kiln. You will get 10% off with a coupon code JUSTONECOOKBOOK for your purchase. In this post, I've used: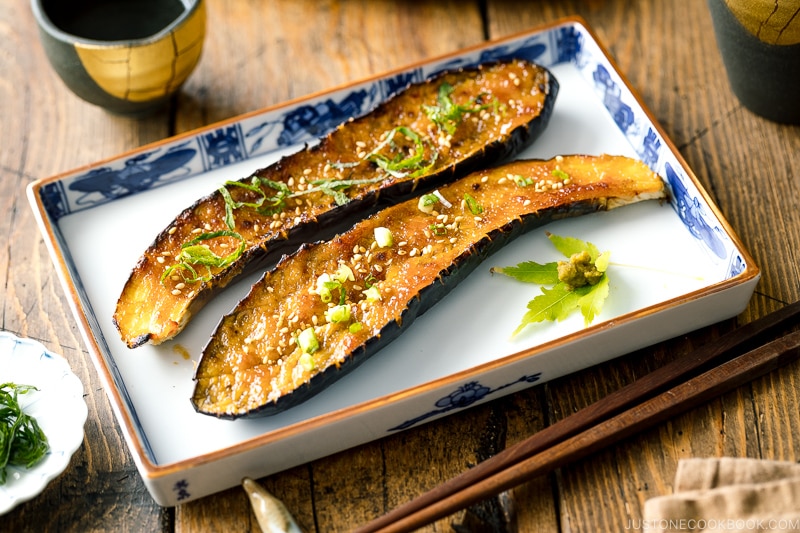 Wish to learn more about Japanese cooking? Sign up for our free newsletter to receive cooking tips & recipe updates! And stay in touch with me on Facebook, Pinterest, YouTube, and Instagram.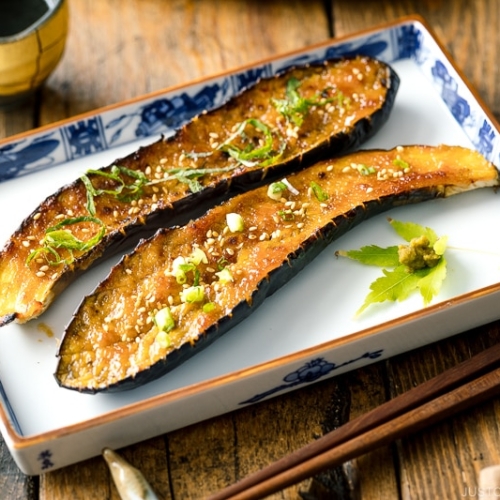 Miso-Glazed Eggplant
Baked and broiled in the oven, this Miso-Glazed Eggplant is easily the dream dish of any eggplant lover! The eggplant pieces are nicely caramelized on the edges yet so creamy in the middle. It's a satisfying vegan dish that you can make in 30 minutes.
Servings:
3
(as a side dish)
Ingredients
For the Garnish (optional)
1

green onion/scallion

(or

2

stalks if they're thin and small)

5

shiso leaves (perilla/ooba)

(available at a Japanese market; no similar substitutes since eggplant, shiso, and miso are the golden combo!)
Japanese Ingredient Substitution:
If you want substitutes for Japanese condiments and ingredients, click
here
.
Instructions
Gather all the ingredients. Set the oven rack in the center of the oven about 7 inches (18 cm) away from the heating element. Preheat the oven to 425ºF (220ºC). For a convection oven, reduce the cooking temperature by 25ºF (15ºC).
To Make the Sweet Miso Glaze
In a small bowl, combine

3 Tbsp miso

and

1 Tbsp sugar

. Mix well until the sugar is dissolved.

Add

1 Tbsp mirin

and gradually add

½–1 Tbsp sake

to your preferred consistency (some miso might be chunkier than others). Mix well and set aside.
To Prepare the Eggplants
Cut off the stem and calyx of

3 Japanese eggplants

and cut them in half lengthwise from the stem to the tip, creating boat-like halves. If your eggplants are long, you can cut them in half crosswise.  

With the knife, score the eggplant flesh diagonally in one direction and then the other, about ⅛ inch (3 mm) deep and ⅛ inch (3 mm) wide, in a crisscross pattern on the open surface. This crisscross scoring helps cook the eggplants faster and improves the presentation.

Soak the eggplants in water for 10 minutes to remove the astringency. Blot the eggplants with paper towels or a clean kitchen towel and place them on a baking sheet lined with parchment paper.

Brush the eggplant flesh with

1 Tbsp toasted sesame oil

. Turn the eggplants over so they are cut side down on the baking sheet.
To Bake
Bake the eggplants at 425ºF (220ºC) for 15 minutes.

Meanwhile, cut

1 green onion/scallion

into thin rounds.

Roll up

5 shiso leaves (perilla/ooba)

and cut them into julienned strips.

After 15 minutes, check that the eggplant skin is beginning to shrivel and the flesh is soft. Remove the baking sheet from the oven. Now, change the oven setting and preheat the broiler. Keep the oven rack in the center of the oven, roughly 7 inches (18 cm) away from the heating element.

Carefully turn the eggplants over and brush them with enough sweet miso glaze to coat the surface completely. Depending on the size of your eggplants, you may have glaze leftover. The original recipe makes enough glaze for 3 large or 5 medium eggplants. You can freeze it for later or use it to dip veggies for snacks.
To Broil
Place the eggplants under the broiler and broil for 3–5 minutes, or until the glaze begins to bubble, and remove from the broiler. Please note that the cooking time varies based on how far away you place the baking sheet from the heating element.
To Serve
Sprinkle the baked eggplants with

2 tsp toasted white sesame seeds

, sliced green onions, and shiso leaves. Serve immediately.
To Store
You can keep the leftovers in an airtight container and store it in the refrigerator for up to 3 days.
Nutrition
Nutrition Facts
Miso-Glazed Eggplant
Amount per Serving
% Daily Value*
* Percent Daily Values are based on a 2000 calorie diet.
©JustOneCookbook.com Content and photographs are copyright protected. Sharing of this recipe is both encouraged and appreciated. Copying and/or pasting full recipes to any website or social media is strictly prohibited. Please view my photo use policy
here
.
Editor's Note: This post was originally published on June 30, 2013. The post has been updated with new blog content and images along with a revised recipe in October 2021.