Slightly spicy and incredibly flavorful, this Mapo Eggplant (Mabo Nasu) is an adaptation of Chinese food that's very popular in Japan. Served over hot steamed rice, you'll have a satisfying weeknight meal!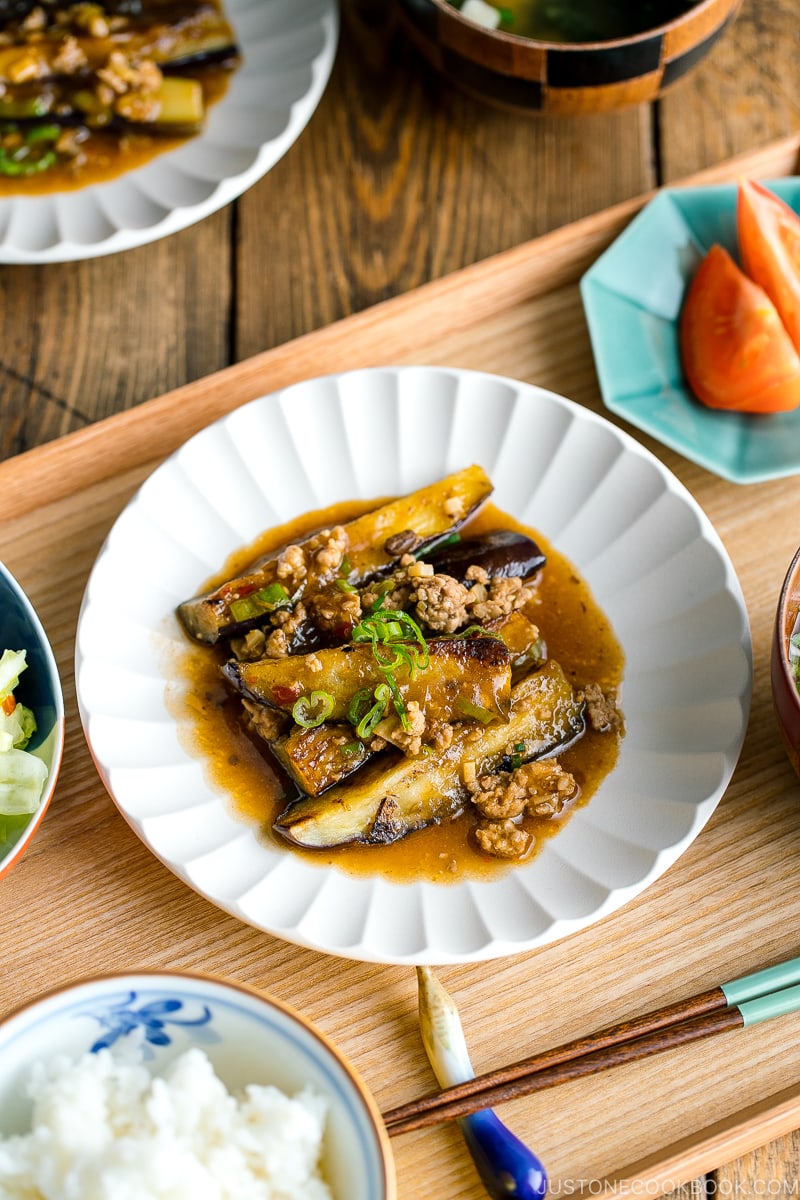 Growing up, my mom would include her favorite eggplant in a lot of dishes, but I was never too fond of that. It wasn't until I became an adult and cooking my own food that I started to discover a newfound love for the vegetable. And one of my absolute favorites is Mapo Eggplant (麻婆茄子). Here, the eggplants are cooked until tender and so full of flavors from the sauce.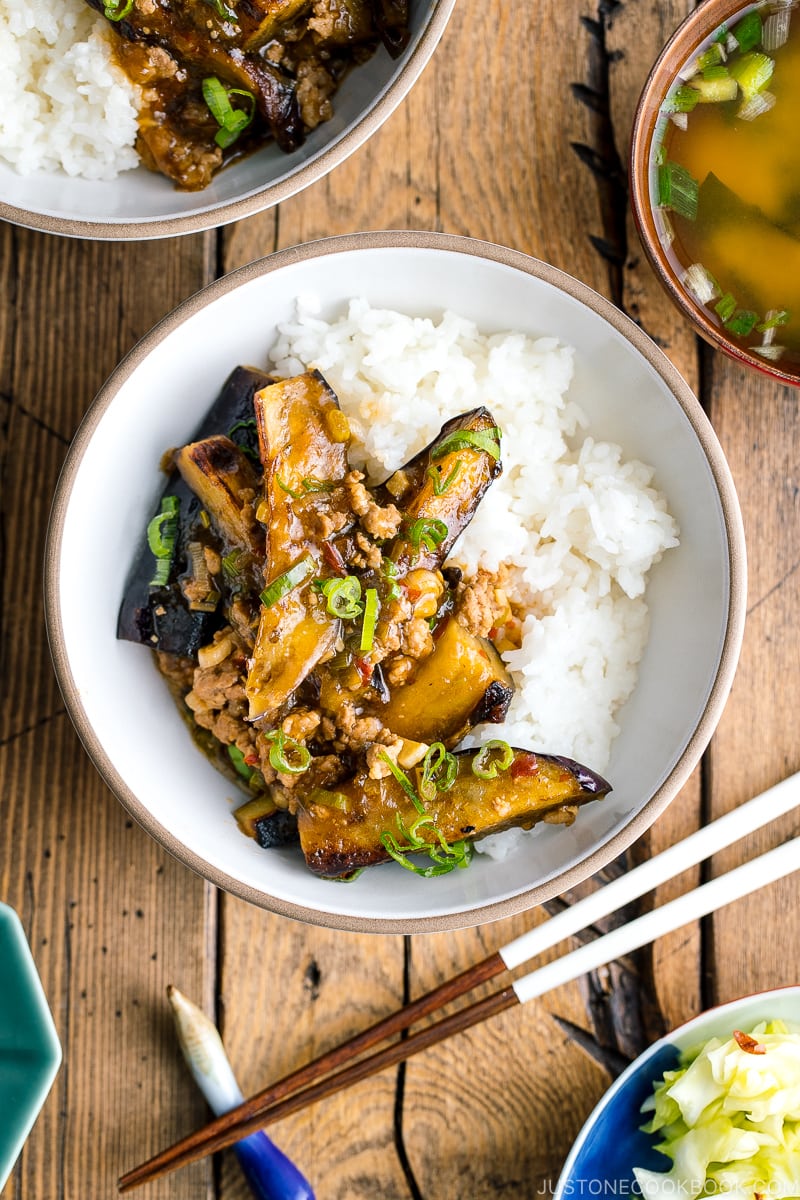 What is Mapo Eggplant (Mabo Nasu)?
Mapo Eggplant, or what we call Mabo Nasu (麻婆茄子) in Japan, is a delicious stir-fried eggplant dish with ground pork and seasoned with a bold savory sauce.
It may remind you of Mapo Tofu, one of the most popular Sichuanese classics. The Japanese have our very own version of Mapo Tofu (my recipe here), and if you enjoy the dish, you will most certainly enjoy Mapo Eggplant. I know the combination is a bit unexpected but I promise you this dish is mouth-watering delicious.
In contrast to the Chinese variations, which go by Fish Fragrant Eggplant (魚香茄子) or Chinese Eggplant with Garlic Sauce, Japanese Mapo Eggplant is milder on the spice level, and yet it captures the savory essence with our own unique touches.
Japanese-Chinese Cooking in Japan
When Marumiya Food Industry and Ajinomoto released the vacuum-packaged Chinese sauces to the grocery shelves in the 1980s, they became the introduction of Chinese cooking to Japanese households.
Among the range of Chinese sauces packaged under CookDo, Mapo Tofu and Mapo Eggplant are the most popular choices. All you need to do is to stir fry the ingredients and pour in the sauce. Many housewives started making Japanese-style Chinese food at home because of these convenient, one pouch packages. Back then, most people did not own common Chinese condiments so the sauces were truly magical.
Since the Japanese do not eat overly spicy food, the company included miso in the Mapo seasonings and reduce the spice to create a familiar taste that suits the Japanese palate.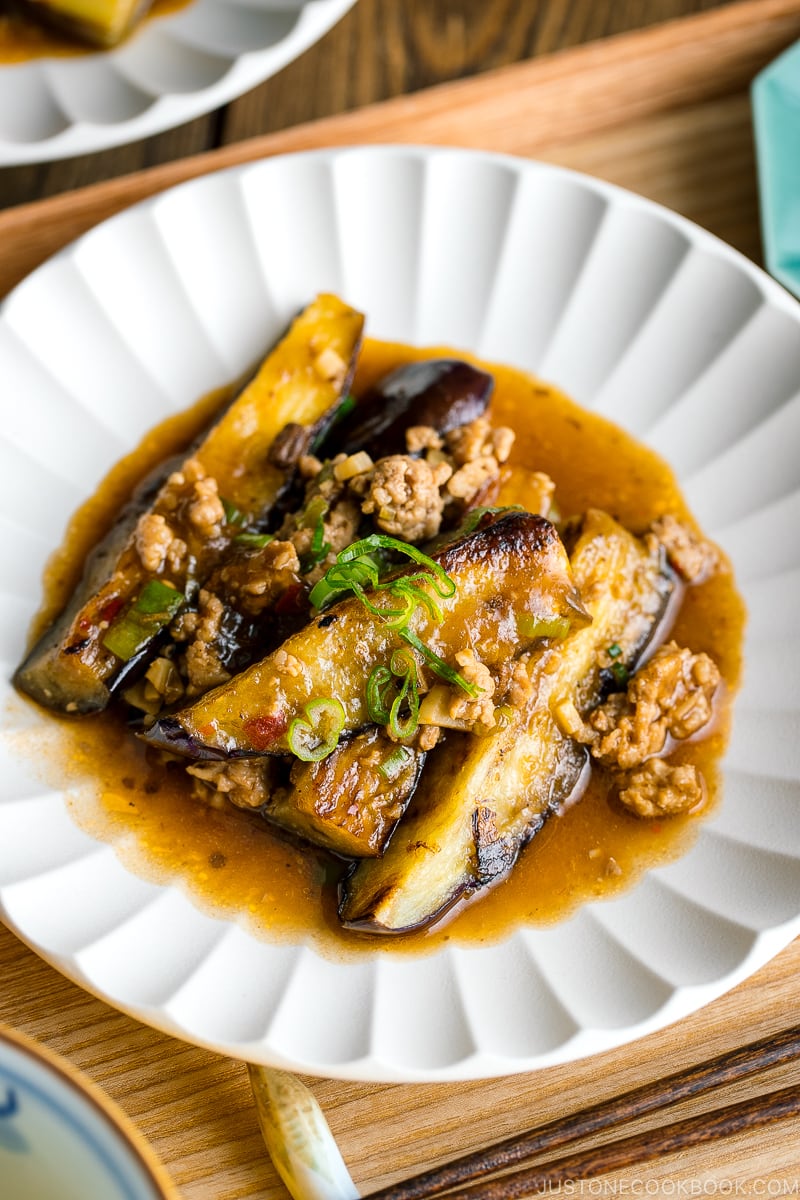 What You'll Need to Make Mapo Eggplant
1. Eggplants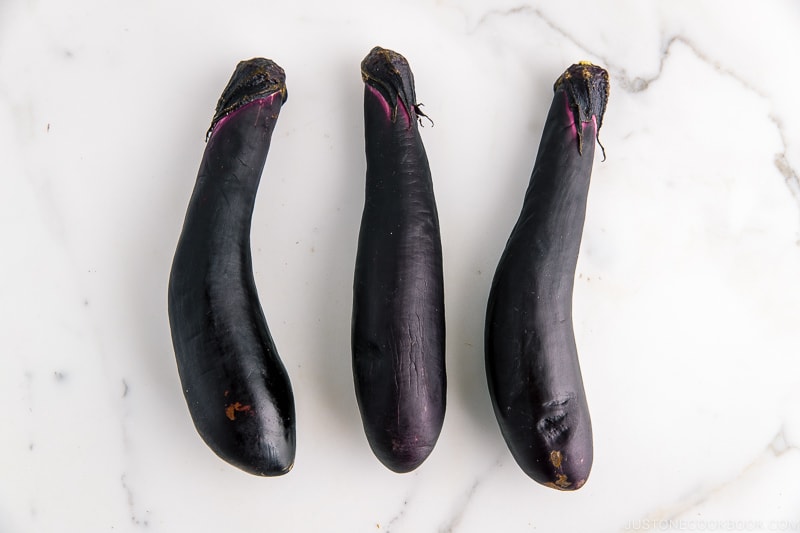 In Japan, we only have Japanese eggplants, so that's what I used for this recipe. Living outside of Japan, you can definitely use Chinese long eggplants or globe eggplants.
Substitutions: Use Chinese or globe eggplants, but keep the skin and cut them into wedges. The skin will retain its shape and won't get too mushy and disintegrate into the sauce.
2. Ground Pork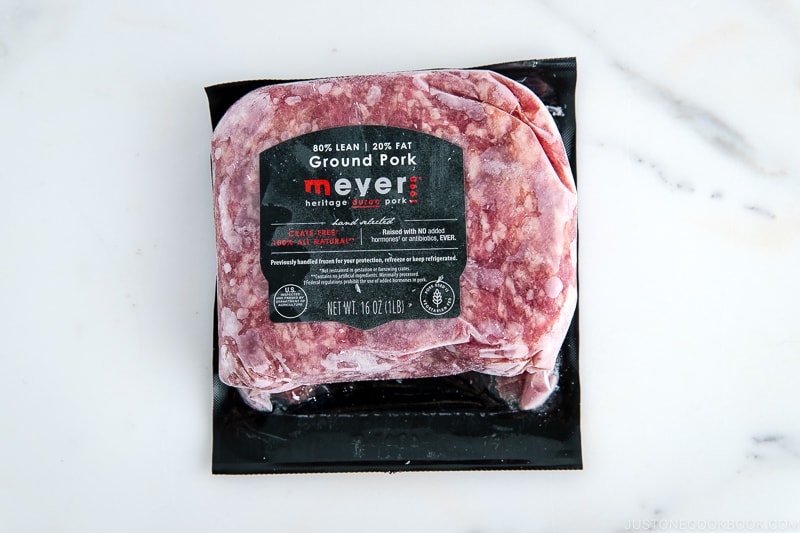 We often use ground pork in Japan, as it's very flavorful and pairs well with eggplant and the sauce.
Substitutions: While other ground meats could be used, you want to use ground pork for the best results! The flavor and consistency of pork is unmatched for this recipe.
3. Doubanjiang (Fermented Bean Paste)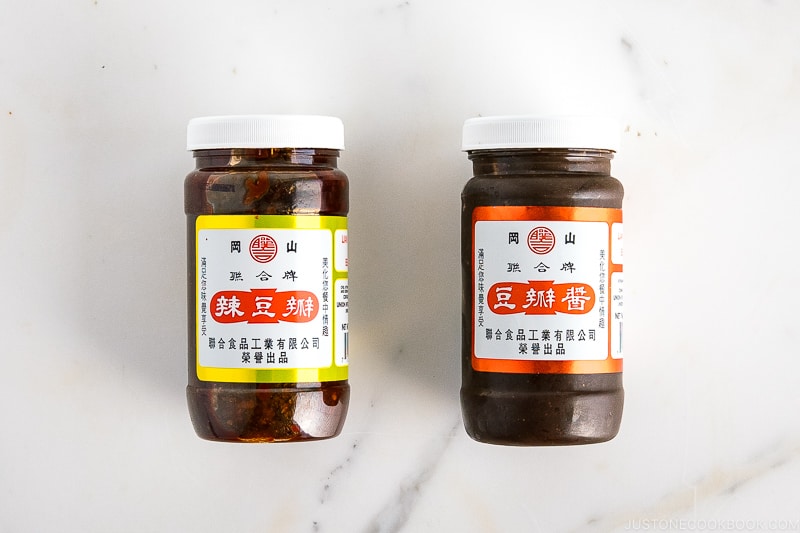 Because Japanese people are not accustomed to eating spicy food, our spice tolerance is very low. When you order Mapo Tofu or Mapo Eggplant in Japan, you probably don't think it's spicy at all! Don't expect it to be anywhere near the hot spicy taste of the Sichuanese eggplant dish.
I love this Taiwanese Lian How (岡山) brand which has both Non-Spicy Doubanjiang (豆瓣酱) and Spicy Doubanjiiang (La Doubanjiang 辣豆瓣酱). If you look at the non-spicy version, the color is brown, and no sign of red chili in there. You can buy this from Asian grocery stores or Walmart or Weee!
Substitutions: Please DO NOT substitute this sauce with other bean sauce (like black bean sauce). The main flavor comes from Doubanjiang, so you will be missing out.
4. Tienmienjiang (Sweet Bean Sauce)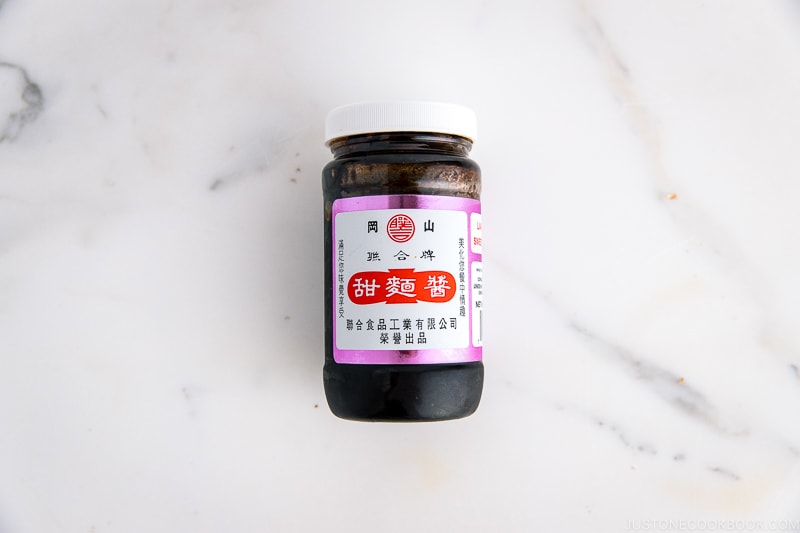 Tianmianjiang or sweet bean sauce is a thick, dark brown- or black-colored Chinese sauce made from wheat flour, sugar, salt, mantou, and fermented yellow soybeans.
Sweet bean sauce can be found in typical Asian supermarkets under various English names. It might be easier to look for the Chinese name written as 甜麵醬.
Substitutions: I don't know what would be the best substitute for this. For this recipe, I would just skip it if you can't find one and add a bit more Doubanjiang.
5. Miso (Soybean Paste)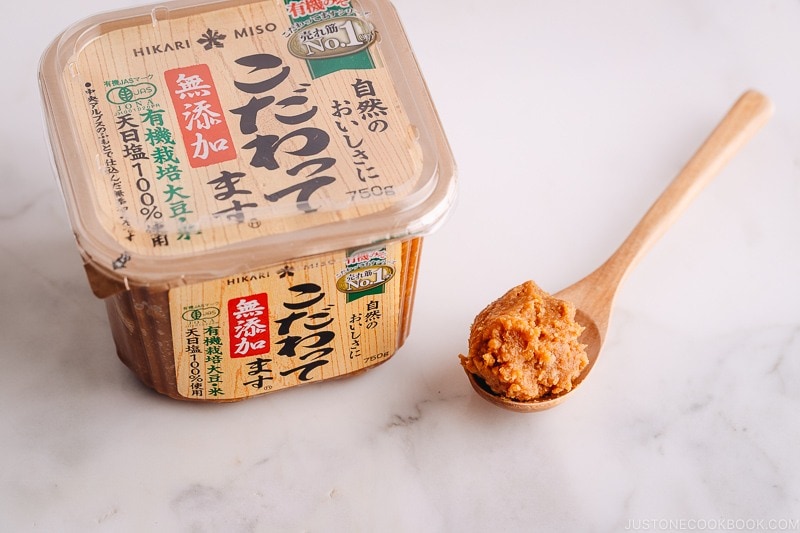 Miso is the one ingredient that defines the Japanese-style Mapo Eggplant and Mapo Tofu. It lends plenty of umami and depth to the sauce.
Substitutions: Some of you may ask if you can substitute with Doenjang (Korean soybean paste), but I don't think it's suitable. I'm hoping that you have miso in your fridge already, and if you don't, I highly recommend getting one to make many of my miso recipes! There are endless uses for miso in Japanese cooking.
6. Aromatics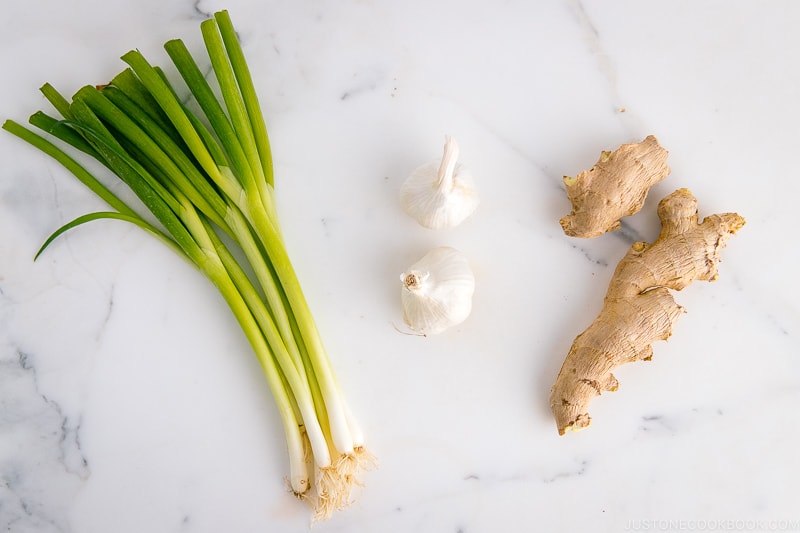 Fresh ginger, garlic, and green onions are the holy grails of Asian cooking. Without these aromatics, your dishes will be lackluster.
Substitutions: No substitution, they are essential in flavoring the dish. Dried ginger and garlic won't live up to the fresh ones.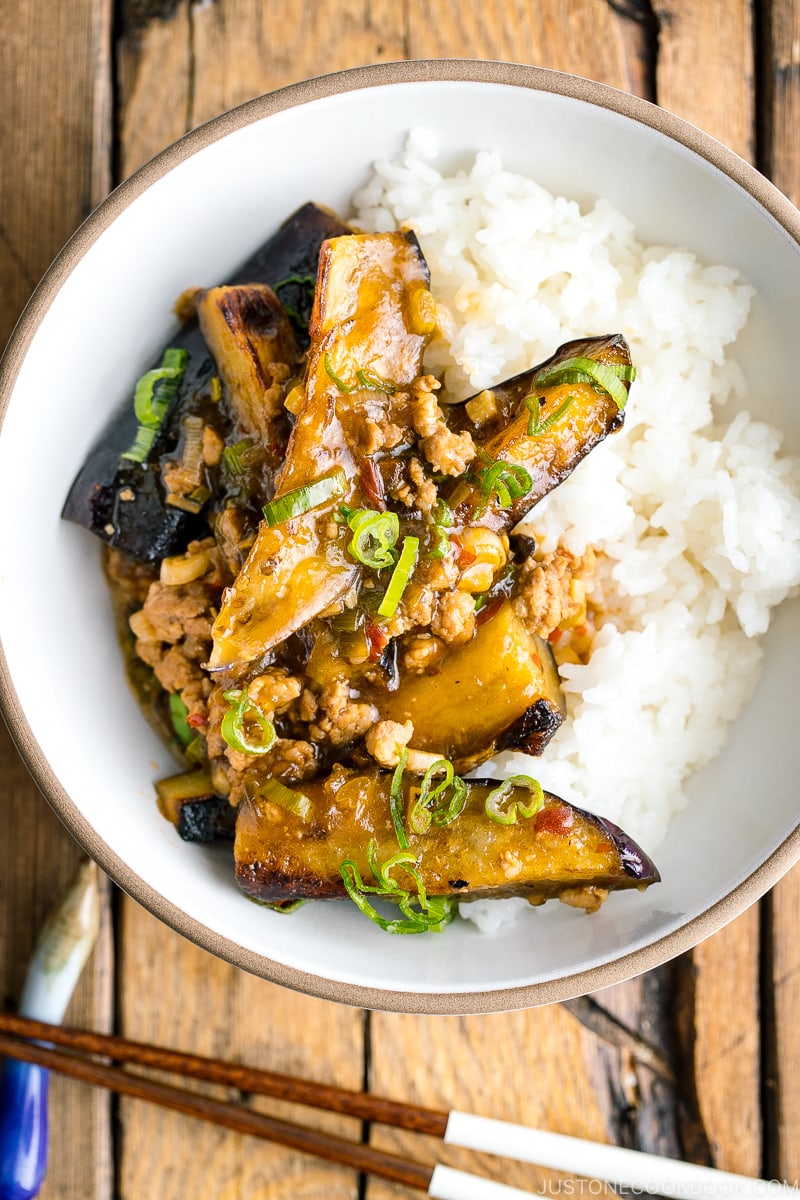 How to Make Mapo Eggplant
It might seem tricky with all the steps, but it's really simple.
Cut eggplants, coat them with potato/cornstarch, and then pan-fry.
Cook the aromatics and ground pork.
Add the seasonings and broth.
Return the eggplant to the pan.
Add the slurry sauce and garnish it with green onions.
The best part about this Mapo Eggplant recipe besides the amazing taste? It only takes less than 30 minutes to make from start to finish!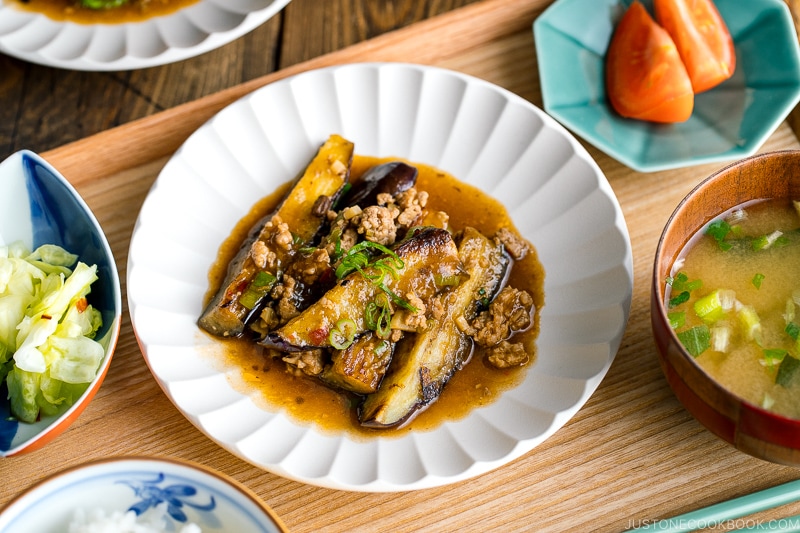 Your New Favorite Weeknight Stir Fry Dinner
Bursting with the subtlety of complex flavors, this Japanese Mapo Eggplant makes a fine weeknight dinner when eaten with steamed rice. I can't get enough of the buttery tender eggplant and the deeply flavored sauce. When I cook it, it transports me back to my mom's dinner table in Japan and brings back lots of wonderful memories.
To make it a complete meal, you can also serve Mapo Eggplant as a main dish, accompanied by pickled cabbage, miso soup, and a simple salad.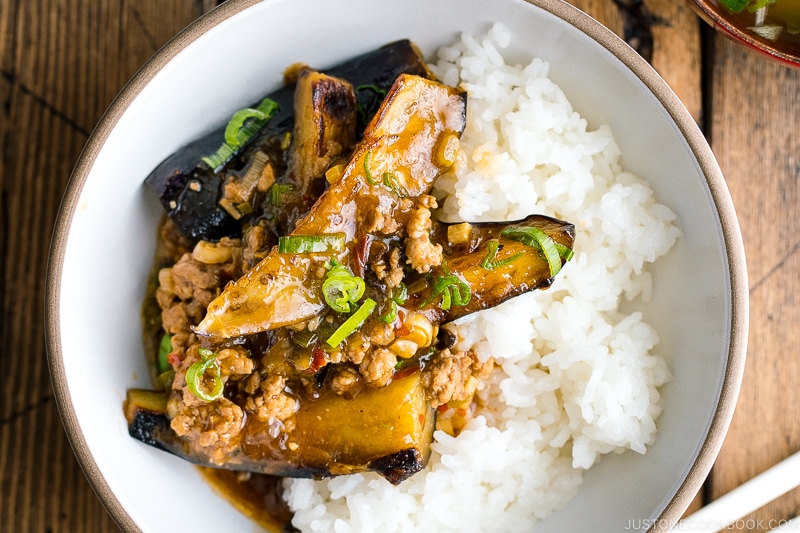 Wish to learn more about Japanese cooking? Sign up for our free newsletter to receive cooking tips & recipe updates! And stay in touch with me on Facebook, Pinterest, YouTube, and Instagram.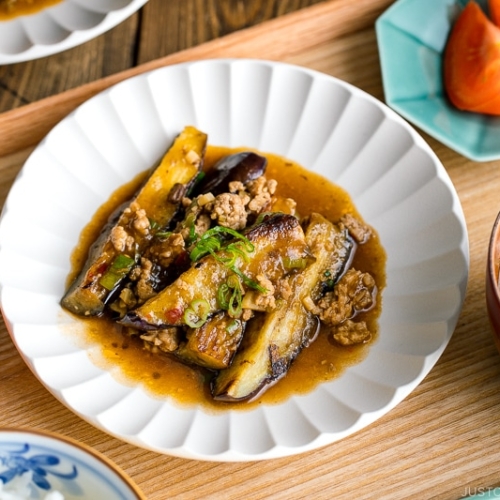 Mapo Eggplant (Mabo Nasu)
Slightly spicy and incredibly flavorful, this Mapo Eggplant (Mabo Nasu) is an adaptation of Chinese food that's very popular in Japan. Served over hot steamed rice, you'll have a satisfying weeknight meal!
Servings:
3
(3 servings as rice bowl, 4 as a part of the meal)
Ingredients
10

oz

Japanese eggplants

(2-3 eggplants; each eggplant is usually 5 oz or 142 g; Using a glob eggplant? See the instruction.)

2

green onions/scallions

1

knob

ginger

1

clove

garlic

1

Tbsp

potato starch or cornstarch

(for coating eggplant)

⅓

cup

oil

(for frying eggplant)

1

Tbsp

roasted sesame oil

(for stir-frying)

3.5

oz

ground pork
Japanese Ingredient Substitution:
If you want substitutes for Japanese condiments and ingredients, click
here
.
Instructions
Gather all the ingredients.

Discard the ends of the eggplants. Cut them in halves widthwise and then cut into wedges. If you are using the globe eggplant (please know that its skin is tougher than one of the Japanese or Chinese eggplants), cut it into pieces that can have skin so it holds the flesh. Without skin, the eggplant will lose its shape and gets mushy.

Wedges should be an equal size for even cooking. Soak them in water for 5 minutes to remove astringency.

Cut the green onions where they separate white and green parts. Cut each part into thin rounds and keep them separated.

Cut the ginger into thin slices, then julienne, and finally mince them. You will need heaping 1 tsp (or up to you).

Mince the garlic (or use a garlic press to mince the garlic).

Transfer the eggplant to a tray/plate, and pat dry with a paper towel. Sprinkle potato starch/cornstarch and coat well. You don't want to see any moisture on eggplant because it will splash in the oil.

To make the slurry mixture, combine potato starch/cornstarch and water in a measuring cup. Mix well and set aside. You will need to remix the mixture again right before pouring.

In a large frying pan, heat ⅓ cup oil on the medium-high heat (or the medium on a professional stove). Add the eggplant in a single layer or fry in batches if the eggplant overlaps.

Pan-fry the eggplant until golden brown and transfer to a plate.

The oil used for frying eggplant should be all absorbed by the eggplant. Heat the sesame oil on medium heat (medium-low on the professional stove) and add garlic and ginger.

Stir fry until they are fragrant. Then add the pork and increase the heat to medium-high (medium on the professional stove).

When the pork is 80% cooked, add sake and stir.

Add the white part of green onions, Doubanjiang, and Tienmienjiang and stir well to combine. Be careful not to let the sauce get burnt. If the heat is too strong, lower it a bit.

Add miso, sugar, and soy sauce.

Bring it to simmer and add the eggplant.

Coat the eggplant with the sauce and slowly drizzle the slurry mixture.

Bring it to simmer and check the consistency of the sauce. If it's too loose, let the moisture evaporate. If the sauce is too thick, you can drizzle a small amount of water to loosen up. When the consistency is good, drizzle rice vinegar over the sauce to finish it up.

Add the green part of green onions right before serving. Serve over steamed rice in a bowl or on a plate by itself. Enjoy!
To Store
You can store in an airtight container and keep it in the refrigerator for up to 3 days and in the freezer for up to 3-4 weeks.
Nutrition
Calories:
304
kcal
·
Carbohydrates:
11
g
·
Protein:
7
g
·
Fat:
26
g
·
Saturated Fat:
4
g
·
Trans Fat:
1
g
·
Cholesterol:
19
mg
·
Sodium:
641
mg
·
Potassium:
297
mg
·
Fiber:
3
g
·
Sugar:
4
g
·
Vitamin A:
139
IU
·
Vitamin C:
3
mg
·
Calcium:
20
mg
·
Iron:
1
mg
©JustOneCookbook.com Content and photographs are copyright protected. Sharing of this recipe is both encouraged and appreciated. Copying and/or pasting full recipes to any website or social media is strictly prohibited. Please view my photo use policy
here
.