Kakitamajiru, or Japanese Egg Drop Soup, is a delicious homey soup that will warm you right up! Made with dashi broth with fluffy egg ribbons, it is everything you crave in a bowl of soup: delicate, flavorful, and restorative. Ready in 15 minutes!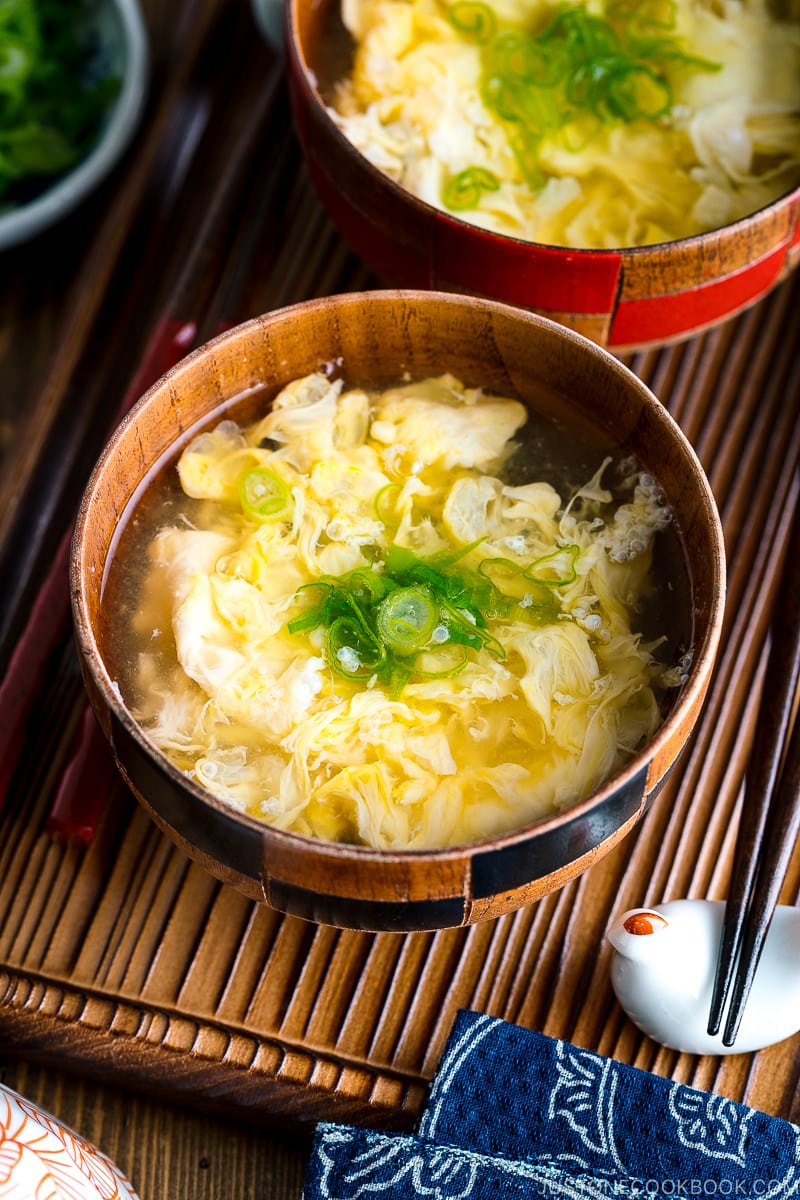 Soup is a big part of the Japanese meal, especially when we serve Ichiju Sansai (一汁三菜; one soup three dishes) on the family dinner. There will be steamed rice, the main protein, a few veggie or side dishes, and a soup.
In addition to the quintessential miso soup, we also enjoy many different types of clear soups. Today I'll like to introduce Kakitamajiru (かきたま汁), a flavorful egg drop soup that uses minimal pantry ingredients. It's quick and simple, and you're going to love it!
What is Kakitamajiru?
Kakitamajiru is a Japanese egg drop soup. Kaki (掻き) means to scratch, rake, or sometimes include the stir-motion, and tama (たま) comes from tamago (たまご), as in egg in Japanese, and jiru (汁) means soup.
You might be more familiar with Chinese egg drop soup because it is almost a prerequisite in many Chinese take-out restaurants. But did you know egg drop soup is also common in Japanese home cooking? Both Japanese and Chinese styles are indeed very similar to each other because they contain fluffy egg ribbons.
Japanese vs. Chinese Egg Drop Soup
Here are some quick generic differences:
Japanese egg drop soup
Use dashi (Japanese soup stock) as the soup base.
It has a much lighter consistency, sometimes barely noticeable.
Use potato starch to thicken.
Always include soy sauce.
Garnish with mitsuba (Japanese wild parsley). You can also use scallions as I did in this recipe.
Chinese egg drop soup
Use chicken stock.
It has a thick consistency.
Use cornstarch to thicken.
Flavored with sesame oil and white pepper as the final touches.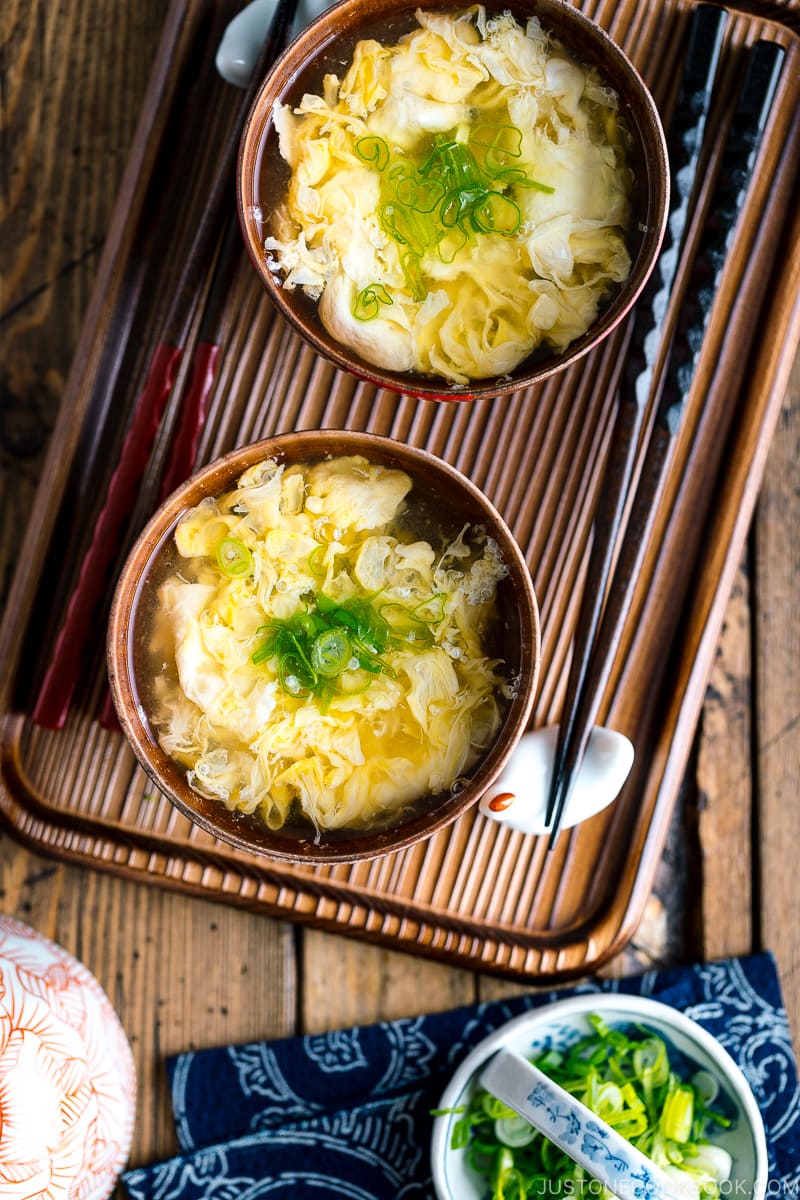 5 Ingredients You'll Need
The best thing about Kakitamajiru is that the ingredients are most likely in your kitchen already. I call it my pantry soup!
Dashi (make homemade awase dashi, kombu dashi for vegetarian, or use dashi packet for a quick shortcut)
Egg(s)
Potato starch (cornstarch)
Soy sauce (I use light-colored usukuchi shoyu, but you can use regular Japanese soy sauce)
Sake (adds umami)
And salt to emphasize the flavors and bring everything together.
Various Add-On Ingredients
You can definitely throw in some other ingredients to bulk it up. Here are some common options, however, I recommend keeping the soup rather simple by adding just 1 add-on ingredient besides the egg. The soup is best enjoyed for its simplicity!
Green onion/scallion (I used it in today's recipe)
Kaiware daikon radishes
Mushrooms such as enoki, shiitake, shimeji, etc
Wakame seaweed
Silken/soft tofu
Julienned carrot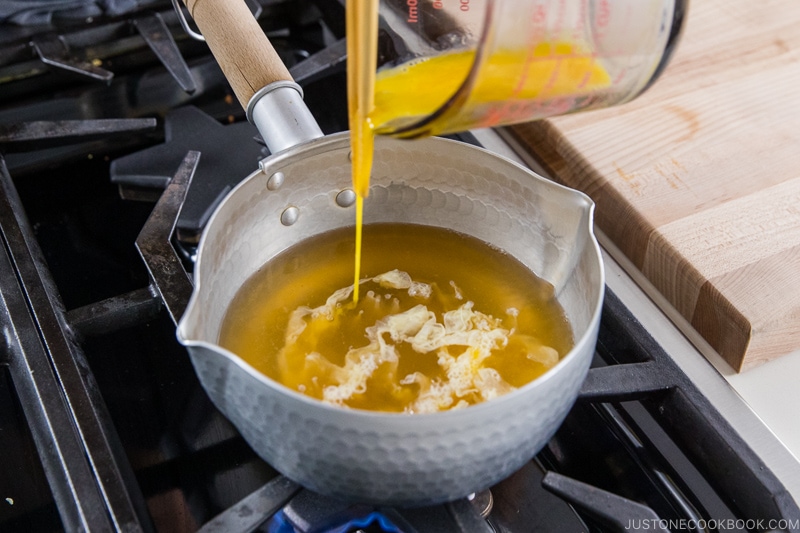 3 Tips on Making the Best Japanese Egg Drop Soup
1. Use good dashi.
I understand this is such a basic tip, but if you want to make a good soup, the base soup stock is the most important. Here we use dashi. Don't use dashi powder when you make egg drop soup. The flavor will disappear really quickly. Instead, make it from scratch or use the dashi packet.
2. Check the flavor before adding the egg.
Oftentimes, when you rely on the recipe so much, you tend to forget to taste what you're cooking. As a rule of thumb, when comes to cooking, it's very important to taste and adjust the seasonings according to your liking.
In this recipe, you must prep all the mixture before adding the egg. Once the egg is added, we do not touch the soup until you're ready to serve. We do not want to break the fluffy egg ribbons.
Tip: When you add the potato starch (cornstarch), mix it really well because the starch tends to stay on the bottom of the bowl.
3. Drizzle slowly, using a chopstick as a guide.
We use a long cooking chopstick as a guide to drizzle the beaten egg from a bowl (or measuring cup). Why drizzle slowly? As soon as the egg hits the hot broth, it should curl up and float. If you pour in too much, the beaten egg gets heavy and drops on the bottom of the pot. We want to drizzle slowly as you move across the soup, giving plenty of space for the egg to bloom.
Let the egg sits for a few quick seconds, and the soup is ready to be enjoyed!
More Delicious Japanese Soup Recipes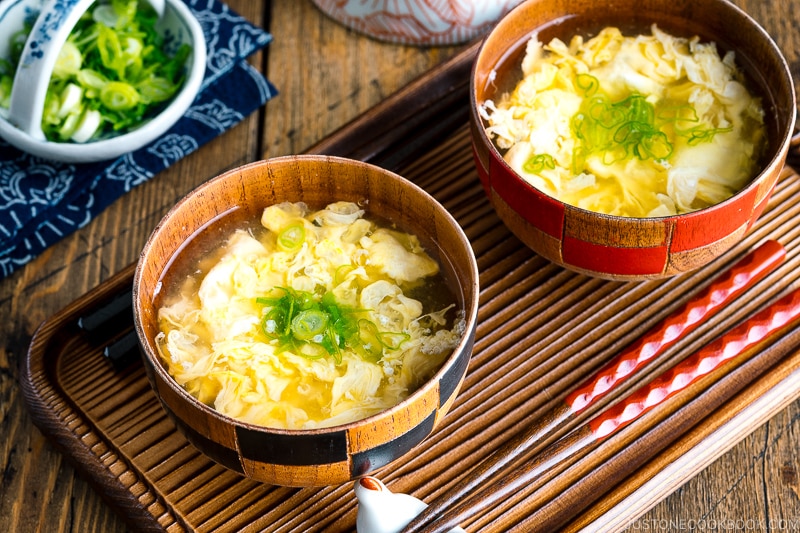 Wish to learn more about Japanese cooking? Sign up for our free newsletter to receive cooking tips & recipe updates! And stay in touch with me on Facebook, Pinterest, YouTube, and Instagram.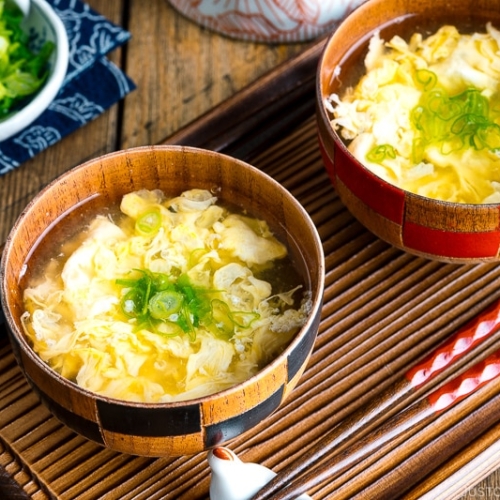 Kakitamajiru (Japanese Egg Drop Soup)
Kakitamajiru, or Japanese Egg Drop Soup, is a delicious homey soup that will warm you right up! Made with dashi broth with fluffy egg ribbons, it is everything you crave in a bowl of soup: delicate, flavorful, and restorative. Ready in 15 minutes!
Japanese Ingredient Substitution:
If you want substitutes for Japanese condiments and ingredients, click
here
.
Instructions
Gather all the ingredients. I recommend making this dish right before you serve.

Beat

1 large egg (50 g each w/o shell)

in a bowl or measuring cup. Cut

1 green onion/scallion

into thin round pieces.

In a small bowl, mix together

2 tsp water

and

1 tsp potato starch or cornstarch

to make a slurry. As starch tends to stay at the bottom of the bowl, you will need to mix again right before you use the slurry mixture.

Add

2 cups dashi (Japanese soup stock)

to a saucepan. Add

2 tsp sake

and

¼–½ tsp Diamond Crystal kosher salt

.

Add

1 tsp soy sauce

and check the flavor. Add more salt if necessary and bring it to a simmer on medium heat. When simmering, give the slurry sauce another whisk and add to the dashi.

Mix quickly to distribute the slurry sauce in the dashi. Bring it to a simmer.

Once simmering (small bubbles around the edges), slowly pour the beaten egg into the soup in circling motion starting from the center spiraling outward (don't pour in the same area). Place your cooking chopstick at the edge of the bowl/measuring cup, so the egg will drizzle down the chopstick in a thin stream. Let the egg sit for 20–25 seconds, and remove the saucepan from the heat to prevent overcooking.

Serve the soup into individual bowls and garnish with green onion.
To Store
You can keep the leftovers in an airtight container or in the saucepan for up to 3 days. Reheat until warm but do not let the soup boil.
Nutrition
Nutrition Facts
Kakitamajiru (Japanese Egg Drop Soup)
Amount per Serving
% Daily Value*
* Percent Daily Values are based on a 2000 calorie diet.
©JustOneCookbook.com Content and photographs are copyright protected. Sharing of this recipe is both encouraged and appreciated. Copying and/or pasting full recipes to any website or social media is strictly prohibited. Please view my photo use policy
here
.