Do you adore eggplant? This Eggplant Agebitashi could be your new favorite for eggplant recipes. The long, slender Japanese eggplant is first deep-fried until crispy brown, then soaked in a flavorful dashi and soy sauce based broth.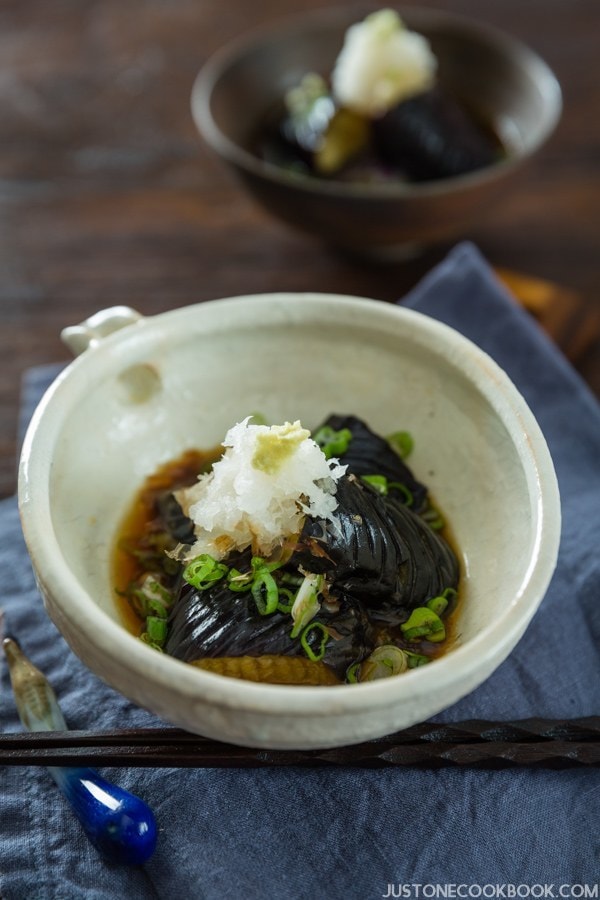 One of my favorite eggplant recipes is a Japanese dish called Nasu no Agebitashi (茄子の揚げ浸し).
Nasu in Japanese means eggplant, and agebitashi means deep-fried and soaked.  The dish is composed of deep-fried eggplant soaked in light dashi and soy sauce based broth.  The eggplants absorb all the delicious flavors of the broth and this dish is simply delicious.  If you're a fan of eggplant, I know you're going to love this dish!
Watch How To Make Eggplant Agebitashi 茄子の揚げ浸しの作り方
While growing up in Japan, my mother made a lot of eggplant dishes and it always made me wondered what was so good about eggplant.  Personally I prefer crunchy and crispy foods, and mushy, soft eggplant was not one of my favorite vegetables.
After I came to the U.S. and tried more varieties of eggplant dishes, I started to love eggplant.  One of the eggplant recipes I was crazy about was grilled eggplant sandwich with roasted bell pepper.
Then I started to make Japanese eggplant dishes which I didn't care much for before.  Today's recipe, eggplant agebitashi has become one of my favorite go-to eggplant menus.  It's a simple dish, yet you'll be surprised how delicious eggplant can be after it absorbed all the flavors in the dashi broth.
Helpful Cooking Techniques for Eggplant Agebitashi 
This dish requires some Japanese cooking techniques that you might not be familiar with.  So let's go over them first.
1. Suage (素揚げ)
Deep frying vegetables without coating any flour or batter is called Suage in Japanese.  Su means natural or uncoated in this case, and age (pronounce a-geh) means deep frying.  You might wonder what's the idea behind deep frying eggplants.
Suage removes bitterness of ingredients (such as in eggplant) and coating with oil prevents de-coloration of the eggplant.  By cooking with oil, eggplant maintains its beautiful color.  The eggplant will absorb oil first, but then will release it after cooking.
Brief deep frying in hot oil makes the ingredients crispy on the outside, and the remaining heat will slowly cook the inside of the ingredients.  Once cooked, the tender eggplant easily absorb the broth.
You could also shallow fry eggplants.  However, you have to make sure that the eggplant skin is nicely coated with oil at all times.  I suggest to combine the eggplant and oil in a large bowl first and rub the eggplant completely with oil with your hands first before you shallow fry.  If you don't, the water and moisture escaping from the eggplant will discolor and result in patchy skin.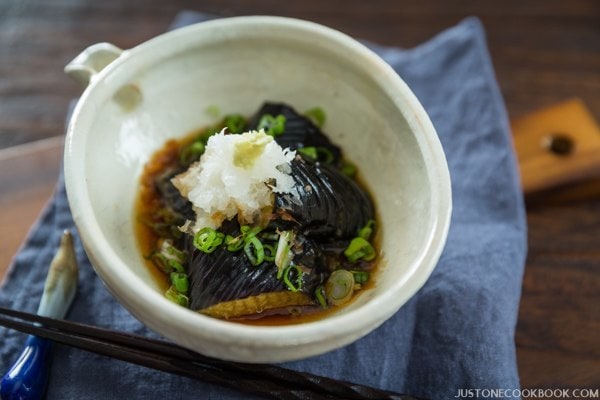 2. Kakushibocho (隠し包丁)
Light scoring of the ingredients is called Kakushi-bocho in Japanese.  Kakushi or kakusu means hidden and hide, and Bocho or hocho means a knife.  This technique is used so that
Heat will go through the ingredient more easily
Flavors (of the broth or seasonings) will be absorbed better
Ingredient will be easier to cut with chopsticks
Technically, we score the ingredient without making it too visible (so when you serve, it's not obvious).  That's how the name "kakushi" or "hidden" comes from.
We use this technique for ingredients that are hard to cook through and absorb flavors such as daikon, eggplant, and konnyaku.
How much should we score?  It really depends on the thickness of the ingredient, but remember not to score too deeply otherwise it might break the ingredient apart.
The same technique could also be called Kazari-bocho when the scoring looks pretty on the ingredient such as this eggplant.  The purpose of scoring is the same, but it also looks decorative ("kazari") so that's how the name comes about.
Can't make good incisions?  Sharpen your knife and practice will make it perfect. 🙂
Make Vegetarian 
Eggplant Agebitashi
You might wonder if this can be a vegetarian dish.  Sure you can!  Replace Awase Dashi (bonito flakes + kombu dashi) to Kombu dashi and at the end don't sprinkle bonito flakes.  As easy as that!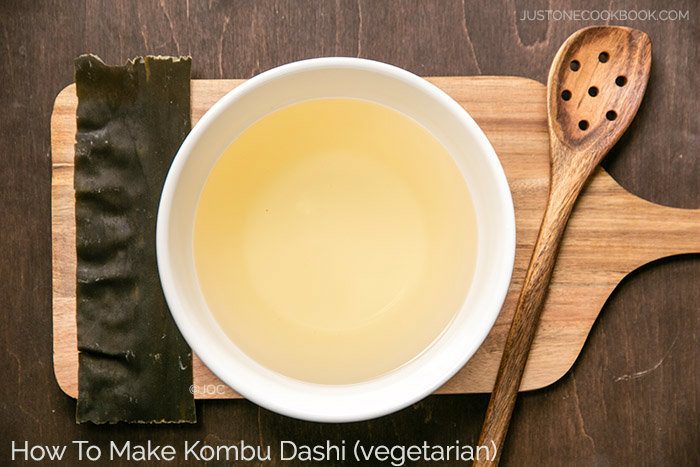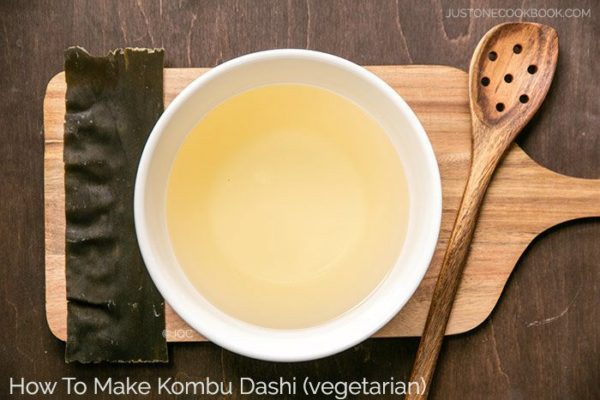 Make Eggplant Agebitashi Gluten-Free
Many of you requested gluten-free recipes (thank you!), so I actually made this dish with gluten-free soy sauce.  Of course, you can use regular soy sauce and you don't need to adjust anything in the recipe.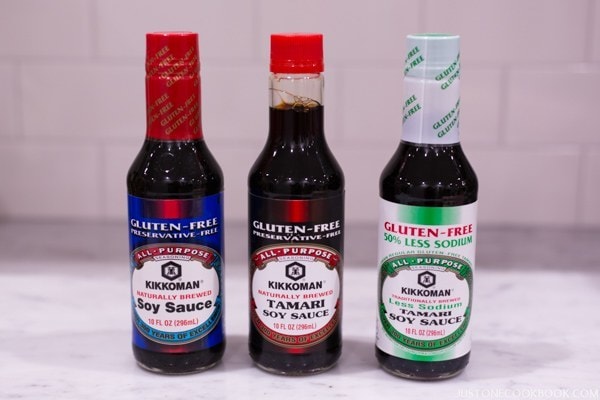 Kikkoman offers 3 varieties of gluten-free soy sauce, but for this recipe I used regular gluten-free soy sauce (left) which tastes just like regular soy sauce.  If you want to know more about this product, click here.
Do you have any request for gluten-free Japanese food?  Let me know in the comment below!
I hope you enjoy making this Eggplant Agebitashi recipe!  If you try it, don't forget to share your picture on Instagram, Facebook, or Twitter with #JustOneCookbook.  Thank you so much for reading, and till next time!
Similar Recipes:
Don't want to miss a recipe? Sign up for the FREE Just One Cookbook newsletter delivered to your inbox!  And stay in touch on Facebook, Google+, Pinterest, and Instagram for all the latest updates.
Eggplant Agebitashi
Do you adore eggplant? This Eggplant Agebitashi could be your new favorite for eggplant recipes. The long, slender Japanese eggplant is first deep-fried until crispy browned, then soaked in a flavorful dashi and soy sauce based broth.
Keyword:
deep fried, nasubi
Ingredients
2

cups

neutral flavor oil (vegetable, canola, etc)

(2 cups = 500 ml)

3

inch

daikon radish

(3" = 7.5 cm) (green top part for sweet taste)

1

green onion/scallion

1

inch

ginger

(1" = 2.5 cm)

1

pack

katsuobushi (dried bonito flakes)

(1 pack = 3 g)
Sauce
¾

cup

dashi

(¾ cup = 200 ml)

3

Tbsp

mirin

(3 Tbsp = 40 ml)

3

Tbsp

sake

(3 Tbsp = 40 ml)

3

Tbsp

gluten-free soy sauce

(3 Tbsp = 40 ml) (can be regular soy sauce)

1

heaping Tbsp

sugar

(1 heaping Tbsp = 15 g)
Instructions
Gather all the ingredients.

In a saucepan, combine ¾ cup (200 ml) dashi, 3 Tbsp. (40 ml) mirin, 3 Tbsp. (40 ml) sake, 3 Tbsp. (40 ml) soy sauce, and 1 heaping Tbsp. (15 g) sugar and mix it all together. Bring it to a boil and turn off the heat (keep it covered so the sauce doesn't evaporate).


In a deep frying pot/saucepan, add 2 cups (500 ml) oil and bring to 320F (160C).


Check if the oil has reached at 320F (160C) by putting the wooden chopsticks into the oil. If you see the small bubbles coming from the chopsticks, the oil is ready.


While waiting for the oil, we prepare the eggplant. Usually eggplant is soaked in water to prevent discoloration. For this recipe, however, we will skip this process to prevent the oil from contacting with water. Therefore, you will cut the eggplant right before deep frying to avoid changing color. Discard the tops of the eggplant and cut in half lengthwise.


Make incisions on the eggplant diagonally (or cut in a crisscross pattern). Do not cut through, and the intervals should be 1/8 inch (2-3 mm).


Cut each eggplant into 3-4 sections. Make sure to wipe off any moisture with paper towel.


Gently put a few pieces of eggplant, skin facing down, and deep fry for 2 to 2.5 minutes. If you put too many pieces of (cold) eggplant in the oil, the oil temperature will decrease too fast and it gets mushy and greasy. So do not overcrowd the pot. If you realize the oil temperature is too low, take out the eggplant and wait till the oil reaches the right temperature. Remove from the oil and drain on a wire rack, skin facing up. Deep fry the next batch, until all the eggplant pieces are deep-fried.


When the eggplants are cooled, transfer to a rimmed container or dish. Heat up the sauce until hot and then pour the hot sauce over to soak the eggplant for several hours (at least 1 hour). If you serve this dish chilled, put it in the refrigerator.


While soaking, peel the skin of daikon and grate.


Cut green onion and grate ginger.


To serve, put the eggplant in a dish and sprinkle some katsuobushi. Put grated daikon and grated ginger on top. Pour the sauce over and garnish with green onion. Serve chilled or at room temperature. You can keep it in the refrigerator up to 2-3 days.

Recipe Notes
Prep/Cook time excludes the time for soaking eggplant (at least 1 hour).
Recipe by Namiko Chen of Just One Cookbook. All images and content on this site are copyright protected. Please do not use my images without my permission. If you'd like to share this recipe on your site, please re-write the recipe in your own words and link to this post as the original source. Thank you.
Full Disclosure: This post was sponsored by Kikkoman USA.  Thoughts and opinions stated are my own.