Made with freeze-dried tofu, this Simmered Koyadofu soaked in soy-dashi broth is a classic Japanese side dish to enjoy all year round. You can prepare ahead of time and serve it chilled, hot, or at room temperature.
Koyadofu (高野豆腐) or freeze-dried tofu is a common pantry staple you can always find in the Japanese kitchen. When you're running out of fresh ingredients or desperately need one more dish to round up a meal, you can always reach out to Koyadofu. Today I'll show you a classic Simmered Koyadofu (高野豆腐の煮物) recipe. It's easy to prepare and makes a great meal prep dish.
What is Koyadofu?
The origin of Koyadofu (高野豆腐) can be traced back to the Kamakura period (1185 to 1333). Records show that the tofu product was developed by the monks at the Buddhist temple on Mount Koya in Wakayama prefecture. As the mountain is located at higher elevations and experiences harsh winter, the monks accidentally discovered freezing was a good way to preserve fresh tofu. The well-preserved food became popular and spread from Mt. Koya to the Kansai region.
Healthy High Nutritional Food
Koyadofu may look like a hard sponge, but did you know it is prized for its exceptionally high nutrition?
The flash freezing and cooling method allows the soy proteins to mature in a natural manner. Through the process, the tofu develops new textures and profiles while preserving the maximum nutritious value of tofu. The phytonutrients found in tofu can also become more concentrated and more bioavailable. It makes an excellent source of protein, iron, and calcium, and can help to lower the risk of conditions such as heart disease, diabetes, and obesity. Another great example of a naturally preserved food.
Does Koyadofu need to be reconstituted and rinsed?
Some brands (like Misuzu brand above) say there is no need to reconstitute Koyadofu. However, I still encourage you to soak the tofu in hot water and wash it before simmering it in the broth.
In my step-by-step images below (and in the video), you can see cloudy water coming out from the tofu. Therefore, I highly recommend cleaning the koyadofu first in order to yield a clear broth and allow the tofu absorbs more flavors.
Helpful Tips on Serving Simmered Koyadofu
Serve chilled, hot, or at room temperature. My favorite is chilled Simmered Koyadofu. On a hot day, the taste of slightly sweet dashi broth seeping out from the koyadofu is quite refreshing.
I like mine to be a bit sweeter as koyadofu is a rather plain dish.
Make it ahead of time and let the koyadofu soak in broth for a longer time.
You can serve blanched greens, simmered root vegetables or shiitake mushrooms together with Simmered Koyadofu.
When you pack koyadofu in your bento, squeeze out the broth from the tofu and pack.
The Simmered Koyadofu stores well in the refrigerator for up to 4 days, and freezes beautifully for up to a month. It is a simple yet elegant side dish that can grace any Japanese or Asian meal. I hope you enjoy it!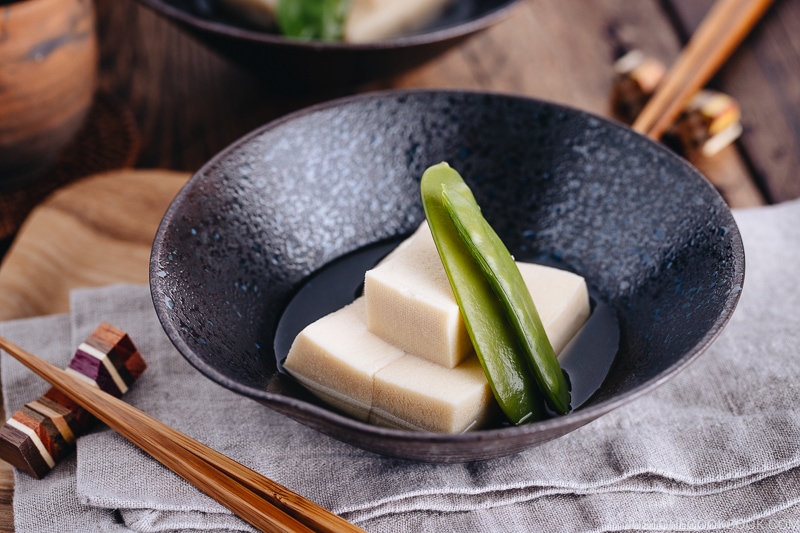 Wish to learn more about Japanese cooking? Sign up for our free newsletter to receive cooking tips & recipe updates! And stay in touch with me on Facebook, Pinterest, YouTube, and Instagram.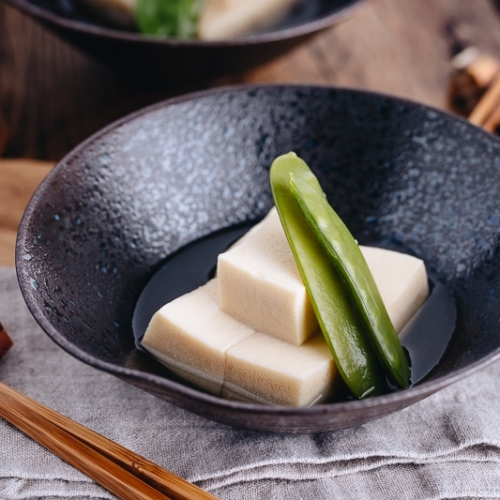 Simmered Koyadofu
Made with freeze-dried tofu, this Simmered Koyadofu soaked in soy-dashi broth is a classic Japanese side dish to enjoy all year round. You can prepare ahead of time and serve it chilled, hot, or room temperature.
Japanese Ingredient Substitution:
If you want substitutes for Japanese condiments and ingredients, click
here
.
Instructions
Gather all the ingredients.

The box says you do not need to soak, but I still recommend washing the koyadofu. Put the koyadofu in a bowl and pour hot water. The koyadofu will expand in about 10 minutes.

While you wait for the koyadofu to expand, put dashi in a pot. I use cold brew kombu dashi for this recipe, leaving the kombu behind. Add mirin and sake.

Add soy sauce, sugar, and salt.

Mix all together and slowly bring it to boil.

While waiting for the broth to boil, wash the koyadofu in clean cold water once it expands. Be careful with the koyadofu as the inside still contains hot water.

Like a sponge, let the koyadofu soak up the clean water and push it out a few times to clean. Hold the tofu flat between your hands. Squeeze the cloudy water from the inside of the koyadofu by pressing hard.

Change the water in the bowl several times to clean all the koyadofu. Thoroughly wash out the cloudy water by repeating this process several times. Give it a final squeeze.

Cut each koyadofu into 6 square pieces.

Once the dashi-soy broth is boiling, add the koyadofu and cover with a drop lid (Otoshibuta – if you don't have one, make one with aluminum foil). You do not use a regular lid on top. Simmer for 10 minutes on medium-low heat.

When it's about to finish simmering, prepare the snow peas by removing the tough strings. Add the snow peas in the saucepan.

Cook for 1-2 minutes. Then transfer the koyadofu to a glass container.

Make sure the glass container is big enough to hold the koyadofu and the broth. I stack the koyadofu neatly.

You can serve hot, at room temperature, or chilled after refrigerating for a few hours or overnight. Put the koyadofu, snow peas, and broth in a bowl and serve.
To Store
You can keep in the refrigerator for up to 3-4 days and in the freezer for up to a month. If it's frozen, reheat before serving.
Nutrition
Nutrition Facts
Simmered Koyadofu
Amount per Serving
% Daily Value*
* Percent Daily Values are based on a 2000 calorie diet.
©JustOneCookbook.com Content and photographs are copyright protected. Sharing of this recipe is both encouraged and appreciated. Copying and/or pasting full recipes to any website or social media is strictly prohibited. Please view my photo use policy
here
.