Koyadofu, or freeze-dried tofu, is a traditional Japanese food high in protein and low in calories and sugar. It's a high-quality vegetable protein in braises and soups seasoned with dashi stock.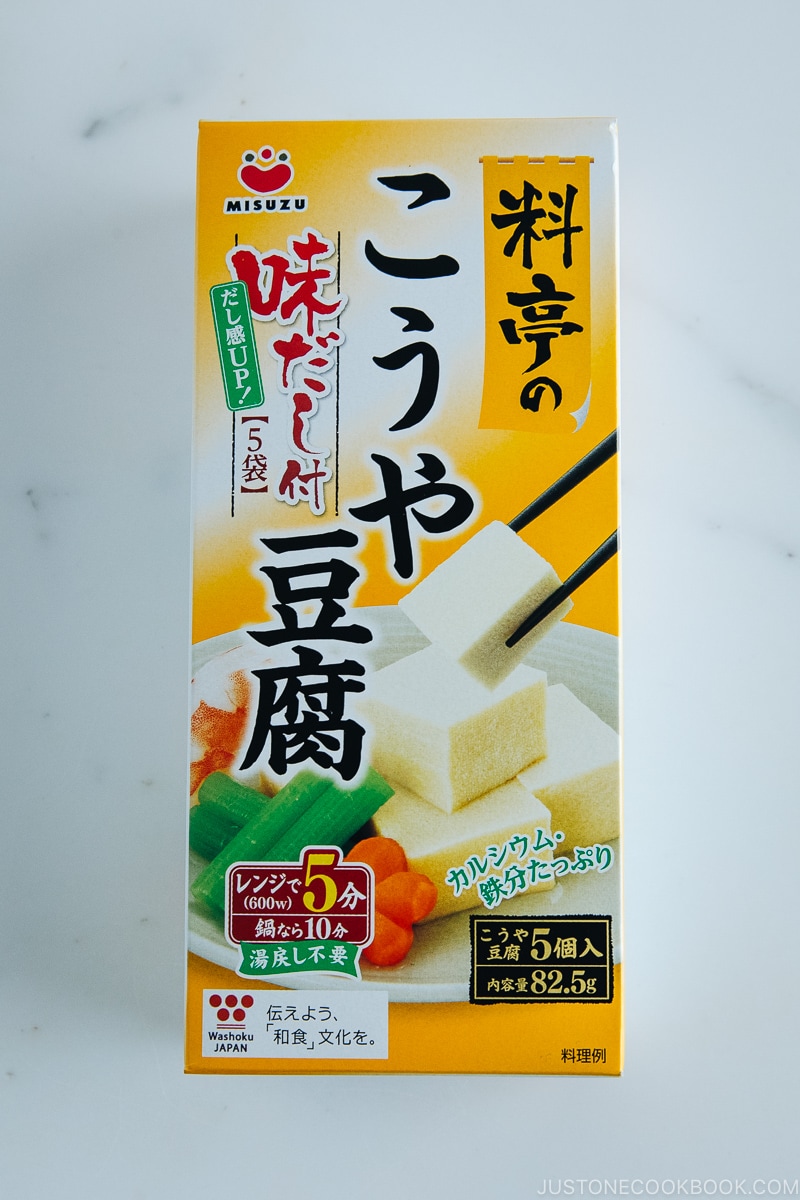 Koyadofu (高野豆腐) or Koori dofu (凍り豆腐) is freeze-dried firm tofu. It's a preserved food made by freezing tofu, aging it at a low temperature, and drying it. When dry, it resembles a beige sponge. It's a common pantry staple you can always find in a Japanese kitchen.
What Is Koyadofu
A highly nutritious and low-calorie food, koyadoufu is a versatile pantry staple of firm tofu. It undergoes freezing and drying tofu, which denature and mature the soy proteins.
The origin of Koyadofu can be traced back to the Kamakura period (1185 – 1333). Records show that the monks developed the tofu product at the Buddhist temple on Mount Koya in Wakayama prefecture. As the mountain is located at a higher elevation and experiences harsh winter, the monks accidentally discovered freezing was an excellent way to preserve fresh tofu. The well-preserved food became popular and spread from Mt. Koya to the Kansai region.
What Does It Taste Like
It has a bland flavor and squishy spongy texture that soaks up broths quickly. When deep-fried, it can take on a meaty texture.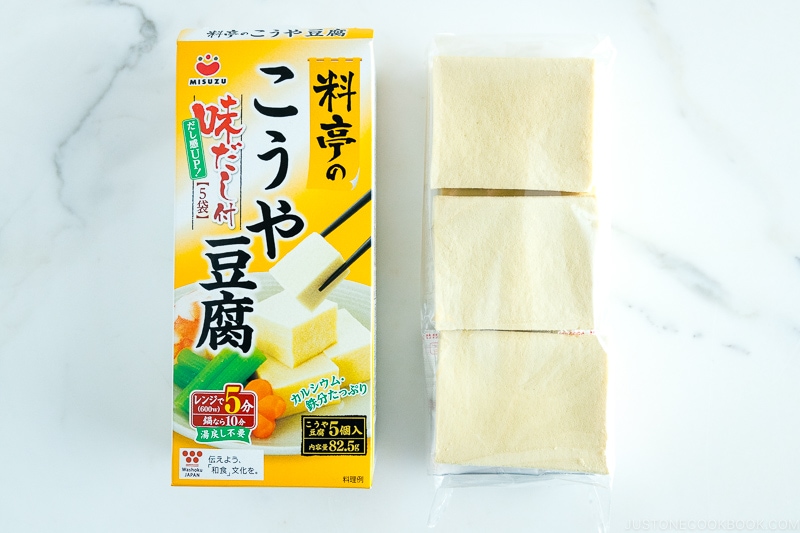 How To Use
Before cooking, reconstitute the pieces in warm water for a few minutes. It will expand 3-4 times its original size. You can cut them into smaller pieces and add them to braises, stews, or soups. The Japanese cook it in a soy-dashi broth for simmered koyadofu.
You can also grind it into a fine powder and use it as a binder for wafu hambagu, or panko.
Koyadofu Recipes
Where To Buy
Find it in the dried foods aisle of Asian and Japanese grocery stores.
How To Store
Like many dried foods, it's sensitive to humidity. Store unopened packs in a cool and dark place, like a pantry, and use within six months. Seal opened bags very well, preferably in an air-tight container, and use them quickly. It can go rancid and pick up odors, so check the expiration date and check if it doesn't have a moldy or musty smell.
Store cooked koyadoufu in the refrigerator and consume it within a few days.
Health Benefits
The Japanese have long recognized it as healthy food and great for those trying to lose weight. Compared to regular tofu, it has seven times the amount of protein and eight times the amount of unsaturated fatty acids. It also contains soy saponins that promote fat metabolism, soy isoflavones, lecithin, vitamin E, calcium, magnesium, iron, zinc, and dietary fiber. These nutrients help produce muscles, strengthen bones, prevent anemia, and improve skin health.
Recent studies have highlighted its nutritional content, especially resistant proteins. It can lower LDL ("bad" cholesterol"), increase HDL ("good" cholesterol), suppress blood level spikes, prevent lifestyle-related diseases such as strokes and heart diseases, and prevent and improve diabetes.
It's also gluten-free.
---
Wish to learn more about Japanese cooking? Sign up for our free newsletter to receive cooking tips & recipe updates! And stay in touch with me on Facebook, Pinterest, YouTube, and Instagram.