More than just a meat replacement, tofu and its by-products have been eaten by the Japanese for centuries. Learn about its origins and the different varieties you may encounter in Japan.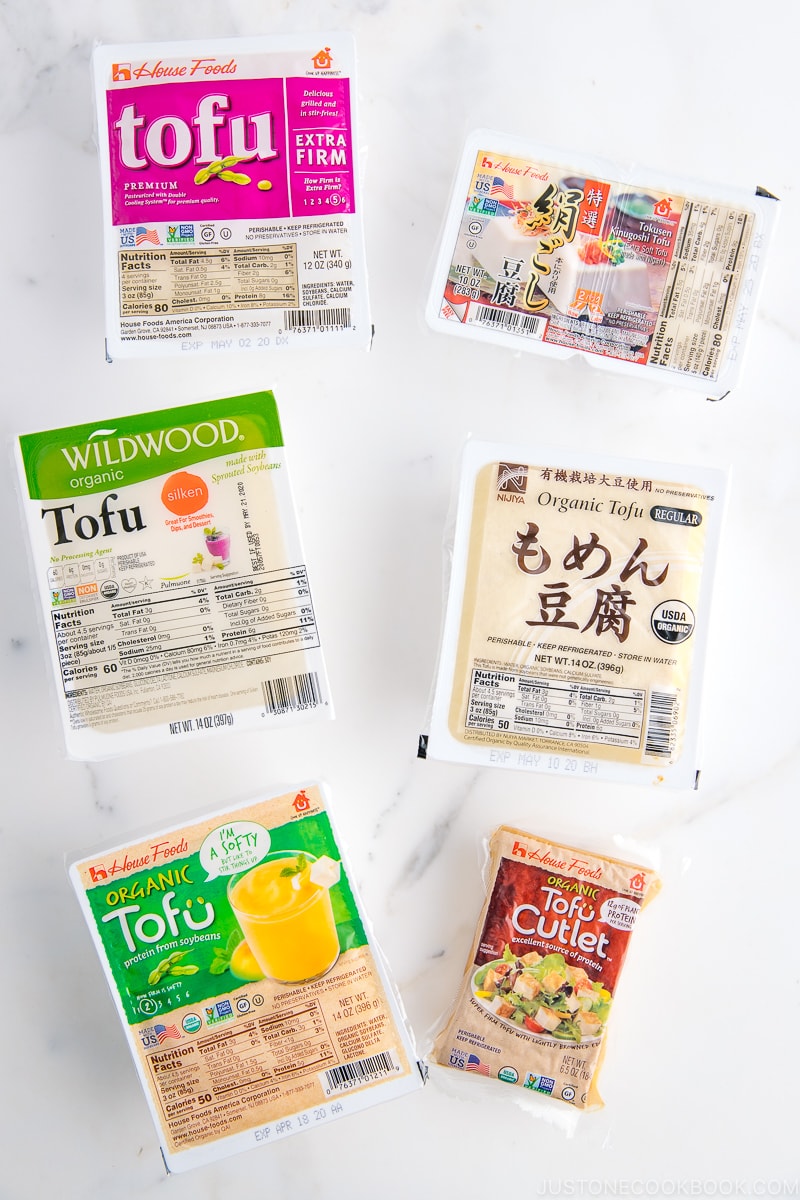 Tofu (豆腐), the jiggly block of bean curd has been long touted as a superfood. High in protein, gluten-free, low-calorie, and versatile in cooking, what's not to love?
Often described as 'the meat of the fields' (畑の肉), tofu is an ancient food that has been eaten in many Asian countries. Tofu comes in a vast array of variety; fresh, frozen, fried, or dried, in blocks, cubes, or tubes! And each can be eaten in all sorts of ways.
For the Japanese diet, tofu is not only an essential pantry item, but also soul food. It is appreciated for its flavor, texture, transformative potential, and freshness. If you can get hold of high-quality tofu, all you need is a trickle of soy sauce to bring out the delicate sublime flavor.
So how much do you know about tofu and its place in Japanese food culture? Let's get started!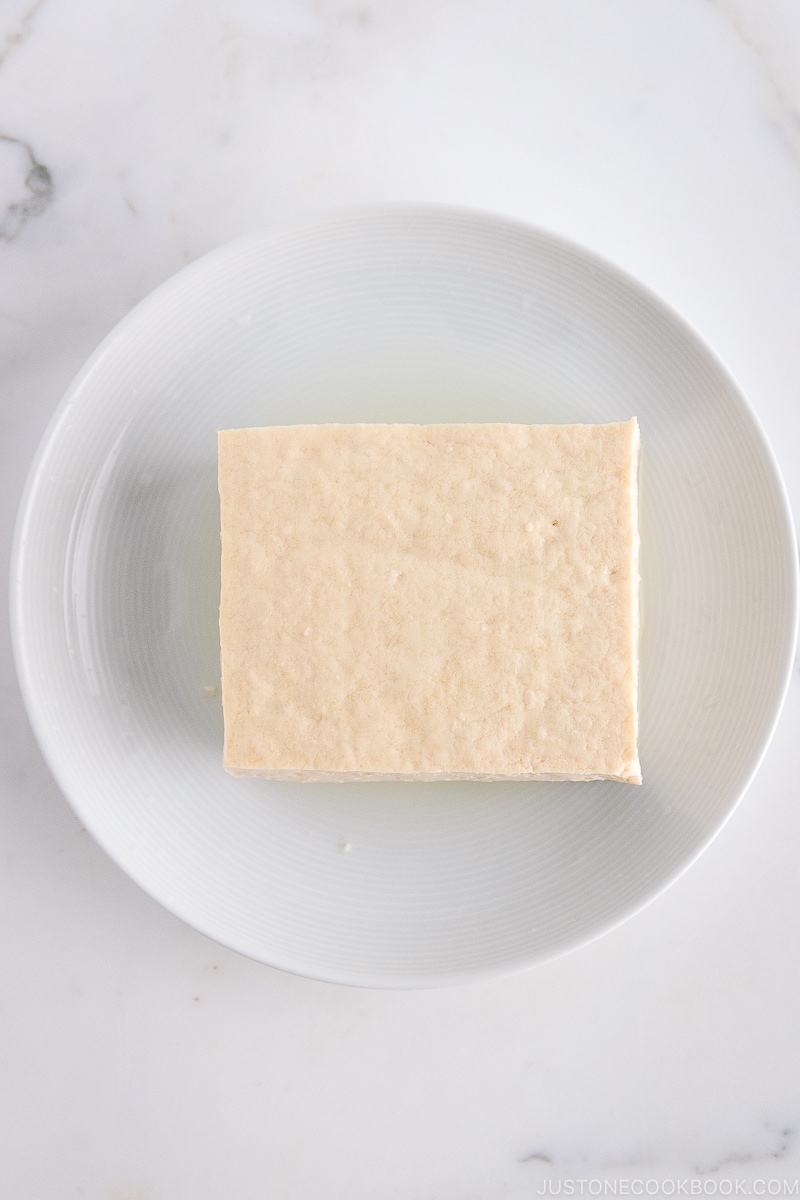 What is Tofu?
There are 3 ingredients in tofu; soybeans (大豆), water, and nigari (にがり).
Tofu is made by soybeans soaked in water, pureed, then boiled. Once the soy milk and pulp are separated, the soy milk is coagulated by a firming agent, usually nigari (Magnesium chloride, produced from evaporated seawater). It comes in a wide range of textures, depending on how much water is pressed out of the curds.
Most of the tofu found in Japan are made from imported non-GMO soybeans, usually from the U.S. and Canada. The tofu made with domestic soybeans tends to be a little more expensive. The price ranges from the cheaper mass-produced store brands to small batch high quality tofu.
The flavor of fresh tofu is mild with a slightly bean-y taste. The color is white or off-white, depending on the soybeans used (there are tofu made from black beans, which make a dark purple to greyish black tofu and other varieties of colorful soybeans, but this is rare).
Fresh tofu is packed in water. As it does not have a long expiration date, it should be consumed quickly. Fried tofu can be frozen for later use.
To see how tofu is made, check out these videos (how to make tofu at home, a family owned tofu shop in Kagawa prefecture, a tofu shop in Tokyo). For those curious, there are lots of DIY tofu videos on YouTube.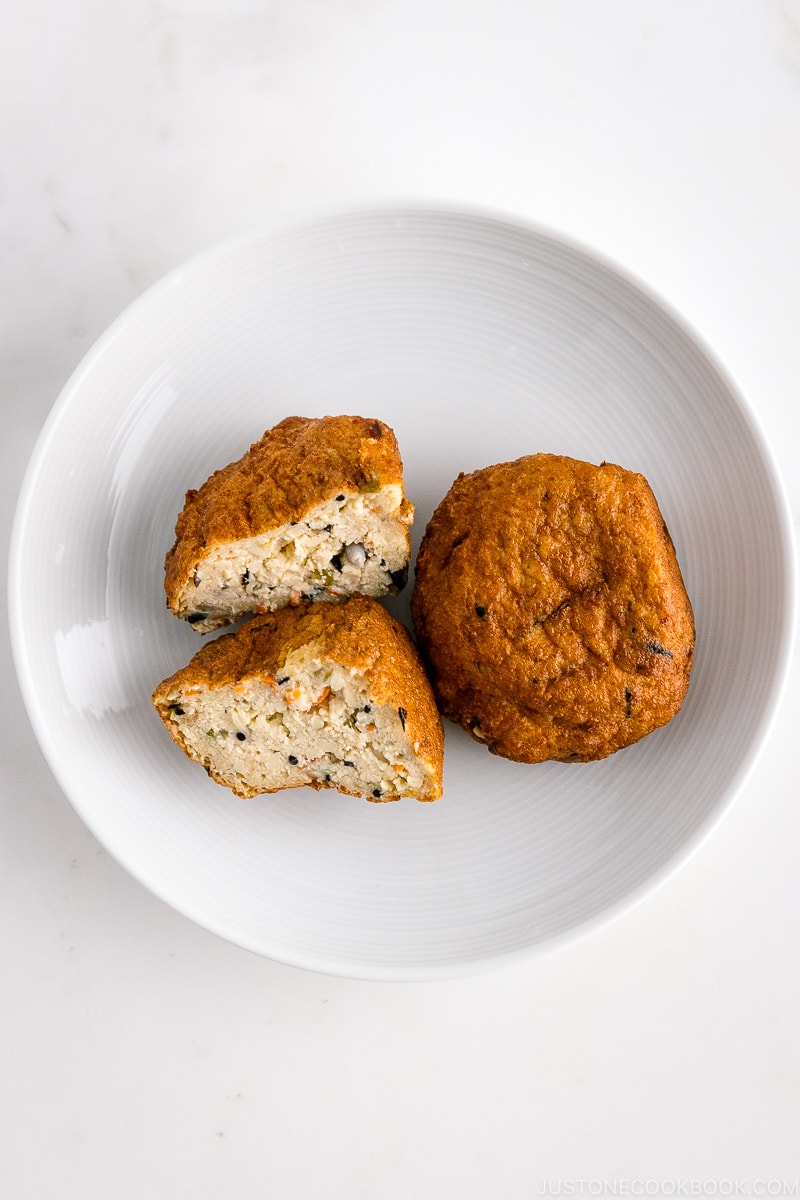 What does Tofu mean?
Tofu (豆腐) is composed of the Chinese characters "bean" and "ferment." But as explained above, there's no fermenting involved in the process. So how did the word come to be?
The character 腐 also means "a soft and bouncy mass (colloid)," so the characters for tofu would read "a soft and bouncy mass made of beans." Another origins theory breaks down the Chinese character 腐 to 府 and 肉, 府 means "storage" (among other meanings) and 肉 means "meat," referring to a storage in ancient China where game meat was hung until tender and soft. The meaning eventually expanded to soft foods other than meat.
Some Japanese tofu producers replace the 腐 for 府 or 富 (wealth, fortune) to avoid the negative connotation of 腐.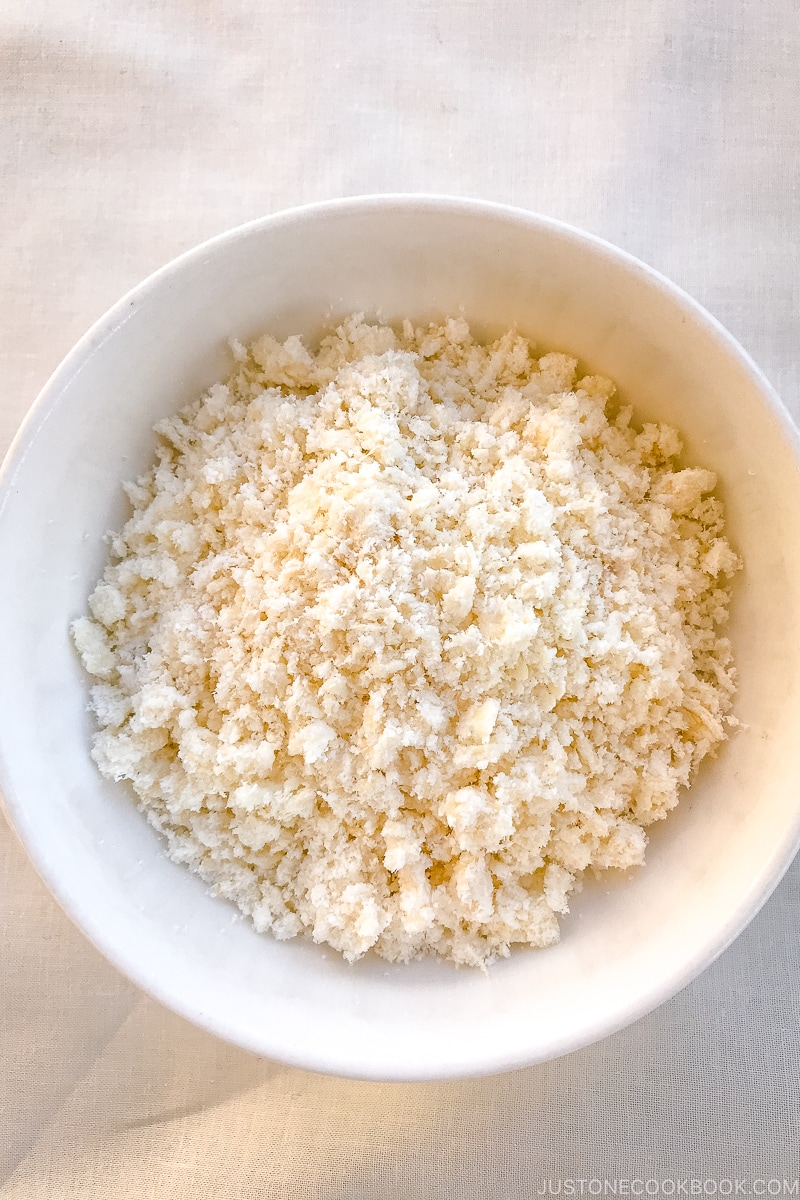 The Origins of Tofu
Tofu originates from China some 2,000 years ago during the Han Dynasty, with several contested theories and speculations of its discovery. Some say it was discovered by Prince Liú Ān (179–122 BC), others say it was based off the Mongolian techniques of cheese making, or just a result of a happy accident. There is a mural incised on a stone slab that may be depicting the preparation of tofu in the eastern Han Tomb of Henan province, made around 50 AD (although scholars contest whether or not the mural depicts tofu-production). The oldest written reference to tofu appears in the poem "Ode to Tofu" by Su Ping in 1500.
Tofu was introduced to Japan during the Nara era (710-794) when scholars and Zen Buddhist monks studying in China brought it back with them. It became an integral part of Shojin Ryori (精進料理; meatless Buddhist meal) for its high protein content, and its popularity soon spread among the court nobility and samurai class.
The first written record of tofu was in 1183 by the Shinto priest Hiroshige Nakaomi, as an offering at the Kasuga Shrine in Nara (the ancient capital of Japan before Kyoto).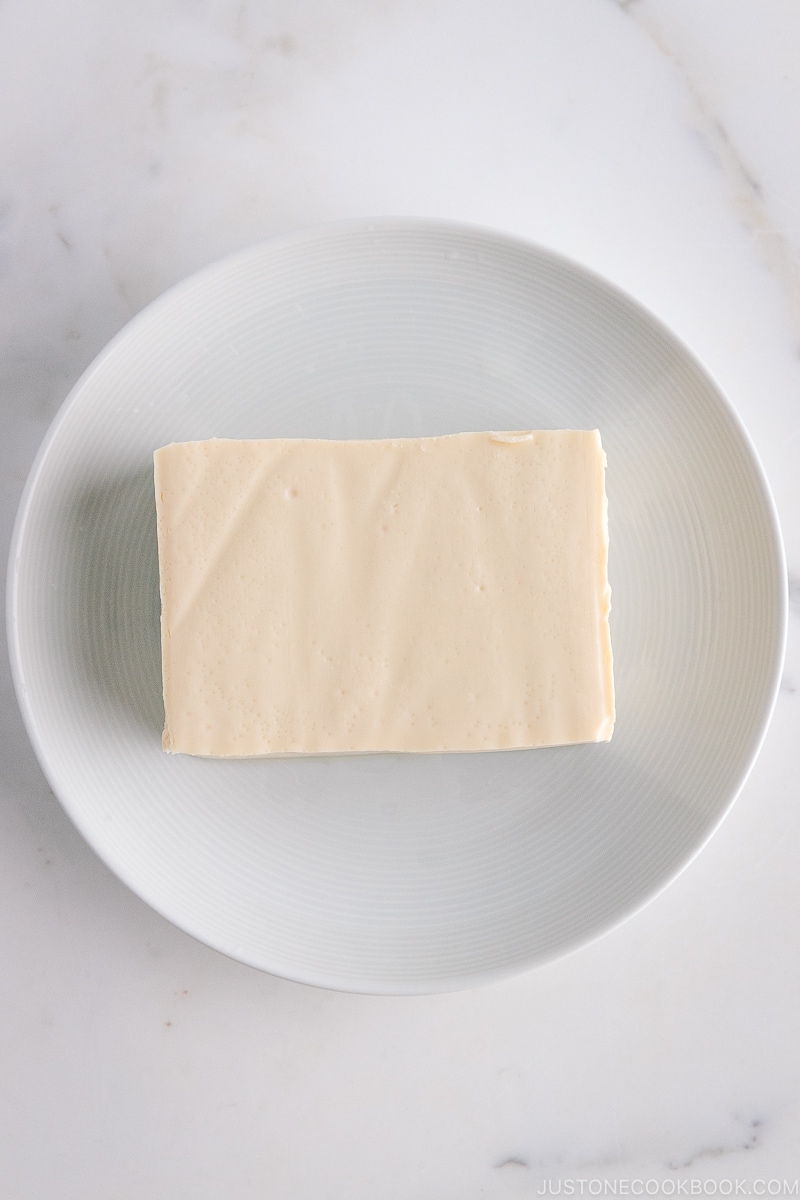 It wasn't until the Edo era (1603-1867) when tofu became eaten by the commoners. During the early Edo era, tofu production was heavily regulated, so it was expensive and only for festive occasions. But by the mid-era, tofu shops popped up around the cities of Edo (Tokyo), Kyoto, and Osaka. A cookbook dedicated to tofu called Tofu Hyakuchin (豆腐百珍) was the cause of a tofu boom, popularizing it among the commoners. Published in 1782 with over 100 recipes, the cookbook was wildly successful, covering tofu recipes for the everyday meal to special occasions. 
The popular way of eating tofu by the Edokko (the people of Edo) is said to be grilled on sticks with a smear of red miso, called Dengaku (田楽). The tofu eaten at the time is said to resemble Momen tofu (木綿豆腐; firm tofu, more below).
The tofu restaurant Sasanoyuki (笹の雪) in Negishi, Tokyo is attributed to bringing Kinu tofu (絹豆腐; silken tofu) to Edo from Kyoto. The 350 year old restaurant still exists today, where diners can feast on elaborate tofu course meals.
The Europeans caught wind of the mysterious cheese-like food as well. The word "tofu" is first mentioned in the Portuguese-Japanese dictionary "Vocabulario da lingoa de Iapan" (1603) compiled by Jesuit missionaries in Nagasaki. The first mention of tofu in the English language was by Captain John Saris in 1613, which mentioned tofu in his travel log when he visited Japan. Benjamin Franklin too learned about tofu via letter correspondence in 1770.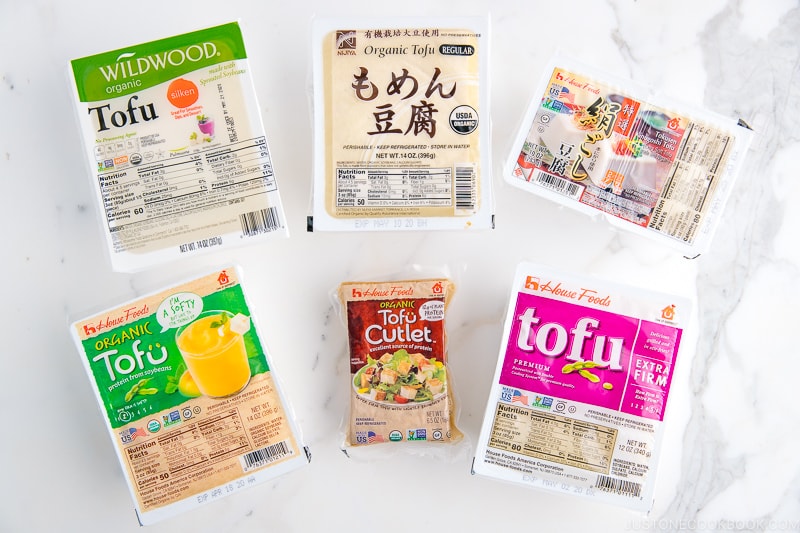 Varieties of Tofu
In general, tofu can be categorized into three:
Fresh
Processed
By-products
There are regional varieties of tofu, but we'll focus on the ones most easily found at supermarkets across Japan.
1. Fresh Tofu
Kinu Tofu/Kinugoshi Tofu
Momen Tofu
Yose Tofu/Oboro Tofu/Sukui Tofu/Zaru Tofu
Jyuten Tofu
Kinu Tofu/Kinugoshi Tofu (絹豆腐・絹ごし豆腐)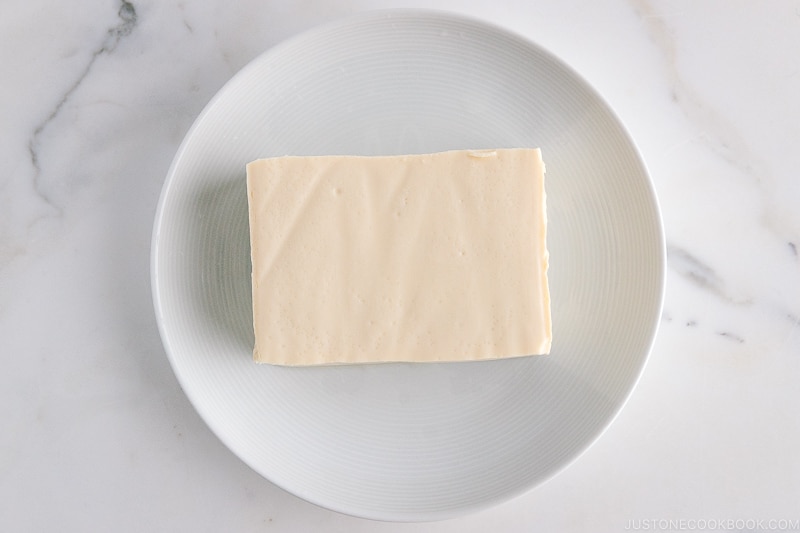 Also known as silken tofu (Kinu (絹) is the Chinese character for "silk"), Kinu tofu is made by mixing soy milk and nigari, then heating the mixture until it hardens. The resulting tofu is smooth, custard-like, and crumbles easily, so it is usually eaten as is. It is sold in square or rectangular blocks.
How to use it: Eat on its own chilled or warmed, mashed as a dressing for blanched vegetables called Shiraae, or slip the cubes into a miso soup. It can also be used in desserts such as tofu pudding, tofu donuts, and other baked goods.
---
Momen Tofu (木綿豆腐)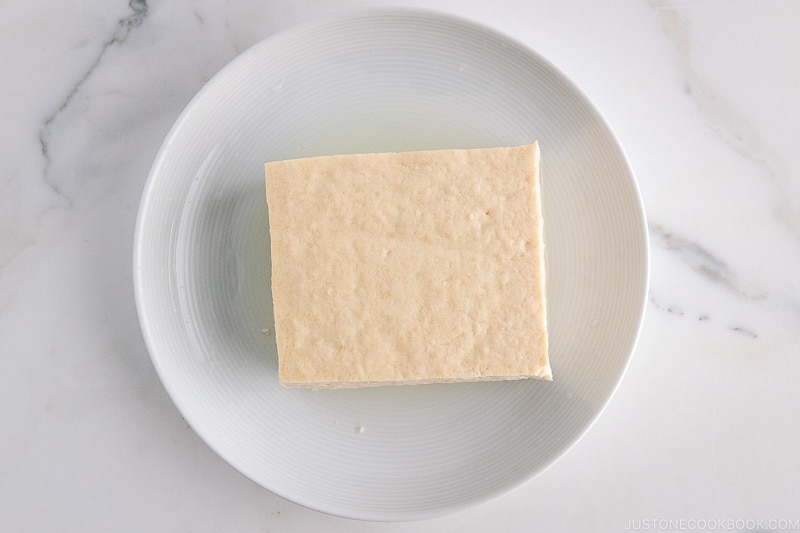 Momen means "cotton," although there is nothing fluffy about this tofu. The term "Momen" derives from the cotton cloth that was traditionally used to press out the water from the tofu, and does not refer to the texture. Momen tofu is firm, dense, and with a coarse texture and can withhold its shape even when cooked. It is sold in square or rectangular blocks.
How to use it: Add to braises and stir-fries such as Mapo Tofu and Goya Champuru (although the original Okinawan version uses a super firm tofu called Shima Tofu), cooked to make tofu pizza or teriyaki tofu, or dropped into hot pot or soups. It can be eaten as is like Kinu tofu but as the water is pressed out, it's excellent in soaking up broths and delicious flavors.
---
Yose Tofu/Sukui Tofu/Oboro Tofu/Zaru Tofu (寄せ豆腐・すくい豆腐・おぼろ豆腐・・ざる豆腐)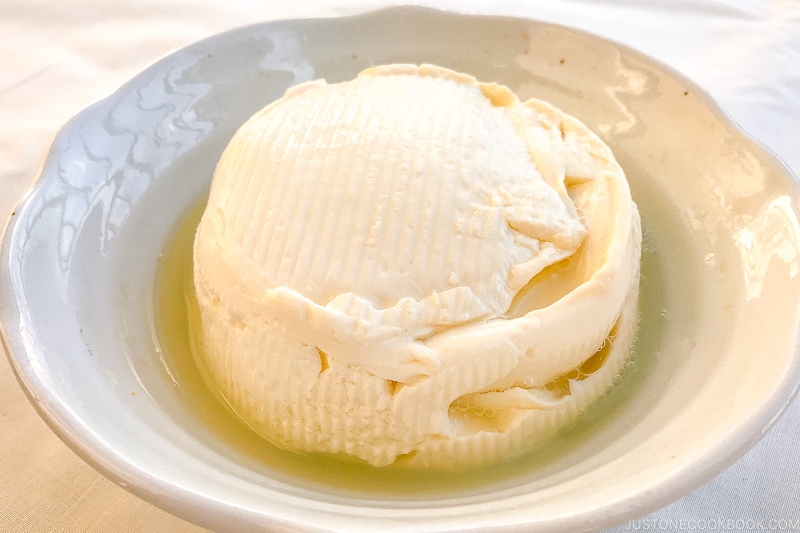 An extra soft jiggly tofu made by mixing soy milk and nigari, this tofu highlights the sweetness and richness of the soy bean flavor. This tofu goes by several names, depending on its final shape and form. Yose tofu (Yose (寄せ) means "gathered") is made by scooping up and plopping the tofu curds into round packages. Sukui tofu (Sukuu (掬う) means "to scoop up") is tofu that's scooped up and served as is. Oboro tofu (Oboro (おぼろ) means "hazy, foggy, blurry" usually referring to the moon) gets its name from the wobbly texture. Zaru tofu (Zaru (ざる) is a bamboo strainer) is tofu drained over a bamboo strainer, resulting in a slightly more firmer tofu than the ones mentioned earlier. These types of tofu are very tender and not soaked in water like Kinu and Momen tofu.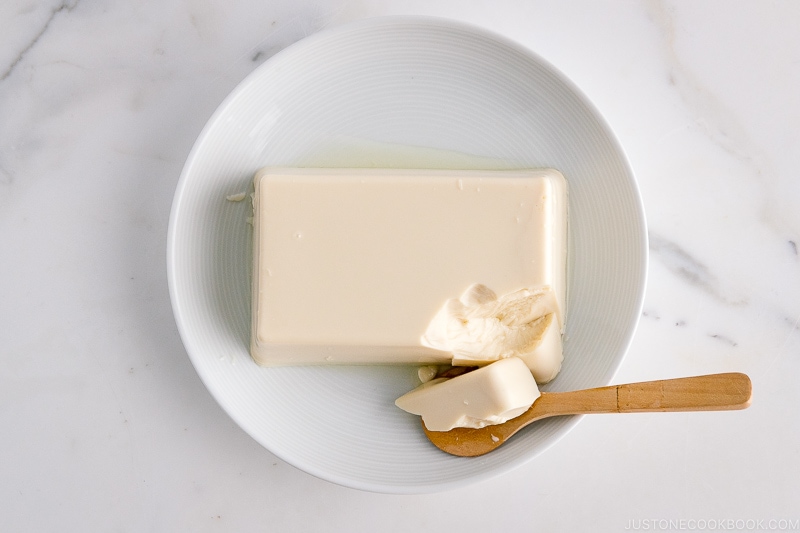 How to use it: Eat warmed or chilled, treat like Kinu tofu.
---
Jyuten/Juten Tofu (充填豆腐)

Jyuten (Juten) tofu is shelf-stable kinu tofu, packaged without water. It's made by the soybeans and nigari mixture seal packed and cooled in the container to harden. As it is pasteurized, some do not need refrigeration and has a long expiration date.
Some tofu sold in the refrigerated section at the supermarkets look like regular tofu, bu they are Jyuten tofu. Check to see whether it's vacuum packed or packed in water.
How to use it: Eat warm or chilled, treat like Kinu tofu.

2. Processed Tofu
Yaki Tofu/Yakidofu
Nama Age Tofu/Atsuage
Aburaage/Usuage
Ganmodoki/Hiryozu
Yaki Tofu/Yakidofu (焼き豆腐)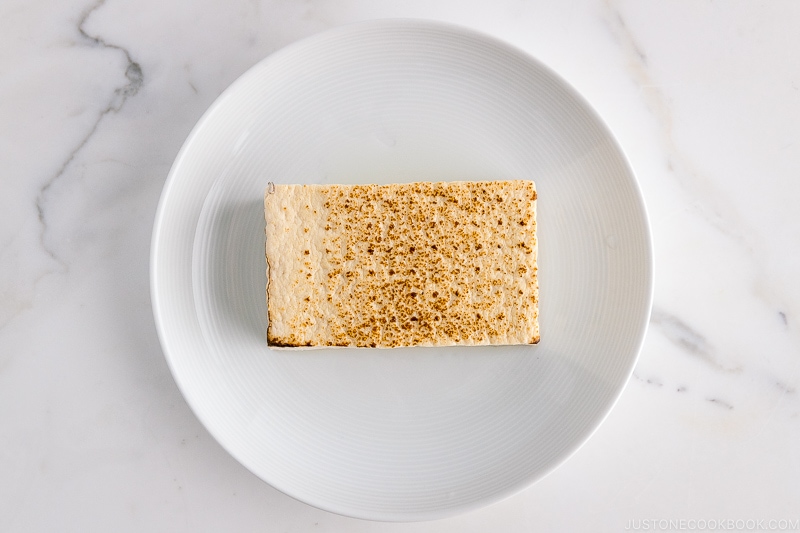 Yaki Tofu is grilled Momen tofu with charred grill marks, which are more for aesthetics.
How to use it: Add to hot pot, or cook like normal Momen tofu.
---
Nama Age Tofu/Atsuage (生揚げ豆腐・厚揚げ)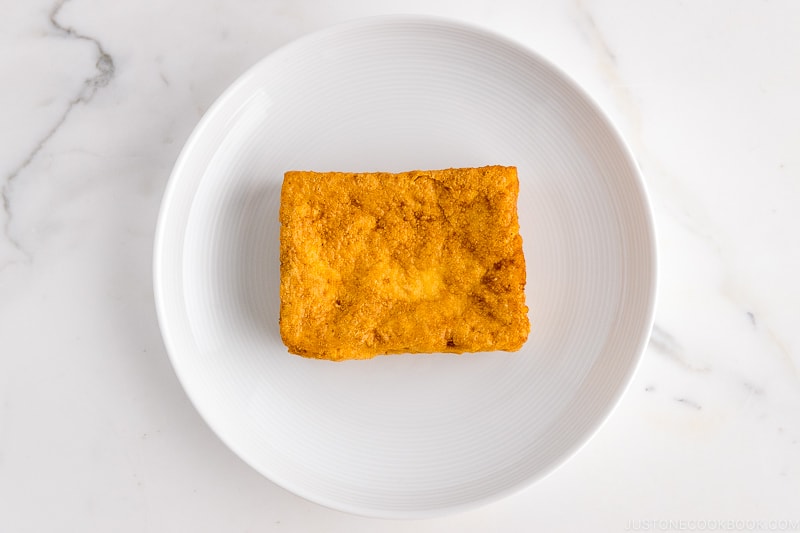 Both refer to fried Momen tofu with a golden brown exterior. It may be sold as blocks, cubes, or triangles. Kinu Age (絹揚げ) is a block of fried Kinu tofu.
How to use it: Toss into stir-fries, lightly toast with a drizzle of soy sauce, or add to oden.
---
Aburaage/Usuage (油揚げ・薄揚げ)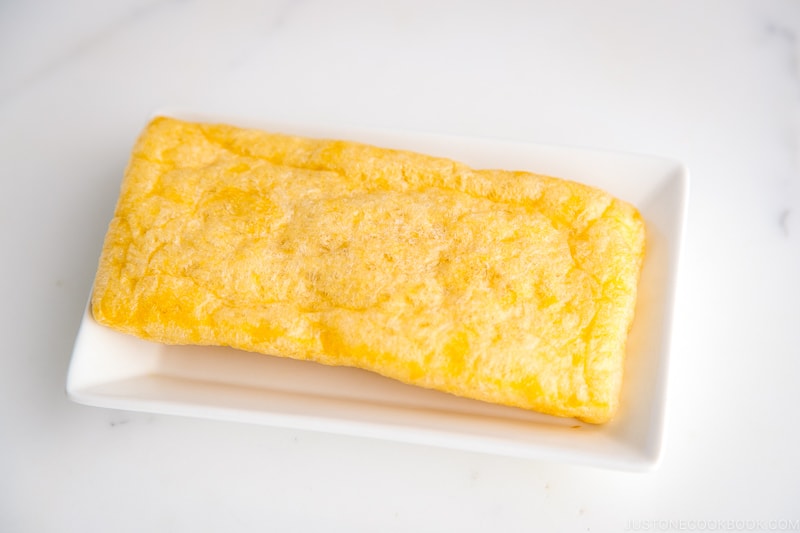 Made from thinly sliced Momen tofu, aburaage (fried tofu pouches), undergoes deep-frying twice. When served on top of udon or soba noodles, the dish is called Kitsune udon/Kitsune soba. When seasoned and stuffed with rice, it's Inari sushi. It may be refrigerated, frozen, or canned (seasoned inari age).
How to use it: Make Kitsune udon/soba, Inari sushi, or slice and add to miso soup or stir fries.
---
Ganmodoki/Hiryouzu/Hiryuzu (雁擬き・飛竜頭)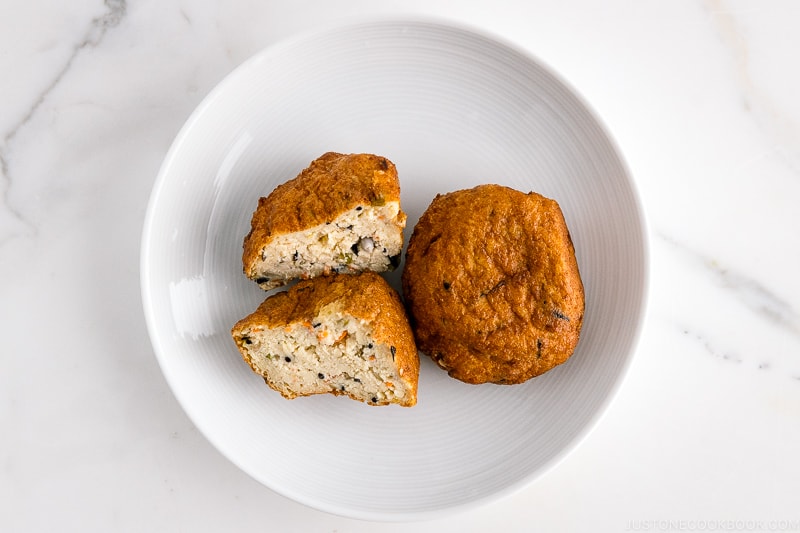 Ganmodoki or Ganmo for short, are circular tofu fritters made with Momen tofu and a binder, usually Yamaimo (Japanese mountain yam). It contains chopped vegetables such as shiitake mushrooms, carrots, lotus root or burdock root, hijiki seaweed, or gingko nuts. There are two theories to the name, one is that means "pseudo-duck" (gan (雁; duck), modoki (擬き; pseudo), as the taste was said to resemble duck meat and the other "pseudo-circle" (gan (丸; circle)) due to its shape. Ganmodoki is an important source of protein in Shojin Ryori. Ganmodoki is the Kanto term, Hiryouzu/Hiryuzu 飛竜頭 is the Kansai term.
How to use it: Steep in dashi and serve warm, add to braises or oden.

3. Tofu By-products
Okara
Yuba
Koya Tofu/Kori Tofu
Okara (雪花菜)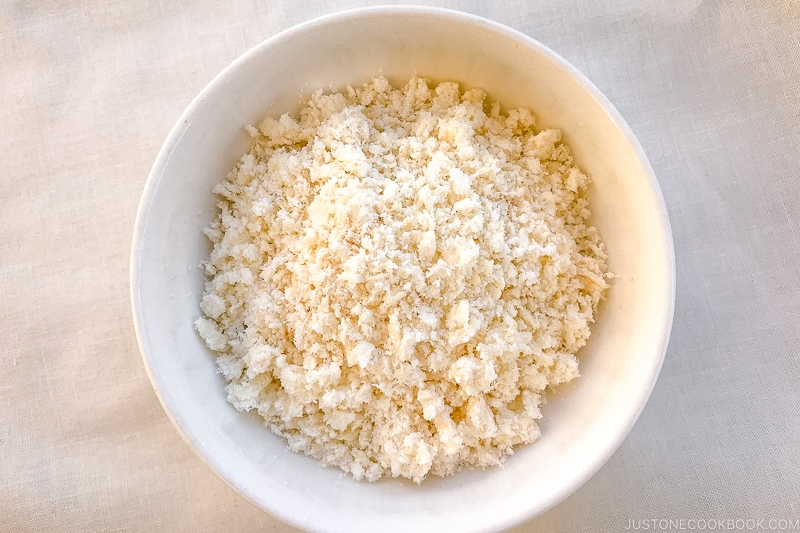 Okara is the discarded soybean pulp from making tofu and soy milk. With a super high water content, it is highly perishable but remarkably nutritious. It has a gritty texture and is cooked in some form. As it is low in calorie and highly fibrous (consequently fills you up), it is embraced by dieters.
How to use it: Cook it to make Unohana 卯の花, a savory dish of cooked okara with veggies, use as fillers in hambagu and korokke, or add to baked goods and potato salads.
---
Yuba (湯葉)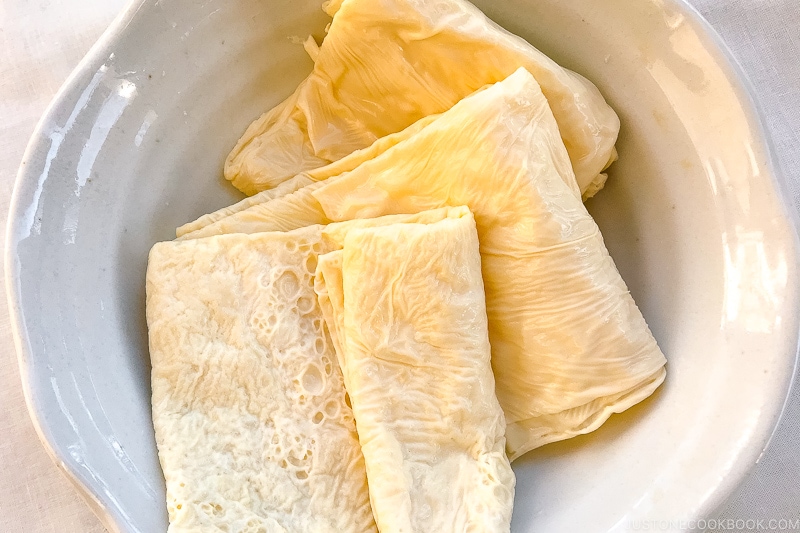 Also known as "tofu skin," Yuba is made by boiling soy milk until ribbon layers form on top. Yuba is a specialty in Kyoto and other regions, where fresh Yuba is considered a delicacy. It can be found refrigerated or dried. Fresh Yuba is tender whereas reconstituted dried Yuba has a rubbery texture.
How to use it: Add to soups or Nimono, or eat on its own like sashimi.
---
Koya Tofu/Kori Tofu (高野豆腐・凍り豆腐)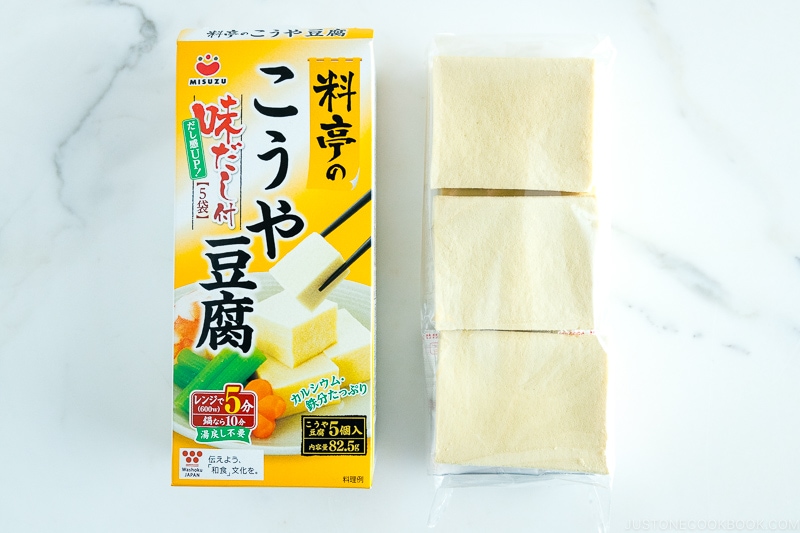 Found in the dried food aisle at the supermarket, Koya tofu (or Koyadofu) is freeze-dried tofu, which undergoes aging. Koya (高野) refers Mt. Koya in Wakayama prefecture, where it was supposedly first made by a Buddhist monk as part of Shojin Ryori. Not only it is highly nutritious and a pantry staple, but the spongy texture is excellent for soaking up broths.
How to use it: Use in braises or nimono.

4. Flavored "Tofu"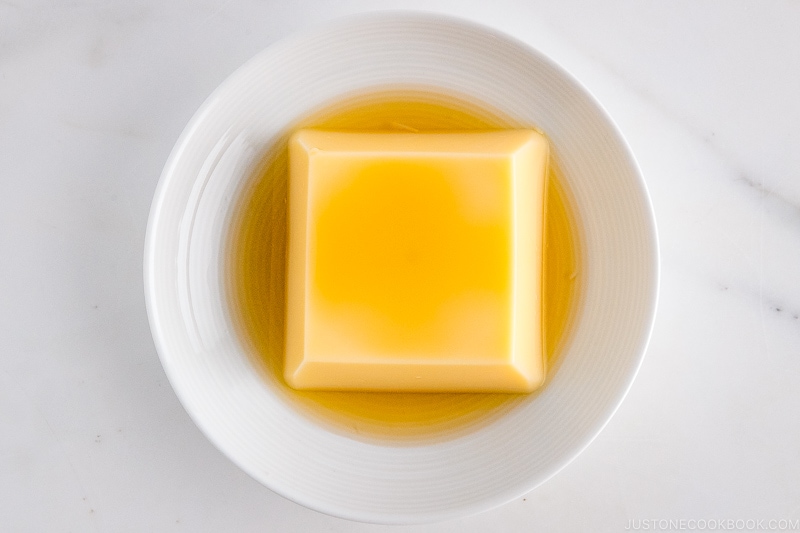 Tofu tamago is steamed eggs seasoned with dashi. It has no soybeans or nigari, but has the name "tofu" as the shape resembles tofu. It has a slightly eggy flavor and the texture is smooth like custard.
How to use it: Eat warmed or chilled with seasoned dashi broth. Or top over rice like in the Netflix show "Midnight Diner: Tokyo Stories" (深夜食堂).
---
Goma Tofu (胡麻豆腐)
Goma tofu is a sesame paste coagulated with kudzu powder (a starch made of the kudzu plant). It is smooth in texture with slight nuttiness from the ground sesame.
How to use it: Eat warmed or chilled, top with a miso-based sauce or grated wasabi and soy sauce.

What is your favorite variety of tofu and how do you like to eat it? Or for those not a fan of tofu, what turns you off about it? Please share your tofu episodes in the comment box below!