Soft, silken, creamy Egg Tofu made with eggs and dashi. It is steamed, chilled, then served with savory dashi broth. Enjoy the refreshing flavors while it quickly melts away in your mouth.
The popular Japanese TV program called Shinya Shokudo (深夜食堂) or 'Midnight Diner: Tokyo Stories (Season 1)' is now available on Netflix. The show features Japanese diner/home cooking recipes that are not your standard Japanese food served in restaurants in the U.S.
Since the drama doesn't provide detailed ingredients and step-by-step instructions, I'll be sharing these copycat recipes on my blog. Today's recipe is Egg Tofu (玉子豆腐).
What is Egg Tofu?
Egg Tofu is Japanese steamed tofu made of eggs and dashi mixture that is steamed till firm, chilled, then served with a dashi and soy sauce broth. In Japan, we call this dish Tamago Dofu (玉子豆腐).
Even though it's called "tofu", egg tofu does not include soybeans or nigari. What is nigari? It is magnesium chloride which is used to firm soymilk into silken tofu. The dish is called egg tofu because of its tofu-like texture and square shape, just like Sesame Tofu (胡麻豆腐) and Almond Tofu (杏仁豆腐) which also do not contain soy.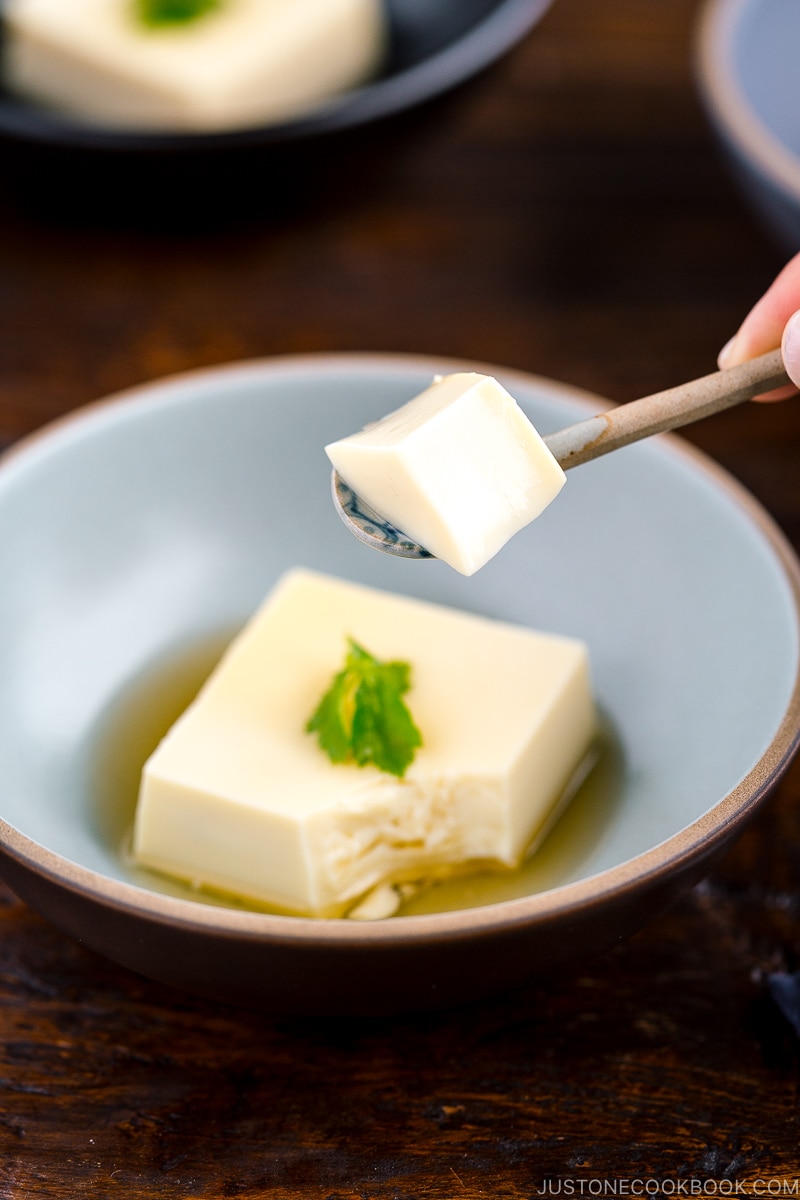 Tips for Making Egg Tofu
1. Egg to Dashi Ratio

Usually, egg to dashi radio is one to 1.5 – 2. If I use 4 eggs (roughly 200 grams; American large egg is about 50 grams each without shell), you'll need 300 – 400 grams/ml dashi to achieve smooth, silky texture of egg tofu. The higher the dashi texture is in the egg mixture, the silkier it gets.
2.

Usukuchi

Soy Sauce vs. Regular

Koikuchi

Soy Sauce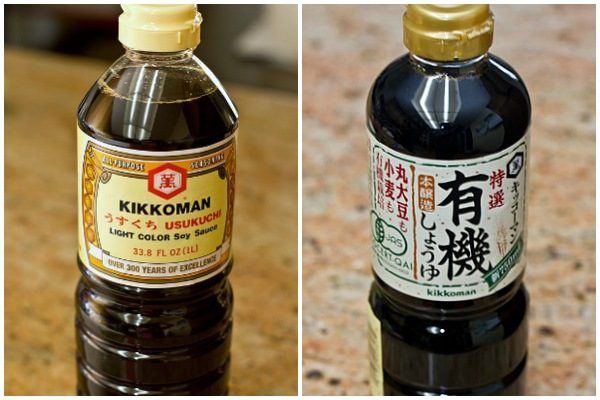 Usukuchi soy sauce (薄口醤油) is a light-color soy sauce, which actually tastes saltier than regular, darker color koikuuchi soy sauce (See my pantry page).
I have to admit I don't always keep usukuchi soy sauce in my kitchen. Remember my recent Kazunoko (Herring Roe) recipe for New Year's feast? That would have been lighter in color if I have used usukuchi soy sauce instead of regular soy sauce.
Usukuchi soy sauce is more commonly used in western Japan, such as Osaka. As I grew up in Yokohama (near Tokyo), I'm used to using dark-colored broth in my udon noodle soup made with regular soy sauce. Regular koikuchi soy sauce is also more common and available to purchase everywhere.
However, with dishes that you want to maintain the ingredients' natural color, I highly recommend usukuchi soy sauce. For example, when you make egg tofu and chawanmushi (savory steamed egg custard), you want to keep a light and creamy yellow color. So you would use usukuchi soy sauce to keep this appetizing beautiful color with light-color soy sauce.
So, may I encourage you to get usukuchi soy sauce?
3. Steaming Egg Tofu to Perfection

Even though "steaming" is a fairly simple cooking method, when you cook egg tofu, you can't just put the food in the steamer, cover, and wait till it's done. If you do this, the temperature in the pot could be too hot and you will overcook the egg tofu.
The pot can't have too much steam (resulting in high temperature), as it will lead to the protein being hardened and solidified. You can still eat it, but it will result in tiny holes on the inside and the surface of the egg tofu. In Japanese, we call this "Su ga tatsu (すが立つ)".
To avoid this unpleasant texture in tofu from happening, you have to make sure the pot is not too hot. You can easily do this by leaving the lid ajar and reducing the heat to the lowest possible, making sure that inside the steamer is less than 194F (90C). The trick for this dish is to cook slowly on low heat.
Make sure to cover the lid with a large kitchen towel so condensation won't drop and ruin your egg tofu. I also figured out a new trick. It was a bit harder to take it out the hot stainless steel Nagashikan (ramekin). If you place the cloth underneath and sides, you can easily pull up using the cloth. This also prevents the stainless steel from getting too hot on the bottom.
As my bamboo steamer didn't have enough height for my egg tofu ramekin to go inside, I used a 5 1/2 QT Le Creuset Dutch oven and a 8 5/8″ round cooling rack as a steamer.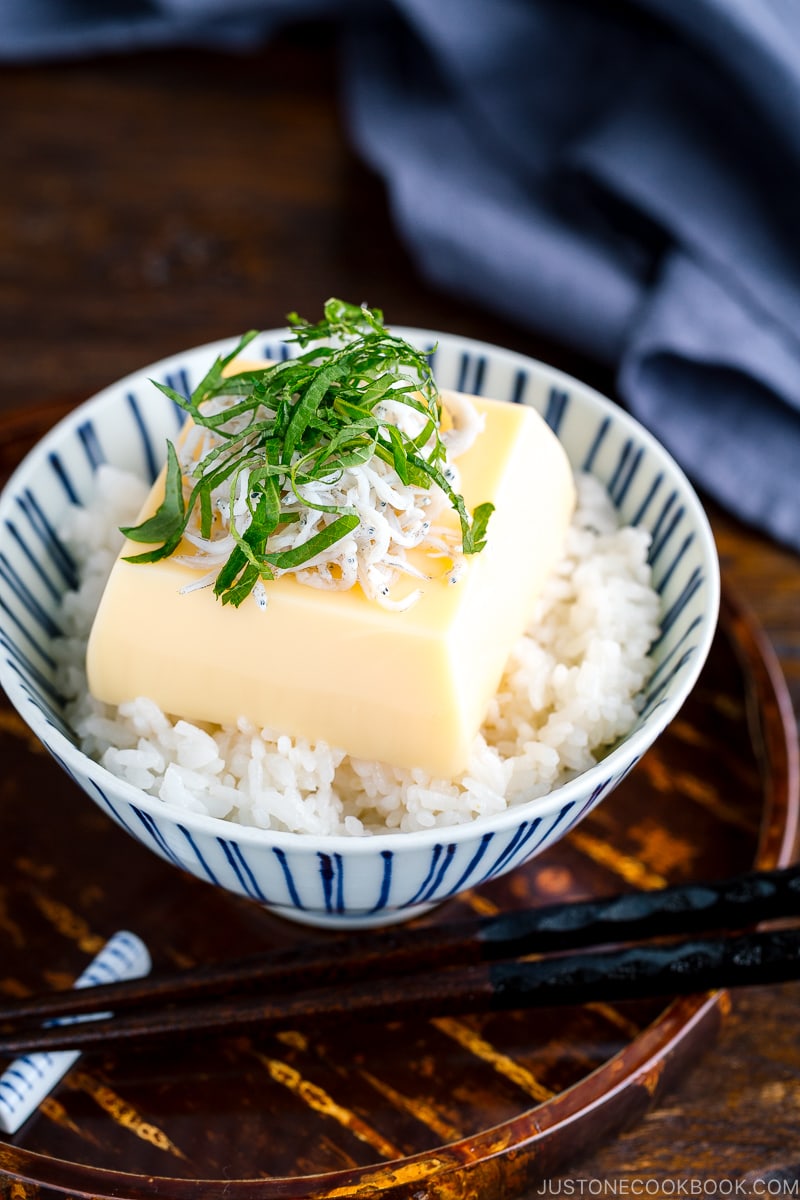 How To Make 'Midnight Diner' Egg Tofu on Rice
In Episode 5 of 'Midnight Diner: Tokyo Stories" Season 1, the egg tofu is served on steamed rice. I've never tried eating egg tofu over rice, so I attempted after watching this episode. To my surprise, it was very delicious and so easy to make! Here are the main ingredients: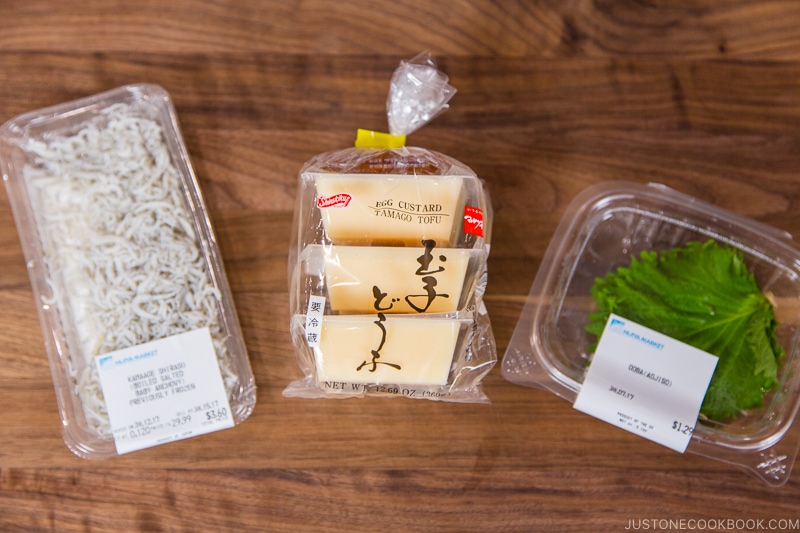 From left, kamaage shirasu (boiled baby sardines), egg tofu, and shiso leaves. For making egg tofu from scratch, follow today's recipe below.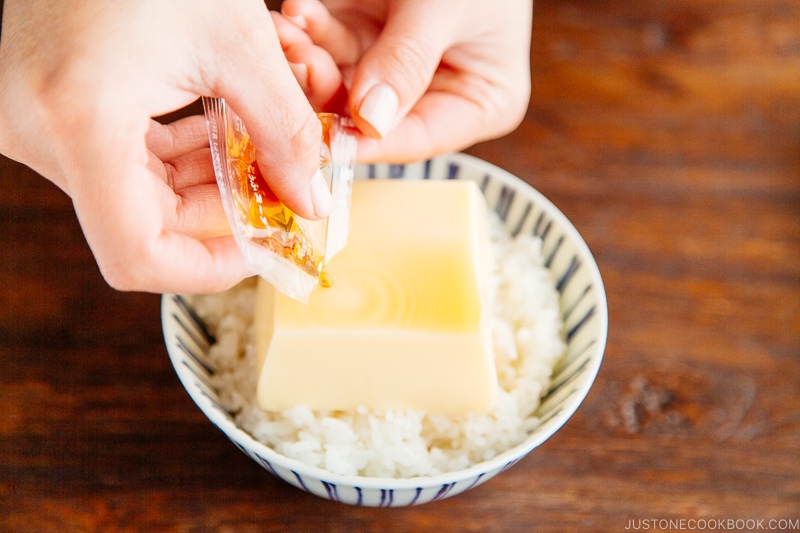 Serve steamed rice in your rice bowl and place the egg tofu on top. Pour the sauce that comes with the egg tofu package (or homemade sauce I provided in today's recipe). Then place the shirasu (no need to rinse) and shiso on top. And that's it!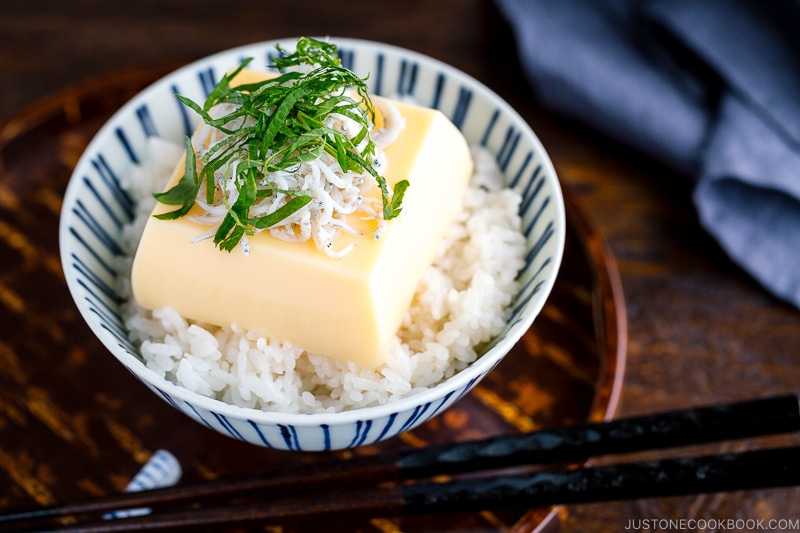 Delicious Egg Tofu on Rice, just like the one you saw in 'Midnight Diner'. This humble dish really surprised us. Personally, I was surprised how the saltiness from shirasu and refreshing shiso flavor worked so well together in this recipe.
As shirasu and shiso are unique ingredients and often hard to find outside of Japan, you may eat egg tofu on rice by itself or enjoy egg tofu as an appetizer. The dashi poured over the egg tofu is really delicious, so you will enjoy this dish either way.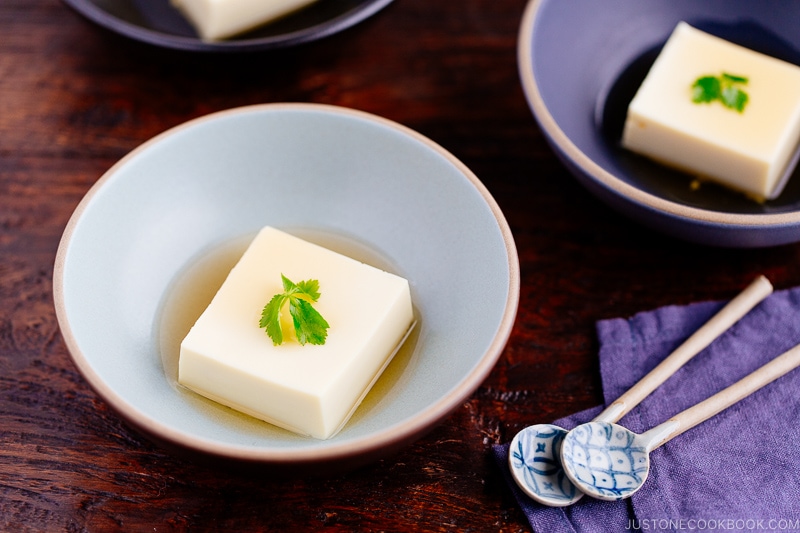 Sign up for the free newsletter delivered to your inbox and stay in touch with me on Facebook, Pinterest, YouTube, and Instagram for all the latest updates.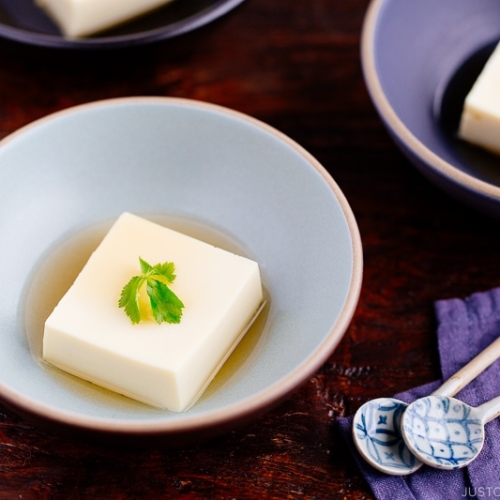 Egg Tofu (Tamago Tofu)
Egg Tofu is a soft, silken, and creamy Japanese washoku dish made with eggs and dashi. It is steamed, chilled, then served with savory dashi broth. Enjoy the refreshing flavors while it quickly melts away in your mouth.  
Japanese Ingredient Substitution:
If you want substitutes for Japanese condiments and ingredients, click
here
.
Instructions
Gather all the ingredients. Set up a steamer with water in the pot. Bring it to a boil, then turn off the heat and keep the lid on. I use a nagashikan (egg tofu ramekin). You can buy it on Amazon (finally they have one!) You can also use a square/rectangular container or individual bowl such as chawanmushi cups.
To Make the Sauce
In a small saucepan, bring

2 Tbsp mirin

to a boil and let the alcohol evaporate. When the alcohol smell disappears (after 10–15 seconds), add

150 ml dashi (Japanese soup stock)

(

⅔

cup minus

2

tsp).

Add

1 Tbsp usukuchi (light-colored) soy sauce

and bring it to a boil. Once it's boiling, turn off the heat and set aside.
To Make the Egg Tofu
Crack

4 large eggs (50 g each w/o shell)

into a bowl and whisk well. Add

2 tsp usukuchi (light-colored) soy sauce

,

⅛ tsp Diamond Crystal kosher salt

, and

1¼ cups dashi (Japanese soup stock)

.

Strain the egg mixture through a fine-mesh sieve to achieve a silky, fine texture. I believe this step makes a huge difference in the final result.

Quickly rinse the nagashikan or ramekin under cold running water. Pour the egg mixture into it.

Scoop away the small bubbles on the surface with a spoon. Place the nagashikan or ramekin on a steamer* rack. Tip: After trying this recipe a few more times, I figured out a new trick. It was a bit difficult to remove the hot stainless steel nagashikan from the steamer. However, if you line the bottom and sides of the steamer with a cotton cloth, you can easily use it to pull up the egg tofu ramekin. This also prevents overheating the bottom of the nagashikan from the heat beneath. * As my bamboo steamer didn't have enough height for my egg tofu ramekin to go inside, I used a 5½ QT Le Creuset Dutch oven and an 8⅝" round cooling rack as a steamer.

Close the lid wrapped with a large kitchen towel; otherwise, the condensation collecting on the lid will drop onto your Tamago Tofu and ruin it. Leave the lid slightly ajar so it won't get super hot inside the pot but just hot. Steam on the lowest heat possible on the stove for 20 minutes, or until a skewer inserted comes out clean.

Once it's done, take the ramekin or nagashikan out of the steamer immediately. Let it cool completely on the countertop and chill in the refrigerator for 2 hours. If you plan to serve immediately, place the nagashikan in an ice water bath to cool.

Run the knife along the edges of the nagashikan and slide out the Tamago Tofu.

Cut into 4 to 6 pieces. Transfer to a serving plate/bowl. Pour the sauce and garnish with

mitsuba (Japanese parsley)

(if using).
To Store
Store in the refrigerator for up to 2 days. You can't freeze Tamago Tofu as the texture will change.
Nutrition
Nutrition Facts
Egg Tofu (Tamago Tofu)
Amount per Serving
% Daily Value*
* Percent Daily Values are based on a 2000 calorie diet.
©JustOneCookbook.com Content and photographs are copyright protected. Sharing of this recipe is both encouraged and appreciated. Copying and/or pasting full recipes to any website or social media is strictly prohibited. Please view my photo use policy
here
.