Print Recipe
Jump To Recipe
Delicate and savory, Chawanmushi is a classic Japanese steamed egg custard served in a cup. Learn how to make this appetizer for a true Japanese home cooking experience. Your guests will be impressed!
Chawanmushi is a Japanese egg custard appetizer which consists of ginkgo nuts, shiitake mushrooms, kamaboko (Japanese fish cake), and an egg mixture flavored with dashi, soy sauce, and mirin.  The egg custard is steamed in a dainty little tea cup and often served as a cold or hot appetizer.   With a lovely pale yellow and colorful toppings, it is as tasty as it looks.
Considered a classic appetizer, you will find Chawanmushi in the menu in many sushi or Japanese restaurants. There are many interesting variations and seasonal ingredients such as shrimp, fish, or veggies are often included. Because it's highly customizable, this savory egg custard can be homey or fancy depending what goes into it. To get you started, I'll be sharing a basic Chawanmushi recipe with chicken today.
The texture…
The steamed custard is smooth & silky, while the sweet savory meat and vegetables lend contrasting mouthfeel to the dish. And there's juice from the broth, which makes each bite utterly satisfying and surprising.
The flavor…
You can expect a delicate yet complex flavor from a good cup of Chawanmushi. There is a balance of sweetness and saltiness from the different components. And the seasonings – dashi, soy sauce, mirin and sake attribute a umami taste, which is key to make a delicious custard.
For dashi, I highly recommend you use dashi packet or make it from scratch since that's the soup base of this dish.  However, you can follow this quick method with MSG-free instant dashi powder as well.
To serve Chawanmushi
Chawanmushi is typically served in small cup with lids. Otherwise, you can use ramekins, pretty little small bowls or oven proof mugs to prepare the steamed custard.
There is really nothing like a silky custard with a slightly sweet and savory broth topped with delicacies to soothe the hungry stomach while you wait for the main meal to be served.  I hope you give this recipe a try because it is easy and practical to make at home. 
We always like to eat chawanmushi with uni (sea urchin) and ikura (salmon roe) on top.  It's a little bit of a luxury and I can't describe how delicious it is.
For more Chawanmushi recipes: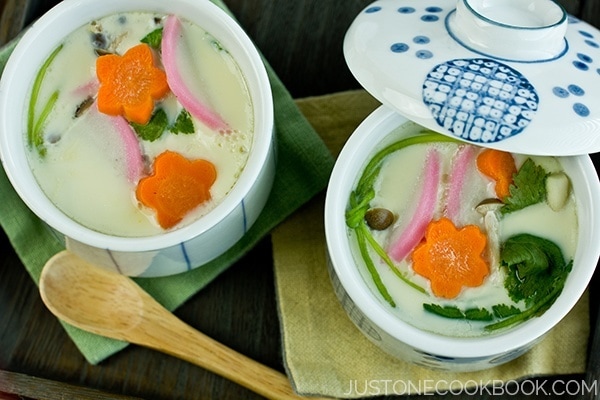 Before moving onto the recipe, I want to thank Amelia of Amelia's De-ssert for the blog awards.  Thank you Amelia!
Don't want to miss a recipe? Sign up for the FREE Just One Cookbook newsletter delivered to your inbox! And stay in touch on Facebook, Google+, Pinterest, and Instagram for all the latest updates. Thank you so much for reading, and till next time!
Chawanmushi (Savory Steamed Egg Custard)
Course:
Main Course, Side Dish
Ingredients
Seasonings:
½

tsp

mirin

¼

tsp

Kosher salt

¼

tsp

soy sauce
Instructions
Gather all the ingredients. I use 2 chawanmushi cups that can hold 3/4 cup liquid.

In a small bowl, combine dried shiitake in and water and let it soak for 15 minutes. When shiitake becomes soft, slice it thinly and keep the liquid.


Put the liquid from Step 1 into a measuring cup and fill with dashi until you have ½ cup of liquid.

Cut chicken into bite size pieces and marinate the chicken in sake for 15 minutes.


Cut out the carrot slices into flower shape with vegetable cutters.


Whisk the egg in a medium bowl. Add the seasonings and dashi mixture from Step 2 into the bowl and mix well.


Then strain the mixture through a fine sieve into another bowl.


Place two empty chawanmushi cups in a medium pot. Pour water until it covers half way up the exterior of the cups. Remove the cups and start boiling water.

Tie mitsuba like this.


Divide all the ingredients into chawanmushi cups; I started with chicken, shiitake, ginkgo nuts, and shimeji. Then put more colorful ingredients like kamaboko and mitsuba on top.


Gently pour the egg mixture into the cups, keep some ingredients on top uncovered with egg mixture. Cover with the lid or use aluminum foil if lid is not available.


Once water starts boiling, reduce the heat to low. Place the cups gently inside the hot water and cover the pot. Cook for 25-30 minutes on the lowest heat. If you do not add the chicken, the cooking time should only be 15-20 minutes. Insert a skewer in the center of the cup to check if the egg is done. Put uni and ikura on top.

Recipe Notes
Recipe by Namiko Chen of Just One Cookbook. All images and content on this site are copyright protected. Please do not use my images without my permission. If you'd like to share this recipe on your site, please re-write the recipe in your own words and link to this post as the original source. Thank you.