Kazunoko is herring roe marinated in dashi soy seasoning and is an important dish of Osechi Ryori, or traditional Japanese New Year foods. This prized delicacy symbolizes a prosperous family and wishes for many children and grandchildren.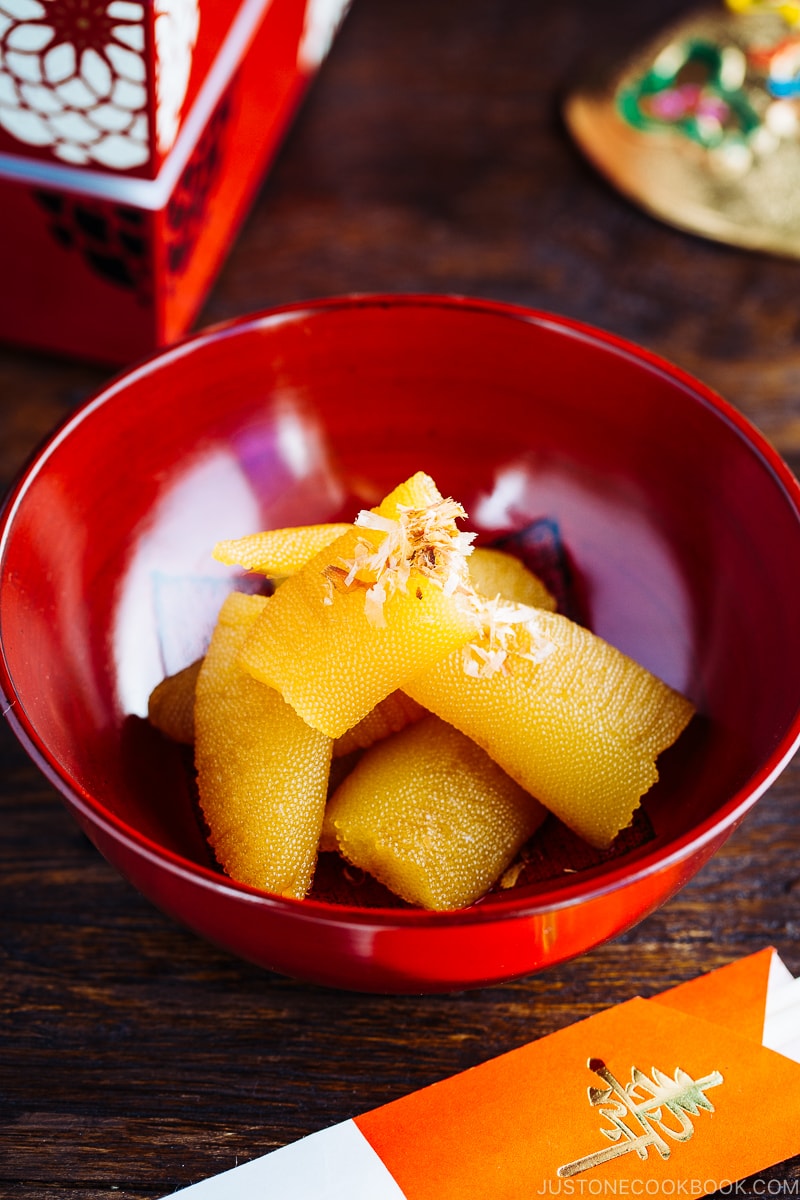 Kazunoko (数の子), or salted herring roe, is one of the popular dishes in Osechi Ryori (おせち料理), the Japanese New Year food. Marinated in soy dashi seasoning, this rare and expensive delicacy is considered an important part of Osechi as it symbolizes many children and a prosperous family,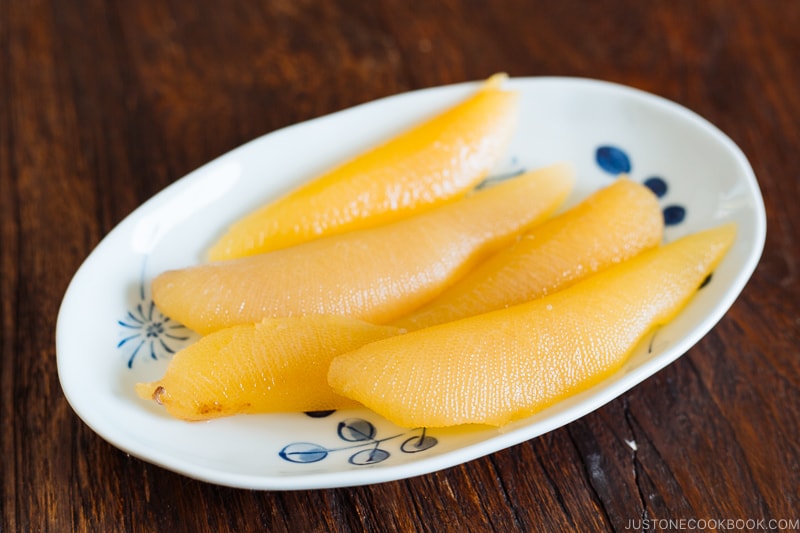 What is Kazunoko?
Kazunoko (数の子) is salted herring roe. As a child, I wasn't particularly fond of this dish and I wondered why my parents enjoy this salty weird-texture food. As I got older and gained more experience in eating different textures and flavors of foods, I started to enjoy this delicacy more.
Each roe is a collection of tiny eggs and it has a beautiful golden color. As you bite into it, it gives a crunchy texture (the texture is explained as kori kori コリコリin Japanese). The tiny eggs break apart from each other and disintegrate inside your mouth. The individual eggs have a caviar/tobiko-like texture.
In terms of its flavor, kazunoko has an acquired taste. There's saltiness, and you can also taste umami from dashi and soy sauce base seasoning after it's marinated.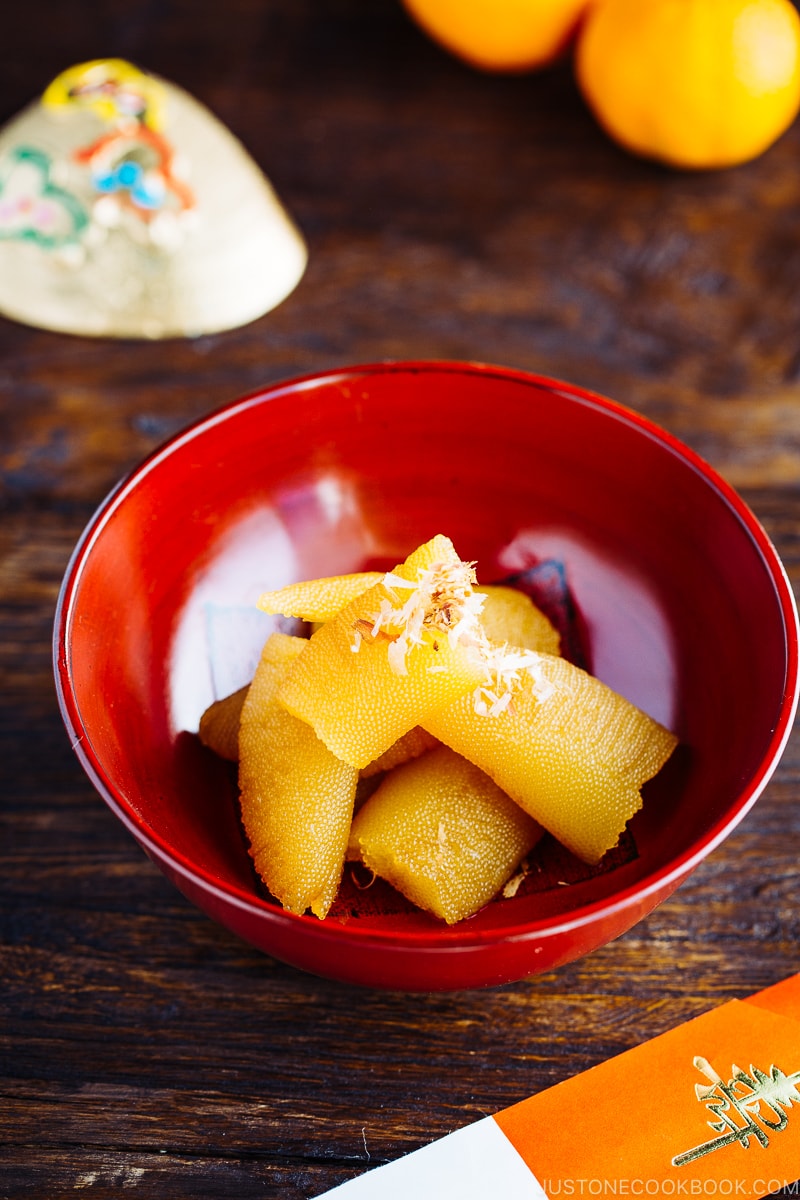 3 Things You Need To Know Before Cooking Kazunoko
1. Need to desalinate in saltwater.
This might sound strange. Why do you desalinate (remove salt) salted herring roe with salt water? There are also some recipes that ask you to soak in plain water to desalinate. So which is correct? Well, the correct way can be explained by chemistry…
When you soak in plain water, there is too much difference with the salt concentration and you will lose salt content too quickly as well as the umami of the eggs. The salinity contains sodium chloride and magnesium chloride and they have different dissolving rates (sodium chloride dissolves faster and magnesium chloride dissolves slowly).
If you soak it in plain plater, it means that sodium chloride will dissolve first and magnesium chloride will remain in the roe and give the roe an unwanted bitter taste. In order to remove magnesium chloride, it must be further soaked in water and it will make the kazunoko lose all the umami flavor and become watery.
If you use salt water, the difference in concentration decreases and the salt slowly escapes. Only excess salt will be removed while moderate salt content and umami remain in the herring roe.
2. Gently remove the membrane
The only drawback of preparing kazunoko is the tedious peeling process of herring roe membrane. If you don't remove this membrane, the dashi and seasonings won't be absorbed well. Once the membrane is removed, kazunoko looks much prettier in color too. So be ready for this time-consuming process, especially if you have to make a lot of kazunoko…
My quick tip is to use your thumbs to press the membrane upwards against the center of the roe. Once the membranes are collected in the center, you can pull up from the edge and detach from the roe easier.
3. Use Usukuchi Soy Sauce
If possible, I recommend using Usukuchi Soy Sauce (薄口醤油). It's a light-colored Japanese soy sauce, commonly used in western and southern Japan as the main soy sauce. Even though it's called light-colored soy sauce, it is actually saltier than dark-colored Koikuchi Soy Sauce (濃口醤油).
As I grew up in the Tokyo area, my "regular" soy sauce is Koikuchi and I don't keep Usukuchi soy sauce in my kitchen. I used to keep both, but since I rarely finish up usukuchi soy sauce before the expiration date I stopped purchasing them.
The good reason why you should use usukuchi soy sauce for this recipe is to keep the ingredient's beautiful golden color. The dish also won't look as dark if you use usukuchi soy sauce. Other dishes I recommend using usukuchi soy sauce are nimono (simmered dishes) like Chikuzenni and Chawanmushi (savory steamed custard).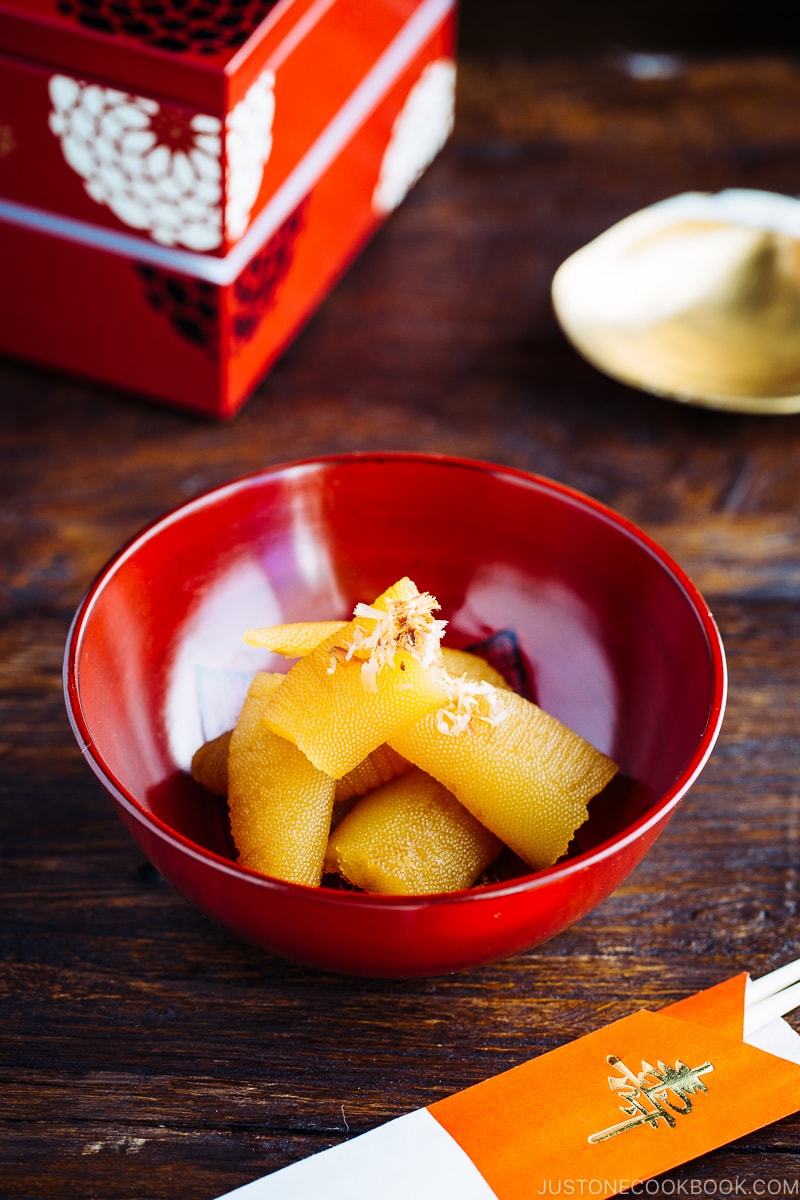 Where To Find Kazunoko
Your local Japanese grocery stores may start to sell kazunoko (salted herring roe) shortly after Christmas. During this time, the grocery store will focus on Osechi Ryori ingredients and New Year celebration produces and products.
At my local Japanese grocery store, kazunoko usually costs about $25 to 30 per pound. I'm not familiar if other Asian cuisines use salted herring roe. If you have purchased and used this in your cuisine, let me know in the comment below where you purchased it from.
Kazunoko is usually prepared and enjoyed once a year for the New Year's feast. Ingredients used only for a special holiday like this can be difficult for us living outside of Japan to acquire. I apologize if you can only read and learn about this dish, and can't make it for yourself due to the availability of the ingredients.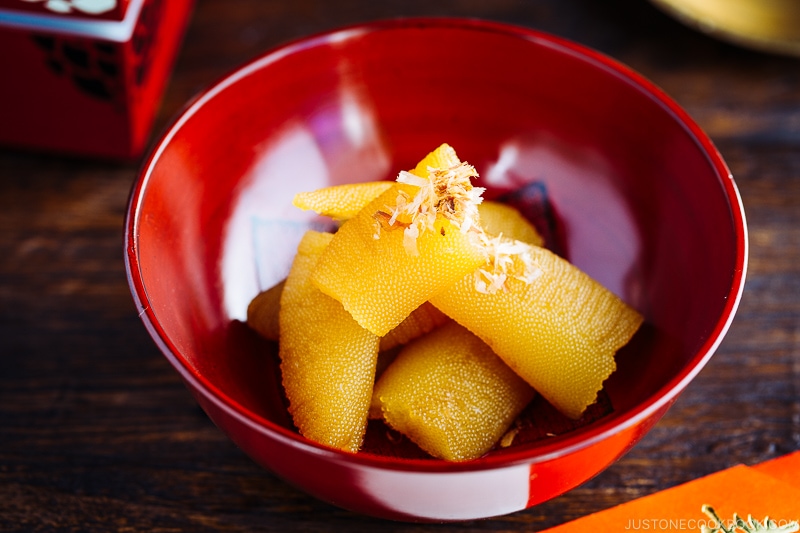 Wish to learn more about Japanese cooking? Sign up for our free newsletter to receive cooking tips & recipe updates! And stay in touch with me on Facebook, Pinterest, YouTube, and Instagram.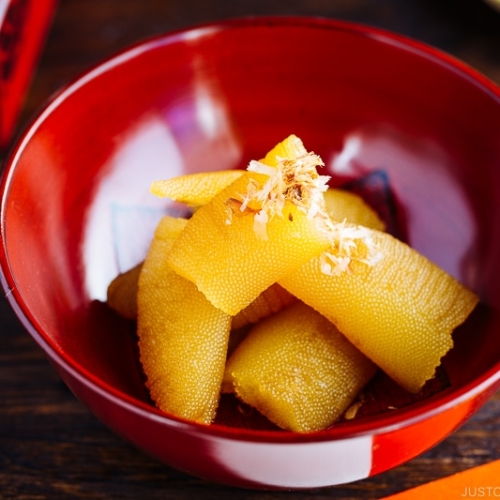 Kazunoko (Herring Roe)
Kazunoko is herring roe marinated in dashi soy seasoning and is an important dish of Osechi Ryori, or traditional Japanese New Year foods. This prized delicacy symbolizes a prosperous family and wishes for many children and grandchildren.
Ingredients
Japanese Ingredient Substitution:
If you want substitutes for Japanese condiments and ingredients, click
here
.
Instructions
Before You Start…
Please note that this recipe requires a soaking time of 6 hours and an overnight marinating time. If you will include this dish in your Osechi meal, I recommend preparing it up to 4 days before you plan to serve. For more helpful tips on planning your Japanese New Year feast, please read my A 5-Day Osechi Cooking Timeline blog post.

Gather all the ingredients.
To Desalinate the Roe
Combine one-third of the water and salt in a measuring cup and mix well until the salt is completely dissolved.

Place the salted herring roe in a dish with a rim (a pound cake pan is perfect). Then, pour the salted water into the dish or pan and let it soak for 2 hours to desalinate the roe.

Discard the salt water in the dish. Make a new batch of salt water with another third of the water and salt. Soak the roe again for another 2 hours. Repeat one more time. Once you finish the three rounds of soaking in salt water (6 hours total), taste a bit of the salted herring roe to see how salty it is. It should be slightly salty but taste good as is. If it's still too salty, continue with one more round of desalinating.
To Make the Marinade
Meanwhile, heat up the sake and mirin in a small saucepan. Let the alcohol evaporate until the smell of alcohol is gone.

Then, add the dashi and soy sauce and bring to a boil.

Once boiling, add the katsuobushi. Turn off the heat and let stand for 1 minute.

Strain the marinade into a bowl or glass measuring cup and discard the katsuobushi. Set aside to cool.
To Remove the Membrane
Remove the herring roe from the salt water. Using your thumb and index finger, rub and press the membrane to collect it toward the center of the roe. Once the membrane is collected around the center and you have enough to pinch and pull, gently detach the membrane from the roe. Make sure to remove the membrane on both sides.

Wash the herring roe thoroughly and pat dry with paper towels.
To Marinate
Transfer the herring roe into a container and soak in the marinade overnight or up to 2 days.
To Serve
Tear the Kazunoko into bite-size pieces and put inside an Osechi box or serving plate/bowl. You can sprinkle some katsuobushi (dried bonito flakes) on top before serving.
To Store
Store it in an airtight container and keep in the refrigerator for up to 3-4 days.
Nutrition
Nutrition Facts
Kazunoko (Herring Roe)
Amount per Serving
% Daily Value*
* Percent Daily Values are based on a 2000 calorie diet.
©JustOneCookbook.com Content and photographs are copyright protected. Sharing of this recipe is both encouraged and appreciated. Copying and/or pasting full recipes to any website or social media is strictly prohibited. Please view my photo use policy
here
.