Okinawa's most iconic Goya Champuru is a stir fry dish with bitter melon, tofu, egg, and pork belly. This popular savory dish is a truly rustic yet well-balanced meal to serve with steamed rice and a side of miso soup.
Goya Champuru (ゴーヤチャンプル) is a popular stir fry dish that came from the sunny island of Okinawa in southern Japan. Made with vibrant green bitter melon, tofu, pork belly, and egg, it is packed with protein and nutrients.
As I am planning my first trip to Okinawa this winter, I am excited to discover many more delicious Okinawan dishes. But first, let me introduce this simple yet absolutely healthy home cooked dish of Okinawa – Goya Champuru with you.
Watch How To Make Goya Champuru
What is Goya Champuru?
Goya (ゴーヤ) is an Okinawan dialect for Nigauri (にがうり). It's bitter melon or bitter gourd in English. As you can probably guess, bitter melon is famous for its bitterness, but it is remarkably nutritious.
Chanpurū (チャンプルー) refers to Okinawan stir fry dishes, meaning "something mixed" in Okinawan. Stir fry dishes are a big part of Okinawan cuisine. There are different types of champuru. Usually it contains tofu with some kind of vegetables, meat, or fish. Some of the common ingredients include spam, pork, egg, bean sprouts, and bitter melon. Spam is not typically used in mainland Japan but Okinawan cuisine uses spam due to the influence from the US Navy.
Growing up in Yokohama (Tokyo area) between the 70's and 90's, Okinawan restaurants were rare to find and I had never had a chance to try Okinawan dish.
Through NHK TV drama "Churasan" (ちゅらさん) broadcasted in 2001, many people became interested in Okinawan culture and visited Okinawa on vacation. The popularity of Okinawan food spread all over in mainland Japan, and we started to see more Okinawan restaurants popping up everywhere. Even Japanese housewives started to cook Okinawan dishes at home.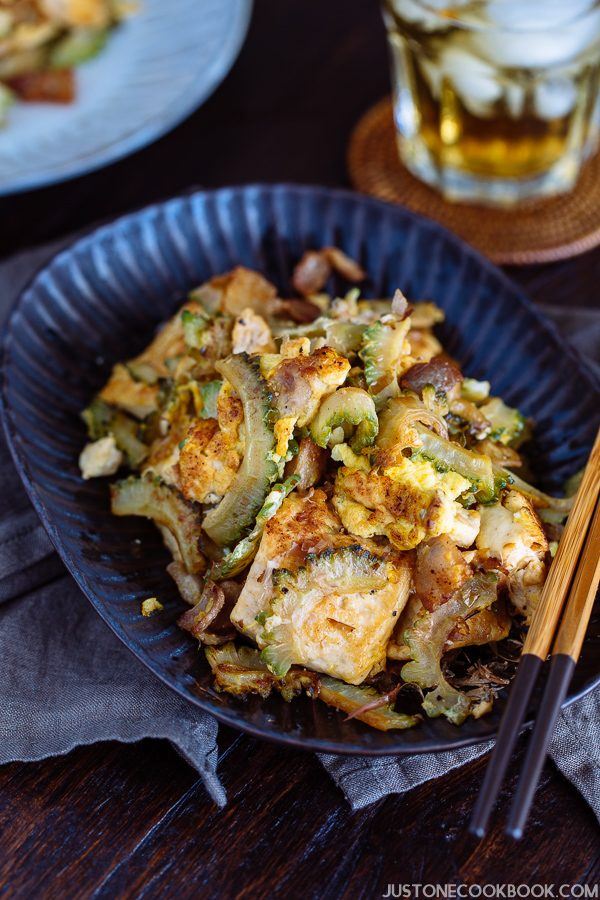 5 Health Benefits of Bitter Melon
1. Treats Skin Condition
Bitter melon juice has powerful antioxidants with Vitamin C and A, which prevents premature skin aging, diminishes wrinkles, reduces acne, and helps in treating eczema. The amount of vitamin C in bitter melon is four times more than lemon and five times than tomatoes. Usually vitamins get lost by being cooked, but not for bitter melon, which is why it's perfect to cook Goya Champuru!
2. Lowers Bad Cholesterol Levels
Studies have shown the juice from bitter melon significantly reduces the risk of heart attack and stroke, and keeps your heart healthy.
3. Helps in Maintaining Blood Sugar Levels
Studies have also shown that eating bitter melon on regular basis reduces the blood sugar level for patients suffering from type-1 and type-2 diabetes significantly.
4. Prevents Cancer
In those bitter flavors, there are components that reduce blood sugar level and cholesterol. Studies have also shown positive correlations between eating bitter melon and the prevention or reduction in tumor growth for cervical, prostate, and breast cancer patients.
5. Boosts Your Immune System
Bitter melon is a source of many different antioxidants that make it a powerful defense mechanism against illnesses in the body.
Helpful Tips on How to Choose, Store and Cook Bitter Melon
1. How to choose the freshest bitter melon:
Bitter melon's season in Japan is from July to September. You can also find bitter melon being available at farmers markets or Asian grocery stores in the US these days. For the best taste, choose bitter melon in relatively smaller size with lots of bumps. The surface should have a fresh shiny green and you want to pick one that feels firm to the touch.
2. How to store:
To keep bitter melon fresh for a longer time, remove the seeds and pith first as they go bad quickly. Make sure you remove the inner white pith clean as that's where the bitterness most concentrates. After slicing, you can store them in airtight container in the refrigerator for later use.
3. How to reduce bitterness:
I learned to sprinkle some salt, but I also heard that enhances the bitterness instead. Some suggests to cook in a lightly salted boiling water, then again I heard the method also causes bitterness. I assume everyone's grandma suggests different things and you just need to try out the method that works for you. I use the salt method as it draws out moisture with some bitter flavors.
This amazing gourd may have an acquired taste, there are plenty of good reasons to eat it. In this homey Okinawan stir fry, crunchy crisp bitter melon is combined with soft creamy tofu and cooked in a delicious umami-rich dashi and soy sauce seasoning. It's truly a healthy and everyday meal you can serve for the family. I'd like you to give it a try.
Do you have any experiences cooking with bitter gourd (goya)? What are your favorite ways of cooking with it? How do you remove the bitterness of the gourd? Share with us in the comment below!
Recipes Similar to Goya Champuru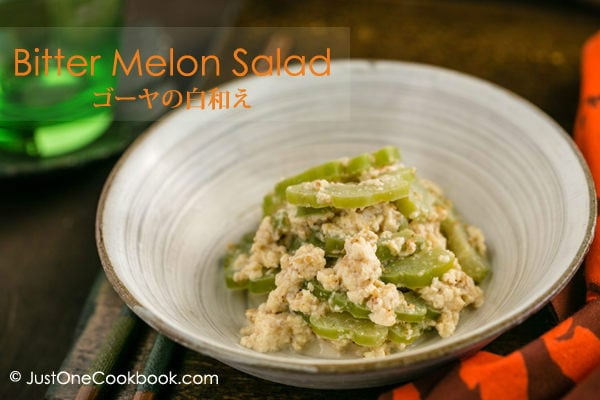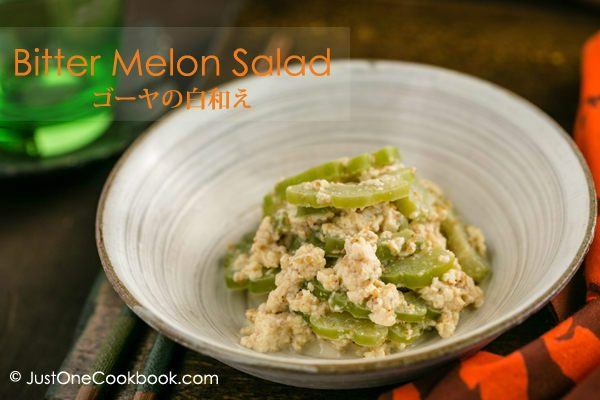 Don't want to miss a recipe? Sign up for the FREE Just One Cookbook newsletter delivered to your inbox! And stay in touch with me on Facebook, Google+, Pinterest, and Instagram for all the latest updates.
Goya Champuru
Okinawa's most iconic Goya Champuru is a stir fry dish with bitter melon, tofu, egg, and pork belly. This popular savory dish is a truly rustic yet well-balanced meal to served with steamed rice and a side of miso soup.
Video
Ingredients
1

bitter melon

(8 oz, 227 g)

1

tsp

kosher salt (Diamond Crystal; use half for table salt)

(for bitter melon)

6

slices

sliced pork belly

2

large eggs (50 g each w/o shell)

2 ½

Tbsp

neutral-flavored oil (vegetable, rice bran, canola, etc.)

(divided)

¼

tsp

kosher salt (Diamond Crystal; use half for table salt)

⅛

tsp

freshly ground black pepper

1

Tbsp

soy sauce
Japanese Ingredient Substitution:
If you want substitutes for Japanese condiments and ingredients, click
here
.
Instructions
Gather all the ingredients.
To Prepare Ingredients
Add the katsuobushi (bonito flakes) into a measuring cup and add ¼ cup boiling water. Let it steep until you're ready to cook. Right before you start stir-frying, strain and remove katsuobushi (and make homemade furikake rice seasoning).

Cut the bitter melon in half lengthwise. Using a spoon, scoop out the seeds and scrape off the inner white pith.

Slice into ⅛ inch (3-4 mm) thickness. Sprinkle 1 tsp kosher salt and combine well. Let stand for 10 minutes.

After 10 minutes, quickly rinse the bitter melon with water and drain well. I use a salad spinner so I can get rid of the moisture easily.

Meanwhile, wrap the tofu with paper towel and place a heavy flat object (like a cutting board) on top of the tofu to squeezes out water. I use flat trays sandwiching the tofu and placed a marble mortar on top.

Cut your pork belly slices into small bites, about 1 ½ inch (3.8 cm)pieces.

Beat the eggs in a medium bowl and tear up the tofu into bite-size pieces with your hands.
To Cook
Heat a large frying pan and add 1 Tbsp oil and put tofu in the pan.

Try not to touch the tofu frequently and cook until the tofu is browned and moisture has evaporated. Transfer to a plate.

Add 1 Tbsp oil to the same frying pan. Add and spread the bitter melon.

Sprinkle kosher salt and stir fry until almost cooked. Transfer to a plate.

Add ½ Tbsp oil and add the pork belly. Season with kosher salt and freshly ground black pepper. Stir fry until nice and golden brown.

Add the bitter melon and the tofu back to the frying pan.

Add katsuo dashi and 1 Tbsp soy sauce and let the liquid evaporate while you toss to combine.

Taste and add kosher salt and freshly ground black pepper if necessary. Instead of adding more soy sauce, use salt to enhance the flavor.

Add the beaten eggs and add to the frying pan. Shake the pan to cook the egg and once egg is no longer runny, turn off the heat.

Transfer to a plate and sprinkle more katsuobushi (bonito flakes). Enjoy!
To Store
You can keep the leftovers in an airtight container and store in the refrigerator for up to 3 days or in the freezer for a month.
Nutrition
Calories:
713
kcal
·
Carbohydrates:
10
g
·
Protein:
38
g
·
Fat:
58
g
·
Saturated Fat:
24
g
·
Polyunsaturated Fat:
10
g
·
Monounsaturated Fat:
20
g
·
Trans Fat:
1
g
·
Cholesterol:
229
mg
·
Sodium:
755
mg
·
Potassium:
518
mg
·
Fiber:
5
g
·
Sugar:
1
g
·
Vitamin A:
811
IU
·
Vitamin C:
96
mg
·
Calcium:
305
mg
·
Iron:
4
mg
©JustOneCookbook.com Content and photographs are copyright protected. Sharing of this recipe is both encouraged and appreciated. Copying and/or pasting full recipes to any website or social media is strictly prohibited. Please view my photo use policy
here
.