Simmered in dashi broth, Japanese Turnips with Soboro Ankake Sauce is a winter comfort food that highlights the flavors of the season. It makes a delicious, nourishing side to complement your Japanese meal.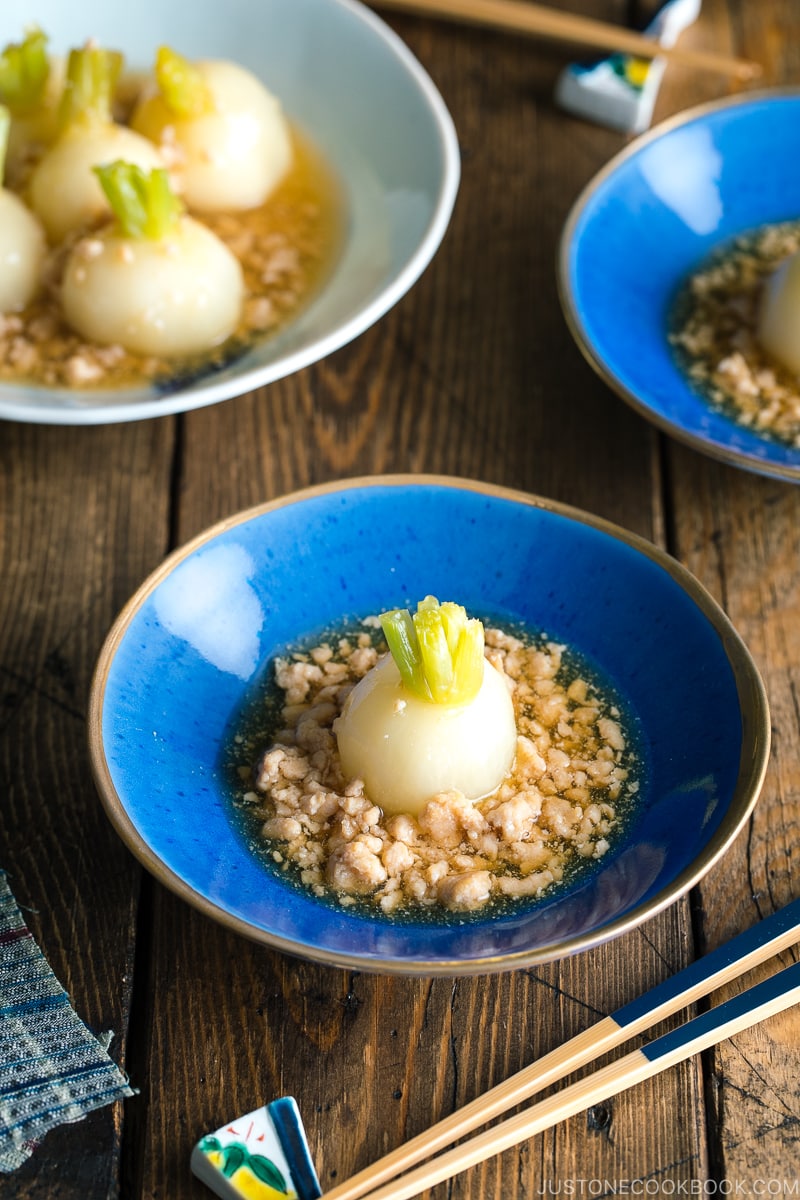 As the weather begins to cool, I am seeing beautiful, ivory-colored Japanese turnips appearing at my local farmers' market. This globular seasonal vegetable lends itself to many classic presentations in Japanese home cooking, which I am really excited to cook with. Today's recipe, Japanese Turnips with Soboro Ankake Sauce (かぶのそぼろあんかけ) is a homey dish that illustrates a taste of winter.
Here, you'll see a unique Japanese preparation where the turnips are first simmered and then served in a savory meat sauce. The dish is presented as if the turnips are rooted in the soil, reminding us of nature's bounty. It is a delightful side that my family enjoys during this time of year. I hope you'd give it a try too!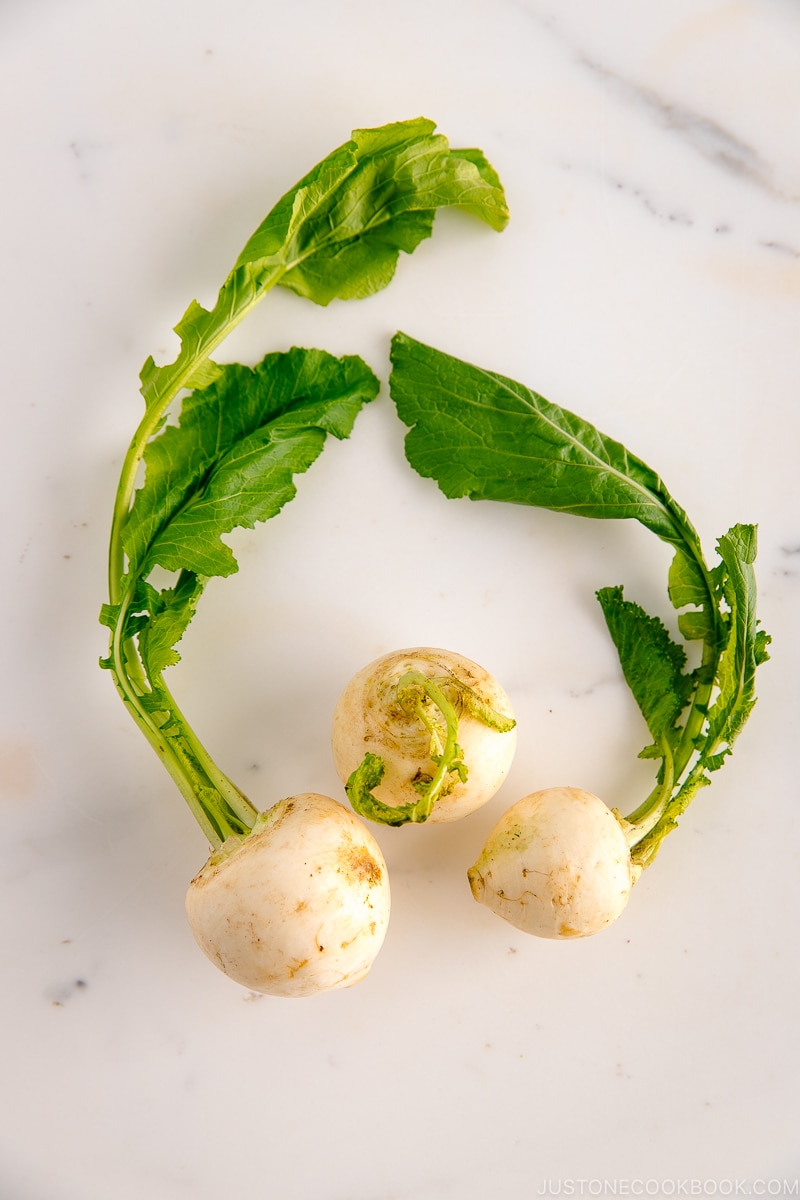 What are Japanese Turnips?
Japanese turnips, also called Tokyo turnips, have a mild, fresh taste, with hints of nutty, sweet, earthy flavors. Named Kabu (かぶ) in Japanese, they are a white variety of Japanese turnips (see all the varieties here).
The golf ball-sized turnips can be enjoyed both raw and cooked. When served raw, you can feature them in cool side dishes. For example, in salads with crisp lettuce. They're also great pickled.
When simmered or cooked in soup or stew, they become tender, buttery, and slightly spicy and taste like a cross between a radish and a turnip.
Typically, Japanese turnips are sold with bright leafy greens attached on top. They are edible and nutritious and can be prepared just like any other greens. I always use them to make Furikake rice seasonings (swap the daikon leaves with turnip leaves in this recipe) or simply add in miso soup. The crisp stems of turnip greens have a crisp texture and add vibrant color to the soup.
They are becoming popular with local growers in the US, so you should be able to find Japanese turnips at your farmer's market, co-ops or select Whole Foods markets.
What Can I Substitute for Japanese Turnips?
Can't find Japanese turnips locally? No worries! You can use other turnips or daikon radishes to make this dish. However, they're not as sweet as Japanese turnips, so the taste is slightly different.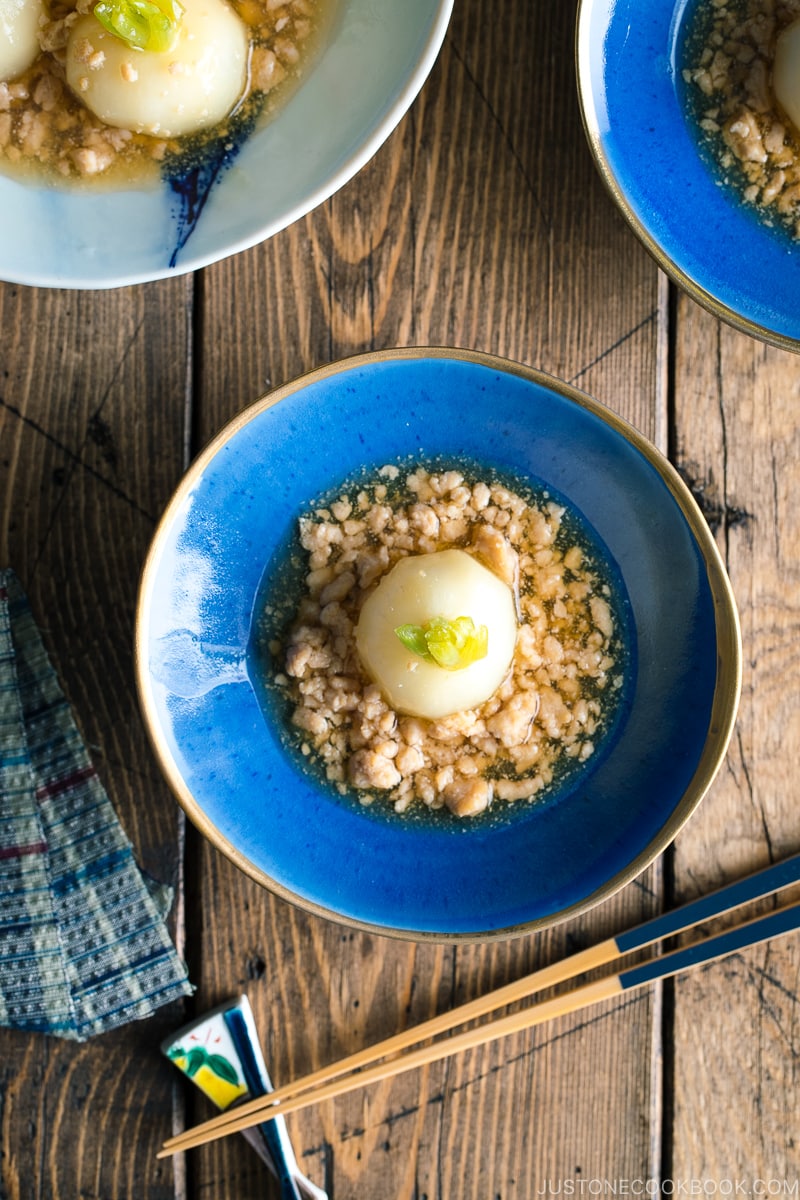 3 Easy Steps to Make This Dish
1. Simmer turnips in a savory dashi broth
Turnips are gently simmered in a golden dashi broth to absorb all the wonderful, umami-rich flavors.
2. Cook ground chicken in a sweet soy sauce
While simmering turnips, you would cook the ground chicken in a separate pan. This seasoned ground chicken dish is called Soboro in Japanese, and you may see this dish used in Soboro Donburi.
If you're vegetarian or vegan, you can skip the chicken or swap it with firm tofu. If you skip, combine the Soboro Seasonings and Slurry together and add to the broth.
3. Put everything together and make a thick savory sauce
When the turnips are tender, you add the Soboro to the dashi broth. Finally, add the slurry to the broth, which makes a delicious, thicker, richer, and more luxurious sauce.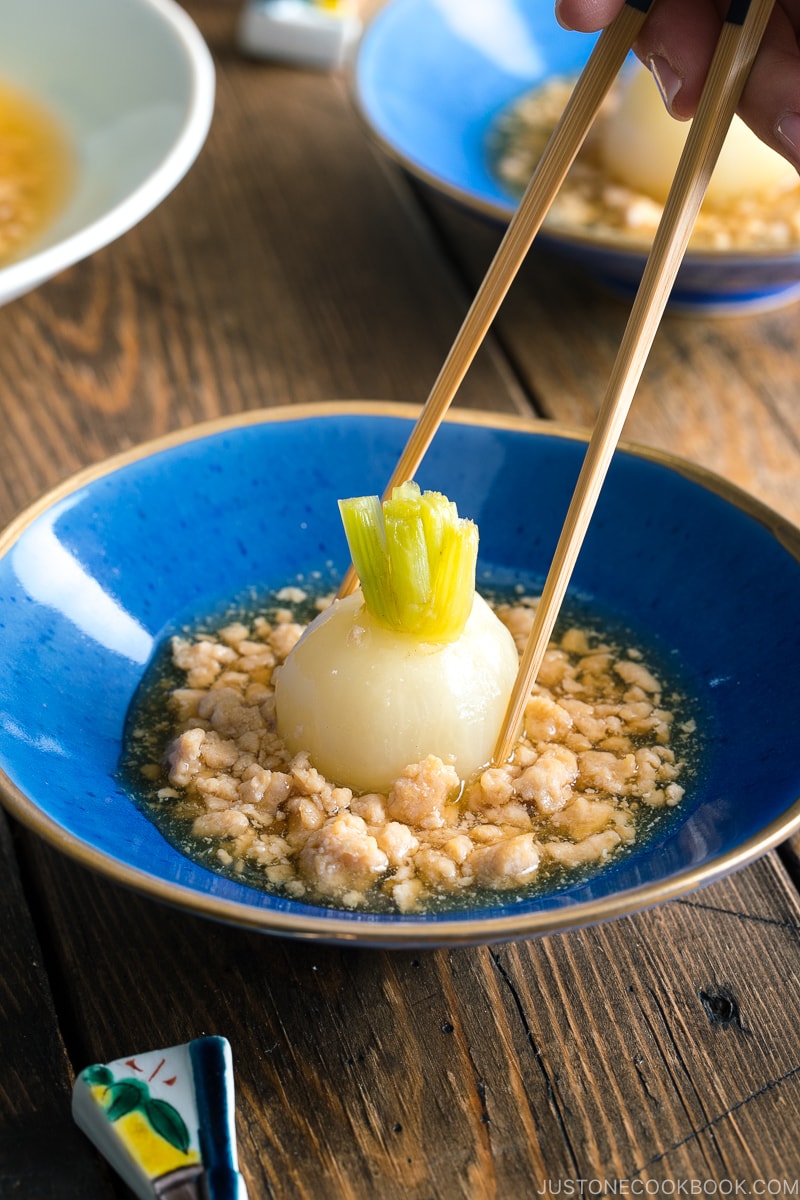 3 Tips Before Cooking This Recipe
1. Get the same size turnips
The size of the turnips doesn't matter. If you can find smaller ones than mine, your cooking time will be less. If you get bigger turnips, you will need to be patient and cook a little longer.
However, it's important to choose similar size turnips so they will be done cooking at the same time.
2. Cut off the bottom of the turnips
By cutting off the bottom of the turnips, they will stand up straight while being simmered. Plus, you can prevent the stalks from getting overcooked. When you serve, turnips will look great standing on its own.
3. Simmer turnips for 5 minutes before adding seasonings
Give the turnips a headstart by simmering them first before seasoning. This way, tender turnips will absorb the flavors faster and easier.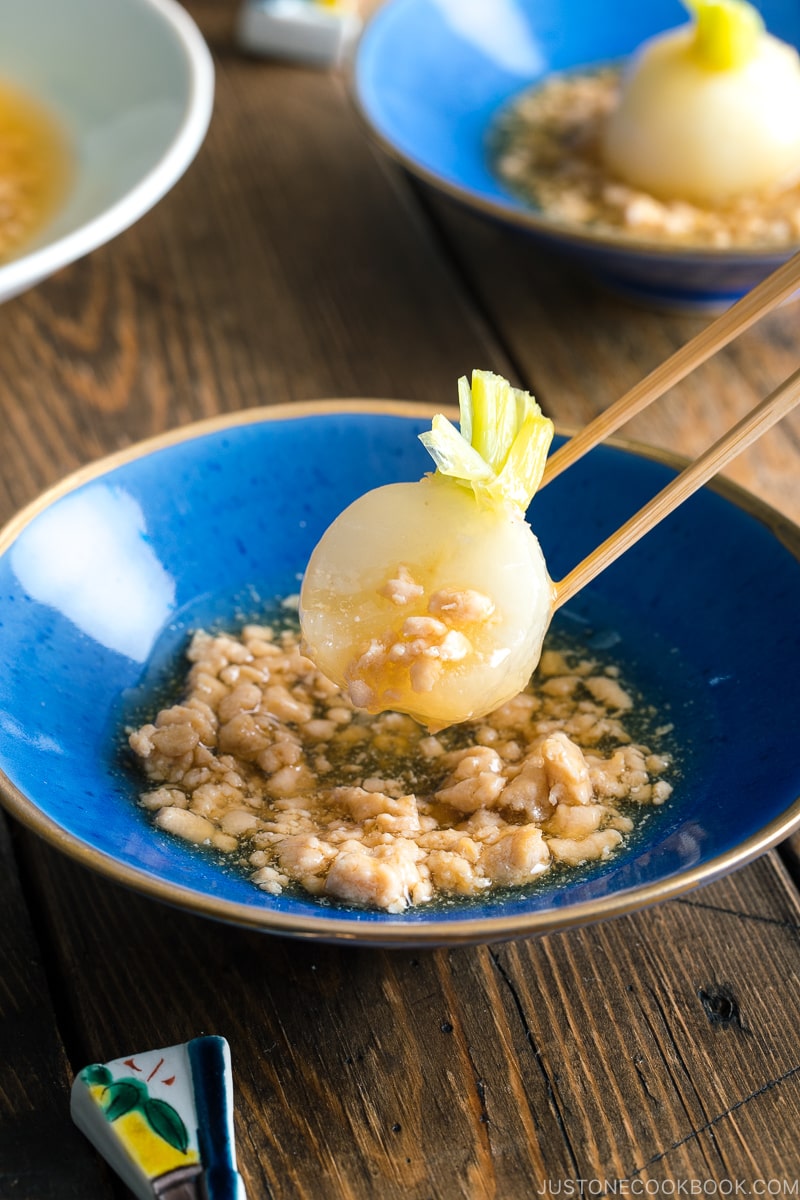 Serve this Japanese turnip with Soboro Ankake Sauce as a side in a typical Japanese meal, with steamed rice, grilled or pan-fried fish, miso soup, and 1-2 more side dishes. You'd have a simple yet elegant dinner with a true Japanese flair.
Other Delicious Japanese Turnip Recipes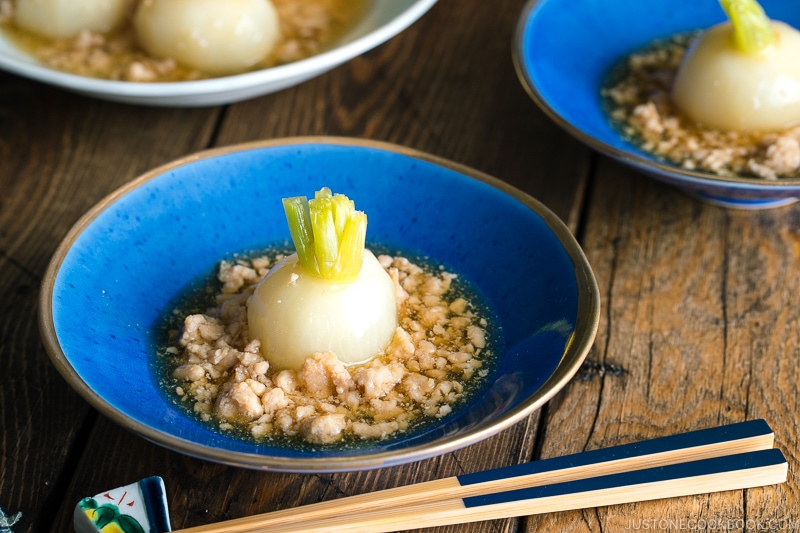 Wish to learn more about Japanese cooking? Sign up for our free newsletter to receive cooking tips & recipe updates! And stay in touch with me on Facebook, Pinterest, YouTube, and Instagram.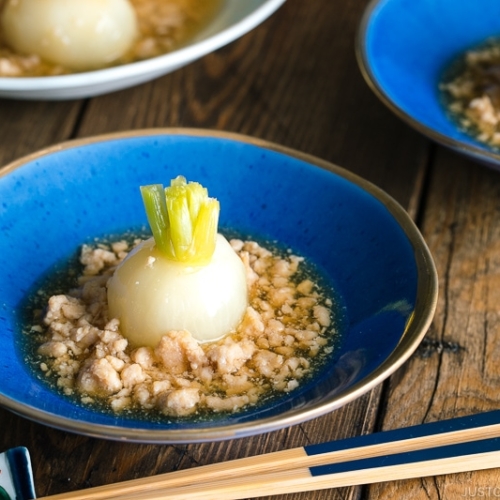 Japanese Turnips with Soboro Ankake Sauce
Simmered in dashi broth, Japanese Turnips with Soboro Ankake Sauce is a winter comfort food that highlights the flavors of the season. It makes a delicious, nourishing side to complement your Japanese meal. 
Ingredients
Japanese Ingredient Substitution:
If you want substitutes for Japanese condiments and ingredients, click
here
.
Instructions
Gather all the ingredients.
To Prepare Turnips
Cut off the leafy green tops from the turnips. For presentation, I left just ½ inch (1.3 cm) of the stalks attached to the turnips. Use the leafy tops for making a side dish or adding in miso soup.

Rinse the turnips well, especially the stalks.

Cut off the bottom of the turnips so they will stand upright. Then remove the turnip's skin, peeling from the bottom to the top.

The turnips should look like this.
To Cook Turnips
In a medium saucepan, add dashi and bring it to boil over medium heat.

Add the turnips, cover with the lid and bring it to a boil again. Simmer on medium-low heat for 5 minutes and add sugar.

Add a little ¼ tsp salt and cover with lid. Continue to simmer on medium-low heat until tender, about 20 minutes.
To Make Soboro
In the meantime, add sake, sugar, and soy sauce in a large frying pan. Combine the sauce well.

Add the ground chicken and start cooking on medium heat.

Using a pair of long cooking chopsticks or wooden spatula, break the ground chicken into small pieces. Once the chicken is no longer pink and the sauce has reduced, turn off the heat and set aside.
To Assemble
When the wooden skewer goes into the turnip smoothly, turnips are tender and ready.

Add the seasoned ground chicken into the broth.

Mix well and taste the broth. Adjust the taste with salt if necessary.

To make a slurry, in a small bowl, add potato starch/cornstarch and water and whisk well to combine.

Reduce the heat of the broth and gradually add the slurry to the broth and mix well to combine. If the sauce is too thick, add more water. If too watery, let the liquid evaporate a bit more (or you can make more slurry and add to the broth).

Serve the turnips, broth, and ground chicken on a plate/bowl.
Nutrition
Nutrition Facts
Japanese Turnips with Soboro Ankake Sauce
Amount per Serving
% Daily Value*
* Percent Daily Values are based on a 2000 calorie diet.
©JustOneCookbook.com Content and photographs are copyright protected. Sharing of this recipe is both encouraged and appreciated. Copying and/or pasting full recipes to any website or social media is strictly prohibited. Please view my photo use policy
here
.