Japanese turnips, or kabu are a turnip variety that's versatile in raw and cooked applications. The greens can also be eaten cooked in sautees or stir-fries.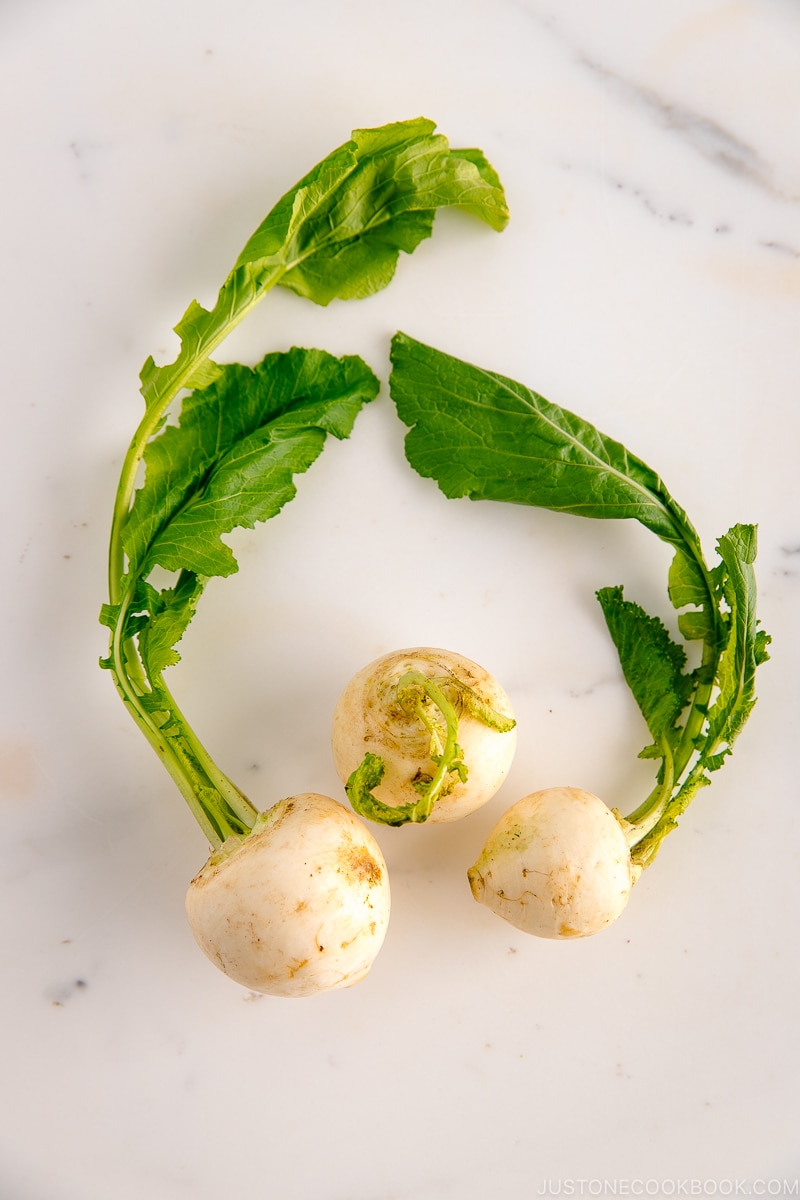 Japanese Turnips, kabu かぶ in Japanese, are a pastel white variety of turnips. They have a fresh, mild flavor with hints of nutty, sweet, earthy flavors. These mini globe-shaped roots can be enjoyed both raw and cooked. Aside from the roots, the bright green turnip tops are edible and can be prepared like any other greens.
Other names include hakurei turnips, Tokyo turnips, salad turnips, Manjing, and Mo ching.
What Are Japanese Turnips
Small, bulb-shaped, and with a single tendril tail, Japanese turnips (Brassica rapa var rapifera) are crisp and sweet. The round frilled green leaves are edible and can be cooked like other greens. Unlike other turnips, you can eat them raw. They're also available during the cold seasons.
What Do They Taste
They have a natural sweetness with a crunch and take a buttery texture when cooked in braises, soups, or roasted. They taste like a cross between a radish and a turnip.
How To Use
The skin is tender, and it does not need to be peeled. Scrub the surface well before use.
Just like many root vegetables, Tokyo Turnips are incredibly versatile. Slice them into a thin disc and toss in salads, soups, stews, or stir-fries. Their mild and juicy flavor makes them a delicious side dish to meat dishes like grilled meat, fish, or any vegetarian meal. To retain the crisp texture, avoid overcooking the roots and greens.
In Japan, Tokyo turnips are commonly enjoyed in tsukemono, miso soup, nibitashi, and winter comfort food.
Where To Buy
Tokyo Turnips are recently becoming popular with local growers in the US, so look out for them at your local farmer's markets, co-ops, Whole Foods, or other specialty grocery stores.
Depending on the variety, you can find Tokyo turnips in spring or late summer/early fall. You can also try growing them in your backyard.
How To Choose The Best
Look for turnip bulbs with smooth white skins and without blemishes. They should also feel firm to touch. The greens should look fresh and crisp.
How To Store
Remove the stem at the root to extend their storage. Keep the roots and the greens in separate bags or wrap them in moist cloth bags in the crisper drawer.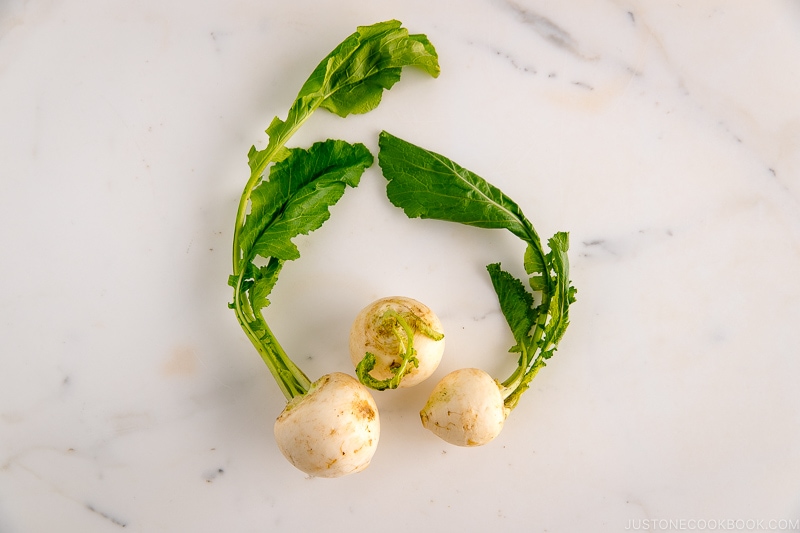 Recipes Using Tokyo Turnips
Substitutions
Use any similar mild root vegetable such as daikon, carrot, other turnips, rutabagas, celeriac, and parsnips.
Health Benefits
The vegetable is a good vitamin C, potassium, calcium, and fiber source. It also contains diastase, a digestive enzyme which controls stomach acid and reduces discomfort. The crisp stems of turnip greens are even more nutritious and provide vitamins A, C, and K, folate, and calcium. The nutritional content is comparable to komatsuna and spinach. So don't discard turnip stems!
---
Wish to learn more about Japanese cooking? Sign up for our free newsletter to receive cooking tips & recipe updates! And stay in touch with me on Facebook, Pinterest, YouTube, and Instagram.