These beautiful Pickled Chrysanthemum Turnips will bring your Osechi Ryori game to the next level. You only need basic cutting techniques to prepare these crunchy, sweet, and tart pickles for your traditional Japanese New Year feast.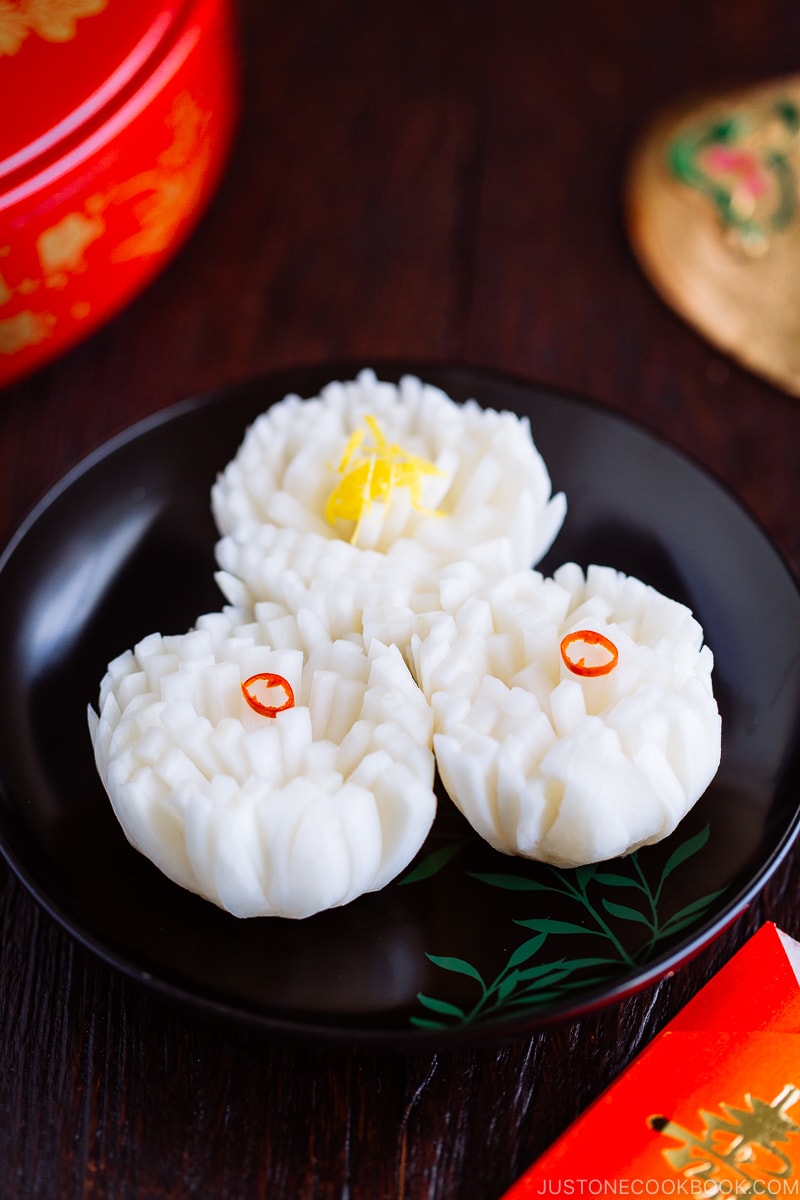 New Year's Day is the biggest celebration in Japanese culture, and even the pickles get to dress up a little for this special day. You might enjoy pickled turnips on a daily basis, but on the first day of the year, we start with the best – Pickled Chrysanthemum Turnip (Kikka Kabu 菊花かぶ).
What is Pickled Chrysanthemum Turnip (Kikka Kabu)?
These turnips are pickled in rice vinegar, sugar, and kombu. The pickles themselves are just an everyday pickle, but the white flesh of the turnip is meticulously cut to represent the petals of a chrysanthemum flower.
Why Chrysanthemum Flowers?
In addition to being a beautiful flower, the Chrysanthemum, or Kiku (菊) in Japanese, is a symbol that represents longevity and rejuvenation. It was first introduced to Japan during the Nara period (710 – 793 AC).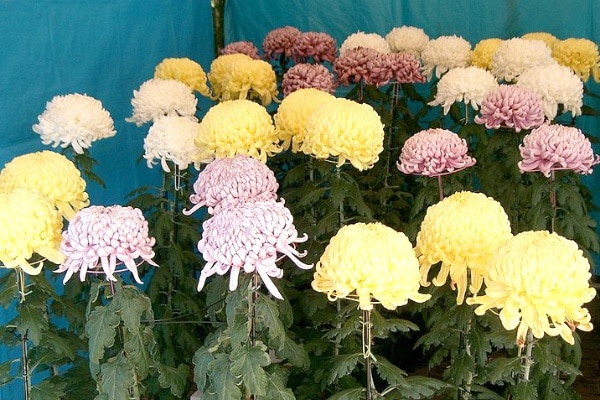 By KENPEI (KENPEI's photo) [GFDL, CC-BY-SA-3.0 or CC BY-SA 2.1 jp], via Wikimedia Commons
The Japanese Royal Family was fascinated with the chrysanthemum, and it became the emperor's crest and official seal called the Imperial Seal of Japan. The chrysanthemum is still a very common symbol in Japan found on Japanese passports and 50 yen coins.

The Chrysanthemum in Food
The Japanese love chrysanthemum and it is used widely in Japanese culture and food. Bright yellow chrysanthemum is often used to garnish sushi and sashimi platters. And in today's recipe for pickled chrysanthemum turnip, the symbol of the flower is served as a part of the traditional Japanese New Year's Day food Osechi Ryori. The white and red color of the dish represents the happiness and the flower represents longevity for the coming year.
The crunchy texture, and sweet and sour flavor of the pickle, is a perfectly refreshing Hashiyasume (箸休め) – a small palate-cleansing dish served between courses.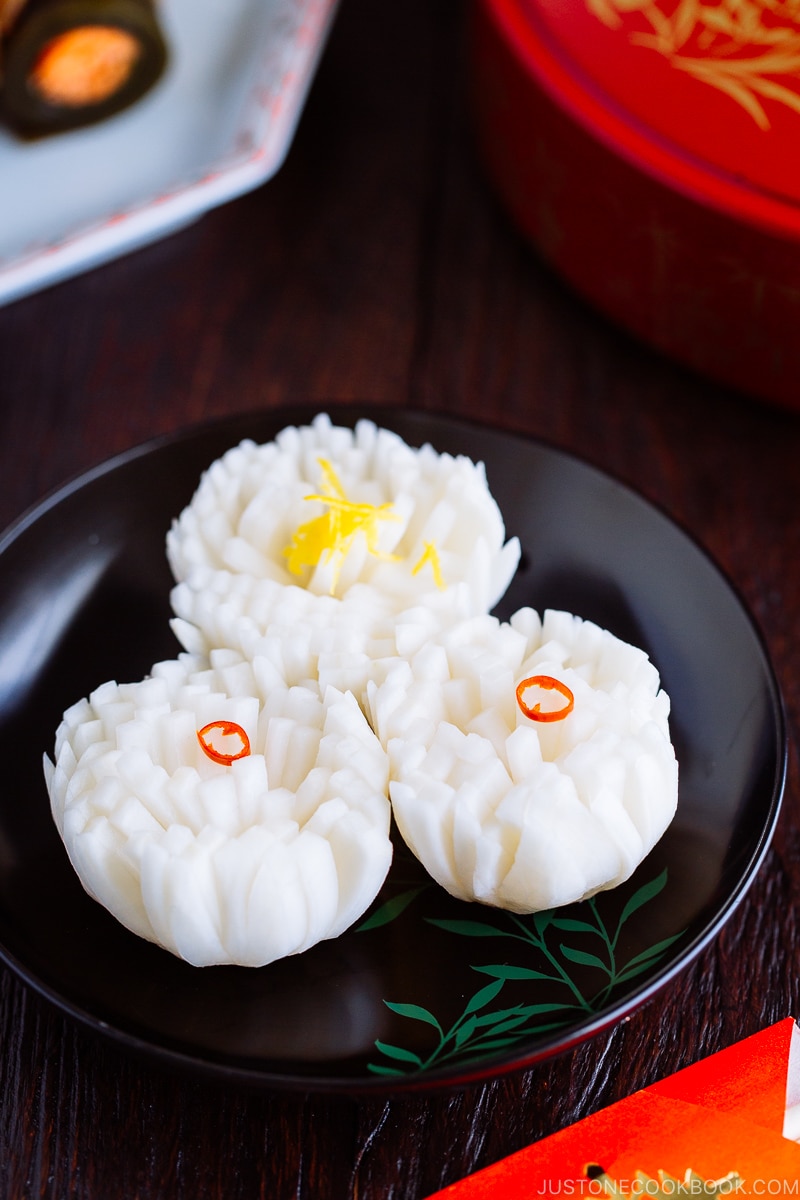 Notes on Pickled Chrysanthemum Turnip
Japanese Turnips: I used Japanese turnips for this recipe as I can purchase these small white turnips in a Japanese grocery store. You can definitely use other types of turnips that are available in your local store. If your turnips are too big, just cut into quarters after a crisscross incision is made.
The Chopstick Trick: You don't have to use this trick, but it's REALLY helpful as your knife won't go through the turnip. Just be careful not to slice through the first and last few vertical slices as the turnip shape is round. A sharp knife is very useful as it slices down easily without much force. I was a bit nervous to slice into 1 mm width in front of the camera, but the more relaxed you are the better the cut. It's important to make a perpendicular slice so that you don't cut off the petals.
Kakushi Bocho: You might remember this cooking trick from the Miso Dengaku recipe or Eggplant Agebitashi recipe. More about this cooking technique below.
Dried Red Chili Pepper: You may have noticed that Japanese dishes are not spicy. We use just one red chili pepper WITHOUT seeds in my recipe as well as a majority of Japanese recipes. If you like the pickles to have more of a kick, you are welcome to add more chili peppers including seeds.
Yuzu or Lemon Peel: For decoration, you can also use yuzu or lemon peel as I showed in my photos.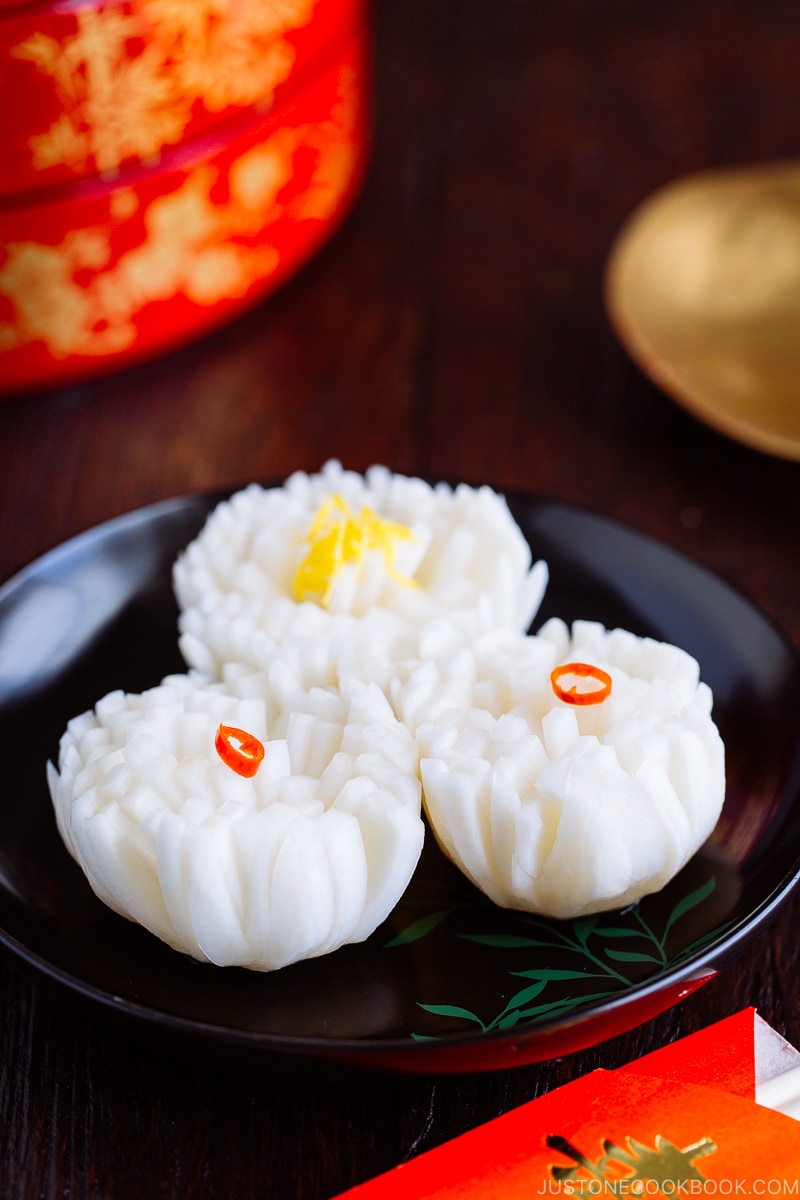 Cooking Trick – Kakushi Bocho 隠し包丁
Kakushi or kakusu means hidden and hide, and Bocho or hocho means a knife. This technique is used so that:
1. The heat will go through the ingredient more easily
2. Flavors (of the broth or seasonings) will be absorbed better
3. The ingredient will be easier to cut with chopsticks
In this recipe, it is used for #2. Turnips are thick, so with the Kakushi Bocho technique, the turnips will better absorb the marinade.
We score the ingredient without making it too visible (so when you serve, it's not obvious). That's how the name "kakushi" or "hidden" comes from. You will see this technique used for ingredients that are hard to cook through and absorb flavors such as daikon, eggplant, and konnyaku.
Now that you've learned how to make this elegant Pickled Chrysanthemum Turnip adorn your Osechi Ryori, I wish you happiness and longevity for the coming year!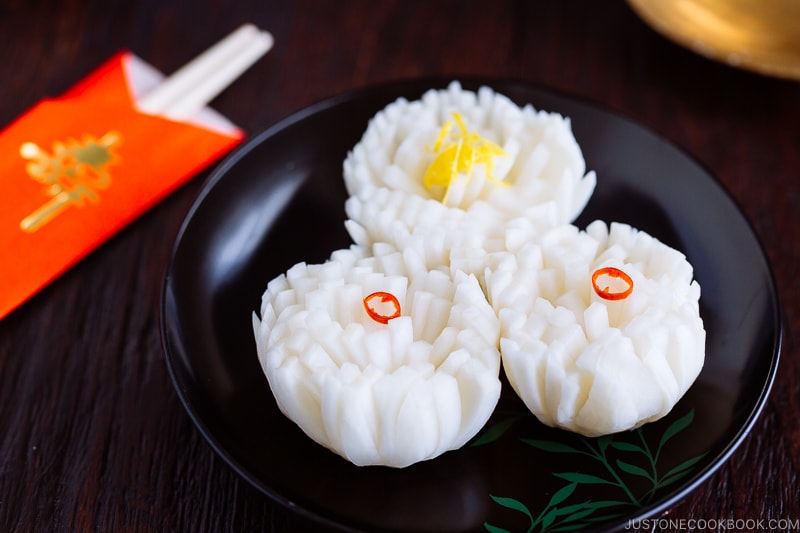 Wish to learn more about Japanese cooking? Sign up for our free newsletter to receive cooking tips & recipe updates! And stay in touch with me on Facebook, Pinterest, YouTube, and Instagram.
Pickled Chrysanthemum Turnips (Kikka Kabu)
These beautiful Pickled Chrysanthemum Turnips will bring your Osechi Ryori game to the next level. You only need basic cutting techniques to prepare these crunchy, sweet, and tart pickles for your traditional Japanese New Year feast.
Servings:
6
pickled turnips
Ingredients
For the Marinade
⅓

cup

water

2

Tbsp

sugar

(you can increase the amount by up to 50% if you prefer sweeter pickles)

1

piece

kombu (dried kelp) (

5

g; 2 x 3 inches, 5 x 7.6 cm per piece)
For the Garnish
yuzu peel

(optional; sliced into thin julienned strips; can substitute lemon peel)
Japanese Ingredient Substitution:
If you want substitutes for Japanese condiments and ingredients, click
here
.
Instructions
Before You Start…
Please note that this recipe requires a minimum soaking time of 1 hour, plus a marinating time of at least 1 hour to pickle the turnips.

If you will include this dish in your Osechi meal, I recommend preparing it up to 3 days before you plan to serve. For more helpful tips on planning your Japanese New Year feast, please read my A 5-Day Osechi Cooking Timeline blog post.
To Prepare the Pickled Turnips
Gather all the ingredients. Soak

1 dried red chili pepper

in a small bowl of water to rehydrate (until Step 10).

To a medium bowl, add all the marinade ingredients:

⅓ cup rice vinegar (unseasoned)

,

⅓ cup water

,

2 Tbsp sugar

,

¼ tsp Diamond Crystal kosher salt

, and

1 piece kombu (dried kelp)

. Mix well.

Cut off the top and bottom of

6 Japanese turnips (kabu)

.

Peel off the skin of the turnips.

Now, make decorative cuts on the top of each turnip to create the chrysanthemum "petals." Starting at one edge, use a knife to cut downward in thin, vertical slices spaced 2 mm apart without cutting all the way through to the bottom. Slice at least midway through the turnip, but less than that on the very edges to keep from cutting them off. Tip: I place the turnip between a pair of chopsticks and use them as a guide to prevent the knife from cutting all the way through to the bottom of the turnip.

Keep slicing across to the other edge. Then, rotate the turnip 90 degrees and cut across the top in the other direction, again making vertical slices spaced 2 mm apart to create a crisscross pattern. Repeat with the rest of the turnips.

Turn the turnips upside down, with the cut side down. Then, make one crisscross incision (we call it kakushi bocho) in the bottom of each turnip so they will easily absorb the flavors.

Place the turnips in a large bowl. Add

2 cups water

and

1 Tbsp Diamond Crystal kosher salt

and soak the turnips for 1 hour.

Once the turnips are tender from the salt water, rinse thoroughly in running water, and gently squeeze out the water. Be careful not to damage the fine cuts. Empty the salt water and place the turnips back in the bowl. Then, add the marinade (including the kombu).

Thinly slice the red chili pepper and add it to the marinade (I do not include the seeds, as they are too spicy). Marinate the turnips for at least 1 hour (and up to 2 days) to pickle them.
To Serve
Gently squeeze out the marinade, separating the "petals" of chrysanthemum. Garnish with the chili slices and

yuzu peel

or lemon peel slices (optional) in the center of the turnip.
To Store
You can keep the leftovers in an airtight container and keep them for 3 days in the refrigerator or for up to a month in the freezer.
Nutrition
Nutrition Facts
Pickled Chrysanthemum Turnips (Kikka Kabu)
Amount per Serving
% Daily Value*
* Percent Daily Values are based on a 2000 calorie diet.
©JustOneCookbook.com Content and photographs are copyright protected. Sharing of this recipe is both encouraged and appreciated. Copying and/or pasting full recipes to any website or social media is strictly prohibited. Please view my photo use policy
here
.