Baked in the oven and rolled into a cylinder, Datemaki or sweet rolled omelette is a delicious complement to your Osechi Ryori menu. Similar to tamagoyaki, you will need eggs and seasonings like mirin, honey, and soy sauce to make this popular side. It is simple enough to make from scratch for the festive season.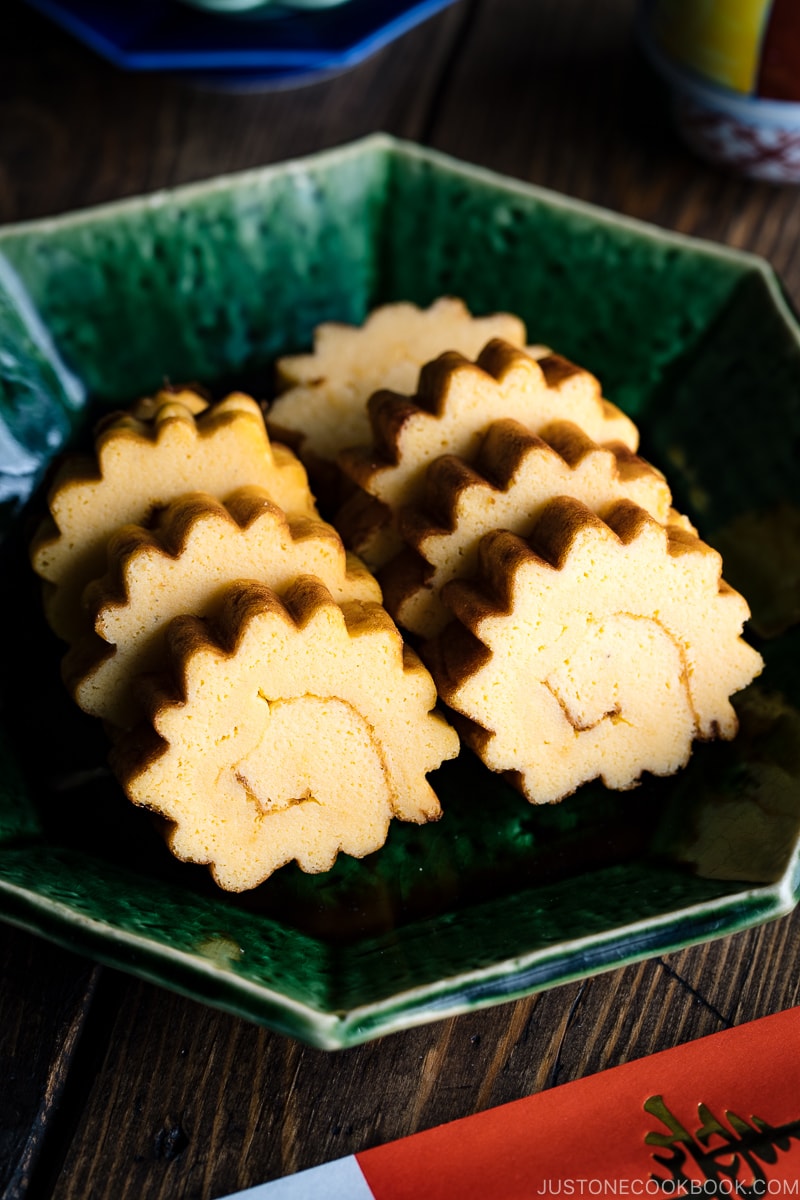 Datemaki (伊達巻) is a traditional sweet rolled omelette typically eaten as part Japanese New Year's food (osechi ryori, 御節料理). Served in a lacquered jubako (special square boxes similar to lunch box), it is made with eggs mixed with fish or shrimp paste and sweetened with sugar and mirin.
Among all the dishes for osechi ryori, datemaki often stands out for its bright sunny color and unique shape. It is by far my favorite dish among the new year foods and I always look forward to eating it every year. The sweet and savory flavor and almost-cake like texture makes it a popular choice for the whole family!
You can often find pre-made datemaki being sold at Japanese grocery stores during this time of the year, but it is really easy to make it from scratch. I'll show you how to achieve the perfect datemaki at home.
What is Datemaki
Datemaki is a must-have New Year's food in Japan. It is very similar to Tamagoyaki as both are rolled omelets and use similar ingredients. The main difference is datemaki features a type of white fish cake called hanpen. Hanpen is made from grated Japanese yam (yamaimo) and surimi (Alaska Pollock), salt, and kombu dashi. It adds a unique flavor and a fluffy texture to the egg omelette, like a soft fish cake.
There are also other differences between datemaki and tamagoyaki:
Instead cooking on a pan over the stove, datemaki is baked in the oven in a single layer before rolled into a cylinder and sliced. Just like baking a cake!
Compared to tamagoyaki, datemaki is a little sweeter and is usually eaten only for the New Year.
The Symbolic Meaning of Datemaki
There are many different theories behind the symbolism of datemaki, but it is most commonly believed that eating datemaki will bring a good year of wisdom and learning and success in studies (especially for student life). The rolled shape of datemaki reminiscent of a scroll, which historically a symbol of knowledge.
When I was a student, my mom would make sure that my brother and I had our good share of datemaki.
Another story was that the rolled fish cake omelet looked like colorful kimono that fashionable people wore during the Edo period. As the word "date" refers to the sash for Japanese kimono and 'maki' means rolled, this is how the omelet got its name from.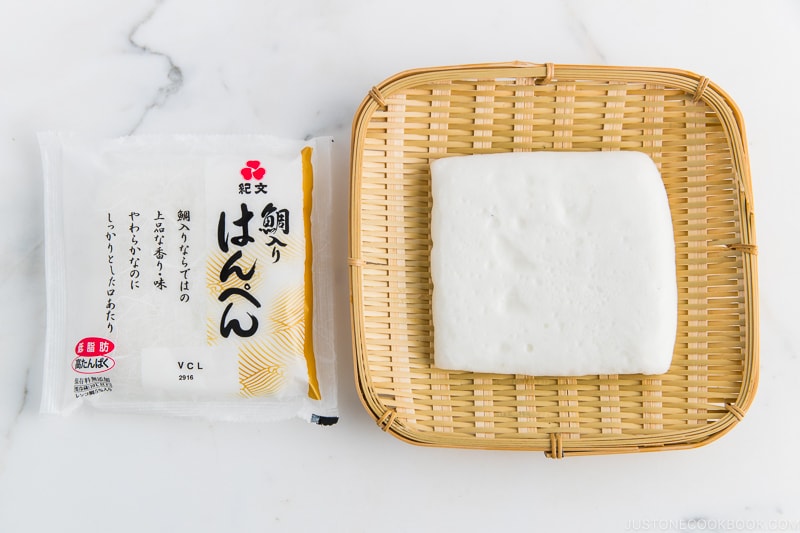 Ingredients You'll Need to Make Datemaki
Eggs
Hanpen fish cake – You should be able to find hanpen in the freezer section at most Japanese grocery stores. Alternatively, you can substitute it with pureed white fish, scallop, or shrimp.
Mirin
Sake
Sugar – Datemaki is meant to be sweet, but you can cut down the sugar slightly if you prefer.
Honey
Soy sauce
Many datemaki recipes require dashi, but I find it not necessary as hanpen is made of kombu dashi and it already adds a nice flavor to the omelette. Of course, you can always add dashi if you like.
After blending all the ingredients for the egg mixture, it is then baked until firm and nicely browned on the outside.
Helpful Tool to Roll the Omelette
You have probably seen or used makisu (巻き簀), a bamboo mat, to roll sushi or stabilize the shape of Tamagoyaki. For decorative purpose, we use this special bamboo mat called onisudare (鬼簾, 鬼すだれ) for datemaki. This rolling mat have deep notches that gives the signature zigzag marks on the surface of the omelet.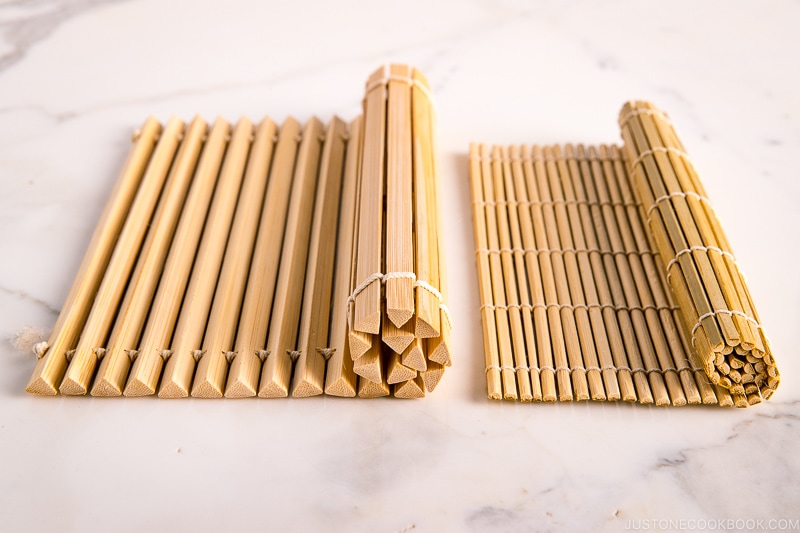 If you don't have onisudare, you can still use a regular bamboo mat to give a similar effect to datemaki. The ridges are less striking but it still look pretty (see right picture below).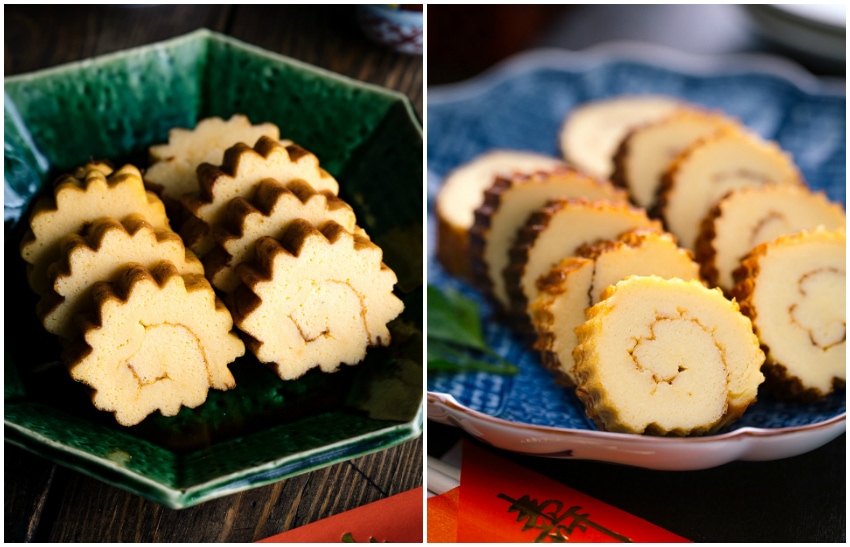 Quick Tips For Making Datemaki
Strain the egg mixture through a fine sieve will yield a smooth, airy, and fluffy texture.
The final texture of datemaki should be tender and moist in the middle and the top golden brown. Watch your oven toward the end of baking. If the top is not golden brown, switch to a broiler and broil for 2 minutes.
Roll the omelette while it is still hot and gently score the omelet before you roll. This will help the omelette roll up easily without cracking.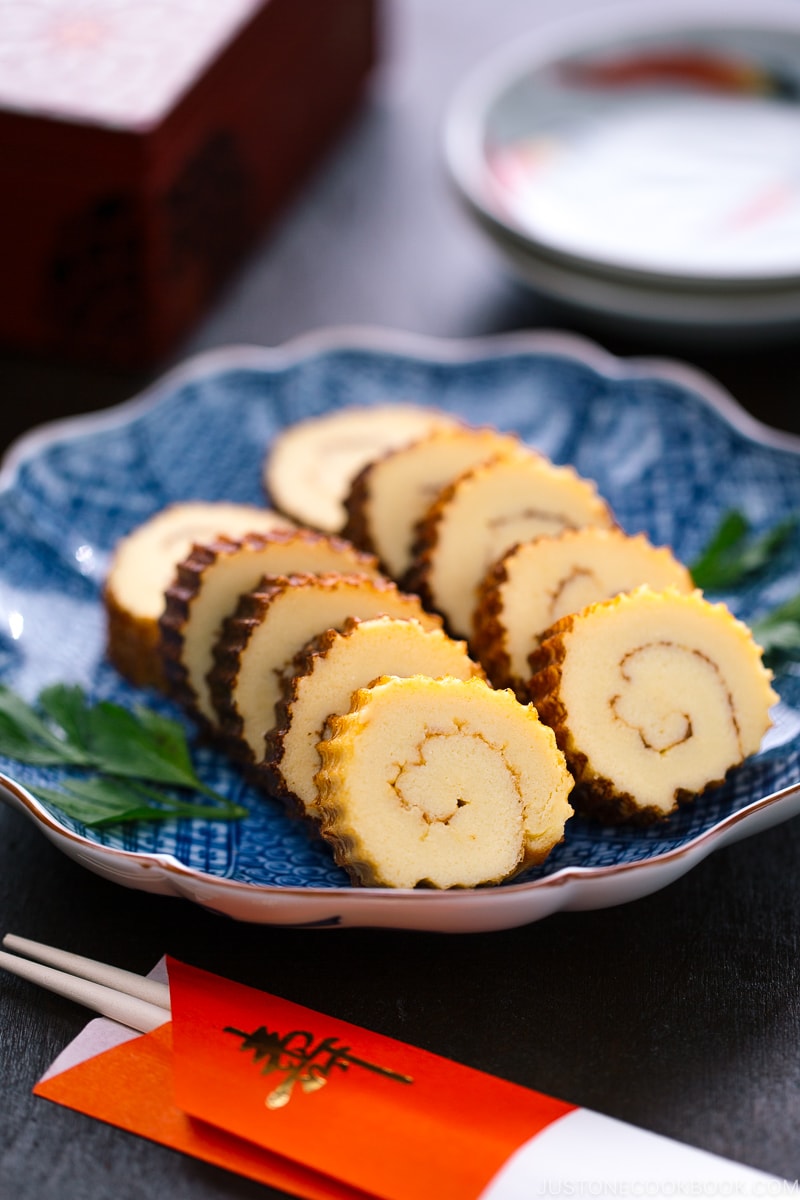 Perfect Make-Ahead Dish for Osechi
Datemaki is meant to be served at room temperature. Since it stores well in the refrigerator for 4-5 days, you can slice it and keep them in an airtight container or reusable ziplock bags.
More Easy Japanese New Year Recipes for Beginners: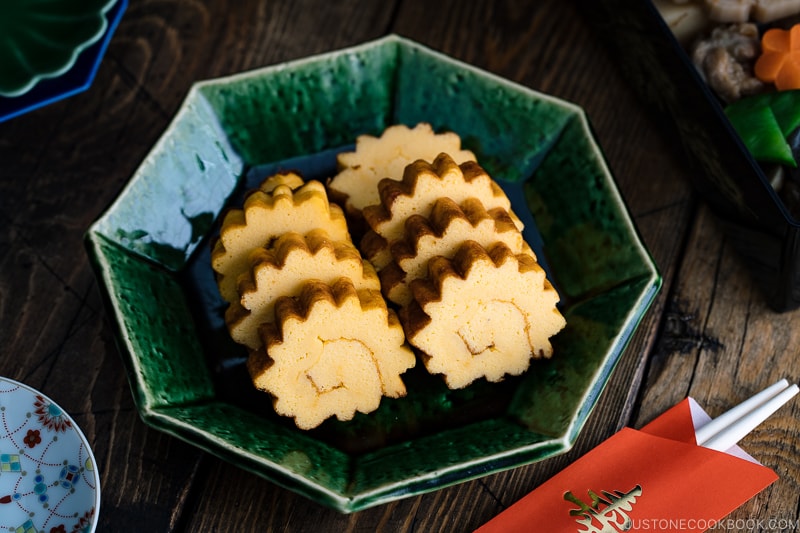 Wish to learn more about Japanese cooking? Sign up for our free newsletter to receive cooking tips & recipe updates! And stay in touch with me on Facebook, Pinterest, YouTube, and Instagram.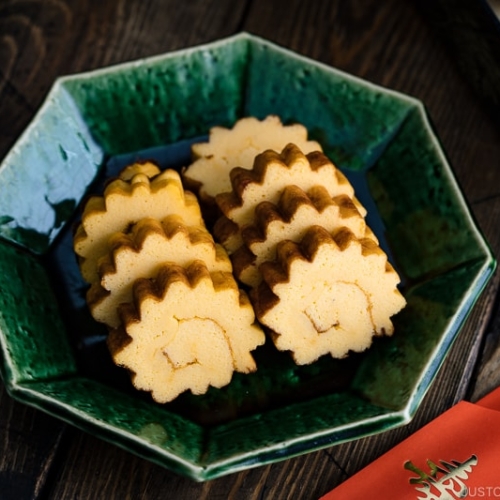 Datemaki (Sweet Rolled Omelette)
Baked in the oven and rolled into a cylinder, Datemaki or sweet rolled omelette is a delicious complement to your Osechi Ryori menu. Similar to tamagoyaki, you will need eggs and seasonings like mirin, honey, and soy sauce to make this popular side.
Video
Ingredients
1

package

hanpen (fish cake)

(110-130 g; You can find hanpen in the refrigerated or frozen section of a Japanese grocery store. If you cannot find it, substitute with pureed white fish (skinless/boneless), scallop, or shrimp.)

4

large eggs (50 g each w/o shell)
Japanese Ingredient Substitution:
If you want substitutes for Japanese condiments and ingredients, click
here
.
Instructions
Gather all the ingredients. You will need parchment paper and a bamboo sushi mat. In Japan, we use a special bamboo mat with thicker strips called onisudare, which gives big ridges/indentations to datemaki.

Preheat oven to 400 ºF (200 ºC). For a convection oven, reduce cooking temperature by 25ºF (15ºC). Line an 8-inch x 8-inch (20cm x 20cm) baking dish with parchment paper.

Cut the hanpen into ½-inch (1.3 cm) cubes and whisk eggs in a small bowl.

In a blender or food processor, put the hanpen and all the seasonings (2 Tbsp mirin, 1 Tbsp sake, 1 Tbsp sugar, 1 tsp honey, and ½ tsp soy sauce).

Add the beaten egg and blend until smooth, about 1 to 1.5 minutes.

Strain the egg mixture through a fine sieve into a clean bowl.

Then pour the mixture back into the blender and strain one more time into the bowl. Finally, pour the mixture into the baking dish lined with parchment paper.

Bake at 400 ºF (200 ºC) for 20 minutes or until slightly brown on top. If the top is not golden brown, switch to a broiler and broil for 2 minutes or until the surface is golden brown. The center of the omelette will rise slightly as the top gets brown. It will shrink as it cools.

Remove the baking dish from the oven and let the omelette deflate and cool to handle, just for 1-2 minutes (DO NOT LEAVE IT more than that). We will need to roll the omelette while it's still hot.

Transfer the omelette from the baking dish to a working surface by lifting the parchment paper. Then place the bamboo mat over the omelette, with the flat bamboo side facing up.

Carefully flip the omelette and remove the parchment paper.

Carefully score the omelette ⅛-inch (3 mm) deep for every ½ inch (1.3 cm). The knife should be parallel to the bamboo sushi mat direction. This incision will help the omelette roll up without breaking/cracking.

Roll the omelette into a tight cylinder.

Secure the bamboo mat roll with rubber bands and wrap it with plastic wrap. Let cool completely for 2-3 hours.
To Serve and Store
Carefully remove the datemaki from the bamboo mat. Cut into 12 equal slices, about ¾-inch wide pieces. Serve at room temperature.
To Store
You can keep the leftovers in an airtight container and store it in the refrigerator for 4-5 days.
Nutrition
Calories:
46
kcal
·
Carbohydrates:
3
g
·
Protein:
3
g
·
Fat:
2
g
·
Saturated Fat:
1
g
·
Polyunsaturated Fat:
1
g
·
Monounsaturated Fat:
1
g
·
Trans Fat:
1
g
·
Cholesterol:
62
mg
·
Sodium:
88
mg
·
Potassium:
24
mg
·
Fiber:
1
g
·
Sugar:
3
g
·
Vitamin A:
90
IU
·
Vitamin C:
1
mg
·
Calcium:
9
mg
·
Iron:
1
mg
©JustOneCookbook.com Content and photographs are copyright protected. Sharing of this recipe is both encouraged and appreciated. Copying and/or pasting full recipes to any website or social media is strictly prohibited. Please view my photo use policy
here
.
Editor's Note: This post was originally published on Dec 26, 2013. The pictures have been updated in December 2019. The post has been republished in December 2021.